Would you like your dog to make you company while traveling but you are curious about the safety of your pet?
Then these car seat dog pet carriers & crates are the best choice for you!
You're certain to find one that fits your dogs' needs if you continue reading this article. What we did was gather all the possible and best crate types that function amazingly as crates and reviewed them. That's why you'll find plastic crates, fabric crates, metal crates, and even crash-proof crates.
The Summary
Best 20 Dog Car Crates
BEST OF BEST DOG CARRIER FOR CAR
Midwest Side By Side Crate
Narrow Design
This is not your basic fully wire dog crate. It's made to be narrow to fit inside SUVs and cars and save storage space. It's 36-in long but you can get the large 42-in version as well. This dog cage for cars has a front and back door and can be folded just like a regular wire crate. It features a carrying handle as well.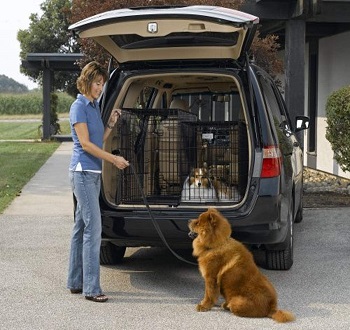 Locks And Cleaning
The doors lock with 2 sliding bolt locks each and you'll get a raised edges plastic cleaning tray that you can slide out easily. Although this crate is unique, there are a plethora of other SUV dog crates in the article linked below waiting for you to discover them.
In Short:
Has a narrow design
It's 36-in long
Made to house intermediate dogs
Can be folded down and carried with a handle
Has a back and front door
The doors lock with 2 sliding bolt locks
BEST BACK SEAT DOG CAR CRATE
Swihelp Dog Car Seat Crate
Car Seat Connection
The crate is primarily made out of fabric materials but has a foldable PVC frame as well. It's great for puppies and small dogs and can be fixed to a car seat from three points. Two can be attached to the headrest and one goes all around the seat in a loop. It doesn't have a closed-off top.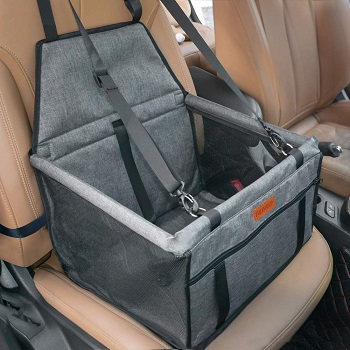 Crate Sides And Top
The front of the back seat dog crate has a zippered pocket for storing accessories, the left and right sides have mesh fabric windows for both visibility and ventilation. If you'd like a back seat dog crate that includes a top and can fully enclose your dog, you can find more in the article below.
In Short:
Made out of fabric
Has a foldable PVC frame
Can be fixed to a car seat from 3 points
Doesn't feature a top
Can house small dogs and small puppies up to 14 lbs
Has a front accessory pocket
The sides feature mesh fabric windows
BEST CRASH PROOF DOG CAR CRATE
4×4 North America Dog Crate
Length And Crash Scenarios
Not only is this crate crash-proof and tested, but it passes with flying colors for rollover, rear, and frontal car crashes. It's a large dog crate but you can actually expand its length. The back on the inside has even more space that acts as a crumple zone in the event of a car crash keeping both you and the dog safe.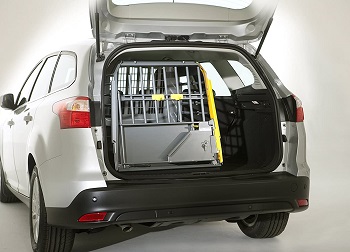 Doors And Size
You'll find two doors on the crate, a back and front one. The front one locks with a key and the back acts as an escape door. You will have to refer to a size chart for both cars and dogs to figure out the right size for you. If it's just too complicated for you, you can check out the article about other crash-tested dog crates next.
In Short:
Has an adjustable length
Can house large dogs
Has a front, key locking door, and a back escape door
Features crumple zones for both human and dog safety
Crash tested for rollover, frontal, and rear crash scenarios
BEST LARGE DOG CARRIER FOR CAR
SportPet Designs Plastic
Air And Car Travels
You should watch out for size with specialized crates such as this one that can be used to travel by air as well. It has a basic travel kit that includes stickers, bowls, tie-down holes for bungees, and nuts and bolts. It's sized as large but is 32-in long and can house dogs with a length of up to 28-in.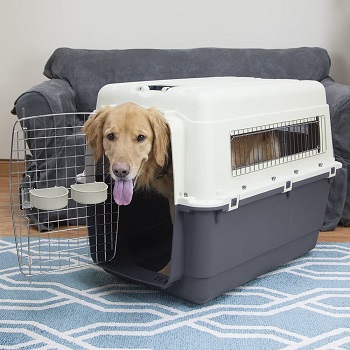 How It's Built
It's made with 2 plastic shells that you can connect simply with plastic clips for car travel or with nuts and bolts for air travel. It has 2 top carrying handles and wheels that easily snap off if you don't need them. For even larger crates, refer to our article about large dog car crates next.
In Short:
Has top and bottom plastic shell
The shells can connect with plastic clips and nuts and bolts
Comes with a basic air travel accessories kit
HAs 2 top carrying handles
Can feature 4 wheels on the bottom
It's 32-in long
BEST PUPPY DOG CARRIER FOR CAR
Diggs Revol Dog Crate
Puppy Safe
You can use this crate indoors just fine. You can crate and potty train puppies in it safely due to its divider and the baby industry standards it's made with so it's safe for them. It has three entrances, one saves space by opening upwards and you can collapse it as well.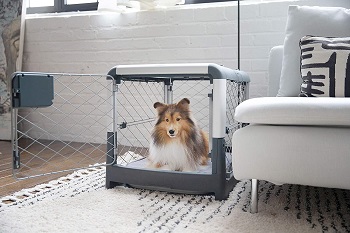 Crate Transport
It features built-in wheels so you'll easily get to drag it to the car even though it weighs around 31 lbs and it's made with reinforced plastic and has aluminum wire sides. If you have a puppy that you'd like to safely house inside a puppy carrier for a car, you can read the article about them here and you might learn more about them along the way.
In Short:
Made with reinforced plastic
Has aluminum wire sides
Made with baby industry standards
Comes with a puppy divider
Can be collapsed
Features built-in wheels
Weighs around 31 lbs
BEST SAFE DOG CAR CRATE
A4Pet Soft Collapsible Dog Crate
Safe Car Interior
By safe, in this case, we mean that it's safe for your car. The bottom is leakproof and the top corners are rounded and they both protect your car's interior from damage. Other than that, it's very light since it's made with oxford fabric and has a folding steel tube frame.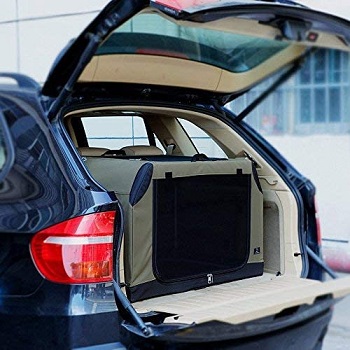 Crate Size
It's 24-in long so you can house small dogs inside one of the safest dog crates for a car. If you'd like a safe crate in terms of dog safety, read the article about them to find them and find out more. It has 3 entrances, and 4 ventilation windows, the back has an accessory pocket.
In Short:
Made with oxford fabric
Has a folding steel tube frame
Has a leakproof bottom
The top corners are rounded
It's lightweight
Has 3 entrances and 4 ventilation points
The back has an accessory pocket
BEST SMALL DOG CARRIER FOR CAR
One for Pets Portable Crate
2 Dog Housing
This crate works as a double dog crate. It can house small dogs only and you can house either 2 dogs separated completely, separated with a divider or one dog in a 39-in long, 20-in wide, and 20-in tall crate. The divider, as the crate, is made out of fabric materials.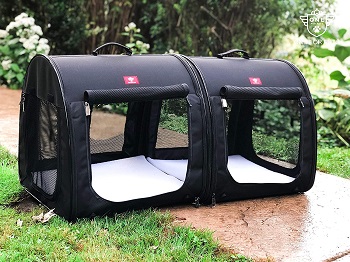 Backseat Crate
You can easily fold the crate down and store it inside in the travel bag. The back loop allows you to connect it to a seatbelt so it's perfect for back seats. If you'd like a single small dog car carrier, you should read the small dog travel crate article next to find more.
In Short:
Made out of fabric
Comes with a fabric divider
Can be connected to a seatbelt
Can house 2 or 1 small dog
It's 39-in long, 20-in wide, and 20-in tall
Can be folded down
Comes with a travel bag
BEST SOFT DOG CAR CRATE
EliteField 3-Door Folding Crate
Washable Materials
You have to appreciate that you can get this crate in 16 different color combos and patterns. It's made with 600D oxford fabric and has a foldable steel tube frame. You can take the whole cover off and wash it and you can do the same with the soft mat inside. If you'd like the benefit of a lightweight crate, check out other soft dog crates for cars.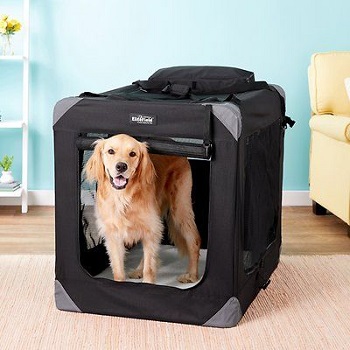 Ventilation, Doors, And Storage
It has 5 mesh fabric windows and 3 are also zipper closed entrances. The top has a built-in and the back has a removable accessory pocket. It's 36-in long and able to house medium to large dogs. You'll find that it's also 2-in wider and 4-in taller than most crates of this type.
In Short:
Built out of 600D oxford fabric
Has a folding steel tube frame
You can wash the cover and soft mat
Has 5 ventilation points
Features three zipper closed entrances
It's 36-in long
It's 2-in wider and 4-in taller than most
BEST ALUMINUM DOG CARRIER FOR CAR
Secure Aluminum Pro Series Crate
Aluminum And Corners Info
Aluminum is a metal that won't rust or corrode and this crate is primarily made out of it. The corners are rounded and act as connectors for the aluminum panels. You will have to assemble it and when you do, you'll get to house intermediate dogs inside. The door locks with a key and its highest are self-lubricating.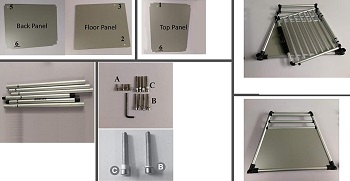 Low Maintenance
Because it's aluminum and has self-lubricating door hinges, it produces low noise and you won't have to perform maintenance all that often. If you'd like the benefit of aluminum dog crates for cars, you can read the article linked where we reviewed only them.
In Short:
Made out of aluminum sheets
Has plastic corner connectors
Its corners are rounded
Can house intermediate dogs
Features a key locking door
The door hinges self lubricate
BEST LABRADOR DOG CAR CRATE
Precision Pet Great Crate
Puppy Crate Features
The front and right sides are where the entrances to this, and out of this crate are located. They lock from 5 points but another safety feature is the rounded corners. Paired with the divider, it makes it a safe and efficient crate for potty and crate training puppies.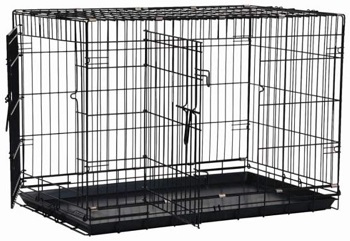 Labrador Crate Size
In order to be a car crate for labrador, it needs to be 42-in long and it is You'll get to easily fold it down and transport it to your car as well. If you'd prefer a different type of crate for your lab and you'd like to learn more about them and their crate needs, you can read the dog crates for labradors article next.
In Short:
Made out of wire
Has a front and side entrance
The doors lock from 5 points
It' 42-in long
Has rounded corners
Comes featuring a divider
Can be folded down
BEST GERMAN SHEPHERD DOG CARRIER FOR CAR
Lucky Dog 42 Dog Crate
Stabilizing Corners
The top corners feature easy snap-on or off corner stabilizers. These reduce rattling noise and make it more stable and since you can take them off easily, you'll get to fold this 42-in long crate down as well. A typical german shepherd will do just fine inside a 42-in long crate but some might need a 48-in car dog crate for german shepherd so find them all in the article linked below.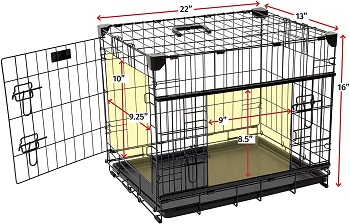 Indoor Use
If you decide to use it indoors most of the time, you'll save space with the double side door that slides open. The front door opens like any other door though. It's all black with an e-coat finish that makes it resistant to both corrosion and rusting and it features an adjustable divider.
In Short:
Made fully out of wire
Has an e-coat finish
It's rust and corrosion resistant
Has a double sliding side door
Has corner stabilizers
Can be easily folded down
BEST GOLDEN RETRIEVER DOG CAR CRATE
Pet Gear 4 Door Steel Crate
Sides And Frame
For the frame, the manufacturer of this crate used heavy-duty plastic and steel wire for the sides. The interior has rounded corners and exposed sharp steel edges. The bottom is even insulated so that it doesn't crack when subject to cold weather. It's 42-in long and has 4 entrances.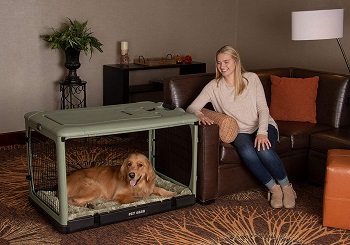 Doors And Transport
The 4 entrances allow for versatile placement both indoors and in the car. The side door slides open and you can even collapse the whole thing, store it in a travel bag, or drag it with built-in wheels. It even comes with a washable bed. For more crates for golden retrievers for cars and indoor options, read the article linked here.
In Short:
Made with heavy-duty plastic and steel wire
Features 4 entrances
The interior corners are rounded and safe
It's 42-in long
Can be collapsed
Comes with a travel bag and washable bed
Has built-in wheels
BEST MEDIUM DOG CARRIER FOR CAR
Petmate Sky Kennel
Crate Size
This crate is 28-in long and for a good reason. It can still house medium dogs even though it's not 330-in long because it's a special crate for air travel so the dimensions need to be a tight fit but still comfortable. If this is too much of a hassle for you check out our article about medium dog travel crates next.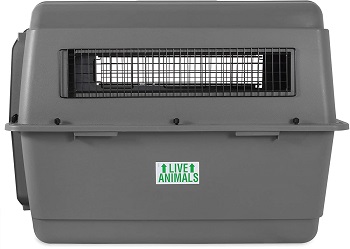 Wire, Plastic, And Extras
This car crate for a medium dog is made out of heavy-duty plastic. There are two shells that you can connect with non-corrodible nuts. It has 2 wire windows and a strong wire door that locks with a pinch to open lock. It comes with live animal and ID stickers and bowls that make up the basic travel kit.
In Short:
Made with heavy-duty plastic
It connects with non-corroding nuts
The wire door locks with a pinch to open lock
Has the basic travel kit
It's 28-in long
BEST BORDER COLLIE DOG CAR CRATE
MidWest Portable Tent Crate
Crate Construction
If your border collie has been previously crate trained, they'll surely enjoy residing inside this crate made out of water-resistant fabric material. It has a metal frame that allows you to fold it down and that along with U-shaped wire, makes it hold its shape nicely.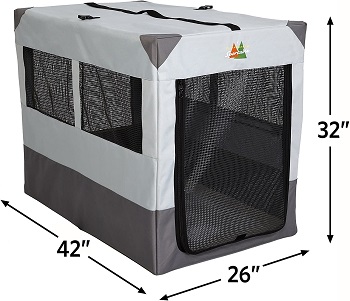 Ventilation And Comfort
It has vent windows on all sides and only one acts as a door. You can equip the interior with a faux sheepskin pad to keep your dog cozy inside this 42-in long car dog crate for a border collie. It's great for car travels but also camping so check out other dog tent crates for more options.
In Short:
Made with water-resistant soft fabric
Has a folding metal frame and U-shaped wire
It's 42-in long
Comes with a comfort pad
Should house crate trained dogs only
Has one door and 4 mesh fabric windows
BEST COLLAPSIBLE DOG CARRIER FOR CAR
Petsfit Portable Soft Crate
Windows, Cover, And Frame
The fabric windows have a hexagonal structure, 3 of them act as doors that close with zippers, and all of this makes it stronger and not easily chewable. Nonetheless, it should only house medium-sized crate-trained dogs. The fabric cover can be washed while the spiral tube frame makes it stable and easily foldable.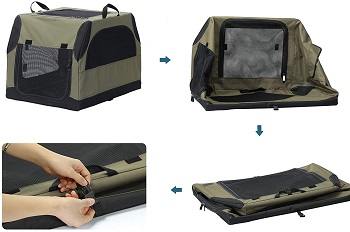 Interior And Corners
The interior bottom is leakproof while its top corners are rounded. We'd go more into this collapsible dog carrier car model but for that, we advise you to read the collapsible travel dog crate article where you'll read about more models and learn more about them in general.
In Short:
Can house medium dogs
Has a leakproof bottom
Has a spiral tube metal frame
The fabric cover is washable
The top features rounded corners
Has hexagonal pattern mesh windows
Features 3 doors that close with zippers
BEST MESH DOG CARRIER FOR CAR
X-Zone Pet Dog Carrier
Convertible Shoulder Strap
The shoulder strap that you can attach to the loops can act as a seatbelt. With its 17.5-in in length, 11-in in height, and carry-on bag design, you can even take it aboard an airplane and fit it below airplane seats. You can also carry it using the two carrying handles.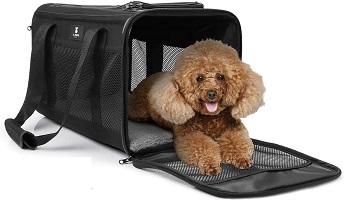 Build And Doors
It's made with polyester fabric, has 3 doors, and 2 mesh fabric windows. The interior is equipped with both a removable baseboard and a soft mat. If you really like this fabric dog carrier for car but need it to be bigger, read about other soft portable dog crates in the article linked below.
In Short:
Made with polyester fabric
It's 17.5-in long and 11-in tall
Has 3 doors and 2 ventilation points
Teh shoulder strap can act as a seatbelt
Fits under the seats of most airlines
Can house extra small dogs
BEST METAL DOG CAR CRATE
4pets ProLine Crash Tested Crate
Crate Panels And Safety
The corners that connect the aluminum metal sheet and tube sides of this crate are fiberglass corners. They are rounded and allow for a safe panel connection. The back of the crate is reinforced and generally, this crate is safe since it's a crash-tested crate. For more intricated designs and safe crates like this one, read the xl metal dog crate article next.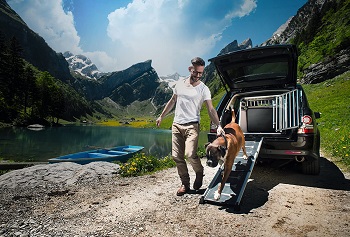 Size And Maintenance
All of the features mentioned above and even more make it a crate that's very low maintenance. You also won't worry about it rusting or corroding since aluminum doesn't do that. It's around 36-in long so you'll get to house large to medium dogs inside it.
In Short:
Made with aluminum panels and tubes
Has reinforced fiberglass connectors
The corners are rounded
It's 36-in long
Features a reinforced back wall
It's crash-tested
BEST PLASTIC DOG CARRIER FOR CAR
Gunner Kennels G1 Crate
Plastic But Durable
Just because the crate is plastic, it surely doesn't mean it's not plenty sturdy. It's made of roto-molded double wall plastic primarily and has a custom welded, aluminum frame reinforced door that locks from 3 points. It's crash-tested for pets up to 75 lbs and it protects against UV rays, rain, and even humidity.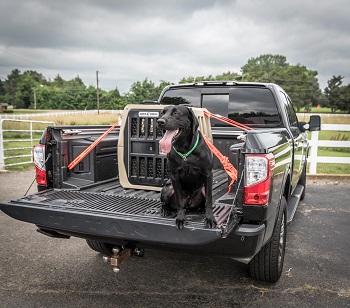 Cleaning The Interior
The interior features drain channels on the sides that gather liquids until you're ready to release them by unplugging the drainage plug. Hunting dog crates tend to have this unique cleaning method so check out more of them if this plastic dog crate for the car isn't suitable for your dog.
In Short:
Made with roto-molded plastic
The double-wall protects against the sun, rain, and humidity
Can house intermediate dogs
It's crash-tested for dogs up to 75 lbs
Has a custom welded door that locks from 3 points
Features an easy clean drainage system
BEST POP UP DOG CAR CRATE
Pawhut 39 Soft Sided Dog Crate
Dog Housing And Doors
You can use this as two separate crates, two separate but connected crates, or one long crate. This is all thanks to the divider and its overall width of 39-in. It's also 20-in tall and wide so it can only ever house small dogs. Each part has 4 doors and you can roll them up and stick them to velcros.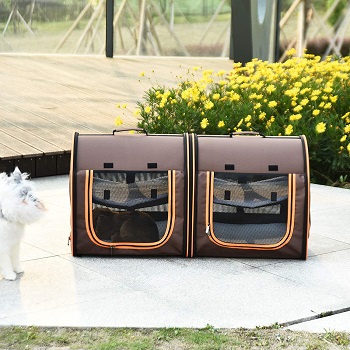 Inside Comfort
For comfort on the inside, you'll get both soft mats and hammocks. You can remove them easily as well and the whole things can be folded down as well. If you'd prefer to get a more durable crate than this pop-up dog crate for a car, you can read the article about double-dog crates for 2 dogs next.
In Short:
It's 39-in long, 20-in tall, and wide
Can house 2 or 1 small dog
Comes with soft mats and hammocks
Each crate part has 4 entrances
Can be folded down
Made out of fabric materials
BEST FOR TRUCK AND CAR DOG CRATE
Uws 2-Door Dog Box
Aluminum Build
Yet another aluminum crate that won't rust or corrode when exposed to liquids is a great choice for trucks. It's a dog box meaning it's made with aluminum sheets and the only place it gets ventilated from is the doors. We said two doors because you'll get to house two dogs separately inside.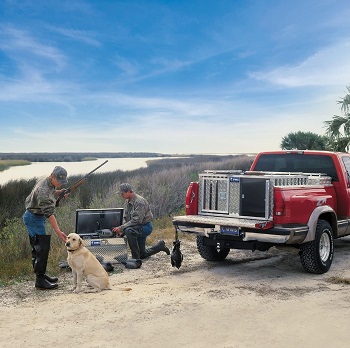 Top And Size
It's 48-in long and wide and 31-in tall. The rails on top allow you to store more things on top and secure the crate with tie-downs. The locks on the door are made with stainless steel hardware and lock with keys. There are more double-dog cages for cars in the post about the hunting dog crates for trucks, so you can find more here.
In Short:
Made with aluminum sheets
features a non-removable divider
Can house two dogs
The two doors lock with stainless steel locks
It's 48-in long, wide, and 31-in tall
Has a top rail for tying it down and for additional storage space
How To Pick Dog Seat Pet Carriers & Crates
To get the best possible dog car crate or carrier, you'll need to get familiar with the different types of crates that can be used for traveling. We'd also like to make it a safe experience so we'll provide you with safety info, size info, and a lot more all in this easy-to-understand buying guide.
Crating Your Dog When Traveling – We cannot stress enough how important it is to have your dog be in a crate when you're traveling. A dog that isn't might easily become a distraction while you're driving so even if you get an affordable dog crate, it's still better than nothing.
Crate Training Importance – Crate training your dog prior to traveling will make both your and your dogs' traveling experience more comfortable. Otherwise, the dog is just going to be stressed, make noise, and be everything but calm which only gets you to a point where you again, might be distracted and unsafe.
Puppy Travels – Apart from crate training your puppy before traveling, you'll also need to get your pet used to be in a car and a crate at the same time. A puppy that's ready for traveling shouldn't be less than 6 months old either. Another problem is that their bladder isn't strong enough to go without urinating long so if the crate isn't leakproof, the urine might damage your car interior.
Soft Crates – Soft crates are probably the most popular and the cheapest travel crates you can get. Their job is to contain your dog and they can't be used for indoor housing nor can they contain uncrate trained dogs. This is because they're made out of fabric materials that dogs can easily destroy.
Wire Crates – We've reviewed more than a few wire dog crates. Their main function is to house dogs indoors and you can easily crate train your dog inside them. They work with puppies as well if they come with a divider that will help you potty train them as well. They're great for traveling since they're foldable which makes them highly portable.
Safe Crates – By Safe crates, we're referring to crash-tested dog crates. These crates have an unmatched safety to them but the most common problem is that they're very expensive. You'll rarely find one that costs less than 600 dollars and some can even climb up to more than 1000 dollars
Crate Sizing – No matter the dog weight recommended, you should always pick a crate size using two proportions, length, and height. The crate should be at least 3-4 inches bigger in both length and height than your dog for them to fit comfortably inside. The way you'd measure your dog is by measuring from the tip of their nose to the beginning of their tail and from the bottom to the top of their head.
To Sum Up
If it were up to us to recommend the one dog carrier for car, we'd go with the safest choices but this might not be what you need, desire, or can afford so we'll leave the choice to you. Make sure the crate fits your budget since they vary greatly in price and make sure you choose the size according to your dog's height and length. For more travel crates, we advise you to read either the pop-up dog crate post or the article about the best portable dog crate. If you'd prefer to learn more about dog crates in general and see what they have to offer, you'll find them all in the dog crates article.