Do you plan on traveling or just generally transporting your dog a lot so you figured you'll need an easily portable dog crate?
We're certain you'll find one if you keep on reading this article!
Why? It's because we only reviewed the best in it and we made sure to include a large variety of different crate types like collapsible, soft, puppy, and even car crates. One is bound to be the right fit for you.
The Summary
Best 10 Portable Dog Crates
BEST OF BEST PORTABLE DOG CRATE
Petnation Port-A-Crate
Build And Size
What separates this soft crate from others is that it's made with tightly woven fabric which makes it more durable. Apart from the cover, it has a strong steel tube frame that allows you to fold it down as well. It's 28-in long and can house medium-sized dogs.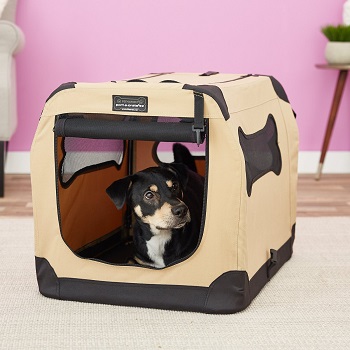 Doors And Ventilation
It's got 2 side mesh fabric windows that are shaped like dog bones. The front entrance is also a mesh fabric window while the top door is not. The article about portable large dog crates might also interest you because it has plenty of similar ones in there.
In Short:
Made with tightly woven mesh fabric
The side windows are shaped like dog bones
Made to house medium-sized dogs
Has a top and front entrance
Can be folded down
BEST LARGE PORTABLE DOG CRATE
Midwest Side By Side Crate
Narrow Design Purpose
It's intentionally designed to be narrower so that your dog can fit on the backseat of the car with you. Other than being narrow, it's a standard-sized 42-in long dog crate able to house large dogs. It will also take up less space in the trunk of your car.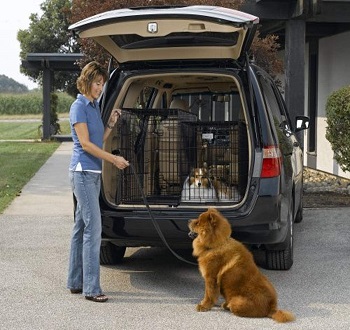 Build, Entrances, And Extras
It has a front and back entrance. You can easily fold it down since it's made out of wire. If you'd prefer another building material, you're sure to find one portable dog crate large in the article mentioned. It comes with a carrying handle and has a rust and corrosion-resistant e-coat finish.
In Short:
Made out of wire and has an e-coat
It's narrower than most
It can fit in the backseat of a car
Designed to house large dogs since it's 42-in long
Has a front and back entrance
It Will take up less space in trunks
BEST SOFT PORTABLE DOG CRATE
A4Pet Soft Collapsible Dog Crate
Construction And Doors
A portable soft dog crate is easily one of the most practical crate types for carrying so check others by reading the linked post. This one is made out of oxford fabric and has a tough steel tube frame that will allow you to fold it down when it's not in use. It features a top, side, and front mesh fabric window entrance.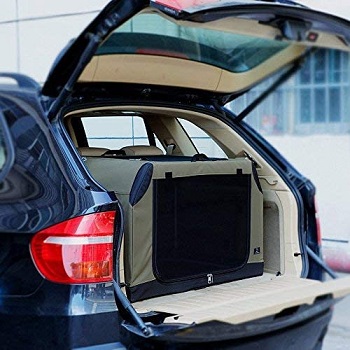 Bottom, Back, And Size
The bottom on the inside of this crate is leakproof meaning that dog urine won't leak onto your car floors. The back features a pocket where you can store your dog's accessories. It's 24-in long and should only house small dogs that have been crate trained.
In Short:
Made out of oxford fabric
Has a foldable steel tube frame
Features a leakproof bottom
Can house crate trained small dogs
Has 3 entrances, all three are ventilation points
Has an accessory pocket in the back
BEST MEDIUM PORTABLE DOG CRATE
Diggs Revol Dog Crate
Dog Safety
The frame of this crate is made out of plastic but it's heavy-duty plastic. The wire sides use aluminum metal which makes it one durable dog crate altogether. Apart from that, it's amazingly safe for puppies since it's made with baby safety industry standards kept in mind.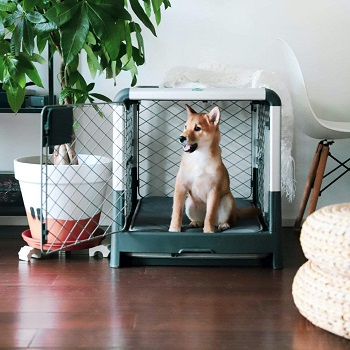 Portability Features And Size
It's the perfect medium portable dog crate because it's 30-in long and it can be collapsed and dragged with built-in wheels. If you'd like to learn more about them be sure to read the article linked below. It has a total of three entrances and one even slides open upwards.
In Short:
It's 30-in long
HAs a reinforced plastic frame
The wire sides are made out of aluminum
Made with puppy safety kept in mind
Has 3 entrances, one slides open upwards
Can be collapsed
Has built-in wheels on the bottom
Features a puppy divider
BEST CANVAS PORTABLE DOG CRATE
EliteField 3-Door Crate
Mobility Options
Not only is the crate made out of 600D oxford fabric but also its storage bag where you can put it folded down. You'll be able to fold it due to its foldable steel tube frame. You'll get to carry it either with the attached handles or with a padded shoulder strap.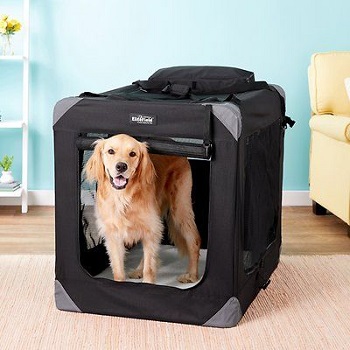 Colors And Roominess
This portable cage comes in a total of 16 different colors just like other soft dog crates for cars you can visit here. For other color variations and models by different brands, be sure to read the article about them. It's 2-in wider and 4-in taller than its competitors so your intermediate dog will have plenty of room inside.
In Short:
Made with 600D oxford fabric
Has a steel tube frame that's foldable
Comes with carrying handles and a shoulder strap
Able to house intermediate dogs
It's 2-in wider and 4-in taller than most
Comes with its own travel bag
Can be colored 16 different ways
BEST COLLAPSIBLE PORTABLE DOG CRATE
Pet Gear 4 Door Steel Crate
Portability Means
You won't just get to collapse this crate but you'll get to store inside its own travel bag and drag it around in it using the built-in wheels it has- When assembled, it has a handle on top for you to do the same. Surely there are more large collapsible dog crates out there so check them all out.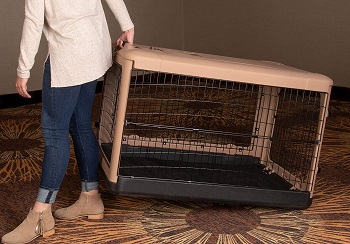 Build And Safety
Its frame is made out of heavy-duty plastic that's been blow molded while the sides are made out of wire. The inside has safe rounded corners and no exposed steel edges. It also has 4 entry points with the side one being a garage-style door. This portable cage is 42-in long so it's good for housing large dogs.
In Short:
Made with blow-molded plastic and wire
The interior has rounded corners and no exposed wire edges
It's 42-in long
Has 4 doors with one being a garage-style door
Has built-in wheels and a top handle
Comes with a travel bag
BEST PUPPY PORTABLE DOG CRATE
SportPet Designs Plastic Kennel
Travel Kit Contents
If by portability you mean traveling, you'll have no choice but to crate train your puppy first. This includes car travel and air travel. Yes, you can travel by air with it and it comes with the things needed for it like stickers, bowls, nuts and bolts, and bungee tie-down holes.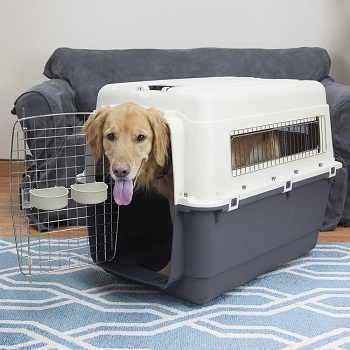 Top And Bottom Portability Features
It's made with 2 plastic wheels that connect with plastic clips. It features 2 handles on top and wheels on the bottom that you can remove when you want to. The reason these things are here is that it's a large portable crate for a puppy but you can find different sizes and models in the article.
In Short:
Made out of 2 plastic shells
The shells connect with clips or nuts and bolts
Can be used for car or air travel
Comes with basic air travel necessities
Made for large dog breed puppies
Has 2 top handles and easily detachable wheels on the bottom
BEST SMALL PORTABLE DOG CRATE
One for Pets Small Crate
Ways Of Housing Dogs
No matter how you look at it, you'll only get to house small dogs inside this crate. This portable pet crate allows for 3 ways of housing dogs. You can either house 2 dogs separately, but with connected crates, or you can remove the divider to house one dog inside or two dogs together.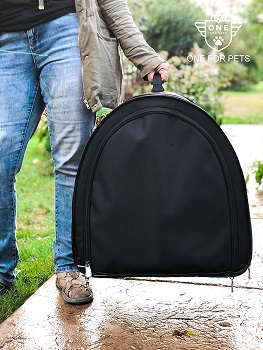 Crate Construction
It's a soft dog crate so it should house crate trained dogs. Each crate features its own carrying handle, 3 ventilation points, and 3 entrances. Travel crates for small dogs thrive when they're made out of soft fabric materials but there are others so check all of them out.
In Short:
Made out of fabric materials
Can house 2 dogs separately or together
Each crate part has 3 entrances and vent points
Able to house small dogs
Comes with a removable fabric divider
BEST CAR PORTABLE DOG CRATE
Gunner Kennels G1
Highest Safety Standards
This crate offers safety like no other since it's a crash-tested dog crate. Its frame is made out of roto-molded plastic which means that it uses a single plastic sheet. It's also double wall plastic which makes it easy to protect your pet from the cold and heat.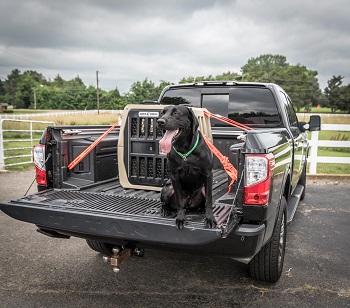 Other Safety Features
The single entrance is welded and made out of metal and reinforced with a frame made out of aluminum. It features escape-proof locks as well. There's so much to tell you about this back seat dog crate but to learn more about it and others, check out the article we listed below. This portable cage can house intermediate dogs.
In Short:
Made to house intermediate dogs
Made with rotomolded plastic
Has a double-wall construction
The single entrance is escape-proof
The door is metal and reinforced with aluminum
It's crash-tested.
BEST CAMPING PORTABLE DOG CRATE
MidWest Portable Tent Crate
Weight And Frame
You'd want a crate for camping to be light and this one is with its 20 lbs of weight. The thing that holds it up is the steel tube frame but also the U-shaped wire. The cover of the crate is water-resistant so you won't have to worry about your dog getting wet.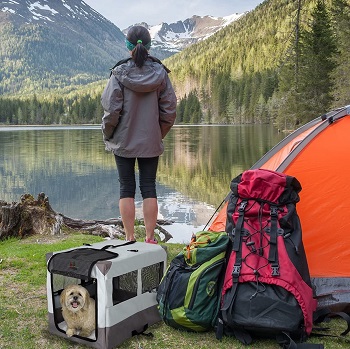 Dog Comfort
There will be enough air circulating inside it due to the mesh fabric windows found on all sides except the top. One acts as an entrance that closes with a zipper. You can fold this large portable dog crate for camping as well. If you'd like a different-looking model or you want to learn more, be sure to read the article about them.
In Short:
The crate cover is water-resistant
Has a foldable metal frame and u-shaped wire
Can house large dogs
Features vent windows on 4 sides
Has 1 zipper closing entrance
How To Pick A Portable Dog Crate
To get the best dog crate with a portable design suitable for your needs and wishes, we have to look at them generally and point out some of their flaws and benefits. We'd also like to go through the types of these crates and see what makes them portable. You'll learn all of this and more in this buying guide.
Portable Dog Kennels – There were some mentions of dog kennels but this shouldn't have you thinking that a crate is the same as a kennel. No true dog kennel can be easily portable since they are so large that they fit dog crates inside them. They're also made for outdoor use only.
Portability Of The Crate – Seemingly, the best portable crates out there are going to be small, medium, and large soft dog crates. The reason why is simple. They're light, can be carried in multiple ways, and can be easily stored because of the folding design when you're not using them. Their only flaw is that they can only house crate trained dogs.
Dog Travels – Although the flaw of a soft crate is the fact that they allow only crate trained dogs when you want to travel with your dog, you'll have o have them crate trained either way. A dog that's not can easily distract your while you're driving and generally, his travel experience is not going to be pretty.
More Durable Portable Types – Considering that a soft crate can't permanently house a dog, it's cheaper to get a wire or plastic dog crate that you can use as indoor dog crates as well. You should look for those that can be folded down or if not, that they can easily be carried.
What Can't Be Found Here – There are two crate types that we didn't review here because they truly aren't portable and those are indoor dog crate furniture and heavy-duty metal dog crates. Both types are way too heavy and just impractical to carry or even fit inside a car.
Size Info And Tips – Unless the dog crate you're looking at has a special way for you to figure out what size will be appropriate for your dog, you can figure it out on your own. You should take your dog's length and height, add 3-4 inches to both and the number you get is the preferred dimension for a crate that can comfortably house your dog.
Price Points – The cheapest portable dog crates are always going to be soft crates but that also depends on their size since with larger sizes come higher prices. A regular soft crate should cost more than 110 dollars unless it's a specialized and branded crate like a Midwest camping tent crate is. Wire crates aren't that much more expensive but you will be paying a lot for safety like crash-tested crates, puppy safety crates, etc…
To Sum Up
With so many types available, it's hard to pick one portable dog crate to recommend. Besides, the one we'd recommend might not be what you need or can have so we will just recommend a few final things when buying and looking for one. Be sure to check the right size according to your dog's length and height and check to see if the crate is durable enough to house dogs that haven't been crate trained yet even though you should crate train the dog before traveling anywhere. For more details and models of the types, we reviewed here check out the article about wire dog crates or the best soft dog crates. If you wish to see more types of crates with the ones already mentioned included, then you'll find them all in the post about dog crates.