Are you tired of the flimsy dog crate and need one that will actually be a durable dog crate?
We want to help you find the most durable one that you'll be happy with. All you need to do is keep on reading this article because we've set out to find the best and review them so that you'd know what you're buying. We Included quite a lot of crate types like wooden, metal, and even plastic ones so there's something for everybody
The Summary
Best 5 Durable Dog Crates
BEST OF BEST TOUGH DOG CRATE
Luckup Heavy Duty Dog Cage
Different Build Than Most
Typically you'll find that most heavy-duty metal dog crates are made with steel that has a corrosion-resistant coating finish. This crate is slightly different than that but sometimes a small thing can make a big difference. This difference is that the steel that makes the crate is corrosion resistant
Spray Paint Finish Benefits
Luckily enough, the crate also has a finish that is non-toxic so you won't have to worry about your dog damaging his health with excessive chewing. The spray paint finish gives this durable dog crate rust-resistant properties which is just another major indication of its durability.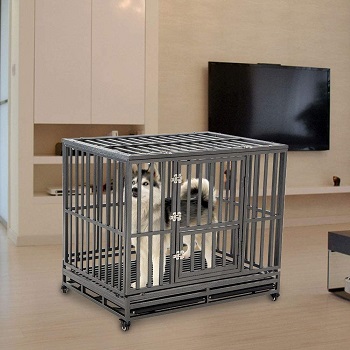 Door Type Explanation
There's three access points or door if you will and they all have a different main function. The first door located in the front is the one where your dog will access the crate. The second door is built into the crate that is smaller in size and will serve you as a feeding door. the last door is a top access door that will mostly serve you to access our dog and interact with him worry-free. All doors feature locks with safety buckles on them.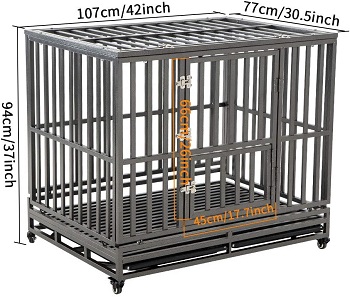 Bottom Things
On the bottom of the crate, you'll find three things. The first one is the gridded floor that will let dog dirt and excrement fall onto the second feature of the bottom, the plastic slide-out cleaning trays. The last thing that you'll find on the bottom are wheels because the crate is so heavy you will need that extra assistance from these wheels to help you move it.
Crate Length As Size Indicator
The length of around 42-in tells us that this crate is made to house large dogs and dog breeds. We were able to figure that out mostly because large metal dog crates typically are 42-in long so this is just a general measurement of a large dog crate.
In Short:
Made with corrosion-resistant steel tubes
Has a no-toxic and anti-rusting spray paint finish
Large enough to house large dog breeds
Has an entrance, feeding, and interaction door
Each lock features a safety buckle
Sits on wheels for easy movement
Comes with 2 slide-out plastic trays for cleaning
BEST WOODEN STURDY DOG CRATE
Casual Home Wooden Pet Crate
Category Explanation
We wouldn't normally categorize a medium wood dog crate as a durable dog cage but we had no choice but to do it with this one. It's probably only because it si made with solid wood that is chew-resistant. the crate might take some visible damage from it but it will still function properly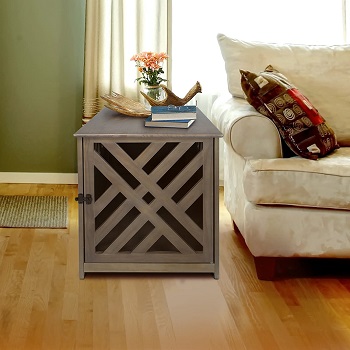 Furniture Style Top
What you'll benefit most from is the fact that this is a space-saving crate. This is achieved through the solid wood top that makes it function as a furniture piece all the while it contains your dog inside. You'll have to work really hard to go over the weight limit for the top since it's 200 lbs.
Wooden Bar Positioning
There's a single door for access but what's different about it is that it has diagonally placed wooden bars across it to make it look even nicer than it already is and if that's not enough for you, you might like the fact that it has a taupe gray finish that makes it blend into any home easily.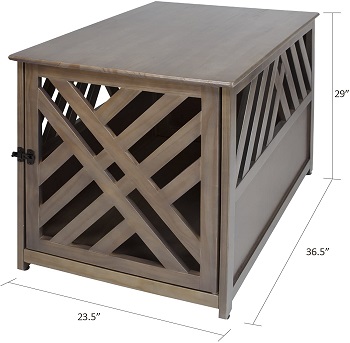 Crate Size And Dimensions
This tough dog crate is 36.5-in long, 23.5-in wide, and 29-in tall. What the height and length tell us is that it's able to house medium-sized dogs. If you want us to provide you with a dog weight limit, it's intended to house dogs from 25-40 lbs.
In Short:
Made with solid wood
The crate is resistant to chewing
Made for housing medium-sized dogs up to 45 lbs
Has a furniture style top with a 200 lbs weight limit
Features a single access door with diagonally placed wooden bars
BEST METAL DURABLE DOG CRATE
MidWest Ultima Pro Dog Crate
Durable With A Reason
Out of all Midwest dog crates that we reviewed in the past and that we are familiar with, this is definitely the most durable dog crate from them. Since it's made with steel wire that has a professional strength and gauge so it's easy to conclude why it's listed as their strongest.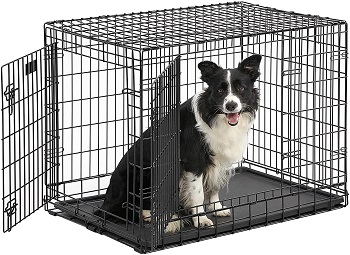 Puppy Confinement
If you want to, you can get this medium wire dog crate to house a growing puppy. It comes with an adjustable puppy crate divider that will adjust the crate's size to your dog's until he is fully grown. Before purchasing a size, make sure you check the approximate grown-up dimensions of your dog o figure out what size you should get.
Taking Up Storage Space
For easy travel purposes, this crate can be folded down so that you can easily carry it using the provided handle like a briefcase. Not only that but you can also use this feature to store the crate that will then take up very little space wherever you decide to store it.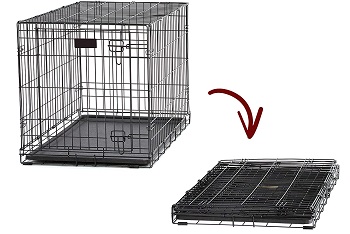 Doors And Floor Protection
There are two doors on the crate. You'll find one on the side and on in the front of it. Both doors can be locked using 2 sliding bolt locks per door. For your floors to stay scratch-free, the bottom of the crate holds roller feet to do that. The bottom also holds a plastic cleaning pan that will protect your floors from getting into contact with dog urine and other dir particles.
In Short:
Made with professional gauge steel wire
Features 2 doors that lock with 2 sliding bolt locks
Can be folded flat for storing or traveling
The roller feet and cleaning pan will protect your floors
Comes with an adjustable puppy divider panel
BEST PLASTIC TOUGH DOG CRATE
Diggs Revol Dog Crate
Plastic As a Durable Material
If you think that a medium plastic dog crate can't be durable you would be very much wrong and this crate is the one to prove it. It can easily be used to crate train a puppy and puppies are known for chewing onto things because that's how they get to know the world.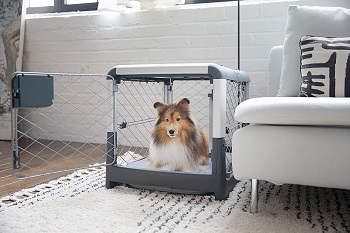 Puppy Talk
Speaking of puppies, you can even potty train your pup with this crate since it comes with a divider panel for it. It's built to be completely safe for them and the reason for it is that it's made to comply with baby industry standards so your puppy won't pinch his paws or get hurt in any other way.
Build And Travel Features
It's built with a plastic frame and has aluminum steel wire sides that are of high grade. It can actually be folded down and it even features built-in wheels and a handle for carrying that makes it an excellent crate to travel with. There's also a cleaning pan that slides out on the bottom for easier cleaning.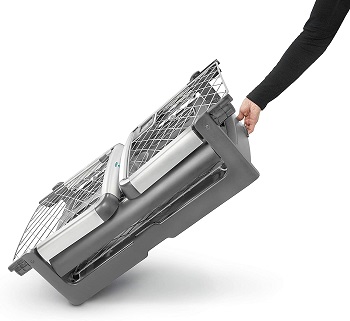 3 Door Design
This sturdy dog crate features a top door, a front door, and a side door. The front door can only be opened by a human because of the way it's made while the side door opens upwards so if you were to leave the crate open, it wouldn't get in your or your dog's way.
In Short:
Made out of plastic and aluminum steel wire
Can house puppies since it's completely safe for them
Features a potty training divider panel
The bottom is equipped with a plastic cleaning pan
Has a top, side, and front door that open differently
Can be collapsed and has built-in wheels and a handle for carrying
BEST FOR TRAVEL STURDY DOG CRATE
Primos Hunting Dog Crate
Manufacturing Process
This is another plastic dog crate but this one is different from the first one since it's mainly made to be a hunting dog crate. It's durable since it's made of a single piece of plastic. This is possible because of the manufacturing process called roto-molding.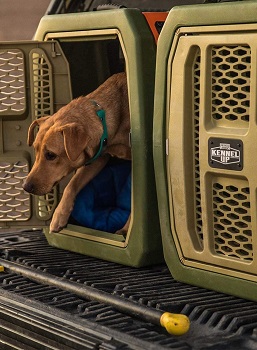 Weight Reasoning
Typically, these crates are built heavy even though they're plastic but this one is definitely lighter than most with only 38 lbs. This will allow you to easily carry the crate to your car or any other vehicle when you wish to travel with your dog. The probable reason why it's heavy is that it features stainless steel hardware like locks and tie-down holes are also built out of aluminum.
Door Function And Other Vent Points
The single door on this tough dog crate can be reversed to open in another direction. You will get to lock and unlock it using a key. It can be considered an air vent but that's more than you need since it features a back vent that's removable and side vents that can be adjusted for cold or hot weather.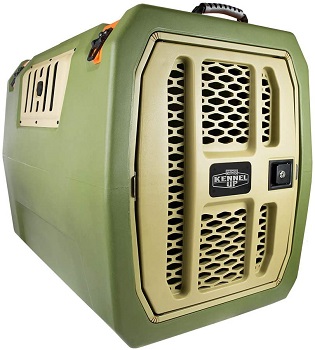 Cleaning And Moving The Crate
To carry it, you'll get two heavy-duty handles. If you're worried about the crate slipping you don't have to since the bottom holds rubber feet to prevent it. The inside bottom feature deep channels where dog urine or other liquids will go to. In the back part, you'll find drain holes where you can release the liquids when you're ready.
In Short:
Made out of a single roto-molded piece of plastic
Built for traveling
The door is reversible so it can be opened in multiple ways
The door lock can be opened using a key
Features a removable back vent and adjustable side vents
Comes with non-slip rubber feet and aluminum tie-down holes
The inside features drain channels for liquids
How To Pick A Durable Dog Crate
We can go on and on about what crate type is the most durable but we decided to take a different approach to this. We found that each crate type has its own version of durability so what we'll do in this useful guide is talk about each crate type, get into depth about what makes them durable, and put it all together to conclude which one truly is the best.
Heavy Duty Crates – Heavy-duty large dog crates and heavy-duty dog crates, in general, are known to be the most sturdy dog crates around. You should look for double locks or for locks with safety buckles and rust-resistant finishes. Their downfall is that they're heavy and not quite portable.
Plastic Dog Crates – This is definitely the most versatile category of crates you'll find since plastic is a versatile material. If you want to get the sturdiest dog crate out of all in this category, try to look for ones that have metal bits with them, or try finding a hunting dog crate for trucks because they're typically made with a roto-molded single piece of plastic that's quite tough and durable.
Steel Wire Crates – wire dog crates of any size sit right in the middle of the sturdiness range. They are a perfect starting point for dog crate training and can endure a lot of abuse. If you truly want a durable wire dog crate, try to look for ones that have a heavier steel gauge.
Wooden Crates – We wouldn't normally review a wooden dog crate as a sturdy one but some can be this way no matter what. If you want a wooden crate that's sturdy you'll want to be after a solid wood build since that makes it chew-resistant. On the other hand, you can try to look for ones that have chew-proof steel wire sides since that'll be muche easier to find.
Durable Dog Crate VS Kennel – The differences between crates and kennels are enormous. First things first, Kennels are much larger than dog crate and what we mean by that is that they're so large that they won't really fit inside your home. They're so large they can easily hold a dog crate inside of them. As for their durability, kennels are made much more durable since they are made to be placed outdoors.
To Sum Up
Since we already talked about perfect middle ground crates, we've decided to choose MidWest Ultima Pro Dog Crate as the most durable dog crate. Its made with a heavy gauge steel wire and can even be used for crate training puppies and dogs. If you need a durable crate for traveling with your dog we suggest you look into the article about the safest dog crates for cars and if you're looking for general safety in a dog crate you should read the article about safe dog crates.