Are you here looking for a great medium plastic dog crate for your dog?
You're in the right place since we have reviewed the best we were able to find. Not only did we review them, but we also took apart their functions and categorized them by what they're best for. Some of the crate you might find here are made for air travel, puppies, and more so continue reading if you want to be sure to find a dog crate for yourself in the next 15 to 20 minutes.
The Summary
Best 5 Medium Plastic Dog Crates
BEST OF BEST MEDIUM PLASTIC DOG CRATE
Pet Gear 4 Door Steel Crate
Some Wire Crate Functions
While the crate's frame is made out of heavy-duty plastic that's blow-molded the sides of the creature feature steel wire. This definitely increases the crate's durability and not only that, but it will also provide the crate with similar airflow and visibility that a regular medium wire dog crate would.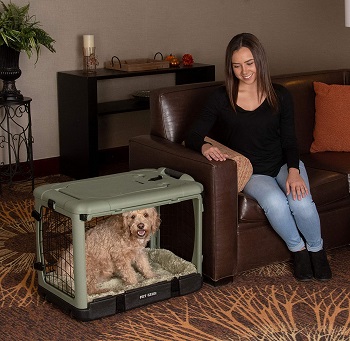 Bottom Durability And Extras
There are two things that the bottom of the medium plastic dog crate has. One is an extra that you get with the crate and it is the bed that will make the crate cozier for your dog ad the other one is the way that the bottom is made. The bottom is insulated so that extreme changes in temperatures don't affect it so that it cracks or splits.
Entrance Types And Quantity
If you're using the crate to contain your dog inside your home you'll love the fact that the crate has multiple entrances to make positioning easier. The 4 entrances are located on 2 sides, the front, and the top. The front access door is quite large and you can open it by sliding it open in an upwards direction so that it doesn't get in your way if you choose to leave the door open.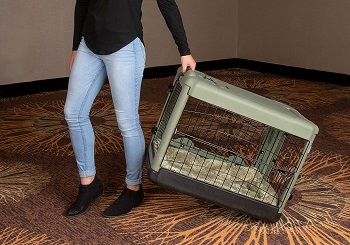 Travel Assistance Features
You don't have to limit yourself and house your dog inside your home only, you can use the crate to travel as well and the foldable construction, built-in wheels, and a top handle will assist in making this possible. The crate also comes with its own travel bag.
In Short:
Built out of plastic and steel wire for the sides
The base is insulated so it doesn't crack
Comes with a travel bag and a washable bed
Has 4 entrances in total
The large front entrance slide open in an upwards direction
BEST FOR PUPPIES MEDIUM SIZE PLASTIC DOG CRATE
Diggs Revol Dog Crate
Puppy Features
You can find a medium plastic dog crate that can house puppies and this is the crate to prove it. The two reasons why it's so good for puppies are that it is built to comply with baby industry standards and it also features a puppy crate divider for potty training.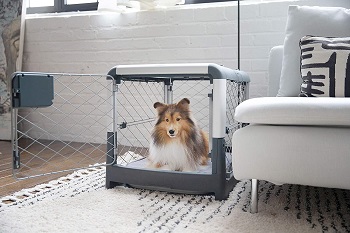 Durable 2 Material Design
Another answer as to why you can use it to house puppies easily lies in the materials it's made out of. Both the reinforced plastic frame and the aluminum steel wire sides that are high grade are durable and will handle chewing coming from a puppy until you're done with crate training.
Door Advantages
The crate has 3 entrances. the front entrance can be opened easily with little to no effort but it's made in a way that your dog can't open it on its own. there's also a top-load door and a side door that opens upwards to give you extra space around the crate if you choose to leave that door open from time to time.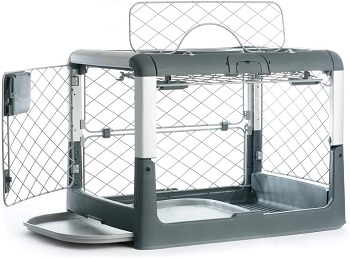 Traveling Made Simple
The crate is not as light as you would expect with a weight of around 31.3 lbs but it is light enough to be portable. What will also help you with transport and traveling are the wheels and top handle that are built-into it and the foldable design. The floors in your house or car will also be protected since the bottom has a slide-out cleaning tray.
In Short:
Comes with a puppy crate divider
Safe for puppies because of the baby standards it's made with
Has a reinforced plastic frame
The sides are made out of aluminum steel wire
Has 3 entrances with one being able to open upwards
The bottom has a slide-out plastic pan
Has wheels and top handle built-into it
Can be folded down
BEST INDOOR MEDIUM DOG CRATE PLASTIC
Iris Usa Wire Open Pet Crate
Reasons For Indoor Use
This is the only crate we will review that can not be used for travel because it's primarily a dog crate playpen so it's best to use it indoors. It also can't be folded down but its looks are what makes it fit in so perfectly inside homes because the plastic frame is made to look like wood while the steel wire sides are coated with white epoxy.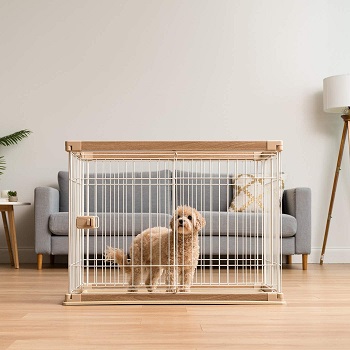 Sliding Door Advantages
The crate has a door that can slide open and it features a positive lock. This will, just like any other crate with a sliding door, save you space around the crate and also make this medium plastic dog crate blend seamlessly into your home when you leave the door open for free entry and exit for your dog.
Clean Floors
What the bottom of the crate features is a molded plastic tray. What this means is that the bottom edges of the crate fit perfectly inside the raised lip perimeter of the tray so that the tray doesn't accidentally slide out on its own. The raised perimeter also makes the pan slightly deeper so that if any liquids get onto it they will stay there and not end up on your floor.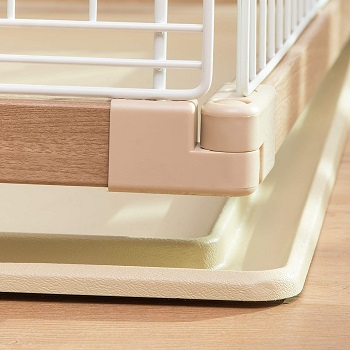 Wanted Dog Conduct
Although this medium size plastic dog crate does have steel wire sides that will handle chewing, the whole crate is made in such a way that it can only house medium dogs that are calm and already crate trained.
In Short:
Has a plastic frame that looks like wood
The steel wire sides are coated with white epoxy
The tray for the bottom is molded
Has an open top
The single access door slides open
Made to house calm dogs
BEST AIRLINE APPROVED PLASTIC DOG CRATE MEDIUM
SportPet Designs Plastic Kennels
Connecting The Shells
The crate, of course, is made out of plastic but it consists of two parts, the bottom, and top and the way you will be able to connect the two is using the locking clips made out of plastic. If you want more security, you can choose to connect them better with nuts and bolts.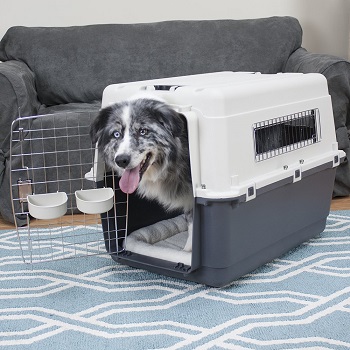 Air Travel Requirements
The opportunity for you to connect the two plastic shells with nuts and bolts is one of the requirements for this medium-sized plastic dog crate to be an IATA approved dog crate. The other things that meet these requirements are detachable water bowls, live animal stickers, and holes for tying down the crate with bungees.
Steel Parts
The medium plastic dog crate has a single door for access but that is standard for crates that you can use to travel by air. It is a steel wire door that has a lock that you'll have to pinch to open. Other steel wire parts include the windows that are covered with it to provide the crate with enough air.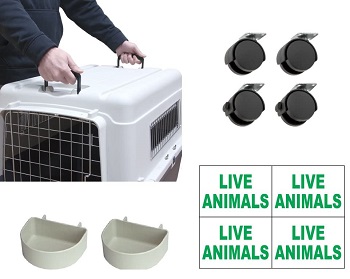 Smaller But Of The Perfect Size
This crate is a bit smaller than what we're used to seeing with medium-sized dog crates with only 27-in of length to it. What's good about it is that the manufacturer provides you with the sizing chart for you to know exactly how long and tall your dog should be for a specific crate. For this one, your dog shouldn't be taller than 16-in and longer than 24-in
In Short:
Has 2 durable plastic shells
The top and bottom shell connect with plastic locking clips
For more security, you can connect the two parts with nuts and bolts
Made for dogs that are no longer than 24-in and no taller than 16-in
It is an IATA approved dog crate made for air travel
Comes with most things required by airlines for traveling with your dog
BEST FOR TRAVEL MEDIUM PLASTIC DOG CRATE
Petmate Sky Kennel Pet Carrier
Travel By Car Or Air
Even though this medium plastic dog crate can be used for air travel since it meets most requirements provided by airlines you can also use it as a medium dog travel crate what this means is that you can use it to travel by car as well.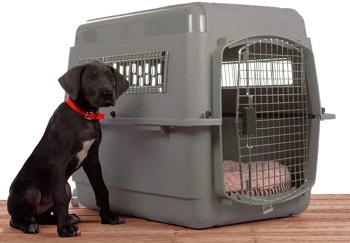 Stuff Needed For Air Travel
As with any airline approved dog crate, the crate consist of the bottom and top plastic that in this case, you can only connect with winged nuts. Other requirements that it meets is that it has live animal and ID stickers, and clip-on water bowls.
Preventing Spills
The bottom interior of the crate is slightly raised so that if your dog happens to urinate inside the crate, the liquids will stay inside rather than on your car floors. If you choose the right size of crate, you can be sure that the bottom plastic shell won't crack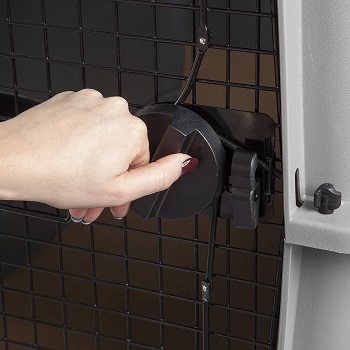 Door Security
A really important thing for travel crates to have is a durable door and lock and this one has it all. The door is made with durable steel wire and it locks with a vault type of lock that won't slide or slip during travel. This will ensure that there are no distractions when you're traveling. We do have to add that you should travel with your dog only if the dog is already crate trained.
In Short:
Has a raised interior to prevent liquids from spilling
Made with durable plastic
The bottom and top connect with winged nuts
It's advised that you travel only with crate trained dogs
Meets most requirements for air travel
How To Pick A Medium Plastic Dog Crate
As we went on to review these medium plastic dog crate we noticed that some features are repeating and create a pattern so for you not to worry about that we're going to go through some of the distinct features of these crate like their use, size, and things they differ in that make them what they are.
Most Common Function – If you're buying these crates you will benefit most out of them if you plan on traveling with your dog. They can fit inside cars, airplanes and they can even be SUV dog crates. The only thing you need to make sure of before traveling is that you properly crate train your dog
Talking About Durability – Although you can find plastic dog crates that are durable enough to handle chewing, crates made with plastic exclusively will definitely not handle aggressive behavior well. If your dog is a little bit more on the aggressive side we suggest you get a crate with steel wire sides or if that's not enough a heavy-duty plastic dog crate.
When Plastic Is Off-Limits – In some cases, not even heavy-duty plastic crates will do the job well so you might want to get a heavy-duty metal dog crate. You have to know that by choosing to get this type of crate, the crate will lose it's portability since these crates are extremely heavy so if you need the crate to be portable properly crate training your dog is an option.
Figuring Out The Size – medium plastic dog crates will vary in size. They can go from being 28 to 36 inches long. Usually, air travel crates will have a sizing chart for you to figure out if your dog can fit inside but for the ones that don't a general rule of thumb is that the crate should be 3-4 inches longer and taller than the dog.
To Sum Up
Since we wanted to focus most on portability and safety when it comes to medium plastic dog crates the one we chose to recommend has to be the Diggs Revol Dog Crate. Its durable plastic and aluminum steel sides will last for a long time and you can house a puppy and even travel with this crate. If your dog is too big to fit inside one of these crates you might want to look into the article about extra large plastic dog crates and if you figured out that you want to travel with your already crate trained dog then the article about soft dog crate medium will be very useful if you read it.