Are you looking for the wifi dog camera to keep an eye on your pet even when you are not together?
If the answer is yes, then keep on reading this article.
What you will find out in our post about dog wireless cameras is not only the list of the best models, such as the best dog cameras with collars, with treat dispensers, or cameras for puppies. You will also get some advice on what you should think about before buying a wifi dog cam. Take your time to read this article and to think about the model that best meets your needs.
The Summary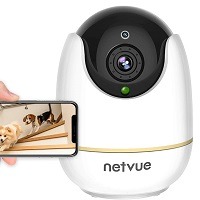 Netvue Home Dog Camera
OVERALL RATING: ★★★★★
Stay alert using this device. It will detect every suspicious human moving and notify you instantly.
Jump To Review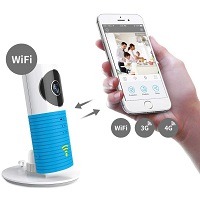 CleverDog Wide Angle Camera For Dogs
OVERALL RATING: ★★★★☆
The new, wider-angle version of CleverDog camera allows you to monitor your dog in high resolution.
Jump To Review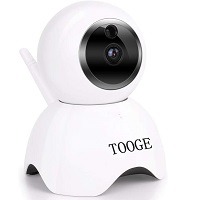 TOOGE Dog Camera For Indoor Use
OVERALL RATING: ★★★★☆
This budget-friendly Tooge indoor camera will make you feel safe when not at home. It provides a two-way interaction with no echos.
Jump To Review
What Is a WiFi Dog Camera?
Wifi dog cameras are used for monitoring your dog while you're away from home. Camera is a functional device which includes many functional features and can save you time with daily pet routine.
What Does WiFi Means?
WiFi means that dog cameras connect wirelessly with the Internet. There is no cable port on the device as on the other models. This feature allows you to place the camera wherever you have the Internet connection in the house.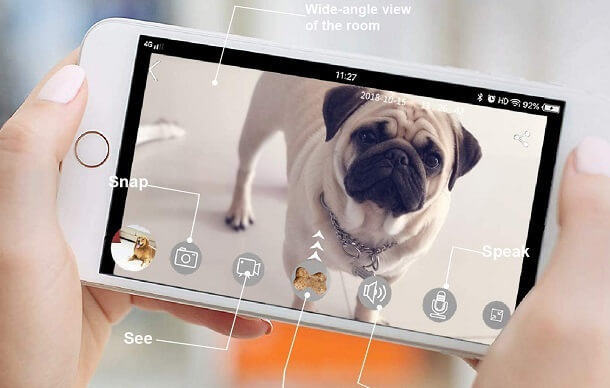 Types Of Wifi Dog Cameras On The Market
Check below which are the most popular types of WiFi dog cameras that you can find in any shop or online. Choose the model that will suit your needs.
Indoor Camera – Indoor models are monitoring cameras for all dog owners that want to check what's going on at home when they're at work or on a short trip. Indoor cameras are specifically made for houses or apartments and don't have weatherproof protection so you can't use them outside. Cameras with electric supply are only suitable for indoor use, and those with batteries can be used both outside and inside. Indoor cameras are suitable for puppies and dogs.
Camera With Treat Dispenser – Models with built-in treat dispenser allow you to reward your dog with treats if he's behaving great when you're away. The device can eject multiple treats depending on the settings from your phone.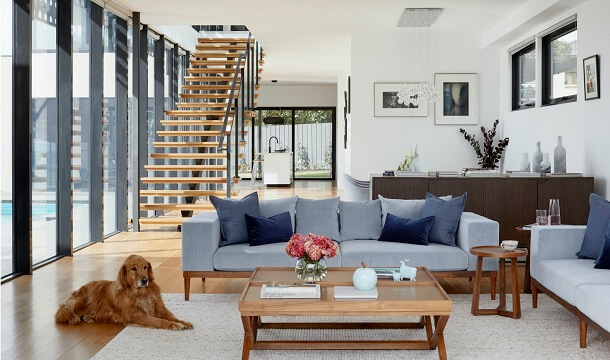 Why Do You Need To Buy A Wifi Camera For Dogs?
If you're not sure whether you need or not a wifi camera for your pet, check the most important benefits from our list.
Dog Monitoring – If your dog is often left alone at home because all family members are working, this device will help you monitor him so you can be sure everything is fine. You can check how he behaves, if he's making a mess or whether he is safe
Entertain Your Pet – Dogs don't like to be alone at home, so make sure to entertain them while you're away. You can choose a model with a treat dispenser and reward your pet, a camera with interactive games or a two-way communication model which allows you to talk with your pet. It can really help with separation anxiety and lower a dog's stress
Anti-theft Device – Wifi dog cameras work well as security devices. You can pick a model with additional features that will send push notification to your monitoring device when there are suspicious movements
Guide For Buying Best Wifi Dog Model
One of the most important things to check when buying a wifi camera for your dog is that the brand is reliable and high quality. Check the rest of the important specifications and features down below.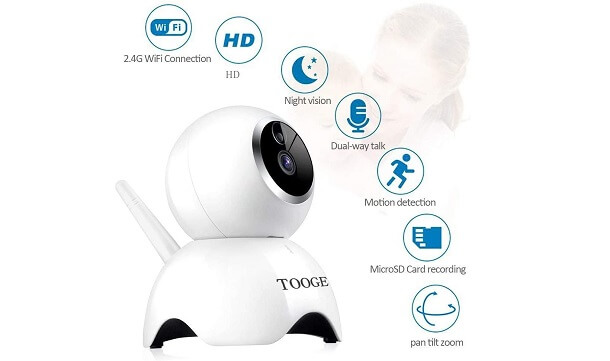 Quick Installation
Choose the camera that can be easily installed with the setup instructions. Check if the model has simple functions for easy daily use.
Internet Connection
Before buying a wifi camera, make sure to check if the camera is suitable for your home frequency. Most models support 2.4 wifi connection.
Durable Model
Make sure to pick a model made of strong and durable materials so you can be sure it will last you for a long time. It is recommended to be made of strong plastic for maximum safety.
Camera Quality
So you can easily monitor your dog, check the image resolution of a camera. Models under 720p are not recommended. If you're planning to buy a model with additional camera settings we recommend buying a HD 1080p camera.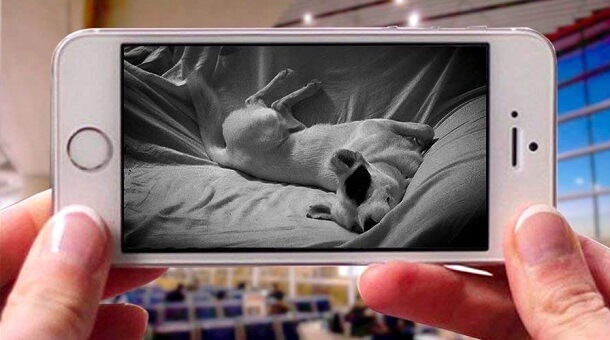 Additional Features
Some cameras have additional features like night vision mode, motion detector, two-way connection, tilt and zoom features. Pick the model that will be most functional depending on your needs and your pet's routine.
6 Best Wireless Dog Camera
Netvue Home Dog Camera
Netvue Home Dog Camera
What Is A Netvue Dog Camera? 
The Netvue dog camera is a special device that allows you to control how your dog is doing at home while you are away. It connects to the app, tracks suspicious motions, allows you to interact with your dog, and lets you take interesting photos and videos of your fur friend.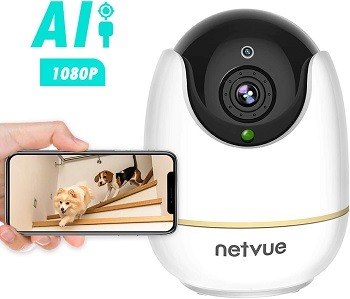 Smart Detection Sensor
The smart Artificial Intelligence feature of the Netvue camera will make your home safer. When the sensor detects motion, the camera will automatically start recording. If a human is detected in the clip, the app will send an alert that something suspicious is happening.
The High-Quality Camera 
The 1080p full HD camera included in this camera to watch dogs package has a 360° horizontal angle lens. Also, it has a 100° viewing angle and a digital pan/tilt/zoom. It helps you control the camera remotely using the application. Alternatively, you can set the 4 waypoints and have the Netvue camera monitor your room.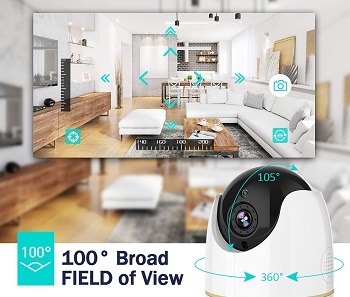 Night Vision Mode
Even if you are not at home during the night, you will be able to check the camera. This Netvue wifi dog camera features 10*850nm infrared LEDs. It comes with the auto-switching-to-night-mode function. You will be able to see up to 32-feet in 1080p even in the dark.
In Short:
detection sensor with alert notifications
full HD camera even during the night
two-way interaction audio included
auto-switching to night mode
affordable price
CleverDog Wide Angle Camera For Dogs
New And Upgraded Version
The CleverDog's newer version of a wireless dog camera features the upgraded functions and better camera resolution. It allows you to remotely check on your dog in real-life from anywhere and at any time. Make sure your home and dog are safe. Interact with it through a two-way audio.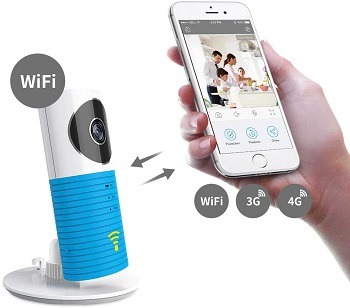 The Camera Characteristics And Storage
The 120° wide-angle lens monitors both large and small areas. The camera to watch dog includes the infrared night-vision too. It helps you check on your dog even during the night. It is exclusively made for indoor use. When it comes to storage, this camera supports a MicroSD card up to 128GB and a cloud storage.
The Intelligent Alarm
The CleverDog dog camera features two safety functions, the motion detection and intelligent alarm. When the detection sensor detects a suspicious motion, it captures a picture, sends it to your phone, and alerts you. The sensor is highly accurate.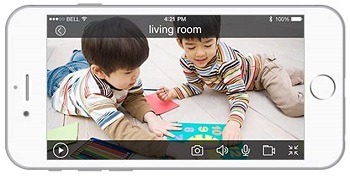 Technical Specifications
The 120° wide-angle lens comes with 1280 X 960P resolution. The size of the CleverDog camera is 3.9 x 1.56 x 1.37 inches so it will easily fit anywhere. It connects to the CleverDog app. The app is supported on Windows 7 or above, iOS 7.0 and up, and Android 4.0 and up. The camera is not compatible with MAC.
In Short:
upgraded and safer version of CleverDog camera
allows you to interact with your dog
detection sensor alters you about strange motions
camera is small and fits anywhere
image resolution is 1280 X 960P
supported on Windows, iOS, and Android
TOOGE Dog Camera For Indoor Use
Safe Data Storage
When buying a wifi dog camera, you want to be sure your private photos remain only yours. The P2P Tech doesn't store your personal data on the server. Instead, it saves it locally. Your photos and video will not leak out. SD card with up to 128 GB is supported.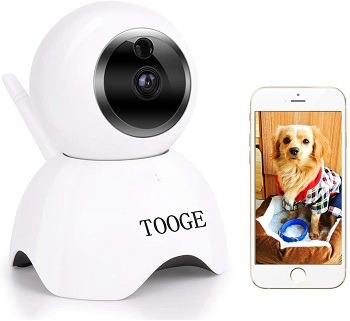 Day And Night Safety Camera
Another indoor camera for pets that has a day and night camera. It features an intelligent IR-Cut switch and assures high-quality images to clearly see every detail no matter which part of the day it is. The two LEDs will make your home visible in the dark for up to 16 ft away from the camera.
Interact From Your Phone
The Hi-Fi intercom makes sure there is no noise or echo when you are interacting with your dog. Whenever you feel the need to say hi to your best friend, you will be able to call it from anywhere and at any time. Snap a photo or record the interaction.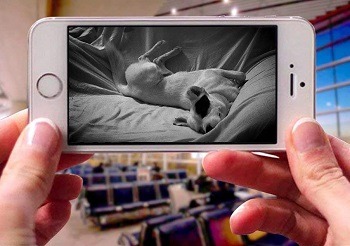 Where To Set Up And How To Maintain
Position the camera on a location that will provide a direct view of the home space your dog is staying in. Connect the device to a 2.4G wifi connection. Download the app on your iPhone or Android and access it from anywhere. Keep the camera dry and away from heaters. Use a damp cloth to keep it clean.
In Short:
your data is locally stored
high-quality night vision camera
Hi-Fi intercom for two-way audio interaction
supports 2.4.G wifi connection
easy to set up and maintain
Hanyan Digital Collar Cam For Dogs
Why Use A Dog Collar Camera? 
You can use such a device to track what your dog is doing while you away. You can also take great photos during your walks and hikes. Additionally, if your dog needs to increase its level activity, observe its movements. Feel safe with a dog collar camera and know where your dog is if it gets lost.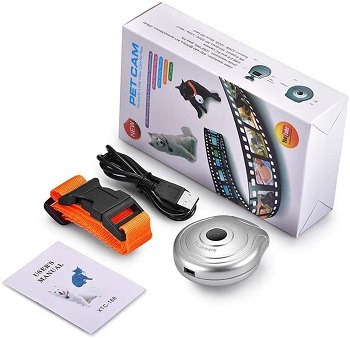 About Hanyan Digital Collar
The Hanyan dog collar is extremely lightweight and it doesn't bother your dog. It comes in a small size. It features a camera that shows you places your dog has been to. It can be used in a humid environment, but it is not 100% waterproof. It is of good quality.
What It Features
Besides the camera, this collar for dogs comes with an LCD display. It displays the size of the memory card and the name and information of the pet owner. It comes with a USB 2.0 data interface and it is compatible with almost every computer system. It is easily connectable to the camera and computer for charging.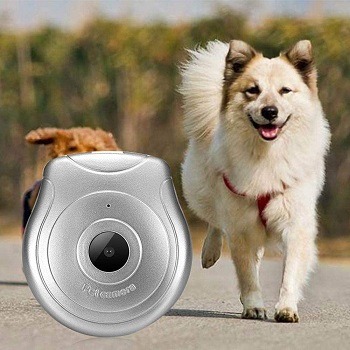 What Comes In The Package
The package of this dog collar camera includes the main unit – a collar with the pet camera, one USB cable, and a user manual. Make sure you read the manual before using the collar. The price of the package is reasonable and I find this device affordable for anyone. The collar is easy to use and set up.
In Short:
track your dog' movements and behavior
lightweight and small size
features LCD display with the owner's information
the cost of the collar is affordable
can be used in a humid environment
Skymee Dog Camera For Tossing Treats
What Makes A Skymee Dog Camera Special? 
What differs this camera from other models that we have listed in this post is the treat-tossing dispenser. Apart from that, the manufacturer numbers four more main actions this dog camera performs – "see, talk, play, share". Let's get into this a little bit deeper.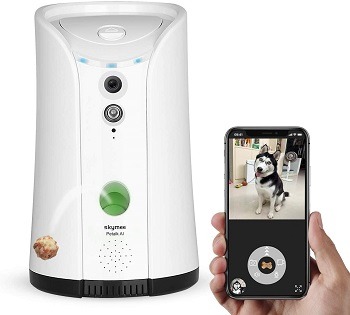 The Treat Dispenser
There is almost no better feeling for a dog than the one that appears when it gets a treat. When your dog is alone at home, no one can toss it a treat. Do you find that your dog would spend the alone-time easier if it gets a treat every now and then? If yes, the Skymee dog camera will help with that.
The "See" And "Talk" Features
The 1080p full HD camera will help you monitor your dog at any part of the day or night. It features the motion detector sensor. Should the sensor notice any suspicious motion, it will alert and send you photos. The two-way audio helps you interact with your dog and helps it miss you less when you are not around.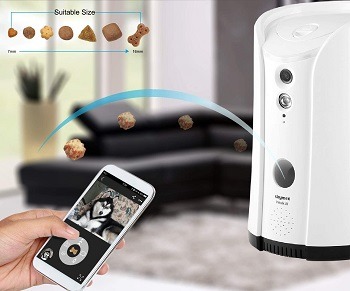 "Play" And "Share" Functions
The play part includes the treat-tossing game. The wifi dog treat dispenser will toss your dog a treat, and the dog will chase it. This will help it stay active and excited. While you are playing with your dog remotely, you will be able to snap funny pictures that you can immediately share to your social media or simply send them to other family members.
In Short:
remotely toss your dog a treat
make your dog chase the treat excitedly
motion detection sensor alerts you if necessary
share cute pics on social media
send funny photos to your family members
Conico Security Dog Baby Cam
Smart Sound And Motion Detection 
The Conico puppy camera functions as a house protector in every way. It has a built-in sound and motion detection. It lets you know if your puppy is crying and needs attention. It will also allow you to follow the action at home and make you see your dog(s) racing around the house.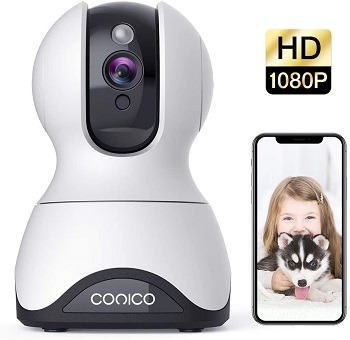 Real-Time Interaction
The two-way interaction with your puppy has never been easier. The Conico interactive dog camera includes a built-in noise-canceling microphone and speaker. If your puppy needs a consolidation, simply call it and let it hear your voice. Even if you simply want to check on it, do the live streaming and control if everything is fine.
The Night Vision Camera 
Even if you are not at home during the night, you will be able to check on your pet. The Conico security night-vision camera will allow you to see up to 32 feet even in the dark. You can zoom the camera 8x. Moreover, the boasting is 350° pan and 100°tilt.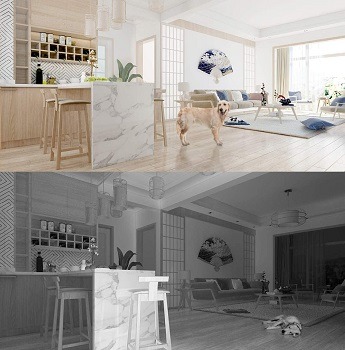 Smart Use And Alexa Feature
How to use the Conico dog camera? Simply connect it to your 2.4G wifi. This camera comes with a cloud and SD card storage (optional). Save the data, share the pictures and recordings with your friends and family. Lastly, the camera works with Alexa voice assistant which you will be able to use when at home.
In Short:
interact in real-time with your puppy
use the camera even during the night
zoom the camera up to 8x
connect it to your wifi
save data on cloud storage
use the Alexa voice assistant
How To Connect WiFi Dog Camera With Monitoring Device
Most of the cameras can easily connect with monitoring devices. All the steps can be found in setup instructions.
Step 1. Turn on the camera by setup instructions, depending which power supply device is using. Check if it works properly, most of the cameras have a spot for green light which shows the camera is connected.
Step 2. Turn on the WiFi and connect the camera with the Internet. Make sure the connection is always stable and strong so you can have real-time monitoring.
Step 3. Find the manufacturer's app on your monitoring device and download it. Most of the devices support both Android and iOs systems. Install the app and follow the steps for customization.
Step 4. Detect the camera on your monitoring device and pair it immediately. If you're not sure the connection will work properly, you can try it for the first time while you're still at home.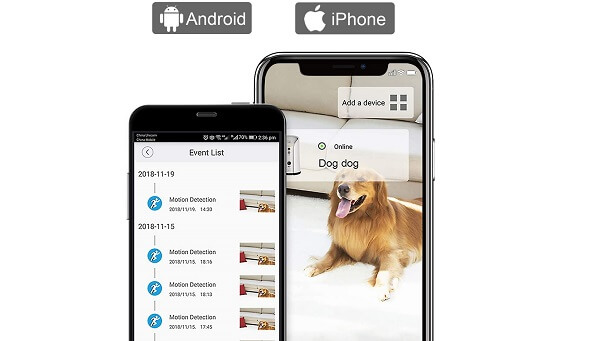 Keep All Videos And Pictures
One of the most important features when picking a Wifi camera is storing area.That means you can save screenshots and videos of your dog and post it on social media.
Cloud Storage Capacity
How much videos and pictures you can store on the device depends on the camera specifications. Most of the models use local storage and cloud storage. Use the cloud subscriptions on the manufacturer's app which offer different storing packages and storing sizes.
Pick Model That Support SD Cards
For the safest storage so you don't have to worry if the videos or pictures can fit on the device, pick the model that supports SD cards. There are different sizes of SD cards on the market. We recommend buying 128 GB.
Check The Storing Record Settings
So you can watch the record from the previous day or night, pick a dog camera that has storing record settings. This is an ideal feature for all dog owners that don't have time to always check monitoring devices. Most of the cameras store the record for 30 days.
To Sum Up
After comparing and contrasting all the features that these devices are offering, we have concluded that the best wifi dog camera is CleverDog Wide Angle Camera. It is an upgraded version of the previous model that is safer and provides even higher image resolution. Check out more about dog cameras and read our reviews of the best interactive dog cameras. If, apart from checking on your dog while you're away, you want to track your dog's activity, get a dog collar camera.