Looking for a cat camera treat dispenser for your cat when you aren't at home?
Great, because we've reviewed 6 different models.
Here you can read detailed reviews separated in 6 different categories so you can be sure you will find the perfect fit for you and your cat. In these 6 categories, we've covered models with wifi, smart and interactive models, compact models, and models made for indoors. Also, at the end of the article, you can read a short guide with the most important information. That guide can help you buy the model that will suit you and your cat perfectly.
The Summary
Best 6 Treat Camera For Cats
BEST OF BEST CAT CAMERA TREAT DISPENSER
Furbo Cat Camera With Treat Dispenser
Easy To Set Up And Use
Set this Furbo cat camera up easily. All you need to do is plug the unit into a power outlet. You will use the USB cord that is provided by the manufacturer. Don't forget to install the Furbo app on your phone. In the end, connect it to your wifi. It is as simple as it gets.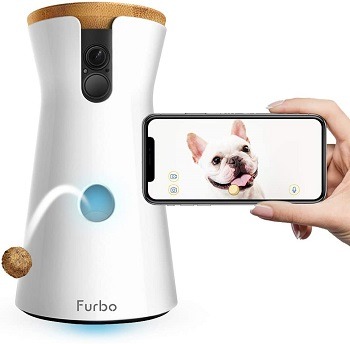 Full HD Camera
The Furbo 1080p full HD camera includes the possibility of live-stream video and night vision. The 160° wide angle will allow you to see your cat on your phone whenever you are not at home. It is made for both your cats and dogs.
The Audio Features
Interact with your cat or dog easily thanks to this wifi treat dispenser. This product includes the barking sensor and detects when it hears your dog barking. You will be able to talk to your cats via camera and calm them down if necessary.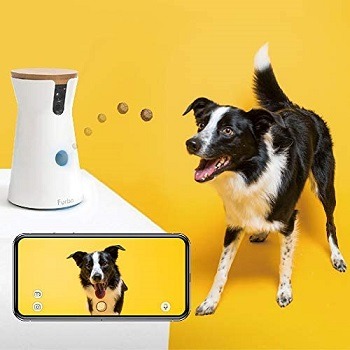 Treat Tossing Function
Another great feature of these models, you can use the app to toss a treat to your cat. Choose your cat's favorite treat and fill the Furbo dispenser with about a hundred of your cat's treats. Don't forget that you can play a catch game too!
In Short:
1080p camera snaps the best photos
smart alerts – get a notification if your cat needs you
fits over 100 treat types
easy to set up and connect to WIFI
connect it to the app
BEST WIFI CAT CAMERA TREAT DISPENSER
Petzi Pet Cat Camera Treat Toss
Petzi – General Overview
The Petzi dog and cat treat camera come in white. It connects to your wifi. The size is 13.31 x 7.31 x 4.5 inches (LWH). It comes with a 720p video camera and allows you to control if your cat is okay during the time you are not at home.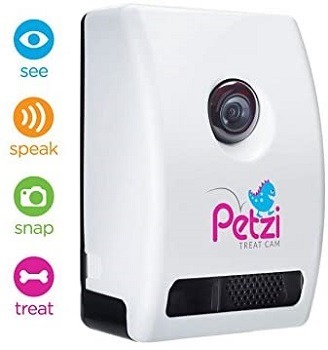 Petzi Dispenser Tosses Treats
Use the Petzi app on your phone to treat your cat. Don't worry, the included treat dispenser tosses a treat even when you are not at home. The Amazon Dash Replenishment tracks the treat level and makes sure your cat is never out of treats.
Night Vision Camera 
Once you set up the Petzi camera and treat dispenser you will be able to monitor your cat from your phone. The camera comes with the night vision feature and high-quality audio. Check how your cat is anytime and from anywhere.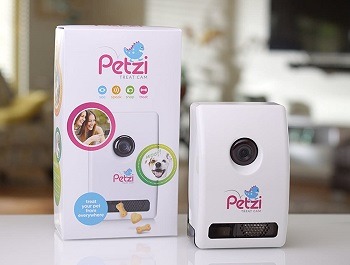 Snap And Share Your Photos
The iOS and Android app allow you to snap the cutest photos of your cats after which you can share them on your social media or simply store them on your phone. Also, you can say hello to your cat through the one-way audio on this wifi dog camera.
In Short:
the app is supported on iOS and Android
connects to your home wifi
snaps photos and allows to share them
talk to your cat through one-way audio
BEST SMART CAT CAMERA TREAT DISPENSER
WOpet Smart Cat Pet Full HD Camera
Smart Use And Connects To The App
WOpet smart cat treat camera is a corded electric item. It connects to the free WOpet iOS and Android app. Use the food dispenser to fill it up and toss treats to your cat or dog when not home. This item allows your cats to play games too.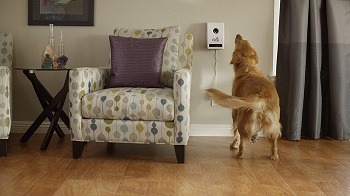 How To Set Up
It is simple to set this item up. First, you will plug the WOpet camera-dispenser to a power outlet (the USB cord is provided). Then, you should download the app to your phone and log in. Connect to your wifi and start using it.
Best Smart Features
The WOpet camera dispenser features a 1080p full HD camera you can shop great photos with. Also, you can live stream video and speak to your cat through a built-in microphone. It is 2-way audio so you can listen to your cat. The dispenser tosses a treat via the app.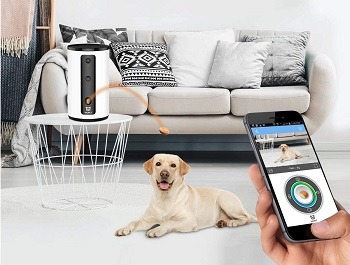 Tips On Using WOpet
Don't use the dispenser for wet food, fill it up with dry treats only to avoid clogging. When it comes to WIFI, your home WIFI should be a 2.4GHz frequency, otherwise, the wifi pet camera won't work because the 5Ghz frequency is not supported.
In Short:
Full HD 1080p camera
built-in microphone for two-way audio
play catch games with your cat
use only dry food for the dispenser
BEST SMALL CAT CAMERA TREAT DISPENSER
Pawbo Life Cat Wifi HD Camera
About Pawbo Camera And Dispenser
The Pawbo small cat camera treat dispenser comes as a 4.4 x 4.4 x 7.9 inches item. It will fit almost anywhere in your home. It comes in white design. The 720p HD and 4x zoom camera allows you to check on your cat anytime and from anywhere.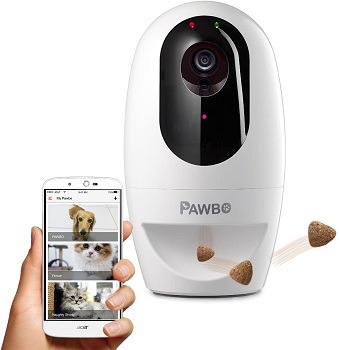 Camera Function And Games
The pet monitoring camera will not only make you check if your cat is okay, but you can also do live streaming and talk to it so it feels less lonely. Apart from that, there is a laser game that both your cat or dog will enjoy.
Your Cat Will Get A Notification
Your cat can easily be trained to respond to your calls. The ringtone will notify your cat that you are calling it. Do that if you are not at home for many hours and you miss your cat.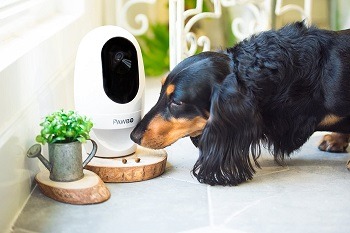 Snap Photos And Record Videos
Whenever you notice your cat making a cute pose, you can snap the picture or even record a video. Store the pictures or videos to your app and download them to your phone. Share them on your social media to show your friends how happy your cat is.
In Short:
small and compact – fits anywhere
your cat will get ringtone notification
snap and record feature included
easily share pictures to your social media
let the cat play a laser game
BEST INTERACTIVE CAT CAMERA TREAT DISPENSER
Petcube Bites 2 Way Cat Camera
Remote Cat Care
Petcube camera treat dispenser is a small WIFI item that comes with audio and motion alert type. It allows you to check in on your cat remotely. The wireless communication is through 2 GHz / 5GHz WiFi and Bluetooth. It features real-time notifications (it detects the barks and meows).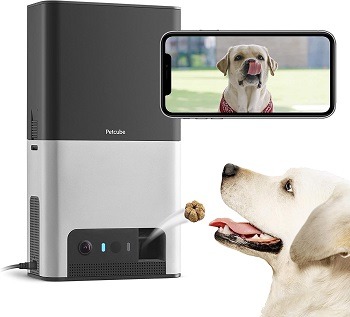 How To Install And Mount
Easily install this interactive pet camera. Plug it in, download the free Petcube app and connect it to the WIFI. The dispenser can be wall-mounted and the mounting kit is included in the package. This device works with the iPhone and Android.
Dispenser – Capacity And Maintenance
The treat dispenser's capacity is about 1.5 lbs which is more than most of the models come with. When it comes to maintenance, it is very simple. The dispenser is detachable so you can easily wash it in your dishwasher or by hand.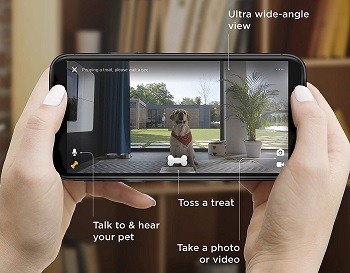 Alexa Built-In Feature
The voice control feature is optional. If you use it, it allows you to play music, hear the news, or order your cat's treats. Get to know more about the Alexa voice assistant. Read about how to use it within the instructions.
In Short:
optional Alexa voice control
the unit can be wall-mounted
the only one that supports 5GHz connection
detachable treat dispenser for easier maintenance
comes with bark and meow detector
BEST INDOOR CAT CAMERA TREAT DISPENSER
Iseebiz Cat Camera With App
Alexa Smart Voice Assitant
Another model of cat video treat dispenser that comes with the Alexa voice assistant feature. Use the Alexa when you are at home. Ask it to toss a treat to your cat. It is easy to use the voice assistant, just say "Alexa, open Iseebiz feeder".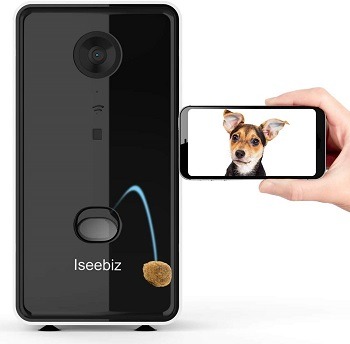 Camera Characteristics
See your cat, listen to it, and share the interesting and cure snaps to your friends and family. Also, you can log in at the same time from different devices to see your cat. The home camera for pets is 165° and comes with an auto night vision mode.
No Need For Drilling Holes
Forget about drilling holes to make your camera dispenser fix. The product comes with suction cups that helps it stand on the smooth and flat surface. You won't need to worry that your cat will knock down the treat dispenser.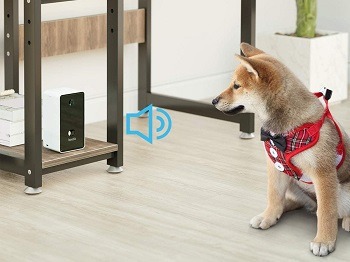 Last Important Details 
This device supports 2.4GHz WIFI connection. It is simple to set it up. The USB cord comes in the package and the app is completely free. The dispenser can contain only dry food. Play the "catch me if you can" game with your cat.
In Short:
optional drilling or using suction cups
simple to set up and install
Alexa voice-enabled assistant feature
supports up to 8 devices
How To Pick: Cat Camera Treat Dispenser
If you want to know what are some of the most important treat dispenser features, this guide is your next step. Here we will share with you information about camera features, application settings, how and where you can use the device. First, we will start with simple characteristics like size and mounting options, then we will continue with technical features.
Small In Size – The small and compact size of these devices is the best choice for people who don't have much free space in their home. The good thing is that you can mount it to the wall, but if you don't want to drill the wall, choose the model with suction cups.
Two-Way Interaction – Most of these models can be used to interact with your cat through the two-way audio so you can hear your can and it can hear you. You can even train your cat to come closer to the unit when it hears the notification ringtone. That way you will be able to interact with your cat no matter where you are.
Use The Application – Every model connects to its manufacturer's app and both iOS and Android devices support the applications. The app allows you to monitor the live streaming on your phone, interact with your cat, toss it a treat, or play a game so the variety is big.
Snap And Share Photos And Videos – If you love posting on social media, use the app to take the cutest photos and videos of your cat. Share them with your family and friends via the app, or simply download and store them on your phone.
Alexa Voice Assistant – Some treat cameras for cats include the Alexa voice assistant function. But, keep in mind that this function can be used only when you are at home. You can simply command Alexa to toss a treat to your cat, or even order more cat treats online.
To Sum Up
We recommend buying Furbo Cat Camera. We find it the safest and of the highest quality. When it comes to choosing the best pet camera for cats, you should always make sure to buy it from a reliable manufacturer. Yours and your cat's safety comes first. If you don't feel like these devices are suitable for you, try with a cat camera collar and always know where your cat is.