Thinking about buying an indoor dog camera, but still looking for the perfect model?
Then this article will help you.
We have explored the online market and found the indoor dog cameras that are most searched for. We have divided them into 6 categories. Check out the best of best, with wifi, interactive, cheap, or other models, and see if one of them meets your needs. Don't forget to read our guide on how to pick the perfect indoor camera for you and your dog.
The Summary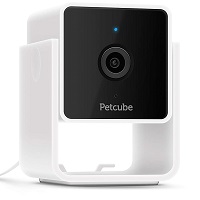 Petcube Pet Monitoring Camera
OVERALL RATING: ★★★★★
What makes this camera best is the fact that you'll find a vet chat within the app. Consult a veterinarian when necessary.
Jump To Review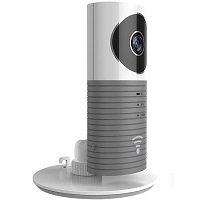 CleverDog Nanny Camera
OVERALL RATING: ★★★★☆
The CleverDog camera is a small device that includes an HD video camera and allows you to watch your dog during the day or night.
Jump To Review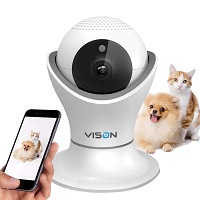 VINSION Dog Monitor Camera
OVERALL RATING: ★★★★☆
Interact with your dog 24/7. Make it happy when it hears your words of love. Check on it through the app anytime.
Jump To Review
What Is an Indoor Dog Camera?
Indoor dog cameras are small and compact devices installed inside the house or apartment. They are used for monitoring and interaction with your dog when no one is home.
How Indoor Camera Works?
Indoor cameras are recording the room and showing the real-time video on your monitoring device by using the app. The device is connected with WiFi and easily paired with multiple monitoring devices.
Main Differences Between Indoor And Outdoor Cameras
Models labeled as indoor cameras can only be used inside because they are light and don't have a bulky construction like outdoor models. Even if most of them have waterproof protection, indoor models are not made of materials that can withstand very high and low temperatures which can damage the construction as well as lenses. Also, indoor cameras usually have an electric supply, while outdoor cameras, for safety reasons, have a battery supply.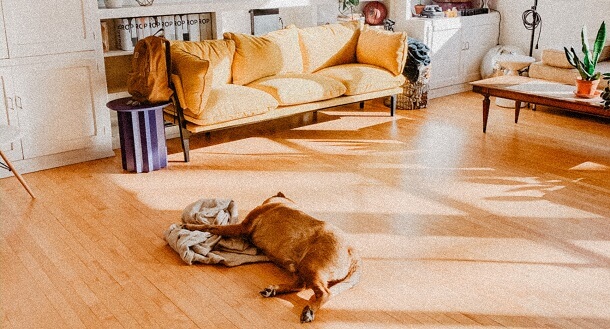 Who Needs To Buy An Indoor Camera For Their Dog?
Indoor cameras are recommended to all dog owners, no matter what type or size their dog is. If your dog is often alone at home and you want to monitor him, consider buying one of the models.You can check if your dog is ok, or is he suspicious due to health issues. Dog cameras in many cases can be life-saving devices. Also, having a camera with two-way communication can help your dog relieve the stress, especially if they have separation anxiety. Use the speaker to talk with your dog and he will answer you with barking.
Use The Camera As Anti-Theft Device
You're afraid of intruders when no one is home? You can use indoor cameras as security devices, as well. Customize audio and camera settings and be sure your house and dog are always safe. We recommend picking a model with a motion sensor which automatically sends notification to the monitoring device.
Are There Any Important Camera Specifications To Look For?
Yes, if you are buying an indoor dog camera for the first time, it matters which camera to buy. The camera must be of good quality and have good settings to facilitate daily use.
Practical For Daily Use
Choose an indoor camera that is practical to use on a daily basis. For beginners, we recommend a simple model with functions that will be most useful depending on your needs.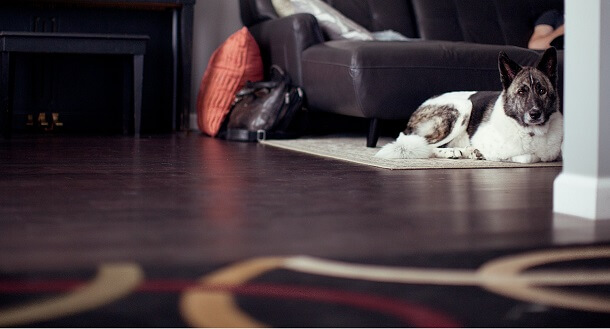 Durable Model
There are different indoor models to pick from the market, but make sure that your choice is the one with sturdy and high-quality construction to last you for a long time.
Electric Supply
Most of the indoor cameras for dogs use electric supplies. Check the length of the wire plug so you can be sure it can reach the nearest socket where you're planning to place the device.
WiFi Connectio
All indoor cameras use wireless internet connection za rad. Before buying a device check if the supported internet frequency in your home is compatible with the camera. If the frequency isn't on 2.4G Hz, the device won't be able to connect.
Monitoring And Interaction
Check the monitoring features of the model and choose the one that provides easy monitoring from supported devices. Also, check if the camera has two-way communication which allows speaking and listening.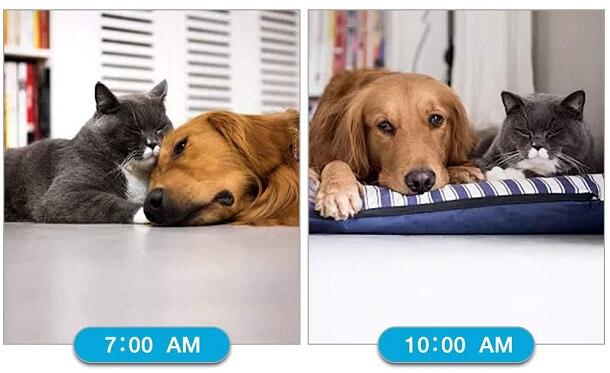 Video And Audio Settings
One of the most important settings to look for in an indoor camera are camera features. If you want to have a clear picture while monitoring, don't choose image resolution under 720p. For users that will use cameras at night, a 1080p camera will be the best choice. Check the quality of a speaker and microphone so you can have an optimal two-way talk.
Storing Area
Most cameras have a local storage area where you can save pictures and videos. Check how large your storage space is to be sure you'll be able to save some favorite moments. Pick a model that supports an SD card which is the safest way for storing.
Additional Features
It is always advantageous if the model has additional features you might use. For a wider view, check if the camera can rotate vertically and horizontally. Also, if you want to check the room in detail, pick a model with zoom features. Infrared mode with an automatic switch is recommended for all users who're planning to monitor the dog 24/7.
Best 6 Indoor Cameras For Dogs
Petcube Pet Monitoring Camera
What Makes This Petcube Special? 
The feature that makes this indoor camera for pets different is the built-in live vet chat. You are probably wondering how this works. It is simple. When you notice a strange behavior in your dog, you can chat with verified veterinarians through the app. The Petcube device comes with one complimentary vet consultation.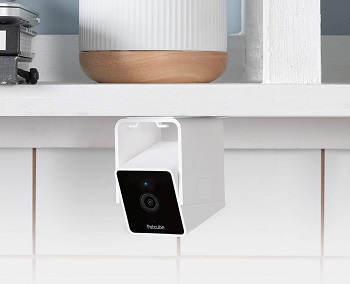 High-Quality Video Camera
This Petcube model is a new 2020 model. It features an even better and clearer 1080p full HD camera. It comes with a 110° wide-angle view, and night vision function. You can zoom the picture for up to 8x. Lastly, you will be able to see up to 30 ft. in the dark.
Smart Sound And Motion Alert
You can stay calm while away. The camera includes a sound and motion sensor and if it detects any abnormalities, it will alter you immediately through the app. This camera will not only help you interact with your dog when it feels lonely, but it will serve as a home security camera too.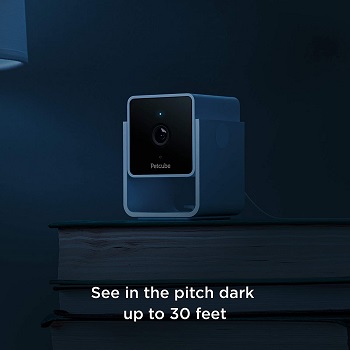 Communicate With Your Dog
The device has a microphone and a speaker included. The two-way remote interaction with your dog is going to be even easier. When you feel like your dog needs to hear your voice, simply call it and tell it hello. You will be able to hear its bark too.
In Short:
vet chat included within the app
features sensor for motion and sound detection
high-resolution camera and night vision
easy to communicate with your dog
hear your dog's bark
CleverDog Nanny Camera
Small And Functional
The CleverDog indoor dog camera is a small and compact device. You can easily place it anywhere in the room. It features an HD camera that will make you see clearly what is happening in your home. It is a simple plug-in device and it is incredibly easy and quick to set it up.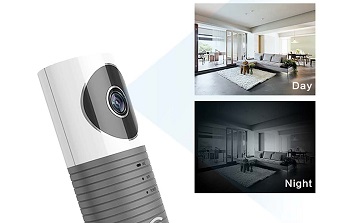 Connect CeleverDog To The App
Once you turn on the camera to watch dog at home, you should download the app to your Android or iPhone. The app requires you to log in. A total of 5 people can use the app. Customize the camera settings and audio alerts. Share your cute and funny photos or videos with your family.
Microphone And Speaker
This CleverDog device comes with a built-in two-way interaction feature. This means that not only your dog will hear your voice when you call it, but you will hear its bark too. Say your dog hello, or that you love it, whenever you feel like you miss it or it misses you.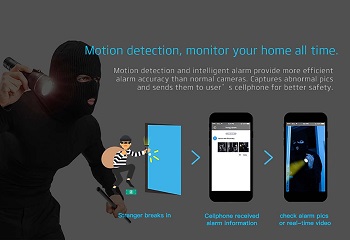 How To Store Data
There are two ways of data storage – micro SD card or cloud storage. Subscribe to the app and get the cloud cam storage service. This way you will be sure your favorite photos and videos are stored. In case you don't feel like subscribing, you can use the micro SD card (up to 128GB).
In Short:
small in size and fits anywhere
subscribe to the app and get free cloud storage
interact with your dog through the app
use the micro SD card with up to 128GB
budget-friendly device
VINSION Dog Monitor Camera
Make Your Dog Happy
Leaving our dog alone at home is something we all have to do sometimes for different reasons. We all know that our dog misses us, and we miss it too. The dog cameras are here to make these situations easier. The Vinsion dog camera allows a two-way interaction with your dog 24/7. Tell it that you will be home soon and make it miss you less.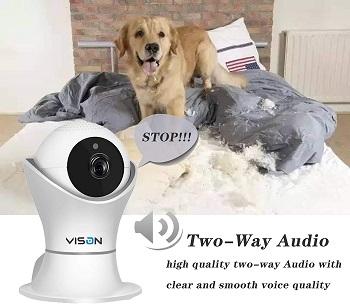 Monitor Your Dog Remotely
The 1080p full HD camera will help you monitor your dog from your smartphone. You can keep in touch with your dog whenever you feel the need to. You will also be able to snap a photo and forward it to your family members or friends. The night vision camera function is included too.
Make Your Data Safe
The Vinsion manufacturer guarantees zero information leakage risk. Your camera comes with a unique ID that only you can access. The photos and video clips aren't store on a server. The device supports a 128G TF card storage. It is not included in the package. Lastly, the camera is only bound to one account, but it can be shared with 5 other accounts.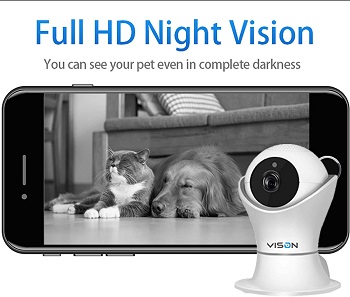 How And Where To Install
This 7.9 x 4 x 4 inches device is small enough to fit anywhere in your room. Choose whether to put it on your desk, or a shelf. Make sure the interactive pet camera is not located near heaters or similar. The installation is fast. Connect the device to the app on your smartphone and you are good to go.
In Short:
make your dog smile when it hears your voice
use your smartphone to check on your dog
1080p full HD camera (day and night vision)
no information leakage risk
camera is bound to one account
share camera with 5 more people
IMILLET Dog Camera For Indoor Use
Quick Set-Up
Set up the Imillet wifi dog camera in less than 5 minutes. Plugin the device and connect it to your wifi. Download the app to your smartphone, tablet, or Windows PC. Connect the app with your device and you are free to use the camera remotely from anywhere and at any time.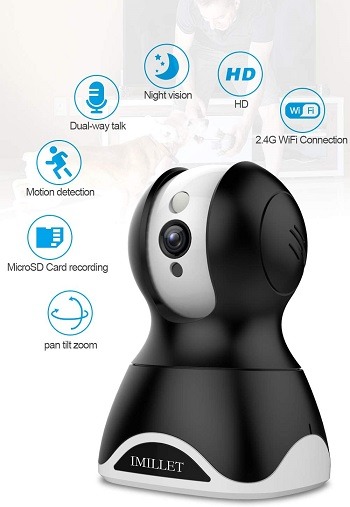 Clear Night Vision Camera
A good camera is a must when it comes to these devices. It is not only important to have a clear view of your dog or your home during the day, but also during the night. This Imillet model of a camera for dogs includes the intelligent IR-cut switch which makes sure the images are of high quality both during the day and night.
Stay Safe And Get An Alert
Your application is here to alter you if something happens at home that it doesn't recognize as normal. The motion sensor detects suspicious movements. The detection sensibility can be adjusted. The moment the sensor recognizes something, you will get an instant push alert notification.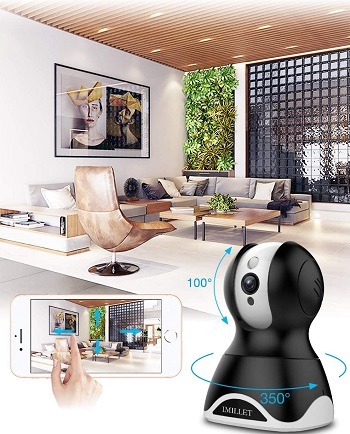 Technical Specs
The two-way audio feature is included and the microphone and speaker are included. The night vision camera features 1 infrared LED. The device supports 2.4ghz wifi network frequency. The overall size of the device is 7.1 x 4.1 x 3.7 inches. This is a corded electric device.
In Short:
corded electric and simple plug-in device
clear images during the day and night
motion detector sensor included
easy to use and quick set up
two-way communication with your dog
GevTa Monitor Indoor Camera
The Main Features Of GetVa Dog Camera
The GetVa camera for dogs is budget-friendly and affordable. It is multi-functional and comes with many great features such as an HD night vision camera, two-way interaction function, barking or crying alters, and secure cloud storage. Keep on reading to find out more about some of the features.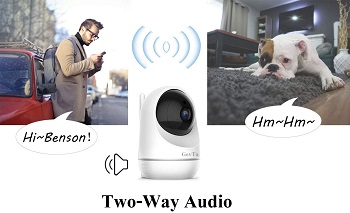 The Communication With Your Dog
You will be able to call your dog through the app that you have downloaded to your phone. You will get to tell him a few words, and hear it bark back. If you have a dog that has health problems, a dog camera is an extremely helpful device. Apart from that, you might have puppies that need attention.
How To Connect The Device With The App
Connect the device to your wifi and download the manufacturer's app. Keep in mind that it does not use 5G wifi (during pairing with the app). In case the connection fails, reset the device before trying to connect it again. Follow the app's instructions and accept its notifications.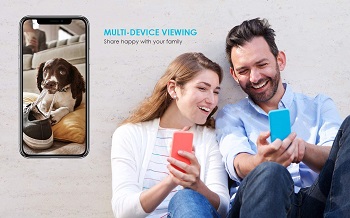 General Details And Characteristics
What you need to know about this dog camera is that it comes with a great 1080p HD night vision and an IR auto switch. It allows you to see your dog even when it is completely dark. You can share the camera with your family members, and get an alert if something abnormal is happening.
In Short:
budget-friendly price
easy to connect to your smartphone
supports 2.4ghz wifi frequency
see your dog in the dark even if it's 32 ft away
1080p HD night vision and an IR auto switch
RCA Home Camera For Dog
General Product Overview
The RCA security camera for your home and your dog is a wifi indoor camera. It allows you to have control over the situation at home while you are away. Check on your furry best friend remotely. Use the free app on your smartphone or tablet and always know what is happening at home.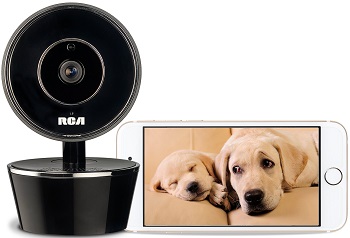 Stay Connected To Your Dog
The camera will track your dog and you will get to check on it anytime. Moreover, the device includes the microphone and the speaker for interesting talking and barking interaction. The infrared night vision allows you to see if your pet is fine even during the night.
The Camera And Interaction
Just like other models from this list, this device features a high-quality camera that provides you the clearest view of your dog. You will be able to see its facial expression and call it if you notice it is sad or lonely. Talk to your dog and make the communication with your dog as easy as you were there in person.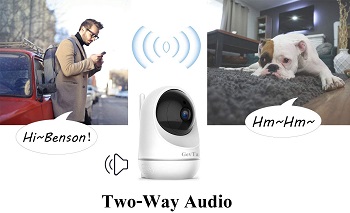 Snap, Record, And Share
Record clips or take interesting, funny, and adorable photos of your dog. Store the data to your mobile device. There are no fees to using the app. Add a micro SD card and save all your favorite data to it. Share the photos with your loved ones and show them what your dog has been doing today.
In Short:
check on your dog from your office
call your dog and make it smile
store the adorable photos to your phone
no subscription fees
add a micro SD card
Steps For Easy Installation And Use
Installing an indoor camera is simple even if you're not technical navvies. You will need only a few steps to start using the device in a short time.
Step 1.
Plug the camera to the nearest socket and check the green indicator which shows the device is working properly.
Step 2.
Turn on the WiFi and connect the camera with the Internet in your house. Place the camera where the connection is strong and stable so you can have a clear picture while monitoring.
Step 3.
Check if the manufacturer supports your monitoring device. Most of the cameras are suitable with all smartphones, as well as tablets, laptops and iPads. Turn on the Internet and pair it with the camera. To be sure it will work properly, try it while you're still at home.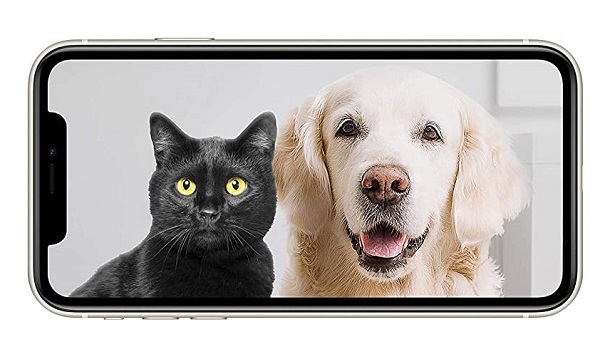 Step 4.
Install the app and follow the instructions. Most of the manufacturers cameras work well on both, Android and iOs devices. Apps are usually free and don't require subscriptions.
Step 5.
If the app is working properly and the camera is a paired device, you can start using it and customize audio and video settings for easier interaction.
FAQ For New Users
Down below you can find all the frequently asked questions and additional infos that are good to know before buying an indoor camera for dogs.
Are Dogs Scared Of Cameras?
No, they're not. Most indoor cameras are not noisy and won't scare your dog. If your dog is naturally scared of every sound, It is recommended to turn the speaker volume lower if the camera has this possibility. in the beginning. In the beginning, it is recommended to talk with the dog more often when you're away, so he gets used to the new device.
How To Find The Best Spot To Place An Indoor Dog Camera?
When you set the camera, check from the monitoring device if it covers all the corners in the room. It is recommended to place the camera in the corner or in a higher place that will provide a wide view. Where you will place the cameras also depends on camera features, such as tilt and zoom. If your dog usually moves in the living room and sleeps there, you need to install the camera there. Avoid spots like the floor and easily accessible places from which your dog can easily knock the camera down and destroy it.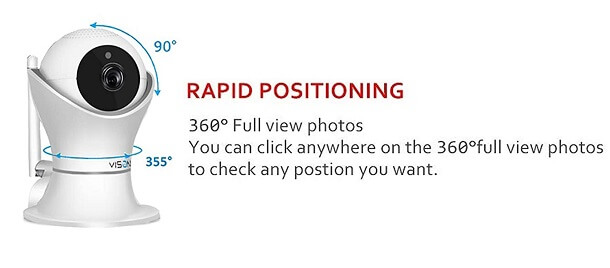 Safety Securities To Pay Attention To
It is important to choose a model made of plastic so if the dog knocks it down, the broken parts won't cause injuries. To maximally prevent it, check if the camera has an anti-slip surface or feet. If it's possible, hide the wire plug-in and the cable management box with a cover, especially if your dog loves to make a mess around and bite everything in the house.