Do you happen to think that large wire dog crates are the best choice for you and your dog?
We realize that most people go for wire ones so we've ensured that we reviewed only the best when we were choosing them. By continuing to read this article you will go through crates made for puppies, heavy-duty ones, and a lot more. All of that is to make choosing the crate easier.
The Summary
Best 5 Large Wire Dog Crates
BEST OF BEST LARGE WIRE DOG CRATE
Ultima Pro MidWest Dog Crate
Everything You Need
If you choose to get this crate, it will be almost everything you need or might want from a dog crate. from being able to house puppies to traveling with the crate, the crate is extremely versatile and has many additional features that you won't be able to find all in one place that often.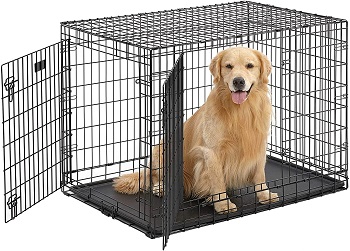 The Most Durable One
This is the most durable Midwest dog crate and there is a good reason for it. The steel wire gauge is professional-grade and it is the thickest and strongest wire out of all the Midwest's. You can also fold the crate down so that you can either store it or transport it elsewhere.
Door Placement
The crate has two doors. One can be found at the front of the crate while the other one can be found on the right side which means that this crate is a side door dog crate. Both doors can be locked using two slide bolt locks and what the two-door access will do is that it will make positioning the crate inside your home an easier job.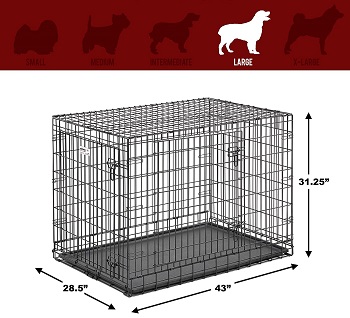 Easy Clean-Up
Cleaning won't be a problem as well since it has a leakproof plastic pan on the bottom. You won't have to clean your floor as well as the crate because of it and to protect your floors further, the bottom also has roller feet that will prevent scratches.
Adjustable In Size
You can also choose to house puppies with this large wire dog crate since you will get a foldable puppy divider panel. You can also adjust where you'll put it so that the crate size adjusts to your growing puppy. If you buy it for your puppy, make sure you get the size that fits his adult size.
In Short:
Made with professional gauge steel wire
Comes with an adjustable puppy divider
Has a leakproof ABS plastic tray for cleaning
The bottom roller feet protect your floors
can be used to travel
You can fold it down
Has 2 entrances, one in the front and one on the right side.
BEST FOLDING XL WIRE DOG CRATE
Precision Pet Great Crate
Potty Training Aid
The follow up to the previous crate is definitely this one since it also features a puppy crate divider that can aid with potty training since dogs and puppies don't like to urinate where they sleep so by making their living space compact they have no space to do this.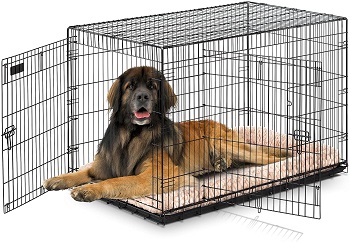 2 Doors, 5 Locks Each
You'll love the two doors on this large wire dog crate a lot since they can be locked from 5 different points each. This will make escapes out of the crate hard or even impossible for your dog. One door is located in the front while the other door is located on the side of the crate.
Rounded Panel Edges
The corners of each crate panel are rounded so that there are no sharp edges that might otherwise harm your dog or puppy while he's inside. Another way that this crate ensures safety has something to do with your floors. You see, on the bottom, you'll find a plastic pan that you can easily remove to clean. This is so that liquids and other dirt particles don't get onto your floors.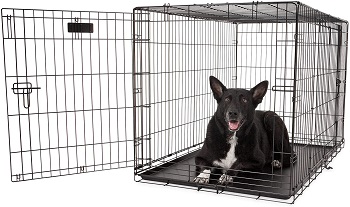 Suprisingly Heavy
You wouldn't believe how heavy these large wire dog kennels can get. This one weighs around 48.2 lbs which is not that far from some heavy-duty dog crates, but still, it's much easier to move especially because of the folding design for transport.
In Short:
Comes with a potty training divider
The corners of each panel are rounded for safety
The doors are located in the front and on the side
The doors lock from 5 different points
Can be folded down
BEST PLASTIC LARGE WIRE CRATE
Iris Wire Dog Crate
Dog Housing Advice
The crate will best serve you if you choose to use it with your already crate trained and calm dog. This doesn't mean that it is not a sturdy dog crate but that is mostly true because of the steel wire sides and not the plastic edges that make it.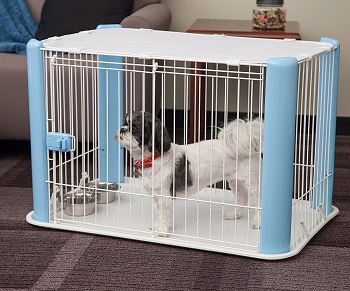 Mesh Top
Another reason why you should use the Iris wire dog cage with mesh roof large model with a calm dog and preferably indoor is that it doesn't really have a top. The thing it uses for the top is removable mesh fabric. Although the crate is large with 44.25 inches to it, you should only ever use it to house small or medium dogs mostly due to its construction.
More Space Around It
What you might like that this XL wire dog crate features is the single door that slides open. This will leave you with more space around the perimeter of the crate if you choose to leave the door open for your dog to walk in and out of the crate as he pleases. The door can be locked with a single positive lock.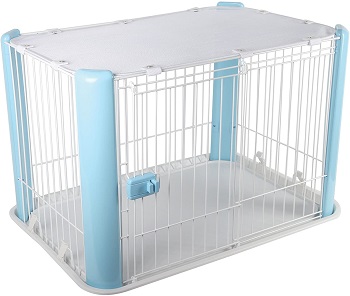 Bottom Tray Design
The bottom has a plastic tray that's molded so that the bottom edges of this large wire dog cage fit into it perfectly to prevent slipping or sliding. Since the edges of the tray are raised, you won't have to get used to liquids going onto your floors. Another way that the crate protects your floor is with rubber feet located below this plastic pan.
In Short:
Has plastic edges and steel wire sides
Uses mesh fabric for the top that's removable
The plastic bottom pan is molded
Has rubber feet on the bottom
Has a single sliding door for access
BEST INDOOR LARGE WIRE DOG CAGE
Lucky Dog 42-in Sliding Door Dog Crate
Door Quantity And Qualities
The crate has three-door in total for access but on the side, you'll find a double door that makes this large wire crate for dogs a sliding door dog crate. The door will prevent you and your dog from bumping into it if you leave the crate open. the front door locks with three slide bolt locks.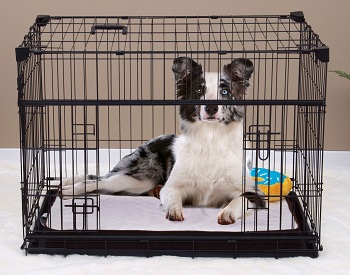 Quiet And Stable
The crate's whole construction is supported with stabilizers located on the corners. This will also reduce the sounds that the crate might produce like rattling. This does not mean that you can't fold it down. In fact, you'll also get a carrying handle for it when you do.
E-Coat Virtues
The crate's steel wire is coated with something called an e-coat. What the e-coat does is that it makes the crate corrosion-resistant so that it can survive different weather conditions when you're traveling for example and so that the crate lasts longer overall.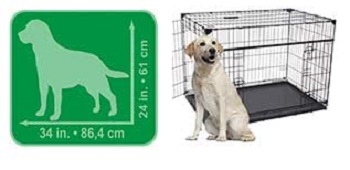 Floor Protection
Your floors are going to be protected in two ways. The first one is that the floor won't take any damage in terms of scratches since this large wire dog crate comes with rubber feet that you can easily attach to the bottom and the second one is the plastic leakproof pan that will prevent your floors from getting into contact with liquids that should stay inside the crate.
In Short:
The e-coat on the steel wire makes it corrosion-resistant
Has corner stabilizers for support and reduced noise
Can be folded down to carry with a handle
Has rubber feet on the bottom
Comes with a leakproof plastic pan
Has a sliding double door ad a regular front door
BEST HEAVY DUTY EXTRA LARGE WIRE DOG CRATE
Polar Aurora Pet Dog Cage
Tubes For The Frame, Wire For The Rest
This XL wire dog crate is in fact made with steel tubes that are welded together to give it more strength while the rest is made out of steel wire so it can be considered, to an extent, a heavy-duty metal dog crate that can house aggressive dogs.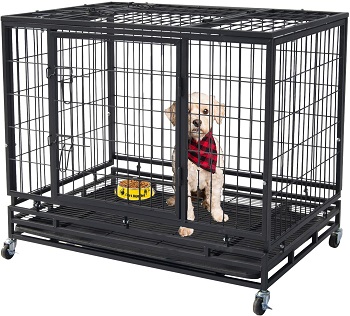 How To Move It
The crate doesn't weigh that much more in comparison to other crates of this type with around 67 lbs but you can still choose to move it easily with the provided caster wheels. Two of the four wheels can be locked to help stabilize the crate when you're not moving it.
Accessing The Crate
The entirety of the crate is coated with a hammer tone finish that makes it resistant to corrosion. For access to the crate, you'll get a front door but also a top door for times when you want to access your dog so that he stays inside. Both doors can be locked with 2 sliding bolt locks that are heavy-duty.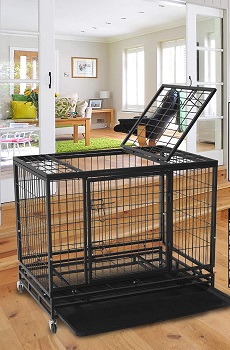 Cleaning Without A Hassle
Just like other heavy-duty metal dog crates, this one also doesn't feature a slide-out cleaning pan that replaces the bottom but instead, it has an ABS plastic slide-out tray located below the crate's floor. This means that you don't have to get your dog out of this extra-large dog crate to clean it.
In Short:
Made with steel tubes ad steel wire
The finish makes it resistant to corrosion
Stand on lockable wheels
weighs 67 lbs
It is cleaned easily because of the ABS tray located below the bottom
Features a top and front door that both lock with 2 slide bolt locks
How To Pick A Large Wire Dog Crate
Although these dog crates can be made out of heavy-duty steel wire, the materials are definitely not the first thing we must pay attention to so that we could figure out whether a crate is good or bad. What we will look at are the differences in inside and outside safety, what makes a crate fit well into your household, what are some of the most common uses of wire crates such as these, and more.
How Big is Large And Extra Large – To determine what these sizes really mean, we went to look at the length of these crates since this is how you usually determine whether a crate is made a large medium, or small wire dog crate. These crates go from 42 to 48-in in length. This means that they can house dogs that are 4-6 inches shorter than the length of the crate. Be careful though, some crates may be large but they can only house small or medium breeds so it's always best to look at the dimensions.
Dogs They Can House – If you have a dog that's slightly rowdy and uncalm you can still house such a dog inside these. If your dog tends to be a bit more aggressive then you should opt for a heavy-duty large dog crate. These crates are perfect training cages.
Crate Training Perfection – These crates come equipped with everything needed for crate training. Usually, they will come with a divider so that you can potty train puppies as well. they are safe, sturdy enough and are just the perfect middle ground in general for this.
Large Wire Dog Crate VS Kennel – While many advertise their crates as kennels that can't be more far from the truth. Kennels are used by professionals and usually don't go into houses since they are so large. To put it into perspective, kennels can hold even the largest of crates inside them. They are made durable so that they can withstand different extreme weather conditions. To put it simply, a crate is a bedroom while a kennel is a house.
To Sum Up
We had to think really hard to pick that one large wire dog crate that we will recommend but in the end, we chose to recommend the Precision Pet Great Crate. Not only can it be used to potty train puppies but it's also really safe because of its multi-point locking system and rounded panel edges. If you have an extremely large dog then none of these crates will sufice so we recommend you read the article about XL wire dog crate and if your dog is one that suffers from separation anxiety, there is a heavy-duty dog crates for separation anxiety article for you to read.