Are you in desperate need of a puppy crate with a divider because of your baby furry friend?
We've got you covered and all you need to do is to keep reading this article where we reviewed the best potty training crates that have a divider since we know how important a divider is for a small puppy to have in his crate. You don't even have to worry about finding the right size because we placed them into the small, medium, and even large categories and a few extra more.
The Summary
Best 5 Puppy Crates With Divider
BEST OF BEST PUPPY CRATE DIVIDER
Diggs Revol Dog Crate
No Harm Done
This crate is more than just your average small puppy crate. Yes, it does have a divider but there's so much more to it. The crate is made in a way where the manufacturer kept baby industry standards in mind which means that it's completely safe for puppies to be inside it. There will be no pinched paws or any harm alike.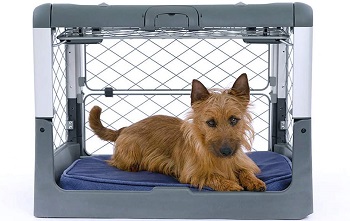 Door Style And Location
The crate also has three-door access and it's impossible for puppies to try and make their way out because of the door handle that opens the door. The doors are located in the front, top, and on the side where the door opens u just like a garage door
Puppy Travels
When you properly train your dog with this puppy cage with divider, you can also travel with it. The reasons why are because the crate can be collapsed, it has built-in wheels on the bottom, and it also has a top handle for you to carry the crate around with ease.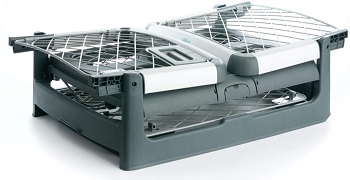 Cleaning It, Its Build, And Size
The puppy crate with divider exudes ease of cleaning because of the plastic tray on the bottom that you only have to pull out to clean and after you're done, place it back. The whole crate is made with a reinforced plastic frame and the sides are made out of aluminum steel wire so it's quite durable. when your puppy grows into his full size, he should be a small breed to fit inside this crate perfectly.
In Short:
Comes with a plastic cleaning tray
The frame is made out of reinforced plastic
It uses aluminum steel wire for the sides
Has three secure door access
You can easily travel with the crate and transport it
Made for small grown-up dogs
BEST METAL PUPPY CRATE WITH DIVIDER
Life Stages Double Door Folding Crate
Crate Positioning
This side door dog crate has another door located in the front. This will allow you to position the crate more freely and with smaller limitations. You will be able to lock both doors with 2 slide bolt locks. The locks will give you enough insurance that your dog won't escape his crate.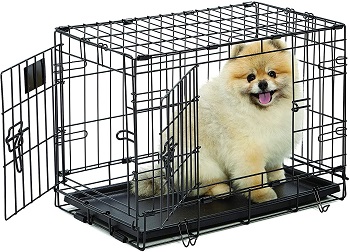 Building Materials
The divider it comes with, just like the rest of the crate, is made out of steel wire. You can adjust it meaning you can put it anywhere in the crate so that this potty training crate with divider can adjust to your dog as he grows larger and larger.
The Simplicity Of Cleaning
There's a tray on the bottom for ease of cleaning. You can simply pull it out when you remove the pan stopper that will keep the tray in place and prevent it from sliding out by accident. The tray is made out of plastic but it's still durable enough.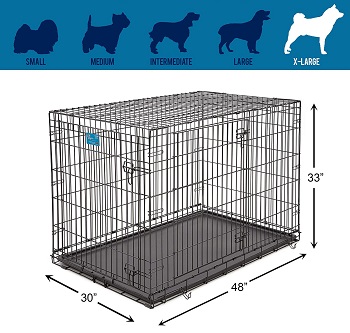 Storing It When It's Not In Use
When you're not using the crate, you will be pleased to know that the crate can be easily folded down for you to store it away. This can also serve you to travel with the crate and you will be able to carry it with a provided handle just like a briefcase.
No Injuries
You don't need to worry about if your dog will be safe inside because the answer is yes and it's due to the rounded corners of this puppy crate with divider that this is made possible. when your dog grows into his full size, he will fit comfortably inside as an extra-large dog breed.
In Short:
Made to fit inside extra large dogs
Can be folded and has a handle for carrying like a briefcase
Has rounded corners for added safety inside the crate
There's a plastic pan on the bottom to clean the crate
The pan won't slide out by accident because of the pan stopper
Has two doors for access and they lock with slide bolt locks
BEST INDOOR CRATE WITH DIVIDER FOR PUPPY
Precision Pet ProValu Dog Crate
Outdoor Use
This medium wire dog crate will allow you to use the crate outdoor because the coating finish makes the whole crate rust-resistant. This doesn't mean that you should use it outdoor all the time, it's still primarily an indoor crate but it's good to have options.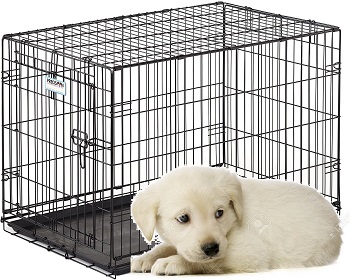 5 Point Door Lock
There's only one door located in the front for your dog to access the crate but you can be absolutely sure that your dog won't escape the crate by unlocking the door on his own because the crate locks from five other different points and that includes the main lock that is the slide bolt lock.
Rounded Corners For Safety
The most important thing that you should worry about is if your dog is going to be safe inside the crate. This means that whatever he does he won't get hurt and for this puppy crate with divider, the rounded corners will make sure of that.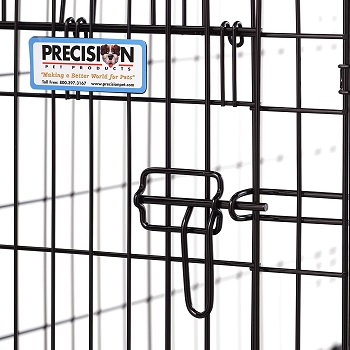 Potty Training Crate
The crate also has a pan on the bottom that you can easily take out to clean any dirt that might have fallen onto it and includes your dog's excrements. This will be an issue in the beginning but because it comes with a crate divider for puppies this will be kept to a minimum.
In Short:
The wire is coated with a rust-resistant finish
There's a single door in the front for access
The door locks from a total of 5 points
There's a bottom pan for easy crate cleaning
The corners of the crate are rounded for safety
BEST FOLDING PUPPY TRAINING CRATE WITH DIVIDER
BestPet Dog Crate With Divider
Elevated Pan Edges
The edges on the plastic pan on the bottom that is there for you to clean the crate more easily when you need to are a bit elevated so that any liquids that might get there don't wound up on your floors or carpets which would then be very difficult to clean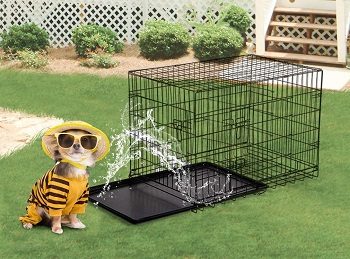 High-Tensile Wire
The puppy divider crate is made with high tensile steel wire which means that it has a higher amount of carbon in it. Generally, this means that the steel is stronger and more durable because if the carbon content is higher, the steel wire is stronger.
Doors And Transport
The puppy crate with divider has 2 doors located on the side and in the front and they can be locked with 2 slide bolt locks for each door. The crate can also be collapsed to store it or you can transport it easily because of the top handle that makes it a large portable dog crate.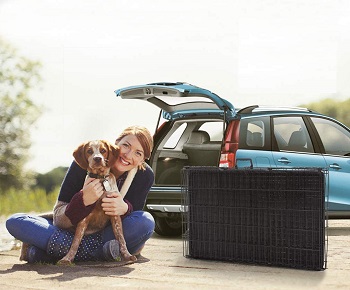 Durable And Large Crate
The wire of the crate is coated with epoxy which makes it rust and corrosion-resistant. The crate is large enough to house a fully grown large dog. To put the size into perspective you can use it for dog breeds like German shepherds.
In Short:
The crate's steel wire is high tensile
The pan has elevated edges for better liquid containment
The epoxy coating makes it corrosion and rust-resistant
Made for large dogs like german shepherds
Has 2 entry points that lock with slide bolt locks
BEST HEAVY DUTY CRATE DIVIDER PUPPY
Homey Pet Heavy Duty Cage With Divider
Heavy Duty Stacking Crate
The crate is made with heavy-duty metal and metal wire and is coated with a hammer tone finish that gives this puppy crate with divider an anti-rusting property. The thing that speaks the most about how durable this crate is the fact that it's a stacking dog crate.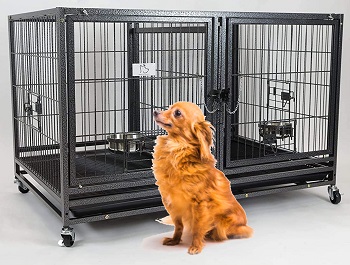 Non-Adjustable Divider
The puppy crate divider can be removed but it can't be adjusted. The thing that will help you in this seemingly troubling situation is the pan located below the gridded floor that's deep enough to contain liquids. all you have to do is pull out the tray with the dog still inside.
Multiple Dog Crate
Since it has a divider you can house 2 medium dogs. Both crates will come with 2 additional feeding doors as a bonus to the front access door for each crate and a top access door. You'll be able to put to good use the feeding door right away since it comes with 2 stainless steel bowls.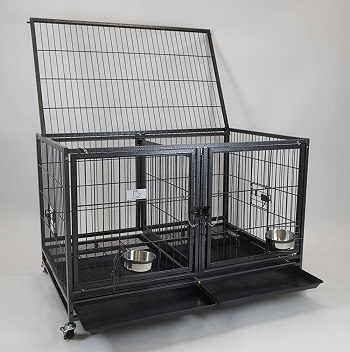 Who It's For
We would recommend this crate if you have a highly aggressive dog or puppy since it's that durable or if you're a dog care professional that needs both quality and quantity since it can be stacked up to three crates and each crate can house 2 dogs if you want.
In Short:
Made out of heavy-duty metal
Coated with a hammer finish that makes it rust-resistant
Has a deep cleaning pan below the gridded floor
Made to house 2 medium or one large dog
Can be stacked up to 3 crates
Comes with 2 stainless steel bowls
has 4 feeding door, 2 front doors, and a top door
How To Pick A Puppy Crate With Divider
To decide on a puppy crate with a divider you first have to know what a crate needs to have to be a great puppy training crate. You also need to know how to size your crate properly, what type of divider you need to have, and more because these things, in the end, will separate a good puppy crate from a bad one.
What The Divider Is For? – The crate divider for puppies is here to adjust to your dog's size but why? It's because if a crate is too big for him he will see the opportunity and leave his excrements on one side of the crate while still having room to live normally on the other. You want to prevent that and you'll do it with a divider. You will get the divider included in the package but there are also many dividers sold separately on the market.
How To Choose The Size – You should always pick the create size according to your dog's estimated adult dimensions. You can find online a sizing chart according to your dog's breed. All you need to do from that point is to find a crate that is 3 or 4 inches taller and longer than your dog's estimated adult size.
Overall Crate Safety – To ensure complete crate safety the inside of the crate should always have rounded corners especially if it's a small, medium, large, or XL wire dog crate because the wire could hurt them otherwise. Another thing to think about is the locks on the door. Normally a wire crate will have a standard slide bolt lock that is good for keeping your dog contained but they do get extra points for safety if they lock from multiple points.
The Recommended Type – If you do the job of potty training your puppy right, you should be able to normally use a wire dog crate. This is the most common and recommended type of crate for puppies since they are durable enough and they also give your dog great visibility which is important for puppies and dogs ridden with separation anxiety. If your dog is more aggressive you might want to opt for an XL metal dog crate or any other size you might need.
To Sum Up
The safest and generally the best dog crate that we'd recommend has to be the Diggs Revol Dog Crate since it has everything needed for a puppy, has complete inside safety because of the baby industry standards it's made with and you can also use it to travel with your dog once he's reached the end of his crate training journey. If your dog is not a puppy anymore but he still needs crate training then we'd recommend you read the article about training cages for dogs and if you're just concerned about your dog safety then the article about the safest dog crates is worth a read.