Are you tired of all the boring black crates so you're looking for a purple dog crate to change it up a little bit?
You don't have to search anymore because we found and reviewed the finest ones so you can be sure that no matter which crate you choose, you will be choosing the right one. You can even skip reading about the crates that don't interest you because we placed them into categories like best soft, travel and that's only the half of it.
The Summary
Best 4 Purple Dog Crates
BEST OF BEST PURPLE DOG CRATE
James & Steel My Pet Dog Crate
Colored Parts
This crate will definitely strike a few looks since it's color is an incredibly noticeable and vibrant purple. The purple coats the wire steel that makes the entirety of the crate. The only thing that you won't find colored in purple is the tray on the bottom. We must add that it is a very sturdy dog crate.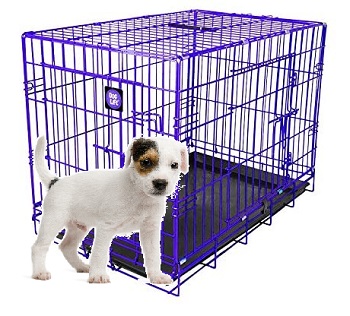 Black Plastic Pan
The tray on the bottom of this purple dog crate is made out of plastic but not to worry, it is still a durable black tray. You can use it to easily keep the crate clean. All you need to do when it gets dirty is to pull out the tray, clean it and place it back
Positioning Options
The crate has two doors and it's pretty standard to see the sliding bolt locks on them. There are two of them for each door. Since there are two doors, one in the front and one on the side, you will be able to position the crate more freely inside your home.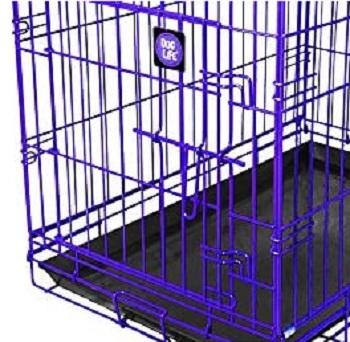 Growing Puppy Crate
You can use it to house a growing puppy as well seeing as how the wire is durable enough to survive chewing which is common for puppies. When fully grown, your dog shouldn't be more than 17-in tall and 21-in long. The crate can also be collapsed to store or transport when you need to.
In Short:
Made out of steel wire
The plastic tray on the bottom is colored black
Has 2 access doors
The door lock with 2 sliding bolt locks
Can be collapsed
BEST SOFT PURPLE DOG CRATE
EliteField 3-Door Soft Dog Crate
Color Variations
We know that you're here to get a dog crate but it must be noted that this large soft dog crate, apart from the purple, comes in 15 other color combinations and color patterns so you really don't have to limit your choice to just the purple crate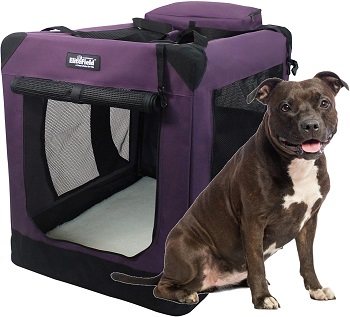 Bigger Design
You have to make sure that you get the right crate size for your dog. This one specifically is made for large dog breeds but this purple dog crate just like the other Elitefield soft crates, are made to be a bit wider and taller that the rest so it's much easier to get the right size. Make sure you measure your dog before deciding on the size.
Frame And Cover Material
This dog crate uses steel tubes to hold its shape. the steel tube frame is also the reason why you can fold down the crate. The cover of the crate is made out of oxford fabric and although this fabric is durable, the crate won't handle chewing coming from a dog.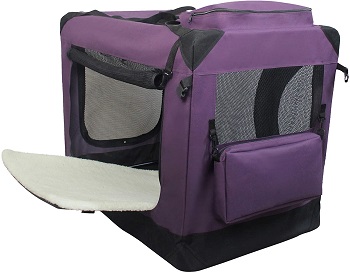 Traveling Adventures
There are three doors to access the crate and good airflow and visibility are ensured through the mesh fabric windows located on all sides of the crate. The crate is also easily transportable since it comes with carrying handles and shoulder straps, it is light and there are even accessory pockets on top and a removable one located in the back.
In Short:
Uses steel tubes for the frame
The cover is made out fo 600D oxford fabric
Can be folded down
Made for large dogs
Can be transported using the carrying handles or shoulder strap
Has 3 door access
Ventilation and visibility are provided through mesh fabric windows
BEST FOR TRAVEL PURPLE DOG CAGE
Atlas Two-Door Pet Carrier
Limited Traveling Options
The two main reason why this purple dog crate is not an IATA approved dog crate are because it does not have a hard top since there's a top entrance door located there. The second reason is the fact that you can safely secure it with nuts and bolts. Instead, you will be able to secure it and assemble it quickly with plastic locking clips.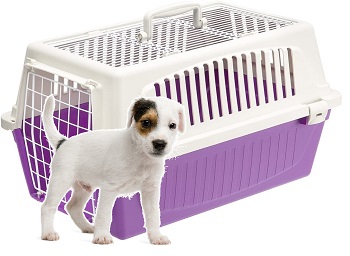 Easy To Carry Around
The fact that it's not airline approved does not have to stop you from using the crate for travels though. It has a hard plastic shell, it is pretty small and you easily carry it around because of the handle located on top of it.
White Wire Door
Apart from the top load door that you can use to gain access to your dog without him trying to get out, there's also a front access door made out of steel wire that's coated in white. Other white parts include the entirety of the top shell while the bottom shell is colored in pastel purple.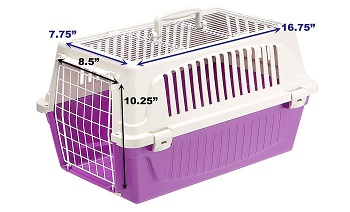 Quality Of Ventilation And Visibility
You can be sure that the crate is well ventilated and that there is enough visibility for your dog if that's something you need. Ventilation and visibility point are located on all sides of the crate including the top. The crate is made for extra small dog breeds though.
In Short:
Made for travel but not by air
Can be used only by extra small dog breeds
Has a hard plastic shell colored in white and purple
the top and Bottom Are connected with plastic clips
Has a front door and a top load door for access
BEST AIRLINE APPROVED PURPLE DOG CRATE
X-ZONE PET Travel Carrier
Fashionable Looks
It's safe to say that by carrying this purple dog crate around with your dog inside, you'll be making a fashion statement. The whole crate is colored in purple and it is made to be carried like a carry-on bag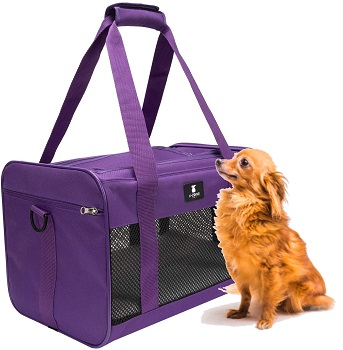 Dogs Inside The Airplane
Since it's a carry-on bag and it's airline approved, you can easily bring it with you and your dog inside an airplane. The crate is small enough to fit below most airplane seats. Note that you will still have to check with you individual airline if you bring it inside an airplane.
Hard Bottom
It has a hard insert for the bottom that will make moving around the crate and standing up for your dog much easier and to give him some extra coziness, you'll even get a fleece bed for it. The crate is incredibly light since it doesn't have a steel frame like folding soft dog crates do.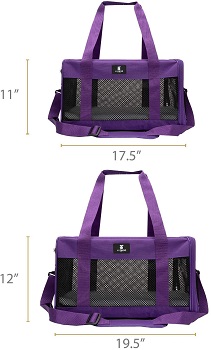 Carrying Varieties
You don't have to limit the crate just for plane rides. YOu can use it to travel by car as well. In fact, the shoulder strap that comes with it can be used as a seatbelt and you'll also get carrying handles for carrying as well. Additionally, you can also attach it to your luggage.
In Short:
The crate is airline approved
Fits below most airplane seats
Has multiple carrying options including shoulder straps
The shoulder strap can be used as a seatbelt
Has a hard base insert on the bottom
Comes with a fleece bed
How To Pick A Purple Dog Crate
When it comes to purple crates there's a lot of crate types to choose from and before buying, you should know what are some of the pros and cons of every type, what you can use them for, and how durable they really are since most of the times, you have to buy your crate according to your dog's size and behavior.
Cute Doesn't Mean Puppy Crate – We would all like a crate that matches the cuteness of our new puppy but sometimes that isn't possible. Most of these are either small or large soft-sided dog crates and these crates are just not cut out for a puppy because they require your dog to be calm and crate trained. If not, the crate might easily break.
Travel Crate – The plus side of these crates is that you can use them as soft travel dog crate since they're so light, take little space when folded down and you can carry them with ease even when your dog is inside them. If you're using the carrying handles or shoulder straps to carry a large dog, that might not be the best thing to do since the crate might get damaged because of the dog's weight.
Crate Type Equals Dog Behavior – We've already mentioned that you shouldn't use soft crates for puppies but there's a workaround for it. You can get a large, medium, or small wire crate, depending on your dog's size, to avoid this problem. You can also get a wire purple dog crate if your dog is a bit more aggressive as a fully grown dog. If not, a soft one will work just fine.
Different Sizing Charts – Soft crates as opposed to wire crate or any other type will be sized differently, sometimes even a large soft crate will only get you enough space for a small dog breed so it's important to know how to measure your dog for crates. You have to measure his length and height and compare it to the crate's dimensions with preferably a 3-4-in difference between the crate's height and length.
To Sum Up
The one purple dog crate that we'd recommend has got to be the James & Steel My Pet Dog Crate. It's made out of sturdy steel wire unlike the rest of the crates and allows you to even house a puppy. If instead of purple you're feeling blue, then we'd definitely recommend you read the article about blue dog crates and if on the other hand, you feel pink then the article about small pink dog crates is the one for you to check out.