Are you having difficulties finding a large soft dog crate?
we've gone through the trouble for you to give you this article where we reviewed the best ones we could find. Although all of these crates are amazing, we know that not every crate is the same as the other so we've categorized them to fit the indoor, travel, and other categories for you to really know what you want to focus on.
The Summary
Best 5 Soft Dog Crate Large Models
BEST OF BEST SOFT DOG CRATE LARGE
Amazon Basics Soft Dog Travel Crate
PVC Folding Frame
Unlike other soft collapsible dog crates that use a steel tubing frame to make the crate a collapsible one, this one has a PVC frame. Dot get us wrong it's still quite durable considering the fact that all of these crates will require you to have a calm dog if you want them to last you a long time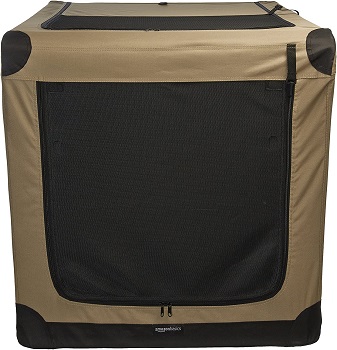 Standard Cover
What would a large soft dog crate be without its cover? this one uses the standard as well. It is a polyester fabric that is durable enough to last a while if you buy the crate for the right type of dog.
Window Functions
This crate also has mesh fabric windows for ventilation and visibility. They also have the function of doors and you'll get two of them for this crate. One is located in the front and can be rolled up to not get in your dogs' way when it is left open and there's one door on top. Both close with a zipper.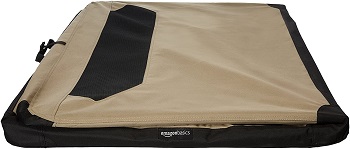 Important Measures To Know
To know the weight limit is just as important as knowing the dimensions of a large soft collapsible dog crate. The maximum weight of a dog living inside this crate is 90 lbs and its dimensions tell us that the dog shouldn't be taller than 27-in and longer than 38-in.
In Short:
Has a PVC folding frame
Has a polyester cover
There are two doors, one on top and on in the front
The front door can be rolled up to now get in your dogs way
Your dog shouldn't weigh more than 90 lbs
BEST FOR TRAVEL GIANT SOFT DOG CRATE
X-ZONE PET 3-Door Folding Soft Dog Crate
How It's Made
This crate can be a perfect travel companion if you want to use it as a soft travel dog crate. It's made out of steel tubes that you can fold to tuck away the crate without it taking too much space when you're not using it and the cover is made out of 600D oxfor fabric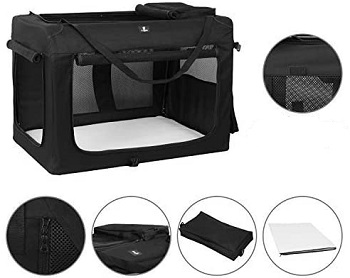 Travel Friendly
Why is it so good for travel? well, for starters, you can safely fasten it with a seatbelt and the zippers on the 3 doors are self-locking to make sure that your dog won't unzip it by himself which would endanger you and your dog while traveling. Although it is large, it can only handle a max of 40 lbs dog.
Mesh Fabric Windows
The crate has ventilation windows made out of hex mesh fabric on all sides and the top, front, and side ventilation windows also function as doors. If you decide to keep the doors open on this large soft dog crate, you can roll them up and attach them to a piece of velcro.

Accessories For Accessories
You will even get removable side pockets for this large soft dog carrier and you can use them to store any dog-related accessories so you can always know where they are. There's also a fleece bed that comes with the crate that you can wash just as easily as the crates' cover.
In Short:
the steel tube frame can be folded down
Has a 600D oxford fabric that you can wash
Comes with a fleece bed and removable side pockets
Can house a dog up to 40 lbs
The three doors close with self-locking zippers
BEST INDOOR LARGE SOFT DOG CARRIER
Nova Microdermabrasion Dog Crate
Tall And Equally Wide
You will rarely find a crate that is as wide as this one. especially if they're large soft-sided dog crates. with it you can be sure that you're getting your dog a spacious crate because it is almost equally wide as it is tall.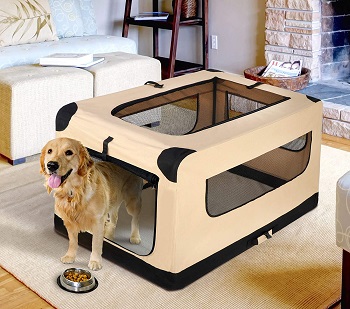 Storing The Crate
When you're not using this large soft dog crate you can be sure that it won't take up much space even though it's large because the crate is a collapsible large dog crate. The crate is also extremely light to carry because it's made with a light steel tube frame and oxford fabric is used for the cover.
Travel Bonuses
You don't have to limit yourself and use it only inside your home. The crate can easily be used as a travel crate and this will be made simple because it has carry handles and straps. Another thing that makes it well made for travels is the fleece bed that will keep your dog comfortable if you have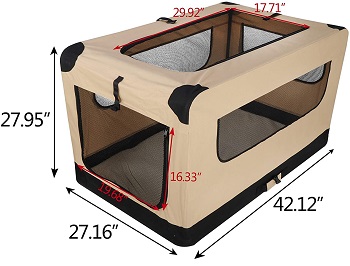 Entrance And Ventilations Points
The ventilation inside this crate is great and so is the visibility because it comes from all sides of the crate including the top. The top also functions as an entry point and there's a front access point as well. It can be rolled up to stay out of the dogs' way if you choose to leave the crate open.
In Short:
It is almost as wide as it is tall
Has ventilation points on all sides and the top
There are two doors, one in the front and one on top
Has carrying straps and handles for transport
Can be folded to store
The steel tube it is made out of is light
BEST OUTDOOR LARGE SOFT CRATE
MidWest Portable Tent Crate
Metal, Soft, And Water Resistant
Don't worry, this crate is still a large soft dog crate but the reason why it's in the metal category is because of its frame that is made out of strong and durable steel tube. The crate is also water-resistant because of the cover that surrounds it.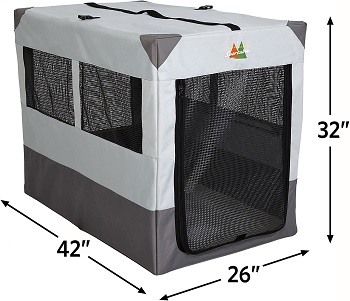 Reinforced Edges
The fabric that surrounds the corners of this large mesh dog crate is reinforced to prevent tears from prolonged use. You can be sure that this crate will stay in its upright shape and form because it also has wire that's U-shaped that secures it.
Large Ventilation Points
The mesh fabric windows are large enough and there's enough of them for them to keep your dog cool during warm weather since this is a dog camping crate and you don't want your dog to overheat in the sun.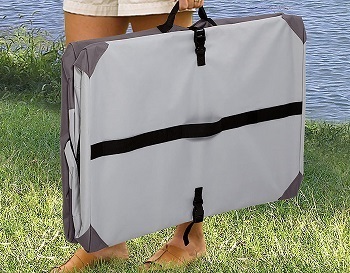 Keeping Your Dog Comfortable
During long travels and if you're camping overnight, your dog can sleep comfortably while inside this dog crate because you'll get a sheepskin pad that's synthetic. Just make sure that your dog is not more than 25-in tall and 32-in long.
In Short:
Has a steel tube frame
The U Wire helps keep its form
The fabric cover is water-resistant
Comes with a synthetic sheepskin bed
Dog shouldn't be more than 25-in tall and 32-in long
BEST FOLDING SOFT SIDED DOG CRATE LARGE
EliteField 3 Soft Dog Crate
3 Points Of Entry
The crate can be considered a triple door dog crate since three of its' mesh fabric windows that are located on all sides of the crate and the top are also doors. There's one on top, one on the side, and one in the front. They all close with a zipper.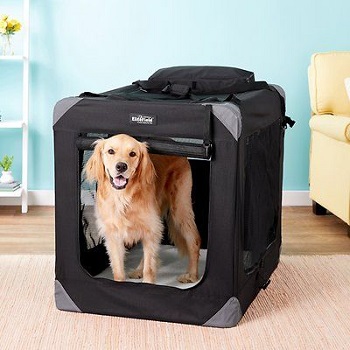 Storage Pockets
If you want to keep the large soft dog crate open you can roll up the mesh fabric windows. If you want to store your dog accessories close to it you can do it with the back and top accessory pockets. In it you can easily store things like a leash, a water bottle or treats.
Foldable But Firm Frame
The crate can keep its shape because of the frame made out of steel rods. The frame can also be folded for you to store the crate or transport it more easily. The crates' cover is a 600D oxford fabric that can be taken off for you to clean it when you need to.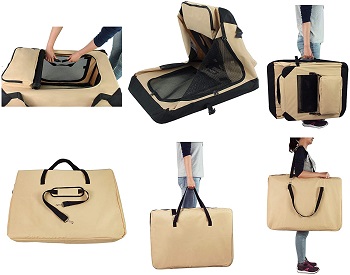 Traveling With Your Dog
If you wish to take this large collapsible dog crate on your travels you can do so as well. Your dog will be kept cozy during long travels because of the removable bed and you can carry the crate with no problems with a carrying handle or padded straps.
In Short:
Has three doors that open with a zipper
The mesh fabric on all sides is there for ventilation
Has a durable steel tube frame
Comes with pockets to store accessories
Can be carried with a carrying handle or padded straps
Comes with a removable and washable bed
How To Pick A Soft Dog Crate Large
Are you overloaded with information about large soft dog crates right now and just really want to know how to decide on the best one. We've come up with a solution for you because we recognize the differences in functions, materials, size, and more so we've made this short guide for you to get to know these crates a bit more to really know what you're buying.
What Large Means – When you're buying these crates, you won't usually get a size that says large on it. The size is determined by the crates' length and if these soft dog crates were large, you probably won't be able to house a large dog breed. It's best to always check the crates' measures and check the weight limit to really know if you're buying the right size of crate
Buying According To Dog Behavior – Remember that any soft crate even if it's a small soft dog crate will only tolerate dogs that are well behaved. In other words, your dog should be crate trained. If your dog exudes any type of aggressive behavior your best bet is to get either an XL wire dog crate or for even more aggressive dogs an XL metal dog crate.
Best Travel Crates – These crates might not be the safest dog crates but sometimes they don't need to be to be great for travel. They are easy to carry, easy to place inside a car and they don't cost much. They have theirups and downs but generally they are very versatile in this sense.
How Safe Are They – Since they can easily be teared down, soft dog crate large models might not be as safe but if you buy them for a calm dog they will do their job well. Soft crates will typically be used for smaller dogs but if you found a way to make it work with your large dog that's also fine.
div class="sum-up-box">
To Sum Up
Since these are large soft dog crates and the are slightly difficult to find we looked into each crates' durability to conclude that the best one is the MidWest Portable Tent Crate. It has reinforced edges to prevent it from wearing down too soon and apart from the steel frame, it holds its shape nicely with the added U-shape wire. If you realise that these crates are not for you but still want a lighter crate then the article about XL plastic dog crate will be right for you to read and if you still need to crate train your dog then you should definitely read the article about training cages for dogs.