Do you really like to travel with your dog so you've decided that you should get him a collapsible soft dog crate?
Put your thought into action by reading this article.
In it, we reviewed our top 6 for these crates and we made sure not to miss any important notices and things to keep in mind in the useful buying guide at the end. We've even reviewed a large variety of them such as small, medium, and heavy-duty crates. Surely,  a crate that's here is the right fit for you.
The Summary
Best 6 Collapsible Soft Dog Crates
BEST OF BEST COLLAPSIBLE SOFT DOG CRATE
A4Pet Soft Collapsible Dog Crate
Bottom Properties
The reason why we're reviewing this crate first is simple and has to do with its bottom. This bottom is leakproof and also waterproof. What that means for you is that your car will stay clean and away from the danger of getting into contact with your dogs' urine if an accident were to happen inside.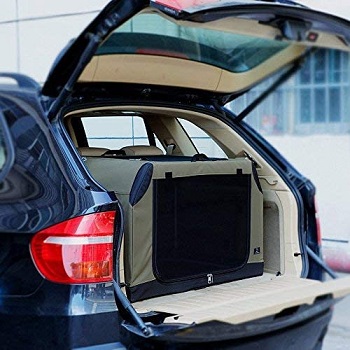 Top Properties
Even the top of this soft collapsible dog crate is made in a way so that your car is better protected. In this case, the car part is its entire interior and it won't get damaged because the top corners are rounded. The bottom and top features make it an ideal crate for traveling.
Size And Dog behavior Concerns
This is an intermediate dog crate when it comes to size. It's 36-in long and 22.5-in tall. We focused on its length to determine its size and you'll get to house a dog that's somewhere in the middle between a large and medium-size. One thing you should know is that your dog should be crate trained because otherwise, he might easily destroy it.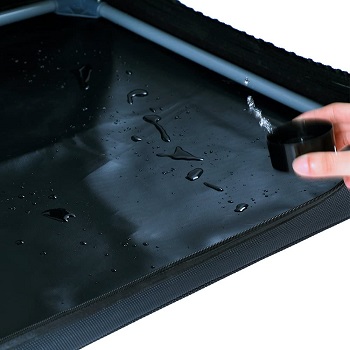 Frame, Cover, And Its Contents
The A4pet collapsible soft dog crate is built out of pretty common materials for the crate type. It features a widely known oxford fabric cover and has a steel tube frame that's strong. Thanks to its frame the crate can be folded down. The cover is removable and washable and you'll find an accessory pocket on it, mesh windows for ventilation, and 3 doors that close with zippers.
In Short:
Has a foldable steel frame and a washable fabric cover
Can only house crate-trained dogs
Has a waterproof and leakproof bottom
The top corners are rounded for interior car protection
Has 3 doors, 4 ventilation windows, and one accessory pocket
Great for traveling
BEST HEAVY DUTY COLLAPSIBLE SOFT DOG CRATE
Petnation Port-A-Crate
Heavy Duty Parts
It's hard to imagine that a soft travel dog crate can be a heavy-duty one but it's true. The logic behind why it's heavy-duty is the fact that the cover of the crate is tightly woven and creates a much thicker and more durable material. Nonetheless, it might take a while for your dog to destroy but he will eventually if he's not calm and used to being in a crate.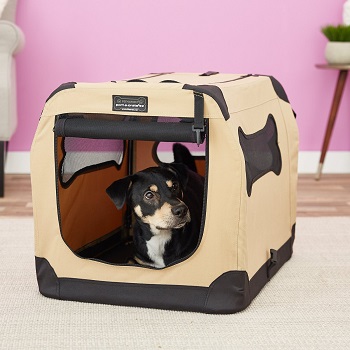 Door Differences
There are two doors on this collapsible soft-sided dog crate ad both look and are different. To start, the top one isn't a ventilation window while the front is because it's made out of mesh fabric just like its ventilation points. The second thing is that you can leave the front door open by rolling it and even secure that it doesn't accidentally open by attaching the zipper to a plastic clip hook.
2 Ways Of Cleaning
Soft fabric crates have to be treated like regular fabric things and that's why they have to be cleaned. Luckily, this crate is easy to clean and you'll get to do it in more than one way. You'll either get to remove the dirt with a stain remove or you'll get to take the cover off and throw it in the washing machine to clean.

Somewhat Different Sizing
Normally, when sizing a crate, you'll want to make sure that a crate is 4-in longer and taller than your dog but in this case, this is not true. This soft travel dog crate should only be 1 or 2 inches taller than your dog and 6-in longer. Generally speaking, you can house a small dog up to 25 lbs inside it.
In Short:
Has a tightly woven fabric cover
Has a top and front entrance
Can be cleaned inside a washer or with a stain removes
Caan house small but calm dogs
The clip hook will prevent the door from accidentally opening
BEST LARGE COLLAPSIBLE SOFT SIDED DOG CRATE
EliteField 3-Door Soft Dog Crate
Tall And Wide Design
If you were to compare the proportions of this crate to any other soft crate sized as a 42-in long crate, you won't find one that's more spacious than this one. This is intentional so your dog would have more room to move around and be comfortable. It's 2 inches wider and 4 inches taller than others.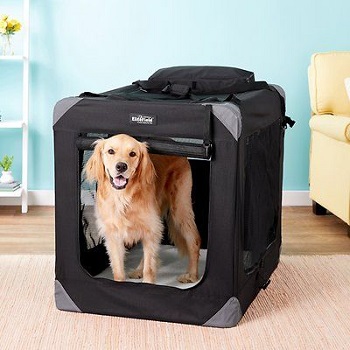 Collapsible Design Advantage
Its made with a durable 600d oxford fabric cover and has a steel frame. Again, the frame is to thank for the folding design of this collapsible soft dog crate. You can use this feature to either travel with this crate or store it without it taking too much of your storage space when it's not in use.
A Lot Of Cover Details
A lot is going on with what the cover holds. It has a top and back accessory pocket, one is built-in and the other one is removable, It has three doors that are all ventilation windows as well and there are two additional vent windows. The side and front door can be rolled up to leave the EliteField collapsible dog crate open. To prevent the zippers from accidentally opening, you can hook them to the clip hook.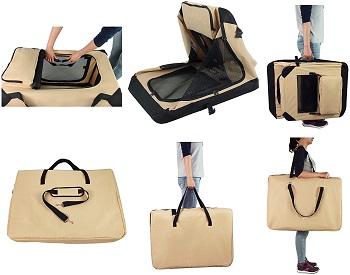 Interior Comfort And Carrying Ways
For the interior, you'll get a bed pad that you can remove and wash just like the crate cover. On top, you'll also find carrying handles and if you want to use a shoulder strap to carry it around, you can do that by placing it inside its own carrying back that has it.
In Short:
Has a fabric and steel tube construction
It's more spacious than its competitors
Can house large but calm dogs
Has three entrances and 5 vent windows
The bed that's found on the inside is washable
Comes with its own carrying bag
BEST MEDIUM COLLAPSIBLE SOFT DOG CRATE
Petsfit Collapsible Dog Crate
No Odor Crate
Not all that often but sometimes, soft crates will have a smell to them when you first get them. This is either due to the glue that was used when manufacturing the crate or just because it's new. This crate doesn't have a smell so it will protect your dog's health well.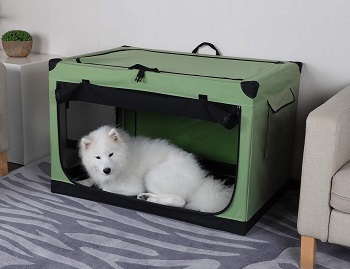 Fewer Ventilation Points
There are fewer ventilation windows on the crate than what we've seen on other collapsible soft-sided dog crates. There are three of them in total and two are also doors. The last door can be found on top. You can easily roll up the front and side door and stick them to velcro to leave the crate open.
Light And Portable
It goes without saying that all of these crates, including this one, are lightweight dog crates. The Petsfit portable soft collapsible dog crate weighs 4 lbs so you'll have no problems lifting it or carrying it. There are two carry handles on the top sides of it.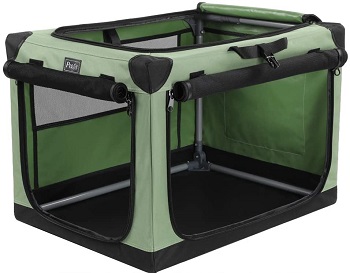 Interior Comfort And Size
You'll provide your dog with more comfort on the inside if you place the fleece mat it comes with there. The mat can easily be cleaned and the dog in question can be a medium-sized dog or smaller but should be crate trained if you want the crate to last you a long time.
In Short:
Weighs 4 lbs
Can house medium-sized dogs
The dog should be calm and crate-trained
Features 3 access doors and 3 vent windows
The zippers can be attached to a plastic clip
BEST FOR TRAVEL COLLAPSIBLE SOFT DOG CRATE
Jespet Soft Pet Crate
Dog Accessories Storage
Even though all of the crates we reviewed so far can be used for traveling, not all of them come with features that will make your traveling experience even easier. The feature in question for this crate is its accessory pocket on top where you'll get to store your dog's toys, treat, and things like a leash. A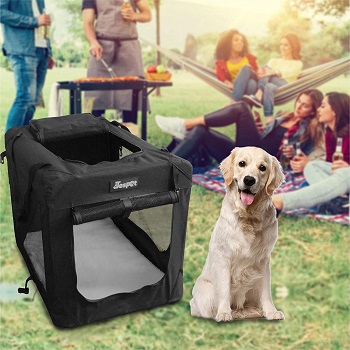 Crate Sides
You'll be allowed to position this black dog crate in multiple ways in the trunk of your car because it has three access doors in total found on the side, in the front, and on top. The front and side door are made of mesh baric that has a hex pattern. These, along with the single window found on the other side will ventilate this collapsible soft-sided dog crate.
Additional Accessory Holders
We didn't want to review it as a medium dog travel crate just because of the accessory pocket on top. we did because there's an additional accessory pocket in the back and also a water bottle holder. Everything that you might have for your dog can be contained inside them.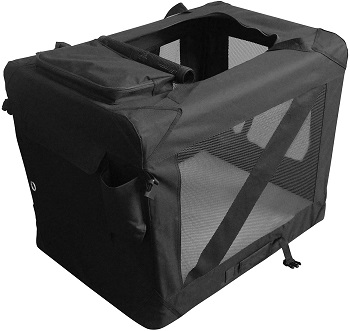 Interior Bottom Supply
As with most, if not all crates of this type, this one also comes with a fleece bed for the interior that can easily be removed and washed when it's needed. The dog that you'll get to contain inside it can be a medium-sized dog because it's 30-in long and 23-in tall.
In Short:
Has 2 accessory pockets
Comes with a water bottle holder
Can be used to contain medium-sized dogs
There are three access doors and 3 vent points
Equipped with a fleece bed
BEST SMALL COLLAPSIBLE SOFT SIDED DOG CRATE
Veehoo Folding Soft Dog Crate
Tear-Resistant Material
Similar to the crate we reviewed earlier, this one is also crafted out of tightly-woven oxford cationic fabric. This definitely makes the crate far more durable but not in the sense that it won't rip due to dog abuse, it will just take longer because it's not tear-proof but tear-resistant.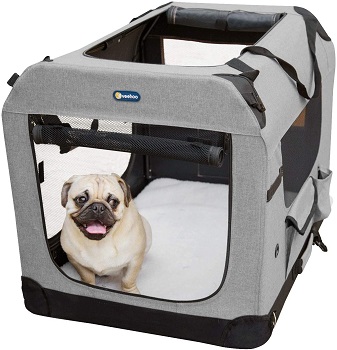 Excellent Visibility
Not only does it have superior ventilation, but also superior visibility. That much is true because it has five mesh fabric windows that cover all of the sides of this collapsible soft dog crate. This is important because you should always keep an eye on your dog when they're inside these crates.
Other Useful Features
You'll get to roll up both the front and side door if you ever wish to leave the soft dog crate open for your dog to enter and exit as he wishes. on one of the sides, there is a small accessory pocket and a bottle holder and in the back, you'll find another accessory pocket.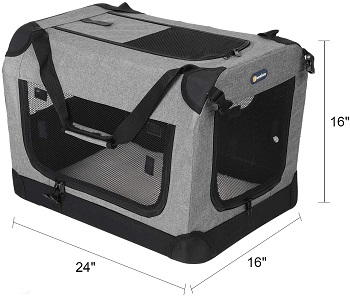 Transport Options
Two things to remember when it comes to the transport of this crate are the handles and strap. These are two things you'll get to use to carry it in different ways. it's only 24-in long so the dog you'll get to house inside should be a small dog that weighs no more than 25 lbs.
In Short:
Made with tightly woven cationic oxford fabric
Has 5 vent points and 3 access doors
The doors can be rolled up to stay open
Can house small dogs inside
Has a bottle holder and 2 accessory pockets
Can be carried using handles or straps
How To Pick A Collapsible Soft Dog Crate
You have to know what your options are when choosing a collapsible soft dog crate. To help you see and understand them better we've decided to bring you this simple buying guide that will go through their similarities, differences, and what some are some of their unique features.
Collapsible Design Use – Almost every soft dog crate has a collapsible design. this is one thing you can always count on with these crates. Its purpose is to make transporting the crate from point A to point B easier and to take as little space as possible when you're not using the crate.
What They Can't Be Used For – even though these collapsible soft dog crateS feature a durable material build they are still too films and unreliable because their cover is made out of fabric. Fabric can easily tear so they're not crates that you can rely on to be good indoor dog crates because it's just too easy for a dog to break out of one.
Additions To The Folding Design – What will go perfect with these crates is if they're light and most of them don't even weigh more than 10 lbs. This does depend on size since soft-sided dog crates large will go over that weight sometimes but it's an insignificant difference or around 3-4 lbs.
Important Soft Crate Notice – These are no training cages for dogs because, as we've mentioned, they are too flimsy. A dog that has not been crate trained can easily rip apart this crate and make your traveling experience dangerous so only use them to contain calm dogs.
To Sum Up
We focused on travel features when we decided to recommend the A4Pet Soft Collapsible Dog Crate as the best collapsible soft-sided dog crates. It protects your car interior and floors with a leak and waterproof bottom and rounded corners and it's light so it's easy to transport. if you want a more reliable and durable indoor dog crate we suggest you either check out the article about indoor dog crate furniture or the article about large indoor dog crates.