Do you have a dog that's not used to crates so you want to get a good training cage for dogs so he can easily accustom to a place to call his own?
You're in for a treat because we've gathered and reviewed the best ones we found on amazon. Some of them are great for training puppies and some are good for training large dogs but that's not all so keep on reading to find out more and to find the one that best fits your situation.
The Summary
Best 6 Training Cages For Dogs
BEST OF BEST TRAINING CAGE FOR DOGS
Life Stages Single Door Folding Crate
Materials Used And Additions
This safe dog crate is made out of metal wire and on the bottom, you'll find a plastic bottom tray that easily comes out for cleaning when need be. The corners are rounded and there are no sharp edges so that your dog doesn't accidentally hurt himself while inside the crate.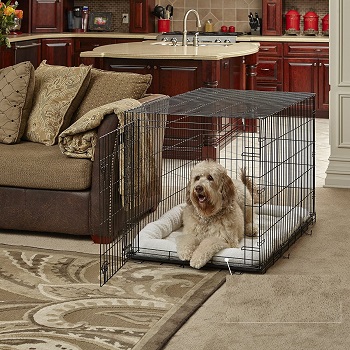 Access Point
For access to your dog and the crate, you will get one door in the front that locks with a heavy-duty sliding bolt lock. There are two of them, one on top and one on the bottom of the crate. These locks will do well in keeping our dog inside the crate when he's not under your surveillance.
Floor Protection And Traveling
On the bottom, you will find located roller feet. The reason for them being there is so that this training cage for dogs doesn't damage your floors. It also has a collapsible construction and has a handle on top for carrying if you decide to travel with the crate or just move it elsewhere.
Puppy Training And Dogs That Fit
The crate comes with a divider panel. It can serve you well if you have a puppy that you need to crate train. Keep in mind that this crate is 48-in one which means that it's meant for large dogs like rottweilers, german boxers, and so on, so focus on getting the size that will fit the puppy well when he grows.
In Short:
Made out of strong steel wire
The bottom tray is made out of plastic
Has rounded edges to not harm your dog
On the bottom, there are roller feet so that it doesn't damage the floor
Can be collapsed and carried with a handle
Comes with a divider
Made for large dog breeds
BEST FOR PUPPIES DOG CRATE FOR PUPPY TRAINING
Diggs Revol Dog Crate
Materials Used To Build The Crate
The materials that make this cage are reinforced plastic for the frame and durable aluminum steel wire mesh. It has a removable tray on the bottom and it also has a top access door in case you ever need to access our puppy without him trying to escape this dog crate for puppies and even a side access door.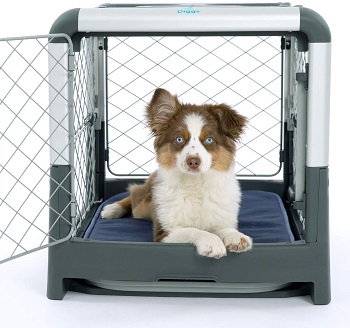 Good For Travels
Because of the way it's made and its materials, apart from being a good training cage for dogs, it is also a good small dog travel crate. The reason for it is its collapsible construction, the wheels that come with the crate, and even a handle for easy carrying.
Safe For Puppies
The reason why it's so good for puppies is that it comes with a divider and the already mentioned removable tray for easy cleaning of the crate. It is also designed with baby pet industry standards so your puppy will be completely safe inside the crate.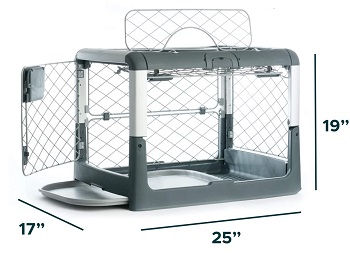 Which Dogs Can Use It
Even though the crate is great for puppies, it is made for small dogs so if you have a puppy of a large dog breed it's okay to get one it's just that you'll have to buy another crate for him when he grows into his full size
In Short:
Мade from reinforced plastic and aluminum steel wire mesh
Has three access doors
Good for traveling because it has wheels, a collapsible construction, and a handle
Good for puppies or small dogs
BEST FURNITURE STYLE CRATE CAGE TRAINING FOR DOGS
Casual Home Wooden Pet Crate
Complete Solid Wood Build
This training crate for dogs is completely made out of solid wood except for the hasp latch lock that is used to lock the double door in the front. The solid wood makes it chew proof so until your dog learns not to chew on the crate, the crate won't be damaged in the process of doing so.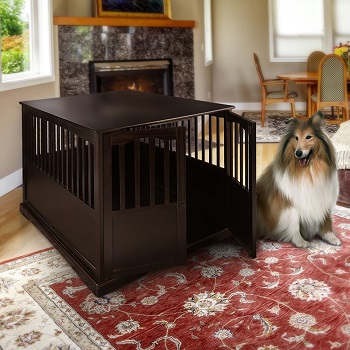 Ventilation Windows And Their Placement
The downside to this training cage for dogs is that it doesn't have full view ventilation windows because they are placed on the top of the sides. This means that if your dog has a bit of separation anxiety and needs to see you at all times, it might not be best, but it's definitely good for already grown dogs.
Furniture Function
The crate will also function well as a piece of furniture in your home just like an XL dog crate furniture. It is colored in an espresso color so think about that if you really want it to blend in with your home decor. The maximum weight it can hold on top is 200 lbs.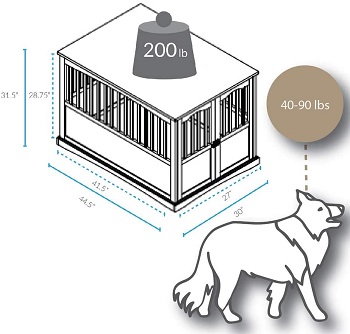 Maximum Dog Weight To Fit Inside
Your dog should not weigh more than 90 lbs if you want the crate to function properly and serve you good long-term. This means that it is good for dog breeds like boxers, rottweilers, and other dogs of similar size and weight.
In Short:
Made out of solid wood that makes it chew proof
Ventilation windows can be found on the top sides of the crate
Made for large dogs up to 90 lbs
The max weight it can hold on top for your stuff is 200 lbs
BEST WOODEN TRAINING CAGE FOR DOGS
Simply Plus Wood Dog Crate
Wooden Frame And Wire Sides
For the most part, this wooden crate could easily be a small wire dog crate. The frame is made out of wood and the top part as well and it makes it a furniture-style crate while on the bottom, you will find located a slide-out plastic tray. This is one of the more important features if you're crate training your dog.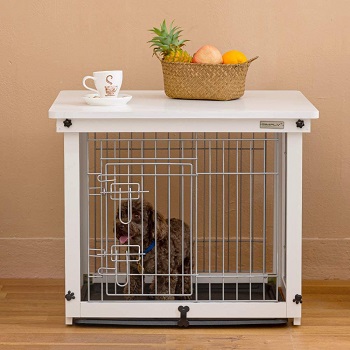 Great Ventilation And Visibility
This dog training crate gives you the visibility of a regular wire crate. This is important for you to be able to monitor your dog and his behavior when inside and for him to be able to see you and feel more comfortable and to prevent any behavior that might come from separation anxiety.
Elegant And Seamless Additions
There are some cute but elegant and useful features on this puppy training crate. To make the crate seem more elegant, the screws are shaped like a dog paw and colored black while the dog bone located on the bottom center serves as a block to prevent the tray from sliding out on its own.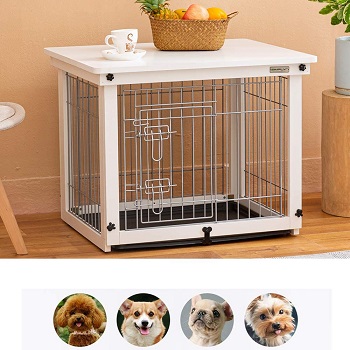 Dogs That It's Made For
There are two locks on the single door that is centered to the left on the lengthy side of the training cage for dogs. They are similar in function to the lock that you can find on branded wire dog crates. The door is small but it should be enough since it can fit inside small dogs.
In Short:
 Made out of wood and wire
Good for puppies and grown small dog breeds
Has a slide-out tray on the bottom
The screws look like dog paws
BEST HEAVY DUTY LARGE DOG TRAINING CRATE
BestPet Heavy Duty Dog Crate
Materials Used To Make It
The crate is made out of heavy-duty steel if you need your dog training crate to be even more durable to be considered an unbreakable dog crate and if your dog or puppy is troubling you. It stands on wheels and has a pull-out plastic tray below the bottom.
Door Position And Use
The doors are located on the top part of the crate and one of the sides. The top access door can be used for you to access your pet without him trying to escape this dog training crate. They lock with simple hatch clip locks.
Wheels For Transport
2 out of the 4 wheels it stands on can be locked for the crate to stay in place. The wheels could be very useful for moving the crate around your house since the crate does weigh around 47 lbs. It's not that heavy but it's better to have the wheels to help you transfer it.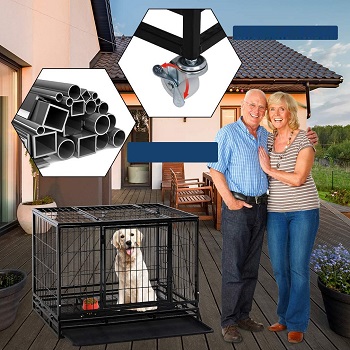 Useful Additions And Dogs That It's For
The slide-out tray is located below the grated bottom of this training cage for dogs. The bottom will let through any urine inside the crate and let it pass through onto the tray so that you can clean it with ease. This is another reason why this crate is good for puppy and dog crate training. It is made to house large dog breeds when the dog is fully grown
In Short:
Made out of heavy-duty steel
Has a tray below the bottom to keep the crate clean
Stands on wheels, 2 of which can be locked
It's large enough to fit inside large dog breeds
BEST AIRLINE APPROVED DOG TRAINING CRATE
Petmate Sky Kennel Pet Carrier
Durable Wire And Plastic Build
The crate is made out of very durable plastic, The top and bottom of the crate connect with nuts and bolts that are corrosion-proof and the steel wire provides ventilation along every side of the crate except for the back where there are holes for ventilation.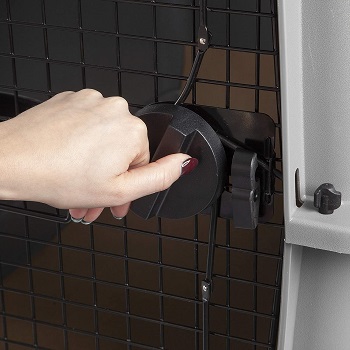 Access Door And Lock Type
There is a single door on the front of this training cage for dogs crate that locks securely with a vault lock. This is better than other lock types used in making XL dog travel crates since the locks won't slide or shift during travel and it is unreachable to your dog.
Necessities Needed For Air Travel
The crate is airline approved and comes with a few necessities needed for travel via plane like a double bowl that easily clips onto the wire of the crate, 2 "live animal" stickers, and even ID stickers for your dog.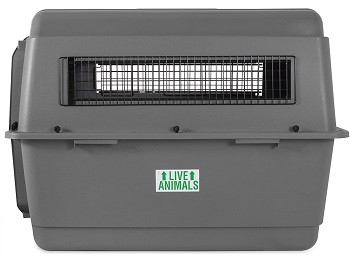 Who Should Use It
Although these crates are usually used by crate trained dogs it can serve well as a home crate while you're crate training your dog. It provides enough ventilation and visibility, you're dog will not be able to chew on the sides of the crate, and later on, you can use it as a travel crate as well. the dogs that fit inside are large dog breeds up to 90 lbs.
In Short:
Made out of durable plastic and strong metal wire
Comes with a few necessities needed for air travel
Made for dogs up to 90 lbs
The door locks with a vault type lock
Provides ventilation from all sides of the crate
How To Pick A Training Dog Crate
There are more than a few things to consider when getting a training cage for dogs. First and foremost they need to be safe and sturdy and be made in a way where every predicted move of a dog that is not crate trained will not pose a problem so keep on reading to find out what to focus on to get the best crate possible fo crate training your dog.
Good Supervision – When you're crate training your dog or puppy you should have constant supervision of him and he should be able to see you as well. This will help with dogs that have separation anxiety and make them feel safe. When this is the case wire crates are the way to go since they provide the best airflow and vision.
Bottom Tray Use – You should have a bottom tray made out of plastic because accidents will happen and you don't want to make the job of cleaning the crate harder than it already is. You should think about the size of the crate because sometimes this will happen because the crate is too large for your dog.
Divider Panel – Divider panels are great for puppy training because you will fit the size of the crate to your puppy and later on when he grows you can remove it. Dogs don't like to urinate where they sleep so if a crate is too big, the dog might take this opportunity and urinate in one place while still being able to sleep in the different and clean area of the crate.
Chew Proof Feature – Some dogs like to chew on things a lot including the crate, especially if they're still adjusting to living in a crate so getting a crate like an XL metal dog crate or an XL wooden dog crate made out of solid wood might minimize the damage done to the crate and make it long-lasting.
To Sum Up
Knowing how to crate train your dog is half the work, the other half is getting a good training cage for dogs and the best one to fulfill all the needs of a crate training crate like having a bottom tray and a divider while also having some clever and safe features like rounded edges so the wire doesn't hurt your pet is the Life Stages  Folding Crate. If your dog is already crate trained and you want a crate that fits nicely into your home decor we suggest reading the article about white dog crate furniture and if you still want that but want it to fit your large dog then you have to read the post about XL dog crate furniture.