Are you tired of leaving your dog out of travels and road trip fun so you've decided it's time to buy an XL dog travel crate?
We have got everything that you're looking for in this article because we reviewed the best ones you can find. There are so many dog crates it's easy to get confused so we put them into categories like the ones that are airline approved, made from soft fabric, and many more.
The Summary
Best 6 XL Dog Travel Crates
BEST OF BEST XL DOG TRAVEL CRATE
SportPet Designs Plastic Kennel
Overall Description
This XL dog travel crate is made out of plastic with the addition of gridded wire used to cover holes for ventilation and the front door which means that it has airflow coming from all sides. It sits on wheels has two handles on top for carrying.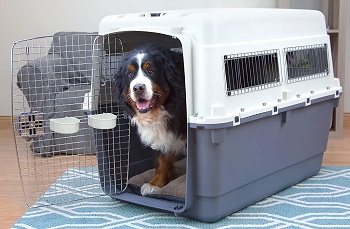 Detailed To be Airline Approved
When you look into it a bit more, you will find out that it has everything you need for it to be airline approved. These things are 2 detachable water bowls, 4 stickers that say "live animal", 18 nuts and bolts to seal it well, and even holes to tie down with bungees.
Easy On And Off Wheels
If the wheels on the bottom worry you, they can easily be detached so that your dog is kept safe while in the airplane. The airlines wouldn't allow wheels anyway and when you need it or just want to pull the crate because it's just too heavy to carry, you simply attach them back on and you're all set.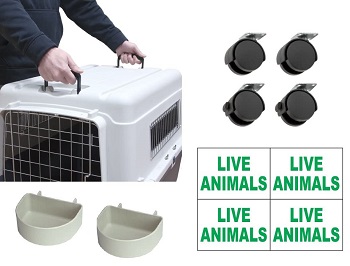 Which Dogs Fit Inside
The crate can come in 6 various sizes so even if you're looking for a small dog travel crate you can find something for yourself. The crate can fit inside dogs up to 140 lbs which is a lot for a plastic crate.
In Short:
Holds dogs weight up to 140 lbs
Airline approved dog crate
Can be secured with bolts and screws that there are 18 of
Made out of plastic and has ventilation holes on all sides
BEST XL AIRLINE APPROVED DOG CRATE
Petmate Ultra Vari Kennel
Heavy Duty Plastic Build
If you want to use this XL dog travel crate as a living crate for your dog, you can. Note that it is entirely made of recycled heavy-duty plastic except for the holes needed for ventilation. On the crate, you'll wind 4 of them, one being the entrance door.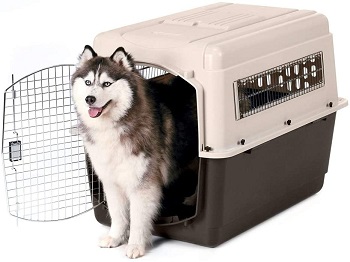 Travel Style Options
It doesn't necessarily only have to be used in air travel. You can use the Petmate XL crate as a travel crate to go on road trips that include your dog as well. It fits into most vehicles seeing as it measures at 40-in and can stand dogs that weigh from 70 to up to 90 lbs.
Ventilation Holes And Front Access Door
The ventilation holes are covered with wire and the front entrance door has gridded wire. On the entrance door, you'll find a lock that unlocks the door by pinching the lock on its top and bottom side. 4 ventilation holes mean that you can travel with your dog internationally since it is an airline requirement.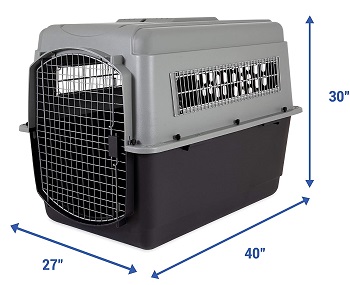 Air Travel Additions
As for additions needed for travel or air travel, it does not come with water bowls but you can purchase them to fit this crate, it does have holes on the bottom to die down the crate when needed. this can not only serve you when flying by air but also when you're traveling by car.
In Short:
Able to Hold dogs up to 90 lbs
Has tie-down holes to ensure that the cart isn't moving
Feature 4 ventilation windows to promote good airflow
Meets the requirement for air travel
Doesn't come with water bowls
BEST SOFT GIANT DOG TRAVEL CRATE
2PET Foldable Dog Crate
Crate Build Materials
This crate is made out of soft fabric and from steel tube. The steel tube material is strong but still lightweight which means that even though this crate is made out of fabric, it is more durable than perhaps other crates in the same category.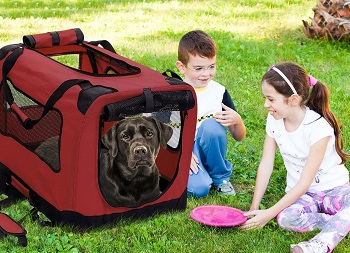 Made For Calm Dogs
If you have a dog that likes to chew and tear things apart this crate will most likely not be for you or your dog because even though it is durable, this types of crate require your dog to be calm and steady. Look into XL wire dog crates if your dog fits this description. It can hold the weight of a dog of up to 50 lbs.
Foldable And Easy To Carry
The steel tubes make the crate keep its firm shape and the fabric is waterproof. It can easily be folded if you don't need the crate and it is also good for traveling. To transport your dog or the crate itself you'll get two handles on top. Note that this soft fabric XL dog travel crate is not airline approved so you can only use it for road trips.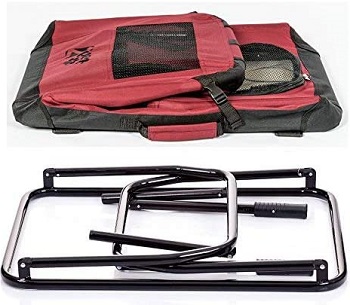 Ventilation, Entrance Door, And Accessories
The ventilation holes are made from fabric mesh. The entrance door is included and it locks with a zipper. It also has a washable and waterproof floor mat and it has a water bottle holder and a food container holder.
In Short:
Ventilation holes are made for mesh fabric
The frame is made of light but durable steel tubes
Not made for dogs that like to chew on things
Has a water and food container holder on the side
BEST INDOOR XL DOG TRAVEl CRATE
Pet Gear 4 Door Steel Crate
Plastic And Steel Build
This XL dog travel crate is said to be a steel crate and rightly so. Although the frame for this crate is made from plastic, the ventilation windows are made out of gridded steel wire and they seemingly take up more space for this crate than the plastic part does.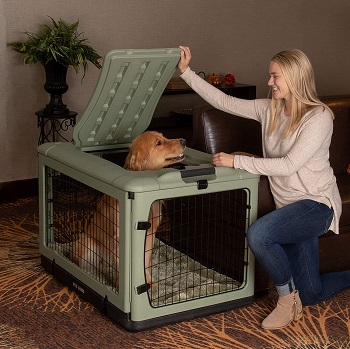 A Lot Of Entrance Doors
The crate has 4 entrance doors. One is located on the top, 2 on the sides and the front entrance door is the largest and is a sliding door so t won't get in the way of your or your dog. All doors have locking clips on each side where the door opens.
Why It's Good For Travel
The reason why it is great for travel is that it comes with a travel bag and it has a handle on top to pull it with ease because of the wheels that are located on the bottom. It also comes with bedding that will keep your dog comfortable during long travels if need be and it's easily collapsible.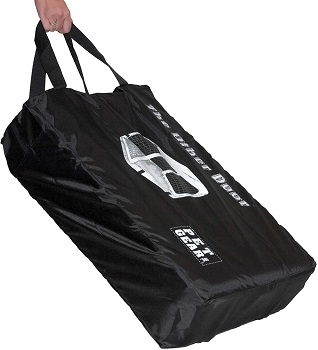 Crate Specifications
The crate measures at 42-in length, 28-in width, and 28-in height. It weighs 40 lbs and can fit inside dogs that weigh up to 90 lbs. this means that it's suitable for large dog breeds like German shepherds and other dogs that are of similar size.
In Short:
Made out of plastic and steel
Has 4 entrance doors, the front being a sliding door
Holds dogs that weigh up to 90 lbs
Comes with bedding and a travel bag
It's has a collapsible construction
BEST CHEAP XL DOG TRAVEL CRATE
A4Pet Soft Collapsible Dog Crate
Waterproof Bottom
If you're worried that your dog might urinate when inside this crate during travels, the bottom is waterproof so you don't need to worry about any unnecessary liquids going on to your car carpet floors. The cover can be removed and is easily washable as well.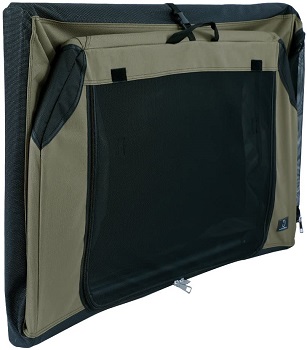 Easy To Store And Carry Around
The XL dog travel crate folds flat when you're not using it. Assembly will take about 45 seconds so it can be considered easy. For easy transport, while your dog is inside this XL travel crate, you might find the two handles on top useful for exactly that purpose.
Rounded Corners For Protection
It is large enough to be fit for use as an SUV dog crate. If you're worried about it somehow damaging the interior of your car, you don't have to because it has round corners to protect from exactly that. It also has a side pocket for you to put inside whatever you see fit.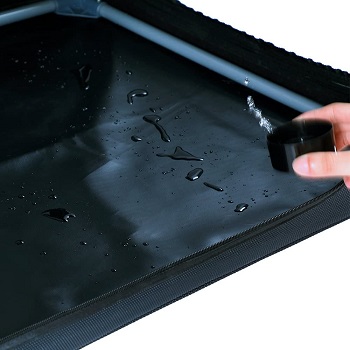 Dog Weight It Can Hold
Note that this crate is to be used by dogs that are trained to be inside crates. Other than that prerequisite, it can withstand the weight of a dog weighing up to 70 lbs which is impressive for a soft dog crate for cars.
In Short:
When not in use, it's easy to fold flat
Can hold dogs that weigh up to 70 lbs
Rounded corners so that it won't damage car interior
The bottom is waterproof and is easy to clean
BEST FOLDING XL TRAVEL DOG CRATE
Nova Microdermabrasion Dog Crate Folding
Tube Steel Frame
The way that this XL dog travel crate holds its shape is through steel tubes. They are light but still durable and they allow for the crate to be folded flat when transporting it or when you want to tuck it away for future use without it taking up much space.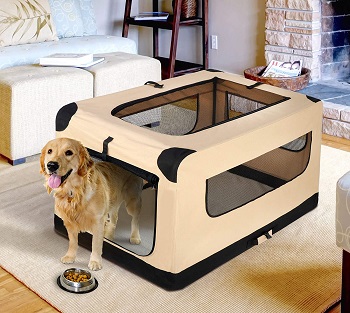 Ventilation Windows
The windows that allow for the crate to be well ventilated and for your dog to be able to see outside the crate are covered in a fabric made mesh. The dog must be crate trained and he must not be a chewer otherwise a soft crate like this one will no be of much use to him.
Bedding For Comfortable Travels
If your travels are long and you want your dog to be as comfortable as he can be, The crate also comes with bedding made of fleece to give him a soft and comfortable place to rest while you guys are traveling.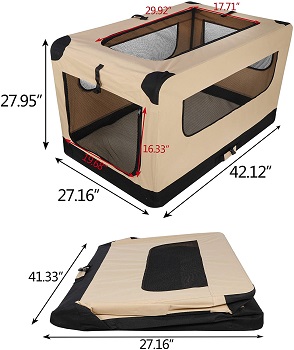 Fastening Straps Use
Another great feature of this crate that makes it a good travel companion for your dog are the straps for fastening. This will ensure that the crate doesn't move around in the car if there is space for it to move. The 2 doors can be rolled up to allow your dog to freely walk in and out of the crate if you're home.
In Short:
It has a steel tube frame that is light but durable
The windows provide ventilation through a fabric mesh
The fleece bedding comes with the crate
It has two entrance doors, one on top and one on the side
How To Pick An XL Dog Travel Crate
Most of us really want to include our dogs in our travels. They are amazing friends and great travel companions but making sure they're safe while on the road is important so choosing the right XL dog travel crate is important because they differ so much in size, materials they are made of and they all serve a different purpose because of it.
No Standard Size – Oftentimes, when you're buying these crates, although all of them might be extra-large, it does not mean that they can all withstand the same weight of a dog. It all depends on the material used in making them and their dimensions so before buying, be sure to check out how much weight can the crate stand and its dimensions and your dog's weight and dimensions as well.
Soft VS Plastic – Plastic travel crates will, of course, be able to hold more weight. For example, if you compare a large plastic and a large soft dog crate, it's more like that the plastic one will be able to hold more weight. Another thing about plastic crates is that often they will be approved by airlines for air travel.
Crate Training – Your dogs shouldn't in any way be put inside a crate for extended periods of time if they are not crate trained. Another thing to think about when crate training your dog is if he's a chewer and digger because if that's the case, you, nor he will benefit from a soft fabric crate which will, in that case, be easily destroyed.
Air Travel Requirements – If you're buying a crate that is airline approved you will most likely be buying a plastic one. The things that the crate needs to have to be airline approved are: it needs to have "live animal" stickers on them, it has to have two detachable bowls for water, it needs to have 2 ventilation vents for home travel and 4 for international flights and holes to attach a bungee rope around it so it doesn't move, it must not have wheels and rest is up to each airport but these are usually the basic requirements for it.
To Sum Up
When traveling, especially when it's via airplane, the first thing that should occupy your mind is if your dog is safe and the one XL dog travel crate that can be considered the safest when traveling is the SportPet Designs Plastic Kennel. It meets all the requirements for air travel, has a sturdy plastic build, and even has detachable wheels. If you're really just interested in XL plastic dog crates we suggest you read the article about it and if you found soft crates to be more your style check this article about portable soft dog crates.