Are you tired of looking at all those scary-looking wire and heavy-duty dog crates so you're searching for something a bit more pleasing like an XL plastic dog crate?
We have good news for you because in this article we reviewed the best ones to fit this description and we've made sure to include a wide variety of crates like the ones that are good for travel, for using outdoors and many more. All you need to do is continue reading this article.
The Summary
Best 5 XL Plastic Dog Crates
BEST OF BEST XL DOG CRATE PLASTIC
Pet Gear 4 Door Steel Crate
The Top
On the top of this XL plastic dog crate, you'll find two things: a top access door which will do great if you want access to your dog without him being able to leave the crate, and a handle. the handle is used to pull on the crate to transfer it elsewhere if need be.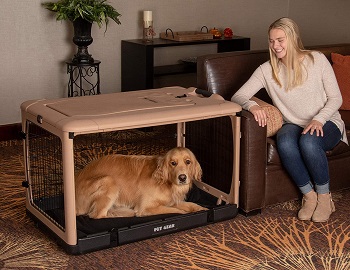 The Bottom
The bottom base of the crate is insulated meaning it can withstand cold temperatures without cracking and for it, you'll get plush bedding to ensure that your pet is comfortable when he's inside the crate. This means you don't have to spend extra money on it.
Other Access Doors
Along with the top access door, you'll get 3 more. Two are located on the narrow sides of the crate and one on the lengthy side of it. The last door is also the front access door because it opens along the whole length of the crate and it slides open.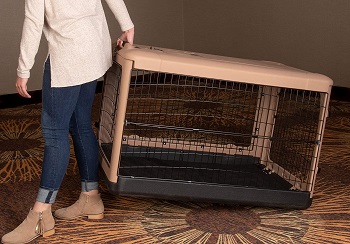 Easy Transport And Dogs That it's Made For
For easier transport, there are wheels located on the bottom that go well with the top handle. To transport it anywhere even more efficiently, you can collapse the crate and place it in a travel bag that comes with it. The crate is made for dogs up to 90 lbs.
In Short:
Fit for dogs weighing up to 90 lbs
Has 4 access doors, the front one being a slide up door
Has wheels on the bottom and a handle on top for easy transport
Comes with plush bedding and a travel bag
Has a collapsible construction
BEST AIRLINE APPROVED XL PLASTIC DOG CRATE
Petmate Sky Kennel Pet Carrier
Smart Lock Type
The lock on this crates' door is a special vault type of lock. The reason why such a lock would be placed on an XL travel dog crate is that this type of lock prevents shifting and sliding of the lock that might happen with other, simpler locks during travel.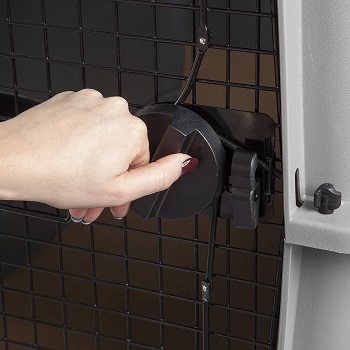 Heavy Duty Construction
The frame of this crate is made out of heavy-duty plastic, the nuts and bolts used to secure this XL plastic dog crate when flying by air are corrosion-proof, and the steel wire used for the door and on the ventilation holes is extra strong and durable.
Basic Air Travel Accessories
Some standard things needed for air travel are included. These things are stickers to ID your pet, 2 "live animal" stickers, bowls that you can clip on, and the ventilation holes. There are 4 of them in total meaning that this crate is fit for international travel as well.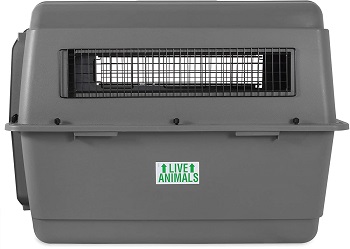 Learning If The Dog Can Fit Inside
The crates' dimensions come at L40-in, W27-in, and H30-in. The reason why this is important is that you need to know your dogs' height and length to see if he can fit inside comfortably. Other than that, the crate can handle a dog that weighs up to 90 lbs.
In Short:
 Available for use by dogs weighing up to 90 lbs
Has basic air travel necessities like pet ID and live animal stickers and water bowls
Made out of heavy-duty plastic
Has 4 ventilation holes
The lock is a more secure vault type lock
BEST SOFT XL PLASTIC DOG KENNEL
Sportpet Large Pop Crate
A Variety Of Materials
This crate is made out of a variety of materials including plastic. Other materials used in making it are fabric, wire, and even a fabric mesh. It is a soft travel dog crate but because it has plastic in its build as well, it is an XL plastic dog crate.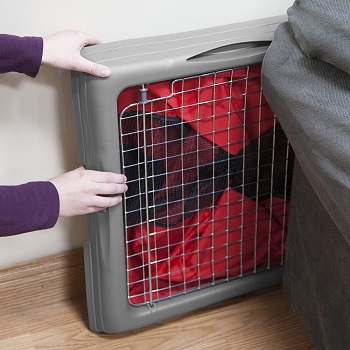 Plastic Front And Back
The way it holds its shape well is not through steel tubes like most crates, but because the front and back end are made out of sturdy plastic. The front also features a wire door that locks with a turn lock and the back is a gridded plastic to provide extra ventilation.
180-Degree Angle Collapsible Form
It is collapsible and easy to store because the middle is made out of polyester fabric and features ventilation holes that are also covered in polyester fabric mesh. You can collapse it by turning it at a 180-degree angle, lock the front plastic to the back and it's ready to store away.

Soft Crates Warning
It's great for medium and large dog breeds but make sure you weigh and measure your dog before deciding to buy this crate since soft fabric crates usually don't do well when carrying large dogs and you have to go a size bigger for him to fit comfortably inside. Another thing to worry about is if your dog is a chewer, he will easily destroy this type of crate.
In Short:
Made out of soft fabric, plastic and steel wire
Can be twisted in a 180-degree angle to collapse and store away
Ventilation holes are made out of gridded plastic, wire and fabric mesh
Fits inside medium and large dog breeds
BEST ON WHEELS GIANT PLASTIC DOG CRATE
MidWest Skudo Plastic Carrier
Top Of The Crate
The top plastic part of this XL plastic dog crate features a plastic handle that can easily be stored flat on the top, extra storage compartments that you can use to place inside anything from treats to a leash, and of course, on the sides, you'll find located ventilation vents.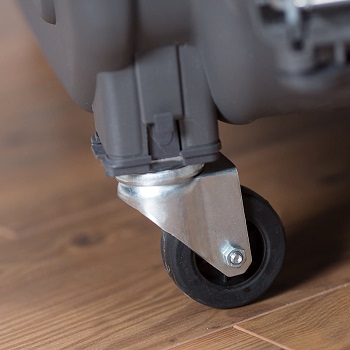 Bottom Of The Crate
The bottom of the crate only has one thing and that is legs where you can snap on wheels. The only thing with these wheels is that they need to be bought separately by the same brand. The wheels will put to good use the handle on top for pulling.
Connecting The Top And Bottom
the bottom and top parts come together with buckles that snap on and are made out of plastic. Throughout the sides and edges of this XL plastic crate, you'll find 4 of these on the left and right sides. Models made for smaller dogs will have less snap-on locks.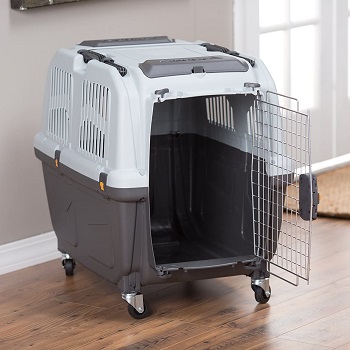 Dog Breeds To Use It
The door on this crate is made out of steel wire and the lock is plastic. Your dog should be crate trained before putting him inside the crate and it's made to fit inside large dog breeds like German boxers.
In Short:
Can be used for large dog breeds
Has 4 legs to attach wheels on it that are sold separately
The top part has a handle for pulling and an extra storage compartment
Has ventilation vents on all sides
The gridded wire door locks with a plastic lock
BEST OUTDOOR XL DOG CRATE PLASTIC
Luckeymore Dog House
PP Plastic Build
This XL plastic dog crate is made out o PP plastic. PP plastic or polypropylene plastic is more environmentally friendly than other types of plastic and it takes fewer years to break down. Newer PP plastic which is the material of this crate is windproof and waterproof hence making it an outdoor option as well.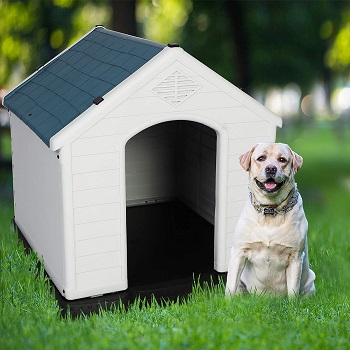 No Door Crate
If you want to use this crate indoors to provide your dog with a place to call his own and to satisfy his denning instincts. Note that this crate does not have a wire door and a lock that smaller models of the same brand and type have.
Putting It Together
It's easy to assemble with bolts and screws that come with the crate and there are even plastic caps that cover the screws to prevent them from rusting. The XL plastic dog crate is also chew-proof in case your dog likes to chew on things. on top of the door hole, there is a vent to provide your dog with better airflow inside the crate.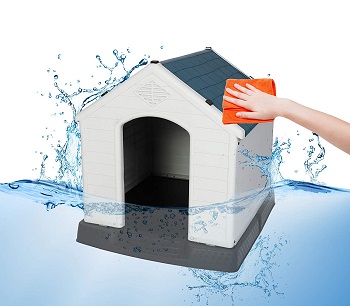 Measures To Focus On
There's a lot to measure when it comes to the dimensions of this crate since it's shaped like a house but what you should focus on is the height of the crate from top of the roof to the bottom that measures 35.3-in and its length that measures at around 37-in which means that it can be used by large dog breeds.
In Short:
Can be used for large dog breeds
Made out of PP plastic that is wind and waterproof
Doesn't have a lockable door
Bolts and screws used for the assembly are covered with plastic to protect them from rusting
How To Pick An XL Plastic Crate
Choosing an XL plastic dog crate can be a challenging test since they differ so much injust how much of them is plastic made, what kind of plastic it is, and of course how much weight they can withstand. Not to worry you though, we've made a list of a few things you should look out for before deciding on a crate.
Traveling With The Crate – Plastic crates are often good for traveling since they have handles on top of them for carrying or pulling and wheels on the bottom to go with it. This makes them easy to transfer to the car and they can come with detachable water bowls that are perfect for long travels.
Plastic Material Durability – Although plastic is a material that has come to be known as sturdy and durable it can only handle so much weight so it must be heavy-duty or highly durable but even so, it will most likely be available for use with large dog breeds and not extra large dog breeds.
Crate-Trained Dogs – Your dog should be crate trained before being put inside these crates, especially if you're traveling. Not a lot of plastic crates will be chew-proof so if your dog Is a chewer it's important to teach him differently before getting him a crate like these.
XL Plastic Dog Crate VS Kennel – We don't think you'll find an XL plastic dog kennel ever since they are usually made out of either wood or metal to withstand outdoor conditions. they are also much larger than any type of dog crate so much that they can fit crates inside of them. Plastic crates available for use outdoor will be advertised as dog houses usually.
To Sum Up
The number one thing you should think about when buying these XL plastic dog crates is if they are safe for your pet if they'll break while he's in there, can he fit comfortably inside, and can he escape. The one crate that should positively answer all these questions is the Petmate Sky Kennel Pet Carrier. If plastic crates piqued your interest because of their traveling properties make sure you read all about XL dog travel crates and if you still want something a bit sturdier than the average plastic crate be sure to check the post about XL wire dog crates out.