Have you had enough of all the wire and metal crates and are now looking to get a soft travel dog crate because it's just more convenient for you?
You must continue reading this article because, in it, you are sure to find a crate just like that that will fit your needs and wants perfectly. the reason for it is because we reviewed the best ones but we also placed them into categories like large, medium, and small so you'd easily navigate through the crates that might not interest you and get to the one that is just right.
The Summary
Best 6 Soft Travel Dog Crates
BEST OF BEST SOFT TRAVEL DOG CRATE
A4Pet Soft Collapsible Dog Crate
Car Types It's Good For
This crate could easily be an SUV dog crate because you can put it in the trunk of one but this doesn't limit it to be used exclusively by SUV owners. You can be sure that your car will stay clean if your dog urinates inside this soft travel dog crate because the bottom is waterproof and leak proof.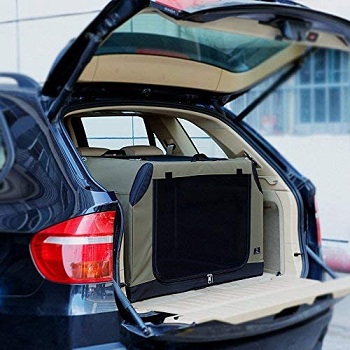 Crate Materials
The reason why this crate holds its shape well is that it has a steel frame. The rest is made out of oxford fabric and mesh that is, in this case, used to provide good airflow and ventilation for your dog when he's inside the crate.
Door Location
You'd want more than one access door from a crate made for travel and this one has two. One door is located on the top and the other one is located on the front side. They both lock with auto-locking zippers. This doesn't get you a superior locking experience but it is one that is common with these crates.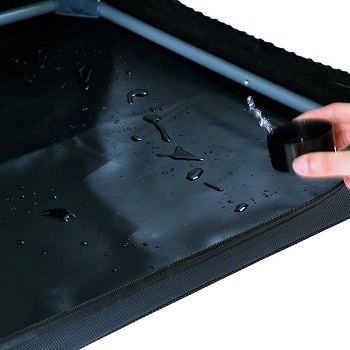 Dogs To Travel In It
The crate can be collapsed and tucked away when you don't need it or you're transporting it, and when a dog is inside of it, he can easily weigh up to 70 lbs and be comfortable inside. The only thing you have to worry about next is if he's a crate-trained dog and will remain calm inside his soft travel crate.
In Short:
Has a steel frame and covered with fabric
Ventilation is provided with fabric mesh windows
Has 2 doors to access the crate and they lock with a zipper
Can hold the weight of a 70 lbs dog max
BEST LARGE SOFT DOG CRATE FOR CAR TRAVEL
EliteField Soft Dog Crate
No Assembly Required
This model doesn't require any assembly. It is because the crate can be collapsed that this is achieved. You can fold it down and assemble it back again in seconds. This is, of course, a trait of many other soft travel dog crates and other small or XL dog travel crates.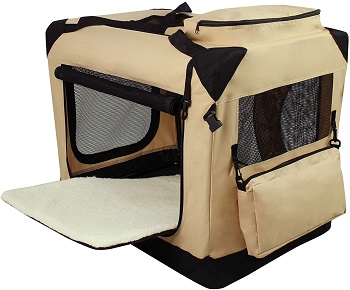 What It's Built Out Of
This soft dog carrier for cars is built out of 600D oxford fabric and has a steel frame that makes it hold its shape nicely. The collapsible construction is achieved because the steel frame can be folded. For ventilation windows that you can find on all 4 sides, a hexagon-shaped fabric mesh is used.
Additions To The Crate
Some useful additions that this crate gets you if you decide to buy it are a fleece bed that you can fit on the bottom and different carrying handles that include a carrying strap that has padded shoulder straps.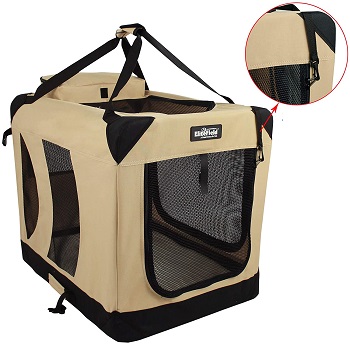 Doors And Dogs That Fit Inside
3 of the ventilation windows also serve the purpose of a door and you can't lock or unlock the doors but only close or open them with a zipper. The crate is 36-in long and 28-in high. These are the measurement you will use to measure your dog and see if he fits inside but it will usually be good for medium and large dog breeds.
In Short:
Made out of a steel frame and 600d oxford fabric
Can house medium and large dog breeds
Ventilation is provided through hexagon shaped fabric mesh
Comes with a fleece bed and a few different carrying straps
Folds down easily
BEST FOR SMALL DOGS SOFT TRAVEL CRATE
One for Pets Double Pet Kennel
Multiple Ways Of Using It
This crate can be used in more than one way. This is achieved with the zipper locked fabric divider that can connect the two crates, divide them and also make it one crate when you remove the divider. This leaves you the option of using it for 2 dogs separately, for 2 dogs as a single unit, and one dog.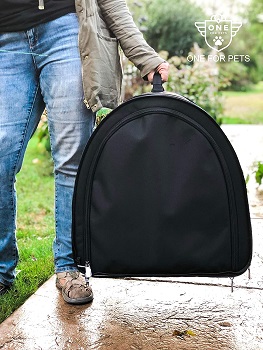 Straps For Seatbelts
One of the reasons why this soft travel dog crate is so good for car travel is because that the crate has built-in straps that you can connect to a seatbelt to make it stay safely in place and so that it doesn't move around in the car.
Dog Size Recommendation
Because the crate is only 20-in tall it can't house medium-sized dogs when used as a single unit so it is best to use it for 2 small dogs like a small soft dog crate. When it's used as a double connected unit or as two separate crates both crates are 19.5-in long, 20-in wide, and 20-in tall.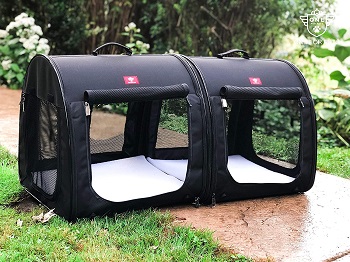 Keeping Your Car And Crate Clean
The crate will come with a bottom pad cover that you can easily remove from the crate and wash when needed. The pad cover will protect your car so if any accidents should happen while your dog is inside the crate, the car will stay clean.
In Short:
Can house 2 small dogs
Has built-in straps for fastening with a seatbelt
Each separate crate is 19.5-in long and 20-in wide and tall
Has a bottom pad cover that can be cleaned easily
BEST FOR MEDIUM DOGS SOFT DOG CAGE FOR CAR
AmazonBasics Dog Travel Crate
Doors And How They're Made
You'll get two doors for you to access your pet and for your dog to go inside. One door is made out of mesh fabric and also provides your dog with ventilation and another is located on the top and it's made out of regular fabric that's used to make the rest of the crate. Both doors can be opened and close with a zipper.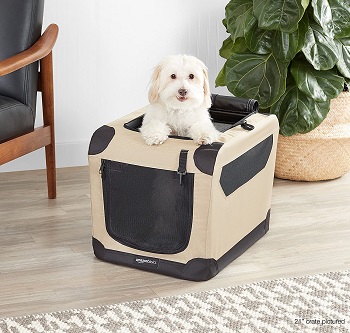 Keeping The Crate Open And Well Ventilated
If you want the front access door to stay open if you're perhaps using the crate in your home, you can do so with straps that can be used to fasten the door when you roll them up. Apart from the front access door that is used for ventilation, the mesh fabric is located on all sides of the crate that will give your dog good airflow when he's inside.
PVC Frame
This soft dog carrier for cars is made a bit different than your typical medium-soft dog crate. The reason why is because the frame is not made out of steel like most but rather from PVC and the rest is made out of polyester fabric. You can fold it like the rest of these crates.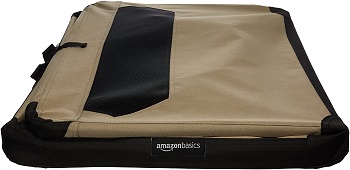 How Big It Is
The crate is 30-in long and 21-in tall. This will not only tell you what dogs can fit inside but it also might be useful to know the measurements to see if the crate can fit inside your car. it can easily house dogs weighing u to 42 lbs which means it's good for medium dog breeds.
In Short:
Provides ventilation through fabric mesh on all sides
One ventilation window is also a door
there's an access door on the top
Made for use by medium dog breeds up to 42 lbs
The frame is made out of PVC
BEST INDOOR SOFT DOG CARRIER FOR CAR
Nova Microdermabrasion Dog Crate
Equally Wide And Tall
The crate is almost as wide as it is tall with both measures being around 27-in. You can be sure that if you decide to buy this crate, you'll be getting a crate that will provide your dog with enough living space for the crate to be a soft-sided dog crate large. The crate is 42-in long.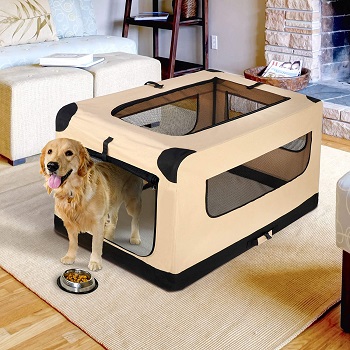 Lightweight Materials
The frame of this crate is made out of lightweight steel so that it doesn't add to the overall weight of the crate and the rest is made out of 600D oxford fabric. the crate only weighs around 13 lbs.
Bottom Specs And Accessories
The bottom of this soft dog crate for car is made out of waterproof material. you will also get fleece bedding for the bottom to keep your dog cozy when he's inside. There are two doors on the crate that also serve as ventilation windows. you can easily open them with a zipper and roll them up so that they don't bother you or your dog when the crate is kept open.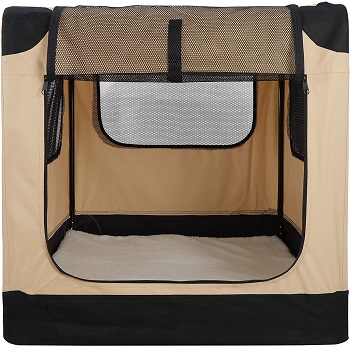 Crate Transport And Prefered Dog Size
You can transport the crate with a carrying handle or straps, it is up to you to decide. It doesn't have a weight limit but it is made for large dog breeds. Usually, a large dog breed dog is considered a dog taller than 24-in, and that weighs from 60 lbs and up.
In Short:
A bit wider than most crate since the width and height are the same
Made to be used by large dog breeds
The bottom is waterproof and also comes with a fleece bedding
You can transport it with a carrying strap or handle
The frame is made out of lightweight steel
BEST FOLDING SOFT TRAVEL DOG CRATE
Petsfit Sturdy Wire Frame Soft Pet Crate
Crate Color And Frame
The crate comes in two lovely colors. This one is a beautiful and natural light grey but you can choose to buy it in a brown color. Just because it is soft doesn't mean it's not a sturdy dog crate at least when you're thinking about the firm frame that can be folded.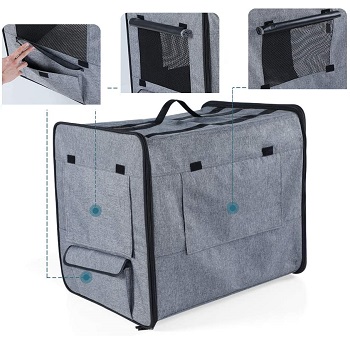 Front Access Point
There's one access door on this crate and it's located in the front of the crate. It closes with 2 zippers that we are used to seeing with the crates. The door also serves the purpose of one of the ventilation windows.
Ventilation And Shade
The ventilation windows can be found on all sides of the crate but they can be covered with a piece of fabric to act as shades. You can easily roll them up when you're not using them. This will give your dog some privacy and shade if he needs it.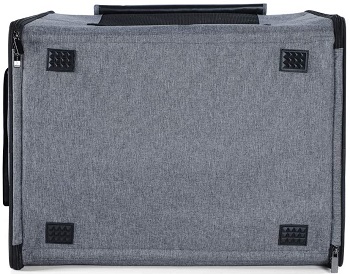 The Top, Back, And Dogs It's For
There's a handle on top so you can carry this soft travel dog crate when needed and in the back, there is a pocket for you to place any dog accessories that you might have. The crate is made to house medium and large dog breeds.
In Short:
The crate is colored in a natural grey
Has one access door that closes with two zippers
Has a pocket on the back to store dog accessories
Can house medium and large dogs
The ventilation windows have shades made out of fabric
How To Pick A Soft Travel Dog Crate
Although soft travel dog crates have their pros, they also come with some cons and we need to talk about the cons before you decide to buy this type of crate. The cons might not apply to all as well as pros and some things we will mention here are door locks, dogs that can use it, and more so keep reading to know what to look out for.
Locking The Crate – Soft crates for dog travel get with zippers mostly. This is not the most efficient way to lock a crate since your dog can easily figure out the way to unlock it and escape and you don't want that to happen during your travels because it's unsafe for you and ultimately your dog
Calm Dog Crates – These crates will last you a long time if the dog using them is a calm and crate trained dog. The fabric that is used to make the crate isn't durable enough to handle chewing and scratching so if you recognize your dogs' behavior in this text, you will benefit more by buying the safest dog crate for cars.
Extra Large Dog Breeds – If you have an extra-large dog which means that your dog is bigger than dog breeds like German Shepherd, Rottweillers, and other similar sized dogs, you might not be able to find a soft dog crate for cars that's big enough for them. You would definitely benefit more from buying an XL dog travel crate.
Price Points – If you're worried about money and your dog is calm, you will benefit greatly from these crates since they are cheaper than small and XL metal dog crates. Just remember they are not as durable as other types of crates. It might be best to reserve this type of crate for small dogs.
To Sum Up
Although a lot of soft travel dog crates are pretty much the same, you can surely find one that stands out from the rest and has something different and better to offer and the one to do exactly that is the One for Pets Double Pet Kennel. You can travel with more than one dog and it is quite safe because it has built-in straps to fasten it with a seatbelt. If you're on the other end of things and think that you and your dog would benefit more from a metal crate, definitely read the article about the toughest dog crates, and if your crate is not really intended for travel make sure you read the article about XL dog crate furniture that will blend nicely into your home.