Do you have a small dog like a Maltese or Boston terrier so you've been digging through the internet to try and find the best small metal dog crate?
You don't have to keep searching. All you need to do, now that you're here, is to continue reading this article because we've found and reviewed the best one in many different categories like the ones fit for travel, puppies, and more so keep reading and you're guaranteed to find the one for you.
The Summary
Best 5 Small Metal Dog Crates
BEST OF BEST SMALL METAL DOG CRATE
MidWest Homes for Pets Dog Crate
The Purpose Of A Divider
This crate is not only a well made small metal dog crate. It is also a great training cage for dogs because it comes with a much-needed divider that's good for puppies because the crate should grow larger as your dog grows. You don't want to put him in a crate that's larger than him.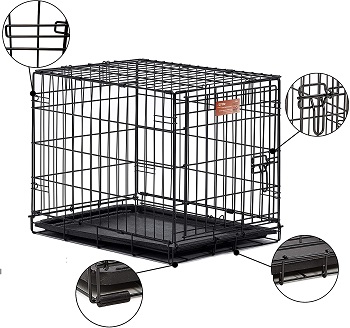 Crate Lock Quality
If you wish to keep your dog inside the crate while you're away or when you can't keep an eye on him, the lock on this crate will serve you well because it is a sliding bolt lock that's heavy-duty so you can be sure that your dog won't chew through the lock and escape.
Doesn't Do Damage To Floors
You don't have to worry about the metal wire eventually damaging your floors because the crate has roller feet on the bottom that will prevent any accidental scratches done to the floor if there were none. The crate also has a plastic tray on the bottom that will keep excess dog food and other dirt inside the crate and away from your floor.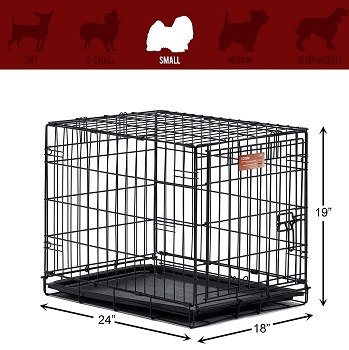 Height, Length, And Weight Limit
Although it's pretty clear that it's made for small dogs, it's important to know the weight limit of the crate that is 25 lbs, and the height and length of the crate that are 19 inches and 24 inches. You should measure your dog before putting him inside the crate.
In Short:
Made for dogs that weigh up to 25 lbs
Comes with a divider panel
Has roller feet on the bottom that protect your floor
Has a plastic tray on the bottom
The door locks with a heavy-duty sliding bolt lock
BEST FOR PUPPIES SMALL METAL DOG KENNEL
Diggs Revol Dog Crate
Reinforced Plastic And Aluminum Wire Build
Although the crate's frame and the bottom is made out of reinforced plastic, the side of the crate is aluminum mesh wire that makes it fit well into this small metal dog crate category because it can easily match the durability of a regular metal dog crate.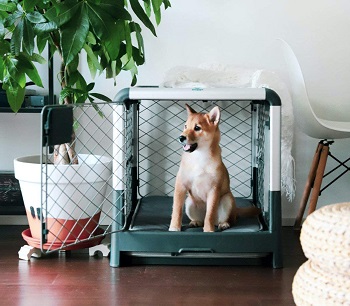 Crate For Puppies
The crate is a perfect puppy crate because it is a puppy crate with a divider and that's just the beginning. Another reason why it's so good for puppies is that it's made with baby industry standards in mind which means that your puppy will be completely safe inside.
Moving The Crate
You will have no problem transporting or moving this crate since it has built-in wheels on the bottom, has a collapsible construction and it even has a handle on top for you to carry it with ease.
Access To Your Pet
Multiple access points will ensure you never have a problem accessing your small dog. They are located in the front, on the side of the crate, and even on top. The side access door opens up like a garage door.
In Short:
The frame is made out of reinforced plastic
The sides are made out of alluminum mesh wire
Made with baby industry standards so it's safe for puppies
Comes with a divider, handle on top and wheels on the bottom
Has 3 access points
BEST FOR TRAVEL SMALL METAL DOG CRATE
Pet Gear 4 Door Steel Crate
Steel And Plastic Materials
This crate is not completely made out of metal. The metal part is the steel wire that is positioned on the sides of the crate while the frame, top, and bottom are made out of durable plastic that is sure to last.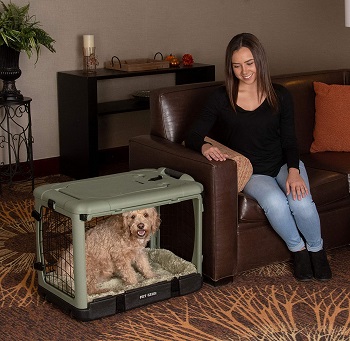 Durable Base And Its Additions
The bottom of the crate, or the base, is insulated. That means that it will not crack when subject to changes in temperatures like the cold. the bottom also has built-in wheels that will come to good use in combination with the handle on top for you to move the crate whenever you need to or to use it for traveling purposes
4 Points Of Access
There are 4 doors in total form which you will be able to access your pet and the crate. There are two side doors, a top door and one door that slides open like a garage door. All doors lock safely with steel locks so you can be sure that your dog is not going to escape the crate.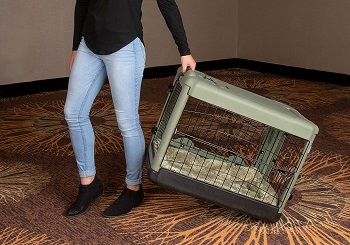 Accessories To The Crate
The crate can be folded just like a regular small wire dog crate and you'll get a travel bag to store it. The crate is safe for your dog because the corners are rounded and there's no edges made out of steel that are exposed so you can be sure that your dog won't hurt himself accidentally
In Short:
Made out of plastic and steel wire
Has 4 doors and they all lock with steel locks
Can be folded and stored inside a travel bag that comes with it
The base is insulated so it doesn't crack in cold weather
Has built-in wheels and a handle on top for easy transport
BEST WOODEN SMALL METAL DOG KENNEL
Simply Plus Wood And Wire Dog Crate
Space Saving Piece Of Furniture
The crate will save you a lot of space not because it's small, but because while also being a crate, it can serve you well as an end table or a night stand so it is a great white dog crate furniture. It is not completely made out of wood, the sides are made out of steel wire.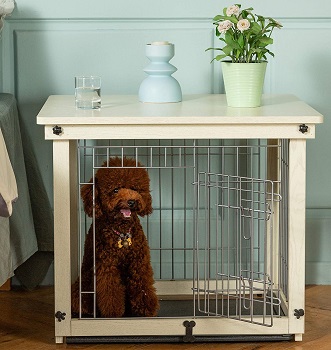 2 Locks, 1 Door
Your dog will be able to access the crate through one door that's pretty narrow but that shouldn't concern you since it is small metal dog crate. The door locks with not one but two sliding bolt locks to give you that extra security in terms of your dog staying inside the crate and not escaping.
Useful And Cute Accessories
Some accessories that you get with this crate are both cute and useful. The screws are shaped like a dog paw and there's also a bone shaped scre piece that prevents the tray on the bottom from sliding out. You can easily reposition the bone so that you can take the tray out for cleaning when it's necessary.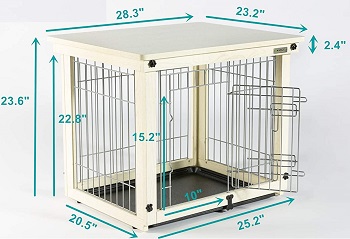 Ventilation Like No Other
Since the sides are made out of steel wire, this dog crate provides the same unmatched ventilation and visibility just like a regular wire crate. This is especially good because furniture style crates usually lack in this department.
In Short:
Маde out of wood and wire
The door locks with 2 sliding bolt locks
Can also act as a piece of furniture
Has cute and useful additions like paw shaped screws
The bone shaped screw on the bottom blocks the tray from sliding
BEST FOLDING SMALL METAL DOG KENNEL
Carlson Blue Metal Dog Crate
Color That Blends In Well
This might just be a regular small metal dog crate but the thing that makes it stand out is its color. Metal crates are usually less appealing when tehy're located in your household but this one is colored in a light blue color to make it more appealing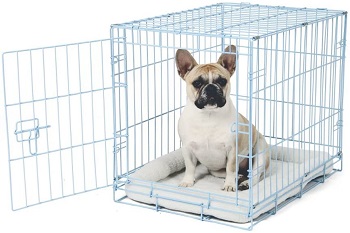 Multiple Point Lock
There's only one door to enter and exit the crate and it locks with one lock but it is a multiple point locking system so you can be sure that your dog will nog it his crate when you don't want him to.
Folds Nearly Flat
Although metal wire crates are not usually the recommended type of crate to use as an SUV dog crate for those long roadtrips, it does fold nearly flat so you can store it and transport it to your car for things like a trip to the veterinarian.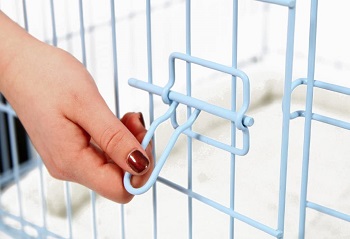 Crates' Weight Limit
You can use it as a crate for your puppy or for your small dog. it's important that the dogs' weight doesn't go over 25 lbs. You can easily clean the crate as well because it has a blue tray on the bottom that you can easily take out and clean at any time.
In Short:
Еntirely made out of metal steel wire
Colored in a pleasant light blue color
Can be folded to store or transport
Has a bottom tray that easily comes out for cleaning
The door locks with a multi-point lock
How To Pick A Small Metal Dog Crate
Even though these models are durable, there are some things you should look out for before deciding to buy one. Don't rush and think it through because these crates largely differ in material durability, who they're made for and that's just the beginning so make sure you read these tips for buying these crates.
Small Metal Dog Crate VS Kennel – More often than not, people will confuse kennels and crates but it's easy to tell the difference. Think of a dog kennel as a living area, a house if you will and of crates as sleeping areas. Kennels are made to be used outside and the can usually house crate wether they are XL wire dog crates or small ones.
Decorative Crates – If you're buying a crate for a small dog, you'll definitely have more luck finding a durable metal crate that can easily fit into your household as well since small wire dog crates often come in more than one color and crates with the furniture function will be more available to you
Crate Size – Although all of these crates are made for small dogs you should always check the crate dimensions and the weigh limit to the crate so you'd know if your dog will be cosy when inside. Usually, you should add 3-4 inches to the height and length of your dog to determine the crate size for your dog
Training Your Dog – Although you should always crate train your dog before buying one, all metal wire crates will definitely serve you longer than small dog crate furniture because it will take some time to train the dog. Think about purchasing an all metal crate if your dog tends to chew on things a lot, scratch, and if he has a lot of anxiety.
To Sum Up
Sometimes it's better to be safe than bold so the crate that entails exactly that is definitely the MidWest Homes for Pets Dog Crate. It features a divider so if you have a puppy he can live inside of it with no problems and the crate also has roller feet on the bottom so your floor won't get damaged. If your dogs safety is your number one priority then you should definitely check out the article about the safest dog crate and if you find safety in durability and toughness than read the article about the toughest dog crate.