Are you trying to find an unbelievably cute small pink dog crate for your fluffy friend?
We got an eye for cute, so we've found the cutest and best ones and reviewed them for you to choose the one that fits you just right because not all are the same. Here you'll find pink crates for puppies, soft ones, folding ones, and more so we suggest you keep reading.
The Summary
Best 5 Small Pink Dog Crates
BEST OF BEST SMALL PINK DOG CRATE
MidWest Homes For Pets Dog Crate
Multiple Useful Functions
This MidWest dog crate combines all the features of a good small wire dog crate and utilizes them so this is more than just your average small pink dog crate. it's incredibly safe to be inside because the crate has rounded corners so your dog won't experience any injuries.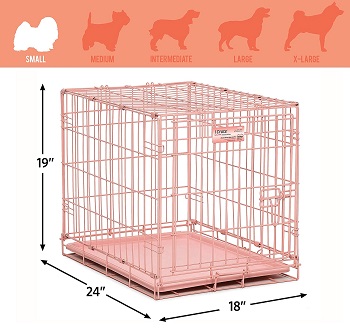 Pan And Pan Slide Stopper
On the bottom, there is a leak-proof pink pan that's used to make cleaning the crate easier and to keep your floors as clean as possible. You will also find a latch on the bottom that will stop the pan from sliding out.
Divider Included For Puppies
You will get a divider with the crate. The divider will serve you well if you have a puppy that is yet to grow into his full size. The crate can grow larger as your dog grows larger. This is important because puppies should also have a crate that matches their size.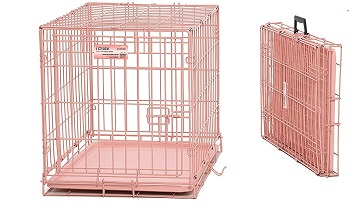 Single Door Access
Your small dog that can weigh up to 25 lbs to fit comfortably inside this crate will be able to enter the crate from a single front side door. The crate locks with a single secure sliding bolt lock that you can typically find on all of MidWests' wire dog crates.
In Short:
Made out of steel wire
Safe for the dog to be inside because of rounded corners
Comes with a divider that's good for puppies
The maximum weight of a dog that fits inside is 25 lbs
BEST SOFT SMALL PINK DOG CRATE
EliteField Soft Sided Pet Carrier
Large But Not Really
As with a lot of large soft-sided dog crates, this crate is also considered a large crate, but it can in fact house only small dogs. the crates' height is 13-in and its length is 19-in so keep this in mind if you're buying it.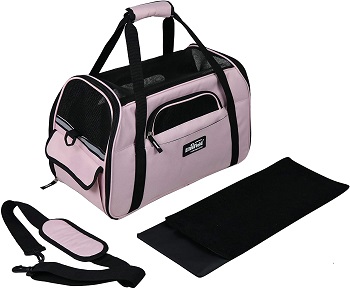 Handy Accessories
There are some interesting features on this crate like a fleece bed that also comes with hardboard to make the bottom of this small pink dog crate hold its shape. There's also a leash that's built into the crate so that your pet is secured when he's inside the carrier.
Securing The Crate For Travel
The crate can also be used to travel with your dog and the fact that it has belt loops that can be used to fasten the crate with a seatbelt speak well of this fact.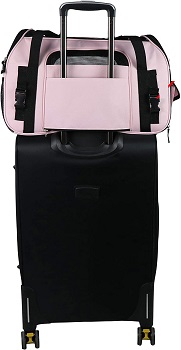 Easy Cleaning Crate
It is made out of light and durable fabric that is also waterproof and it's really easy to clean it. For ventilation, the crate uses netted mesh fabric that will also give your dog some visibility outside the crate.
In Short:
It is large but can only house small dogs
The crate keeps its shape with hardboard on the bottom
Comes with a fleece bed
Can be fastened with a seat belt
You can leash your dog with a built-in leash inside
BEST FOR TRAVEL SMALL PINK DOG CRATE
Petmate Two Door Top Load
Traveling By Plane
This small pink dog crate easily meets the airline cargo specifications require by airlines just like some small dog travel crates do. Not only that but there is an ergonomic grip handle on top of it you can carry the crate through the airport with no problems.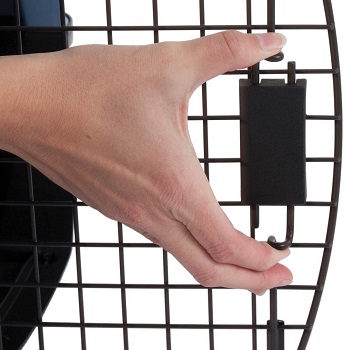 Top Access Benefits
Where there is an ergonomic grip handle, there is also a top access door. The door has a ventilation window and it opens similarly to the front access door. This door might become useful when you want to access your dog without him escaping the crate
Locking The Door And Ventilation A
Apart from the ventilation window on top, there are ventilation holes on each side of the crate and the front access door has gridded wire to provide even better ventilation and visibility. Both the top and front doors unlock by you pinching the lock.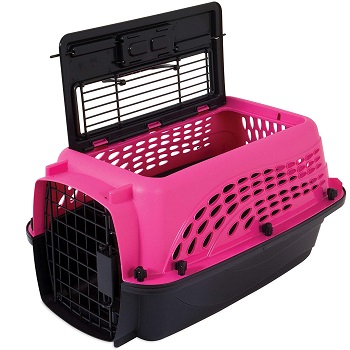 Dogs That Are Okay To Use It
The term small when it comes to dog breeds is highly subjective so making sure that you know the crate's measures before deciding on one for your dog is really important. For this crate, your dog shouldn't be taller than 7-in and longer than 15-in ant their weight shouldn't go over 10 lbs.
In Short:
Has an ergonomic grip handle
Provides ventilation from all sides and the top
You can access your pet through the top and front
The doors unlock by pinching the locks
Best to be used by dogs weighing up to 10 lbs
BEST FOR PUPPIES SMALL PINK DOG CRATE
Precision Pet Double Door Crate
E-Coated Wire
The pink color of this wire dog crate is not only there to make it look pretty but it also serves the function of an e-coat that is rust-resistant and so that the crate can be used both indoors and outdoor.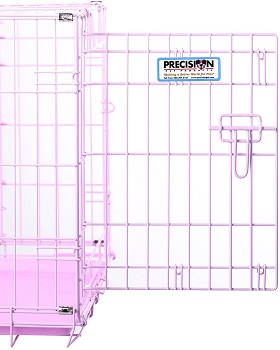 Puppy Crate Accessories
There's more than one thing that makes this small pink dog crate a small puppy crate. To start, the crate comes with a divider panel, there's a tray on the bottom for you to easily clean the crate and the crate has two doors that each lock with a single one but it has 5 points where it locks. The crate also has rounded corners so it's safe for your puppy to be inside.
Travel And Storage
If your wish is to also travel with your dog or if you intend to not use the crate at all times and you wish to store it from time to time, you can do both of those things because the crate can easily collapse and be stored or carried to a car with a carrying handle.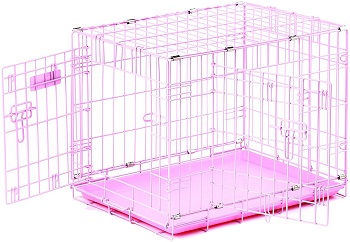 Adult Dog Dimensions
If you're using it for a growing puppy, be sure to check out the dimensions of our dog breed when they are fully grown to know whether or not this crate is fit for them. Your dog should not be higher than 16-in and longer than 21-in.
In Short:
Easily collapses for storage or travel
Coated with a rust-resistant e-coating
Comes with a divider panel
Has two doors that lock from 5 different points
Has rounded corners inside so it's safe for puppies
BEST FOLDING SMALL PINK DOG CRATE
Carlson Pink Dog Crate
Puppy Approved Crate
The crate is made out of steel wire and it meets JMPA and ASTM standards requirements. this means that another, different facility that is not connected to the manufacturer has tested its safety. The JMPA standards are specifically designed to test baby products' safety.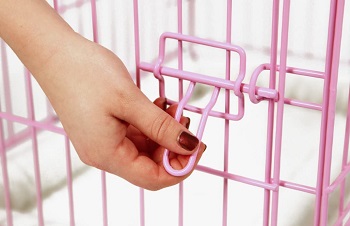 Assembly And Disassembly
This small pink dog crate is easy to assemble because of the collapsible construction that it has. This also means that it is just as easy to fold it down when it's already assembled and this will prove to be useful if you want to store the crate or transport it.
5 Locking Points
There's no point in having a sturdy crate for dogs if the locks on it are not nearly impossible to be unlocked by your dog and this crate manages to ensure you of this because even though it locks with only one lock, the lock has multiple points where it locks.
Crate Cleanliness
If your small dog, which shouldn't weigh over 25 lbs, ever gets the crate dirty, you will be able to clean it with little to no problems because of the pink, removable tray on the bottom that is made out of composite materials.
In Short:
Passed the JMPA and ASTM standards test
It's easy to assemble and collapse
The lock on the single door locks in 5 different points
Dog weight shouldn't exceed 25 lbs
How To Pick A Small Pink Dog Crate
There's a lot to choose from when you're buying a small pink dog crate just because there are many different materials they are made out of so making sure you're buying a crate that fits your needs and wants is important since not every crate is versatile and let's not forget that they differ in size and can house only specific small dog breeds.
Build Materials To Choose From – You can easily find pink dog crates that are soft, made out of wire, or plastic. Each material is better for one thing than the other so if you're traveling with your dog, it may be wise to get a soft dog crate for car or a small plastic dog crate.
Dog Size And Crate Size – One of the most important things to check out before buying the crate is the height and length of the crate and your dog. There's a lot of small dog breeds and they don't just all have the same height and length so making sure that your dog is 3 to 4-in smaller in height and length is important so you can buy a crate of appropriate size.
The Use Of The Color Pink -The pink color of these crates is usually more fashionable than it is functional but there are some crates like wire crates that use this coating to make them rust-resistant. This feature will typically be achieved with e-coating.
Crates For Everyday Use – If you're interested in buying a small pink dog crate that will house your dog full-time it's definitely est to get a wire crate since they are durable enough to survive a dog that chews a lot and is just getting used to living inside a crate and many of them will come with a divider so if you have a growing puppy it's best to go with those.
To Sum Up
There's not much to think about when choosing the best small pink dog crate since the MidWest Homes For Pets Dog Crate is incredibly versatile. It comes with a divider and has rounded corners so it is a puppy crate, it is made out of steel wire so it's a sturdy crate, and it can be collapsed so it is a travel crate. If the crate that can be used outdoor as well has piqued your interest you should definitely check out the post about extra small dog crates next and if you just want a sturdy long-lasting crate for your dog then the article about small metal dog crates is the one for you.