Looking for a properly air-conditioned dog crate that will let in a decent amount of air and give your dog incredible visibility?
You must continue reading this article then because all the crates we reviewed in this article fit this description. We tried to find the best and review all sorts of different types of these like plastic, travel, and even indoor crates. The choice is up to you and depends on your needs. You can be sure you'll find something that fits them
The Summary
Best 6 Air Conditioned Dog Crates
BEST OF BEST AIR CONDITIONED DOG CRATE
MidWest iCrate Starter Kit
Superior Air Flow
Although you might find better crates in general when compared to this one, nothing compares to the airflow of this crate and other small, medium, or large wire crates.  The conclusion as to why this is true is obvious. It literally gets ventilated from all sides and with the whole surface.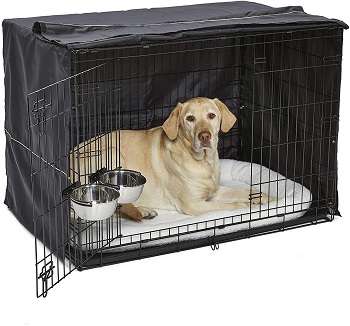 Reasons Why It's A Training Cage
This air-conditioned dog crate is an excellent training cage for dogs as well because of multiple reasons. First up is its durability since it's made out of steel wire and has a rust-resistant e-coat, the second on the list is its safety because it has rounded corners and the third one is that it comes with a puppy crate divider.
Crate Accessories
The thing that might have been a problem if your dog likes his privacy is exactly that. We say might have been because you'll get a privacy crate cover with it. It also comes with a fleece bed that can be washed and even 2 water and food bowls that you'll get to attach to the crate.

Entrances, Size, And Storage
It has a side and front entrance so that it's easier to place it inside your home. You can also fold it down if you ever decide to travel with it or store it away when you're not using it. It's 42-in long which means that you can house large dogs inside it that weigh up to 90 lbs.
In Short:
Gets air-conditioned from every side
The steel wire has an e-coat finish
Comes with a divider for puppies
The rounded corners make it safe for all dogs
Can house dogs that weigh up to 90 lbs
You can fold it down for storage or transport
BEST INDOOR AIR CONDITIONED CRATE
Cardinal Gates Sliding Door Crate
Crate Difference
At first glance, there's nothing unordinary on this crate when comparing it to the crate before but there's something different after all. The first difference is visible in the wire thickness. It uses a 10 and 6 gauge wire as its build material. You'll find the 6 gauge wire on the doors meaning the wire is thicker there.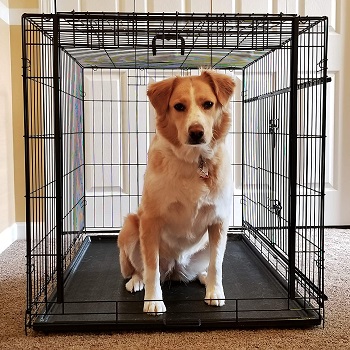 Safe And Space Saving Doors
Another major difference between the two is that this is a sliding door dog crate. This means that you'll get to leave both the front and side doors open without them bothering you and your dog. The side door is actually a double door and they slide open to the side while the front door slides open upwards and can rest on top of this air-conditioned dog crate.
The Only Plastic Pieces
On top, you'll find a plastic handle for carrying the crate either when it's folded down or unfolded. Another plastic piece you'll find on it is the cleaning pan below that can slide out easily for you to clean it when it's needed. It has raised edges so that liquids overflow is minimized.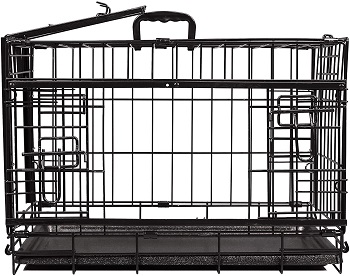 Size And Construction Bonus
Just like the training cage for dogs before it, this one can also be folded down either for transport or for low space consumption storage. It's 30-in long which means that a medium-sized dog will easily be able to fit inside as well as comfortably.
In Short:
Made with 10 and 6 gauge steel wire
Has a double side sliding door and a single front one
Can house medium-sized dogs
It's simple to fold it down
Has a plastic carrying handle and cleaning pan
BEST PLASTIC AIR CONDITIONED DOG CRATE
Gunner Kennels G1 Dog Crate
Weather Elements Protection Vents
The capabilities of the vent points for this crate are amazing because they don't just properly ventilate this hunting dog crate. they're positioned in a way so that they repel water when you're traveling with it. This is definitely no the only property that makes it an excellent air-conditioned crate.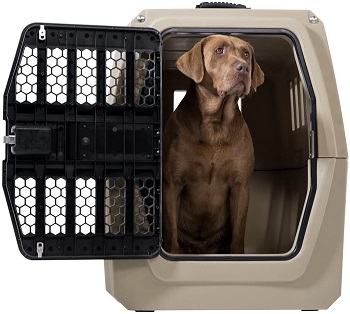 Construction Material Benefit
It's made out of roto-molded plastic. What this means is that its construction material is a single piece of plastic that was molded to create this crate's shape. It's a double-wall plastic and because of it, it offers protection from, humidity, the cold, and even UV rays.
Elevated Design
Because of its elevated feet, the heat transmission from the truck or car to the crate is minimized so that your dog doesn't overheat and is always kept cool. Another thing that this feature allows are drain channels to be placed on the inside for liquid collections d overall easy cleaning.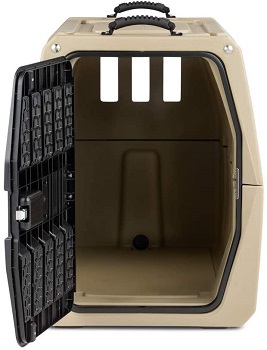 Door, Main Use, And Size
Its door is reinforced with an aluminum frame and lock both with a key and additional top and bottom locks. It must be one of the safest dog crates for cars because of the fact that it is crash-tested.  It's sized as an intermediate dog crate meaning that your dog can weigh up to 70 lbs to fit inside comfortably.
In Short:
Its vents are water-repelling
Its material protects from the cold, humidity, and UV rays
It is elevated to prevent heat transmission
Can house intermediate dogs
It is crash tested
BEST FOR TRAVEL AIR CONDITIONED CRATE
Lucky Duck – Lucky Kennel
Build Similarities
We reviewed all of these crates in three sets of two although the last two are different from one another. This crate can be compared to the crate before it because it is also designed for traveling and as a hunting dog crate for trucks. It is also designed to protect your dog from different weather elements.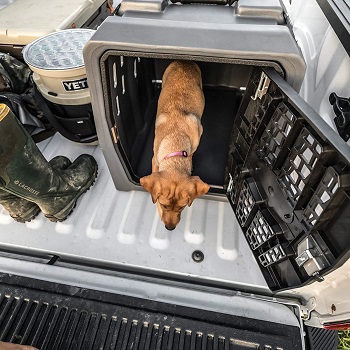 Travel Features
We wouldn't hesitate one bit to recommend this air-conditioned dog crate as one used for traveling. that's because it's crash-tested and rated 5 stars by the center for pet safety. It's made out of single-walled roto-molded plastic and it's a lightweight dog crate that's easy to carry because it only weighs 38 lbs.
Door And Vents
Its vents are positioned and shaped in a way so that they keep your dog cool on hot days when he's inside. The door is also one place through which the crate will get ventilated. It's a reversible door that can lock with a key and 2 additional safety locks located on top and bottom.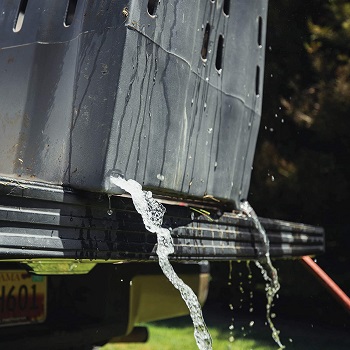 Crate Size And Travel Tip
This crate's length of 32-in easily lets us conclude that you can house a medium-sized dog inside it. Because you'll use it for traveling the dog should be crate-trained but it's no necessary in general because it's a plenty sturdy dog crate.
In Short:
Made with roto-molded plastic
The vents keep your dog cool on hot days
The crate has been crash-tested
Weighs only 38 lbs so it's easy to carry
Has a reversible door that locks with a key
Able to house medium-sized dogs
BEST SOFT AIR CONDITIONED DOG CRATE
EliteField 3-Door Soft Dog Crate
Crate-Trained Dog Only Crate
This is the first out of the two crates we will review that we would not recommend you use with dogs that haven't been crate-trained yet. That's because it's made out of 600d oxford fabric for the most part that won't survive chewing and behavior that's anything but calm.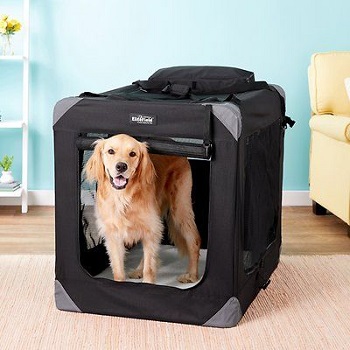 Frame Details
It's able to hold its shape well because of the steel tube frame that it has. The frame makes it a soft collapsible dog crate. You'll mostly use this feature to store the crate way when it's not in use since you should only use it as a soft travel dog crate because you won't get to rely on it much if you leave your dog unattended at home.
How It Ventilates
It's a well-air-conditioned dog crate because the cover features mesh fabric windows on all sides. This is a perforated material that allows air to flow through it. Three of the five windows also function as doors and they're located on the top, in the front, and on one of the sides.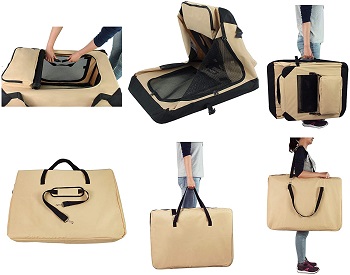 Roomy, Comfy, And Large
It's much roomier than other similar crates because it's designed as a 2-in wider and 4-in taller crate than most. The interior also holds a soft bed mat that you can remove and wash just like the cover. It's designed to house large dogs since it's 42-in long.
In Short:
Made out of 600D oxford fabric
Has a foldable steel tube frame
Features 5 vent windows and 3 doors
Able to house large dogs
It's 2-in wider and 4-in taller than most
Can only house crate-trained dogs
BEST WOODEN AIR CONDITIONED DOG CRATE
Unipaws Pet Crate End Table
Indoor Use Reasons
Although we did already review a large indoor dog crate we would definitely advise you to use this one indoors as well. We wouldn't just advise, you won't really have a choice since it's hard to grasp, weighs 55 lbs, and can't be folded down. The reason for the recommendation is that it looks like furniture.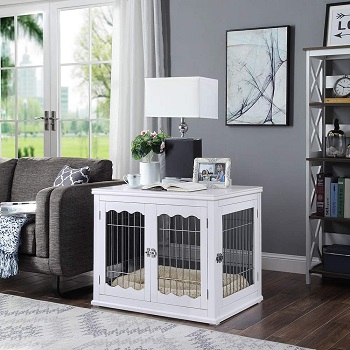 Sides And Frame Description
It looks like furniture because it's mainly made out of wood. Its sides are made out of metal bars and make it a well-air-conditioned dog crate. These sides are also chew-proof but the wood is not so we would advise you to use it with crate-trained dogs only.
Door Details
It's got 3 access doors. The sides hold a double door while the front holds a single door. This and the fact that it can function as furniture will help with its placement inside your home. The furniture-style top can hold the maximum weight of 200 lbs.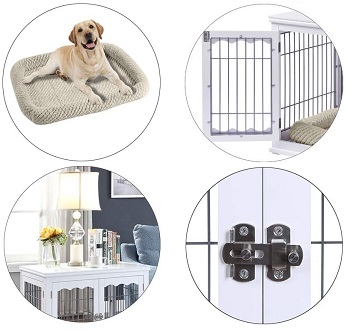 Size And Comfort
For more comfort, you will get a waterproof bed with it that you can also wash. Your dog can be a medium-sized one to fit inside nicely and comfortably. It's white dog crate furniture so think about that if you want it to blend with the rest of your furniture seamlessly.
In Short:
Made out of wood and metal wire
The metal is chew-proof, the wood is not
Has a double side door and a single front door
Can house medium, crate trained dogs
Comes with a waterproof and washable bed
How To Pick An Air Conditioned Crate
To pick an air-conditioned dog crate that seems to be made just for you and your needs you might first want to check out this useful buying guide where we will go through all of their differences, determine what makes a good crate in general and talk about each specific crate type in detail.
Best Air Conditioned Crate Type – We determined that wire crates will get you the best airflow and proper ventilation. They let air through from all sides and don't really have anything to block air coming through whatever part of the crate. They're also amazing to keep an eye on your dog at all times and the same goes for your dog being able to see you.
Additional Vent Uses – Some crates don't just have vents that will aerate them. Because of their positioning and how they're made some can even protect your dog from heat or even rain. You'll most typically find this feature on heavy-duty plastic dog crates designed for traveling and hunting.
Additional Purpose (Visibility) – Apart from getting enough air inside the crate, another thing that air vents do depend on how they're made is allow your dog to see well outside the crate. This is a perfect feature of crates for dogs that need to keep an eye on their owner at all times to feel calm
Ventilation Degree According To Crate Type – Each air-conditioned dog crate will give you a different amount of ventilation depending on how the crate is made. You'll get the best ventilation from soft dog crates if they have mesh fabric windows on all sides. For wooden crates, the important thing is that they have metal wire sides and for plastic crates and wire crates, it doesn't really matter because they will, without a doubt, properly aerate the inside.
To Sum Up
The air-conditioned dog crate that we feel best functions apart from giving your dog enough air inside is the Cardinal Gates Sliding Door Crate. It's perfect for indoor use because of the sliding doors, it's durable enough because it's made out of 10 and 6 gauge steel wire and it can even be transported. If you're looking for more crates like the wooden crate we reviewed we suggest you read the article about large decorative dog crates and if you want to read more about the crates like the one we recommended you might want to read the article about folding metal dog crates.