Need a folding metal dog crate that's sturdy enough and can easily be transported and stored whenever you need to?
We've got you covered so keep on reading if you want to read reviews of not only the best we were able to find but also reviews of different crate types that include crates ranging from small to extra large. We've even provided a guide o how to buy one where you'll find all the useful tips and tricks on that.
The Summary
Best 6 Folding Metal Dog Crates
BEST OF BEST FOLDING METAL DOG CRATE
MidWest Ultima Pro Durable Dog Crate
Durability Comparison
If you're familiar with MidWests dog crate products you'll know that they make some great crates like the MidWest iCrate double door model or their Life Stages dog crate. You'll be pleased to know that the MidWest ultima pro double door collapsible dog crate is their most durable one because of the wire's strength.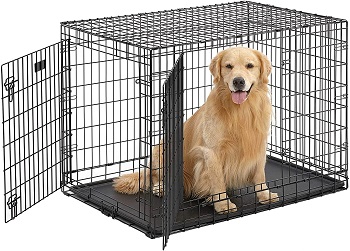 Housing Puppies
This large wire dog crate comes with a divider panel for puppies that's adjustable. Because of it, the crate is a great potty training crate. What exactly happens is that the crate's size gets adjusted to your puppy as he grows so that there isn't too much room for him to spare so that he could urinate on the other end of the crate.
Indoor Functions
This 42-in folding dog crate is designed to fit easily inside your home because of the door in the front and on the side that will allow you to position the crate more freely. It also comes with roller feet on the bottom and a cleaning slide-out tray that will protect your floors either from urine or from scratches.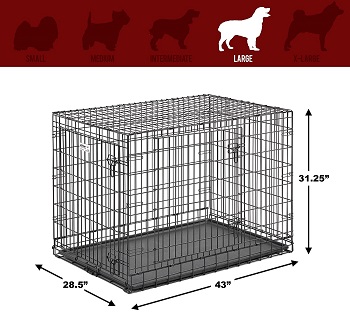 Puppy And Grown Up Dog Sizing
Since this folding metal dog crate is 42-in long it's easy to conclude that it can large-sized dogs. Make sure you measure your dog to see if he's too big for the crate first and if you have a puppy, you should get the size of crate that fits his approximate adult size.
In Short:
Made with strong and thick steel wire
The 42-in long crate can house large go breeds
Comes with bottom roller feet that protect floors
The bottom holds a slide-out cleaning tray
Features an adjustable divider panel for puppies
Has a front and side access door
BEST CHEAP COLLAPSE METAL DOG CRATE
Go Pet Club Dog Wire Cage
Useful Handle
When you fold down this crate you'll able to put it to good use the carrying handle that will allow you to carry it like a briefcase. This is quite a useful feature since this is a giant dog crate and would otherwise be quite difficult to grasp and transport otherwise.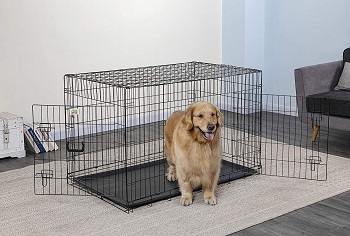 Housing Young Dogs
If your dog is still a puppy but is soon to be an extra-large dog when he grows up this might be the perfect collapsible metal dog crate for you because it comes with a divider for puppies that can adjust to the size of a growing puppy.
Detailed Door Description
This is a double-door folding metal dog crate. One door is positioned in the front while the second one placed on the side. Each can lock with 2 sliding bolt locks. This will allow you to place the crate in corners so that it doesn't take up that much space but won't block the entrances.

Added Bonus Features
The crate is coated with black epoxy that gives it anti-rusting abilities. the bottom holds a plastic tray that you can take out easily by sliding it out to clean it. Given the fact that it is a crate made to house XXL dog breeds, it is definitely one of the cheaper crates.
In Short:
The steel wire is coated with black epoxy
The crate is anti-rusting
Has a carrying handle
Features 2 doors for access
Designed to house XXL dog breeds
Comes with a puppy divider
Has a pan for cleaning on the bottom
BEST EXTRA LARGE FOLDABLE METAL DOG CRATE
New World Folding Metal Dog Crate
Wire Build Advantages
Each crate that we reviewed so far and will review later provides the best ventilation that you can ever get from a dog crate. The same applies to visibility and this crate is no exception. It goes without saying why a crate should be properly ventilated but the excellent visibility will actually help your dog feel less anxious since he can see you at all times.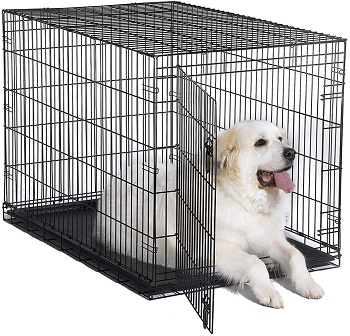 Openings Quantity
The 2 doors on this crate swing open like most crate doors. You will find one in the front and one on the side of the crate. Since it's an XL wire dog crate this will definitely help you when you're deciding on where you're gonna place the crate. Both doors can be locked with sliding bolt locks.
Folding And Unfolding
If the size of this folding metal dog crate worries you when it comes to its assembly, it doesn't have to since you can assemble it without tools. Mostly it's thanks to the foldable design because these crates are generally easier to assemble. You'll get to carry it with a handle when it's folded down.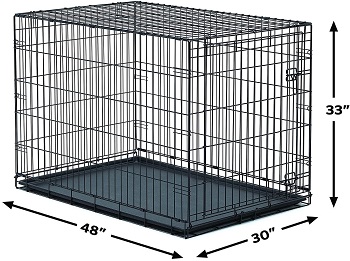 Coating And Size
Each steel wire part of this crate is coated with a black e-coat and each panel has rounded corners so that your dog doesn't pinch his paws or hurt himself otherwise while he's inside. The crate can house dogs from 90 to 110 lbs meaning that you can get it for an extra-large dog breed.
In Short:
Made with steel wire
Has excellent visibility
Get ventilated really well
Features 2 access door
The doors lock with sliding bolt locks
Can house extra large dog breeds up to 110 lbs
Has a black e-coating
The rounded corners on the inside will keep your dog safe
BEST TRAVEL COLLAPSE METAL DOG CRATE
BestPet Wire Dog Crate
Heavy Duty Doors
The doors on this collapse metal dog crate are actually heavy duty mainly because the manufacturer wanted to make sure that our dog finds it hard or even impossible to escape. For that exact reason, each door comes with 2 slide bolt locks that lock in 2 steps.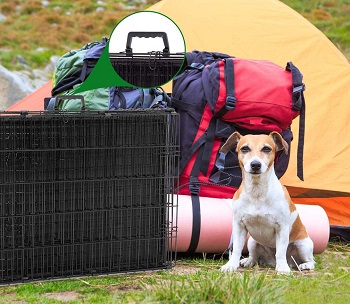 Cleaning Tray Material And Design
The tray on the bottom is made out of durable ABS plastic. It is a composite material so you can be sure that it will be hard to break. It has raised edges so that liquid overflow is minimized. The bottom also holds a pan stopper so that it doesn't slide out accidentally.
Sizing Advice
The folding metal dog crate is 42-in long and 30-in tall. these are the dimension you should use to figure out whether or not your dog can fit inside it comfortably. Generally speaking, the collapsible metal crate can house large dogs but make sure you measure your dog before buying.
Carrying Issues Solution
It weighs around 34 lbs and since it's 42-in long and 27-in wide it would be quite difficult to carry when you fold it down. that's why the crate comes with a handle that you can easily attach and detach whenever you're not using it and it's bothering you
In Short:
Has 2 heavy-duty doors for access
Each lock locks in 2 steps
Features an ABS plastic cleaning tray
Made so that it can house large dog breeds
Comes with a detachable carrying handle
BEST FOR PUPPIES FOLDING METAL DOG CRATE
Life Stages Single Door Folding Crate
Door Number Worries
We're not to say that you should get a double door version of this crate but it's definitely more convenient because it's far easier to reach for cleaning and you can lace the crate with more versatility inside your home. This large indoor dog crate features a single door located in the front and locks with 2 sliding bolt locks.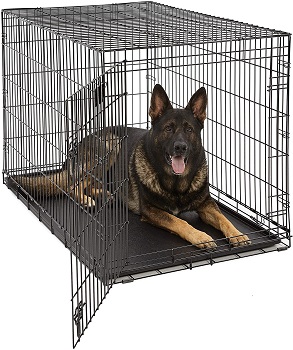 How Easy Transport Is
As with all folding metal dog crates, you won't really have to assembly it because it's just as easy to fold it as it is to unfold it. You will get a handle on it so you can carry it with no problems like a briefcase. It does weigh 53 lbs so it might be troublesome to some to carry it with ease.
Safe On The Inside
The collapse metal dog crate can also be used to house puppies because of the adjustable divider you'll get with it. What's important is that the interior is safe for them and dogs in general and this crate achieves this by having rounded corners so that your puppy or grown-up dog doesn't inch his paws.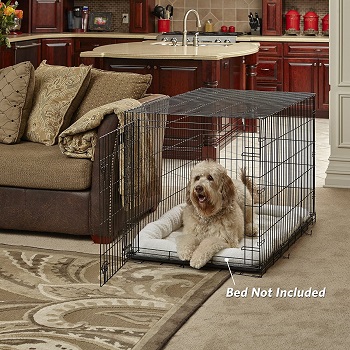 Noticeable Bottom Features
There are two noticeable features on the bottom that we'd like to mention. First are the roller feet that will protect your floors and the second is the cleaning slide-out pan. This is a 48-in long crate so you'll get to use it to house dogs that are extra-large like rottweillers and similar sized dogs.
To Sum Up
Features a single door in the front for access
When it's folded you can carry it with a provided handle
Can house extra large dogs like rottweilers
Has rounded corners for safety
The bottom roller feet protect your floors
Comes with a cleaning an on the bottom
Features an adjustable divider for puppies
BEST INDOOR COLLAPSE METAL DOG CRATE
Internet's Best Wire Dog Kennel
Different Colored Crate
Did you know that a wire crate can be just as pretty, although not as multifunctional as a furniture dog crate? This is the crate to prove it. Instead of using the same old black finish, it has a blue finish so if that's a color that might look nice inside your home, this is the crate for you.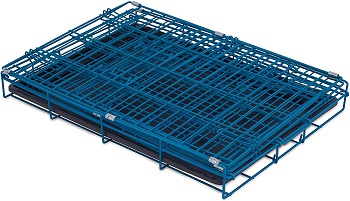 Secure Doors
Even though it's small, it still features 2 sliding bolt locks per door. Typically, you'll find small wire dog crates tend to have a single sliding bolt lock per door. The doors in question are a front swing-through door and a side swing-through door.
Ease Of Transport
When you fold down thIS folding metal dog crate, you'll have the option of attaching a carrying handle on it so that you'll find it easier to transport. Since it's small, you'll find that it's nothing easier than to carry this collapsible metal dog crate. It only weighs 1.75 ounces.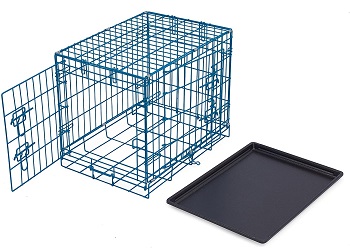 Why It's Easy To Clean
You won't have any troubles with cleaning this 24 double-door folding crate. To start, it's small and has 2 doors so every bit of this crate is easy to reach but that might not even be that important since it's equipped with a plastic cleaning pan that you can slide out to clean.
To Sum Up
Has a blue wire color
Can house small dogs
Comes with an attachable handle for carrying
Features a side and front door
The doors lock with 2 sliding bolt locks each
It's extremely light and easy to carry around
How To Pick A Folding Metal Dog Crate
Since so many of these dog crates practically feature the same things we've decided to focus on the little differences that are not so easily recognizable and give you a few tips along the way. These differences include crate safety and size while the little tips we're about to give you are typical wire crate things.
Main Use – These crates are the perfect training cages for dogs. They are definitely the ones that get ventilated the best and they offer the best visibility. They are made durable enough to handle chewing and aggressive behavior until your dog calms down and adjusts to living inside a crate.
Unique Feature – Puppy crate dividers that these crates come with are not exclusive to folding metal dog crates but they are the most common in this category. This is mainly because they have all the things needed for crate training like rounded edges to keep your dog safe and cleaning trays that will further help with potty training.
What You Won't Find Here – If we dug hard enough we might have found a heavy-duty metal dog crate to review that folds down as well but this feature can be rendered useless because the crate loses its durability and it's still going to be made with wire. Not to mention that they are going to be difficult or almost impossible to transport.
Folding Design Advantage – There are definitely a lot of perks of the folding design. To start it will definitely save you space inside your home when you're not using it. It will also save you space wherever you decided to put a folded down crate and if you wish to transport the crate or use it as a travel dog crate you can do it easily as well.
Picking A Size – If you're confused about what crate size you should get there's nothing easier than that. All you need to do is make sure that your dog is shorter in length and height than the crate. There should be at least a 4-in difference.
To Sum Up
We didn't have to think long and hard when we decided to recommend the MidWest Ultima Pro Durable Dog Crate as the best folding metal dog crate in our opinion. It has an incredibly thick steel wire build, can house puppies, and features a leakproof cleaning pan and a double door design, If you need a dog crate that is going to save you even more space we suggest you look into the article about indoor dog crate furniture and if you want to get a crate specifically designed for traveling go on and read the article about collapsible travel dog crates.