Did furniture-style dog crates catch your attention and you want one that's an extra-large wooden dog crate?
We know how troubling it can be to find a crate that big so we went through that trouble for you to bring you reviews of only the best we could find. Continue reading if you not only want to find out more about these crates but also want to read about different crate types like indoor.
The Summary
Best Extra Large Wooden Dog Crates
BEST OF BEST EXTRA LARGE WOODEN DOG CRATE
Casual Home Wooden Extra Large Pet Crate
Material Property
The number one reason why this crate is placed in this category is that it's made out of actual solid wood. This might not mean much to you but it will when we tell you that this material actually makes the crate chew-resistant. Of course, this still doesn't mean that it should be used as a training cage for dogs but it will endure slightly aggressive behavior.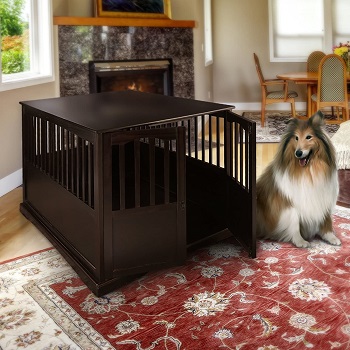 Furniture Style Top
As with most wooden dog crates, the top of this extra large wooden dog crate also functions as furniture where you can store your personal stuff. You can store stuff on top as long as the total weight doesn't go over 200 lbs but since it's so high, we don't see you breaking that limit any time soon.
Exit And Entry Point
Your dog will be able to enter and exit the crate through the single door located in the front that locks with a single lock as well. The door is actually a double door instead of a single door. The double door and the sides have vertically placed wooden bars around them that will ventilate the crate properly.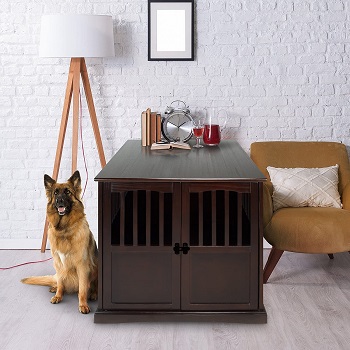 Overall And Interior Size
The crate is overall 44.5-in long and 30-in tall. Seeing as it's so large you might also want to know that it's 31.5-in wide so that you'd know whether or not it can even fit inside your home. The internal dimensions are, of course, smaller. Overall, you can use it to house large dogs up to 90 lbs.
In Short:
Made out of solid wood
The crate is chew-resistant
Has furniture functioning top
The top's weight limit is 200 lbs
Made to house large dogs up to 90 lbs
Has one entry point that has a double door
BEST FURNITURE EXTRA LARGE WOODEN DOG CRATE
New Age Pet ecoFLEX Pet Crate
Unique Material Build
The quite innovative material that his crate is made out of is ecoflex. it's definitely not a common material so we should explain what it is. It's a composite material made out of wood and plastic polymers that won't crack, split or even warp.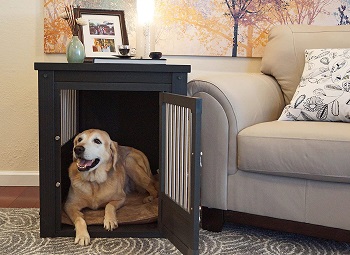 Top Functions
Of course, you can store your personal belongings on top of it, otherwise, it wouldn't be extra large wooden dog crate furniture. The top can also be removed so that you can easily access the crate and clean it when you need to or you can do it through the single door located in the front.
No Moisture Absorption
The crate might not handle chewing well but you can definitely use it as a potty train crate because ecoflex is a material that won't absorb moisture, liquids, or odors. This feature will make cleaning the crate even easier and you won't have to worry about your dog damaging the crate if he ever urinates inside.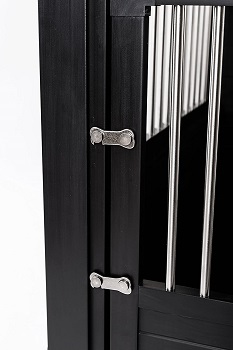 Dog Size And Recommended Weight
We consider extra large dog crates to be able to house dogs from 90 lbs and up so this one is definitely one since it can house dogs up to 100 lbs. You shouldn't focus just on the weight limit though, it's more important to pick the correct size according to your dog's height and length.
In Short:
Made out of ecoflex material
The crate won't absorb any moisture or odors
Made to house dogs up to 100 lbs
The top can serve you as a furniture piece
Can be used as a potty training crate
The crate won't survive excess chewing
BEST INDOOR XL WOODEN DOG CRATE FURNITURE
Polar Bear's Pet Shop Wood Dog Crate
Material Explanation
If you didn't find a solid wood extra large wooden dog crate furniture, chances are you're looking at a crate made with MDF wood such as this one. This is a material that's made by combining wood fiber with glue, typically resin. The crate's sturdy but it's better to use it with crate trained dogs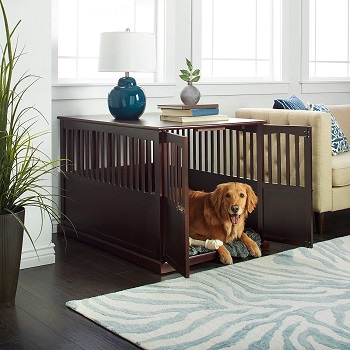 Top Design
One of the first things you might notice is that it has a wider top. This is so that it mimics furniture and so that there's more space for you to put your stuff on top. Either way, you'll be getting a lot of space on top since the crate is 44.5-in long ad 31.5-in wide.
Double Door Access
For you and your dog to gain access to this XL wooden dog crate you'll get a single entry point that's located in the front for it that holds a double door. This double door can be locked with a single sliding bolt lock.This is the same entry point that you'll use to clean the crate with a cloth that's damp when it's needed.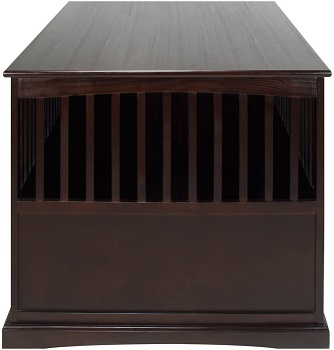 Dog Housing Tips
We'll say it again since it is that important, this crate can only be used by calm dogs that have been crate trained. It doesn't have a weight limit but its dimensions lead us to the conclusion that it's a crate made to truly house extra large dog breeds.
In Short:
Built out of MDF wood
It's able to house calm and crate trained dogs
Has a wider top design so more stuff can be placed on top
Features a double door in the front for access
The door locks with a single sliding bolt lock
BEST HEAVY DUTY XL WOODEN DOG CRATE FURNITURE
Unipaws Dog Crate End Table
True Size
To show you just how important it is to check the dimensions of a crate we decided to review this one that is said to be a large indoor dog crate but it is in fact an extra-large one. This is due to the crate's length of almost 41-in and its height of 31-in.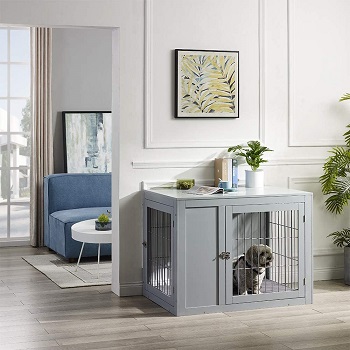 Different Material Properties
The crate is made out of two materials. One is of course wood that makes it an extra-large wooden dog crate and the other one is metal bars. Unlike the wood, the metal bars are actually chew-proof. This, of course, still doesn't mean that you should use it as a training crate because the wood will easily take visible damage.
Use of Multiple Doors
Luckily for you, the crate has a two-door design. the first door is located on the lengthy side of it while the other one is located on the front. What this automatically does is give you more placement options for your home. What will also help with that is that you can choose to place these panels in more than one way when you're assembling the crate.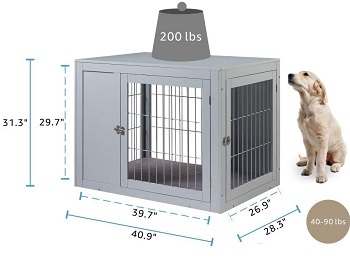 Top And Dog Weight Limits
There are two weight limits that you need to pay attention to. The first one is the weight limit of the top of 200 lbs that determines just how much stuff you can put on top. The short answer is a lot. The bottom weight limit might not actually be 90 lbs but it's because of the crate's dimensions that it's set to be that low.
In Short:
Said to be large but it's extra large
Made out of wood and metal bars
The metal bars are chew proof
Features two access doors
The weight limit for the top is 200 lbs
Can house dogs up to 90 lbs
BEST CORNER EXTRA LARGE WOODEN DOG CRATE FURNITURE
Merry Products Pet Cage
Wire Takeover
Most of this crate is made out of steel wire that's powder coated. Another material that you will find that makes the crate is MDF wood. It is plenty sturdy but might be flimsy if you are to house a dog  inside that has not yet been crate trained
Hidden Cleaning Liner
On the bottom, you'll find a thin layer of wood and a plastic tray that sits on top of it. The tray is there for you to clean this extra large wooden dog crate furniture more easily. You won't have to worry about the tray unbalancing the looks of this beautiful indoor dog crate furniture because the tray is not visible from the outside edges since it's hidden.
Top Furniture Function
On top, you'll find an MDF wood board that makes the crate function as yet another piece of furniture. There isn't exactly a weight limit for it so you'll have to eye it out ad figure out on your own how much stuff you can put on top of it.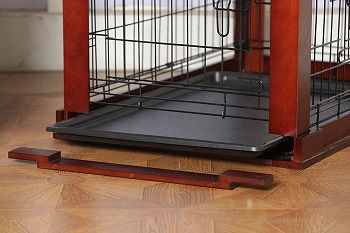 Steel Wire Diameter
The wire itself that makes the sides of the crate is pretty durable. What speaks of this is the wire's gauge that is 6. Gauge determines more than just its diameter but this info is the only one useful to you. The higher the gauge the lower the diameter of the wire is so you can be sure this one is thick.
In Short:
The sides are made with 6 gauge steel wire
The rest of the crate is made with MDF wood
Has a hidden plastic cleaning tray on the bottom
The wooden top makes it function as furniture
It's best to use it with crate trained dog only
How To Pick An Extra Large Wooden Dog Crate
Picking out extra large wooden dog crate furniture might seem like a difficult task at first but once you learn about all their differences and similarities it becomes easier. In this guide, we'll talk about exactly that like size, materials and their durability, and even preferred dog behavior so make sure you keep reading.
What They Can Endure – Materials used to make these crate's don't vary largely but there's a huge difference in what they actually can endure. Materials like MDF wood won't handle abuse coming from your dog well while solid oode just might. There's more to it than just that. You should also look out for wood types that might absorb liquids because if they do, the crate won't last you a long time.
Usual Size – Some of these crates are said to be large decorative dog crates but they are in fact extra large. We were able to realize that by checking out each crate's dimensions and comparing them to the dimensions of extra large dog breeds. Extra large wooden dog crates are usually around 40 to 45-in long, it all really depends on the dog breed.
Sizing Tricks – Thee way you generally size a crate is quite simple. You should take your dog's length from nose to the beginning of his tale and his height from the floor to the top of his head and compare it to the crate. the crate should be at least 4 inches taller and longer than your dog.
When Weight Limits Become Useful – We've already mentioned that you shouldn't take weight limits too seriously. They are there to simply generalize the size of a dog that can fit inside but they do become useful with modern dog crate furniture of any size since their tops can hold items and this is when you should know how much weight can you put on top.
Behavior Warnings – Even though some of this crates have che proof sides made out of steel wire and can even have a solid wood build that makes them chew-resistant you shouldn't use any of these crates as a training cage for dogs. You'll be far more better off by using them with already crate trained dogs.
To Sum Up
The extra-large wooden dog crate that we just have to recommend is definitely the Casual Home Extra Large Pet Crate. It's chew-resistant because it's made out of solid wood and the top that can hold up to 200 lbs of weight makes it function as furniture. If you don't really care about how your crate looks inside your home and want to focus on durability we recommend you read the article about heavy duty metal dog crates and if you're looking for a durable crate of the same size the article about XL wire dog crates might interest you.