Having trouble finding a crate that definitely leaves a statement when people see it so it's more of a fashion dog crate?
Not to give you false hope but we are almost certain that you'll find a crate like that if you choose to continue reading this article. Probably the biggest reason why is that we chose to review only the prettiest and best when it comes to their functionality. What we've also done is include a wide range of dog crates like airline approved ones, soft ones, and more.
The Summary
Best 5 Fashion Dog Crates
BEST OF BEST FASHION DOG CRATE
Casual Home Wooden Lattice Pet Crate
Chew-Resistant Build
Thanks to the wood used in making this crate that is solid wood, you can consider this fashion dog crate to be chew-resistant. We must note that the crate might take some damage in visible and physical form if that type of dog behavior persists but this shouldn't trouble you too much.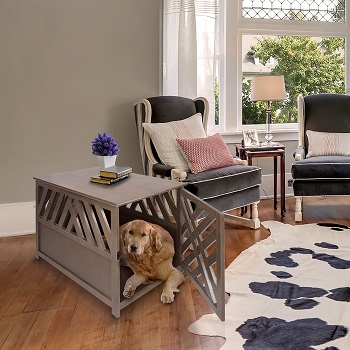 Vent Bars Placement
The crate's vent holes are somewhat unique when it comes to how they're positioned. Instead of being placed vertically like with most medium wood dog crates they are placed diagonally and form the shape of the letter X in multiple spots. They can be found on the door and the 2 side vents.
The Door And Other Positioning Help
There's only one door that's used for access to this fashion crate dog and you can lock it with a single lock. This might have limited your placing options but seeing as the top allows the crate to function as furniture as well this might not be as big of a problem.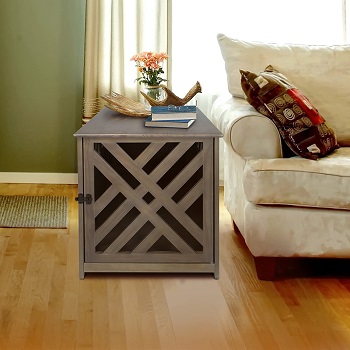 Weight Limit And Real Size
The weight limit for the entire crate is 200 lbs but that doesn't mean you can house dogs that weigh 200 lbs inside it. No, this is a crate made to house medium dogs up to 40 lbs. We were able to conclude this because it's 36.5-in long, 23.5-in wide, and 29-in tall
In Short:
The solid wood it's made out of is chew-resistant
Has diagonally placed wooden bars instead of vertically
Features a single door with a single lock for access
Made to house medium dogs up to 40 lbs
The top can serve you as an end-table
BEST MEDIUM FASHION DOG CRATE
PawHut Natural Diagonal Dog Cage
Color And Material Importance
If you want a dog crate to be a true fashion statement inside your home you have to think about its color and how it will blend with the rest of your furniture and other decorations. In particular, this crate is colored gray and made out of firwood.
Ventilation Bars Placement
Just like the crate before it, we decided to bring you a fashion crate dog that has a fresher look thanks to how the wooden bars are placed that help ventilate the crate and give your dog proper visibility while he's inside. We're talking about the diagonally placed bars instead of vertically.
Modern Furniture Piece
It definitely looks and feels like a fashion dog crate but what might also help create that feel is the fact that the top can easily serve you as a piece of furniture. You can put your stuff like magazines, plants and pictures on top. Just make sure you don't overdo it with the weight of the things.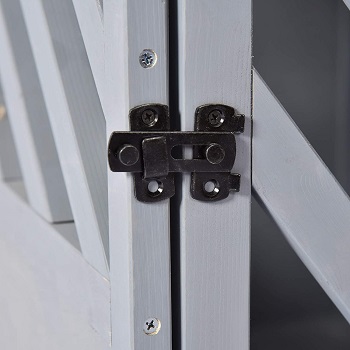 Access For Your Dog And For Cleaning
If you happen to be wondering how you're going to clean the crate, you'll do it through the same door that your small or medium-sized dog will enter the crate: through the large front door. It is big enough to allow you to clean the crate with no problems.
In Short:
Has a firwood build
It is colored grey
Can house small and medium-sized dogs
Gets ventilated through the diagonally placed wooden bars
The top functions as a furniture piece
Has a single but large front door for access and for cleaning
BEST FURNITURE STYLE FASHION DOG CRATE
Zoovilla Merry Products Dog Crate
Detailed Material Description
It is easy to consider this fashion dog crate as slightly different from the rest and it is due to the fact that it's made out of MDF wood. Medium-density fibreboard is a type of wood polymer that you get by combining wooden fibers with a glue like resin.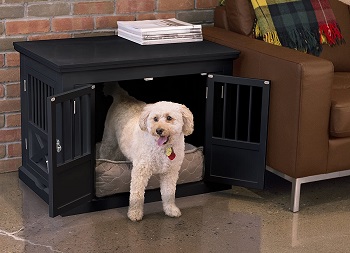 Crate-Trained Dog Crate
MDF wood definitely won't handle chewing well so we would advise you to only use this crate with crate trained dogs. By looking at its dimension we were also able to conclude that the crate can house dogs that are medium-sized that are no longer than 26-in and taller than 19-in
Ease Of In-Home Placement
If you owned a dog crate in the past, then you must know how sometimes it can be tricky to place it inside your home You won't be having problems with that because this black dog crate has 3 doors for access. One dog is located in the front and there's a double door on the side of it. All doors can be locked with double locks.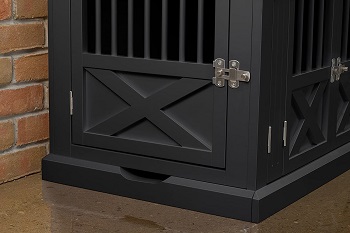 Top And Bottom Function
This wouldn't be a furniture-style dog crate if it didn't have a top that helps it be one. The top is wide so that more things can be placed there. For the bottom, you'll get a plastic slide-out pan for cleaning that is well hidden and won't disrupt the way this fashion crate looks.
In Short:
Built out of MDF wood
Made to house crate trained medium-sized dogs
Has three access doors
The door can be locked using double locks
The wide top makes it function as furniture
Has a hidden plastic slide-out cleaning tray
BEST AIRLINE APPROVED FASHION DOG CRATE
X-ZONE PET Soft-Sided Pet Travel Carrier
Travel Fashion Crate
If we were to consider the crates we reviewed prior to this one to be fashion dog crates for indoor use, that we can easily consider this one as a model for outdoor use. To be more specific, you can use it as a soft travel dog crate.
Use And Color Options
It is incredibly light and you can easily carry it as a regular fashion bag because of the padded shoulder straps it has. It is colored purple but you can choose to get it in 4 more different colors. These colors are black, blue, brown, and grey.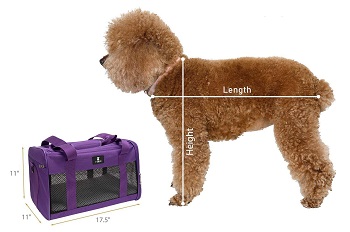 Dogs To House
Although the fashion crate dog is sized as a medium one it can only house extra small dog breeds that weight no more than 16 lbs. In fact, it is so small that it can fit under the seat of most airplanes. Since it is a soft dog crate, you should crate train your dog if you want to keep it undamaged.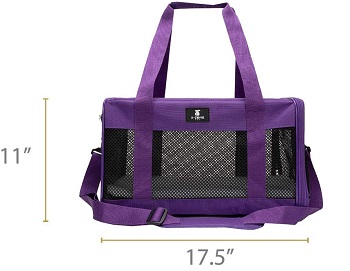 Bottom Contents
The bottom of this airline-approved fashion dog crate holds two things. The first one is an insert that creates a hardbottom surface so that your dog can stand on it and the second one is the fleece bed that you can easily remove to wash when needed.
Transporting Options
Most crates of this type have a steel tube frame that allows them to get folded down but this one has it so that it doesn't collapse or fold down. If you're curious about the various options of transporting the crate, you can use a shoulder strap, convert it to a seat belt or you can attach it to your luggage as well.
In Short:
Made out of fabric
Can only house extra small dogs up to 16 lbs
The dog should be crate trained beforehand
The bottom holds a hard base insert and a cozy fleece bed
It is colored purple and comes in 4 more color options
Can fit under most airplane seats
BEST SOFT FASHION DOG CRATE
EliteField 3-Door Folding Soft Dog Crate
Design Varieties
If you thought that all the other crates had a wide range of color options you'll definitely be shocked to hear that this fashion dog crate, apart from the beige color, comes in 15 other colors and color patterns including a camo color pattern.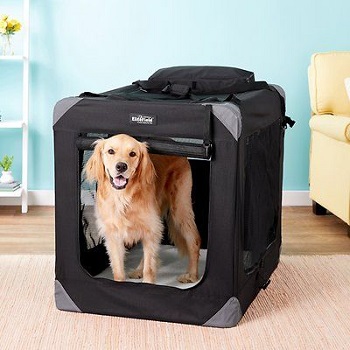 Frame And Cover
It is a soft collapsible dog crate and that is thanks to the steel tube frame that makes it hold its shape well that's also easily folded down. The cover, on the other hand, is made out of 600d oxford fabric that is strong and durable but won't survive if your large dog is not crate trained and calm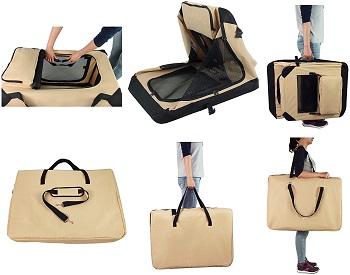 Door Functions And Positions
There are three doors for access located on the top, in the front, and on one of the sides. Each door can be closed with zippers and they also serve the function of ventilation windows since they are made out of mesh fabric. It also holds another side ventilation window and a back ventilation window.
Travel Accessories
If you have a need to store dog treats and other accessories somewhere when you're traveling with this dog crate, you can use its 2 accessory pockets, one on top and one removable in the back, to do that. You can carry the dog crate using its carrying handles or by using the shoulder straps on its own carrying case.
In Short:
Has a foldable steel tubes frame
Has a 600D oxford fabric cover
Has three access doors
Made to house large calm dogs
Gets ventilated from all sides
Comes with its own carrying bag with shoulder straps
Comes in 15 other color options
How To Pick A Fashion Dog Crate
Choosing a fashion dog crate is not just a matter of looks. There are many differences that define what each crate is best used for, how durable they are, and their best and primary use. We will be going through all the differences, defining them, and solving them in this simple guide on how to pick the best from the start
Outdoor VS Indoor – There are two types of dog crates that we reviewed in this article that greatly differ from one another. They are indoor dog crate furniture and travel dog crates, specifically soft-sided dog crate large and medium.
How They Are What They Are – Both types of these crates are fashionable in their own way. Indoor dog crates are fashionable because they look like they're not even there and that's thanks to the furniture function of the top and their wooden build while travel dog crates stand out with their lightweight and color varieties and patterns that make them look like regular fashion bags.
General Dog Warning – It's no surprise that a furniture crate is more durable than a travel one since furniture ones are made out of wood while travel fashion dog crates are made out of soft fabric but they do have one thing in common and that's that you shouldn't use them to house dogs that are not crate-trained and calm.
General Sizing – If it's not stated otherwise, a general rule of thumb when sizing a crate according to your dog's size is to take the crate's length and height and make sure that the crate is at least 4-in longer and taller than your dog. This way, you'll make sure that you're not getting a crate too big nor too small.
To Sum Up
If you want to know what fashion dog crate we recommend is and find it to be best not just because of the way it looks, but because of its chew-resistant build and furniture function it is definitely the Casual Home Wooden Lattice Pet Crate. If you're more interested in focusing on a modern-day look of a crate we recommend you read the article about modern dog crate furniture and if you need a crate that can house not yet crate trained dogs and can even help with that definitely look into the article about training cage for dogs.