Have you been trying to find a medium wood dog crate that will fit your dog and look nice?
we sought out to find only the best that the internet has to offer these days and reviewed them so that it's much easier for you to choose the one you'd like. To make it even easier for you to find one, we placed each crate into a category like best furniture style, indoor and more so make sure you keep reading.
The Summary
Best 5 Medium Wood Dog Crates
BEST OF BEST MEDIUM WOOD DOG CRATE
Casual Home Wooden Dog Crate
Wooden Bars Placement
Unlike most boring old dog crate with wooden bars that are placed vertically, this crate has diagonally positioned wooden bars on the windows and door that form the shape of the letter X. This will provide the crate with enough airflow all the while making the crate look incredibly nice.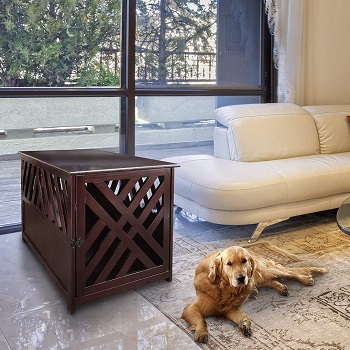 Material And Color
The medium wood dog crate is made with solid wood and it's painted with a brown espresso finish. What you might find useful from this information is that solid wood can handle light chewing. It might get physically damaged ever so slightly, but the crate can still perform well.
Top Use And Weight Capacity
What you might also find incredibly useful is the fact that you can use the crate's top to place things on top of it like vases, lamps, or magazines. You can pretty much put anything on top as long as the weight doesn't go above 200 lbs.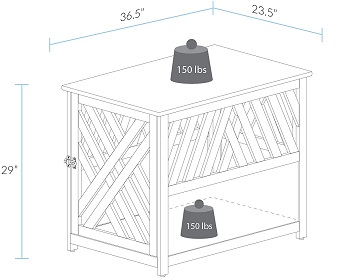 Dogs It Can House
Even though it can handle chewing we wouldn't recommend that you use it as a training cage for dogs. Since it's a medium dog crate, it can house medium dogs up to 40 lbs but that's mostly thanks to its length of 36.5-inches and its height of 29-inches.
In Short:
The solid wood is made out of can handle chewing
The top can be used to make it an end-table
Has diagonal bars placed on the windows and the door
The top can handle weight up to 200 lbs
Made for medium dogs up to 40 lbs
BEST INDOOR WOODEN DOG CRATE MEDIUM
PawHut Natural Diagonal Dog Cage
How It's Made
You don't want to miss out on this beautiful minimalist dog crate that will most definitely blend perfectly inside any home given its fir wood construction, light gray color, and wooden bars that are placed diagonally instead of vertically.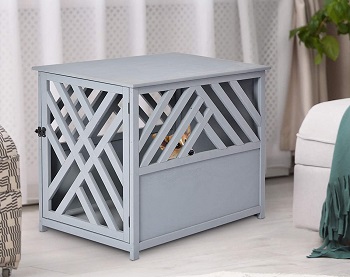 How Well It's Ventilated
What the diagonal wooden bars placed o the side windows and on the front door do is that they give the crate more stability and strength, make it look refreshing and they also crate better airflow for the inside of the crate as well as better visibility which can be really important to dogs.
Crate Accessibility
Your dog and yourself will only be able to access the crate using a single door located in the front but it should prove to be enough for the dog and you as well when you want to clean the crate a bit since the door is large. It can be locked with a single hasp latch lock.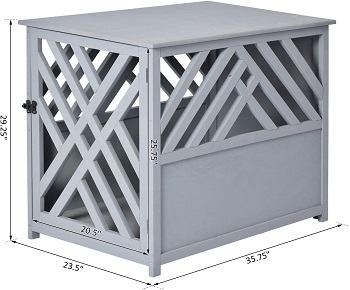 Dog Training Recommendation
Although the medium wood dog crate can't exactly function as a piece of furniture, you can still place some of your things on the top just make sure you don't overdo it with the weight. We recommend that you use this medium wood crate for crate trained dogs only.
In Short:
Made with natural fir wood
Colored with a light gray finish
It's recommended you use it for crate trained dogs
Has a large front access door
The door locks with a single hasp latch lock
Has diagonal wooden bars instead of vertical
Provides excellent ventilation and visibility
BEST FURNITURE STYLE MEDIUM WOODEN DOG CRATE
New Age Pet ecoFLEX Pet Crate
Material Details
We only have nice words to say about ecoflex, the material that makes this crate. It is a composite material that you get by combining wood and plastic that's more durable than the two as separate materials. It won't warp like plastic does or split and crack like wood usually does.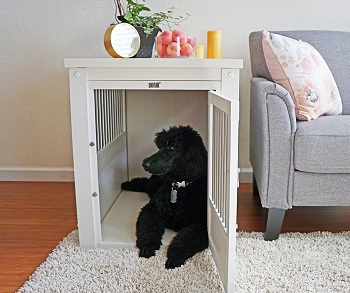 Ventilation And Inside Visibility
This white dog crate furniture has stainless tubes to make the side windows and on the front door as well. This will ensure that the crate is ventilated and has a constant airflow. Visibility on the other hand might not be as good but surely it's enough.
Color Options And Cute Accessories
The single on the single door for access is a hasp latch type of lock but has a cute addition to it because it's shaped like a little dog bone. The crate features an Antique white finish but can also be purchased in espresso, russet and gray color.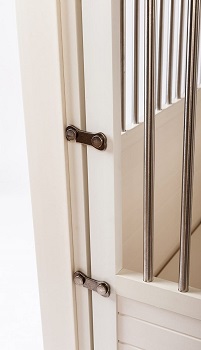 Removable Top
You can clean this medium wood dog crate with little to no problems since the top, which also allows it to function as a piece of furniture can be removed for you to have a large entry point that makes each part of the crate very accessible.
In Short:
Made with eco flex
Has stainless steel tubes on windows and the door
The top makes it function as a furniture piece
You can remove the top to clean the crate
Has a single door for access
The single door locks with a bone-shaped lock
BEST FOR PUPPIES WOOD DOG CRATE MEDIUM
Unipaws Pet Crate End Table
Chew-Proof Wire Sides
Although we wouldn't usually recommend a medium wood dog crate as a puppy apartment crate we were pretty confident in doing it with this one. The main reason why is that although the MDF wooden frame is not chew-proof, the steel wire sides definitely are.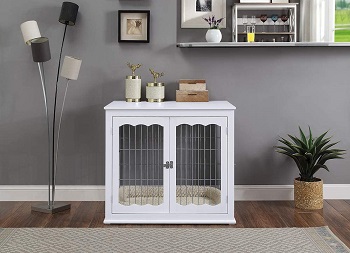 The importance Of Great Visibility
Another thing that's really important for puppies to get from a crate is great visibility since they'll be looking for you a lot more in the early stages of the crate training process. This crate offers visibility similar to a regular wire crate which is the most commonly used crate for puppies.
Amazing Features And Additions
You'll also get a waterproof bed for the crate that will help protect the bottom of the crate from absorbing liquids that might find themselves inside it. You can also very easily wash the bed. The top, as with most crates of this type can function as an end table and it has a weight limit of 150 lbs.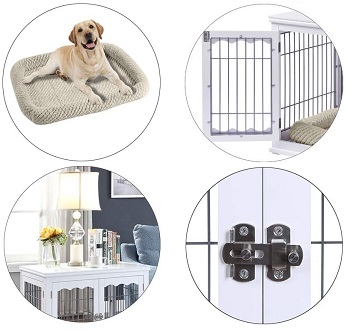 Door Position And Type
Your dog will have multiple options on how he can access this crate since the crate features a double door on the side and a doo in the front. The multiple door design will allow you to position the crate more freely inside your home. Each door locks with a hasp latch lock.
In Short:
The frame, top, and bottom are made out of MDF wood
Has chew-proof steel wire sides
Comes with a washable waterproof bed
Has a double door on the sides and a front door for access
Can function as furniture
The top has a weight limit of 150 lbs
BEST METAL MEDIUM WOOD DOG CRATE
PawHut Decorative Dog Cage
Primary Build Materials
The modern dog crate furniture uses MDF wood and iron wire as its primary build materials. The iron wire makes the sides of the crate while MDF wood is used for the frame. medium density fibreboard is actually a wooden polymer that you get by combining wooden fibers with glue, like resin.
No Gridded Wire Sides
The wire on crates is usually gridded but this crate only has vertical wire bars while the horizontal wire is replaced with MDF wood that forms a thick line right down the middle so that your dog can't chew on it.
Unmatched Ventilation
This medium wood dog crate offers the same amount of ventilation and visibility that a regular wire crate does. It has a single door for your dog to access it and the way you can lock it is by using a hasp latch lock.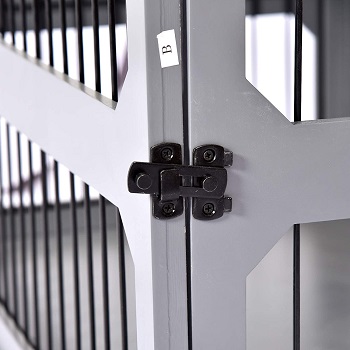 Space Saving Design
It also has a double purpose and that is the end-table function because of the top. You can place anything from magazines to lamps on top of it. This will save you some space inside your home and make your home look nicer.
In Short:
Uses MDF wood for the frame
Has iron wire sides
Offers the same ventilation as a wire crate
Has one door for access
The top can function as an end-table
How To Pick A Medium Wood Dog Crate
We assure you that each model is great, but we wanna focus on how you can pick one for yourself. For that, you'll need to look at the crate's materials, size, other materials it uses for its build, and some other things that we will mention in this handy guide with a few tips and tricks.
How Big Is Medium – Medium can mean two things actually. It's either a dog crate that's 30-inches long or it's a crate that's 36-in long. Although it's just a 6-inch difference, it's pretty big when you want to get a crate that's the perfect size for your dog so make sure you get your dog's length and height and add a couple of inches to it to see if it matches the crate's dimensions.
Decorative Purpose – What we mean by decorative is that these dog crates can easily be a great addition to your home since most of them can function as indoor dog crate furniture and it's because of the top that this will be available to you. Apart from that, the wood will blend nicely into your home as well.
Combining Other Materials – If you happen to stumble upon a medium wood dog crate that has steel wire sides you can be sure that at least those will be chew proof. Another thing that other materials like steel wire do is that they will definitely offer your dog better visibility and provide the crate with excellent ventilation.
How Durable Is Wood – As for wood, the only wood that can handle light chewing is solid wood but even that will take some visible physical damage. If you want an entirely chew proof crate for a puppy or chewing dog we would recommend a medium wire dog crate in that case.
To Sum Up
Since we focused more on quality of build rather than looks hen choosing a medium wood dog crate to recommend we found that we have to recommend the Unipaws Pet Crate End Table. It has chew-proof wire sides, comes with a waterproof and washable bed, and has 3 doors for access all the while being able to function as a furniture piece as well. If you like the fact that the crate we recommended has 3 doors then you'll love this article about triple dog crate furniture and if you don't really care if it's wooden then the article about triple door dog crates is the one for you to read.