Are you interested in finding the best ladder cat tree for your household?
Then you should definitely check out our article. Read more about the models we find and the best. Learn more about such models in our buying guide. Make sure you get the safest cat tree for your lovely fur friends.
The Summary
Best 6 Ladder Cat Trees
BEST OF BEST LADDER CAT TREE
Zoovila Ladder Cat Tower
Product Overview
Before buying a ladder cat tree, see if it fits your household. The overall measures of the Zoovila modern cat tree are  40.16 x 16.85 x 60.24". This unit will accommodate cats of all breeds and sizes. Also, even senior cats will get to climb some of the steps.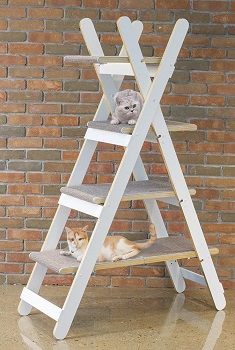 Store It Easily
Thanks to its special design, this unit will be easy to fold and store when not in use. Also, it can be set up in no time when you are in need of it. This ladder-shaped cat tree may save your space as well. Read more about its special folding design within the setup instructions.
Indoor And Outdoor Use
If you have a balcony, a terrace, or a garden, you can place this unit outdoors as well. This weatherproof cat tree is made of strong and high-quality material – natural Canadian Hemlock and MDF. The unit is painted in white non-toxic paint.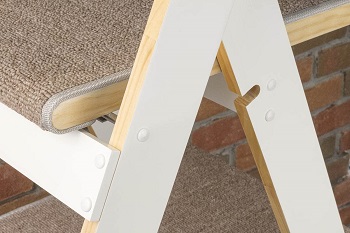 Carpeted Ladders
All the steps are completely carpeted with Polypropylene Yarn. This material will help your cats to sharpen their claws and scratch as much as they need. The material is skin-friendly as well and easy to maintain clean (vacuum when necessary).
In Short:
this is a ladder-shaped cat tree
it is painted in white color
the unit is made of natural material
this unit is carpeted with Polypropylene Yarn
foldable design makes it easy to store
BEST MULTI-LEVEL LADDER CAT TREE
AmazonBasics Cat Tree Multi Step
Pick Between Three Colors
You can choose between three colors of the AmazonBasics ladder cat tree. It comes in beige, dark brown, and grey color. Pick the model that you like best and that matches your home decor nicely. This multi-level cat tree will look good in your home and be safe for your lovely cats.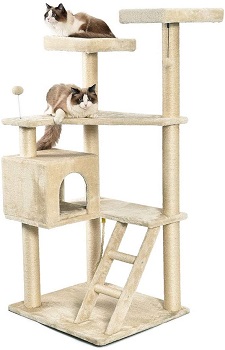 Multi-Level And Fun
The unit includes multiple levels and two elevated perches. It is a perfect cat tree for cats that love to jump between levels or climb to high locations to observe their surrounding. This tree is stable and firm. Cats can jump off of it without wobbling or shaking.
Skin-Friendly Plush
AmazonBasics cat tree is entirely covered in skin-safe soft plush material. Cats love to sleep and rest on this tree because it keeps them warm and cozy. Fluffy plush material reminds cats of their mother's fur and makes them feel relaxed.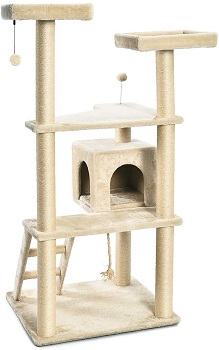 Scratching Posts And Condo
There are multiple scratching posts included. They help not only to keep your cat's claws and nails strong and healthy but climb to the top more easily as well. Apart from the fun content to keep your cats active, there is a cat condo included as well. It is ideal for relaxing and sleeping.
In Short:
fully covered in safe plush
ideal for jumping and climbing
includes a cat condo for sleeping
comes in three neutral colors
there are two elevated perches
BEST WALL LADDER CAT TREE
Tardo Wall-Mounted Cat Shelves
Mount It On The Wall
Tardo's shelves for cats get mounted on the wall. This is another piece of space-saving cat furniture. Mount the unit wherever you feel like and allow your indoor cats to lounge and climb. This product will match any home interior. The installation is quick and simple.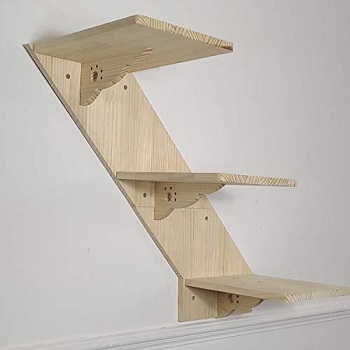 Choose The Type
Depending on your possibilities or preferences, choose between two types – left-to-right or right-to-left. The package includes detailed instructions that will help you mount these modern cat wall shelves on your wall with no hassle. This unit is an alternative to a classic ladder cat tree.
For Climbers
If you have active cats at home, they will love to climb these shelves and jump between the levels. Also, cats that love heights will love to observe their surrounding area and keep an eye on their territory from a high location.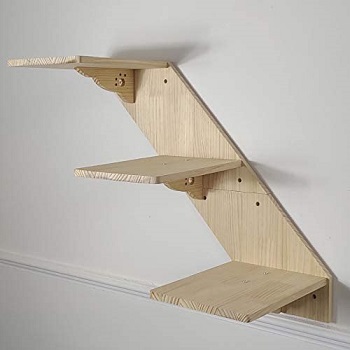 Sturdy And Firm
The unit is made of natural solid wood. These shelves will surely last you a long time. Solid wood is the best material that any cat tree or other piece of furniture can be made of. It is safe, natural, and pet-friendly. This product can hold up to 30 lbs.
In Short:
an alternative to the classic cat tree
choose between two types
made of natural solid wood
long-lasting and holds up to 30 lbs
ideal for climber cats
BEST MODERN LADDER CAT TREE
Tangkula Cat Tree
For Cats And Kittens
Get this cat tree by Tangkula if you have three smaller-sized cats or up to two medium-sized cats. It will be their new favorite sleeping and playing space. The unit is covered in safe and warm material that cats love. It makes them feel happy, relaxed, and safe.
Sturdy Construction
Tangkula's step ladder cat tree is made of particleboard and faux fleece covering. The wide and heavy base keeps this unit stable and hard to overturn. Place it against the wall. This will prevent wobbling when your cats jump off of the unit.
Spacious Condo House
This cat condo tree house invites your cats to play, scratch, and lounge. The condo house has two large entrances and a small window. The house is spacious enough to hold two cats at the same time. The design is special and it will be interesting for a household with children.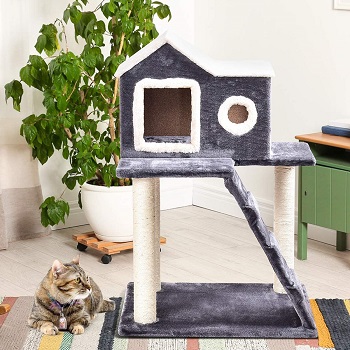 Size And Setup
The size of this tree is (L x W x H): 24″ x 18″ x 36″. The assembly is required. It is quick and simple. One person can do the job with no hassle. This medium cat tree will save space as well. Its price is affordable and budget-friendly.
In Short:
ideal for multiple small cats
includes a spacious condo house
the unit is of medium size
the construction is sturdy and firm
covered in skin-friendly material
BEST CARPETED LADDER CAT TREE
Trixie Two-Ladder Tree For Cats
Two-Ladder Design
This carpeted ladder cat tree by Trixie includes two pairs of large cat ladders. They keep the tree stable. Not only that, but they connect the base with the cat condo and the top level. This unit includes two big cat condos as well.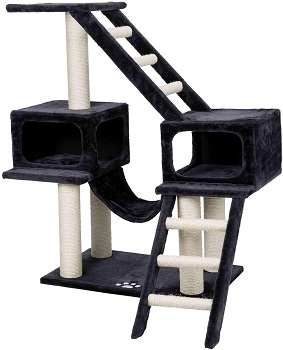 Cozy And Warm Tree
The Trixie tree's two condos are spacious and each comes with two large entrances. There is a hammock in between them. It connects them. The unit is covered in soft material and the inside of condos keep cats warm and comfortable.
For Scratchers
This unit comes with scratching pillars. The ladder steps are wrapped in scratching material as well. This helps cats to climb to the wanted condo or platform. The pillars help to keep the tree well-balanced and prevent overturning.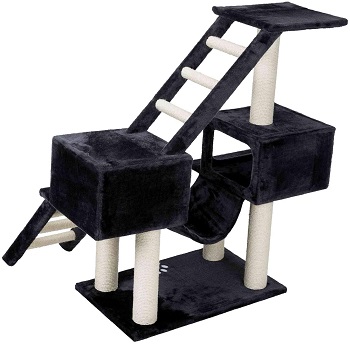 Useful Details
A simple and quick assembly is required. This is a cat indoor playground for cats that love to scratch and lounge. The overall size of this cat tree is 28 x 18 x 43 inches. Vacuum the unit's cover from time to time.
In Short:
includes two ladders
ideal for cats scratchers
includes scratching pillars and steps
there are two spacious cat condos
each condo includes 2 large entrances
BEST CHEAP LADDER CAT TREE
Yaheetech Cat Tower With Ladder
Choose The Color
You can choose between two neutral colors of the plush that the unit is covered with – light grey and dark grey. Both colors look nice with most home decors and are easy to maintain clean. Check out both types and choose the one you like best.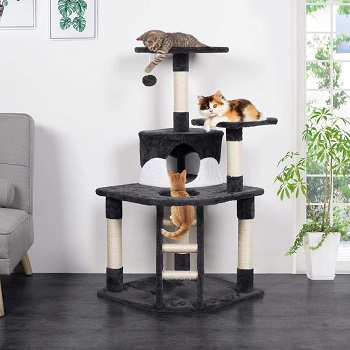 Natural Posts
The Yaheetech's ladder cat tree includes multiple scratching posts. They are all wrapped in natural sisal rope. This rough material attracts cats' attention and makes them want to scratch. Having a cat tree with posts will prevent your cats from damaging your other furniture.
Sturdy Unit
This unit includes a wide and heavy base that keeps the tree stable and firm. Besides that, the multiple pillars and columns make the tree well-balanced and prevent it from wobbling or tipping over. This tree includes anti-toppling fittings for double security.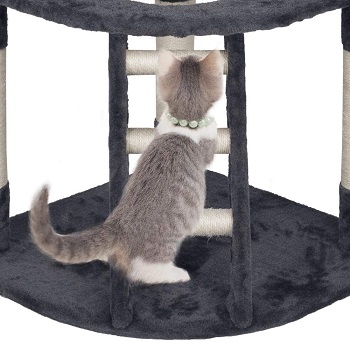 Interactive And Fun
Yaheetech's cheap cat tree house includes two large platforms, a cat condo, and an elevated perch with a replaceable interactive ball. The ball hangs and swings, which attracts every cat's attention. This unit can make your cats active and allow them to play for hours.
In Short:
comes in light and dark grey color
posts are wrapped in natural sisal
there is an elevated perch included
the tree comes with a replaceable toy ball
sturdy and firm cat tree construction
How To Pick: Ladder Cat Tree
Cat trees with ladders are unusual, cool, and above all beneficial for your cats' health. They provide indoor cats with different climbing and scratching possibilities. In order to find the most appropriate version for your household, we invite you to keep on reading our guide. Be sure you consider your cat's personality before buying.
Interesting And Fun Design – Cat trees that include a pair of the ladder are rare and fun. Such cat trees are easier to climb and allow your cat to scratch and stretch. Some models include carpeted ladders, while others come with scratching posts and columns wrapped in jute fabric, paper, or sisal rope.
Get The Right Model – Before you buy, think about how much space you have at home. If you have a lack of space, we suggest you get a short, medium, or tall narrow cat tree. On the other hand, if you have a lot of free space and multiple cats, a big, spacious and wide cat tree will be the right choice for you.
Know Your Cat's Personality – Your cat's nature is another thing you should think about before buying a cat tree or tower with a ladder. If your cat is shy and calm, a smaller-sized unit with a cat condo and a post will be the right one for you. But if you have one or more playful cats, a taller version with multiple platforms, posts, and perches will meet all of your cats' needs.
The Ease Of Maintenance – Be sure the tree you are buying is simple to clean. For example, if the cat tree you like is carpeted or covered in plush or other fluffy material, ensure that the mats can be removed or that the plush can be vacuumed. If you buy a tree without carpets, dusting it off with a soft cloth should be just enough.
The Setup Process – Simple and quick assembly or installation is almost always required. The manufacturer will provide you with detailed instructions. If you buy a small ladder cat tree, you can do the assembly on your own. You might need someone's help if you decide to buy a large and tall cat tree with ladders.