Have you been trying to find an outdoor and weatherproof cat tree?
If this is your case, then we invite you to read our article and find out all the important details and characteristics that such a cat tower house tree should include. Read more about the best of best, for large cats, tall, and more interesting models. Don't miss our buying guide. It will help you choose the perfect model.
The Summary
Best 6 Weatherproof Cat Trees
BEST OF BEST WEATHERPROOF CAT TREE
Purrfect Fence Outdoor Tree
For Outdoor Use
Getting your outdoor cats a cat tree will only make them happy and give them even more space for playing. The Purrfect Fence cat tree is made of a powder-coated metal frame. It can withstand high and low temperatures.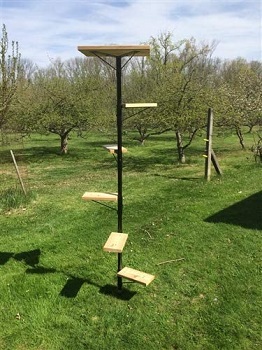 The Sturdy Material
The metal frame, cedar stairs, and galvanized ground sleeve make this unit durable and firm. The tree installs in no time. It is stable and tall. It is space-saving and has a lot of platforms for your cats to climb. The setup requires no digging on concrete.
Tall And Multi-Level
Most cats like climbing, running, and jumping up and down trees. They love spending time in high places. It makes them feel confident. Also, cats like to keep an eye on their surrounding. This weatherproof cat tree measures 47.2 x 12.1 x 7.8 inches and it weighs 29.7 pounds.

Carrying Capacity
We suggest that you get this tall cat tree for large cats if you have one or two adult cats. Another friend cat that comes to play with your cats will surely fit. This tree gets installed below ground and you can feel relaxed about your cats' safety.
In Short:
the material withstands all temperatures
it is made of a metal frame and cedar stairs
the carrying capacity is 2-3 adult cats
it gets installed below ground
no concrete or digging is required
BEST FOR LARGE CATS WEATHERPROOF CAT TREE
Pawhut Cat Tree House
Tree House Design
This is an interesting and unusual cat tree. It is actually a cat house that can be installed outdoors. The Pawhut manufacturers have made this unit for your cats' everyday activities such as play and rest. The house is covered with a water-resistant roof.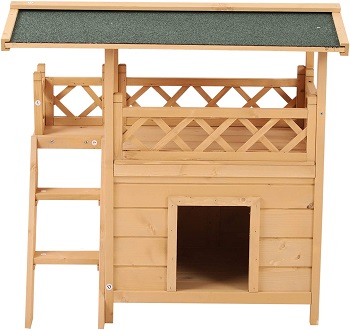 Spacious And Fun
There is a large cat condo on the bottom part of the unit. It will fit up to two adult cats comfortably. On the side, your cats will get to use the stairs that will take them to the top balcony of the condo which is covered by the roof. This 2-story weatherproof cat tree house is safe, fun, and durable.
Long-Lasting And Strong
The high-quality material that is used for the construction guarantees the durability of this unit. The house is made of fir wood and it is coated with a water-resistant finish. You can install this house indoors or outdoors. The capacity is three-four adult cats.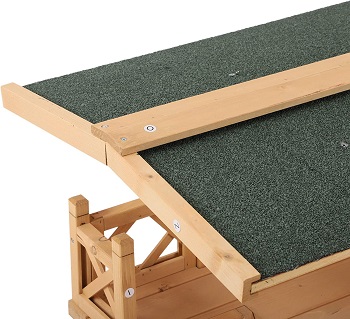 Promotes Healthy Life
Your little fur friends will get to use this tree house as a shelter. If you want, you can add soft and warm cushions or carpets and make them feel more comfortable. This unit will make your cats active and allow them to play and climb this tree house.
In Short:
this unit is designed as a cat tree house
it includes a spacious condo and a balcony
there are side stairs included
the carrying capacity is 3-4 adult cats
the roof is water-resistant
BEST TALL WEATHERPROOF CAT TREE
Aivituvin Weatherproof Cat Tower
Choose The Color
This unit comes in two different colors – grey and white. Choose the color that you prefer or the one that will fit nicely into your garden. This outdoor and weatherproof cat tree tower is tall and large. It will fit 3-4 adult and large cats with no problems.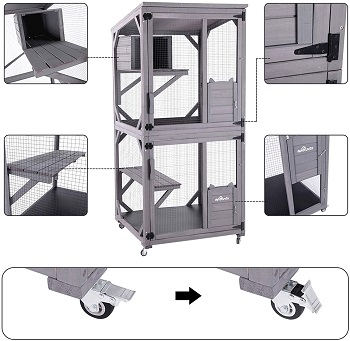 Spacious And Large
This cat tree house resembles a cat cage. It is made of a wooden structure. It is a 3-tier playpen and includes 3 platforms. It has plenty of space for all of your cats' everyday activities. It stands on four rolling wheels and, even though it is heavy, it is easy to move. The unit measures 31.5″L x 31.5″W x 70.9″H.
Simple To Clean
This tree house has two large front doors. There is a removable bottom PVC layer included that makes this unit easy to clean and wash. You can access this house with no problems. Clean it often. Cats prefer staying in clean places.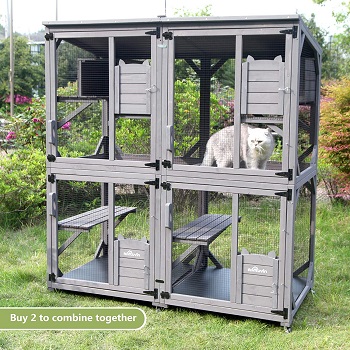 Easily Expandable
In case you want to enlarge your cat's habitat you can expand this tree house tower with no problems. Get another unit and combine the two units together. All you need to do is take off the side panel and connect the units. Follow the user guide.
In Short:
this is a large cat tower house shelter
it is simple to clean and maintain
choose between a grey or white color
the unit's capacity is 3-4 large cats
it is a spacious and safe cat shelter
BEST BIG WEATHERPROOF CAT TREE
Petsfit House Tree For Cats
Solid Wood Construction
This is another sturdy and long-lasting tree house for cats. It is constructed of solid wood. It is tall and large and it will fit up to 5 adult cats. The Petsfit weatherproof cat tree can be used outdoors and it will withstand both very high and low temperatures.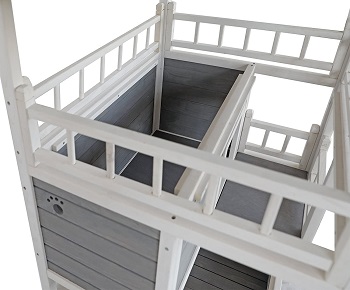 Odor-Resistant Material
Cats love clean places. This is a washable cat tree and cats will like spending time on this unit. The material that is used for designing this tree is odor-resistant. You can access this unit from all sides when cleaning.
For Fun And Rest
The design of this unit is cool and fun. It has two large and spacious resting condos. One is located on the bottom, and the other one beneath the top balcony. Your cats will get to play on one of two large floors, climb the platforms, or chase each other.
Spacious And Big
This large cat tower tree stands on four legs. It is a sturdy, heavy-based, and freestanding unit. Both condos are large and provide a lot of space for sleep. The balcony that is located beneath the roof is large as well. This tree needs to be assembled. We suggest that another adult helps with the setup.
In Short:
made of durable solid wood material
it is easy to clean and maintain
you can access the tree from all sides
this is a large, tall, and spacious unit
it is heavy-based and freestanding
BEST MODERN WEATHERPROOF CAT TREE
Kitty City Cat Furniture Tree
Indoor And Outdoor Use
The Kitty City is a cat tree playground unit that can be used both indoors and outdoor. It requires a lot of space. It is a wide cat tree that your cats are going to love. It has a lot of space for all of your cats' favorite activities – play, jump, and sleep.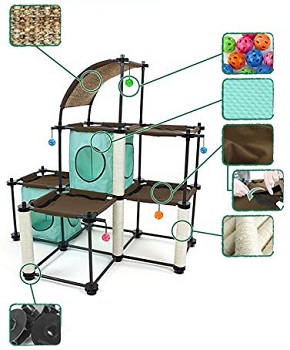 The Included Extras
This modular unit has all that your cat is going to need – a lot of interactive hanging toys, two spacious cat condos, perches, and scratching posts. You won't need to add any other cat toy. Both the unit and toys are simple to clean.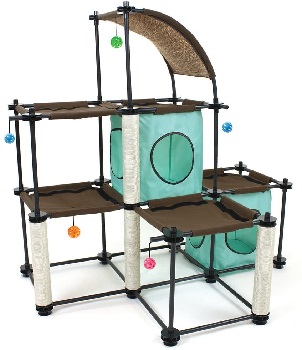 The Setup
You will need no more than about 20 minutes to set this unit up. Also, only one adult is enough to do the setup job alone. This weatherproof cat tree is lightweight. It can easily be moved and de-assembled. If you install this unit outdoors, we suggest that you place it in a covered area.
In Short:
this is a lightweight and wide tree playground
the price is affordable for everyone
this tree includes all the fun extras
it is simple to install and setup
Kitty City unit is simple to clean
BEST CARPETED WEATHERPROOF CAT TREE
Zoovila Foldable Climbing Cat Tree
Wooden Folding Design
If you are looking for something modern and unique, then this white cat tree could be something you'll like. This tree has momentarily caught our eye. We liked its sturdy wooden design, white frame, and carpeted shelves. It can easily be folded flat for storage.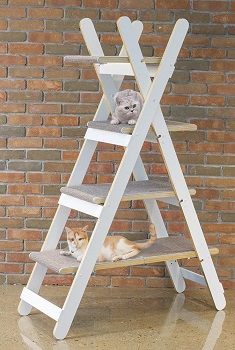 Fast Assembly
Another thing we liked about this unit is that it sets up quickly. All the necessary hardware is included, so you don't have to buy additional pieces. The unit comes with pre-drilled holes. The user guide with the assembly instructions is included as well and you will set up this unit in no time.
Carpeted Shelves
This tree's perches are all carpeted. They are covered in Polypropylene Yarn. This material is pet-friendly and completely safe for your cats' paws. In fact, it encourages your cats natural instinct to scratch and maintain healthy nails.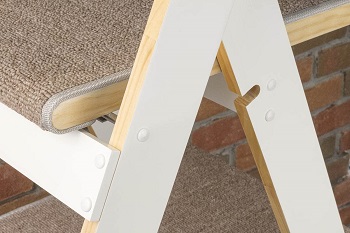 Good To Know
The size of Zoovila foldable white cat tree is 40.16 x 16.85 x 60.24 inches. This tree can be used both outdoors and indoor. If you keep it outside, we suggest you placet the tree under a covered area. For example on the terrace or balcony.
In Short:
foldable and sturdy tree design
wooden and durable construction
the shelves are all carpeted
the assembly is quick and easy
both for outdoor and indoor use
How To Pick: Outdoor And Weatherproof Cat Trees
If you would like to get your cats an outdoor entertainment unit, be sure to get a water-resistant and weatherproof cat tree that can withstand high and low temperatures. There are units of different sizes and materials that you can choose from. Some of them already include cat toys, while others can be used indoors as well. Read on to learn all about the main characteristics that every weatherproof cat tower should include.
Weather-Resistant Material – Most outdoor cat trees, houses, and towers are made of water-resistant material. On the market, you will often find sturdy and firm metal or wooden cat tree units. They are mostly coated in waterproof powder. These units are long-lasting and often large in size. All wood cat trees no carpet are often the best outdoor models.
Space And Capacity – Even if you have only one or two cats, we suggest you get a spacious cat tree for your garden. You never know if another cat friend may join your cats and come and play together. This is why you will want your new unit to be spacious and firm. For you to feel safer, get a tree or house that carries more than the number of cats that you own.
Tree's Height – The taller, the better. Cats like to climb and stay in high places. It makes them feel more confident. Also, if you get a tall unit, your cat will have more space to play. But first, be sure your cat is capable of climbing a tall tree. Secondly, your new tree should fit the place where you are going to set it up.
Extras And Fun Content – Some cat trees, houses, and towers already come with cat tree content. You will often find a unit that includes hanging toys, scratching posts, or removable carpets. Other extras that a cat tree may include are multiple floors, balconies, and cat condos.
The Ease Of Maintenance – If your tree comes with playing toys or carpets, then be sure they can be removed and cleaned. Even though you are getting a weatherproof cat tree that you will most probably use only outdoors, we suggest you clean it regularly. Hygiene is essential for cats and they may avoid dirty places.
To Sum Up
You have learned all that you need to know in order to buy a perfect weatherproof cat tree for your fur friends. That said, there is one model that we consider the best. As you may suppose, we are talking about the Purrfect Fence weatherproof cat tower. This tall skinny cat tree will withstand all temperatures, it will carry up to three adult cats and it will last you a long time.