Have you been looking for a tall, large, and wide cat tree?
If yes, then we are sure you are in the right place. In order to learn more about the best models, we invite you to read our article. We have reviewed the six best wide base cat trees and made a guide that will help you choose the right model for you and your cat.
The Summary
Top 6 Wide Cat Trees
BEST OF BEST WIDE CAT TREE
AmazonBasics Cat Tree Wide Base
Three-Platform Design
This tall and multi-level tree for cats comes in dark brown color. This neutral color will fit into any home decor. The AmazonBasics tree has a wide base and it is stable. It comes with three platforms, a cat condo, a hanging bowl, and scratching posts.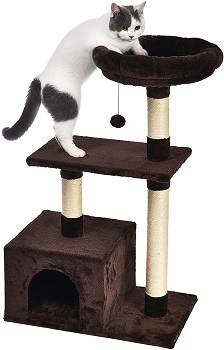 Cat Trees Are Beneficial
Cats need to stay active and play. Climbing higher places helps cats with overlooking their environment. Cat trees make your cats feel more comfortable. They can keep an eye on their surroundings and give them confidence. This is why it is extremely important for indoor cats to have a cat tree.
The Safe Material
AmazonBasics wide cat tree's platforms are carpeted. The pillars are made of natural sisal. They are long-lasting and claw-friendly. The rough texture of scratching posts will help your cat with maintaining healthy nails. Other materials that were used for building this tree is plush and sturdy chipboard.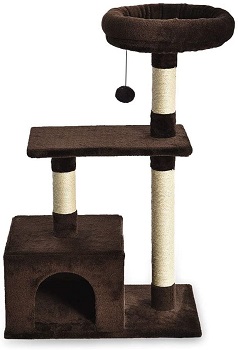 Size, Weight, Capacity
This tree for cats measures 23.62 x 19.3 x 49.2 inches. It is heavy and wide-based. The weight of this unit is approximately 17 to 18 pounds. The capacity is one large cat or two smaller cats that are not very heavy. The price is affordable for everyone's budget.
In Short:
this tree has three platforms
there is one cat condo included
it comes with a hanging play ball
there are 3 scratching pillars
AmazonBasics tree is affordable and safe
BEST FOR LARGE CATS WIDE CAT TREE
Zeny Tree For Big Cats
Wide And Warm
If you have more than one cat at home, then the Zeny white cat tower could be right for you. Its capacity is up to three cats. It has a lot to offer to your cats. This extra-wide cat tree will keep your cats warm and comfortable but also active, occupied, and happy.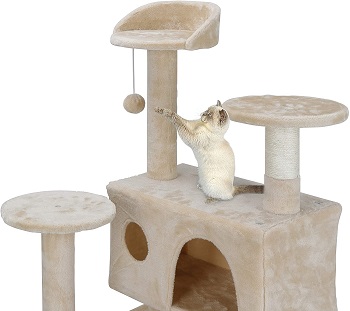 Spacious And Quality
This tower includes 2 soft, cozy, and spacious houses. Your cats will love to sleep or rest inside of them. There are multiple platforms and cat perches. This tree also includes a large integrated ladder. This tree is made of high-quality materials – plush, sisal, and durable particleboard wood.
Stability And Sturdiness
Zeny particleboard wide cat tree tower is wrapped with soft flannelette finish. The tree is extremely stable and solid. The design is well-balanced and the base is strong. Your cats can play as much as they want and you won't be afraid for their safety. This tree is not easy to overturn.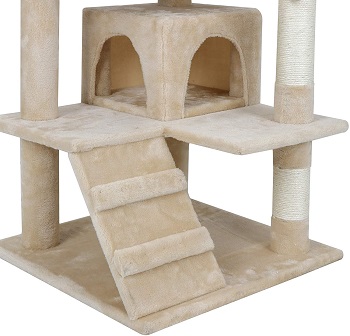 Encourages Cat's Instincts
Get the Zeny tree if you know that your cats need to increase their activity levels. The included hanging balls are here to keep your cats occupied. The ladders and platforms will satisfy their jumping and climbing needs, and the scratching pillars will protect your furniture and maintain the cat's nails healthy.
In Short:
this tree is warm, cozy, and soft
for 2-3 small to medium-sized cats
the tree is sturdy and stable
it is not easy to overturn
Zeny tree has a lot of features
includes houses, platforms, pillars, balls…
BEST TALL WIDE CAT TREE
Bewishome Multi-Level Tree For Cats
Keeps Your Cats Occupied
We liked a lot the Bewishome tree for cats because it comes completely equipped. It will help to increase your cats' activity levels and save your furniture from scratches. It includes large platforms, interactive jingly balls, layouts for climbing, and scratching pillars.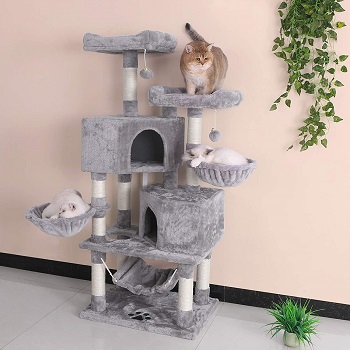 Multiple And Warm Levels
We are sure your cats will love to rest inside of the cushioned platform beds of comfortable and warm hammocks. Almost all of the content is covered in plush material. There is plenty of room for one or two large cats or up to three small-sized cats.
Simple To Assemble
This wide cat tree ships unassembled and requires to be put together. All the tools and hardware are included within the package. The assemble is easy and fast. Follow the instructions and guide manual. We suggest that another adult person helps you with the assembly.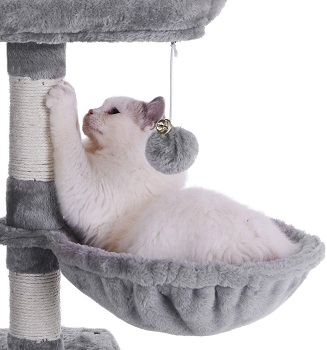 Size And Weight Details
Bewishome tall cat tree for large cats measures 23.8″L x 18.1″ D x 57.1″H. This cat tower weighs about 40 pounds. It is extremely heavy-based and it will last you a long time. For extra stability, you can attach this unit to the wall with a wall anchor strap that comes included.
In Short:
Bewishome tree comes fully-equipped
includes platforms, jingly balls, scratching pillars
requires simple and quick assembly
it is tall, large, and heavy-based
comes with wall anchor straps
BEST BIG WIDE CAT TREE
Nova Microdermabrasion Cat Tree
Choose The Right Color
The Nova Microdermabrasion tall narrow cat tree comes in five different colors. Choose the color of the plush that best fits into your home decor – grey, light grey, blue, brown, or beige. These are all neutral colors that cats see best and don't consider jarring.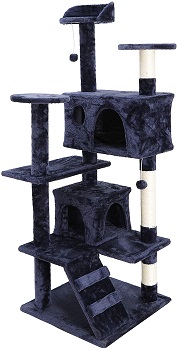 The Large Appearance
This cat tree comes with a wide base. It is wider than any other platform. It makes the tree stable and safe while your cats are playing. The overall size is 52.36″Lx 19.29″Wx 19.29″H. There are two spacious hideout houses, a ramp, three platforms, and three top perches.
No Scratching Furniture
If you are tired of trying to prevent your cats from scratching your sofa, couch, or other furniture, then this tree will surely help. It includes multiple scratching posts. They are lined with sisal ropes. The material is claw-friendly and will help maintain your cat's nails healthy and strong.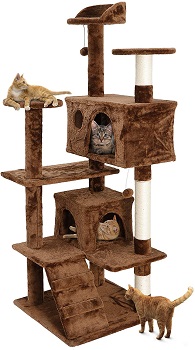 Important To Know
Nova Microdermabrasion wide cat tree is made of particleboard and it is covered in pet-friendly plush. The tree is not made for large cats such as Maine Coon cats. It is ideal for 1-4 small or up to 2 medium-sized cats. Don't buy this tower if you are not sure it will be safe for your cats.
In Short:
this tree is tall, narrow, and multi-level
includes three platforms and top perches
there are two spacious cat houses
it is made of particleboard and plush
capacity is 2-4 cats, depending on the size
BEST MODERN WIDE CAT TREE
Hey Brother Cat Scratching Tree
For Small Cats
You will like this cat tree if you have a small home and small cats. The tree is space-saving (18.9*18.9*41.34"). It is ideal for cats that are not too big or too heavy. We suggest you buy this wide cat tree if you don't have more than two cats. If used and cleaned properly, this tree will last you a long time.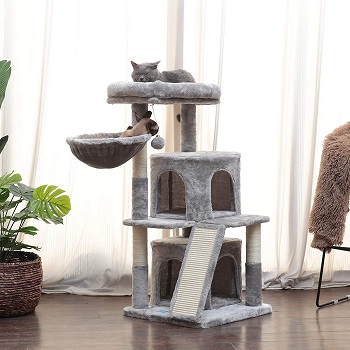 Multi-Functional And Convenient
This is a multi-layer tree for cats. You should consider buying it if you have indoor cats that need to be more active. The tree is convenient for climbing, exercising, scratching, and sleeping. There are two cat condos included, a perch hammock and a ladder-scratching board ramp.
Cozy Rest Area
This tree is made of premium quality wood and a wide base. It is covered in soft and warm plush and it makes your cats feel cozy and comfortable. The two large cat condos have multiple entrance-exit doors for easy navigation in and out of the condo.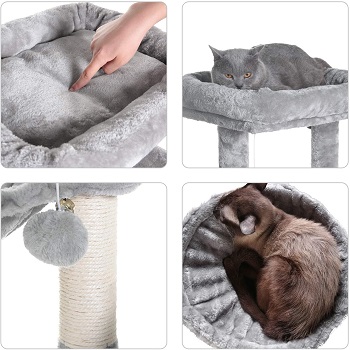 Active Playground
Cats are active animals and they like to play and run around the house, garden, or backyard. Their natural instinct is to explore, climb, and scratch. If your cats mostly stay indoors, then a wire cat tree is a must. This tree allows your cats to do all the listed activities.
In Short:
this is a multi-functional cat tree
it is perfect for sleep and play
ideal for small cats
includes multiple levels
there are two cozy cat condos
it comes with a scratching ladder-ramp
BEST FOR KITTENS WIDE CAT TREE
Superjare Kitten Tree
For Small And Very Small Cats
The Superjare cat tree is perfect if you have a kitten that, once it grows up, won't become a cat of a large size. This tree is of small dimensions and its maximum capacity is up to two small cats. It is made of particleboard, plush, and sisal. The overall size is 18.1″L x 18.1″W x 32.9″H.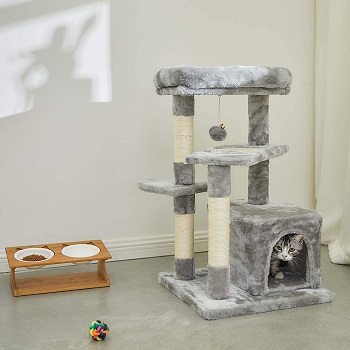 Includes Cat Condo
There is one spacious cat condo house included. It is soft, cozy, and warm. It is located at the base of this cat tree. This is another wide base cat tree. It is stable and it doesn't require being attached to the wall, although, if you prefer, you can do that.
Fun Platforms And Other
Your cat will get to play, run, and climb up and down this tree. There are three levels, a dangling ball, scratching pillars, and an extra scratching board. You can put the tree next to a window so that your cat could watch birds fly.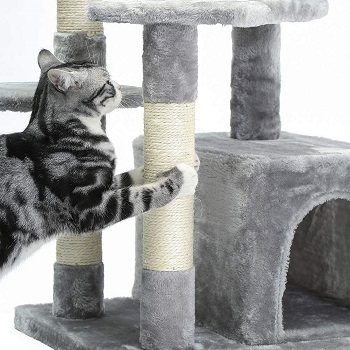 Useful Details
You can choose between the grey or dark grey color. The colors are neutral and this wide cat tree will definitely fit into your home decor. The tree's cost is affordable for everyone's budget. Be sure to use and clean it properly and as indicated in the user guide.
In Short:
this tree is ideal for small cats
includes one soft cat condo
there are many levels and scratching pillars
choose between dark grey or grey
the base is wide and the tree is stable
How To Pick: Wide Cat Tree
A cat tree is a piece of furniture that every household with indoor cats needs to have. If you have outdoor cats, we still advise you to read our guide. No matter where your cats are staying most of the time, there are many benefits to having such a unit at home. Find out why having a wide cat tree at home might help you and your cats. Learn all about the main characteristics that make a cat tree safe and completely functional.
Perks Of Owning A Cat Tree – You will benefit a lot from having a cat tree if you have one or more active and playful cats or if your cats are mostly staying at home. Indoor cats require more playing space. Also, think about getting a tree if your cats already like to climb a lot and scratch furniture, but also if they are inactive and need to increase their activity levels.
The Right Size – If you have two or more cats and if your cats are big or restless, then you should go with a tall, multi-level, and wide tree. On the other hand, if you have only one cat or if your cat doesn't like to play much, but prefers sleeping in high places, then get a tree that is not necessarily too tall, but comes with a stable base.
The Wide Base – It is incredibly important that your cat's new tree comes with a wide base. It will make the unit unable to overturn when cats are playing on it. Also, units with wider base last longer. If you want to be sure your tree is 100% stable, you can always locate your cat tree next to a wall.
Tree's Capacity – For households with more than one cat, a stable tree that fits them all is a must. Check the platform carrying capacity and the size of cat condos and houses. Buy a tree according to the number of cats you have at home. Always be sure to get a unit that is made of durable and sturdy materials.
Features And Toys – There are so many wide cat tree models on the market. Many of them already include special cat toys and accessories. Since not every cat character is the same, know what you are looking for. Your cat maybe doesn't care about fun content and it will prefer to rest in a cat condo or scratch the posts from time to time. On the other hand, your cat might enjoy playing with ropes, bells, hanging feathers, etc.
To Sum Up
To conclude, before buying a wide base cat tree don't forget to check its capacity, stability, and size. Be sure it meets all your needs. If you are not sure about the right model, you can't go wrong if buy an extra-wide cat tree. For example, the Zeny Tree For Big Cats will fit most cats. It is an easily washable cat tree, it includes activity content and two spacious resting cat condos.