Are you in search of a wifi dog treat dispenser?
Still haven't decided which model to buy?
Don't worry. This is what we are here for. Our post will help you get the right wifi treat dispenser for you and your dog. Read all the main characteristics of the best indoor, interactive, cheap, or puppy treat dispensers and see which one meets your needs. In the end, don't forget to check out our guide that will surely help with making the right decision.
The Summary
Top 6 Wifi Dog Treat Dispensers
BEST OF BEST WIFI DOG TREAT DISPENSER
SKYMEE Petalk AI II Camera Dispenser
Better And Upgraded Features 
The Skymee Petalk AI II is 2020's new and upgraded version of a camera-dispenser. In comparison to previous versions, this one comes with a better camera with 4 adjustable resolutions, a built-in microphone with a lower noise floor. Moreover, the field of vision is wider and features a 180° rotation pan. The night vision mode can be turned on automatically or manually.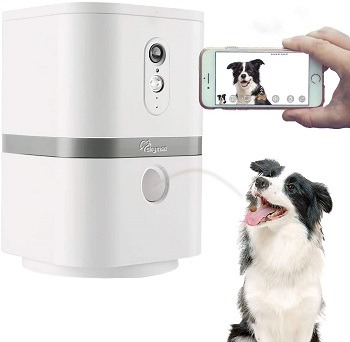 New Full HD Pet Camera
The wifi pet camera that is included is a 1080p full HD camera. You can easily control your dog through the Skymee app. The camera allows you to remotely monitor your dog from anywhere and at any time. What is important is the night vision function. You can turn it on either manually let it turn on automatically based on the light.
The Treat Tossing Dispenser
This model comes with a new dispenser's design. It is compatible with most famous brand's treats. It will toss a treat either automatically (set it up to do so), manually (through the app), and with a feed button. The set up is easy. The use of the device even easier.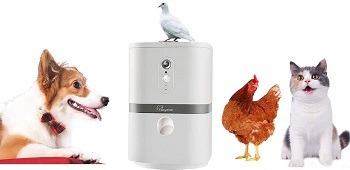 How To Set Up?
You are going to need less than five minutes to set up this dog treat dispenser. Power it on by USB cable (type-c). Download the free Skymee App on your smartphone. Register. Connect the device to your WiFi (2.4G). Let the dog camera read the QR code that will appear on your mobile phone.
In Short:
upgraded version with better features
better camera to make you feel safe
two-way interaction function
treat dispenser compatible with most treats
take 3-5 minutes to set up
BEST CHEAP WIFI DOG TREAT DISPENSER
NPET Treat Dispenser Dog Camera
Treat Tossing Game
The Npet camera with treat dispenser allows you to toss a treat to your dog when you notice it feels lonely or bored. Let it stay active. Use the app to play a fun game and reward your dog with a delicious treat. The dispenser is compatible with dry and crunchy dog treats.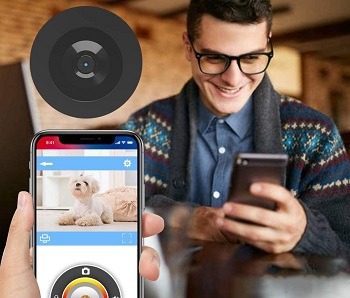 Wide-Angle Camera
When it comes to buying a good dog camera, it must catch a wide-angle. Otherwise, you may not be able to see where your dog is. The Npet HD 1720p camera comes with a 165° wide-angle view. It also includes the night vision function to check on your dog even during the night.
Interaction Is Important
It is important to consolidate your dog when you notice it feels sad or lonely. This is when you can call it and have two-way audio conversations. You will get to say hello to your best fur buddy, and your dog will get to listen to you and bark you back.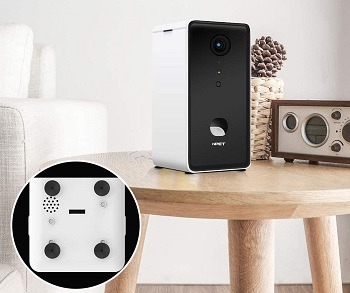 Tips On How To Use
Before buying this remote dog treat dispenser, you must know that it is suitable to store only dry food. Moreover, the app is supported only on iOS 7.0 or Android 5.0 and above. Also, your WiFi must be a 2.4GHz frequency. Otherwise, the dog camera won't be able to operate.
In Short:
play treat tossing game remotely
720p camera comes with a 165° wide-angle view
night vision feature is included
two-way audio for better interaction
app supported on iOS 7.0 or Android 5.0 and up
most budget-friendly device on this list
BEST PUPPY WIFI DOG TREAT DISPENSER
DOGNESS Puppy Camera Treat Tosser
Why Get A Dogness Camera? 
If you have a puppy at home, but need to leave it alone for a few hours, you can teach it to answer your calls. You can check if it fines and what it is doing while you are away. This dog camera is also very important for people who have a dog od puppy with health problems.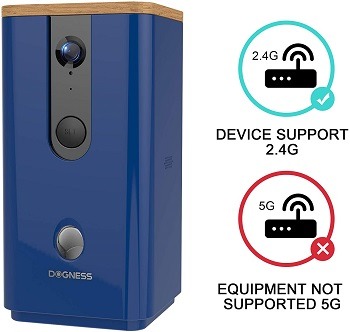 The 720p Camera Features
The Dogness pet monitoring camera and dispenser is another one that comes with an HD 720p camera. It also features a 165° wide-angle view. It will clearly show you the situation with your puppy. You will immediately notice if it is sad, lonely, or happy, and active. The night vision feature will help you check on your puppy even in the dark.
Snap Photos And Share Them
The Dogness app will allow you to snap the cutest and most interesting photos of your dog. Capture the most adorable moments and store them to your app. You can download the captions or share them to your social media. You can also send them to other family members.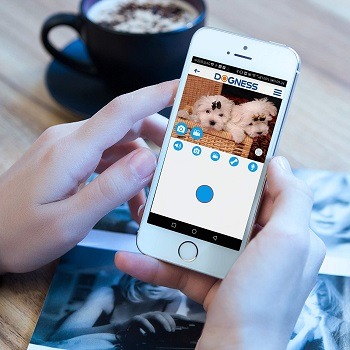 The Treat Dispenser And Interaction
If you see that your puppy needs attention, simply toss it a treat. Make it play a treat-tossing game. Entertain it while you are away. Get to interact with your puppy through the two-way audio function. Keep in touch with your dog and your puppy anytime.
In Short:
check on your puppy easily
control the camera during the day or night
interact with your puppy
play a fun game remotely
toss your puppy a treat
BEST INDOOR WIFI DOG TREAT DISPENSER
Owlet Home Treat Tossing Camera
The Sleek And Discreet Design
The Owlet indoor dog camera with treat dispenser comes in a sleek and modern design. It is compact and fits anywhere in the room. It can simply stand on a smooth and flat surface. It will not only be a simple dog camera, but also a good home surveillance device.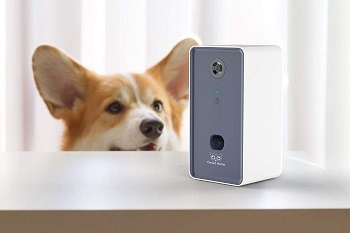 Alexa Voice Assistant Feature 
If you like the idea of your indoor dog camera being compatible with Alexa, see how you can use this feature. First, install the Amazon Alexa on your phone. Then, open the app and enable the Alexa skill and log in. Now you can use Alexa to toss a treat to your dog when you are at home.
Comes With Most Important Features
All of the main functions are included in this device. There is the two-way audio feature, live video stream possibility, tossing a treat automatically or manually, and a pre-recording of your voice for tossing the treats. Of course, a 720p and 160-degree wide-angle camera is included too.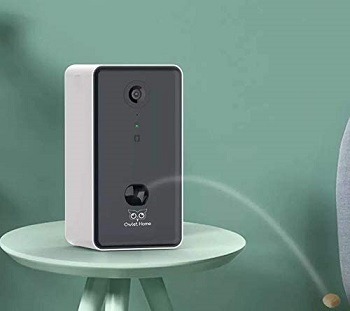 What Is In The Box And Price
The package includes one main unit which is a smart dog camera. Then, there is a power adapter and USB cable (9.8 ft.). Finally, there is the start guide that will help you set up easily and quickly the device. The cost of this device is reasonable. We consider it the normal price for such a device.
In Short:
discreet design that fits almost anywhere
features Alexa voice assistant function
Alexa assistant helps you toss a treat
features all important functions
the price is affordable
BEST SECURITY WIFI DOG TREAT DISPENSER
AONESY Dog Camera Treat Dispenser
The Aonesy App
The app is supported by iOS 7.0 and higher or Android 5.0 and above. Once you get the app, you will get to check on your dog and your home's security. If you wish, 4 more family members can log in to the app using the same username and password so you can control the situation at home together.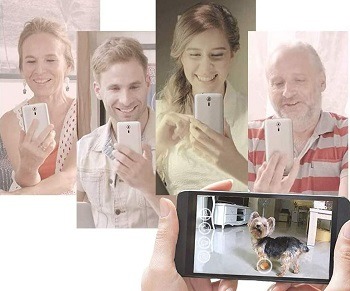 The Treat Dispenser – How It Works 
The dispenser will toss from 1-12 treats at a time (depends on the treat's size). The capacity of the container is up to 2 lbs of treats. The dispenser is compatible with a variety of different treats and treat sizes. It supports only dry and crunchy treats (up to 1" in diameter).
Device's Specifications 
The overall size of this dog camera with a treat dispenser is 11.54 x 6.97 x 6.93 inches and the item weighs only 3.08. Its design is simple and modern. It shows the green indicator light when you are using the app. This is how your dog will know you are somewhere around.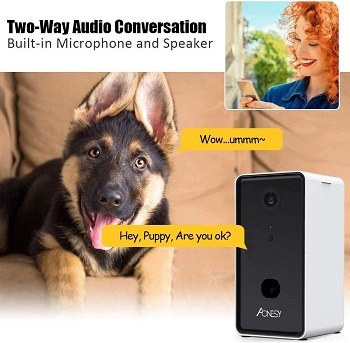 Technical Specifications
The device features a full HD 1080p camera and a 3x zoom. There is a built-in microphone and speaker that makes the two-way interaction possible. Your WiFi network needs to be a 2.4GHz frequency. The 5Ghz is currently not supported.
In Short:
5 family members can use the app
container capacity is of 2 lbs
modern and simple design of the device
green indicator light is on when using the app
features a full HD 1080p camera
built-in microphone and speaker
WIFI INTERACTIVE DOG TREAT DISPENSER
Vbroad Camera Treat Dispenser
The Features Included
This Vbroad wifi camera with a treat dispenser you are able to capture cute and funny photos and record shorter or longer clips. The interactive dog camera is HD 720P and 165° wide-angle view. It includes the night vision function. Connect the camera to the app and call your dog easily.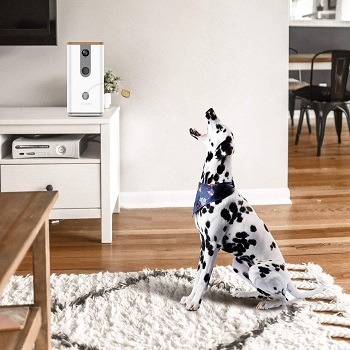 How To Interact With Your Dog? 
Train your dog to come close to the device when you are calling it. Show it that this is a pet-friendly device. Call your dog while you are away, talk to it, and calm it down if you feel like it is sad. Toss it a dry treat from the treat dispenser and play a fun game.
Use The App To Share Recordings
The application will not only enable you to interact with your dog or control the situation at home. You can also use it to snap photos or to record funny video clips. After that, you can choose to download or store the recording or share them to your social media.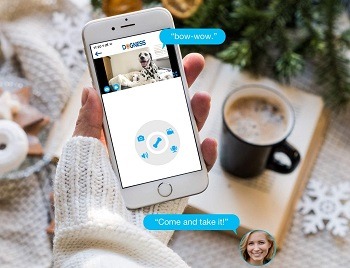 Last Important Characteristics
Just like some of the previous models, the Vbroad device comes at a reasonable price. Its overall size is 0 x 5 x 5 inches. It comes in white design and can fit on any flat surface. It requires no drilling. It also supports 2.4GHz wifi network frequency.
In Short:
HD 720P and 165° wide-angle view camera
night vision feature included
snap cute photos or to record interesting clips
share the videos and photos on social media
download the stored photos
How To Pick: Wifi Dog Treat Dispenser
Leaving your best fur friend alone at home feels as hard for you as for your dog. Luckily, the wifi treat dispensers with a camera will help your dog get through the day more easily. But, what makes a good treat dispenser camera? We have summed up the main features you should look for, which are the good camera, 2-way audio for interaction, treat tossing feature, sound and motion detector, and the free app.
High-Quality Camera – A good camera will help you get a clearer picture of your dog, its feelings, and control its behavior. If you notice your dog feels lonely or bored, you can call it and help it feel better. What do we mean when we say a good camera? Well, the quality of the camera shouldn't go below 720px. Otherwise, you won't be able to see your dog clear enough.
Two-Way Interaction Feature – Buying a camera treat dispenser wouldn't make much sense without the 2-way audio. When you see your dog misses you, call it and say hi. With a built-in microphone and speaker, you will get to hear your dog's barks and your dog will get to hear you as well.
Treat Tossing Game – A dispenser that fits enough treats for the day and the one that can easily be maintained is the best dispenser. Make sure your dog is active and toss it a treat. Make your dog catch the treat. This is how it will stay entertained.
Motion And Sound Detector – These devices may serve as security cameras too. Many models include a sensor that detects suspicious sounds and motions. The camera will snap a photo or record a short clip and send it to you through the app. The app will alert you immediately.
Your Smartphone Supports The App – Almost every model of a dog camera with a dispenser connects to the manufacturer's app. It allows you to monitor your pet on your smartphone. Check if your smartphone model supports the app. Also, have in mind that many apps require subscriptions. Some are completely free to use, though.
To Sum Up
After having reviewed the six best wifi dog treat dispensers, we can safely conclude that the SKYMEE II Camera Dispenser is the best model. We think that the upgraded version of this model makes it safer and easier to use. If you feel like a dog camera to watch dog at home is something you must own, you may also consider buying a dog wifi camera and make sure your dog doesn't get lost.