If you want to find the best interactive dog camera, you have come to the right place.
In our article, we have gathered the six dog camera models that you will be able to find on the online market. We have divided them into matching categories. Check out every important detail about the best of best camera, with treat dispenser, with wifi, security, and others. In the end, you will find a helpful guide on how to choose the right model for you. Scroll down for more.
The Summary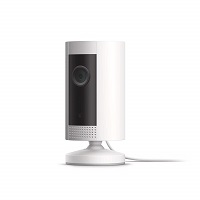 Ring Two-Way Talk Camera
OVERALL RATING: ★★★★★
The Ring high-quality security dog camera allows you to easily check on your dog and your home through the app.
Jump To Review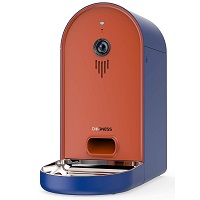 Dogness Dispenser Camera
OVERALL RATING: ★★★★☆
Treat your dog when you want, even if you are not at home. Let the Dogness camera toss a delicious reward to your dog.
Jump To Review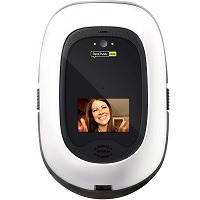 PetChatz 2-Way Audio Video Camera
OVERALL RATING: ★★★★☆
Connect the PetChatz interactive camera to your wifi and enjoy a variation of the features this device provides you with.
Jump To Review
What Type Of Camera Is An Interactive Dog Camera?
Interactive cameras include models that provide an interaction with your dog. Interaction can be achieved by using camera and speaker with microphone, option of throwing treats as well as playing games with laser.
Interactive Camera Works As Two-way Communication Device
You don't know how interactive models work? Well, it has two-way communication which allows you to chat with your dog using a speaker and microphone. The camera connects with WiFi and pairs with a monitoring device which you can use outside your home.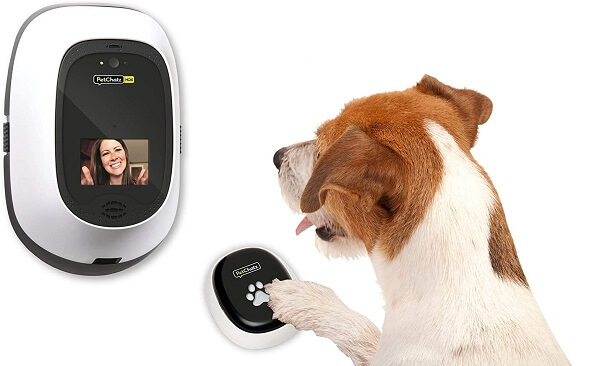 Which Interactive Camera Is Right For You?
Depending on your needs, budget and other conditions, pick a model that will be most useful for daily use. There are different models you can find on the market.
Indoor Interactive Camera – If you only need a simple model with two-way communication for your house or apartment, pick the indoor model with all needed specifications
Interactive Camera With Treat Dispenser – This model has additional interactive features that allow you to command the camera to eject treat to the dog. This is a perfect choice for all dog owners that want to reward their dog
Interactive Camera With LCD Monitor – This multifunctional device provides best communication with your dog. LCD monitors can be used for video connection so your dog can see you as well, and for dog TV to entertain him while no one is home
Interactive Camera With Laser – For active dogs we recommend buying an interactive model with a laser. Infrared lasers will entertain your dog and shorten time till you come home from work. They're a perfect choice for active and young dogs
Why Should You Buy An Interactive Dog Camera?
Having an interactive camera at home has many benefits and most important ones you can find down below.
Daily Interaction – If you're often away from home and you want to say hi to your dog, an interactive camera will help you to communicate with him no matter where you are. This way you will always feel close to your dog.
Check Dog's Behavior – Your dog is making a mess? Or is it sick and old? Having a camera will provide easy monitoring from the device so you can check what is happening while no one is home, and if your dog is behaving weirdly which can be the sign something is wrong with his health. In many cases dog cameras were help-saving devices.
Home Safety – Can you use the interactive camera as a security device? Absolutely. Many dog owners use cameras as safety devices to check if there are no intruders inside the house. That's why most dog cameras have a discreet design to not attract attention.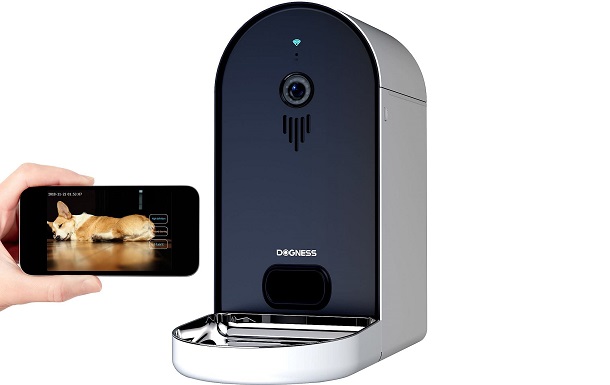 Can Interactive Communication Be Useful For Dog's Behavior?
Definitely yes. Interactive cameras can have a positive effect on a dog's behavior. If your dog has separation anxiety, buying an interactive camera will help him relieve the stress when he hears owners' voices as well as using interactive games which will occupy his mind and make him happier. By using an interactive camera you can alert your dog if he's making a mess and he will in a short time learn the lesson.
Which Features Interactive Model Needs To Have?
When picking an interactive model it is important to buy it from a reliable brand and to check if it is a high quality model that will provide easy daily use.
High-quality Construction
Pick a model that is made of high quality material to be sure it will last you for years. It needs to be made of sturdy plastic for maximum safety.
Connectivity
Most interactive models have a plug supply, use wireless connection and can connect with multiple devices like smartphone, laptop and iPad. Most important thing is to check the internet frequency, which needs to be 2.4g Hz so the camera works properly.
Camera Settings
For monitoring it is important to choose a model with great image resolution, as well as tilt and zoom features. Choose 720p camera or 1080p which provide high quality view. For a wider view make sure the camera has horizontal and vertical rotation as well as zoom feature.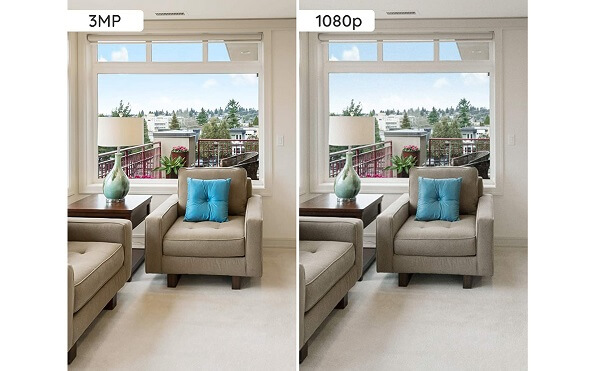 Storing Space
Check if the camera has only local storing space and how big it is, or support SD cards. Most of the models are suitable for up to 128 SD cards, and we recommend buying the largest cards to don't worry about losing files. Also, some models come with an included card.
Additional Settings
Depending on your needs, pick an interactive dog camera with additional features which will do your monitoring much easier. Wide angle is a must have so you can check all the corners in the room. If you use the camera as a security device, pick a model with included motion and sound detector, which most of the models have. For 24/7 monitoring pick the model with night vision mode and auto switch. Most of the models support Alexa assistant which can be very useful when you're busy.
6 Best Interactive Dog Cameras
Ring Two-Way Talk Camera
Small Design And Compact Device
The Ring interactive pet camera is a small and compact device that allows you to check on your dog remotely from your phone or tablet. It comes as a 1.81″ x 1.81″ x 2.95″ device that will easily fit on any shelf of your room. Its discreet black and white design will make it almost unnoticeable.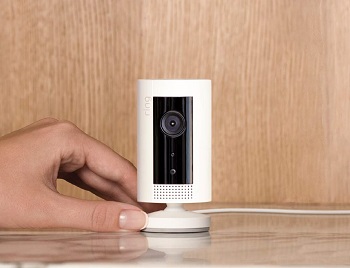 The "Ring Protect Plan"
The manufacturer gives you the possibility of watching over your entire home, not only one room. You can connect one or more indoor cameras in the Ring app. The app offers you to subscribe and record the videos or snap adorable photos of your dog. You will be able to enter the 60 days old data and share the media.
Talk To Your Dog
Using the Ring app allows you to talk to your dog when you are not staying at home. If you are at work and want to make sure your best fur buddy is well, simply call it through the app and tell it you miss it too. The two-way audio will allow you to hear your dog's barks as well.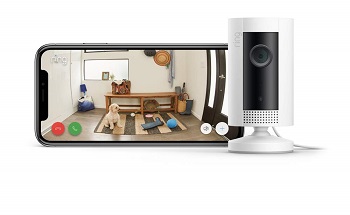 3 Ways-Set-Up
It is incredibly easy to set up the Ring security dog camera. The first step is placing the device on any flat surface and plug it in. Then, connect to your wifi, download the app and follow the instructions within it. This is it. You are ready to use your new device now.
In Short:
discreet and compact design
simply place it on a flat surface
subscribe to the app to get more benefits
talk to your dog through the app
set-up the device in less than 5 minutes
Dogness Dispenser Camera
Why Get A Dogness Dog Camera
The Dogness camera for dogs will help you control the situation at home when you are not around. We know that it is hard to leave your dog at home alone, but this is something we all must do once in a while. A good camera will help you see how your dog is doing at any time.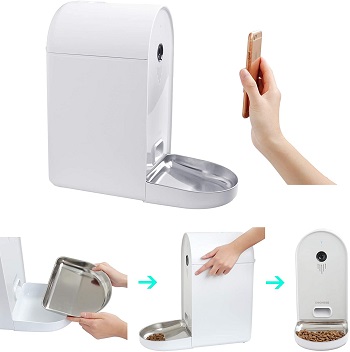 Connect And Interact
Connect the interactive dog camera with treat dispenser to your Wifi and the app. Make sure the app is working fine and call your dog when you are away. The two-way audio feature and the camera will allow you to hear and see your dog. It will also hear your voice telling it hello or other words of love.
Extra Feature – Treat Tossing
If you want your dog to stay entertained and happy, toss it a treat remotely. Make it catch the treat and stay active even when at home. Also, when you feel like your dog is missing you, give it the treat to make him feel better and happier.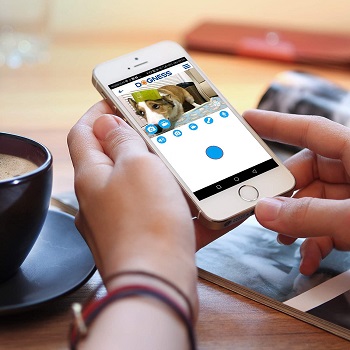 The Treat Dispenser
The wifi treat dispenser fits up to 6.5. lbs of dry food. The special design of the container will help you keep your dog's treats fresh and free of bacteria. It is easily removable and easy to maintain clean. Also, it prevents the air from coming in and can not be opened by your pets.
In Short:
connect the device to the free app
interact with your dog any time
say your dog you love it when it misses you
toss it a treat
treat container is easy to maintain clean
PetChatz 2-Way Audio Video Camera
Don't Miss Out On Precious Moments
The PetChatz camera for interaction with your dog provides you 24/7 control. It is a high-quality 1080p full HD camera that you will be able to enter from the PetChatz app. Connect the device to your wifi and be able to interact through two-way audio and video chats.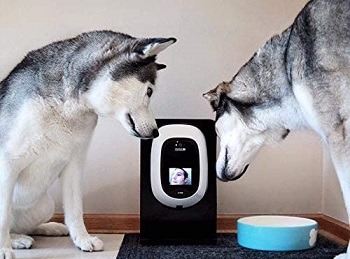 See Your Dog And Let It See You
This device features a special ringtone that will alert your dog when you are calling it. Train your dog to get close to the camera so can say hello to it. What makes this device special is the fact that your dog will be able to see you too. This is a feature that not many models come with.
The Unit Is Safe
This indoor dog camera is designed in a way that it comes with no sharp edges, no corners, and no cords that your dog might chew. It is safe for your dog and it won't hurt it. The device may be hanged to the wall, on a kennel, or it can stand on a stand that is sold separately.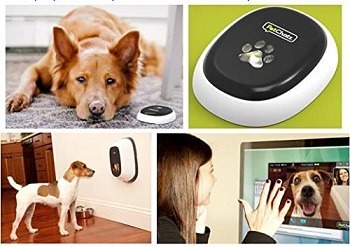 More Extra Features
Apart from the above-listed functions, the PetChatz interactive camera for dogs comes with more great features such as: the treat dispense, motion and sound-activated video recording, brain games, aromatherapy, pet-messaging with PawCall, and DOGTV entertainment streaming.
In Short:
24/7 camera control
1080p full HD camera for a clearer view
the device is safe for your dog
two-way video and audio interaction
features a whole lot of interesting functions
Reolink Security Camera System For Dogs
Dog And Home Security Camera
A good camera resolution is a must when it comes to choosing the right security and dog camera device. The Reolink device features a day and night vision camera – 2304×1296 resolution and 3MP HD video display. There are 8px infrared LEDs and advanced IR technology for a clear vision of your dog even when in the dark.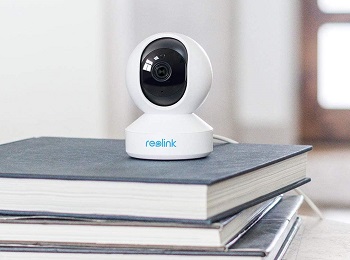 How To Use And Install?
It is very simple to use this home camera for pets. Plug it in and connect it to your 2.4 GHz Wifi. Get the app on your smartphone and pair the interactive dog camera with the app. You can now start using it. To use the camera, simply follow the instructions that the app will give you and read the user manual.
Google Assistant Feature
If you like using a voice assistant, this device will be the right for you. You can control this Reolink security camera with your voice when you are at home. For example, if you want to check out what is happening in another room, simply say "Hey Google, show me the living room".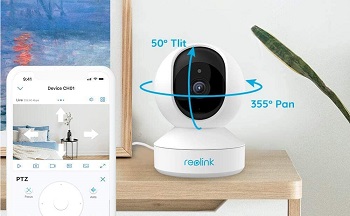 Account Sharing
You can use multiple cameras in your home and connect them all through the app to control them remotely. You will be able to watch and stream up to 36 cameras on a desktop page or 16 on a smartphone page. You can simultaneously connect with up to 12 members and share data with your friends and family.
In Short:
2304×1296 resolution camera and 3MP HD video
two-way interaction with your dog and family
features a Google voice assistant feature
connect with up to 12 members at the same time
budget-friendly device
Dogcool Camera Laser Toy For Dogs
Why Get DogCool Laser Camera?
The Dogcool camera and interactive toy is made of high-quality material. This makes it durable and it won't break even if it gets knocked over by your dog or cat. It features a laser, the bells, and whistles. It is a great entertainment camera-toy that will make your dog happy even when alone.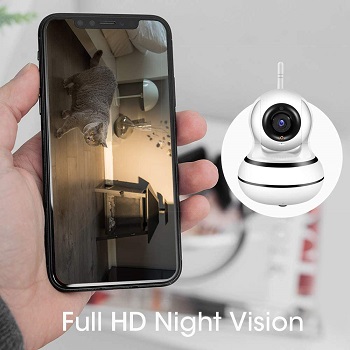 The Panoramic View
The 1080p full HD quality image camera provides you a clear view of the situation at home. But, not only that. The interactive dog camera comes with a 360° panoramic view and a 120° wide-angle. It is able to tilt 155°  to easily find your dog in every corner of your home.
The Interactive Feature
Whenever you feel the need to talk to your dog, you will simply call it through the app and speak to him. This device also features another great interactive function. We are talking about a library of up to one hundred lullabies that you play to your dog whenever you want.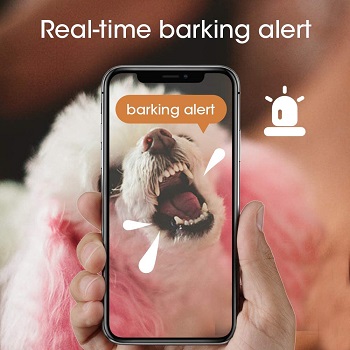 The Laser Game
This is the game that we all know cats enjoy must. So, if you have both a cat and a dog at home, this feature will entertain them. Make sure to install this indoor camera for pets above your pet's eye level to prevent the laser from pointing directly into your dog's (or cat's) eyes.
In Short:
made of durable material
high-quality camera with a panoramic view
call your dog and speak to it
make your dog listen lullabies
let your dog (and cat) play a laser game
IseeUsee Dog Camera Monitor
Pan, Tilt, And Zoom
The IseeUsee camera is another dog camera that allows you to monitor your dog on your phone. The camera's features are the following: the resolution is 1920×1080. It features 2MP. The rotation range is 355° horizontal and 90° vertical. Control your dog during the day and night with the night vision feature.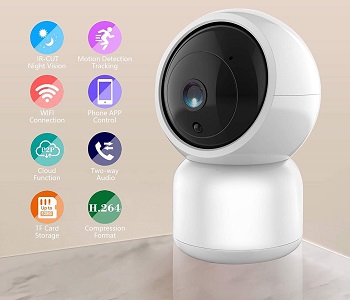 The Motion Detector
Should something unexpected and suspicious happen, the camera will detect motion and film it. The app will send you an instant alert notification and you will be able to check if everything is ok. All that remotely and from your office or any other place.
Communicate With Your Dog Any Time
Whenever you want to let your dog know you miss it, you can call it and say it a few words of love. You can simply tell it "hello" so it knows that you are thinking of it and you will be back soon. The built-in microphone and speaker will let you hear your dog too.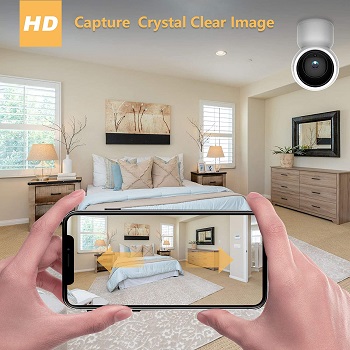 Last Important Characteristics
Just like other models, this device connects to 2.4G HZ wifi or LAN connection. Connect it to the app and follow the easy instructions. The app is supported by iOS or Android. You can mount this device to your wall if you want. The brackets and included in the package.
In Short:
mount it on the wall or place it on the shelf
features a motion detector
the detector sends instants alerts
say hi to your dog remotely
the 1080p camera takes care of your home too
How Easy Is It To Set Up an Interactive Model?
Most interactive dog cameras are easy to set up and even beginners can quickly set it using the instructions. After you plug the device to the socket, a green indicator will show everything is working properly. Connect the camera to the WiFi and check if the Internet is stable where you place the device. Most dog owners use smartphones as monitoring devices because of functionality. Pair the phone with a camera and check it supports the phone system. Android and iOs users won't have problems with most of the manufacturers.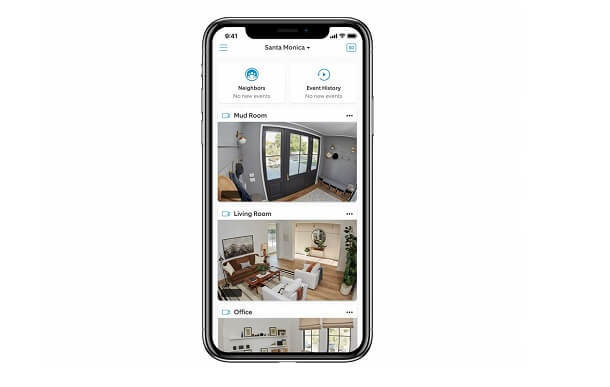 Install The App On Monitoring Device
Download the app on monitoring model and follow the steps for installation. Use the setup instructions if you're a beginner, but we are sure you won't have troubles. After installing the app, customize audio, video and other interactive settings. We recommend testing the settings while you're still at home so you can be sure everything works fine.
Interactive Device FAQ
Down below you can find questions that can help you with monitoring.
How To Improve The Interaction With Dogs Through The Camera?
Teach your dog to react to the sound from the camera. Also, when they start barking, if the camera has a sound detector it will automatically send alert notification to your monitoring device. Turn on the video camera and say hi to your dog. Do it oftenly in the beginning so the dog remembers it. Also, if the model you want to buy has a PawCall remote, show your dog how to use it and improve the interaction.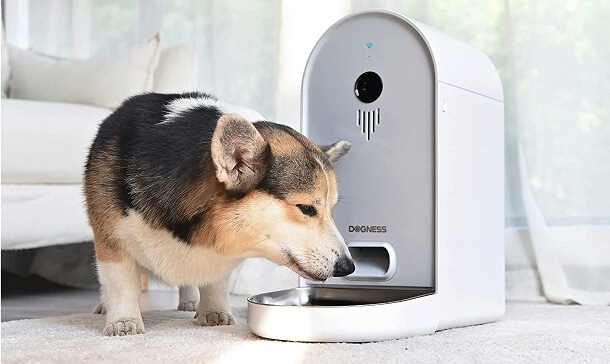 Does Camera Have Dog-friendly Sound?
Most of the dog cameras are designed with dog-friendly sounds and volume which won't scare them. If the camera allows you to turn down the volume you can do it in the beginning so the dog gets used to it. To help him relieve the stress, choose a model that has lullabies or different sounds that will keep him calm while you're away.
Safety Securities To Keep In Mind
Place the interactive dog camera on the flat surface and check if it has an anti- slip surface. The wire cable needs to be out of reach of the dog, in the cable management box or behind the furniture you're placing the device. If the camera has a laser, make sure it doesn't go directly to your dog's eyes for maximum safety. Avoid installing the camera in a crowded room, so the dog doesn't know anything when watching laser rays or ejected treats.