Have you been looking for a cat camera with laser?
A good laser camera will make sure your cat is okay and entertained even when you are not present at home.
If you are not sure whether to buy such a device or you simply don't know which model is the best of you, you should read this article. We have reviewed the 6 best cat cameras with laser. Read more about the best cheap, smart, indoor, and other models that you can find online. In the end, don't forget to check out the guide that will provide you with the most important information on how to choose the best model for you.
The Summary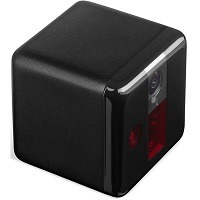 Petcube Play 2 With Interactive Laser Toy
OVERALL RATING: ★★★★★
The Petcube Play2 is a reliable, high-quality, and night vision camera. The optional Alexa feature makes you control the Play 2 device easier.
Jump To Review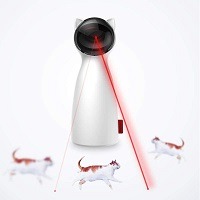 Yvelife Cat Toy With Laser
OVERALL RATING: ★★★★☆
The cheap price of this device makes it affordable for anyone. The compact cat head design allows you to place this camera anywhere.
Jump To Review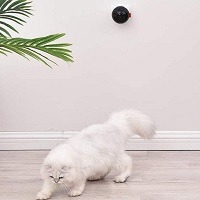 PetDroid Boltz Laser Toy
OVERALL RATING: ★★★★☆
PetDroid smart camera will automatically identify your cat's movements with the special motion-activated sensor.
Jump To Review
What Is a Cat Camera With Laser Used For?
Cat cameras with lasers are great interactive toys cats can play with while the owner is away from home. One of the favorite things cats love to play with is a laser, and those types of devices will entertain your cat for hours.
How Do Laser Cameras Work?
Cat camera ejects a laser in the form of a red line that moves around. Cats love to catch the rays and play with them. The camera connects to a monitoring device from which you customize laser settings.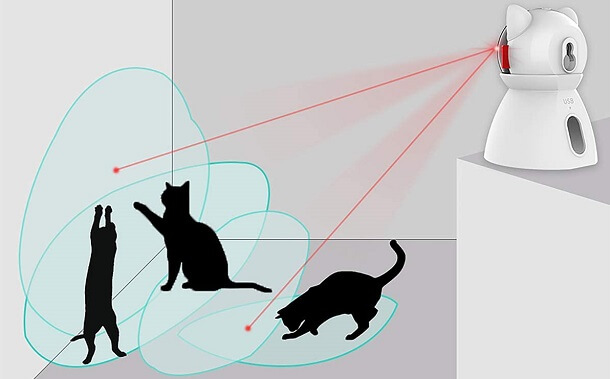 Types Of Laser Cameras On The Market
You can find a model with plug or battery supply. Cameras with plug supply are static which means you will need to place it next to the nearest socket. Battery models can be rechargeable and with replaceable batteries.They are portable so you can easily install it wherever you want.
Benefits Of Having Laser Camera For Cat
If you're not sure why you need to buy a laser camera for your cat, check our list down below.
Daily Entertainment
If your cat is active and loves to play with lasers, this device will keep her in the move when no one is home. This can help her stay active during the day.
Cat Monitoring
Many cat owners use those types of cameras for the pets that have health issues so they can be sure everything is fine when no one is home. Using the camera you can check how the cat behaves and moves.
Security Device
Some laser models have great camera specifications which allows using it as a security device. If you're afraid of burglars, then you definitely need to buy one of the cat cameras.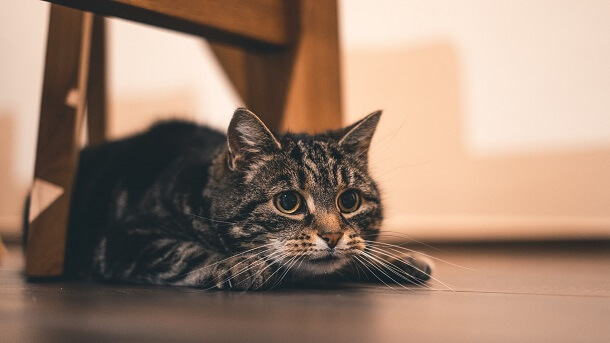 Special Features To Consider When Buying Laser Cat Camera
If this is your first time buying a cat camera, there are some features and specifications to consider so you can be satisfied with the model you will use on a daily basis.
Suitable For Beginners – Pick the laser camera that has simple functions for daily use. Make sure that the model can easily be installed with included setup instructions.
Easy Connection – All of the cat cameras can connect with WiFi. Check if the frequency of your home network is suitable with the device. Most of the cat cameras work only with 2.4GhZ frequency.
Compatible Devices – It is important to have a compatible monitoring device so you can monitor your cat when you're away from home. Most of the cameras support smartphones, tablets, laptops and iPad. You can check the list of compatible devices for additional information.
Laser Pointer – Make sure to check how the infrared laser pointer works for maximum cat safety. You can pick a model with an angled laser pointer or the one that directly beams out depending where you're planning to place it.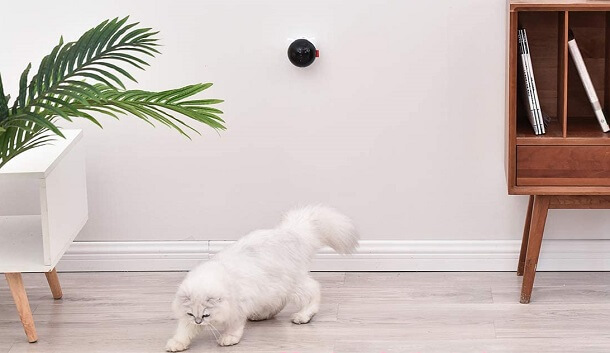 Camera Features – We recommend buying the cat camera that has at least 720 HD video quality. If you're looking for a clear picture, most owners prefer those with 1080p full HD. Pick the camera with a wide-angle lens so you can check all the corners in the room.
Additional Features – If you want to take a closer look at your cat while you are not at home, choose a model with zoom features. Most devices have a few hours of recording history, and videos are easily triggered by sound or motion. If you want to have a multi-day recording history, make sure the brand cat camera has a subscription to the app.
6 Best Cat Camera With Laser
Petcube Play 2 With Interactive Laser Toy
Home And Cat Security Camera
The 1080p camera allows you to check on your cat any time of the day or night. It has a 138° wide-angle view and 3x zoom. It easily detects your cat when it enters the camera field of view. Once the camera detects your pet, it records it for 30 seconds and saves the clips on your Petcube app.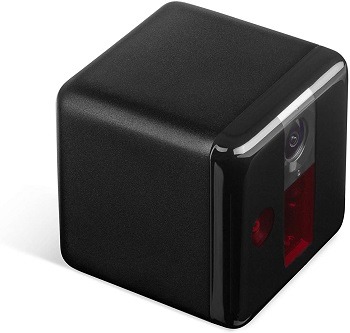 The Quick Set-Up
It is incredibly easy and fast to set up the device and start using it. You will simply turn on the device, connect it to your WIFI, and download the Petcube app. The Petcube Play 2 device is designed in the shape of a cube and doesn't require wall-mounting. You can simply place in on the table, desk, or shelf.
The Petcube App
Petcube manufacturers allow you to use the app for free, but with some limitations. If you subscribe to the app, you will get extended cloud storage, discounts from partners, downloadable clips from your pets, upgraded meow or bark alerts, and other.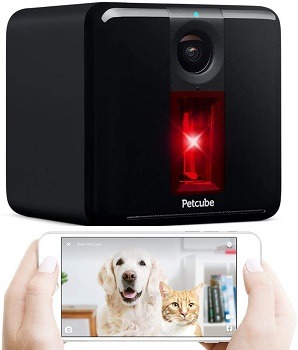 Built-In Amazon Alexa
An optional Alexa voice-assistant feature is included. Of course, it is a limited version and it cannot send messages or call someone. However, when you want your cat to play laser games with Play 2 Petcube, simply say "Alexa, ask Petcube to play with my pet".
In Short:
high-quality camera easily detects your cat
Petcube app is supported by iOS and Android
subscribe to the app and get benefits
let your cat play with a laser game
ask Alexa to turn on the game
Yvelife Cat Toy With Laser
Who Needs To Get The Yvelife Cat Camera?
You might be away often. You are busy because you work a lot and come home only in the evening. Also, you might have a cat with health issues and you simply want to make sure it is fine. Maybe you want to make your cat more active. These are all possible reasons why you should buy a cat camera.
The Cat Head Design And Operation
The Yvelife cat camera comes in white and it is made of high-quality plastics. Its size is 2.75 X 7 inches. The round camera comes in the shape of the cats head. It is suitable to place this camera in any room. It operates quietly. It runs on 4 AA batteries or USB power supply.
The Laser Game Main Features
Yvelife laser cameras for cats can operate faster or slower. Depending on your cat's possibilities of fast or slow running. There are 5 adjustable circling ranges, Also, there are random patterns so this unit perfectly suits all rooms, whether small or big.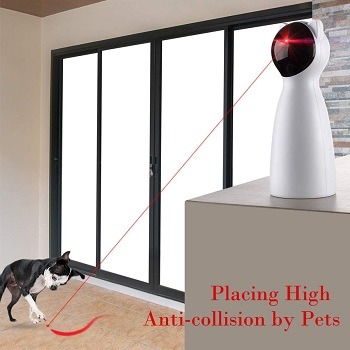 Laser Goes On And Off Automatically
The laser game lasts for about 15 minutes. After that, it will turn off automatically and turn on back again after 3 hours. The silent motor makes will keep your cat focused on the light and make it entertained while you are away from home.
In Short:
laser game goes 15 min on, 3h off
the game uses random laser patterns
use USB or 4 AA batteries to run this device
the unit operates quietly
PetDroid Boltz Laser Toy
Different Way Of Installation
It is well expected from a cat to easily knock over toys. The PetDroid cat camera offers a solution to that. It provides four ways of installation: the suction caps, the adhesive tape, the screws, and strings to hang the camera on your doors, windows, walls, etc.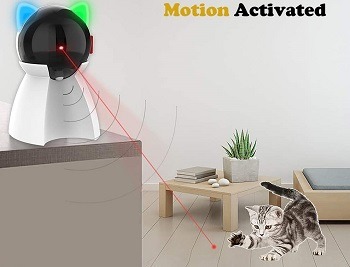 Motion-Activated Sensor
You don't need to think about whether your cat is annoyed when home alone. The built-in thermal object sensor will automatically turn on the laser game when it catches your cat moving. It will then turn off the game after 5 minutes of playing.
Two Gaming Modes
Not every cat has the same activity preferences. Choose the speed of the laser game accordingly. Press the button once for slow mode, and press it twice for fast mode. The good side of your cat playing the laser-catch game is the increased level of activity. Still, make sure your cat doesn't play too much with the laser and that it doesn't point its eyes.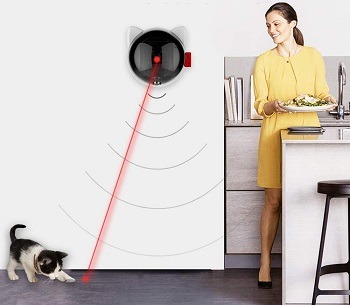 Rechargeable Battery
If you don't like the idea of having to use a corded device or the one that runs exclusively on batteries, this camera with a laser might be just for you. The PetDroid cat camera with laser charges about 3 hours and lasts also approximately 3 hours.
In Short:
four different ways of installation
slow or fast gaming mode
can be used as a cordless device
rechargeable battery – charging time about 3h
automatically turns on and off the laser
VSTARCAM Wireless Laser Cat Camera
Use The App And Share Your Account
Another model that connects the camera with the app. You will be able to remotely control the laser game, interact with your cat when you are away, and snap cute photos. Moreover, you can share your account with a family or friends member and enjoy the memories together.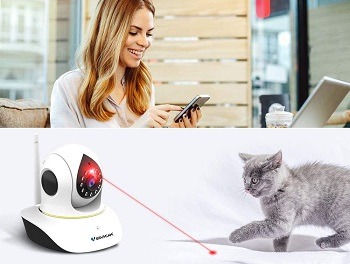 The Wireless Camera
The VSTARCAM features a full HD 1080p camera. You can easily check on your cat from your phone. The camera provides a 360° protection. It has a 107° wide-angle view, 120° vertical, and 355° horizontal rotation range. It includes the night vision, and motion detection alarm. It keeps your cat and home safe.
Interact With Your Cat
You will be able to remotely interact with your cat through the two-way built-in speaker and microphone. You might have a cat with health problems, and you want to check if it is okay. Also, you might have baby cats at home and want to make sure they are fine and safe.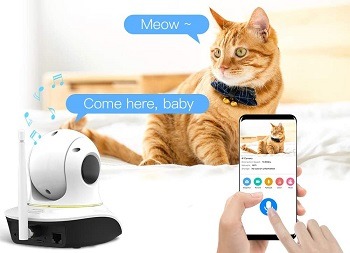 Get Notifications When Your Cat Needs You
The motion sound detection will make you get the instant notification on your phone when it detects meowing. Also, if your camera detects and motion, it will alert you immediately. If you are busy and working, but want to make sure your home is safe, ask another user to check on your cat.
In Short:
use the app together with 3 more users
get notified by the sound detection
make your home and your cat safe
connect the device on your WIFI
control the game via the app
interact with your cat remotely
AIIYME Cat Camera With Interactive Laser
Make Your Pet Miss You Less
The AIIYME's cat camera with two-way audio will make the remote interaction easy. The camera features a built-in microphone and speaker. Not only will it make the remote interaction possible, but it can also serve as a cat baby monitor camera.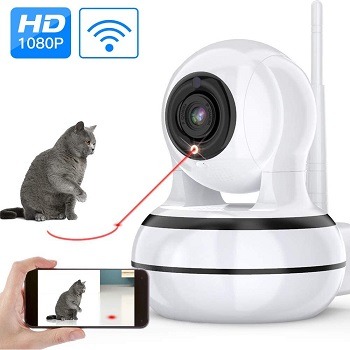 High-Quality And Night Vision Camera
Another cat camera with a laser that features a full HD 1080p camera. It will make high-quality photos and records both during the day and night (night vision up to 32-39 feet in the dark). It features a 160° wide-angle view. It will be a great home security camera too.
Technical Specifications And Mounting 
This device supports an 802.11b/g/n 2.4ghz WIFI. The app is supported on iOS and Android. It supports a 128G TF card (which is not included in the package) and cloud storage. Multiple users can use the app. This device can be mounted on the ceiling, the wall, or it can simply be placed on the desk or a shelf.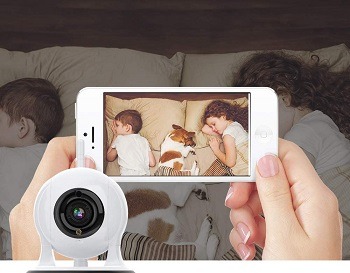 Keep Your Cat Busy
Your cat might be annoyed, especially if it is alone at home. The laser included in the camera will keep it busy and active. Control the laser-catch game remotely. If you don't have a lot of time for that, simply set the laser on a fixed-point cruise. It will automatically rotate.
In Short:
the camera generally makes your home safer
control the game remotely
multiple users are allowed to use the app
mount the camera on the wall
place the camera on the desk
FunPaw Interactive Laser Cat Camera
Cat Care And Treat Tossing
Stay calm while you are away. Use the FunPaw cat camera to monitor if your cat is well. If you notice your cat needs to have some fun, turn on the laser game. Additionally, the FunPaw cat camera comes with a treat dispenser too that fits up to 11 snacks. The dispenser's launcher will toss the treat up to 3 ft away.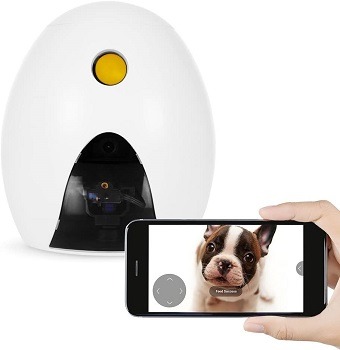 The Egg Design And Maintenance
This device comes in an egg-shaped design. It is small and compact. The size is 6.1 x 6.7 x 8.27 inches. It is made of a durable ABS shell that makes it easily withstand possible accidents. Apart from it being interestingly shaped, it is easy to maintain clean. You can simply use a cloth to clean the device.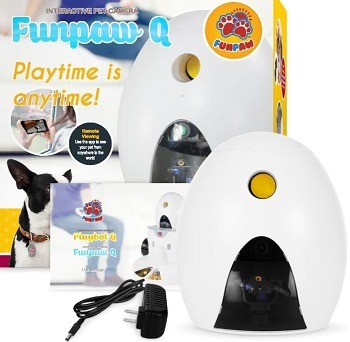 Where To Use
This device is made exclusively for indoor use. Don't use it outside of your home. Use it in a safe and dry environment. The device doesn't turn off automatically so when not in use, turn it off and store it. Follow the instructions within the user manual to find out more about how to use it.
In Short:
designed for an indoor use
egg-shaped design makes it easy to maintain
features a treat dispenser
tosses a treat up to 3 ft away
fits up to 11 snacks
control the laser game remotely
Set The Cat Laser Camera
Set the laser camera for the cat with our briefly explained steps which you can find down below.
Step 1. Connect your static camera to socket or place the battery inside the device depending on which model you have. Check setup instructions and turn on the device. Read which light needs to be turned on so you can be sure the camera works properly.
Step 2. Check the Internet connection and connect the camera with WiFi. Use the instructions if you don't know how to connect it wirelessly.
Step 3. Download and install the app on the supported phone system. Customize laser and other additional settings.
Step 4. Pair the monitoring device with the camera. Try to pair the devices while you're still at home so you can be sure everything works properly. Try the laser and how your cat reacts to it.
How Does The Laser Pointer Work On Camera?
There are two ways for your cat to play with the laser on the camera. First, you can control the laser from your smartphone and use this feature to play with your cat wherever you are. Second, if you don't have an internet connection or are unable to make it to remote playtime, most of the cat cameras with a laser have scheduled autoplay sessions.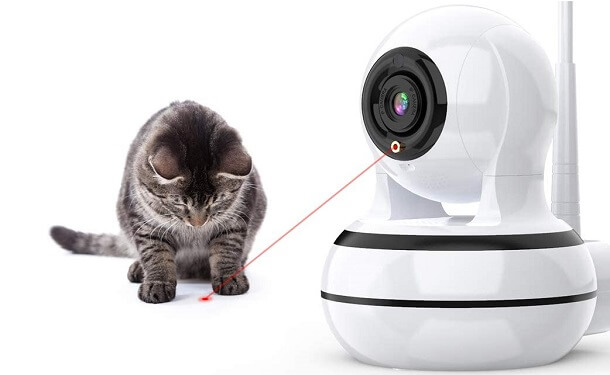 Which Laser Type To Avoid?
Lasers that directly beam out are not the best choice because you need to be sure that across the camera is nothing that can easily fall on the cat while she's playing. Also, direct lasers are not recommended because of sensitive cat eyes.
Choose The Camera With Angled Laser
The best type of laser is the angled laser. It will point on the floor so your cat can easily play with it without worries she will break something nearby. You can place it in the corner or even install it on the wall if you're afraid the cat will break the camera.
Where To Place Cat Camera With a Laser?
We recommend placing it on a stable and flat surface if it has anti-slip rubber feet or pick a wall-mounted model. Most cat cameras are small and lightweight so you don't have to worry your pet will get hurt if it knocks the camera down. Make sure that the laser pointer is above your cat's eye level.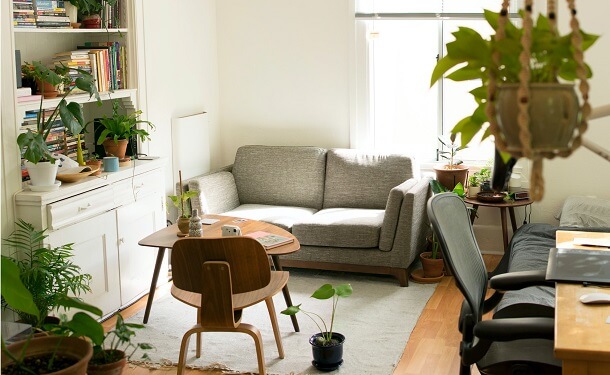 Put The Camera Away From Direct Light
So your cat can easily notice the laser and play with it, it is recommended to place the camera away from windows, lamps or any direct light. This will provide better laser visibility.
Avoid Cramped Rooms
It is recommended to place the laser camera in a room that is big enough so the laser pointer can make a longer line on the floor. Make sure there is a minimal amount of the furniture and decoration in the room so your cat can easily play with lasers without fear she will destroy something.
To Sum Up
We find the Petcube Play 2 Camera With Laser the best out of these five models. The reason is simple – we consider the Petcube manufacturer a reliable one and the general customer satisfaction is high. A good pet camera for cats with dispenser is a device that many people find necessary for different reasons, especially if they own an indoor cat. In case your cat is more of an adventurous kind and spends most of the time outdoor, a cat camera collar might help you track its location.