If you are in search of the best camera to watch dog at home, you are in the right place.
In our article, we talk about the six best dog home cameras that are available on the online market.
We have divided them into six categories. See which model is the best of best, best security, interactive, or for puppies. To help you decide more easily, at the end of the article you will find our guide.
The Summary
6 Best Camera For Dogs At Home
BEST OF BEST DOG HOME CAMERA
Wyze Dog Camera To Watch Your Dog
General Overview
This device is an indoor home camera to watch dog. It is a simple plug-in device. The set up lasts for less than 5 minutes. It is easy to use and install. The camera is durable and of high-quality. It can be shared with multiple family users.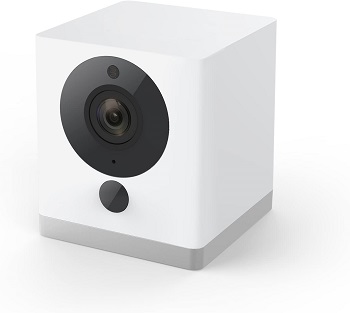 The Overall Quality
The Wyze home camera for pets is a great full HD 1080p surveillance camera that comes at a low price. Its camera has a night vision mode that allows you to clearly see your home. It comes with the Wyze app that lets you use all the features and control remotely.
The App And Cloud Storage
The Wyze app is free. You will need to download it to your iPhone or Android. It comes with a storage cloud. The cloud has a 14-day free trial version. The app provides you with push notifications that will alert you if the camera detects something strange at home.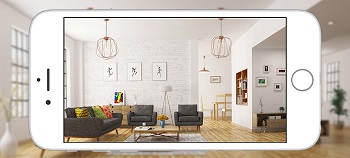 Voice Control
If you like to use the voice assistant, this device is for you. It works both with Alexa and Google Assistants (US only). Use your voice for the camera to show you the front door, or the room of your choice. Connect the camera with your 2.4.G Hz wifi and start using it.
In Short:
great price and quality
budget-friendly
easy to use and quick to install
connect with the Wyze app
share the camera with other family members
control it with voice (Google Assistant or Alexa)
BEST SECURITY DOG HOME CAMERA
Canary Pro Indoor Dog Camera
Why Get Canary Home Dog Camera?
If you are often away and want to make sure that your dog feels fine and that your home is safe, the Canary camera will help you. As the manufacturers say, this device will be both your eyes and ears. The 1080p camera with a 147-degree lens view will make you feel relaxed all the time.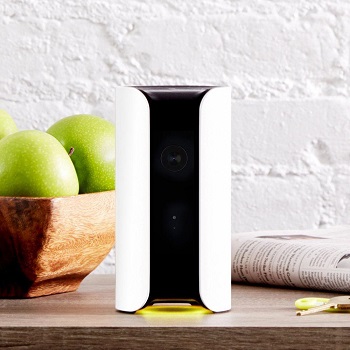 The Safety Features
You will want to get notified in case something unexpected happens at home. The built-in alarm that this camera to watch dogs comes with will alert you instantly if something strange happens. It will also scare off the intruders with the loud built-in siren.
Control It With The App
The smart app allows you to adjust the settings and to use the home camera remotely from your smartphone. It is a great tool for all dog owners. You will get to check on your dog and other pets whenever you feel the need to. Make your home and your dog safe.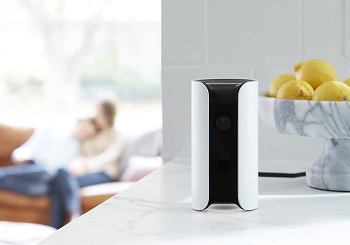 Extra Features
This Canary camera to see dog at home with the HomeHealth technology that monitors your home's air quality and temperature. There is the two-way audio feature included so you will get to call your dog and/or your family from away ant at any time.
In Short:
great safety features
download the free app
control the camera remotely
interact with your dog and family members
make sure your home is safe
the siren that scares off the intruders is included
BEST INTERACTIVE CAMERA TO WATCH DOG AT HOME
Taococo Indoor Dog Pet Camera
About TaoCoco Device
This device is easy to and you can install it anywhere. Simply place it on a flat surface such as on your shelf or table. It needs to be connected to the wifi. Control it remotely with an app. Get a clear resolution picture of everything that has been happening at home while you were away.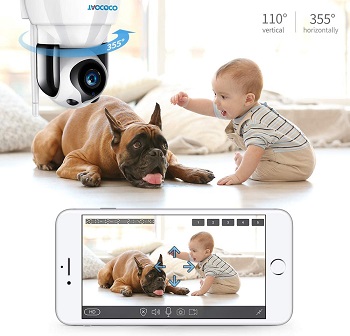 The Motion Detector Sensor
This interactive pet camera will detect every strange motion and record a video when it notices that something unusual is happening. Insert your SD card (up to 128 GB) and the device will store the data on it. The package does not include an SD card.
Communicate With Your Dog Remotely
Have you ever wanted to call your dog when you missed it? The TaoCoco device is here to help. We know how tough it may be to leave a dog at home from time to time. Call your dog, monitor the live stream video on your smartphone, and talk to it.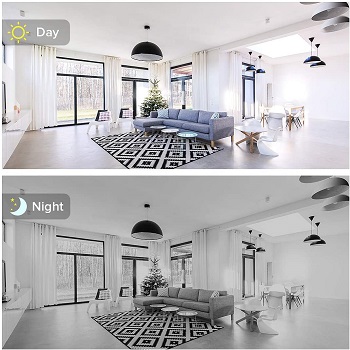 The Camera's Characteristics
Good camera quality is simply a must when it comes to using such devices. The TaoCoco 1080p full HD camera with a 90-degree tilt allows you to see your home clearly. It features a night vision mode so that you can check on your home even when in complete darkness.
In Short:
small device that fits anywhere
easy to set it up
two-way remote communication
connects to 2.4GHz Wifi
features a multiview function
BEST DOG HOME CAMERA MONITOR
Yi Surveillance Dog Camera
The Simple Design
This Yi dog camera is a small and white device. It is made of high-quality plastics and stands on a sturdy stand. Its dimensions are 5 inches tall, and 2.5 inches wide. It is extremely lightweight. The set up is easy and fast. It is a plug-in device.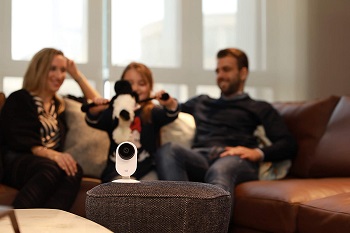 What About The Camera Quality?
This indoor dog camera includes the 1080p camera with a good night vision quality. The recording quality is also very good. The camera features a 112-degree angle. It easily detects motions and alerts you if something unusual happens. Also, it detects the baby's crying instantly.
The Micro SD Card Storage
This device includes a micro SD slot. The micro SD card is not included in the package. There is a local storage option too. It holds the content for 4 days and allows you to have clear space regularly. Make sure you backup the important videos or snaps.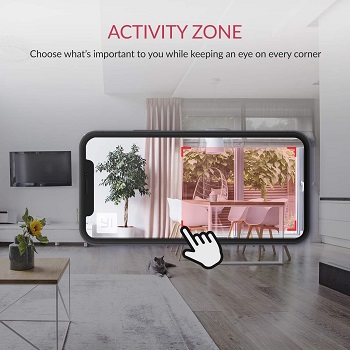 The Cloud Storage
There is the possibility of storing your data to the cloud. You can do that by signing up to the app and choose the subscription. There are two different could plans: a standard one and a premium. Read more about that within the app itself.
In Short:
simple design and small in size
great camera quality
motion detection included
sound detection sensor included
use your micro SD card for storing data
option of using cloud storage service
BEST DOG HOME CAMERA SYSTEM
Zmodo Wifi Dog Camera For Your Home
Technical Specs
This Zmodo device comes with a 1080p / 20fps and 140° camera. The distance in ft during the night vision mode is up to 26ft. It connects to the 2.4GHz wifi network frequency. You can pair it with your smartphone, tablet, or PC. It supports Google Assistant and Alexa.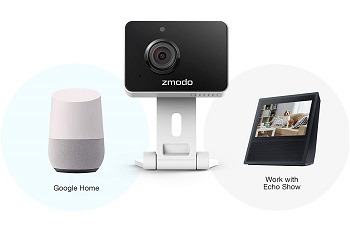 The Voice Assistant Features
The Zmodo dog home camera is a mini device that can be used to control your entire home. It works with Alexa and Google Assistant. Whenever you want to turn on the camera or check the live feed, simply say a voice command, and Alexa or Google will help the camera to that.
Two-Way Audio Interaction
This Zmodo pet camera for your home and dog includes built-in speakers and microphone. You will be able to see and to listen to your dog and other family members. Don't be afraid to leave your dog or children alone at home. You can call them in real-time and interact with them.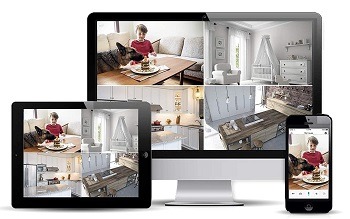 Motion Detection With Intelligent Alerts
The camera will not only detect the motions inside your home but outside the window too. Customize the motion detection zone easily. Let the camera take footage of unusual movements and motions. The app will alert you if something strange happens.
In Short:
includes 1080p / 20fps and 140° camera
clear night vision mode
real-time remote interaction
customize the motion detection zones
let the app alert you
BEST PUPPY CAMERA TO WATCH DOG AT HOME
Kamtron Dog Pet Camera
Stay Safe All Day And Night
The Kamtron puppy camera comes with a 360° panoramic view and a 1080P image resolution. It takes care of your home and puppy 24/7. The camera will cover every corner of your home. It will make you safe during the day and night too.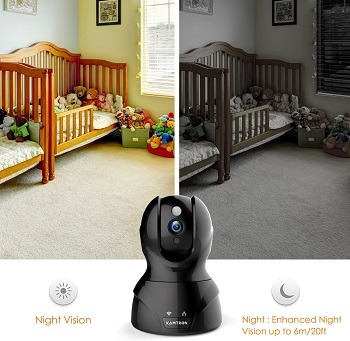 The Cloud And Local Storage
This device will store all your data. You can use the SD card (not included) up to 128GB. Also, you can use the MIPC cloud. Both will save your data that you can later check, download, save, store, and share with your family or friends.
Connects And Sets Up Easily
All you need to do before start using this device is plug it in, turn it on, connect to your wifi, download the app, and pair the device. This is all. Now you are ready to use the device and to control it remotely via app. The device does not support 5Gz wifi.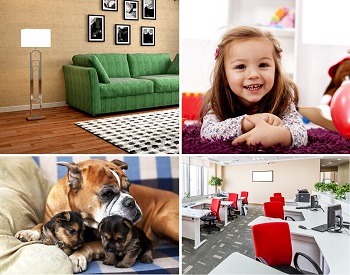 Secures Your Data
This puppy camera for home adopts financial encryption. This means that it ensures information between you, the user, and the and the server. The Kamtron servers cannot be forged by any third party. You can remain sure that all your videos are encrypted before being uploaded to the cloud.
In Short:
360° panoramic view and a 1080P image resolution
take care of your puppy and children remotely
store data to the could or SD card
connect it easily
use the app to control the camera
videos encrypted before being uploaded to the cloud
How To Pick: Camera To Watch Dog At Home
If you still don't know which camera to see a dog at home is the right one for you, keep on reading. Hopefully, the following few paragraphs will help you with bringing the right decision. Read more about why getting a camera of good quality is a must, and why it is important that you get a device that pairs with the app. Scroll down for reading more about the main features to consider before getting a dog home camera.
Camera's Most Important Characteristics – When buying a home camera to watch dog, make sure it comes with a clear night vision feature too. A good camera resolution is very important too. It will help you feel safe both about your dog and your home.
Good Viewing Angle – Another important camera's function is its viewing angle. A camera that can follow your dog's movements, comes with a panoramic view and makes you see all the corners of your home is the best dog camera for your house.
Safety Alerts – This feature is definitely one of the most important ones. Get the alert notification whenever your camera detects strange movements or sounds in your home. It helps you check on your dog and your home instantly and protect your house.
Pair The Camera With The App – The manufacturers of such devices usually provide you with the possibility of pairing your home dog camera with their app. The app is here to make you check on the camera at any time. Also, it allows you to call the camera and interact with your dog.
Two-Way Audio And Microphone – If you want to be able to call your dog from away, get a camera with the built-in microphone and speaker. It will allow you to interact with your dog and other family members, to scare off the intruders, and to hear your dog bark you back.
To Sum Up
In our opinion, the Canary Home Dog Camera is one of the best models on the market. We liked the HomeHealth feature that lets us know if the home environment is healthy around us. If you are often away and must leave your dog alone, think about getting an interactive dog camera. Don't ever skip your best fur buddy's meal and consider getting a camera with a wifi-dog-treat-dispenser.