Are you looking for the right pet camera collar that will track your dog's or cat's movements and activities?
If your answer is yes, then you should read this article.
We will help you decide between the following three models: best of best, best spy, and best cheap model.
See which model can help you out most and don't forget to read our guide that will help you with bringing the right decision.
The Summary
BEST OF BEST DOG COLLAR CAM

Hanyan Pet Collar Camera For Dogs
The Hanyan collar for pets is small, lightweight, and can be used indoor and outdoor. It tracks your pet's activities.
Jump To Review
BEST PET SPY COLLAR CAM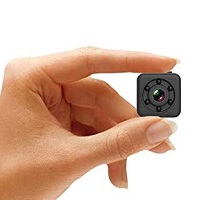 TT-Createch Mini Spy Camera
This mini pet spy camera by TT-Createch can be inserted in your pet's collar and allow you to monitor its movements.
Jump To Review
BEST CHEAP PET CAMERA COLLAR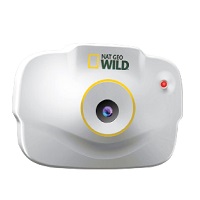 Uncle Milton Pet's Camera
This budget-friendly pet's camera comes with different features that will make you feel safe about your pet.
Jump To Review
Top 3 Pet Collar Cams
BEST OF BEST DOG COLLAR CAM
Hanyan Pet Collar Camera For Dogs
What Makes A Hanyan Collar Cam Best?
The Hanyan pet collar cam will help you track your pet's activities, movements, and behavior even when you are not around. When you are with your pet, you can snap cool photos with the camera. Take your dog to walk or hike together and create memories.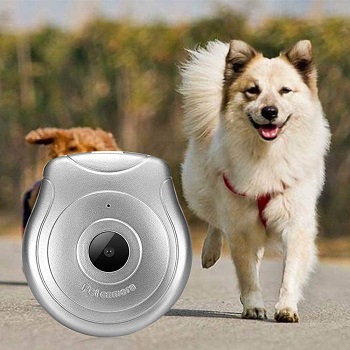 Main Hanyan Features
Apart from the above-mentioned facts, this camera will help you with increasing your pet's activity level. Moreover, if your pet has some health problems or it needs to lose weight, such a device is needed to make sure you are doing a good job. Also, your pet will never get lost with it.
Hanyan Collar Main Characteristics
This device is lightweight and small. Your pet won't even notice it. One of the best things is that it can be used in humid environments. It is not completely waterproof, so be careful and don't let your pet enter the water with it. The camera is of good quality.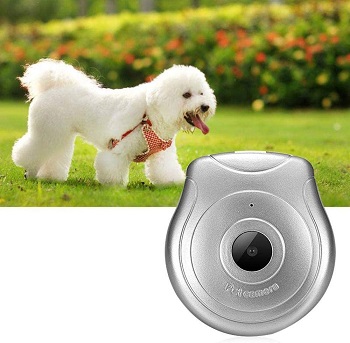 The LCD And Storage Space
There is an LCD display that this collar camera comes with. You can use your memory card to store the data. The LCD will display the pet owner's name and other information in case it gets lost. Charge it with a USB charger that is compatible with your computer.
In Short:
snap great photos with this pet collar camera
your pet won't get lost
track your pet's activities
charge the cam with a USB cable
comes with LCD that displays your name and information
BEST PET SPY COLLAR CAM
TT-Createch Mini Spy Camera
Super Small Camera
The TT-Createch is a mini spy camera. It is easily portable and wireless. It serves as a security camera, but you can also put it in your pet's collar and track its movements. Make sure your pet never gets lots and see what it has been doing. Feel safe about your pet even when it is home alone.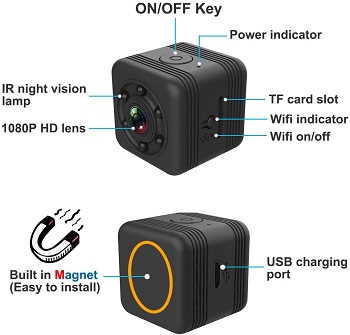 The Main Characteristics
This spy camera for collar features a 1080p full HD lens which means that you will be able to see the images and recordings clearly. It has a nigh vision mode too. It includes the IR LED lights, so even when your pet is in the dark, you will be able to see the area around it.
How And Where To Use
Put the micro SC card inside this mini spy camera. This is it, you can simply turn it on. Put it in your pet's collar or get another piece to put it in your home. If you need to leave your pet home alone, you can check on it and make sure both your home and your pet are well.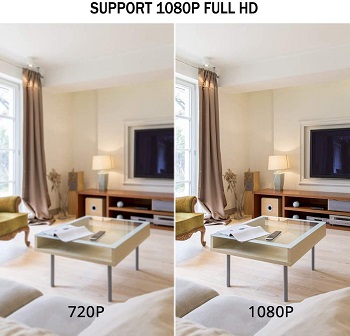 Technical Specifications
The video format of this camera is 1920X1080P. The photo mode is 12MP(4032×3024). It supports 4GB, 8GB, 16GB, and 32GB SD cards. It has a waterproof shell and a base support. It comes with a clipper and holder. The package includes the USB cable for charging.
In Short:
extra small spy camera
you can put it in your pet's collar
you can have another model at home
check on your home and pet anytime
great image resolution
BEST CHEAP PET CAMERA COLLAR
Uncle Milton Pet's Camera
Uncle Milton's Camera Design
This small camera by Uncle Milton manufacturer comes a lightweight and 2.6 x 1.6 x 2 inches device. It comes in white. It features a LED light, an on and off button, a USB port, a reset button, a small screen. It is a clip-on camera for your pet's collars.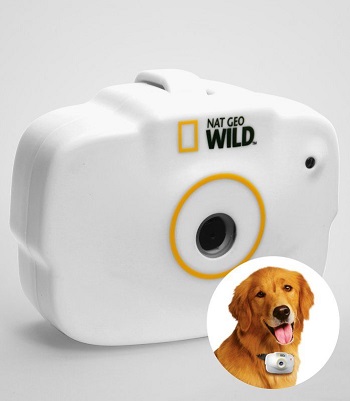 Check What Your Pet Is Doing
If you want to know what your pet has been doing, or where it has been, get one of these devices. Track its activities and get to know its secret places. Charge it and start using it. You can even snap funny or cute pictures of your favorite fur buddy.
How To Turn On And Off
When you want to turn the camera on, press and hold the on and off button. When the LED indicator shows the green light, your camera is working. The LED light will blink faster when it is about to snap a picture. To turn off the device, simply press and hold the same button for two seconds again.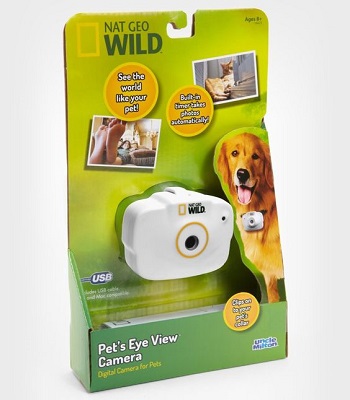 Important Tips
The internal memory of this device stores up to 40 photos. If you want to avoid losing photos, download them within 15 hours of a full battery charge. Don't use a metal or rolled collar with the camera. Remember that the collar should feel comfortable on your pet's neck. Read more within the user manual.
In Short:
2.6 x 1.6 x 2 inches device
small and lightweight
stores up to 40 photos
charges on your computer
features a USB charging cable
can snap pictures
How To Pick: Pet Camera Collar
Pet owners who like to spend time with their best fur friends may feel sad when they have to leave them home alone. This may not be your case. Maybe you simply want to track your pet's movements when it is around. There are a few important features that you should look for in a camera for pet collars: the camera quality, the water-resistance, taking pictures with the camera, etc. Keep on reading to find out more about these features.
Camera For Pet's Collars – The camera must be of good image resolution. How else will you know what has been happening in your pet's life? Make sure the device you are getting provides clear images, and a big plus is if it comes with a night vision mode.
Water-Resistant Feature – If know that your pet is going to move in humid environments, or enter the water, get it a waterproof device. Not every device has this feature, so before buying, double-check if it is completely waterproof or can only be used with high humidity.
Snap Photos And Take Videos – The pet collar cams usually have the possibility of taking photos and recording videos. You can store them, download them, and share them. Snap a cute or funny picture and save it as your memory.
Choose Between Models – There are different variations of collar cams. Some models already include the camera inside of the pet collar, while others have to be purchased separately. For example, you can buy a mini camera that you can put in the collar or use at home on your shelf.
Where To Buy – The dog collar cameras can all be purchased in your local pet shops or at Walmart or Costco. However, to save you the hassle, the above-listed models are all available online. Get such a device from a reliable online retailer such as Amazon.com, read customer reviews, and get great customer service.
To Sum Up
To conclude, we find that the Hanyan Pet Collar Cam does everything a good pet owner needs – tracks your pet's activity, movements, and includes LCD that displays your name and information in case your pet gets lost. If you are looking for camera models to check on your pet at home while you are away, think about getting an indoor pet camera. A good home camera for dogs will help you feel safe knowing that your pet is fine.