If you are in search of a two-way pet camera, make sure to get the best one.
There are so many pet monitors available on the market, but how to choose the right one?
Don't worry! We have gathered the 6 best 2-way pet cameras and wrote about its main features.
You will read about the best of best, best indoor and outdoor, best cheap, and other pet cameras. Make sure to check out our buying guide at the end of the article.
The Summary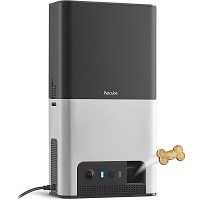 Petcube Bites 2 Pet Cam
OVERALL RATING: ★★★★★
Don't ever forget to treat your pet a delicious snack. Use Alexa voice assistant to order more of your pet's favorite treats.
Jump To Review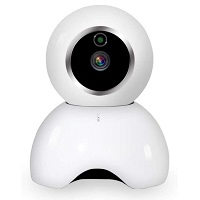 VStoy Pet Camera For Monitoring Pets
OVERALL RATING: ★★★★☆
Th Vstoy device is a budget-friendly pet camera that anyone can afford. It is safe to use and it does the self-checks regularly.
Jump To Review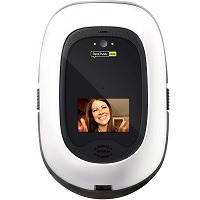 PetChatz PawCall Camera Pet Interaction
Call your best fur friend any time via the app. It will hear the ringtone and your remote interaction can start.
Jump To Review
What Do We Consider By Two-way Pet Cameras?
Do you want to have an interaction with your pet while you're on a vacation or at work? With this device it is possible. This model allows you to monitor your pet as well as have a conversation with him by using a microphone and speaker. Talk pet camera connects to the home network and is paired on one of the remote devices which you decide to use, like a smartphone.
For Which Pets Is Two-way Device Recommended?
Two-way cameras will be the best choice for dog and cat owners which are freely roaming the house and can be trained to communicate thru camera by barking or meowing. It is not recommended for pets in cages, birds, guinea pigs, rabbits etc. For those pets the better choice is a monitoring camera.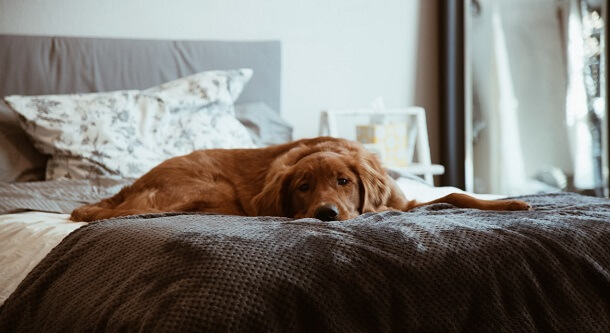 Best Type Of Interactive Camera For Your Needs
There are a variety of models on the market with many functional features for daily pet routine. If you want a classic model for communication, pick one of the interactie models.If you want a two-way video model, choose the camera with LCD monitor so your pet can see you, as well. Having a camera with a built-in treat dispenser is a great choice for all pet owners that want to reward their pet for good behavior. If you're looking for a functional model, pick the outdoor camera that can be used inside or outside the house.
How The Interactive Camera Can Be Beneficial For Pet Owner
You're not sure why to buy a two-way device? Read which are the benefits of owning a camera with two-way communication.
Easy Daily Monitoring – You want to check everything is fine at home? That your pet is not making a mess? Or where is he at the moment? Having a two-way device you can easily see how he is behaving and alert him to stop making mess.
Separation Anxiety – Your pet oftenly cries when they are alone? By using this device you can call him and he will automatically feel better after hearing a familiar voice.
House Safety – Many households use the two way pet camera not only for monitoring the dog or cat but for safety reasons. You can buy a two-way camera and use it as a security device if it has great camera features.
Which Features To Look For In Two-way Pet Camera?
We listed all needed features and specifications to check before buying a camera so you can be sure your model will be the best quality.
Practical For Use
The model needs to have simple and easy functions so it can be functional for daily use. The instructions need to be simple so you can in one click start monitoring.
Supported Devices For Monitoring
Two-way cameras can easily pair with multiple smart devices for monitoring like smartphones, tablet or iPad. To be sure if your operating system supports downloading the manufacturer's app, check the additional information of the model.
High-quality Camera
To clearly see your pet, their movement and what's happening in the house when you're away, we don't recommend buying a device with resolution below 720p. Camera with 1080p is the best choice for day and night monitoring.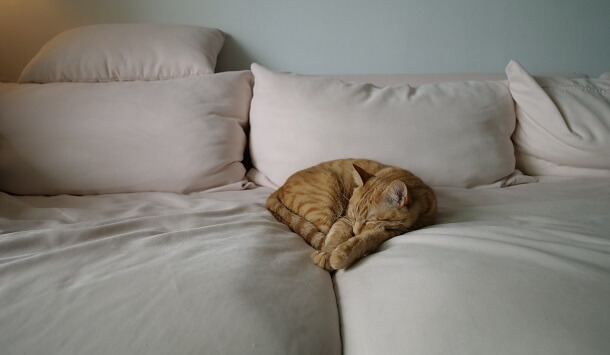 Audio Features
The high-quality camera has an anti-noise filter which allows you to clearly hear the other side. Check if the camera has a pet-friendly sound and volume settings which allows you to turn it up or down.
Storing Area
Check the storing area capacity and choose a model which supports up to 128 GB microSD card. This is the safest way to store your videos and pictures and not lose any file.
Additional Features For User
There are many useful features which two-way devices can have like Alexa or Google voice assistant which can help you with daily monitoring. Also, a smart motion detector which will send you alert notification to your monitoring device. Models with treat dispensers allow you to feed your pet even if you're not home.
Top 6 Two-Way Pet Cameras
Petcube Bites 2 Pet Cam
Product Overview
The Petcube 2-way pet camera sets up easily and quickly. It connects to your 2 GHz and 5GHz WiFi. It comes with a treat dispenser. It allows you to toss your pet a treat remotely. Download the free Petcube app to your iPhone or Android and start using it instantly.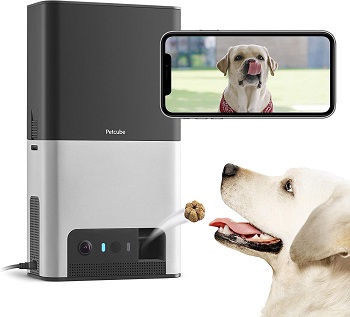 The Treat Dispenser
If you weren't able to toss a treat to your pet while you were away, it is time to change that. The Petcube bites 2 features a 1.5 lbs treat container. It lets you toss a treat to your pet remotely. It is easy to clean. It is detachable and washable in the dishwasher too.
The Extra Features
Apart from the great treat-tossing feature, there is the Alexa voice assistant function that will help you play music or order new treats. There is the 2-way remote communication, a 160° full-room view and a night vision, and real-time notifications in case your pet needs you.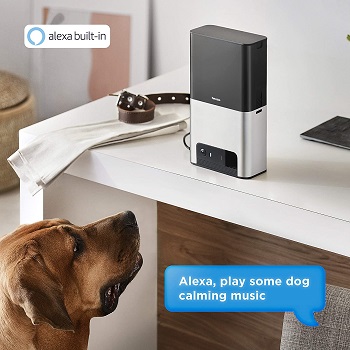 The Alert Function
This wifi dog treat dispenser comes with a pet and human sound and motion sensor. When the device hears an unusual bark and meow, or detects a motion, it sends an instant alert to your app. It instantly starts recording the video and you can check the situation via the app.
In Short:
connects both to 2 GHz and 5GHz WiFi
download the iOS and Android Petcube app
includes a treat dispenser
works with Alexa voice assistant
features a motion and sound sensor
BVStoy Pet Camera For Monitoring Pets
Auto Switch To Night Vision
An important feature that a good 2-way pet camera should come with is the night vision mode. The VStoy camera for pets includes an IR-CUT auto switch filter. You won't have to think about changing to night mode manually. This camera allows you to see the clear videos all day and night.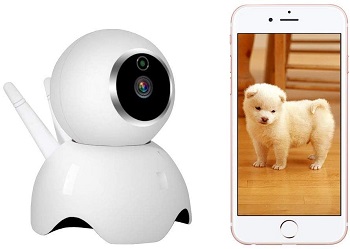 Use The App With Other Members
Download the free app to your smartphone to access the camera any time and from anywhere. Share the account with multiple users. You can access the app simultaneously with different devices. Share the memories with other members and store the videos that you care to have. 
The Safety Features
The Vstoy camera to watch pets comes with a high-level protection. Once you get it, enter the app and change the default password. Choose a strong password to help you stay protected. The camera system will self-check from time to time to see if it works normally.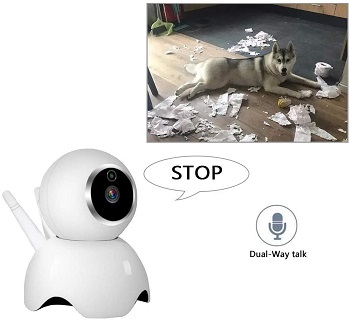 Last Details
The app can be downloaded to smartphones (iPhone and Android) and Windows PC. You can use it to remotely interact with your pet, baby, or elderly at your home. It will keep your pet and your home safe all day and night. Is cheap so anyone can afford it.
In Short:
automatically switches to night mode
multiple users can use it at the same time
high-level protection included
self-check of the camera system
app supported by iOS and Android
PetChatz PawCall Camera Pet Interaction
Feel Safe 24/7
This two-way pet camera by PetChatz will make sure you feel say all day and night. It features a FHD camera with high-image resolution (1080p). It has a night vision too. This is an indoor 2-way video pet camera that connects to your home wifi and pairs with the app that you can enter at any time.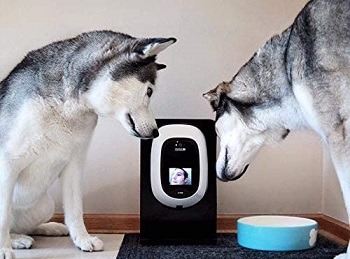 The Two-Way Audio And Video
The PetChatz interactive pet camera comes with a built-in microphone and speaker. This allows you to call your pet whenever you feel like it. It will hear the ringtone that will let it know you are calling. Your pet will then get closer to this device and the remote interaction can begin. Your pet will see and hear you, and you will see and hear it too.
Designed Safely For Your Pet's Protection
This device comes in one of the safest designs. It has no corners, no sharp edges, and comes cordless. Your pet won't get hurt, and it won't be able to chew on the cords. Also, you can choose where to mount this device – on the wall or simply let it stand on a specially-designed stand.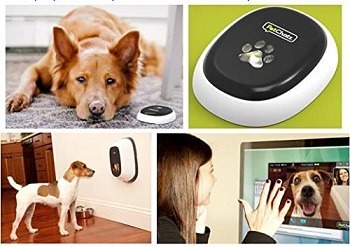 Why Is PetChatz Best Of Best?
We find this two-way video pet camera ideal for pet owners who are not home regularly, but still want to do their owner's job properly. We all know that our pet misses us when we are gone, and this device is here to help. It is a great way of interacting remotely with our pets until we get back home.
In Short:
two-way audio and video
1080p FHD camera
safe design
night vision
records 24/7
Fyuui Two-Way Cam Indoor Outdoor
Easy To Set Up And Use
You will spend less than 5 minutes to set up this 2-way pet camera. When you unpack the device, power it on and connect it to your wifi. Download the free app and follow the instructions. Enter the app anytime you want to check on your pet or your home.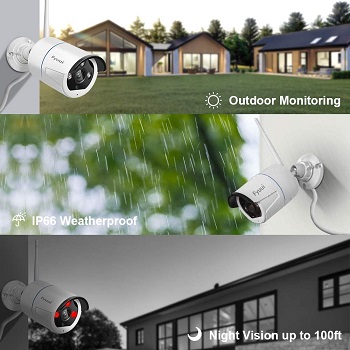 Access It Remotely
The app allows you to customize the camera remotely, to enter all the features, and to live stream the videos from your smartphone. Whenever you miss your pet, you will be able to see it and tell it words of love.
Indoor And Outdoor Use
You can install this outdoor pet camera literally anywhere. Inside of your home, in the room, the living room, or kitchen. If your pet is staying outdoor most of the time, install it in your backyard. This camera can also be used outdoor. Check out all the information about the outdoor use within the user manual.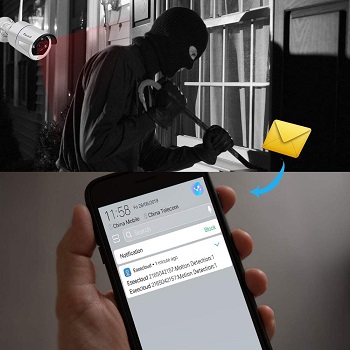 Technical Specs
This is a 1080P 2.0MP smart camera for monitoring your pets and your home. It includes the IR night vision. The video recordings are stored on the 2TB hard drive. The app is supported by iOS and Android. The device connects to 2.4.GHz wifi. 
In Short:
5-minutes set up
remote access through the app
indoor and outdoor use
1080p video resolution
two-way audio
connects to 2.4.GHz wifi
RaceTek Wifi Camera Cats & Dogs
The Camera Quality
The RaceTek monitoring wifi dog camera is a high-quality camera that lets you monitor your pets and your home from away. It comes with a 1080p image resolution and clear day and night vision mode. It provides you with 24/7 security.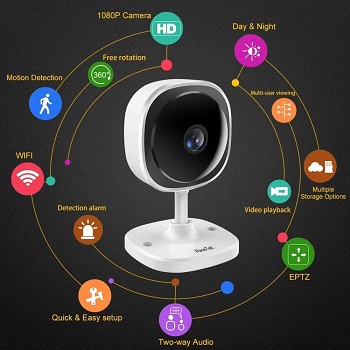 The Storage
There are two ways of storing your video recordings. There is the cloud service provided by the app (with no limits). It allows you to save and rewatch the video footage at any time. Then, there is a micro SD card local storage. The card is not included. The device supports an SD card up to 128 GB.
Two-Way Interaction Via App
Use the free app that you are going to download to your smartphone. Access the device from anywhere. Interact with your pet or other family members through the app. Check on your pet, baby, or your home at any time, during the day and night.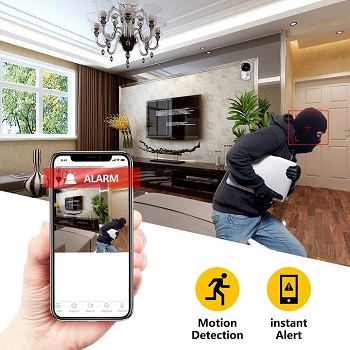 Smart Motion Detector
Use the app to customize the detection zone. The smart detection sensor will make sure you get real-time alert notifications whenever an unusual motion is detected. Adjust the low/middle/high detection sensitivity.
In Short:
1080p day and night camera
use the cloud service or local storage
SD card up to 128GB supported
interact remotely through the app
stay safe with the smart motion detector
TBMax 2-Way Camera For Your Pets
Safe To Store Your Media
If the indoor pet camera stores video footage to the cloud, you might be worried that your account may get hacked. The TBMax monitoring camera uses advanced encryption and nobody can enter your account and watch your videos. The device supports the micro SD card as well.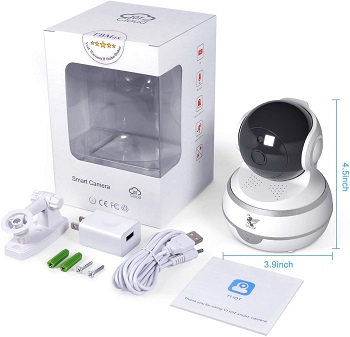 Smart Detector And Alerts
The smart motion and sound detector is included. The device sends an instant alert notification to your app when it detects a subtle motion, bark, meow, or baby crying. Enter the app to check if everything is fine at home.
Simple To Use
Once you connect your two-way video pet camera to the wifi, you are ready to pair it with the app. The set up lasts for a few minutes, and you are ready to use it. Install this device anywhere indoor – in your bedroom, living room, or your kitchen.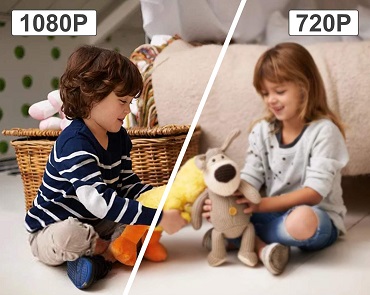 High-Quality Sound And Video
This is a 1080p FHD camera. It comes with a 355 x 155-degree pan/tilt range. It covers every corner of the room. It comes with an automatic night vision mode. It includes 10 built-in 850nm infrared lights that allow you to see up to 30 ft in the dark.
In Short:
stores your footage safely
includes the smart detector
sends instant alerts
easy to use and quick to set up
1080p FHD camera
night vision mode included
Is The Two-way Device Complicated To Use?
Not at all. You don't need to assemble the device, only follow instructions which are very detailed and you will need 10 minutes for setup.
Plug the device to the socket and check the indicator light. If everything works properly, connect the camera with WiFi or plug the Internet cable to the port.
Pair the monitoring device with the camera and download the app. Follow the installation steps and you can start with customizing audio and video settings.
Before using it for the first time, test the monitoring camera so you can be sure everything will work properly when you get away from the house.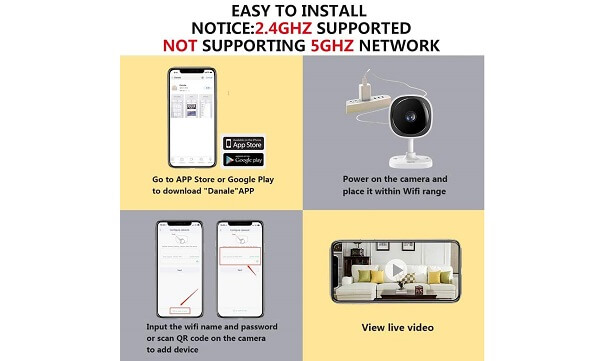 Share Username With Other Family Members
Did you know that most two-way cameras can be paired with multiple monitoring devices at the same time? Share your username and password with other family members so they can also check your pet and talk with him. Most of the models support up to 8 users.
Recommended Places To Install The Device
Camera needs to be placed where the Internet connection is strong and stable so it can provide real-time pictures without interruption. Install the camera on a stable and flat surface like counter, desk, or shelf. To have a wider view of the room, place the camera in a higher position or in the corner.
Safety Tips To Keep In Mind
If you choose the camera with plug wire, it needs to be completely hidden from your pet for safety reasons. Place the wire behind the furniture and make sure the pet can't reach it. Also, you can hide it in the cable management box with a lid. The camera needs to have a stable construction with an anti-slip surface. It is important that the model is made of sturdy plastic without glass parts. Also, make sure to pick models without sharp edges for maximum safety.
To Sum Up
In our opinion, out of these 6 models, the two-way video pet camera that we liked most is the Petcube Bites 2 Pet Cam. The reason we like it most is because it features a treat-tossing container. A good home camera for pets is not always easy to find. This is why it is important to determine which features of a smart wifi pet camera are most important to you.