Looking to reward your pet with a treat anytime they behave well while you monitor the away from your home with a pet camera treat?
You can easily find one if you continue reading this article where we reviewed the best models for both dogs and cats. If you have a pet you're going to find a model suited just for them since we also reviewed different models in various different categories like Alexa compatible, wifi, and even HD camera models.
The Summary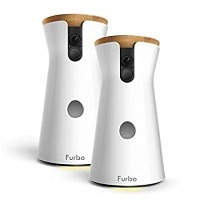 Furbo Pet Treat Tossing Camer
OVERALL RATING: ★★★★★
If you teach your dog that this is the dispenser the food comes from, you can call on it using the 2-way audio or know when it's expecting a treat.
Jump To Review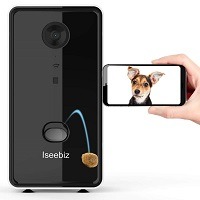 Iseebiz Smart Pet Camera
OVERALL RATING: ★★★★☆
You won't just get to run it with Alexa but also through its app and what's even better is that 8 people can be connected with one account.
Jump To Review
BEST AUTO DISPENSER PET CAMERA TREAT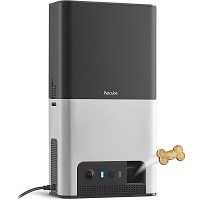 Petcube Bites 2 Pet Camera
OVERALL RATING: ★★★★☆
The camera can easily be controlled with Amazon Alexa and you can even throw treats at various differences to prevent your pet from getting bored.
Jump To Review
What Is a Treat Camera For Pets?
It is a type of camera that allows you to talk to your pet. It comes with a compartment where you can place treats and, by using a support device, you can toss a treat.
How Does a Pet Camera Treat Dispenser Work?
The camera can be controlled with a phone through WiFi. It allows owners to monitor their pets using the camera and speaker with a microphone. Another great thing is that with just one click you can eject treats and make your pet happy.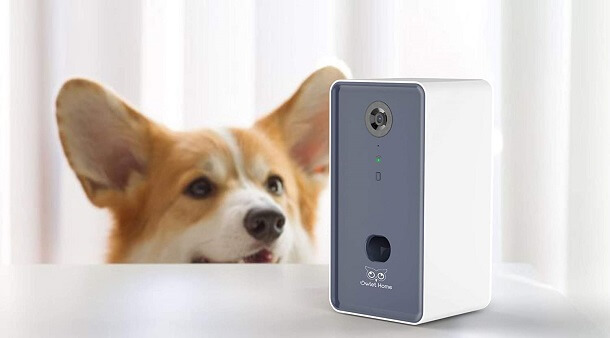 Types Of Treat Cameras On The Market
You can pick between static or portable pet treat cameras depending on your needs. Static cameras are installed in one place permanently and are only suitable for indoor use. Portable cameras can be easily moved wherever you want. Portable models can be used both indoors and outdoors.
What Are the Benefits Of Having A Treat Camera For Pets?
There are many benefits of having a pet camera for treats but we single 4 most important ones.
Monitoring Home – Check what your pet is doing and how they behave when they're alone at home. Monitoring is especially recommended for owners who want to check if their pet is safe, especially if they're sick or old.
Interaction With Pet – You can talk with your pet while at work so they're not anxious about being alone. A microphone is there so you can hear your dog barking or cat meowing.
Rewarding Your Pet For Good Behavior – Reward your pet with a treat if they're good and not making a mess around the house even if you are away.
House Protection – Pet cameras can be used as a security device so you can check there are no suspicious movements and noises.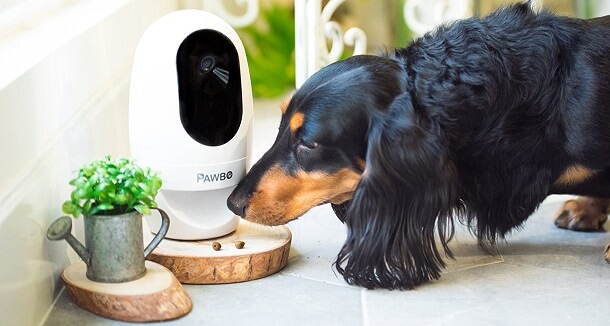 Most Important Features To Look For
When buying a new pet camera, it is a must to check all the specifications so you can be satisfied with daily use. We selected the 6 most important ones you should consider..
Practical To Use
Buy a pet camera that is easy and practical to use on a daily basis. If this is your first time buying a camera device, pick a model with simple functions that will allow easy monitoring with additional features.
Camera Settings
One of the best settings to look for in-camera is a high-quality lens resolution not less than 720p with zoom and tilt settings. Having a high-quality camera allows easier monitoring and a wider view. Features like motion detectors allow you to keep your house safe and detect intruders.
Internet Connection
So the pet camera can work properly, it is important to have an Internet connection. Cameras connect with WiFi and most models work with only 2.4G Hz frequency. Before buying a pet camera, it is recommended to check your home frequency.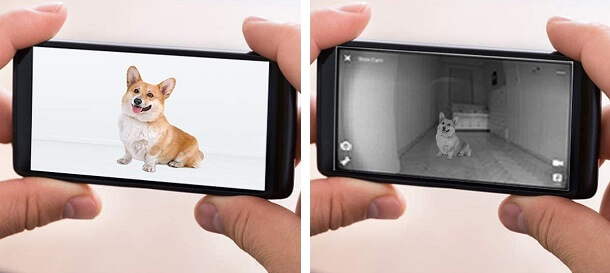 Interactive Features
Some pet cameras include two-way communication so you can talk with your pet using a speaker and microphone. Also, there are cameras that support Alexa voice assistant for easier use. Laser toys will entertain your pet during the day and it is an ideal choice for active pets.
Power Supply
You can choose the pet camera with an electric or battery supply. Electric supply camera needs to be near a socket depending on the length of cable while a battery camera is a better choice if you want a portable model. When it comes to battery models, you can pick a rechargeable model or camera with a replaceable battery.
Easy Maintenance
Check the maintenance option and how easy you can fill the compartment with treats and clean it when needed. Pet treat camera needs to have a detachable part for easier cleaning.
Best 10 Pet Camera Treats
Furbo Pet Treat Tossing Camera
Camera View Angle
The view angle of this dispenser camera is 160 degrees so the only blindspots are in the back. It has a microphone and speaker for 2-way audio so you can communicate with your cat and call for it when needed. It's elegantly designed with its width of 4.72-i and height of 8.86-in.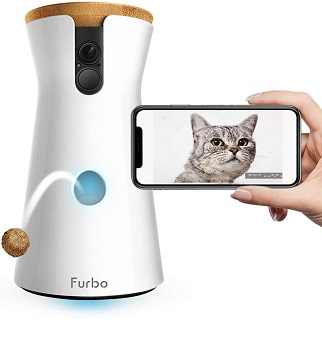 Top And App
The top features a bamboo cover and that's the place where you'll load treats. It works with the Furbo app and connects to your home wifi but it also works with Amazon Alexa. You can read about other models in the article about cat camera treat dispensers that are linked below.
In Short:
It's 4.72-in wide and 8.86-in tall
Has a bamboo top cover for treats
Features 2-way audio
Connects to wifi and amazon Alexa
Works with the Furbo app
The camera has a 160-degree angle view
Iseebiz Smart Pet Camera
Wall Mount And Alexa Abilities
Although you can manually throw teats using the app for the device, you can also ask Alexa to do so. It can be mounted to a wall and if not, it features suction cups at the bottom so it's more stable. If you'd like to find models that also work with Alexa, you might just find them in the cat camera treat dispenser article.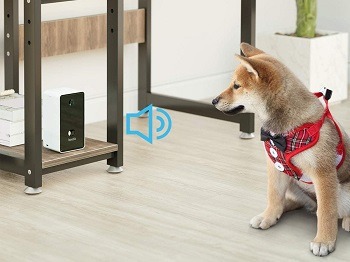 Night Vision
It has night vision mode and regular mode. You can record videos and audio and communicate with your pet using the 2-way audio featuring a microphone and a speaker. The account on the app can be shared between 8 people and the camera record full HD video.
In Short:
Works manual through an app and with Alexa
Has a built-in mic and speaker
Record FHD video
8 people can connect to one account
It has auto night vision mode
Petcube Bites 2 Pet Camera
Treat Distance And Camera
The treat dispenser of this product can throw treats at various distances. It records HD video, works with amazon Alexa since it's built into it and the lens has a wide 180-degree angle. If you'd like a more suitable for your cat dispenser you can read about other models in the cat camera treat dispenser article.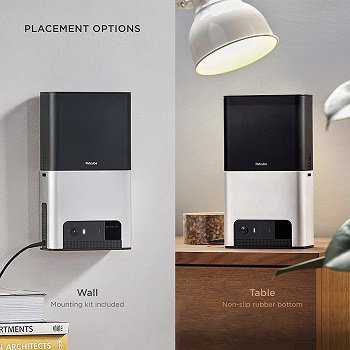 Pet Interactions
It has a built-in microphone and speaker allowing you to interact with your cat while you're away. The dispenser has a large 1.5 lbs capacity so it will be hard to run out of treats. It detects motion and can send alerts to your phone. It also has night vision important for cats since they're the most active at night.
In Short:
Has a 1080 HD camera
Features night vision
The camera records with a 180-degree angle
Can throw treats in various distances
Has 1.5 lbs treat container
Works with Alexa
Has motion sensors and sends alerts to your phone
Owlet Home Pet Camera With Treat Dispenser
Steps To Run It
All you need to do to get it working is to unpack it, plug it in, download the app, connect it to your wifi and you're all set. It tosses treats so your dog can play with it. You'll get to communicate with your dog with the 2-way high-quality microphone and speaker built into it.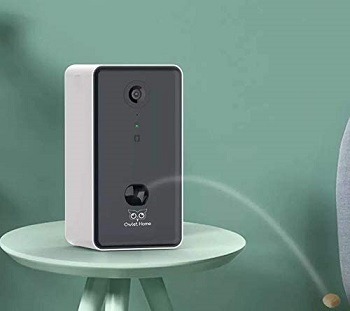 Camera Options And Wifi
It streams live video to the phone app and you can even take a photo, record a video to save it, and the user interface of the app is easy to figure out and use. It doesn't work with a 5G signal though. If you'd like the one that does, you can find the model in the wifi dog treat dispenser article.
In Short:
Doesn't work with 5G signal
Can stream live, record, and take photos
The app has a simple user face
Features a high-quality built-in mic and speaker
Toses treats for play fun
Pawbo Life Pet Camera
Camera Details
With the camera of this product, you can actually zoom 4x and you'll be getting a video quality of 720p that's in the HD category. The lens records at a 130-degree wide-angle. If you'd prefer a better camera quality than on this pet camera dispenser laser, you can find more in the cat camera treat dispenser article.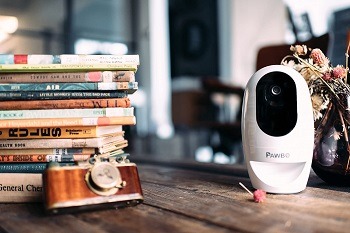 Front And Back
In the back, there are wall mount holes, a speaker, and a DC cord plug-in. In the front, you'll find the lens, microphone, laser toy a treat tray, and dispenser. The laser pointer game is remote-controlled via a phone app and you can even control multiple devices with it.
In Short:
Has back wall mount holes
Features a speaker and microphone
The lens has a 130-degree wide angle
You can zoom in 4x
The laser is remote controlled via an app
You can connect multiple devices
Records at a 720p HD quality
Npet Smart Pet Camera Treat Dispenser
Treat Size And Product Placement
Because of the max limit of 0.6-in diameter for treats, you can dispense a large variety of trees for both cats and dogs. It plugs into a power outlet with a USB cord and connects to wifi networks with a 2.5Ghz frequency. It can be mounted to a wall and is compatible with both iOS and Android smartphones.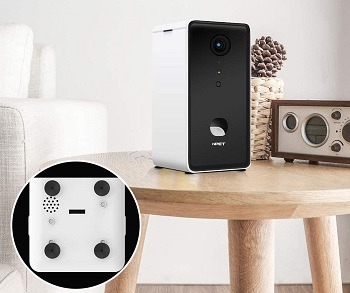 Mobile App
The reason you need a smartphone is that it operates through an app and features an HD record camera. It has a 165-degree angle view and even features a night vision mode. It has a microphone to also record audio and a 0.5 L capacity treat dispenser. If this is too little information, you can learn more about this and others in the wifi dog treat dispenser article.
In Short:
Can hold treats with up to 0.6-in diameter
Ha a 0.5 L treats capacity
Has an HD record camera
Works with an app and connects to 2.4 GHz wifi
Has night vision and a built-in mic
Aonesy Dog And Cat Smart Camera
Family App
The app the machine connects to can have 5 people online at a time so your whole household can control its features like the speaker and microphone. You can take photos, record videos and throw treats manually wherever you'd like. The bottom of the casing features suction cups to keep it stable standing.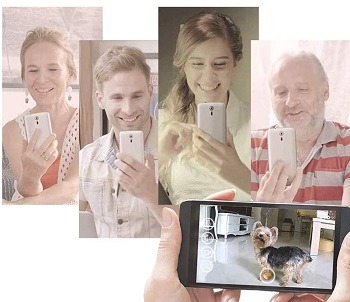 Lens And Camera
The camera has a 165-degree field of vision and records high-quality HD videos. The treat cover is located on top. You can read about other models suitable for both cats and dogs in the wifi dog treat dispenser article we've also linked below.
In Short:
The camera records HD videos
Work with an app and have connected 5 people
Has a 2-way audio built-in
Can record videos and take photos
The bottom of the casing features suction cups
Skymee Wifi Pet Feeder
Large Treat Capacity
The camera has a 12L capacity and features a bowl in the front where treats will go to. It's controlled by an app and one account can have 6 people online at the same time. It even has 2-way audio with noise cancelation so you can calm your dog wherever you are.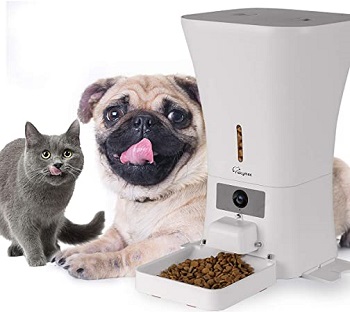 Turning It On
It works either with 3 D size batteries or with a USB power cable. It's balanced because of the foot pedestal on the left and right sides. The camera records in 1080p HD quality has a night vision mode and the casing also has a motion detector. If you'd prefer a simpler dispenser, you can read about others in the remote dog treat dispener article.
In Short:
Has a 12L capacity
Features a bowl for treat dispensing
Has a motion detector
6 people can be online with one account
Records 1080p HD quality videos
Has a night vision mode
Has a left and right side balance pedestal
Features 2-way audio
Vbroad Smart Pet Camera
Camera Quality And Angle
Although the camera quality is 720p HD, what's impressive is the width of the angle it records at which is 165 degrees wide and it even works in night vision mode. The treats it's able to store in its tank with a 0.4L capacity can have a diameter o up to 0.6-in.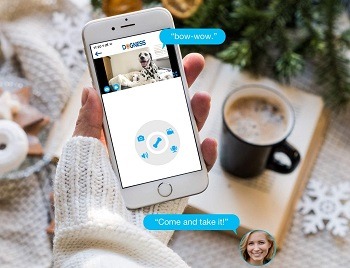 Top And Front Contents
The top cover is made of bamboo wood. In the front, it features a set button, treats dispenser, a camera, microphone, and infrared LED light. In the back, it features a speaker and a USB charging port. It won't connect to 5G wifi so read about other HD pet cameras to find the one that does in the wifi dog treat dispenser article.
In Short:
Records 720p Hd video
Has night vision
The camera lens has a 165-degree wide-angle
Has dual-way audio, including a mic and speaker
Doesn't work with 5G wifi
It charges with a USB charging port
Hass a 0.4 L treat capacity
It works with treats up to 0.6-in diameter
Feastoria Auto Pet Feeder
Durable Casing
The device has a hard and durable ABS casing, that's impact-resistant but also environmentally friendly. The camera is angled in such a way so that you can monitor is left in the treat bowl below. You can set a schedule when the treats will be dispensed and even if the wifi connection is lost, your pet will still get them.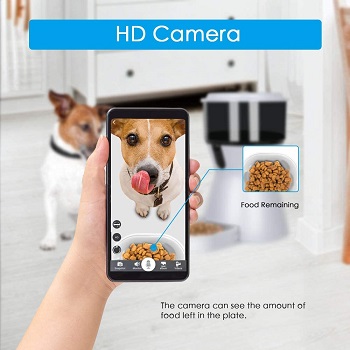 Charging And Video Quality
It has a charger and can be plugged in or it can work with batteries. You can also manually dispense the treats and the camera record with an ultra-wide-angle 1080p HD quality video. You can also communicate with your pet because of the 2-way audio. You can always check up on other models to find the best suitable auto pet tret dispenser all found in the remote dog treat dispenser.
In Short:
Has a durable ABS casing
Features a wide-angle HD camera
Dispenser treats manually or with a schedule
Comes with a pet bowl
You can check on how much food is left in the bowl
Has 2-way built-in audio
How To Set the Pet Treat Camera?
If you're not technically savvy in these types of devices, our 4 easy steps will help you install the camera in a short time.
Step 1. Plug the cable into the socket or place the batteries depending on which model you have. Check the setup instructions from the box and turn on the device. The camera needs to have a green light or red laser turned on so you can be sure it works properly.
Step 2. Connect the device to the Internet. Most camera models work with WiFi and 2.4G Hz.
Step 3. Check which Android or iOs system you need then download and install the right application to your supporting device. Most cameras easily connect with smartphones, tablets, laptops, and iPads via suitable apps.
Step 4. Turn on the installed application and follow instructions so you can pair up your device with a pet camera. Customize the settings in only a few minutes and start monitoring immediately.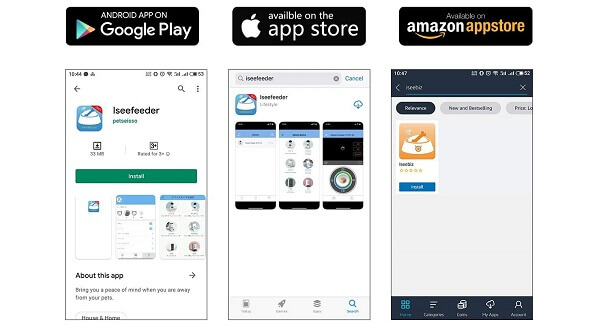 How Device Tosses Treats?
Each pet camera has a small opening from which treats come out. To toss the treat to your pet, you need to push the button on the monitoring device which will send the command to the camera. In settings, you can check if the app has an option for alert notification when the dispenser is empty.
Manual And Schedule Toss Settings
You can choose a pet treat camera with manual and schedule toss settings. Manual models enable app users to send the command to toss the treat whenever they want. Schedule toss models enable to set the time when the treats will be ejected during the day. They are great for pet owners that don't have much time for monitoring but want to reward their pet with treats.
Can a Pet Camera Toss Multiple Treats At Once?
Depending on the type of pet camera, toss options are different. Some models allow multiple treats at once and some don't. If you have multiple pets we recommend ejecting multiple treats at once. If your pet is obese or on a special diet, reward him with only one reward treat every few hours.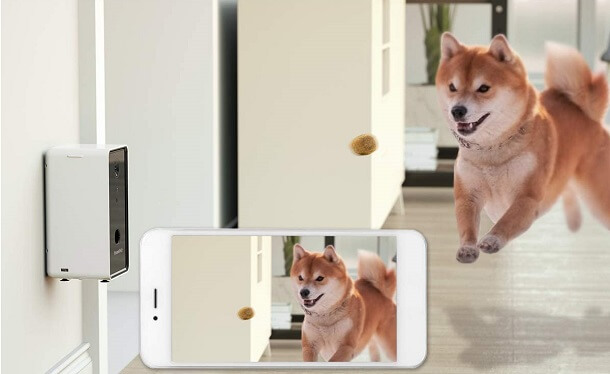 Do Cameras Have a Treat Bowl?
Not all camera models come with a treat bowl. If you are planning to buy a model that ejects multiple treats at once, choose the camera that comes with a bowl. Also, a moving camera can help you determine if the bowl is empty or not. Having a treat bowl will provide less mess and crumbles around the house.
How Far Will The Treat Be Tossed?
Most of the manufacturers have distance options so you can pick which one to use. That means that some models can eject the treats up to 6 to 8 feet away. If you want to entertain your pet to catch the tossing treat, those are models for you. But, cameras with a treat bowl are the perfect choice for all owners that want safe ejection.
Approved And Forbidden Treats
Not all types of food are suitable for cameras with treat dispensers. Before buying a treat camera check if the food that your cat or dog usually eats is suitable for the model you are interested in.
Size And Type The Treats Suitable For Pet Camera
Pet treat cameras are suitable only for dry food which can be easily ejected out. The size of the food needs to be suitable for the size of the hole. We recommend testing the treat tossing while you're at home. Make sure to use the treats in the same sizes and shapes so they won't get stuck.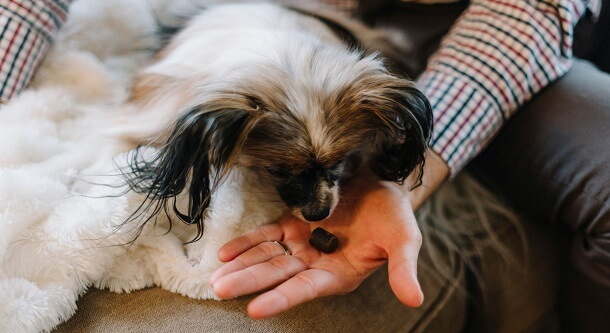 Treat Camera Is Not Suitable For Wet Food
Using wet food for pet cameras is strongly forbidden. Wet food can't be open as long as dry food and can easily clog the device
To Sum Up
We won't end this article by recommending one pet camera treat to you. They're very different and what works for you might not work for another person and their pet so you need to decide which one to buy. If you'd prefer to have just the camera, you can read the articles about either wifi dog cameras or cat cameras with laser next. for reviews of all the possible cameras out there, dogs and cats included, you can read the best-rated pet camera article next.