Have you been looking for an indoor pet camera?
Look no more! In our article, we have gathered the best models of indoor cameras for pets and divided them into six categories. Check out the best of best, best security, interactive, cheap, and other models. Hopefully, our buying guide will make your decision easier. You will find it at the end of the article.
The Summary
6 Best Indoor Camera For Pets
BEST OF BEST INDOOR CAMERA FOR PETS
Tenvis Indoor Pet Camera
Feel Safe All Day And Night
If you have a pet that you need to leave alone at home often, the Tenvis indoor pet camera is a great choice. Install this camera in any room of your house and take care of your best fur friend remotely. This camera is here to record 24/7.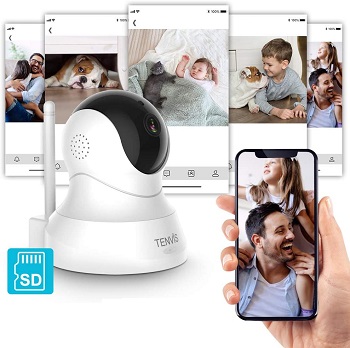 Camera's Characteristics
Owning a high-quality camera is important to see clearly every detail of your home. This device comes with a 720p image-resolution and offers a 355° horizontal and 120° vertical coverage with no blind spots. You will be able to see what your pet is doing at all times and interact with it two-way through the app.
The Night Vision Mode
Sometimes you might be away during the night and be wondering if your pet is fine and if everything's alright at home. Tenvis camera for pets offers the automatic switch to night vision mode. Its 11 pcs of LED infrared lights allow you will get to see up to 32 ft in the dark.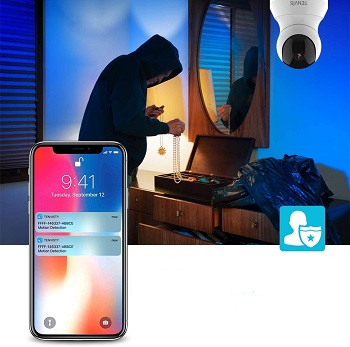 Safety Features
The motion sensor for detecting unusual movements in your home is included. The indoor dog camera pairs with the app and when it detects a strange movement, it will alert you in real-time and you will check your app to make sure everything is fine.
In Short:
works 24/7
automatically switches to night vision mode
includes 11 pcs of LED infrared lights
comes with the motion detector
real-time alerts are sent to your app
BEST SECURITY INDOOR PET CAMERA
Conico Indoor Cam To Watch Pets
The Smart Motion And Sound Detector
Conico indoor camera for pets is a perfect way of making sure your home and everyone in it is well protected. The great safety features are important. The sensor that this camera includes will alert you if it detects a strange sound or motion.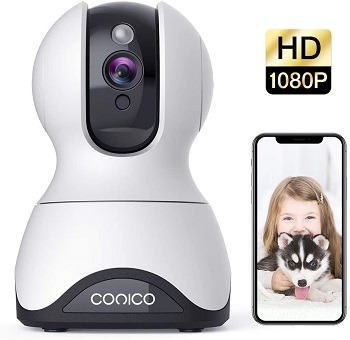 Remote Two-Way Interaction
Whenever you feel your pet might miss you, you can call to check out on it. There is a built-in microphone, speaker, and a noise-canceling filter in the camera to watch dogs at home. Your pet will get to hear your voice, and you will hear its barks or meows back.
The Clear-Image Camera
This is an FHD 1080p camera that records your home all day and night. It comes with the night vision mode (lets you see up to 32 ft in the dark). If needed, you can zoom in up to 8 times. It has a 350° pan and a 100°tilt.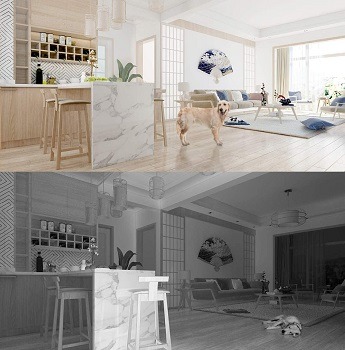 Store The Video Footage
You can easily check the video footage history. Store all the recordings to the cloud and make sure your media is safe. Alternatively, there is the possibility of local storage. The device supports SD cards up to 128 GB. Choose the storage that works best for you.
In Short:
security day and night camera
features a sound and motion sensor
two-way interaction with your pet possible
built-in speaker, microphone, and anti-noise filter
1080p image resolution
cloud or local storage
BEST TWO-WAY AUDIO INDOOR PET CAMERA
Wyze Cam For Pets Indoor
Use The App For Remote Control
The setup is easy and quick. Connect your Wyze indoor camera for pets to the wifi. Download the app to your smartphone and pair it with your indoor pet camera. Follow the instructions and use the app to access the camera at any time.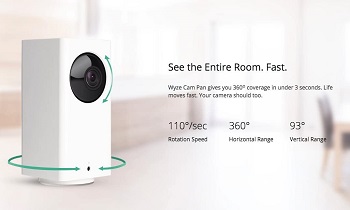 Live Stream Videos Anytime
When you are away, but want to check on your pet who is waiting for you at home, simply access the app and live stream the video. The 1080p camera will make you see clearly every detail of the room you have put the camera into. Use it for remote two-way interactions too.
Control The Device With Voice
Do you enjoy using voice assistants such as Google Assistant or Alexa? This device supports both (US only). You can check your front door or another room. Connect this device to 2.4GHz wifi and start using this two-way pet camera with a voice assistant in no time.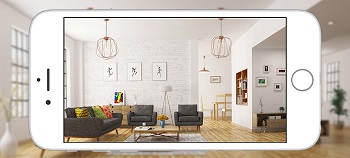 Multiple Users
Use the app with multiple users. Whenever you feel like you want to share the special video recordings with another family member, let another user download the Wyze app. Invite that person to your account and start sharing the camera. The user can easily be removed too.
In Short:
access this indoor pet camera remotely
use the Wyze app to use all features
supports Alexa and Google Assistant
connects to your 2.4GHz wifi
share the camera with multiple users
use this camera for two-way audio
BEST INTERACTIVE INDOOR CAMERA FOR PETS
Kasa Interactive Indoor Cam
General Overview
The Kasa pet indoor camera comes with a 1080p image resolution. It provides high-quality live stream videos. The camera comes with a 130-degree wide-angle field of view. It is a small device that fits anywhere in your home. It makes sure nothing is out of view.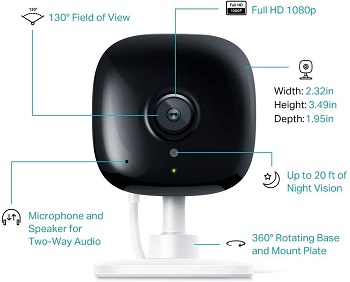 Day And Night Vision
A great indoor pet camera comes with a clear day and night vision. Sometimes you must leave your pet at home even during the night. Or maybe you simply want to check on it while it is sleeping in another room. The Kasa camera has night vision up to 20 ft in the dark.
Interact Through The App
This is a two-way audio indoor camera. It allows you to communicate remotely with your pet through the app or to check on it at any time. See what your pet is doing, say it hello, or stop it from jumping on the bed. The footages will be stored in the cloud.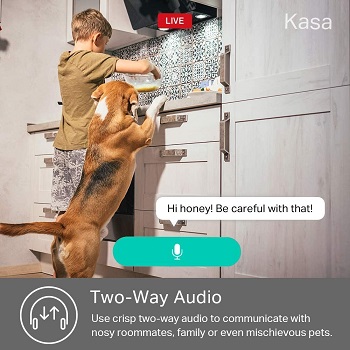 Customize The Camera With The App
Access the Kasa interactive camera for pets at any time. Simply download the app to your iOS or Android. Use the app 24/7 and customize the detection zones. The safety sensor will alert you in real-time when it detects unusual motions.
In Short:
high-quality live stream camera
access the Kasa camera through the app
download the free app to your smartphone
interact remotely with your pet of family
customize the detection zones
BEST CHEAP INDOOR CAMERA FOR PETS
Wansview Indoor Camera For Pets
Budget-Friendly Price
This Wansview device comes as a cheap camera for watching your pets indoor. It includes all the important features, the camera is of good quality, and the device is small and discreet. The low price makes it affordable for everyone.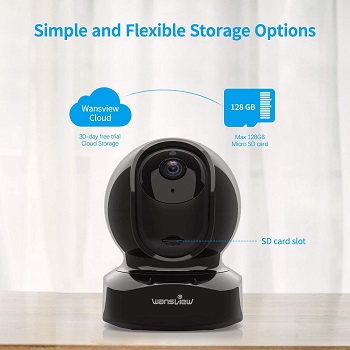 Main Characteristics
The main qualities of this device are its 1080p FHD camera, the 105° wide-angle view, 320° horizontal and 80° vertical rotation range. This camera covers 360°. It has a 4 times digital zoom. The camera provides a clear view during the night too. 
Smart Features
The Wansview pet indoor camera is another model that supports Alexa voice-enabled assistant. Alexa can show you the front door, bedroom, or any other room you have installed this camera in. The real-time motion detector will alert you in case of an unusual motion in your home.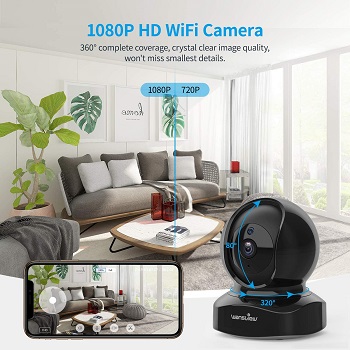 Privacy Protection
All of your data can be stored in the cloud. Don't worry, the cloud has an encryption technology and provides the highest protection of your private data. No one will be able to access your personal information without your permission.
In Short:
cheap price
includes great features
high-quality camera
camera covers 360 degrees
supports Alexa voice assistant
safe cloud storage
BEST PUPPY INDOOR PET CAMERA
Uniojo Baby Pet Cam
Full HD Recording
The Uniojo camera is great to use if you have a puppy or another baby pet in your home. It records 24/7, day and night. The camera comes with a 120 wide-angle lens and provides a high-quality live stream video. You can access it at any time through the app.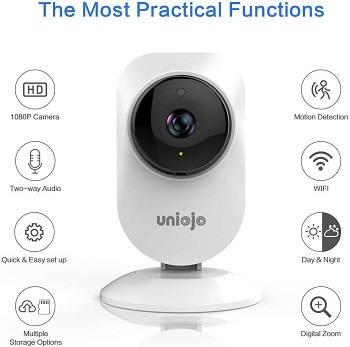 Special Features
The Uniojo puppy indoor pet camera works with Alexa (does not support Amazon Echo Show). Also, there is the smart motion detector that alerts you in real-time about unusual motions in your home. The two-way audio is included for the easy remote interaction.
Store Your Videos
The video footage will automatically be saved in your cloud. The cloud is protected and it is safe to use it without fear of anyone else accessing it without your permission. The local backup (up to 63 GB) is supported too. The micro SD card is not included in the package.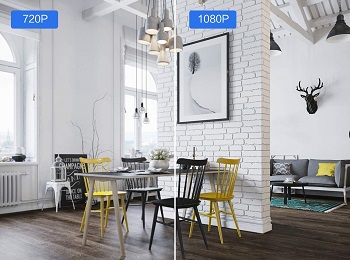 Last Important Details
It is easy to install and to set up the Uniojo indoor pet camera. Download the free app to your smartphone and use it at any time to live stream the video from your home. Interact with your baby pet or your family through the app.
In Short:
easy to install and use
records 24/7 day and night
remote interaction with your puppy
stores your footage in the cloud or local storage
free app to access the camera anytime
How To Pick: Indoor Pet Camera
It is not an easy task to choose the best indoor camera to watch pets. Check out our guide. We have listed the features we find most important. Read more about the camera quality, the two-way remote communication, safety features, and others. Think about the features that are important to you and choose the right model easily.
Camera Quality – Don't buy just any indoor pet camera. If you want to make sure your pet and your home are completely safe while you are gone, you need to choose a device with 1080p or 720p image-resolution. Don't go below that.
The 24/7 Recording – Why is 24/7 recording so important? You might be gone during the day, but also during the night. If you feel the need to check on your pet while it is sleeping, a clear night vision camera is a must. Also, it will help you see if the overall situation at home is safe.
Smart Motion Detector – We don't suggest getting a pet indoor camera without the motion detection sensor. A camera with this safety feature will make you feel safe all the time. The real-time alerts will let you know if anything unusual had happened.
Two-Way Audio – A camera with a built-in microphone and speaker is important for the remote interaction with your pet. This feature is extremely helpful because your pet won't feel lonely as much. It will make you feel calmer too.
Other Extra Features – The special features such as Alexa or Google Assistant are optional. Moreover, there is the possibility of getting a camera that supports the cloud or local storage (or both). Choose the device that best suits your needs.