Have you been looking for an indoor pet camera?
Look no more! In our article, we have gathered the best models of indoor cameras for pets and divided them into six categories. Check out the best of best, best security, interactive, cheap, and other models. Hopefully, our buying guide will make your decision easier. You will find it at the end of the article.
The Summary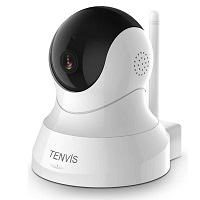 Tenvis Indoor Pet Camera
OVERALL RATING: ★★★★★
Tenvis camera for pets ensures your best fur buddy and your home are safe at all times, during the day and night.
Jump To Review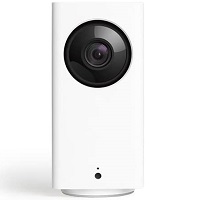 Wyze Cam For Pets Indoor
OVERALL RATING: ★★★★☆
Whenever you feel like you want to say hi to your pet, access the app and start the two-way remote interaction.
Jump To Review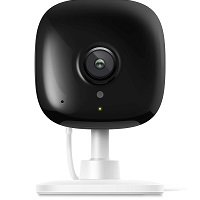 Kasa Interactive Indoor Camera
OVERALL RATING: ★★★★☆
You can use the Kasa app to check on your home and your pet. Start the remote communication whenever you feel the need to say hi to your pet.
Jump To Review
What Is an Indoor Camera For Pets?
An indoor type of camera is a classic spy device that can be installed in every house or apartment. It is used for monitoring your pet when you're at work or on a short vacation. So you can monitor your pet, the camera needs to be connected to your home network and be paired on one of the supported remote devices. By using the app you will be able to see your pet whenever your internet is on.
Can You Use an Indoor Camera For All Pets?
Monitoring cameras are mostly recommended for pets that can freely roam around the house like dogs and cats so you can check all of their activities when you're gone. Indoor cameras can be also useful for owners whose pets are in cages or terrariums, like birds, rabbits, rats, or snakes. You can use the camera occasionally to be sure everything seems fine and they didn't sneak out.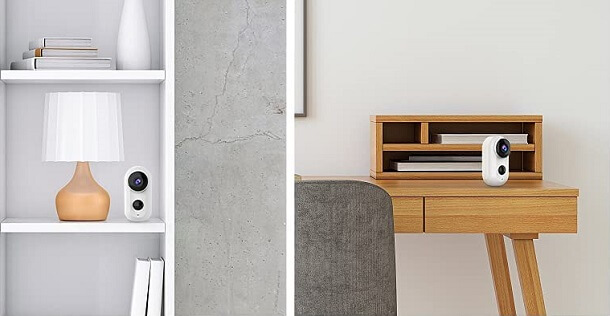 Indoor Pet Camera – For Whom Is It Recommended?
Pet camera is recommended for all busy owners that want to be sure their pet is not making a mess at home and that everything seems ok. Also, it can be used for safety reasons if your pet is having a health problem and needs nonstop monitoring. Some of the owners use the indoor camera as a security device, as well, to be able to check the records if there were some suspicious movement and noises.
Can Indoor Cameras For Pets Be Used Outside?
There is a difference in design and other specifications between indoor and outdoor cameras and we don't recommend using an indoor device outside the house. Indoor cameras for pets are much smaller than outdoor ones which are bulkier. Outdoor models are made of weatherproof material and most of them can withstand temperatures from +20 to -50 Celsius, which indoor models can't and their lens will easily get damaged if you place it outside. Also, most of the indoor cameras use electric supplies while outdoor models have rechargeable battery supplies.
3 Easy Steps: From Pet Camera Installation To Device Monitoring
By using the setup instructions you can easily install the pet camera in your home. Most indoor cameras don't require assembly.
Plug the camera – Plug the camera and check if the light is working. If the camera is working properly, there will be a green light on. If there is no green light, check the setup instruction or plug supply.
Connect to WiFi – Pet cameras support 2.4G Hz frequency, so make sure to check your WiFi. Connect the camera with the Internet following the instructions in the box.
Pair Monitoring Device – Most indoor cameras support multiple smart devices including smartphones, tablets, laptops, and iPad. Before buying a camera, check if the model is suitable for both Android and iOs users. Download the manufacturer's app, follow the steps, and customize the settings you need. After downloading the app, connect the phone with the camera and start monitoring.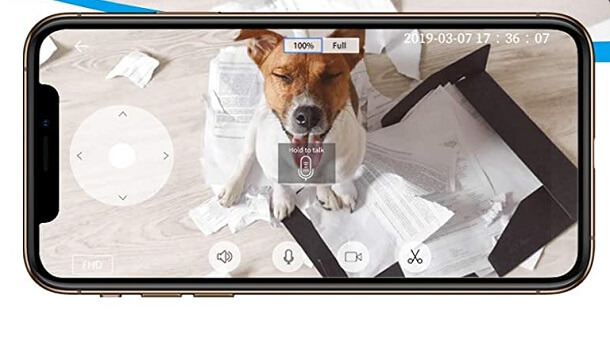 Share The Account With Family Members – How Many People Can Use Apps At The Same Time?
Most models allow multiple users to use the app at the same time, so other family members can monitor the house when you're not able to. Check the camera information to find out how many family members can use your user name and password, mostly it is above 3 users.
The Most Important Features When Buying a Pet Monitoring Camera
Besides the design and the color as personal preferences, functional features are most important so you can be sure you can use the camera properly. The camera device needs to have great camera features which include the quality of image resolution, tilt, zoom, and other features. Check how big is the storage area and video/audio record settings. The camera needs to have a built-in speaker and microphone for easy two-way communication. Make sure to check if the device is portable or can be only installed on the wall.
Useful Additional Features That Indoor Camera Can Have
Features such as Alexa voice assistant are optional but can be very useful to have for easier use. If you want to have more storage, get a model that has cloud and local storage. So you can use the camera 24/7, we recommend getting a model with built-in night vision mode. Pick the camera with a rotating base which will provide a wider view so you can check all the corners in the room. One of the most useful features is motion detection sensors for maximum safety.
6 Best Indoor Camera For Pets
Tenvis Indoor Pet Camera
Feel Safe All Day And Night
If you have a pet that you need to leave alone at home often, the Tenvis indoor pet camera is a great choice. Install this camera in any room of your house and take care of your best fur friend remotely. This camera is here to record 24/7.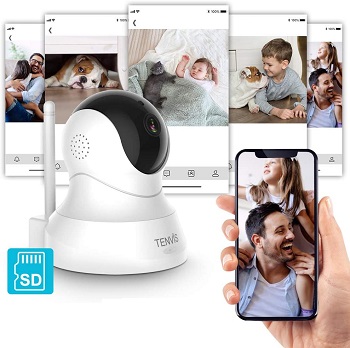 Camera's Characteristics
Owning a high-quality camera is important to see clearly every detail of your home. This device comes with a 720p image-resolution and offers a 355° horizontal and 120° vertical coverage with no blind spots. You will be able to see what your pet is doing at all times and interact with it two-way through the app.
The Night Vision Mode
Sometimes you might be away during the night and be wondering if your pet is fine and if everything's alright at home. Tenvis camera for pets offers the automatic switch to night vision mode. Its 11 pcs of LED infrared lights allow you will get to see up to 32 ft in the dark.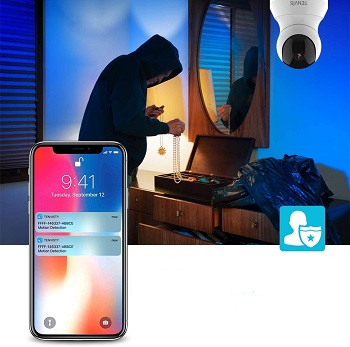 Safety Features
The motion sensor for detecting unusual movements in your home is included. The indoor dog camera pairs with the app and when it detects a strange movement, it will alert you in real-time and you will check your app to make sure everything is fine.
In Short:
works 24/7
automatically switches to night vision mode
includes 11 pcs of LED infrared lights
comes with the motion detector
real-time alerts are sent to your app
Wyze Cam For Pets Indoor
Use The App For Remote Control
The setup is easy and quick. Connect your Wyze indoor camera for pets to the wifi. Download the app to your smartphone and pair it with your indoor pet camera. Follow the instructions and use the app to access the camera at any time.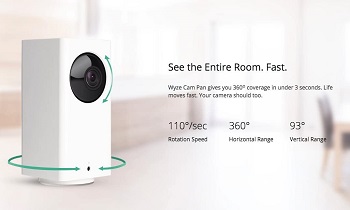 Live Stream Videos Anytime
When you are away, but want to check on your pet who is waiting for you at home, simply access the app and live stream the video. The 1080p camera will make you see clearly every detail of the room you have put the camera into. Use it for remote two-way interactions too.
Control The Device With Voice
Do you enjoy using voice assistants such as Google Assistant or Alexa? This device supports both (US only). You can check your front door or another room. Connect this device to 2.4GHz wifi and start using this two-way pet camera with a voice assistant in no time.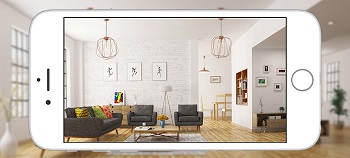 Multiple Users
Use the app with multiple users. Whenever you feel like you want to share the special video recordings with another family member, let another user download the Wyze app. Invite that person to your account and start sharing the camera. The user can easily be removed too.
In Short:
access this indoor pet camera remotely
use the Wyze app to use all features
supports Alexa and Google Assistant
connects to your 2.4GHz wifi
share the camera with multiple users
use this camera for two-way audio
Kasa Interactive Indoor Camera
General Overview
The Kasa pet indoor camera comes with a 1080p image resolution. It provides high-quality live stream videos. The camera comes with a 130-degree wide-angle field of view. It is a small device that fits anywhere in your home. It makes sure nothing is out of view.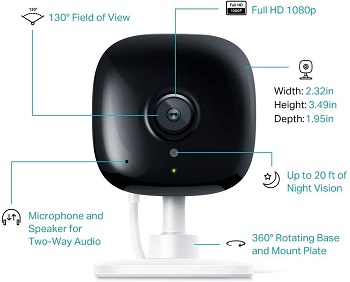 Day And Night Vision
A great indoor pet camera comes with a clear day and night vision. Sometimes you must leave your pet at home even during the night. Or maybe you simply want to check on it while it is sleeping in another room. The Kasa camera has night vision up to 20 ft in the dark.
Interact Through The App
This is a two-way audio indoor camera. It allows you to communicate remotely with your pet through the app or to check on it at any time. See what your pet is doing, say it hello, or stop it from jumping on the bed. The footages will be stored in the cloud.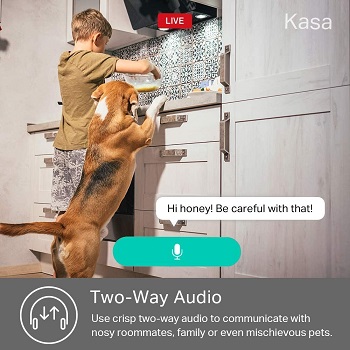 Customize The Camera With The App
Access the Kasa interactive camera for pets at any time. Simply download the app to your iOS or Android. Use the app 24/7 and customize the detection zones. The safety sensor will alert you in real-time when it detects unusual motions.
In Short:
high-quality live stream camera
access the Kasa camera through the app
download the free app to your smartphone
interact remotely with your pet of family
customize the detection zones
Wansview Indoor Camera For Pets
Budget-Friendly Price
This Wansview device comes as a cheap camera for watching your pets indoor. It includes all the important features, the camera is of good quality, and the device is small and discreet. The low price makes it affordable for everyone.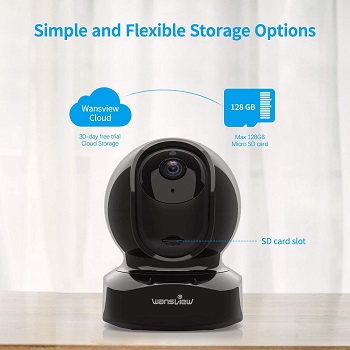 Main Characteristics
The main qualities of this device are its 1080p FHD camera, the 105° wide-angle view, 320° horizontal and 80° vertical rotation range. This camera covers 360°. It has a 4 times digital zoom. The camera provides a clear view during the night too. 
Smart Features
The Wansview pet indoor camera is another model that supports Alexa voice-enabled assistant. Alexa can show you the front door, bedroom, or any other room you have installed this camera in. The real-time motion detector will alert you in case of an unusual motion in your home.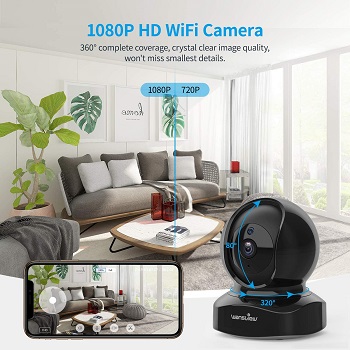 Privacy Protection
All of your data can be stored in the cloud. Don't worry, the cloud has an encryption technology and provides the highest protection of your private data. No one will be able to access your personal information without your permission.
In Short:
cheap price
includes great features
high-quality camera
camera covers 360 degrees
supports Alexa voice assistant
safe cloud storage
Uniojo Baby Pet Camera
Full HD Recording
The Uniojo camera is great to use if you have a puppy or another baby pet in your home. It records 24/7, day and night. The camera comes with a 120 wide-angle lens and provides a high-quality live stream video. You can access it at any time through the app.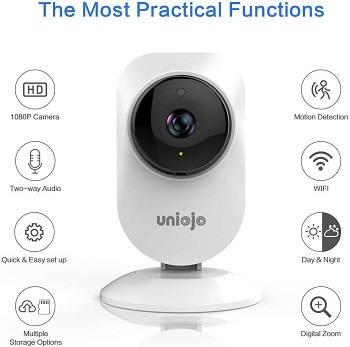 Special Features
The Uniojo puppy indoor pet camera works with Alexa (does not support Amazon Echo Show). Also, there is the smart motion detector that alerts you in real-time about unusual motions in your home. The two-way audio is included for the easy remote interaction.
Store Your Videos
The video footage will automatically be saved in your cloud. The cloud is protected and it is safe to use it without fear of anyone else accessing it without your permission. The local backup (up to 63 GB) is supported too. The micro SD card is not included in the package.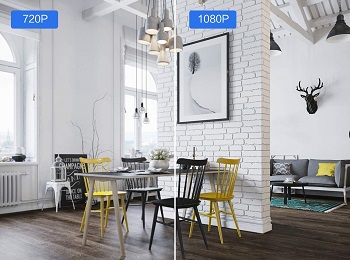 Last Important Details
It is easy to install and to set up the Uniojo indoor pet camera. Download the free app to your smartphone and use it at any time to live stream the video from your home. Interact with your baby pet or your family through the app.
In Short:
easy to install and use
records 24/7 day and night
remote interaction with your puppy
stores your footage in the cloud or local storage
free app to access the camera anytime
Conico Indoor Cam To Watch Pets
The Smart Motion And Sound Detector
Conico indoor camera for pets is a perfect way of making sure your home and everyone in it is well protected. The great safety features are important. The sensor that this camera includes will alert you if it detects a strange sound or motion.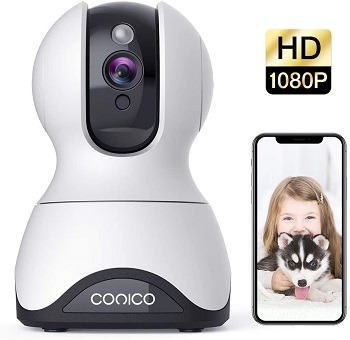 Remote Two-Way Interaction
Whenever you feel your pet might miss you, you can call to check out on it. There is a built-in microphone, speaker, and a noise-canceling filter in the camera to watch dogs at home. Your pet will get to hear your voice, and you will hear its barks or meows back.
The Clear-Image Camera
This is an FHD 1080p camera that records your home all day and night. It comes with the night vision mode (lets you see up to 32 ft in the dark). If needed, you can zoom in up to 8 times. It has a 350° pan and a 100°tilt.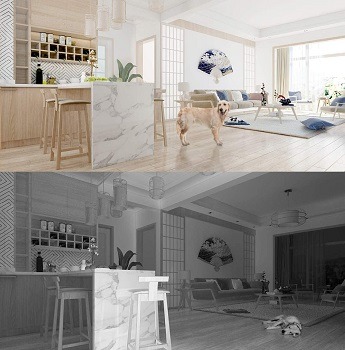 Store The Video Footage
You can easily check the video footage history. Store all the recordings to the cloud and make sure your media is safe. Alternatively, there is the possibility of local storage. The device supports SD cards up to 128 GB. Choose the storage that works best for you.
In Short:
security day and night camera
features a sound and motion sensor
two-way interaction with your pet possible
built-in speaker, microphone, and anti-noise filter
1080p image resolution
cloud or local storage
How To Interact With Your Pet Through The App?
By using a two-way connection which includes a speaker and microphone you can easily call your pet and talk with them during the break at work. Even most indoor pet cameras don't have a video setting so your pet can also see you, they will be glad to hear your voice when they're waiting alone at home. You can hear them meowing and barking and checking if something is not alright. After some time, they will learn to go straight to the camera when they hear a family member's voice.
Which Camera Resolution Provides Best View?
So you don't worry about blurry pictures when you zoom in on your pet, we recommend that you don't buy a model below 720p image resolution. Check the camera settings before buying a device so you can be sure the image will always be clear. If you're planning to use it often at night, we recommend buying a 1080p camera for the best view.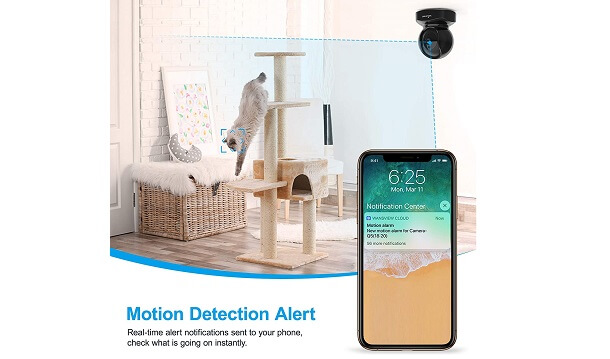 Store Pictures And Videos Safely
You can store all the records in the cloud or local storage, depending on the device features. Most of the five cameras support SD cards up to 128 GB. Some models come with an included SD card in the box, if you don't have one, consider buying it separately for more storage space. Check the camera information about record history, and how long it stays saved on the device.
How To Easily Install a Pet Camera In House?
Check the setup possibility whether it can be placed on the flat surface or fixed to the wall. Place the pet camera in the corner or find the best spot in your home which will provide a clear and wide view. We recommend placing a camera in a higher area so your pet cannot reach it and drop it accidentally. Indoor cameras are small enough to fit on every counter, desk, shelf, or commode. Most pet owners use it in the living room.
Indoor Camera For Pets As Security Device – Is It Safe?
Many pet owners use indoor cameras as security cameras because of intruders. If you're planning to use it in your home, the camera needs to have great image resolution and include a detection sensor that will send push notifications whenever it detects a suspicious person. For maximum safety, it is recommended to install multiple cameras for every room.