Are you a new ferret owner and are looking for the best ferret starter kit cage?
Look no more. We have prepared the six best ferret cage starter kits and divided them into six categories. Read on to find out everything you need to know about the best of best model, the indoor one, the multi-level, the outdoor, or other ferret cages. Have a look at our buying guide to help you decide which starter kit you should buy.
The Summary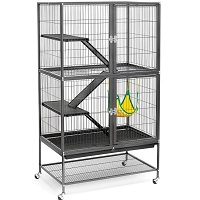 Prevue Hendryx Feisty Ferret Cage
OVERALL RATING: ★★★★★
The Prevue Hendryx cage is made of a sturdy and non-toxic material and it is an ideal ferret cage for new ferret owners.
Jump To Review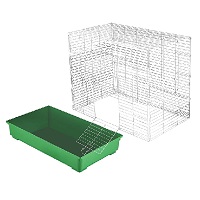 Kaytee Kit For Pet Ferrets
OVERALL RATING: ★★★★☆
This perfect indoor startet kit for ferrets by Kaytee includes a comfy bedding, a bottle of water, and a food dish.
Jump To Review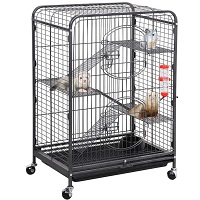 Yaheetech Ferret Cage
OVERALL RATING: ★★★★☆
Make your ferret happy and get it a spacious and multi-level cage for playing and running up and down the ramps.
Jump To Review
What Is Meaned By The Term Ferret Starter Kit?
The starter kit for the ferret includes the cage for a pet with additional decoration and accessories which are used for playing, feeding, and other activities. Cage kits are the best choice for new ferret owners who don't know which additional stuff to buy.
What Do You Get In Ferret Kit?
What is included in the kit depends on the manufacturer and the type of cage. Usually, the starter kit includes a cage, food bowl, and water bottle. Also, some kits can include ramps and shelves with suitable covers for comfort. You can also buy a kit that comes with included accessories such as a hammock and hideout. Check ulimate kit for ferrets here.
What Do You Need To Buy Before Getting a Ferret?
You don't know what else you need to buy besides the starter kit? We listed the most important decorations and accessories that you'll need for your daily ferret routine.
List includes:
Litter so the ferret can use it as a toilet
Food
Water bottle and water dish if they're not included in the kit
Hammock kit
Scooper
Clippers
Spray for easier maintenance
Toys
Fleece for bottom
Anti-slip covers for ramps and platforms
Carry case for easier traveling with your pet
Why Buy Starter Kit? – Top Benefits
You're not sure what makes a kit better than buying a cage only? Read which benefits you will have if you decide to buy a kit for your ferret.
New Ferret Owners
You're planning to buy a ferret and don't know which type of cage to pick or which ferret toys need to have in a cage? Starter kits come with all essential stuff for new ferret owners and they're the ideal choice for beginners.
Save Time For Searching
You're tired of searching for new decorations and accessories for your ferret cage? Buying a ferret kit that included everything your ferret need will save you time looking for an additional stuff.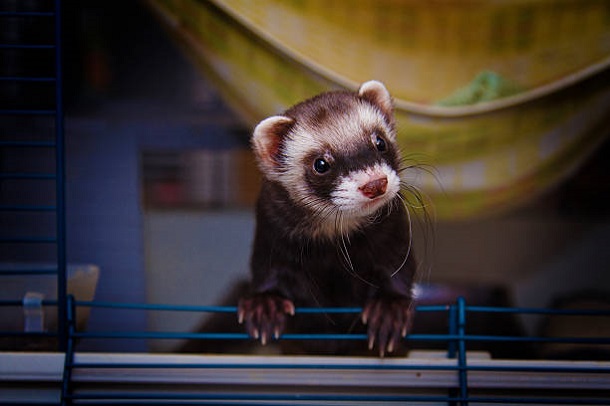 Save Money
You don't want to spend extra money on accessories? Usually, cage kits are cheaper than buying additional stuff separately. For the additional money, you planned to spend on accessories you can buy more food for your ferret.
High-Quality Set
You're trying to pick a high-quality cage but you can't find high-quality accessories or are not sure which one will be functional and durable? Most of the kits for ferrets included functional and durable accessories as well as a cage that guarantees durability.
Cons Of Having Starter Kit
Many experienced owners will rather buy a high-quality ferret cage that cost more money than buy a cheap version. Also, in most cases ferret owners will decide to have a new ferret and then the cage became too small. It all depends on the budget, the small one is a great choice for beginners, but when the ferret grows bigger we recommend upgrading the cage.
Buyer's Guide: How To Choose Starter Kit For Ferret
We're giving you a list of which features and specifications to consider when buying a ferret kit.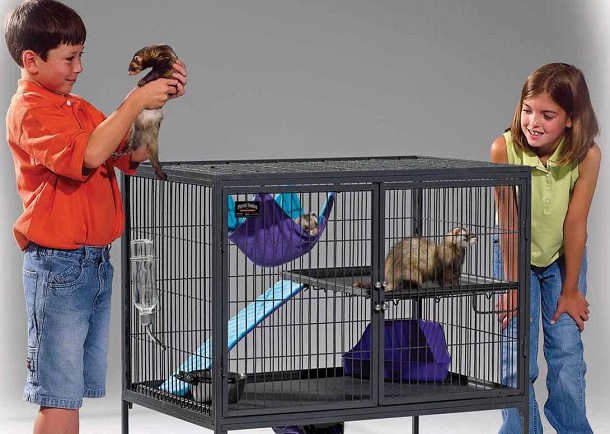 Is It Durable?
No matter which type of kit you're looking for, all the items need to be made of durable materials. What does it mean? If you're buying a metal cage with wires, they need to have rust-proof protection and the frame needs to be sturdy. If you're picking a plastic model, choose the one that is not thin because it will break easily. Also, included accessories in a kit need to be made of sturdy materials. Durable starter kits can be found only from reliable brands such as Yaheeteck, Kaytee, Prevue, etc.
Is It Easy To Use?
How can you use the cage, are accessories functional? Can you easily clean it? The cage and accessories need to be functional for the daily routine. The cage needs to have a door, leakproof bottom, shelves, and ramps. Also, read the information about setting up, is the model suitable for beginners and require tools.
What Are Dimensions?
Dimension is very important for 2 things. The first one is to know if the cage can fit in the area you're planning to place it, and second if the cage is large enough to fit the ferret and all the additional accessories that came in the box. The minimal size for one ferret is 10 x 20 x 20 inches, and for 2 ferrets we recommend picking a 20 x 20 x 40 inches cage.
How Much Is Space Bar?
So the ferret can't stuck between wires, it is important to buy a model with a 0.5 to 1 inches space bar. More than that can cause problems if the ferret tries to escape from the cage.
How To Access?
It is important to choose a model with great accessibility. This will help you with daily routines such as feeding, cleaning as well as playing with a ferret. Choose a model that has at least one door on the front or top. If the cage is bigger, consider choosing a model with large doors.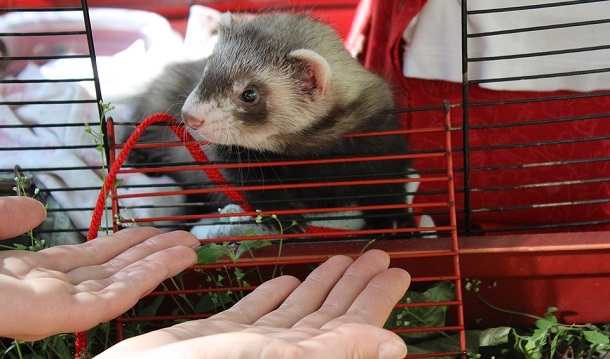 How To Maintain?
So your ferret can live in a fresh and clean habitat it is important to clean the cage at least once a week. Choose a model that has easy cleaning surfaces such as metal or plastic. It is recommended that the bottom tray is made of plastic or has a wire mesh net above. Trays with a pull-out system will save you time with cleaning.
Is It Portable?
If you want a model that can be easily moved from one room to another, we recommend picking a cage with rolling wheels. Also if the cage has carrying handles you can quickly move it.
Top 6 Ferret Starter Kits
Prevue Hendryx Feisty Ferret Cage
SPECIFICATION:
Material: Alloy Steel, Plastic
Dimensions: 31 x 20 x 54 inches
Weight: 23.6 Pounds

Levels: 3
Doors: 2
Use: Indoor
General Product Overview
This starter kit for ferrets comes as 31″ L x 20″ W x 54″ H cage with 7/8-inch wire spacing. The platform measurement is 20 3/8″ x 7 7/8″ x 3/4″ and the ramp measurement is 15 1/4″ x 5″ x 1/8″. The bars are secure for ferrets. This is a multi-level cage for a door on each level.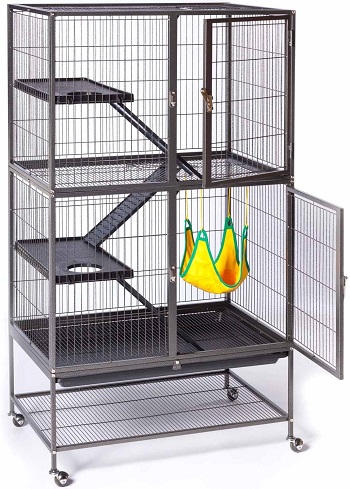 What Is In The Cage
There are two ledges with ramps and a ramp that goes from the first to the second floor. They are made of plastics. Also, there is a trap door and a slide-out pan which is positioned at the bottom. The ferret cage is quiet and your ferret won't be able to open the cage's door which makes it safe.
Multi-Use Cage
Although this case is primarily designed for ferrets, other small animals such as chinchillas or rats can live in it. However, if you are going to use it for these animals too, some modifications must be made. Still, in our opinion, it is best to use this cage for ferrets only.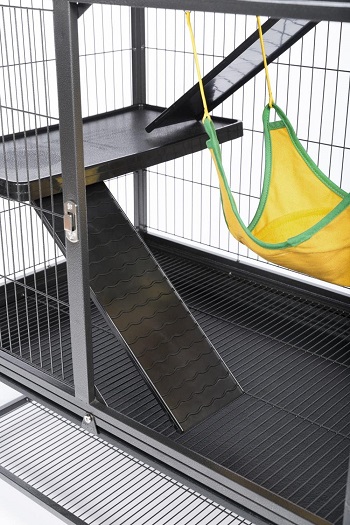 The Sturdy Design
The Prevue Hendryx cage is made of sturdy and non-toxic material. It is coated in safe powder steel mesh. There is a shelf that makes it space-saving. You can use it for storing treats, toys, and others. The cage is of ideal height both for the ferret and the owner.
In Short:
great height of the cage
made of sturdy and non-toxic material
includes a space-saving shelf
comes with two ledges and a ramp
the bars are secure
Overall:
Safety:
Mobility:
Size:
Weight:
Funcionality:
AVERAGE PRICE
$259 – $310 varies from webshop to webshop: Amazon, Walmart, eBay
Kaytee Kit For Pet Ferrets
SPECIFICATION:
Material: Plastic
Dimensions: 18 x 30 x 29 inches
Weight: 16.3 Pounds

Levels: 3
Doors: 2
Use: Indoor
About Kaytee Ferret Cage
The Kaytee cage is ideal for a first-time ferret owners. It includes everything a new ferret owner needs and it provides your ferret a safe and comfortable home. Your ferret will have a small, but spacious cage that will allow it to play and rest in it.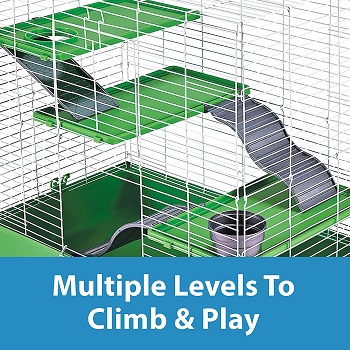 What Does The Cage Come With?
This indoor cage for ferrets includes a cozy bedding for your fur buddy, a water bottle, and a food dish. The base is made of deep plastics which will prevent the bedding from scattering. There are comfort shelves and safety ramps for cage are included.
The Maintenance
Maintaining your ferret's cage is very important. Cleaning has to be performed regularly. It is easy to clean, maintain, and reassemble this cage if necessary. The bars are made of high-quality material so that they won't be damaged.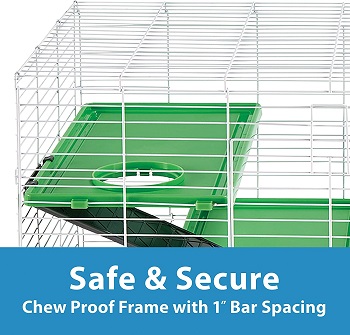 Important Facts About Kaytee Starter Kit
This Kaytee cage is sturdy and chew-proof. It is easy to assemble it and you won't need to have any additional tools. The overall dimensions are 30"x18"x29". The bar spacing is 1". The overall weight is 16.3 pounds. The price is medium.
Overall:
Safety:
Mobility:
Size:
Weight:
Funcionality:
AVERAGE PRICE
$89 – $120 varies from webshop to webshop: Amazon, Walmart, eBay
In Short:
ideal for first-time owners
has everything a beginner owner needs
small, but spacious
30"x18"x29" and 16.3 pounds
easy to assemble and re-assemble
easy to maintain clean
made for indoor use
Yaheetech Ferret Cage
SPECIFICATION:
Material: Iron
Dimensions: 25.2 x 17.1 x 36.8 inches
Weight: 24.4 Pounds

Levels: 3
Doors: 2
Use: Indoor
Durable And Multi-Level
This is another great cage that comes with multiple levels. It is powder-coated with metal square tubes and wires. It is made of non-toxic hammertone paint. It is sturdy, durable, and resistant.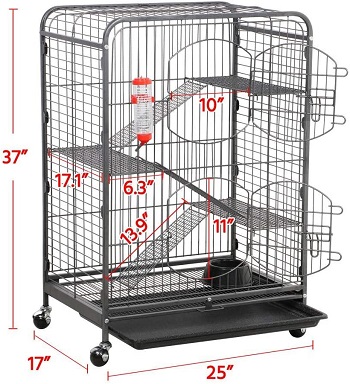 Safe For Your Ferret
Apart from being designed from safe material, this unit comes with two arched doors. The doors are secured with latches. They keep your little ferret safe in their cage. You don't need to worry that they will escape the cage while you are away. The smooth corners protect it from possible injuries.
Easy To Clean
The two doors make this cage easy to maintain clean. There is a slide-out tray located underneath the cage. It can easily be removed and simply cleaned with water any time that is needed. Also, there is a metal grate between the ferrets and the tray to avoid your pet from laying on its droppings.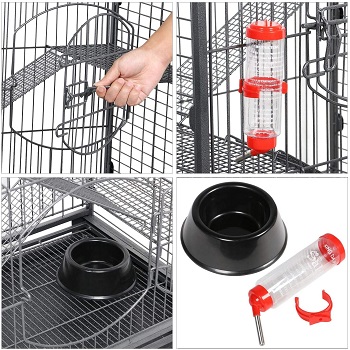 Portable And Extras
Although this cage is pretty spacious and large, it is very simple and convenient to move it. It stands on 4 wheels so you can simply roll it over to another side of the room. The cage includes the ramps and the rest area for your ferret.
Overall:
Safety:
Mobility:
Size:
Weight:
Funcionality:
AVERAGE PRICE
$69 – $94 varies from webshop to webshop: Amazon, Walmart, eBay
In Short:
multi-level ferret cage
made of safe and non-toxic materials
easy to clean
the tray can be removed and cleaned with water
stands on 4 wheels
can easily be rolled to the other side of the room
Topeakmart Ferret Starter Cage
SPECIFICATION:
Material: Cast Iron
Dimensions: 25.2 x 17.2 x 51.65 inches
Weight: 34.39 Pounds

Levels: 6
Doors: 3
Use: Indoor
Indoor And Outdoor Use
A cage that can be used indoor and outdoor is great for your ferret. Your pet will love the fresh air and will curiously look around your backyard. This starter kit for ferret stands on four wheels so it will be easy for you to move it around the house and place it in the garden for a few hours.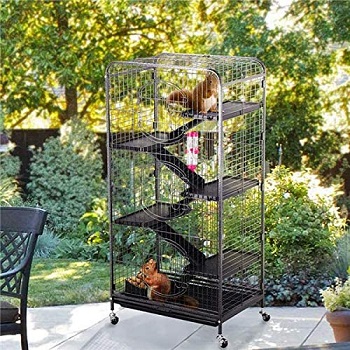 Long-Lasting And Sturdy
This Topeakmart ferret cage is constructed in high-quality material. It is made of powder-coated metal. Just like the previous model, this item is coated with non-toxic hammertone paint. It is water-resistant and completely safe for your ferret.
Extra Space
The large and spacious outdoor ferret cage is very important for your ferret. This cage's size is 25.2 x 17.2 x 52''. The bar spacing is 0.9". Since it is large, it allows several ferrets to live together and have fun at the same time. They will have a place to sleep and space to do exercise and play with ferret toys to put in a cage.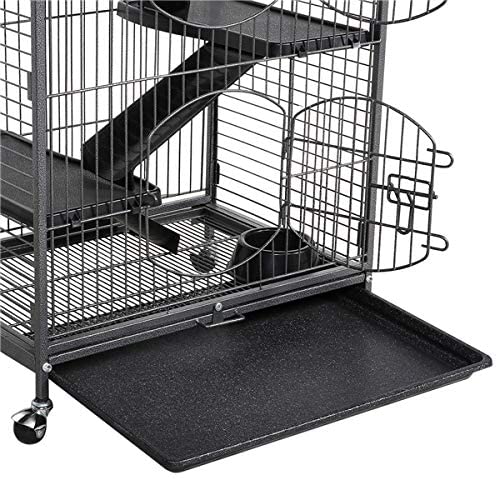 Safe And Easy To Clean
All the doors come with secured latches. There are no sharp edges so your ferret won't hurt itself. The ramp is designed with embossed stripes for safety purposes. The unit is easy to clean. There is a slide-out tray under the cage that you can clean with water.
Overall:
Safety:
Mobility:
Size:
Weight:
Funcionality:
AVERAGE PRICE
$129 – $132 varies from webshop to webshop: Amazon, Walmart, eBay
In Short:
outdoor and indoor use
made of high-quality material
there is space for a several ferrets
bar spacing 0.9"
safe and easy to clean
slide-out tray
Mcage Ferret Small Cage
SPECIFICATION:
Material: Cast Iron
Dimensions: 24 x 16 x 24 inches
Weight: 18 Pounds

Levels: 3
Doors: 2
Use: Indoor
The Product's Overview
The Mcage ferret cage starter kit's size is 24″L x 16″W x 24″H. It is made of non-toxic metal. It is chew-free so your ferret won't be able to run away. The bar spacing is 3/8". It is paw-safe. Easily foldable and quick to install.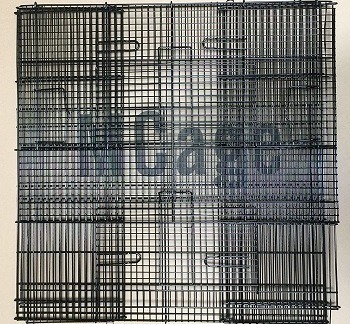 Easy And Quick To Set Up
You will need no more than 5-10 minutes to set up this cage and to choose its belonging place. You will require no additional tools. It is a cage that is easy to fold and to store. Also, this feature will help if you are traveling. It is simple to maintain as well.
Perfect For Small Ferrets
This is not a large or spacious cage so it is ideal for small ferrets. It is suitable for other small pets such as chinchillas, rats, dwarf hamsters, or others. It has a 1/2 removable wire raised grate floor. It is easy to carry because it comes with carry handles.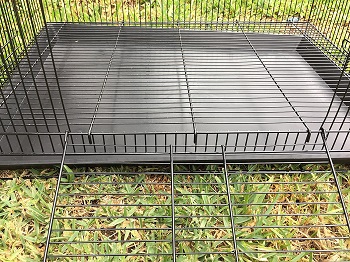 The Price
The Mcage ferret's cage is not expensive. It is very affordable for anyone and it is a great cage to use as a starter's kit. It will help you get to know your ferret and see its needs. You can later on get a larger and more spacious cage if necessary.
Overall:
Safety:
Mobility:
Size:
Weight:
Funcionality:
AVERAGE PRICE
$44 – $64 varies from webshop to webshop: Amazon, Walmart, eBay
In Short:
3 levels
overall size 24″L x 16″W x 24″H
easy to setup
foldable and can be stored anywhere
ideal for small ferrets
great for travels
cheap price
Midwest Ferret Nation Ferret Cage
SPECIFICATION:
Material: Metal
Dimensions: 36 x 25 x 24.5 Inches
Weight: 40 Pounds

Levels: 4
Doors: 2
Use: Indoor
About The Manufacturer
The Ferret Nation manufacturer designed great habitats for ferrets. They provide cages for other small animals too.  Their cages are safe and spacious. They come equipped with extras such as ramps, and shelves. Keep on reading to find out more about this model.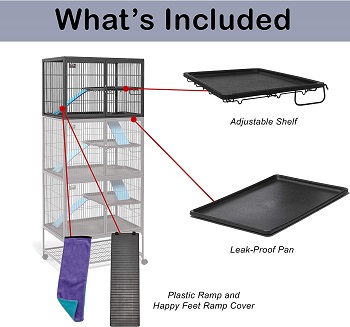 The Design
This starter kit comes with two ramps and ramp covers that take care of your ferret's feet. There is one resting shelf included. Also, a base pan that comes with this cage is easily removable and thus easy to clean. The double doors will make this cage a safe home for your ferret.
Customize Your Cage
The plastic tray that is included within the shelf is removable and height-adjustable. There are various attaching points for adding hammocks or tubes that your ferret can play with. All of these extras are sold separately.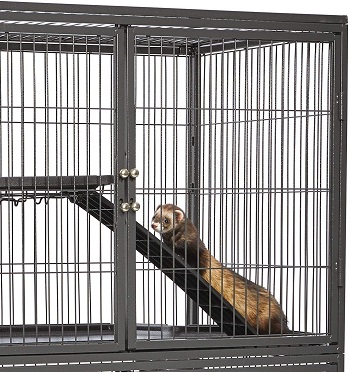 Last Details
The dimensions of this cage are 25" W x 24.5" H x 36" L and the cage weighs 40 lbs. The material that is used for the construction is sturdy, chew-proof, and durable. The shelves are removable so it is easy to clean the cage or to feed your ferret.
Overall:
Safety:
Mobility:
Size:
Weight:
Funcionality:
AVERAGE PRICE
$129 – $303 varies from webshop to webshop: Amazon, Walmart, eBay
In Short:
safe and durable design
sturdy material and long-lasting cage
easy to install and to clean
removable and height-adjustable shelves
dimensions of the cage 25" W x 24.5" H x 36" L
cage's weight 40 lbs
What Is The Initial Cost Of Owning a Ferret?
The initial cost owning a ferret as a pet depends on many factors, where you get it from, how old is he, are there any fees etc. Adoption is usually free, unless you adopt from the shelter which might include some fees which are between $150 – 200 depending on the breed and age. These fees only help support rescue centers to continue with work.
If you decide to buy a ferret from a breeder, it will cost you from $100 – 500 for a baby ferret depending on the type, and for between $100 – 300 for an adult ferret. In pet stores breeders usually sell them for less money. The most expensive breeds are Cinnamon ferrets which cost between $150-400, while Sable, Black Sable and Albino ferrets you can get for a $100-200.
Starter Kit Prices
Buying a starter kit will cost you between $80 – $150, depending on the size of the cage. There are different types of kits and some of them include only feeder sets while other include toys and other accessories. We listed all the needed accessories for a initial start and average cost so you can check how much money you'll need to have a ferret.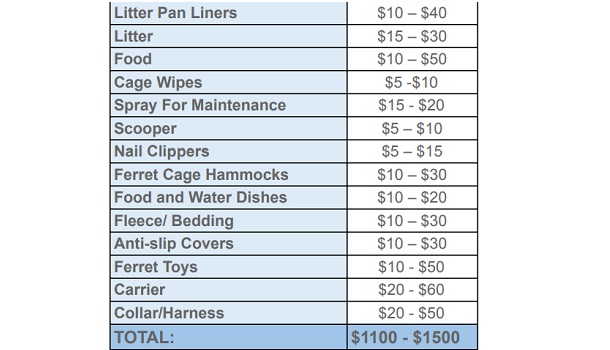 Is The Cage Kit Safe?
One of the main features when buying a cage kit for the ferret is safety. Check the list of most important things to consider when buying a cage.
Sturdy Doors
Doors need to have a sturdy frame, wires, and lock system so the ferret can't easily escape out. Ferrets will definitely try to open the doors with paws so make sure the metal or plastic lock is sturdy enough.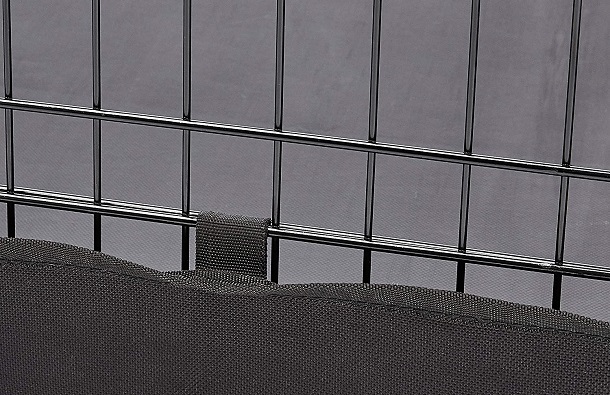 Non-toxic Material
All the materials need to be made of non-toxic material What does it mean? Pick the cage that has a label of non-toxic pain, without chemicals. This is important for the ferret's health, otherwise, he can have a serious health problem with the respiratory system.
No Gaps
It is important to check if the cage has gaps from where the ferret can put his head out and escape quickly. If some part of the cage has gaps you can use a plastic string and tighten it for safety.
Non-slippery Surface
Make sure that all the surfaces in multi level ferret cage, including the bottom, ramps, and platforms are not slippery, so the ferret doesn't fall down. If you notice a ferret easily slip on some platform or ramp, you can buy covers.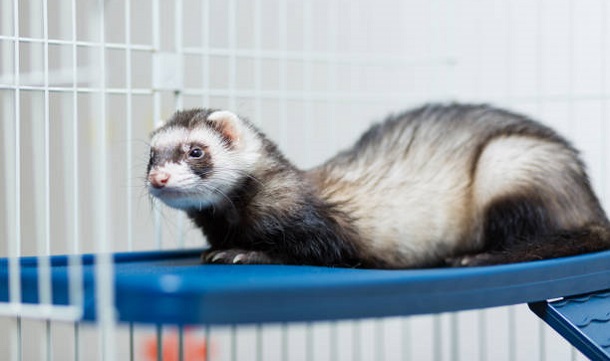 Hanging Accessories
All the hanging accessories such as hammock, swing, tubes need to be secured. needs to have strong hooks so the ferret can lay inside without stress
Small Parts
Don't place the accessories which include small parts that ferrets can easily swallow. It can be dangerous and in some cases fatal for ferrets.
Set Ferret Starter In a Few Steps
This is your first time setting up a cage? By following all the instructions down below you will need 15 to 30 depending on the size of the cage.
Check All The Parts
Before starting setting the cage and including accessories, check if everything came in the box. Use the instructions where all the parts needed to be listed.
Take Needed Tools
Some of the models require tools for assembly, such as metal cages with frames that need to be secured with screws. You will need only a screwdriver or power drill.
Set Construction
Firstly, connect the sides with the top part and bottom. Install the doors and check if everything is stable and secure. After you set the whole construction you can add included accessories inside.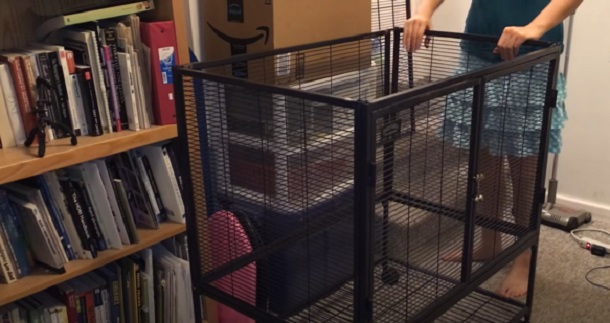 Make It Functional
To make the cage functional for your ferret make sure to place the feeding bowl and water bottle where they can easily have access. The feeding bowl needs to be on the bottom or one of the shelves. If you can attach both, the bottle and bowl, we recommend placing them to the lowest part of the cage.
If the cage has a hammock don't place it too high where your ferret can't reach it. Adjust the shelves so the ferrets can have enough space to move at the bottom surface which they will use for peeing and pooping if there is no litter box.
FAQ For New Ferret Kit Owners
We answered all frequently asked questions that might interest new ferret owners of the starter kit.
Are The Cage Kits For Other Pets Suitable For Ferret?
If the cage is a suitable size for a ferret, then yes. Mostly, cages for rabbits or rats are similar sizes to the ones for ferrets, so you can also buy one of them. The wire space bar needs to be approximately 0.5 inches to a maximum of 1 inch so the ferret can't escape. Also, doors need to have a lock system otherwise ferret will easily escape. Consider checking if the additional accessories will be functional for your pet.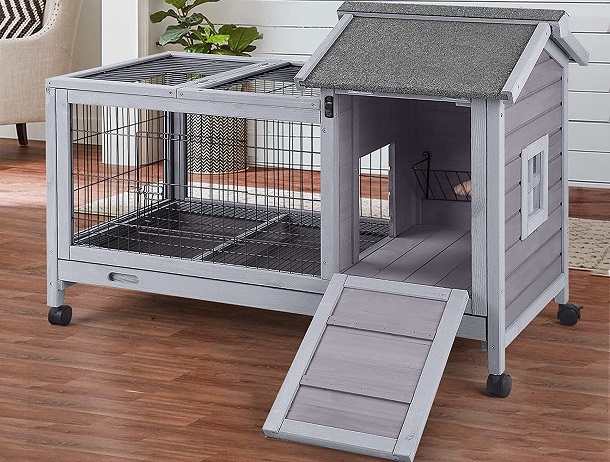 Where Is The Best Area To Place Cage?
The cage needs to be placed next to the wall for maximum safety. We recommend placing it in a room you can easily monitor while you're at home, such as the living room. To save space in the room place the cage in the corner.
Can You Add More Accessories To Cage?
If there is plenty of space for new accessories, absolutely. Ferrets are active and love to play around and more toys and accessories will positively affect their mental and psychical health. You can combine decoration from another manufacturer, most accessories fit well in all cages.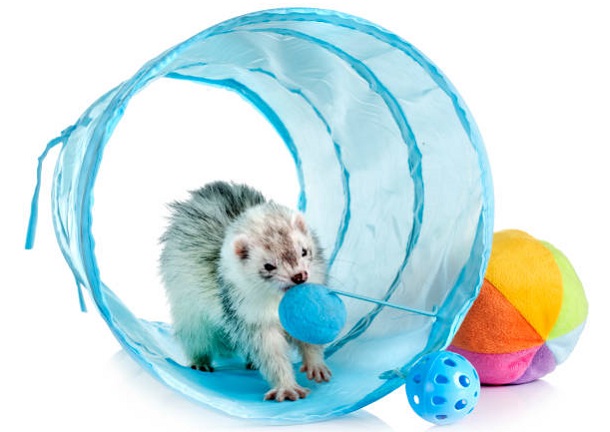 Do Ferrets Need To Be In Cage All The Time?
No, and it is not recommended that they spend the whole day inside the small ferret cage. Ferrets are very social animals and love to be with humans, especially their owners so we recommend taking them out for 1-2 hours a day. You can play with them, cuddle or give them treats for good behavior.
Can Ferrets Be Cage-free?
No, they don't have a feeling for fear so they can easily hurt themself while climbing everywhere and exploring the house. Also, they can hide underneath t-shirts or blanker and you can easily step on them at night which is one of the main reasons why ferrets die. Also, they can eat something they're not supposed to if you left the food in an easily accessible place.
Can I Let My Ferret Roam?
Yes, but only if you can monitor him all the time, because they can easily stuck somewhere. For example, don't go take a show if your ferret is roaming around the house or doing something in the backyard, ferrets are very active animals and in one-minute tragedy can happen.
Can Ferret Sleep With You?
It is not recommended to let ferrets sleep with the owner or any family member. You can easily squeeze him and in the worst scenario suffocate him.
Should You Wake Ferret For Playtime?
Ferret sleeps approximately 20 hours a day, so we don't recommend waking him up if you want to play with him. When he is awake and wants to play, he will do it on his own.
To Sum Up
In the end, we must say that all of the listed models are great to get started. Some can be used during all of your ferret's life, while others are here to help you start with your ferret's owner tasks. We liked the Yaheetech Ferret Cage best because it is easy to move, safe, and spacious. Now when you have the complete list of needed things to get started, it's easier to find the right cage and accessories. Just make sure the cage material is safe for pets, size is in harmony with your space and if it's easy to carry if you plan to relocate it often.