Are you a new ferret owner and are looking for the best ferret starter kit cage?
Look no more. We have prepared the six best ferret cage starter kits and divided them into six categories. Read on to find out everything you need to know about the best of best model, the indoor one, the multi-level, the outdoor, or other ferret cages. Have a look at our buying guide to help you decide which starter kit you should buy.
The Summary
Top 6 Ferret Cage Starter Kits
BEST OF BEST FERRET STARTER KIT
Prevue Hendryx Feisty Ferret Cage
General Product Overview
This ferret starter kit comes as 31″ L x 20″ W x 54″ H cage with 7/8-inch wire spacing. The platform measurement is 20 3/8″ x 7 7/8″ x 3/4″ and the ramp measurement is 15 1/4″ x 5″ x 1/8″. The bars are secure for ferrets. This is a multi-level cage for a door on each level.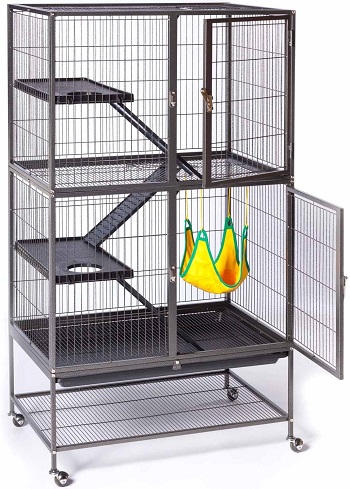 What Is In The Cage
There are two ledges with ramps and a ramp that goes from the first to the second floor. They are made of plastics. Also, there is a trap door and a slide-out pan which is positioned at the bottom. The tall ferret cage is quiet and your ferret won't be able to open the cage's door which makes it safe.
Multi-Use Cage
Although this case is primarily designed for ferrets, other small animals such as chinchillas or rats can live in it. However, if you are going to use it for these animals too, some modifications must be made. Still, in our opinion, it is best to use this cage for ferrets only.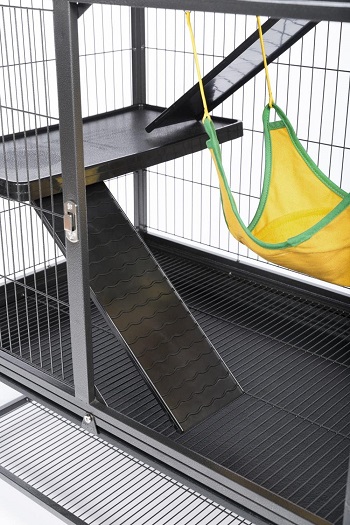 The Sturdy Design
The Prevue Hendryx cage is made of sturdy and non-toxic material. It is coated in safe powder steel mesh. There is a shelf that makes it space-saving. You can use it for storing treats, toys, and others. The cage is of ideal height both for the ferret and the owner.
In Short:
great height of the cage
made of sturdy and non-toxic material
includes a space-saving shelf
comes with two ledges and a ramp
the bars are secure
BEST INDOOR FERRET STARTER KIT
Kaytee Kit For Pet Ferrets
About Kaytee Ferret Cage
The Kaytee cage is ideal for a first-time ferret owners. It includes everything a new ferret owner needs and it provides your ferret a safe and comfortable home. Your ferret will have a small, but spacious cage that will allow it to play and rest in it.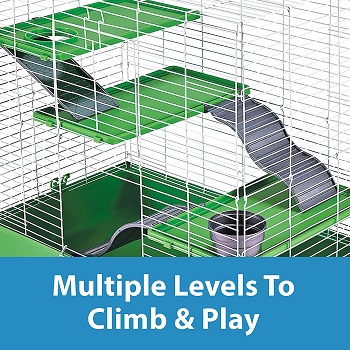 What Does The Cage Come With?
This indoor cage for ferrets includes a cozy bedding for your fur buddy, a water bottle, and a food dish. The base is made of deep plastics which will prevent the bedding from scattering. There are comfort shelves and safety ramps for ferret cages are included.
The Maintenance
Maintaining your ferret's cage is very important. Cleaning has to be performed regularly. It is easy to clean, maintain, and reassemble this cage if necessary. The bars are made of high-quality material so that they won't be damaged.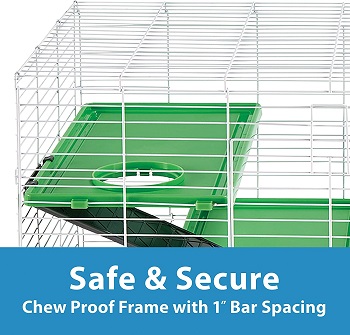 Important Facts About Kaytee Starter Kit
This Kaytee cage is sturdy and chew-proof. It is easy to assemble it and you won't need to have any additional tools. The overall dimensions are 30"x18"x29". The bar spacing is 1". The overall weight is 16.3 pounds. The price is medium.
In Short:
ideal for first-time owners
has everything a beginner owner needs
small, but spacious
30"x18"x29" and 16.3 pounds
easy to assemble and re-assemble
easy to maintain clean
made for indoor use
BEST MULTI-LEVEL FERRET STARTER KIT
Yaheetech Ferret Cage With More Levels
Durable And Multi-Level
This is another great multi-level cage for ferrets, but it is designed by Yaheetech. The cage is constructed as a multi-level unit. It is powder-coated with metal square tubes and wires. It is made of non-toxic hammertone paint. It is sturdy, durable, and resistant.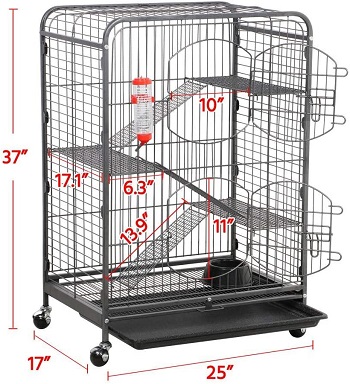 Safe For Your Ferret
Apart from being designed from safe material, this unit comes with two arched doors. The doors are secured with latches. They keep your little ferret safe in their cage. You don't need to worry that they will escape the cage while you are away. The smooth corners protect it from possible injuries.
Easy To Clean
The two doors make this cage easy to maintain clean. There is a slide-out tray located underneath the cage. It can easily be removed and simply cleaned with water any time that is needed. Also, there is a metal grate between the ferrets and the tray to avoid your pet from laying on its droppings.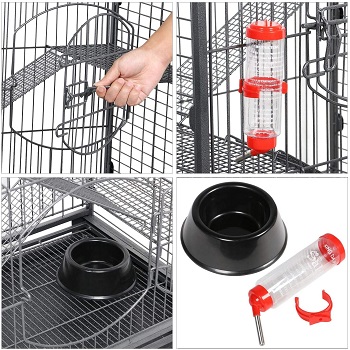 Portable And Extras
Although this cage is pretty spacious and large, it is very simple and convenient to move it. It stands on 4 wheels so you can simply roll it over to another side of the room. The cage includes the ramps and the rest area for your ferret.
In Short:
multi-level ferret cage
made of safe and non-toxic materials
easy to clean
the tray can be removed and cleaned with water
stands on 4 wheels
can easily be rolled to the other side of the room
BEST OUTDOOR FERRET STARTER KIT
Topeakmart Ferret Starter Cage
Indoor And Outdoor Use
A cage that can be used indoor and outdoor is great for your ferret. Your pet will love the fresh air and will curiously look around your backyard. This cage stands on four wheels so it will be easy for you to move it around the house and place it in the garden for a few hours.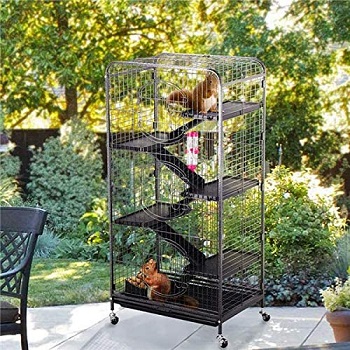 Long-Lasting And Sturdy
This Topeakmart ferret cage is constructed in high-quality material. It is made of powder-coated metal. Just like the previous model, this item is coated with non-toxic hammertone paint. It is water-resistant and completely safe for your ferret.
Extra Space
The large and spacious outdoor ferret cage is very important for your ferret. This cage's size is 25.2 x 17.2 x 52''. The bar spacing is 0.9". Since it is large, it allows several ferrets to live together and have fun at the same time. They will have a place to sleep and space to do exercise and play with ferret toys to put in a cage.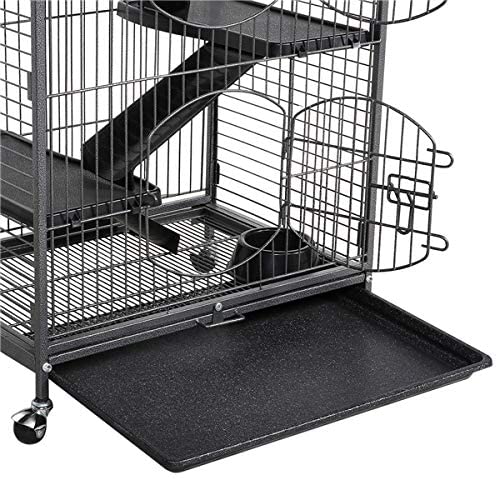 Safe And Easy To Clean
All the doors come with secured latches. There are no sharp edges so your ferret won't hurt itself. The ramp is designed with embossed stripes for safety purposes. The unit is easy to clean. There is a slide-out tray under the cage that you can clean with water.
In Short:
outdoor and indoor use
made of high-quality material
there is space for a several ferrets
bar spacing 0.9"
safe and easy to clean
slide-out tray
BEST CHEAP FERRET STARTER KIT
Mcage Ferret Small Cage
The Product's Overview
The Mcage ferret cage starter kit's size is 24″L x 16″W x 24″H. It is made of non-toxic metal. It is chew-free so your ferret won't be able to run away. The bar spacing is 3/8". It is paw-safe. Easily foldable and quick to install.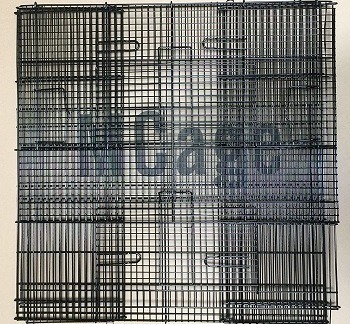 Easy And Quick To Set Up
You will need no more than 5-10 minutes to set up this cage and to choose its belonging place. You will require no additional tools. It is a cage that is easy to fold and to store. Also, this feature will help if you are traveling. It is simple to maintain as well.
Perfect For Small Ferrets
This is not a large or spacious cage so it is ideal for small ferrets. It is suitable for other small pets such as chinchillas, rats, dwarf hamsters, or others. Still, its primary use is as a small cage for ferrets. It has a 1/2 removable wire raised grate floor. It is easy to carry because it comes with carry handles.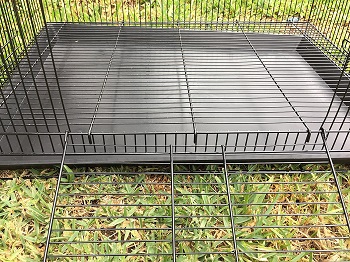 The Price
The Mcage ferret's cage is not expensive. It is very affordable for anyone and it is a great cage to use as a starter's kit. It will help you get to know your ferret and see its needs. You can later on get a larger and more spacious cage if necessary.
In Short:
3 levels
overall size 24″L x 16″W x 24″H
easy to setup
foldable and can be stored anywhere
ideal for small ferrets
great for travels
cheap price
BEST COOL FERRET STARTER KIT
Midwest Ferret Nation Ferret Cage
About The Manufacturer
The Ferret Nation manufacturer designed great habitats for ferrets. They provide cages for other small animals too.  Their cages are safe and spacious. They come equipped with extras such as ramps, and shelves. Keep on reading to find out more about this model.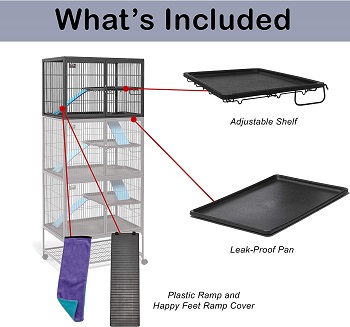 The Design
This ferret starter kit comes with two ramps and ramp covers that take care of your ferret's feet. There is one resting shelf included. Also, a base pan that comes with this cage is easily removable and thus easy to clean. The double doors will make this cage a safe home for your ferret.
Customize Your Cage
The plastic tray that is included within the shelf is removable and height-adjustable. There are various attaching points for adding hammocks or tubes that your ferret can play with. All of these extras are sold separately.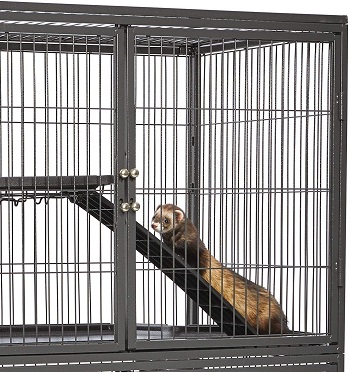 Last Details
The dimensions of this cage are 25" W x 24.5" H x 36" L and the cage weighs 40 lbs. The material that is used for the construction is sturdy, chew-proof, and durable. The shelves are removable so it is easy to clean the cage or to feed your ferret.
In Short:
safe and durable design
sturdy material and long-lasting cage
easy to install and to clean
removable and height-adjustable shelves
dimensions of the cage 25" W x 24.5" H x 36" L
cage's weight 40 lbs
How To Pick: Ferret Starter Kit
If you are a first-time ferret owner, make sure you learn everything there is to know about these cute animals. Make sure your ferret cage comes with all important features for a healthy ferret's life. Get a ferret cage for starters that is made of high-quality material. Think if you need an indoor or outdoor cage. Get a spacious cage so that your ferret could have more space. Keep on reading to find out more.
Sturdy Cage Material – Getting a high-quality and sturdy cage is very important both for you and your ferret. Buy a cage that is not going to let your little fur friend run away. Also, make sure the cage is made of non-toxic material and that it is chew-proof.
Outdoor Or Indoor? – If you want to be able to take your ferret outside in the backyard too, get the ferret cage that will allow you to put it both indoor and outdoor. If you decide to get such a cage, ensure it is made of non-rust material, like wooden ferret cages.
Multi-Level And Spacious – Although ferrets are big sleepers, they also like to play and run around. Getting them a spacious home will make them feel happier. If the cage you are looking to buy is a multi-level, even better!
Easy To Maintain – Make sure the cage is easy to maintain and the trays are removable. Let the hygiene be your priority. It is essential both for you and your ferret to get the cage that is easy to clean.
Extra Features – Some of the extras that you can add to your cage (if it's not already included in the package) are the areas for your ferrets to climb or rest, the tires, the ramps, the bowls for food, or the bottles for the water.
Where To Buy? – Almost every pet shop will have a high-quality ferret cage for beginners. All of the above-listed models are of good quality and are available online. We suggest you order them on the reliable online retailer websites such as Amazon.com which is the one we prefer most.
To Sum Up
In the end, we must say that all of the listed models are great ferret starter kits. Some can be used during all of your ferret's life, while others are here to help you start with your ferret's owner tasks. We liked the Yaheetech Ferret Cage best because it is easy to move, safe, and spacious. See more articles to find out everything about the indoor ferret cages and the outdoor ferret cages.