Are you looking to buy an indoor ferret cage?
If that is the case, you have come to the right place. In this article, you will find out everything you need to know about the best of best, large, cheap, multi-level, and more indoor ferret enclosures. Make sure you read our guide that you will find at the bottom of this page.
The Summary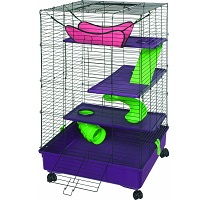 Kaytee My First Home Deluxe
OVERALL RATING: ★★★★★
A cage with fun accessories and a lot of space is ideal for your ferret. Have a look this Kaytee's great indoor enclosure for ferrets.
Jump To Review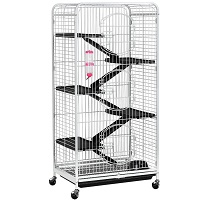 Yaheetech Ferret Enclosure
OVERALL RATING: ★★★★☆
Several ferrets can live in this large and spacious cage. They will have space to have fun, play, run, and rest whenever they want.
Jump To Review
AmazonBasics Indoor Cage
OVERALL RATING: ★★★★☆
If you have a baby ferret and you are a first time owner, get this small indoor cage. It can serve you well during travels as well.
Jump To Review
What Include Indoor Ferret Cage?
Indoor cage for ferrets includes all types of cages that can be used for one or multiple ferrets depending on the size. These cages are usually much smaller which makes them functional for indoor use.
What's The Difference Between Indoor And Outdoor Cages?
Indoor cages are a type of cage that has a wire top cover that won't protect ferrets from bad weather or sun rays as outdoor models with asphalt roofs will. Outdoor cages are usually made of solid wood while indoor models are usually plastic or metal.
Outdoor cages need to have hideouts so the ferret can hide when it's windy outside or sun rays directly go on the cage. Indoor cages don't need to have hideouts unless you want to make a private place for your ferret. Outdoor cages need to be placed under some tree or roof from the terrace for maximum protection from hot and cold weather conditions, while you can place cages anywhere you want.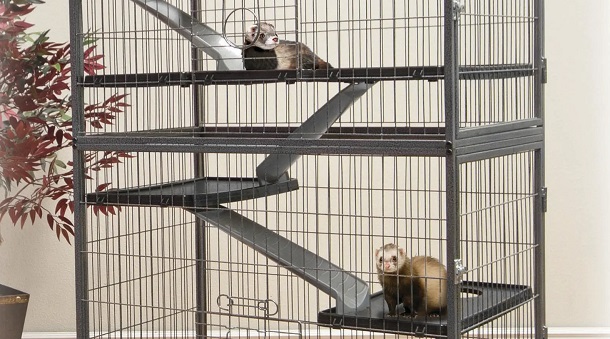 Can You Use Indoor Cage Outside?
No, it is not recommended to use a cage for ferret outside if it's only made for indoor use. You can occasionally place the cage on the terrace with a roof cover if you want to allow the ferret to observe around while you're doing something outside.
Can Ferrets Be Kept Indoor?
Yes, you can keep them as indoor pets, and many owners have indoor cages. They have a strong smell which is the reason why some of the owners keep them outside. It is only important that the cage is big enough and easy to maintain so you can keep the house fresh.
Which Indoor Models To Avoid?
Not all indoor models are the best choice for ferrets mostly because of size and functionality. We don't recommend picking a cage with an open top, ferrets can easily escape outside. You can only use these types of models for newborn ferrets. Also, models that don't have at least 2 wire sides for air ventilation are not a good choice.
Avoid cages that are fully made of wires because ferrets can easily hurt their legs while walking on mesh surfaces. We don't recommend small cages under 24 inches are not the best choice for ferrets, they need to have enough space for moving and daily activities.
Benefits Of Having An Indoor Cage For Ferret
You're doubting buying an inside cage for ferrets? We listed the most important benefits of having an indoor cage for ferrets.
Maximum Safety
You're afraid the ferret will escape outside of the cage when he is in the backyard? Or some other animals will try to attack him? If you're using it inside of the house you can be sure there is maximum safety.
Easy Fitting
Most of the indoor ages can easily fit inside the house or apartment. Cages are not as big as outdoor ones and come in different colors that go well with the interior.
Quick Maintenance
You don't want to constantly go outside when the time for cleaning comes? Having an indoor cage you can do it quickly every time you notice there is a mess or bad odor. It's more practical to clean a cage indoor since you can use vacuum cleaner and you have access to water.
Adjustable Temperature
Ferrets are very sensitive animals and if you want to keep them healthy and less stressed, keep them inside. When it's hot outside you can set the temperature of the room and don't worry their body is hotter than normal.
Easy Monitoring
You can easily check what your ferrets are doing, are playing, sleeping, or maybe having a fight. Also, you can always check if there is enough water in the bottle or food in the feeding bowl. If they have some health issues you can easily notice it when the cage is indoor.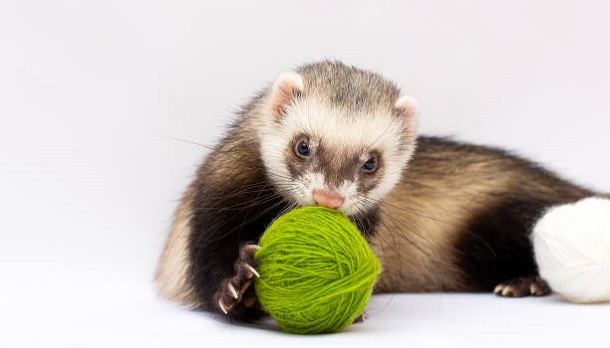 Playing Time
When it's time to play with your ferret, you can open the cage doors and let them out without worries they will escape somewhere which can happen if you do the same thing while they're outside of the house. Allow them to run and play around the house without worries.
Buyer's Guide: How To Choose Indoor Ferret Cage?
For beginners and new ferret owners, this buyer's guide will be helpful before shopping. We listed all the specifications that are recommended to check before buying a cage.
Durable Model
Before picking the cage you need to check from which materials it is made to be sure it will last you for a long time. The cage needs to be made of sturdy plastic or metal parts that are rustproof and can't be easily broken. We recommend buying a cage only from reliable brands like Yaheeteck, Kaytee, AmazonBasics, Mcage, Pawhut, etc.
Perfect Size
One of the main features is the sizing of the cage. Every model includes information about length, width, and height so you can be sure the cage will fit in your house or apartment. Also, the sizing is important so the ferret can have enough space for moving. For one ferret we recommend picking a model that is at least 24 x 24 x 18 inches big.
Type Of Cage
On the market, you can find different types of cages. Which model you'll pick depends on your preferences and the number of your ferret. You can choose a static model with legs or a portable one with casters. Most of the ages are made of metal, plastic, or wood. You have single, double, or multilevel models with tubes.
Air Ventilation
So your ferrets can have optimal room temperature and enough air inside the cage, the model needs to be well ventilated. What does it mean? Pick only cages that have wires for air circulation, and avoid those that only have top wires. Great air ventilation will help you with odor control, as well.
Easy Access
Having easy access is a very important specification when buying a cage for indoor use. Make sure that the doors are large enough so you can reach every corner of the cage. If you're buying a tall cage, make sure there are font doors. If you're buying a long model, it is recommended that the cage has top doors for easier access or even ramp. Multiple doors are only a plus, and you will easily feed your ferret take him in or out and clean the mess.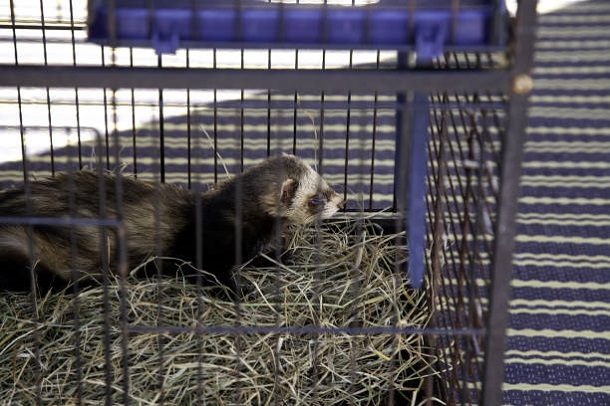 Space Bar
Space bar between wires is very important to check before buying a cage so the owner can be sure the ferret won't stick his head between and try to escape. The recommended space bar needs to be between 0.3 to 0.5 inches, everything more than that won't be functional, and the ferret will easily escape outside.
Maintenance And Cleaning
To keep your ferret's environment clean and your house fresh it is important to choose a model that can be easily and quickly cleaned. For cleaning it is important that the cage has large doors so you can reach all the corners, shelves, and ramps to remove feces and uneaten food.
Pick the models with stain-resistant surfaces and leakproof bottoms. Plastic models have a detachable system so you can quickly clean the tray with soap and water. Metal and wooden models have a pull ou tray which will save you time with cleaning.
Additional Features
Some indoor models include additional features like storing a shelf at the bottom which you can use to store the food, toys, and accessories in one place. Also, cages usually include platforms with ramps hammocks, feeding and drinking set, and other accessories that will be functional for daily use.
Best 6 Indoor Ferret Cages
Kaytee My First Home Deluxe
SPECIFICATION:
Material: Plastic/Metal
Dimensions: 24 x 24 x 41.5 inches
Weight: 10 Pounds

Levels: 4
Doors: 2
Use: Indoor
Fun Ferret's Cage
Kaytee's indoor enclosure is going to be a fun ferret's home. It comes with platforms, spiral slides, and ramps. There is a large hammock that can be your ferret's resting area. You can add more extra toys if you want and customize the cage as you wish.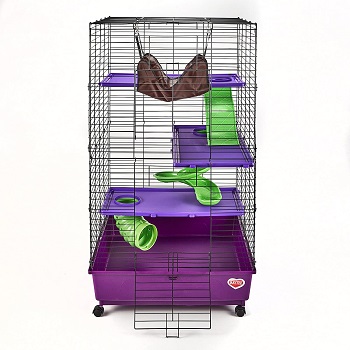 The Design And Construction
This ferret cage for ferrets is made of safe and non-toxic metal. It is a chew-free, safe, and creative environment for your pet. It is constructed of coated wire and stain-resistant plastic parts. It stands on four wheels. It measures 24 x 24 x 41.5 inches. It weighs 10 pounds.
Multi-Level And Spacious
This cage with tunnels has got multiple levels. It has enough space for your little buddy to play, run around, and up and down the cage. It can home two ferrets at the same time. There are three comfort shelves and comes in fun colors.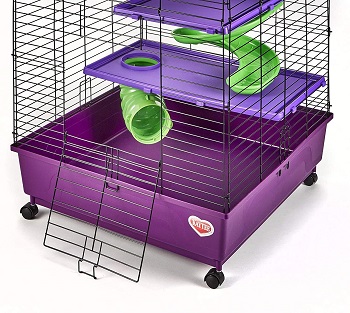 Easy To Clean
The is one large access door that makes you pick up your ferrets easily, change the litter, add food or water. Also, this will allow you to easily clean the cage. Remember that maintaining clean your ferret cage must be a priority.
Overall:
Safety:
Mobility:
Size:
Weight:
Funcionality:
AVERAGE PRICE
$119 – $173 varies from webshop to webshop: Amazon, Walmart, eBay
In Short:
made of high-quality material
pet-friendly and non-toxic
completely chew-free
multi-level cage
comes with fun accessories
easy to access and clean
Yaheetech Ferret Cage
SPECIFICATION:
Material: Metal
Dimensions: 25 x 17.2 x 51.65 inches
Weight: 40.54 Pounds

Levels: 6
Doors: 3
Use: Indoor
Large And Spacious
This tall cage measures 25.2 x 17.2 x 51.7''. It comes with 0.9" bar spacing so you can be assured that your little buddy won't run away and escape the cage. The Yaheetech cage can fit several ferrets at the same time. It allows them to play together.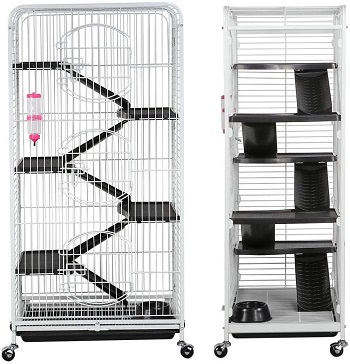 Easy To Move
This is a large cage and we cannot say it is lightweight. Thankfully, it stands on four rolling casters so if you need to move it for some reason, it will be easy. The casters can move in any direction.
Multiple Access Doors
There are three access doors that this indoor cage comes with. It makes it easier to clean this cage and to add more water or food. Also, if you need to reach for your ferret, you will get to do that without hassle.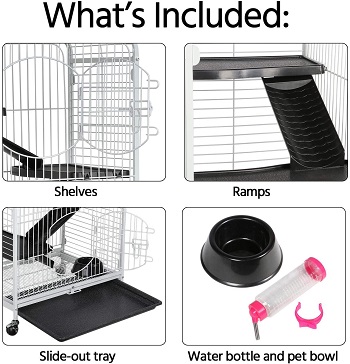 What Is Included
This large cage for ferrets comes with a slide-out tray that is positioned underneath the cage. It can easily be removed when you need to clean it. There are non-slip ramps included, a water bottle, and a food bowl. The user manual is here to help you assemble this cage easily.
Overall:
Safety:
Mobility:
Size:
Weight:
Funcionality:
AVERAGE PRICE
In Short:
extra large and multi-level
comes with 3 access door
includes ramps
comes with complimentary food bowl and water bottle
stands on four rolling casters
fits several ferrets
AmazonBasics Indoor Cage
SPECIFICATION:
Material: Canvas/Steel wire
Dimensions: 46.65 x 13.78 x 23.62 inches
Weight: 9.15 Pounds

Levels: 1
Doors: 1
Use: Indoor
Ideal For Small Ferrets
We always recommend getting a spacious indoor cage for ferrets. This small cage is on our list because it is great if you have a baby or a small ferret. It may be a great starter kit but if you have multiple ferrets, you need a bigger option. Also, you can own it if you want to take your ferret with you on travel.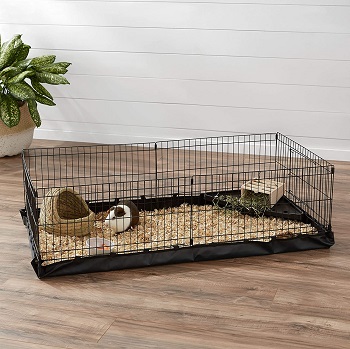 The Small Design
This starter kit comes in black or blue. It is perfect to use indoor and outdoor. It is made of iron wire and it is safe for your pet. It doesn't have the sharp edges and it is securely locked. It is chew-proof and made of non-toxic materials. It is leak-proof and you can get a roof for the cage so you can be sure ferret won't' escape from the top.
Easy To Set Up And Maintain
You will get to assemble this unit in no time. In case you need the instructions, read the user manual prior to the assembly. Since this cage is small, it comes with one access door. It is simple to maintain clean this cage on a daily basis.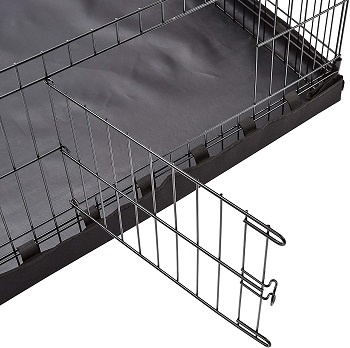 Why Buy AmazonBasics
This unit is durable and it comes with washable lining. It sets up in a few minutes and it is ideal for first-time baby ferret owners. It is incredibly easy to maintain it and move. It is lightweight and can be used both indoor and outdoor.
Overall:
Safety:
Mobility:
Size:
Weight:
Funcionality:
AVERAGE PRICE
$34 – $67 varies from webshop to webshop: Amazon, Walmart, eBay
In Short:
sets up in no time
durable and lightweight
comes in black and blue
it is leak-proof
can be used outdoors too
great for baby ferrets
Aluora Wooden Cage For Ferrets
SPECIFICATION:
Material: Fir wood
Dimensions: 25.39 x 15.74 x 29.13 inches
Weight: 17.76 Pounds

Levels: 2
Doors: 2
Use: Indoor
The Wooden Construction
This is an ferret cage that is made of wooden eco-friendly material. This cage is a completely safe and healthy environment for your ferret. It is constructed in fir wood. There is a plexiglass that provides a panoramic view and a wire top will let the air in.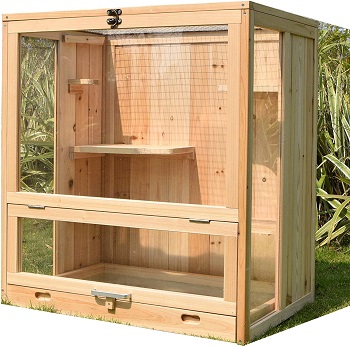 The Front Door
A large front door is here to open easily so that you can add water, food and toys to your ferret cage. You will get to clean the cage the litter easily. This cage is securely locked so there is no fear that you fur buddy might escape it.
How To Set Up
We advice you to read the instructions on how to assemble this cage. It is not difficult and it doesn't take too much time. Use the electronic drill to assembly the cage. There is a QR code that you can scan and it will show you the video on how to set it up.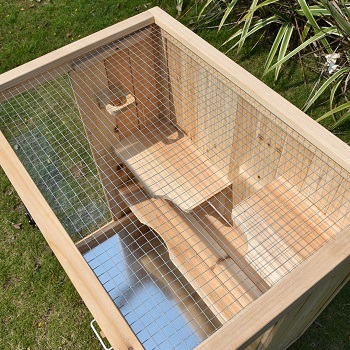 Indoor Use
This cage is best to be used indoor. Once you assemble the unit, it is not easy to move it. So, pick the right corner and then set it up. Don't use this cage in a humid environment. Also, have another adult help you with the assembly.
Overall:
Safety:
Mobility:
Size:
Weight:
Funcionality:
AVERAGE PRICE
$25 varies from webshop to webshop: Amazon
In Short:
best for indoor use
made of eco-friendly wooden materials
has a wire top
comes with one large front door
provides a spacious and healthy environment
Mcage Ferret Cage
SPECIFICATION:
Material: Plastic/Metal
Dimensions: 32 x 21 x 28 inches
Weight: 10 Pounds

Levels: 3
Doors: 2
Use: Indoor
Provides Space And Easy To Carry
The Mcage cage is here to provide space for one ferret. It is made for indoor use. It is not big in size so a small ferret will love it. It is not very heavy and it will be easy for you to carry it around. You can take it to your travels as well.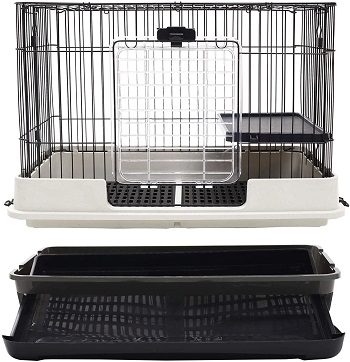 The Dimensions And Bar Spacing
This cage for ferret measures 32″L x 21″W x 28″H. It has two floors and 0.9" spacing. It is made of metal wire and it is perfect for small or medium-sized ferrets. It will make sure your pet stays in a safe place even when you are not there. But, the good side is that you can choose one out of three available sizes, depending on the number of ferrets you have and the space you have.
Convenient To Have
There is one door opening that makes it easy to clean daily. Also, you will easily get to add your ferret more water or food. There is one slide-out bottom tray made of plastics. It is leakage-free. It is easy to wash the tray. The cage can be moved around quickly.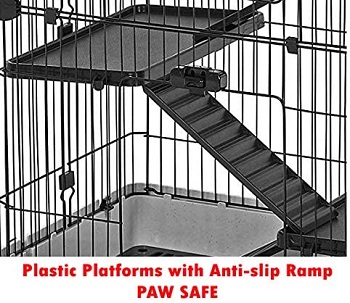 Easy To Set Up And Affordable
The set up is fast and simple. You will need no additional tools. The cage comes at an affordable price. You can even use it as a travel ferret cage if you plan a trip with your ferret.
Overall:
Safety:
Mobility:
Size:
Weight:
Funcionality:
AVERAGE PRICE
$89 – $139 varies from webshop to webshop: Amazon, Walmart, eBay
In Short:
affordable price
easy to set up
perfect size for small to medium ferret
safe and made of quality materials
easy to access it
simple cleaning
Pawhut Indoor Enclosure
SPECIFICATION:
Material: Metal
Dimensions: 32 x 20.75 x 43.25 inches
Weight: 31 Pounds

Levels: 4
Doors: 2
Use: Indoor
4-Level Ferret Enclosure
A multi-level cage for ferrets will bring them joy. You can have several ferrets living in this cafe. They will all have enough space to play together, run around, rest, and eat. This is a spacious vertical cage that will easily fit in your corner.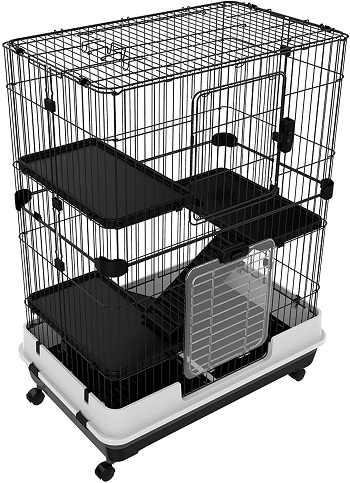 Pet-Friendly
This cage by Pawhut is made of non-toxic and pet-safe metal. It is chew-free and it comes with no sharp edges. Its easy-to-access doors will make the maintenance very simple. All the surfaces are smooth and the door can be securely locked.
Easy To Clean
Clean this multi-level ferret cage with no hassle and every day. This ferret cage is convenient. It comes with a removable tray that will be easy to wash and put back again. You can maintain the healthy life of your ferret. Make the cleaning of the ferret cage your everyday habit.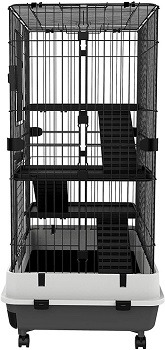 Move The Cage
This indoor enclosure for ferrets is designed on four rolling wheels. This is great because the cage itself is not lightweight. So, if for some reason you want or need to move it, you can do that by easily rolling it to the other side of the room.
Overall:
Safety:
Mobility:
Size:
Weight:
Funcionality:
AVERAGE PRICE
$169 – $179 varies from webshop to webshop: Amazon, Walmart, eBay
In Short:
easily movable
made of safe material
the cage is chew-free
has multiple levels
spacious and fits several ferrets
easy to maintain clean
comes with a removable and washable tray
Set The Indoor Cage By Following These Steps
You're not sure how to set the cage kit for your ferret? It is not complicated at all and you will need a short time to do it if you follow these steps.
Step 1. Check the parts and instructions
Before starting with the setup, make sure to read the instructions. On the first page, you can find which parts needed to be included in the box. Place everything on the floor and count the parts.
Step 2. Connect frame with sides
If the cage has a frame you need to secure it to the sides by using hinges or screws, depending on what type of cage you have. If the cage has an attach system, only connect the sides using the hooks.
Step 3. Place bottom and top
Attach the plastic tray at the bottom or place the pull tray underneath the wire mesh net. Connect the top of the cage and check if everything is secure and there are gaps.
Step 4. Add Accessories
After you set the construction, you can add accessories inside. Place the feeding bowl, water bottle, litter box, bedding, ramps, platforms, and all the accessories you have. If you don't have all the needed accessories we recommend watching this video that include the most important accessories for ferrets. You can buy all of them online or in the nearest pet shop.
Step 5. Test Before Use
Before you place the ferret inside it is important to test all the parts of the cage so you can be sure it is functional, sturdy, and safe for use, especially if the cage is tall. Check if any parts are wobbling, and secure them. Try a door lock system, doors need to be easily open and closed when needed. Make sure to check that all the accessories are strongly attacked to wires so the ferret can use it safely.
Can Ferrets Be Outside Of The Cage?
Yes, it is recommended to allow ferrets time to be outside of the cage. Most of the time they sleep, but when they're awake and want to play you can let them out. This will help them stay active.
How to Ferret Proof a Room?
When you let ferrets freely roam around for 1-2 hours a day, they can potentially make a lot of mess while exploring, so it is important to the ferret-proof area. How can you prevent it? Read our guide down below with great tips.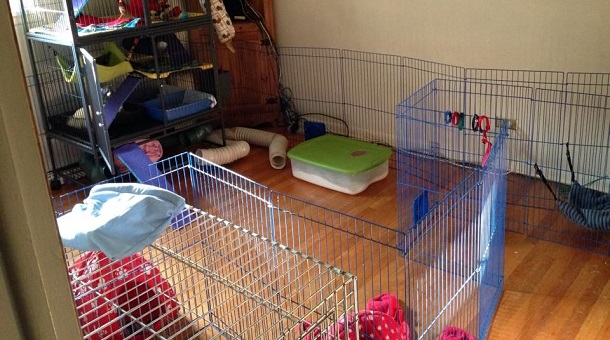 Place Him In Single Room – We recommend using an individual room that will be used as a playing area when the ferret is out of the cage. You will easily monitor him and prevent more mess around the house.
Block All Gaps – If there are any gaps bigger than 1 inch, ferrets will easily easpave out. This includes gaps under doors, windows, etc. Make sure to block all of them.
Block Of Appliances – Many appliances have gaps underneath and ferrets will easily get inside the device from underneath, which can be very dangerous. Ferrets can start chewing wires and hide in corners of machines, so make sure to avoid rooms with any type of similar devices.
Cover Bottoms Of Furniture – If you're planning to left ferrets in the living room or somewhere where is a lot of furniture like sofas, or chairs, make sure you covered all the top and bottom parts which can ferret can chew like wood, canvas or sponge.
Check Cushions – Cushions are ideal places where ferrets can hide, especially if there are weak spots in the fabric around the zipper. Always double-check before sitting on the cushion, so you don't squick ferret if he's hiding inside.
Protect All Mattresses – If you thought ferrets can't get inside the mattresses, you're wrong. They can easily rip off the fabric and start eating mattress stuffing, so we recommend covering them to prevent ferrets to make a mess.
Remove Edible Items – Ferrets tend to chew everything, especially materials like cardboard, wood, plastic, and foam. It is important to remove all the objects, small or big ones, which can be very risky if the ferret eats them. Things such as elastic bands, toys, hairbands, papers, and other stuff which can be found on the desk need to be removed to prevent any health issues.
Remove Cleaning Supplies – After removing all the edible objects, make sure to remove all cleaning products which has harmful chemicals, such as shampoos, toilet cleaners, makeup, and any other products. Make sure to prevent ferrets from going into a toilet, kitchen, or bathroom. The safest way is to lock everything in a secure closet.
Constant Monitoring – If you let the ferret out of the cage it is important to constantly supervise the ferret so you can quickly react if they get into some kind of trouble. For easier monitoring, you can use some type of playpen that will keep the ferret in place and still allow enough space for playing and running.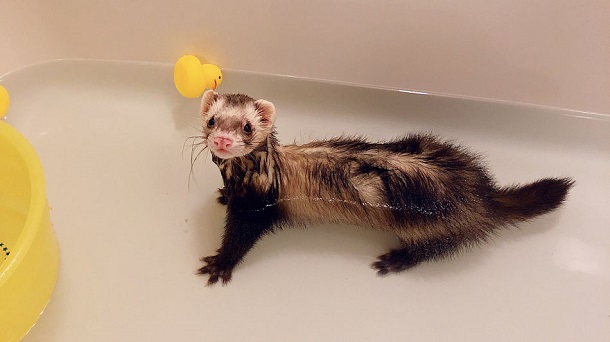 Close bathroom – If you're a ferret freely roaming around the house, it is important to always make sure the toilet and bathroom are closed, as they can easily get in the water. Ferrets can swim but it can be dangerous if they get into the toilet or full bath and can't get out.
Close Cupboard Doors – If the ferret can open the cupboard doors, it will easily get into a drawer or closet and hide for hours. It is important to ensure doors can't be easily opened, so we recommend using magnetic locks to prevent any action.
Avoid Upstairs Railings – Because ferrets have no sense of fear, they will climb wherever they can, which in many cases can be dangerous, like upstairs railings. It is important to avoid letting ferrets near any open railings on the top level.
Remove Candles And Open Flames – To prevent accidents, make sure there are no candles or open flames on which ferrets can easily burn themselves.
Check Washing Machine – If the ferret notice there is clothing inside the washing machine, he will probably snuggle in and fall asleep. It is very important to double-check if the ferret is inside before you turn on the machine. The best advice is to check where are the ferrets and place them inside the cage until the machine stops working.
Secure All Wires – If there are cables on the floor, ferrets will probably start playing with it and try chewing it, which can be very dangerous. To prevent that, place all the wires behind the furniture where ferrets can't reach, or even better, put them in a caable cover box with a lid.
What Do Ferrets Like To Sleep In?
Ferrets love having a comfortable surface to sleep on, such as a towel, blanket, cloth bag, or a t-shirt. Also, they love using a hammock and tent for sleeping. If you're thinking to place a ferret to sleep with you, this is not a good choice. Even if your bed is comfortable and ferret can easily snuggle in the blanket, there is a high risk you will squeeze them accidentally, or break their leg or arm. In some cases sleeping with a ferret can have fatal consequences if you didn't notice the ferret is under a blanket and doesn't have enough air to breathe.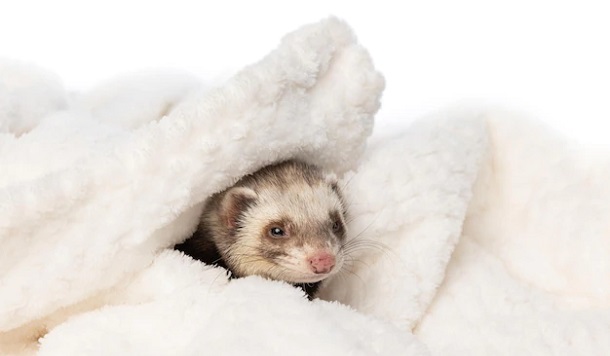 Should You Take Your Ferret For Walks?
Ferrets actually don't need to go for a walk like most dogs. They will be very active in their cage, and if they need to get adequate exercise, let the roam freely in a small area in the room that you secured so they can't escape out.
Do You Need To Bath Ferret?
It is not necessary to bathe the ferret, they are very clean animals and bathing can only strip their natural oil laxer on skin and make the skin itchy and dry. If needed, to clean them because they gotten into something, use a sensitive shampoo. We recommend bathing him maxum once a month.
Are Ferrets Easy To Potty Train?
Ferrets are easily trainable to use a litter box. They're very patient and will easily learn it. Ferret are very clean animals so you can ve sure they won't be pooping everywhere and anytime. But, they won't use a litter box on their own, so the potty train is neccessery.
Alternatives For Keeping Ferret Inside
You can find all the answers to frequently asked questions about inside cages for ferrets down below.
Can You Use Aquarium As Indoor Cage?
No, aquariums are not a good option for indoor cages. They don't have good air ventilation and are very hard to clean because of top access. Also, you'll need to place everything on the bottom surface which won't be functional for ferrets.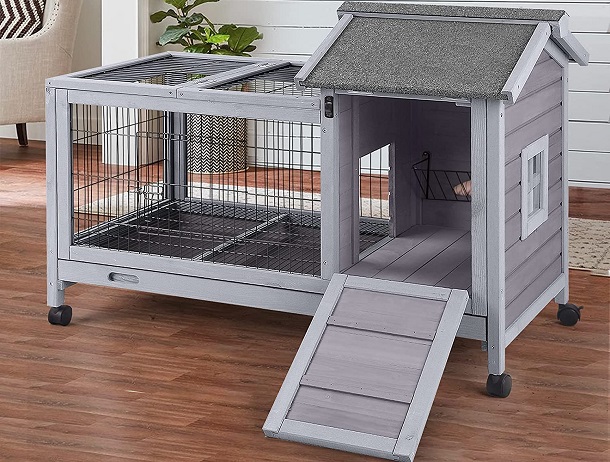 Can You Use Rabbit Hutch As Indoor Cage?
Small rabbit hutches can be used indoor if they have great ventilation, leakproof bottom, multiple doors for access, and enough space for ferrets to move ( minimum 20 inches). If you want to use a hutch, we recommend those with 2 levels so the ferrets can move and explore around.
To Sum Up
To conclude, we would like to say why we think the Kaytee Indoor Cage For Ferrets is the best model. We find it fun and safe. It has a lot of space. Also, it includes additional accessories. When you keep a ferret in your house or appartment, it's recommended to take a ferret out of the cage sometimes. However, the cage that is large enough to ensure much space for activities will make your ferret satisfied.