Are you looking to buy an indoor ferret cage?
If that is the case, you have come to the right place. In this article, you will find out everything you need to know about the best of best, large, cheap, multi-level, and more indoor ferret enclosures. Make sure you read our guide that you will find at the bottom of this page.
The Summary
Best 6 Indoor Ferret Cages
BEST OF BEST INDOOR FERRET CAGE
Kaytee Indoor Cage For Ferrets
Fun Ferret's Cage
Kaytee's indoor enclosure is going to be a fun ferret's home. It comes with platforms, spiral slides, and ramps. There is a large hammock that can be your ferret's resting area. You can add more extra accessories if you want and customize the cage as you wish.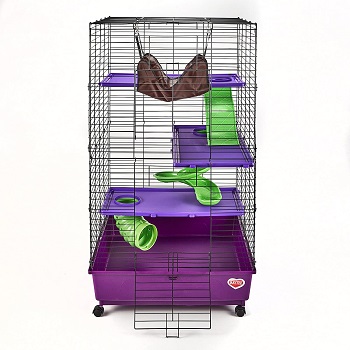 The Design And Construction
This indoor ferret cage is made of safe and non-toxic metal. It is a chew-free, safe, and creative environment for your pet. It is constructed of coated wire and stain-resistant plastic parts. It stands on four wheels. It measures 24 x 24 x 41.5 inches. It weighs 10 pounds.
Multi-Level And Spacious
This ferret cage with tunnels and ramps has got multiple levels. It has enough space for your little buddy to play, run around, and up and down the cage. It can home two ferrets at the same time. There are three comfort shelves and comes in fun colors.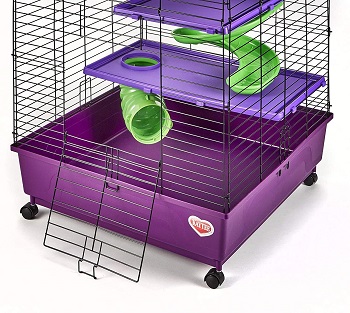 Easy To Clean
The is one large access door that makes you pick up your ferrets easily, change the litter, add food or water. Also, this will allow you to easily clean the cage. Remember that maintaining clean your indoor ferret cage must be a priority.
In Short:
made of high-quality material
pet-friendly and non-toxic
completely chew-free
multi-level cage
comes with fun accessories
easy to access and clean
BEST LARGE INDOOR FERRET CAGE
Yaheetech Ferret Enclosure
Large And Spacious
This tall ferret cage measures 25.2 x 17.2 x 51.7''. It comes with 0.9" bar spacing so you can be assured that your little buddy won't run away and escape the cage. The Yaheetech cage can fit several ferrets at the same time. It allows them to play together.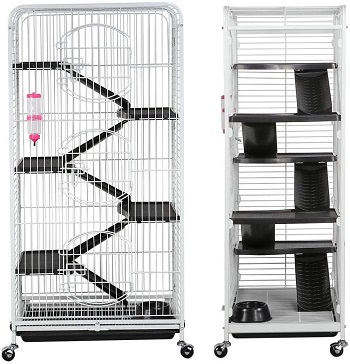 Easy To Move
This is a large cage and we cannot say it is lightweight. Thankfully, it stands on four rolling casters so if you need to move it for some reason, it will be easy. The casters can move in any direction.
Multiple Access Doors
There are three access doors that this indoor cage comes with. It makes it easier to clean this cage and to add more water or food. Also, if you need to reach for your ferret, you will get to do that without hassle.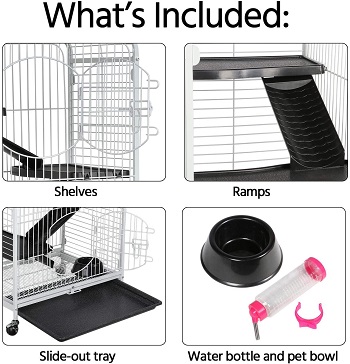 What Is Included
This large indoor cage for ferrets comes with a slide-out tray that is positioned underneath the cage. It can easily be removed when you need to clean it. There are non-slip ramps included, a water bottle, and a food bowl. The user manual is here to help you assemble this cage easily.
In Short:
extra large and multi-level
comes with 3 access door
includes ramps
comes with complimentary food bowl and water bottle
stands on four rolling casters
fits several ferrets
BEST SMALL INDOOR FERRET CAGE
AmazonBasics Indoor Cage
Ideal For Small Ferrets
We always recommend getting a spacious indoor cage for ferrets. This small cage is on our list because it is great if you have a baby or a small ferret. It may be a great starter kit but if you have multiple ferrets, you need a bigger option. Also, you can own it if you want to take your ferret with you on travel.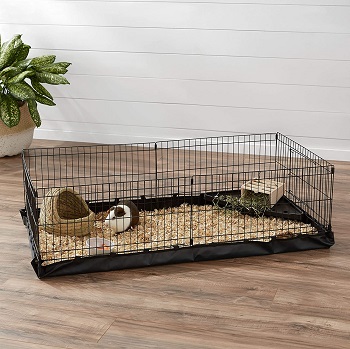 The Small Design
This small cage for ferrets comes in black or blue. It is perfect to use indoor and outdoor. It is made of iron wire and it is safe for your pet. It doesn't have the sharp edges and it is securely locked. It is chew-proof and made of non-toxic materials. It is leak-proof and you can get a roof for the cage so you can be sure ferret won't' escape from the top.
Easy To Set Up And Maintain
You will get to assemble this unit in no time. In case you need the instructions, read the user manual prior to the assembly. Since this cage is small, it comes with one access door. It is simple to maintain clean this cage on a daily basis.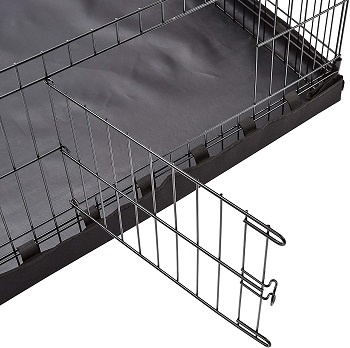 Why Buy AmazonBasics
This unit is durable and it comes with washable lining. It sets up in a few minutes and it is ideal for first-time baby ferret owners. It is incredibly easy to maintain it and move. It is lightweight and can be used both indoor and outdoor.
In Short:
sets up in no time
durable and lightweight
comes in black and blue
it is leak-proof
can be used outdoors too
great for baby ferrets
BEST COOL INDOOR FERRET CAGE
Aluora Wooden Cage For Ferrets
The Wooden Construction
This is an indoor ferret cage that is made of wooden eco-friendly material. This cage is a completely safe and healthy environment for your ferret. It is constructed in fir wood. There is a plexiglass that provides a panoramic view and a wire top will let the air in.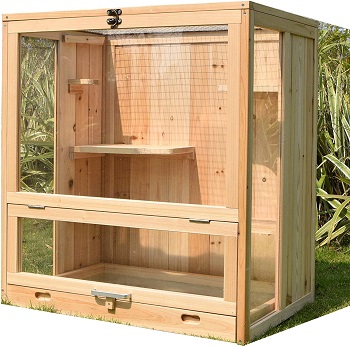 The Front Door
A large front door is here to open easily so that you can add water, food and toys to your ferret cage. You will get to clean the cage the litter easily. This cage is securely locked so there is no fear that you fur buddy might escape it.
How To Set Up
We advice you to read the instructions on how to assemble this cage. It is not difficult and it doesn't take too much time. Use the electronic drill to assembly the cage. There is a QR code that you can scan and it will show you the video on how to set it up.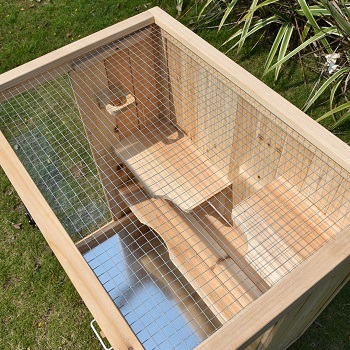 Indoor Use
This cage is best to be used indoor. Once you assemble the unit, it is not easy to move it. So, pick the right corner and then set it up. Don't use this cage in a humid environment. Also, have another adult help you with the assembly.
In Short:
best for indoor use
made of eco-friendly wooden materials
has a wire top
comes with one large front door
provides a spacious and healthy environment
BEST CHEAP INDOOR FERRET CAGE
Mcage Indoor Ferret Cage
Provides Space And Easy To Carry
The Mcage cage is here to provide space for one ferret. It is made for indoor use. It is not big in size so a small ferret will love it. It is not very heavy and it will be easy for you to carry it around. You can take it to your travels as well.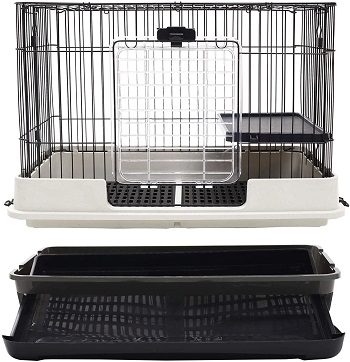 The Dimensions And Bar Spacing
This indoor ferret cage measures 32″L x 21″W x 28″H. It has two floors and 0.9" spacing. It is made of metal wire and it is perfect for small or medium-sized ferrets. It will make sure your pet stays in a safe place even when you are not there. But, the good side is that you can choose one out of three available sizes, depending on the number of ferrets you have and the space you have.
Convenient To Have
There is one door opening that makes it easy to clean daily. Also, you will easily get to add your ferret more water or food. There is one slide-out bottom tray made of plastics. It is leakage-free. It is easy to wash the tray. The cage can be moved around quickly.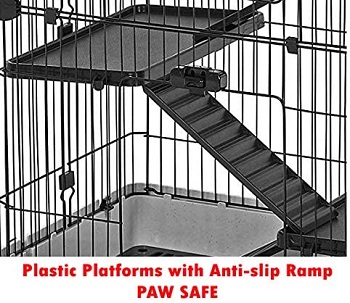 Easy To Set Up And Affordable
The set up is fast and simple. You will need no additional tools. The cage comes at an affordable price. You can even use it as a travel ferret cage if you plan a trip with your ferret.
In Short:
affordable price
easy to set up
perfect size for small to medium ferret
safe and made of quality materials
easy to access it
simple cleaning
BEST MULTI-LEVEL INDOOR FERRET CAGE
Pawhut Indoor Enclosure
4-Level Ferret Enclosure
A multi-level cage for ferrets will bring them joy. You can have several ferrets living in this cafe. They will all have enough space to play together, run around, rest, and eat. This is a spacious vertical cage that will easily fit in your corner.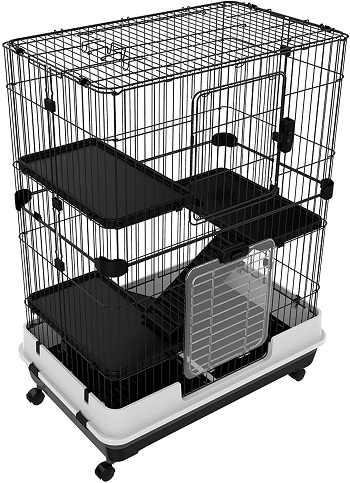 Pet-Friendly
This cage by Pawhut is made of non-toxic and pet-safe metal. It is chew-free and it comes with no sharp edges. Its easy-to-access doors will make the maintenance very simple. All the surfaces are smooth and the door can be securely locked.
Easy To Clean
Clean this multi-level ferret cage with no hassle and every day. This indoor ferret cage is convenient. It comes with a removable tray that will be easy to wash and put back again. You can maintain the healthy life of your ferret. Make the cleaning of the ferret cage your everyday habit.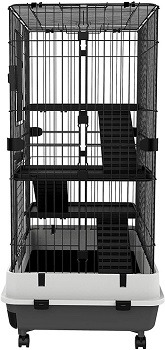 Move The Cage
This indoor enclosure for ferrets is designed on four rolling wheels. This is great because the cage itself is not lightweight. So, if for some reason you want or need to move it, you can do that by easily rolling it to the other side of the room.
In Short:
easily movable
made of safe material
the cage is chew-free
has multiple levels
spacious and fits several ferrets
easy to maintain clean
comes with a removable and washable tray
How To Pick: Indoor Ferret Cage
When in search of the best indoor ferret enclosure, consider our advice on the features you need to look for. An ideal ferret cage should be pet-friendly and non-toxic, it should have enough space for your ferret to play and rest, and you are going to want the cage that is easy to maintain. Read more in the following paragraphs.
No Sharp Edges – Your ferret will like to stay active and run around the cage when it is awake. This why it is crucial to get it a cage that has smooth edges and surfaces. Otherwise, your little fur buddy may hurt itself, which is something we want to avoid at all costs.
Non-Toxic Material – Make sure that you get an indoor cage for ferrets that is made of eco-friendly or non-toxic metal or wood. Your ferret will try to chew on the bars and you wouldn't want the paint to harm its health. Also, the cage should be sturdy so that your ferret wouldn't escape.
The Ideal Size – We suggest getting an indoor ferret enclosure that has enough space for your fur friend to run and play around. In case you have more ferrets, consider getting a multi-level cage. If you have a small or baby pet, a smaller cage will be fine to start with.
The Extra Accessories – Some cages feature extra accessories such as food bowls, water bottles, removable trays, hammocks, ramps, wheels, or other. In case your cage comes with none, you can always get them yourself and customize your ferret's cage.
Easy To Set Up – It is a plus if a case is easy to assemble. Sometimes you are going to need to detach it and re-attach it all over again (if you need to travel or move, for example). There are some models with fold-design. If that is important to you, find the model that can do that.
To Sum Up
To conclude, we would like to say why we think the Kaytee Indoor Cage For Ferrets is the best indoor ferret cage. We find it fun and safe. It has a lot of space. Also, it includes additional accessories. If you want your ferret to stay in the fresh air and look at the nature around it, check out our article about the best outdoor ferret cages. In case you want to learn more about other models, try with the wooden ferret cage.