Have you been looking for an outdoor ferret cage?
If yes, then you have come to the right place. We have explored the online market and found the best six models of outdoor ferret enclosures. We have divided them into some of the following categories: best of best, cool, large, cheap, and others. Keep on reading to find out more. At the end of the article, you will find our buying guide that will help you bring the right decision.
The Summary
Top 6 Outside Ferret Cages
BEST OF BEST OUTDOOR FERRET CAGE
AmazonBasics Outdoor Cage Ferrets
Spacious Interior
The AmazonBasics 35.8 by 22.4 by 50.6 inches (LxWxH) outdoor ferret enclose will be a new and comfortable home for your little fur friends. The ferret starter cage has room for your ferret to rest and play. There is enough space for your ferret's food, water, and litter.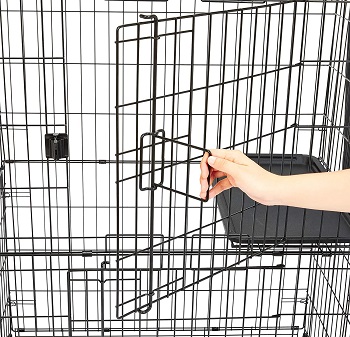 Durable And Sturdy Design
This outdoor cage is made of durable metal wire. It is coated in a black rust-resistant finish. The material is non-toxic and the cage is completely safe for your ferret. There are three shelves and a lot of vertical space for your ferret to explore and hangout.
Two Large Doors
This cage has two levels and two swing-open front doors. One on each level. The doors will make it easier to maintain. It is important that you clean the litter box daily. Also, you get to easily refill food and water bowls. The doors are secured with locking latches.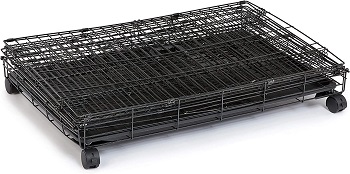 Fold-Down Design
If you need to go traveling, this cage will be easy to fold. Its fold-down design makes it easy for transport. The weight of this cage is 37.4 pounds. It is easy to assemble this ferret's cage. It stands on four wheels so you can roll it around too.
In Short:
this cage measures 35.8 x 22.4 x 50.6"
fold-down design
stands on 4 wheels
made of non-toxic metal
two access doors
two levels
spacious and safe for your ferret
BEST COOL OUTDOOR FERRET ENCLOSURE
VivoHome Ferret Enclosure
Product Overview
Your ferret will be happy in this cool cage. It is a multi-level and spacious cage for small animals. The dimensions are 24 x 17 x 37". The package includes a food bowl and a water bottle. There are also two removable trays that are easy to clean.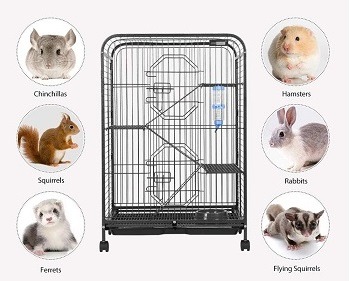 Durable Frame
VivoHome cage is designed to be long-lasting and sturdy which is very important for your ferret's safety. It is made of low-carbon steel. The cage is covered with a non-toxic powder coating. This cage is rust-resistant and can be used indoor and outdoor.
What Is Included
This cool ferret's cage includes four tiers and three ramps for ferret cage. They can be assembled in different ways. These accessories provide your pet with more climbing possibilities. You can add other accessories to your cage as well, such as hammocks, and wheels.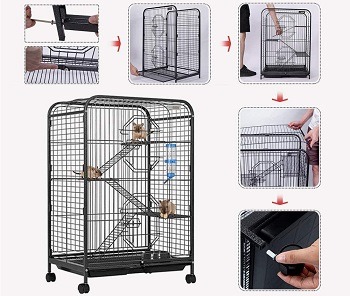 Pet-Friendly
This is a highly-safe outdoor ferret hutch. It has smooth surfaces and no sharp edges so all of the possible injury risks are eliminated. The cage has 1" interval between the wires and you can be sure that your ferret won't be able to run away.
In Short:
two removable trays included
comes with a food bowl and water bottle
made of durable material
includes three ramps
pet-friendly and safe
BEST LARGE OUTSIDE FERRET CAGE
Go2Buy Cage For Ferrets
Large And Safe Outdoor Cage
Getting a spacious outdoor ferret pen is very important, especially if you have more than one ferret. This ferret's enclose can be used indoor and outdoor. It is made of powder-coated metal wires and tubes. It is painted in non-toxic hammertone.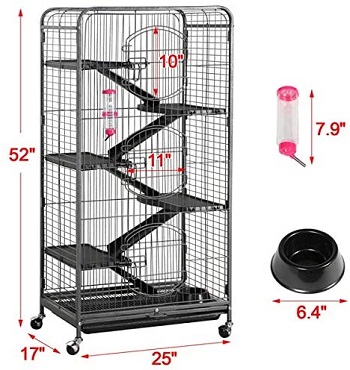 It Is Multifunctional
When we say multifunctional, we mean that all the ferret toys can be hung on this cage. This cage has three levels and a lot of vertical space. You can get hammocks, wheels, and other toys so that your little buddy can play and stay active.
The Dimensions And Weight
The overall dimensions of this tall ferret cage are 25.2 x 16.9 x 51.6" (LxWxH). The bar spacing in 0.9" so you can be safe your ferret won't escape. The door size of this outdoor ferret enclosure is 10 x 10.6" (WxH). This item weighs 28.2 pounds.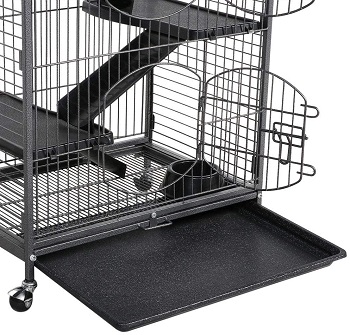 What Comes Included
This cage includes six tires that are connected with five ramps. There is a wall-mounted water bottle included, five shelves, a slide-out tray, and a plastic food box. This outdoor cage includes everything a first-time ferret owner needs.
In Short:
includes a water bottle and food box
features ramps and shelves
multi-level cage
provides a lot of vertical space
safe for ferrets
indoor and outdoor use
BEST CHEAP OUTDOOR FERRET CAGE
Zeny Outdoor Ferret Cage
Thoughtful And Safe Desing
A good pet manufacturer knows that designing a pet-friendly and safe enclosure is very important. The Zeny outdoor ferret cage is made of anti-rust material and high-quality steel. It has round and smooth corners. It includes ramps, water bottles, food boxes, and slide-out trays. You can fill this ferret cage with toys on your own.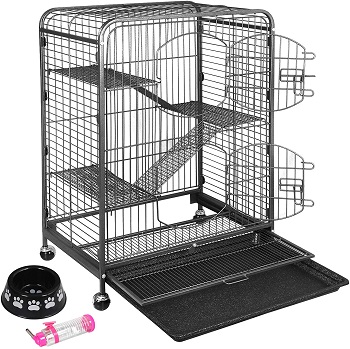 Easily Portable
This Zeny enclosure for ferrets stands on four wheels so you can move it around your yard. It can also be folded for easy transport or storage. It doesn't take up much space. Also, it is simple to assemble it. Check out the user manual that is provided in the package.
Simple Maintenance
Make the hygiene a priority and ensure your ferret's cage is cleaned daily. This cage includes the bottom tray that you will get to easily pull out and clean whenever needed. There are two access doors, each door is located on one level. This allows you to clean the cage without hassle.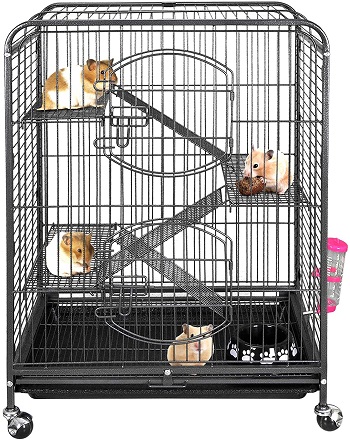 Budget-Friendly
The Zeny outdoor ferret hutch comes at a low price. Still, it is made of high-quality materials and it is worth having. Check it out online and make sure this cage is for you by reading more about it. Don't forget to read the customers reviews as well.
In Short:
comes with round and smooth corners
made of anti-rust material
it is chew-free
easy to access the cage and clean it
budget-friendly and of high-quality
BEST MULTI-LEVEL OUTDOOR FERRET ENCLOSURE
Yaheetech Enclosure For Ferrets
Extra Space
A multi-level ferret's cage is a big plus. It helps your ferret stay active and it provides it more play, and rest space. This Yaheetech cage comes with three platforms and it includes a hammock. The cage provides space for several ferrets.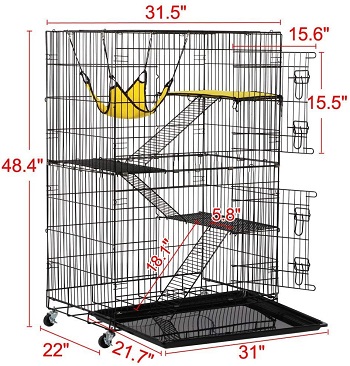 High-Quality Metal Design
Thanks to the chew-free and sturdy metal design, this hutch for ferrets is durable. It is made of non-toxic material that makes your ferret safe. The cage is perfect to use outdoor because it is rust and corrosion-resistant.
Easy To Clean
Your ferret will live in a cage. It will eat there, sleep, and play. Also, you are going to need a litter for your ferret. Two easy-access front doors make the cleaning of your ferret's home very easy. Don't forget to maintain the cage clean daily.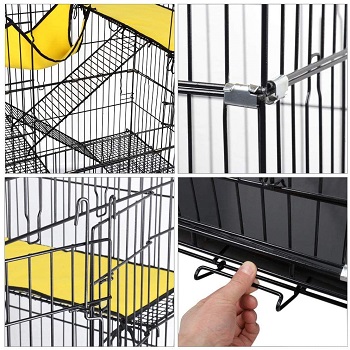 The Assembly
The package includes the instructions and the user manual. It will help you with the assembly. It shouldn't take too much time to set up this cage. Also, you can fully fold it down and store it easily or take it with you if you need to move.
In Short:
comes with 3 platforms
includes an extra-large hammock
made of non-rust metal
there two front doors for easy maintenance
sets up in no time
includes the user manual
BEST SMALL OUTSIDE FERRET CAGE
Prevue Ferret Outdoor Enclosure
About Prevue Hutch
This Prevue outdoor ferret enclosure is ideal for small or baby ferrets. Although it is a small feret cage, it still has enough space for your little buddy to play and run. You can add more accessories such as wheels or ramps and make your ferret stay active.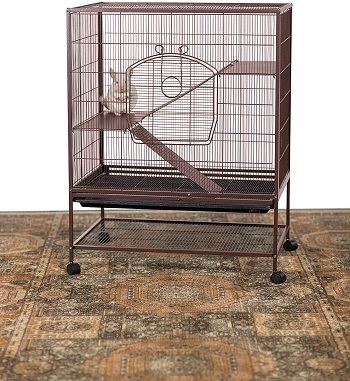 The Long-Lasting Design
The cage is made of solid metal. It is 100% chew-free and durable. It can withstand high and low temperatures and it is ideal for indoor and outdoor use. The doors and securely protected so you can be assured your pet will stay enclosed safely.
What Is Included
The package includes the user manual and the main ferret's cage. The cage comes with solid metal ramps and platforms. There is the tray included and a wind-bell lock on the bottom of the cage. This will prevent your ferret from pushing out the tray.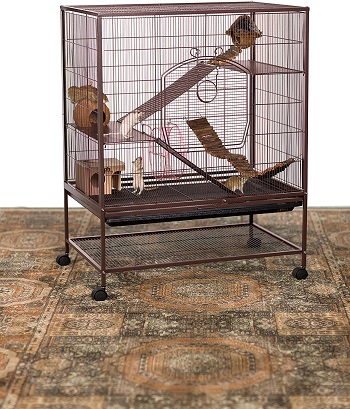 The Dimensions And Price
This cage is 31-inch long, 20-1/2-inch wide, 40-inch high, and comes with 3/8-inch wire spacing. It stands on four wheels and it can easily be rolled anywhere. The price of this item is medium. We wouldn't say it is expensive. Check it out online.
In Short:
sturdy and durable
withstands high and low temperatures
made of solid metal
indoor and outdoor use
decent price
How To Pick: Outdoor Ferret Cage
Whether you are a new ferret owner or not, you must consider these few important key factors that, in our opinion, make a good outdoor ferret enclosure. In the following paragraphs, you will learn why is important to have a ferret cage of decent size, what is a safe ferret cage, and why is having a multi-level cage a plus.
The Size Of The Cage – Ferrets are animals that like to sleep a lot. However, when they are awake, they can be very active. Getting a small cage for your ferret is not always a good idea. Consider a large ferret enclosure and make sure your fur buddy has room to rest, play, and run up and down the cage.
The Access Door – The more access door your new ferret cage has, the better. This will help you maintain the cage easier, change water and add more food. It will also help with maintenance. It is essential to clean your ferret's cage daily and the access door will help you do that easier.
Weather-Resistant And Safe Material – Make sure the outdoor cage your are getting is waterproof and weather-resistant. It is also crucial that it has no sharp edges and that is made of non-toxic and chew-proof material. This way you will know your ferret is safe all the time.
Multiple Levels – A large and spacious cage is an ideal ferret cage. If it comes with multiple levels, even better. This way you little ferret will get to run around and up and down whenever it wants. You can also add some accessories for your ferret to play with.
Additional Accessories – When it comes to accessories, some cages come with trays, hammocks, ramps, and wheels. This is not always the occasion, but you will get to add those whenever you want to.