Have you been looking for an outdoor ferret cage?
If yes, then you have come to the right place. We have explored the online market and found the best six models of outdoor enclosures. We have divided them into some of the following categories: best of best, cool, large, cheap, and others. Keep on reading to find out more. At the end of the article, you will find our buying guide that will help you bring the right decision.
The Summary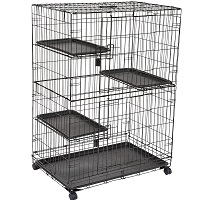 Amazon Basics Large Cage
OVERALL RATING: ★★★★★
The AmazonBasics outdoor cage for your ferret comes with a lot of vertical space and is made out of non-toxic metal.
Jump To Review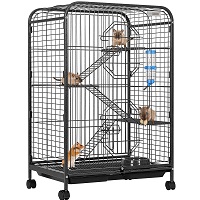 VivoHome Ferret Enclosure
OVERALL RATING: ★★★★☆
VivoHome cage for ferrets includes a water bottle, food bowl, two removable trays, and three ramps. Get to know more about this cool enclosure.
Jump To Review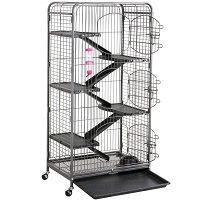 Go2Buy Cage For Ferrets
OVERALL RATING: ★★★★☆
A spacious outdoor enclosure is very important for your little ferret. Your buddy will love to play and run up and down its cage.
Jump To Review
What Is an Outdoor Cage For Ferrets?
Cages for ferrets include all types of cages which can be used outside of the house or apartment. Outdoor enclosures are ideal for backyards and large terraces as well as balconies.
What Is The Difference Between Indoor And Outdoor Models?
Outdoor models are made for all weather conditions, such as snow, sun, wind, and rain. Cages usually have a top cover while indoor cages don't have one. Outdoor models are coated with a weatherproof coat for durability and safety, while indoor models don't need to have this feature. Also, outdoor models have a hideout area where ferrets can hide from wind or rain, while indoor models don't.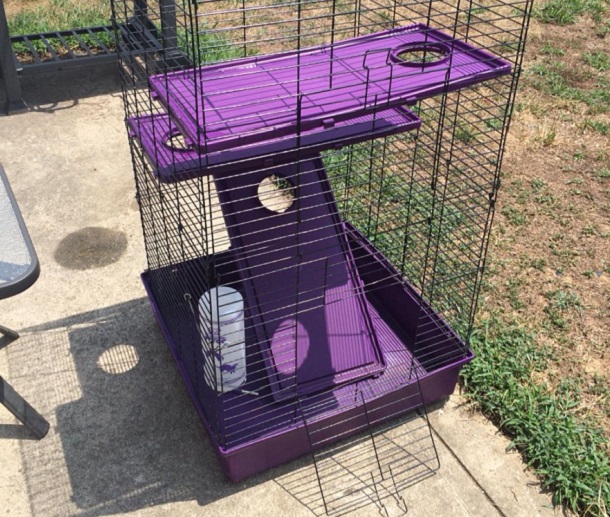 What's The Difference Between Outdoor Cage And Hutch For Ferrets?
Both cages and hutches are made of sturdy and durable material, but the main difference is in the top cover. Outdoor models usually don't have a rooftop, especially in the run area, so you need to place the model under the rooftop of the terrace, on the balcony. On the other side, most of the hutches have an asphalt rooftop that keeps the ferrets safe from bad weather conditions such as rain. Also, cages usually don't have hideout areas while hutches have.
Can Ferrets Live In Outdoor Wooden Hutch?
You can use the wooden hutch for ferrets because they're are well protected from the rain because on the top and sides. However, not all hutches are the best choice, they tend to be too small for ferrets and they need at least 10 square meters to exercise and have comfort. It is important that the hutch has leakproof bottom otherwise you won't be able to remove bad odor from feces.
Can Ferrets Live In Outdoor Cage?
They can live both, inside and outside the house, and it is really up to the owner. When ferrets live outside, they can be surrounded by their natural environment and have great access to daylight and fresh air.
During Winter?
Ferrets tolerate lower temperatures easier than high ones, so they can live outside during weather. However, it is not recommended to leave them outside when it's extremely cold and the temperature is below 0 degrees celsius. To make sure your ferrets are safe during cold weather, here are tips to consider:
Place blankets in their enclosure so they can snuggle up when they feel cold
Make sure to check if the water is not frozen over so they cannot drink it
Use the plastic cover on the sides to isolate the enclosure
Make sure they have a hideout in which they can hide when it's freezing outside
Place the enclosure in the corner of the terrace where is not that windy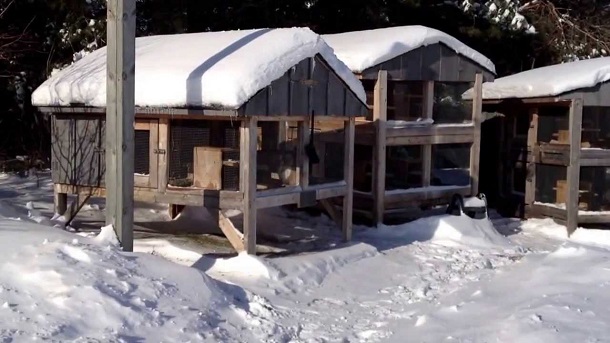 During Summer?
Ferrets like the temperature between 15-21 degrees Celsius, for example, the cooler UK climate is the perfect choice for them to be outside. Ferrets can suffer from heatstroke if it's too hot outside. For example,more then 32 degrees Celsius can be fatal for ferrets. Also, high humidity can increase the temperature.
How can you cool them down during summertime?
There are a few ways to keep the ferret cool during hot weather. First, make sure he is in the shade, the best option is under the wooden rooftop or tree which will lower the temperature. Second, move the cage from the direct sun if it's possible. Use frozen plastic or frozen bowl and wrap it in cloth.
Place it in the ferret's bed which will keep him cool. Make sure air circulation is great and that the ferrets are not thirsty. You can lightly mist the ferrets in the morning at noon as well at night to keep their body temperature optimal. If you notice your pet is acting differently, immediately take it inside the house and call the veterinarian.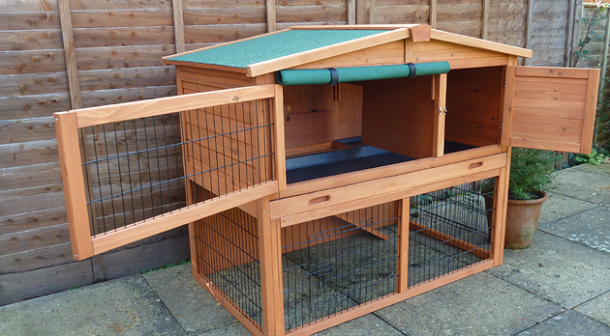 Which Cages Are Not Suitable For Outdoor Use?
Not all cages are the best option for outdoor use. We listed which one to avoid:
Cage with poor ventilation – The cage needs to have wire nets for air circulation
A cage that has a wire – Ferrets can easily get wet if it starts raining
Cage without top cover – Ferrets will immediately escape and easily get lost.
Extremely tall cage – Other animals can easily knock it down as well as strong wind
Cages without bottom – they can easily dig the hole and escape out
Benefits Of Having An Outdoor Ferret Enclosure
There are many benefits why a cage is a great choice for ferrets, and we listed the most important ones.
Odor Control
You don't want to think about bad odor? Placing the ferret outside you can easily control the odor because of better air circulation.
Indoor And Outdoor
It is getting cold outside and you want to take a ferret inside the house? Or the temperature is too hot and your ferrets get stressed out? You can use the outdoor model inside, as well, if it's portable and can fit in the room.
Natural Environment
Do you want to provide ferrets be surrounded by the natural environment? Outdoor models are the best choice. A ferret can enjoy the fresh air and natural scents around. Also, they will have thicker fur if they live in cold weather conditions.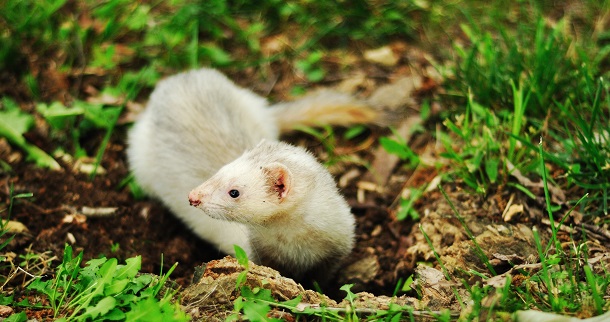 Spacious Space
You don't have enough space inside your house to place a ferret cage? The backyard is the perfect choice for cages? You won't have to worry if the cage will fit or not. Also, you can buy a much bigger cage that will provide the ferret with more space for activities.
Specifications To Consider When Buying Ferret Cage
Buying a perfect cage that will be functional, durable, and worth the money can be very stressful. To help you with that, we listed the most important specifications and features you need to consider when buying a cage.
Weatherproof Protection
The cage needs to have weather protection not only because of durability but for the safety of your ferrets, as well. Make sure there is a waterproof top cover, and that the cage is coated to prevent rust. The sides of the cage can be protected with a transparent cover that will protect your ferrets from strong wind.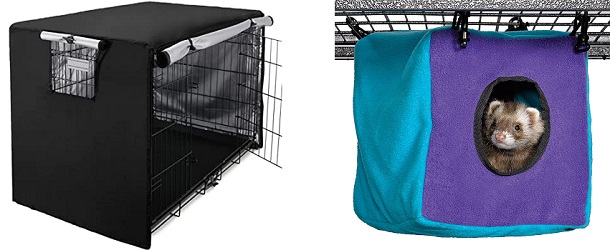 If the cage doesn't have a top cover it is important to place a hideout inside in which he can hide when it's raining outside. Hideout needs to be made of waterproof material and be at least 10 inches large so the ferret can fit. For safety, place the cage under the tree or roof from the terrace or balcony.
Sturdy Construction
One of the main specifications to consider is the quality of the construction. The cage needs to be made of sturdy and high-quality materials. Wires need to be thick and strong as well as plastic parts. If there are wooden parts, they need to be made of solid wood which is much more durable than plywood. Avoid plywood materials, ferrets love to dig and they can easily damage it and escape.
The cage needs to have a top and bottom cover. If the cage doesn't have a bottom and there is only grass or ground, it is recommended to secure the sides with string so the ferret can't make a hole and escape.
Cage Size
The cage needs to be large enough so the ferret has enough space to exercise, play, and an area for sleeping and privacy. Each ferret needs to have at least 2.5 square feet of space. This means you need to buy a cage that is at least 24 inches wide. For 2 ferrets cage measurement needs to be 20 x 20 x 40 inches minimum. As you use the cage outside and have much more space, we recommend picking a cage as large as you can afford.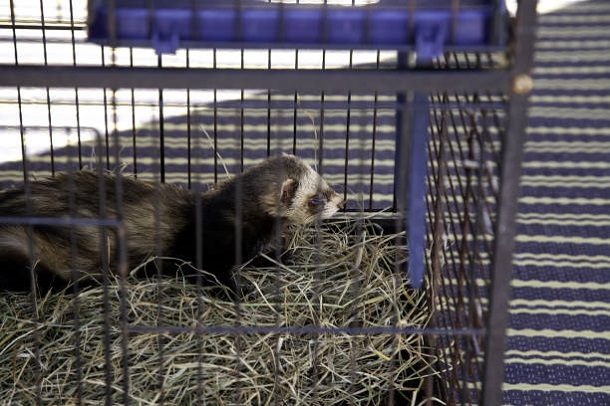 Door Access
Outdoor cage, especially if it's large needs to have large doors for easier access so you can reach the ferret, clean the mess and feed him. We recommend picking the cage with front and side doors. If the cage has a multilevel design, doors need to be on every level.
Easy Maintenance
Enclosure needs to have a leakproof bottom so you can easily clean it such as metal or plastic. Most of the outdoor models have a tray that can be pulled out and quickly cleaned with soap and water. For odor control, use litter made of natural materials such as wood and paper without any chemicals and scents that can be harmful to ferret
Top 6 Outdoor Ferret Cages
We reviewed different types of models in different sizes and designs. What do they have in common? All the models need a cover or hideout that can be obtained separately.
Amazon Basics Large Cage
SPECIFICATION:
Material: Alloy Steel/Plastic
Dimensions: 35.83 x 22.44 x 50.6 inches
Weight: 37.4 Pounds

Levels: 4
Doors: 2
Use: Outdoor/Indoor
Spacious Interior
The AmazonBasics 35.8 by 22.4 by 50.6 inches (LxWxH) outdoor ferret enclose will be a new and comfortable home for your little fur friends. The cage has room for your ferret to rest and play. There is enough space for your ferret's food, water, and litter.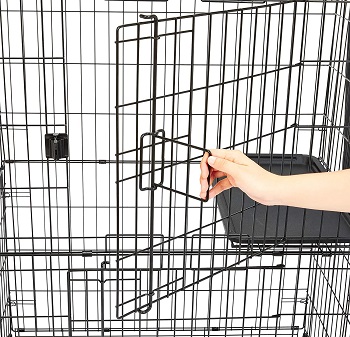 Durable And Sturdy Design
This ferret cage is made of durable metal wire. It is coated in a black rust-resistant finish. The material is non-toxic and the cage is completely safe for your ferret. There are three shelves and a lot of vertical space for your ferret to explore and hangout.
Two Large Doors
This cage has two levels and two swing-open front doors. One on each level. The doors will make it easier to maintain. It is important that you clean the litter box daily. Also, you get to easily refill food and water bowls. The doors are secured with locking latches.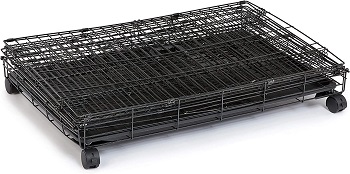 Fold-Down Design
If you need to go traveling, this cage will be easy to fold. Its fold-down design makes it easy for transport. The weight of this cage is 37.4 pounds. It is easy to assemble this ferret's cage. It stands on four wheels so you can roll it around too.
Overall:
Safety:
Mobility:
Size:
Weight:
Funcionality:
AVERAGE PRICE
$99 – $143 varies from webshop to webshop: Amazon, Walmart, eBay
In Short:
this cage measures 35.8 x 22.4 x 50.6"
fold-down design
stands on 4 wheels
made of non-toxic metal
two access doors
two levels
spacious and safe for your ferret
VivoHome Ferret Enclosure
SPECIFICATION:
Material: Carbon Steel
Dimensions: 35.8 x 25.1 x 3.8 inches
Weight: 23.3 Pounds

Levels: 4
Doors: 2
Use: Outdoor/Indoor
Product Overview
Your ferret will be happy in this cool cage. It is a multi-level and spacious cage for small animals. The dimensions are 24 x 17 x 37". The package includes a food bowl and a water bottle. There are also two removable trays that are easy to clean.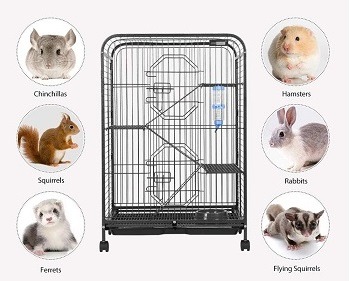 Durable Frame
VivoHome cage is designed to be long-lasting and sturdy which is very important for your ferret's safety. It is made of low-carbon steel. The cage is covered with a non-toxic powder coating. This cage is rust-resistant and can be used indoor and outdoor.
What Is Included
This cool ferret's cage includes four tiers and three ramps. They can be assembled in different ways. These accessories provide your pet with more climbing possibilities. You can add other accessories to your cage as well, such as hammocks, and wheels.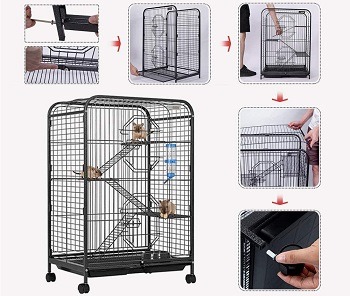 Pet-Friendly
This is a highly-safe outdoor ferret hutch. It has smooth surfaces and no sharp edges so all of the possible injury risks are eliminated. The cage has 1" interval between the wires and you can be sure that your ferret won't be able to run away.
Overall:
Safety:
Mobility:
Size:
Weight:
Funcionality:
AVERAGE PRICE
$97 – $09 varies from webshop to webshop: Amazon, Walmart, eBay
In Short:
two removable trays included
comes with a food bowl and water bottle
made of durable material
includes three ramps
pet-friendly and safe
gG2buy Metal Cage
SPECIFICATION:
Material: Metal
Dimensions: 25.2 x 16.9 x 51.6 inches
Weight: 28.2 Pounds

Levels: 5
Doors: 3
Use: Outdoor/Indoor
Large And Safe Outdoor Cage
Getting a spacious outdoor ferret pen is very important, especially if you have more than one ferret. This ferret's enclose can be used indoor and outdoor. It is made of powder-coated metal wires and tubes. It is painted in non-toxic hammertone.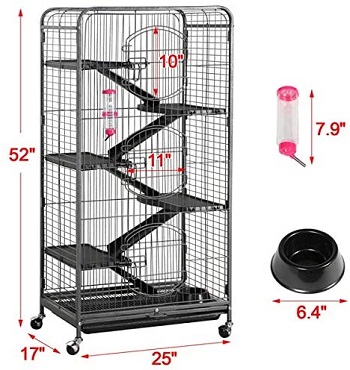 It Is Multifunctional
When we say multifunctional, we mean that all the ferret toys can be hung on this cage. This cage has three levels and a lot of vertical space. You can get hammocks, wheels, and other toys so that your little buddy can play and stay active.
The Dimensions And Weight
The overall dimensions of this tall design are 25.2 x 16.9 x 51.6" (LxWxH). The bar spacing in 0.9" so you can be safe your ferret won't escape. The door size of this outdoor enclosure for ferret is 10 x 10.6" (WxH). This item weighs 28.2 pounds.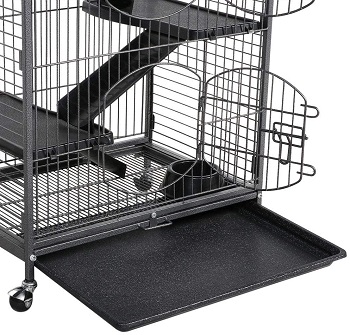 What Comes Included
This cage includes six tires that are connected with five ramps. There is a wall-mounted water bottle included, five shelves, a slide-out tray, and a plastic food box. This ferret model includes everything a first-time ferret owner needs.
Overall:
Safety:
Mobility:
Size:
Weight:
Funcionality:
AVERAGE PRICE
In Short:
includes a water bottle and food box
features ramps and shelves
multi-level cage
provides a lot of vertical space
safe for ferrets
indoor and outdoor use
Zeny Ferret Cage
SPECIFICATION:
Material: Metal
Dimensions: 36 x 27 x 6 inches
Weight: 23 Pounds

Levels: 3
Doors: 2
Use: Outdoor/Indoor
Thoughtful And Safe Desing
A good pet manufacturer knows that designing a pet-friendly and safe enclosure is very important. The Zeny outdoor cage is made of anti-rust material and high-quality steel. It has round and smooth corners. It includes ramps, water bottles, food boxes, and slide-out trays. You can fill this cage with toys on your own.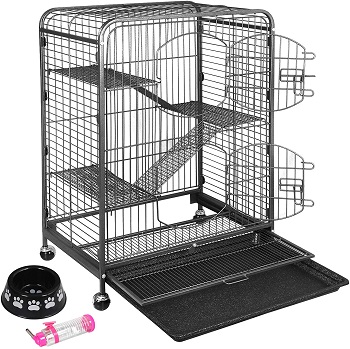 Easily Portable
This Zeny enclosure for ferrets stands on four wheels so you can move it around your yard. It can also be folded for easy transport or storage. It doesn't take up much space. Also, it is simple to assemble it. Check out the user manual that is provided in the package.
Simple Maintenance
Make the hygiene a priority and ensure your ferret's cage is cleaned daily. This cage includes the bottom tray that you will get to easily pull out and clean whenever needed. There are two access doors, each door is located on one level. This allows you to clean the cage without hassle.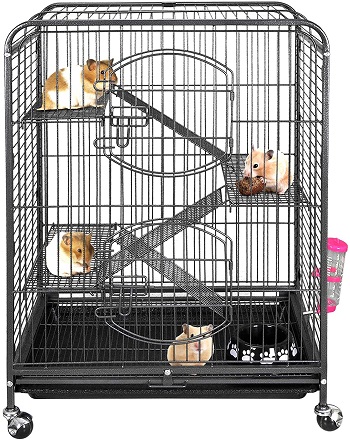 Budget-Friendly
The Zeny outdoor ferret hutch comes at a low price. Still, it is made of high-quality materials and it is worth having. Check it out online and make sure this cage is for you by reading more about it. Don't forget to read the customers reviews as well.
Overall:
Safety:
Mobility:
Size:
Weight:
Funcionality:
AVERAGE PRICE
$59 – $89 varies from webshop to webshop: Amazon, Walmart, eBay
In Short:
comes with round and smooth corners
made of anti-rust material
it is chew-free
easy to access the cage and clean it
budget-friendly and of high-quality
Yaheetech Collapsible Cage
SPECIFICATION:
Material: Cast Iron
Dimensions: 48.62 x 31.5 x 21.65 inches
Weight: 35.93 Pounds

Levels: 4
Doors: 2
Use: Outdoor/Indoor
Extra Space
A multi-level ferret's cage is a big plus. It helps your ferret stay active and it provides it more play, and rest space. This Yaheetech cage comes with three platforms and it includes a hammock. The cage provides space for several ferrets.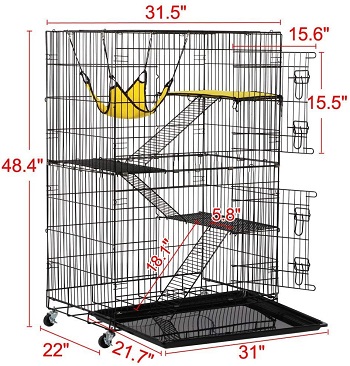 High-Quality Metal Design
Thanks to the chew-free and sturdy metal design, this hutch for ferrets is durable. It is made of non-toxic material that makes your ferret safe. The cage is perfect to use outdoor because it is rust and corrosion-resistant.
Easy To Clean
Your ferret will live in a cage. It will eat there, sleep, and play. Also, you are going to need a litter for your ferret. Two easy-access front doors make the cleaning of your ferret's home very easy. Don't forget to maintain the cage clean daily.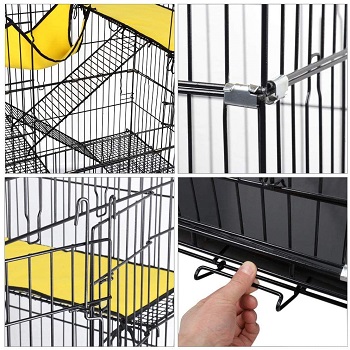 The Assembly
The package includes the instructions and the user manual. It will help you with the assembly. It shouldn't take too much time to set up this cage. Also, you can fully fold it down and store it easily or take it with you if you need to move.
Overall:
Safety:
Mobility:
Size:
Weight:
Funcionality:
AVERAGE PRICE
In Short:
comes with 3 platforms
includes an extra-large hammock
made of non-rust metal
there two front doors for easy maintenance
sets up in no time
includes the user manual
Prevue Rat and Chinchilla Cage
SPECIFICATION:
Material: Metal
Dimensions: 31 x 20.5 x 40 inches
Weight: 30 Pounds

Levels: 3
Doors: 1
Use: Indoor
About Prevue Hutch
This Prevue outdoor enclosure is ideal for small or baby ferrets. Although it is small sized, it still has enough space for your little buddy to play and run. You can add more accessories such as wheels or ramps and make your ferret stay active.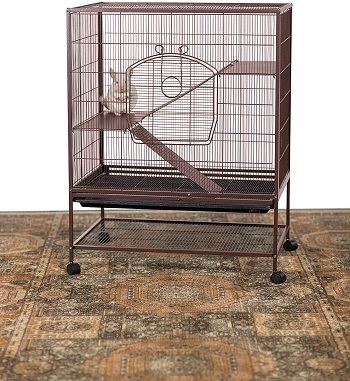 The Long-Lasting Design
The cage is made of solid metal. It is 100% chew-free and durable. It can withstand high and low temperatures and it is ideal for indoor and outdoor use. The doors and securely protected so you can be assured your pet will stay enclosed safely.
What Is Included
The package includes the user manual and the main ferret's cage. The cage comes with solid metal ramps and platforms. There is the tray included and a wind-bell lock on the bottom of the cage. This will prevent your ferret from pushing out the tray.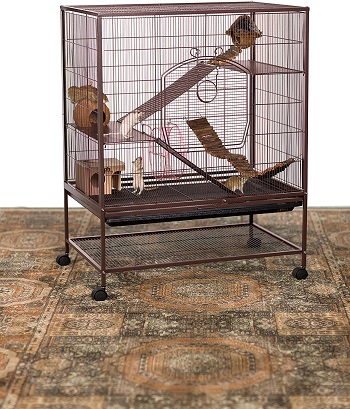 The Dimensions And Price
This cage is 31-inch long, 20-1/2-inch wide, 40-inch high, and comes with 3/8-inch wire spacing. It stands on four wheels and it can easily be rolled anywhere. The price of this item is medium. We wouldn't say it is expensive. Check it out online.
Overall:
Safety:
Mobility:
Size:
Weight:
Funcionality:
AVERAGE PRICE
$254 – $295 varies from webshop to webshop: Amazon, Walmart, eBay
In Short:
sturdy and durable
withstands high and low temperatures
made of solid metal
indoor and outdoor use
decent price
Risks Of Living Outdoor: Tips For New Owners
Even if the ferrets can live outside of the house, in cage there are some risks and dangers to consider.
Easy Escaping
Ferrets love to explore everywhere, dig, and will try to escape if there are any gaps. If the ferret escapes from the outdoor model, he can easily get lost and go out of the backyard, which can be extremely dangerous. They don't know about the fear and will go in any direction.
Animal Attack
When the ferrets are outside and you don't monitor them, other animals like cats or dogs can find a way to come close to the cage and attack the ferret if they're near wires. It can be really dangerous and can cause injuries.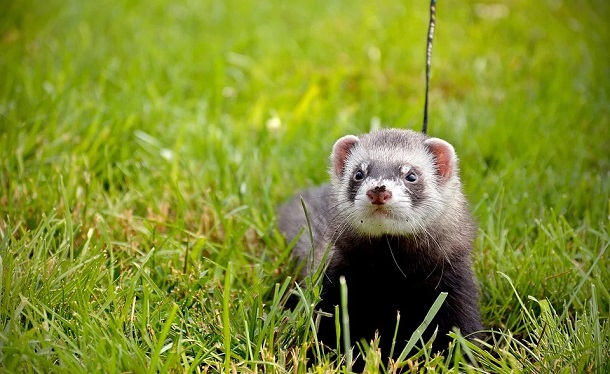 Walking Ferret Outdoor
If you want to let your ferret outside of the cage and walk him, it is important he always wears a harness that is tight enough to prevent escape. We recommend using the H style version which is safer and much more comfortable than the neck model.
Make sure to move all the food and small parts that ferrets can easily swallow. Don't let the ferret walk on a hot surface, they have very sensitive feet which can injure them. Don't let him walk in long grass, it is a threat of fleas and ticks. Always check him when you're placing him back in the cage.
Viruses And Diseases
We recommend vaccinating ferrets before you move them outside. Contact your veterinarian and protect your pet from harmful diseases and viruses.
How To Move Ferret Outdoor?
Your ferret is currently inside the house but do you want to move him outdoor? A ferret can really enjoy the outdoor if you make good and safe habitat. We're giving you methods and tips on how to do it.
Choose The Enclosure
The first step is to find an enclosure big enough for the ferret. You can buy it in large pet stores or online such as on Amazon. We recommend buying a little bit bigger model in case you want to have more ferrets in the future. We recommend buying an enclosure that is approximately 6 x 6 x 6 feet. You can use any type of ferret cage or hutch or even make it on your own by following these instructions if you have experience.
Setting Ferret Habitat
So the ferret can have a functional enclosure is important to set it the right way. The bottom of the enclosure needs to be made of solid wood, metal, or plastic. Made a feeding and drinking area where you'll place a water bottle and food bowl. You can use a corner and clip the set on the sides for safety. Ferret love having a cozy surface when sleeping so make sure to ad bedding in a separate corner. You can use a blanket, old clothes, or even hay and straw. Also, add some accessories ferrets can play with, such as toys, tubes, and tunnels.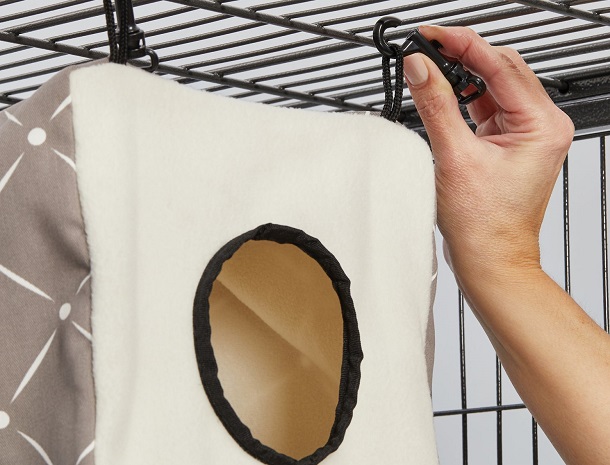 Adjust Ferret To New Environment
You're not sure how your ferret will react to staying outdoor? The best way is slowly adjusting. The first few days live him maximally half an hour outside, and then gradually increase the amount of time. We recommend placing him outside when is from 15 to 25 degrees outside, and when it's not raining or windy. This method will be useful and your ferret will easily adapt to a new environment without additional stress.
DIY Outdoor Cage For Ferret
Do you want to use your creativity and make the outdoor enclosure on your own? By following our steps you can easily do it if you have some experience, needed stuff, and tools.
Benefits Of DIY Wooden Cage
If you're having old wooden furniture such as a commode, desk, drawer, or cabinet you can use it to make the cage by cutting it into the boards. Also, if you have some unused wire net, this will be perfect for the cage.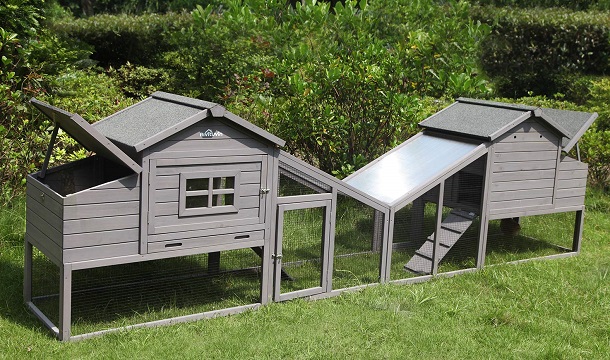 Not only you will be productive and creative by making a ferret change on your own, but it will also, for sure, cost you less money than buying a new one. You can save some money and use it to buy food for your ferret.
Step 1. Make A Plan
To start making cage you need to have a plan where to place it how big the cage will be and which materials you'll use to make it. We recommend placing the cage in the corner of the backyard, under the tree, or on some rooftop that will protect the ferret from direct sunlight, wind, and rain. The cage needs to be at least 20 inches big. From the materials, you'll need wooden boards, a wire net, screws, hinges, and a door lock. Also, from the tools, you'll need a screwdriver or power drill and a saw.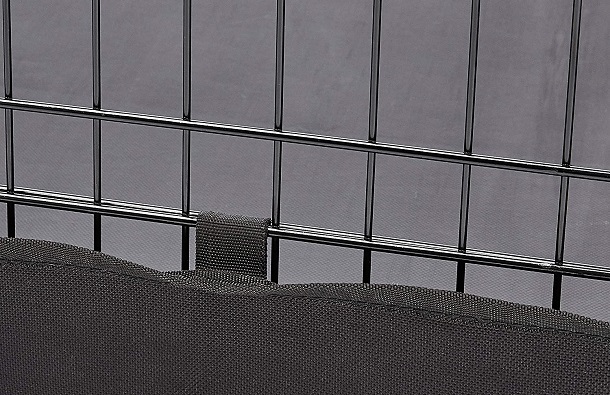 Step 2. Make The Construction
Measure the boards and make a frame on each side. Place the wire net on the frame by using the screws. Connect all the frames of the cages by screwing them together. Add the cover on the top and make sure the cage is stable. You can place it a few cm underneath the ground to provide stability and prevent ferrets from escaping. For maximum safety, place metal bottom base.
Step 3. Place Doors For Access
It is important to make a door so you can easily access the cage to feed your ferret and clean the cage. Doors can be made of wooden frames and wire net, as well. You will only need hinges to secure it to the frame. Hinges allow you to easily open and close the doors. Also, you'll need metal door locks and screws to secure it.
Step 4. Add Accessories
Make your ferret's cage functional and entertaining by adding accessories. The ferrets need to have a litter box, feeding bowl and drinking bottle, blanket, or some type of fabric that ferret will use for sleeping. Also, you can add different exercise accessories such as long tubes, tunnels, platforms, ramps, and toys.
Step 5. Test Before Use
Before placing the ferret in the cage test the doors, they need to be easily open and closed only from the outer side. Make sure that all the platforms and ramps are stable and big enough so the ferret can easily move up and down. Check if there are no gaps from which the ferret can easily escape. Make sure the cage is well ventilated and protected from the sun and rain.
To Sum Up
In the end, we would like to mention an outdoor cage that we liked the most. It is the Yaheetech Enclosure For Ferrets. We like it because it has a lot of space and it is very simple to maintain clean. Outdoor cages are practical to avoid odors, but you need to provide your ferret adequate considtions for each season.