Looking for ramps for ferret cages?
If your answer is yes, read our article. We have reviewed several models and divided them into categories. Learn everything about the best of best, replacement, and large ramp. Check out our bonus review as well and read our buying guide at the end of this article.
The Summary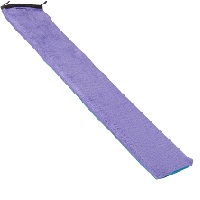 Critter Nation Exit Ramp
OVERALL RATING: ★★★★★
This exit ramp is compatible with Ferret Nation and Critter Nation cages. It is an exit cage that measures 25L x 5.5W inches.
Jump To Review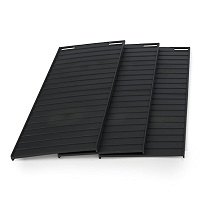 Prevue Replacement Ramps
OVERALL RATING: ★★★★☆
Get these replacement ramps and platforms for the Prevue Feisty Ferret Home 485 cage. Use them to provide your ferret with a fun environment.
Jump To Review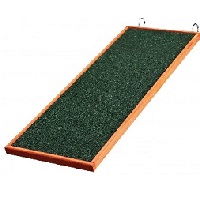 Trixie Wooden Ferret Cage Ramp
OVERALL RATING: ★★★★☆
Get this large ramp for simplifying your ferret's getting in and out of the cage. Extend it if necessary. It is easy to install and lasts a long time.
Jump To Review
What Is The Purpose Of Ferret Ramp?
Ramps are one of the essential accessories for a ferret's cage which are used for easier climbing to the shelf. Mostly, they're used in multilevel cages so the ferret can reach the top area.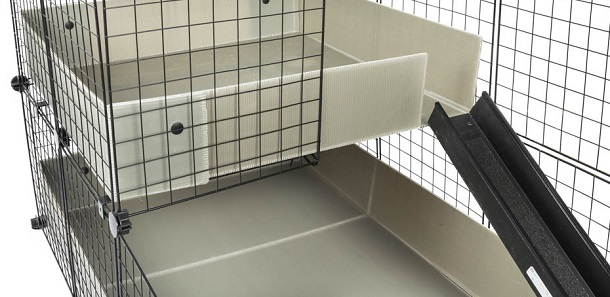 Does Ferrets Love To Use Ramps?
Ferrets have short bursts of energy and love to climb everywhere. They love using ramps to explore the environment and stay active.
Is It Normal For Ferrets To Climb?
It depends from ferret to ferret. Some prefer cuddling with their owners, some don't, some ferrets love bathing and some are afraid of water. This is the same with ramps. Because of their body construction, they're not able to easily climb on everything like for example cats. But, ramps are a good choice for ferrets ad they can easily use them if it's stable and wide enough.
How Do I Stop My Ferret From Climbing?
If you notice a ferret easily stuck somewhere when he's climbing and you want to stop him from doing it, it will be extremely. The easiest way is to secure some parts of the cage so they can't climb too high. Also, if you want to stop ferrets from climbing outside of the cage, move the sofa from the table or table from the counter which will stop them from climbing higher.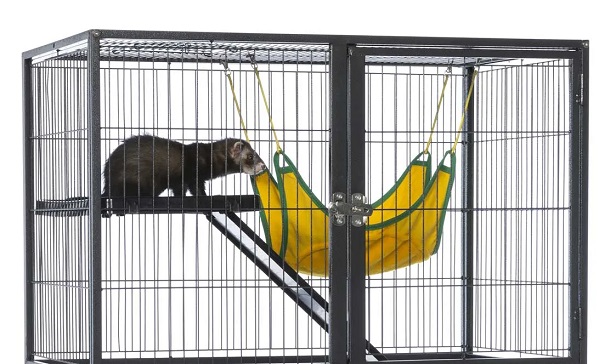 We recommend training the ferret by using some of the method which usually their mom use such as hissing, or carefully pressing their head on the floor.
Which Ramps To Avoid For Ferrets?
Not all ramps are the best choice for ferrets mostly because of the type of material and safety. For example, wire mesh ramps are not the best choice ferret can easily stick his leg, arm, or even nail between wires and hurt himself. Metal wires can be very slippery and the ferrets can easily fall down. Also, ramps that have sharp edges like wires can easily hurt the ferret. Wooden ramps are not recommended because ferrets can easily damage them if they start chewing them.
Pros Having Ramp In Ferret's Cage
If you're not sure whether to buy a ramp for your ferret or not, here is the list of the most important benefits why ramps can be very useful.
Quick Climbing
You don't want your ferret to climb using the wires on the sides? Having a ramp in his new enclosure will allow him easier climbing so he can explore around.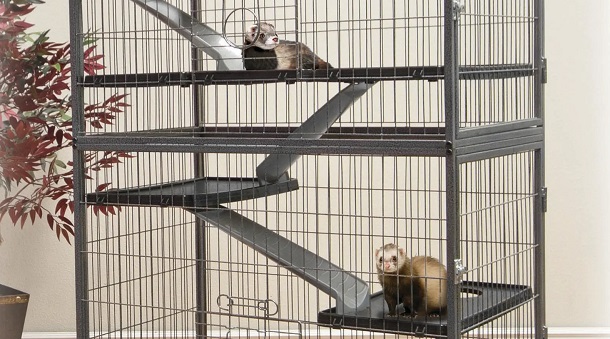 Activities And Entertainment
Do you want to keep your ferret active and entertain while he's in his cage? If he has a ramp he will use it for climbing up and down and playing which will affect his physical and mental health.
Separate Feeding Area
If you're having multiple ferrets and want to separate feeding bowls and water bottles to prevent a fight? Having a ramp that is connected to the shelf allows you to make separate feeding areas for each ferret.
Use Free Space
The cage for ferrets has a lot of free space which you don't know how to use? Having ramps allow you to make the one-level cage a multilevel one. Depending on how large and tall the cage is you can add as many ramps and shelves as you can.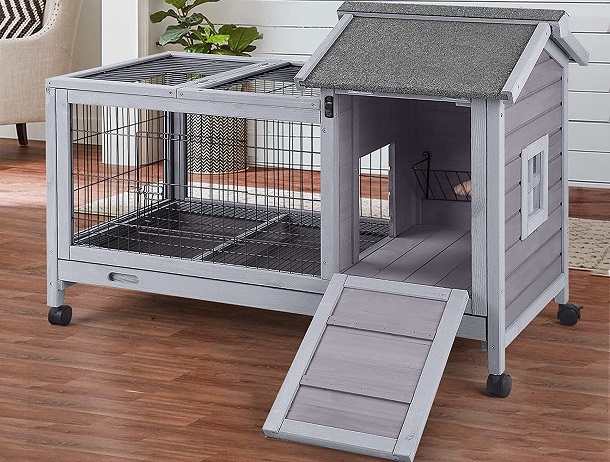 Exit Ramp
Cage doesn't have exit ramps that allow the ferret to easily go out when it's time for playing? You can install a suitable ramp to the cage and the ferrets can easily go inside and out when needed.
Pick Best Ferret Ramp – Buyer Guide
By following our guide you can easily pick the best ramp for your ferret's cage.
Easy Installation
Most of the ramps can be easily installed. They usually have little hooks on opposite sides which you can attach to the wires or the shelf.
Type Of Material
The ramp needs to be made of sturdy and high-quality material. Most of the rams are made of plastic or metal. There are also wooden ramps that can be used in ferret cages.
Ramp Size
Most of the ramps are adjustable as well as the shelves so you can pick either the one from the manufacturer of the cage or a similar one from another manufacturer. The ramp needs to be wide enough so the ferret can easily climb on it, at least 5 inches.
Ramp Covers
For the safety from falling as well as to provide comfort while your ferret is walking on ramps, covers are very useful to have. Most of the models include suitable covers in the box or you can buy them separately. They come in different colors like black, purple, pink, etc., and can be made of fleece, cotton, or polyester.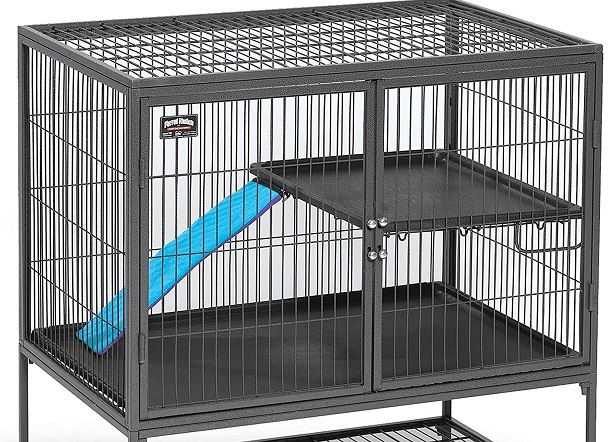 Safety Features
The ramps need to be made of non-slippery material as the ferret can easily slip and fall down from the ramp. The best choice is the wire models or the plastic ramps with stairs design.
Maintenance And Cleaning
Most of the ramps like plastic or metal ones are stain-resistant and can be easily clean with a dry or damp cloth. Use the dry cloth to move the dust and dry one with a little bit of soap when you need to clean the mess from uneaten food. If you're having ramp covers they can be easily cleaned in the washing machine when needed.
Best 4 Ramps For Ferret Cages
Critter Nation Exit Ramp
SPECIFICATION:
Material: Cotton
Dimensions: 25.25 x 5.5 x 4.76 inches

Weight: 1.5 Pounds
Color: Purple/ Green

What To Use This Ramp For
This ramp for ferret is made to be an exit ramp. Your little ferret will get out of the multi-level ferret cage easier to hang out with you or play around the house. Use it to attach it to your ferret cage door. Make sure it is compatible with your cage.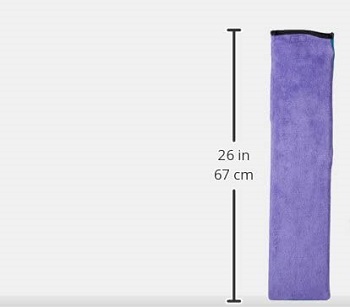 The Compatibility
This ramp measures 25L x 5.5W inches. It is compatible with all Ferret Nation and Critter Nation cages. Still, if its measures match your ferret cage that is not from the same manufacturer, you can get these ramps for cages.
A Cover Included
This ramp includes an extra soft polyester cover. It is here to protect your ferret's feet and to make it feel cozy. The cover comes in purple. It is easy to attach and de-attach. Also, it is simple to wash it whenever it is necessary.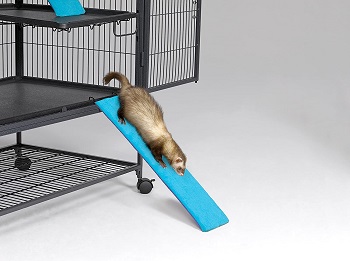 The Ramp Material
The ramp is made of steel. It is protected with a durable powder coat. The material is safe for your ferret. This ramp is durable and sturdy. It will last you a long time. The price of the ramp is affordable. Check out this ramp online.
Overall:
Safety:
Installation:
Size:
Maintenance:
Funcionality:
AVERAGE PRICE
$8 – $25 varies from webshop to webshop: Amazon, Walmart, eBay
In Short:
sturdy and durable ramp
comes with a protective polyester cover
compatible with Ferret Nation and Critter Nation cages
the dimensions are 25L x 5.5W inches
easy to maintain
Prevue Replacement Ramps
SPECIFICATION:
Material: Plastic
Dimensions: 19.68 x 17.75 x 0.2 inches

Weight: 0.5 Pounds
Color: Black

Compatible With Prevue Cage
This product is a replacement ramp for the Prevue Feisty Ferret Home 485 cage. The package includes the ramps and platforms. The dimensions of the ramps are 15 3/8'' long and 5 1/8'' wide.

Ramps And Platforms
Use these ramps and platforms to provide your ferret more levels and more space of fun. Your ferret will love the idea of having more platforms and ramps to play on. The platforms measure 19 3/8'' long and 17 ¾'' wide so they might even fit in some small-sized cages.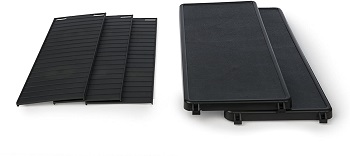 The Package
This Prevue package includes two platforms and three ramps. Use the ramps inside of the cage or install them to be the exit ramps for your little fur friend. They don't include safety covers. They can be purchased separately.
Overall:
Safety:
Installation:
Size:
Maintenance:
Funcionality:
AVERAGE PRICE
$45 – $70 varies from webshop to webshop: Amazon, Walmart, eBay
In Short:
match the Prevue Feisty Ferret Home 485
the ramps measure 15 3/8'' X 5 1/8''
the platform dimensions are 19 3/8'' X 17 ¾''
the package includes 2 platforms and 3 ramps
cover is not included
Trixie Wooden Cage Ramp
SPECIFICATION:
Material: Pine Wood
Dimensions: 19.61 x 7.95 x 1.38 inches

Weight: 1.6 Kg
Color: Green

Wooden Material
This Trixie ramp for the cage is made to allow your ferret easy access to its cage, hutch or even an outdoor ferret enclosure. It is a large ramp that will fit large wooden ferret cages. It is an eco-friendly ramp, safe, and comes with a non-slip grip.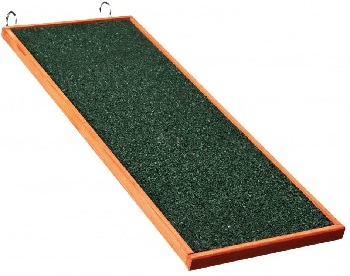 Easy To Install
It is easy to install this ramp to the wooden ferret cage. As long as the ramp matches your cage, you will install it in no time. This wooden cage ramp measures 19.61 x 7.95 x 1.38 inches and weighs 2.34 pounds.
Can Be Extended
This is an exit and access ramp. It simplifies your ferret getting in and out. It hangs over the entrance of your ferret cage and if necessary, it can be extended with additional ramps for taller cages and hutches.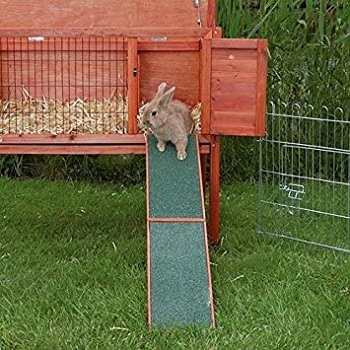 Why And When Buy Trixie Ramp
Getting in or out of the cage or hutch can be tricky for your ferret if there is no ramp that it can walk on. Especially if your ferret cage is tall and raised off the ground. This is when a Trixie ramp can help.
Overall:
Safety:
Installation:
Size:
Maintenance:
Funcionality:
AVERAGE PRICE
$45 – $70 varies from webshop to webshop: Amazon, Walmart, eBay
In Short:
made out of pine wood
19.61 x 7.95 x 1.38 inches
simplifies getting in and out
easy to install
can be extended
Midwest Ramp Cover
SPECIFICATION:
Material: Polyester
Dimensions: 18.25 x 5.5 x 1 inches

Weight: 0.25 Pounds
Color: Blue/Purple

Extra Ramp Covers
This bonus review is all about the extra ramp covers. These covers are designed for the previously-mentioned Ferret Nation and Critter Nation ramps. They are cozy, soft, and safe for your pet. They protect your ferret's little feet.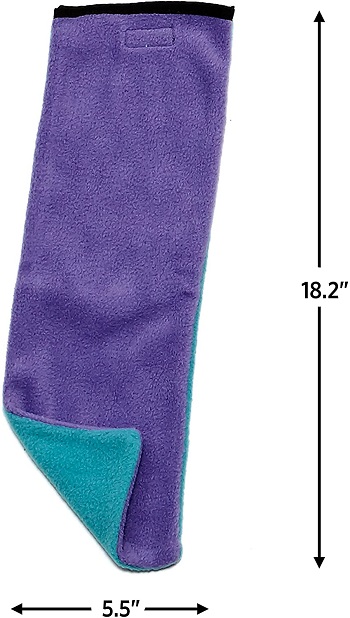 The Material And Maintenance
These ramp covers are made of teal polyester. They come in purple. They are safe for your ferret and very easy to maintain. The Midwest covers are machine washable and can be dried in the dyer.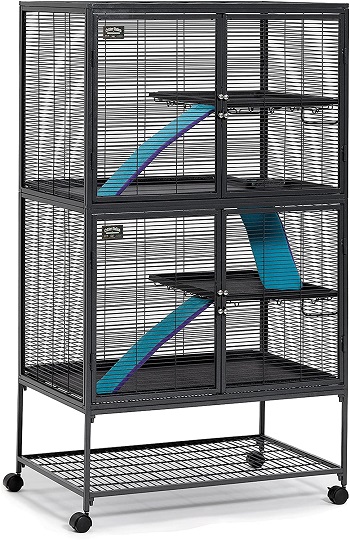 The Package And Price
This package includes 3 purple ramp covers. They are very convenient to have and simple to clean. The price of the package is very affordable. What is important as well is that the customer's satisfaction is very high.
Overall:
Safety:
Installation:
Size:
Maintenance:
Funcionality:
AVERAGE PRICE
$12 – $30 varies from webshop to webshop: Amazon, Walmart, eBay
In Short:
affordable price
3 covers are included in the package
easy to wash and dry
easy to put on the ramp
soft and cozy
protect your ferret's small feet
How Easy Is To Set Ramp?
Nothing is easier than to set the ramp in the cage. You will need a minute for that if you follow our steps down below.
Step 1. Connect Parts
Ramps purposed for ferret cages usually come in one part and don't require assembly. However, they usually have hooks that can be easily hooked on them. Use the opposite sides of the ramps as is shown in the instructions.
Step 2. Connect With Shelf
After you installed the hooks, you can now attach them to the shelf. You can connect it to any side of the shelf you want, depending on where you're planning to position it ao the ferret can have easy access
Step 3. Place Cover
If you're having a cover for the shelf, it is very easy to place it. Some covers only need to be laid down on the surface and some look like a sock so you need to place the ramps inside.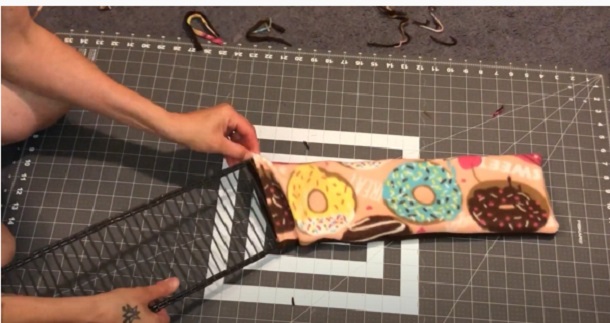 Step 4. Check Stability
After you install the ramps, check if its stable for use, are hooks well attached to the shelf, and does the ferret has easy access for climbing.
Can You Make Ramp For Ferret Cage?
It is possible to make a ramp for the cage and you will be surprised how easy is to do it. Most of the stuff that you need for this DIY project you have at home. For more details, watch this video.
Prepare The Base
First, you will need a base and a cover for the ramp. For the base, it is easier to use a flat wooden board in a rectangular shape. The width of the board depends on where you're planning to place the ramp. If you're using it inside the cage to connect the shelves, we recommend the board be around 5 inches wide. For exit ramps, you use a wider board or connect two boards using glue or duck tape.
Place Brackets
So the base can be attached to the cage or shelf it is important to place brackets. We recommend using L brackets that can be screwed with a power drill or by hand using a screwdriver. Place two of them on the top side of the ramp.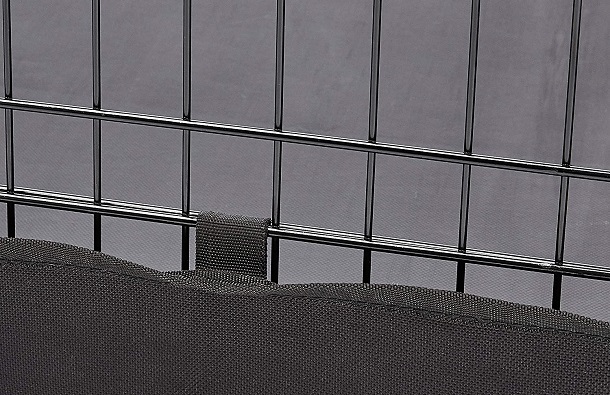 Carpet Cover
It is important to cover the base so the ferret can walk comfortably on it. The best cover that is extremely durable and can be easily clean is the carpet cover. The carpet cover needs to be thin so you can easily secure it to the board. Wrap the carpet around and secure it with glue or use a nail with a hammer. If you don't have a hammer, use something heavy so you can place the nails inside the board.
Place The Ramp
Place the ferret cage ramp on the metal bar if you're planning to use it as an exit ramp or secure it to any shelf inside the cage. Make sure to test the board to see if it's wobbling and if the ferret is not afraid to use it on a daily basis.
How Do You Make Fleece Liner For Ferret Cage?
Fleece liners are very functional for ferret cages. So how can you do it? First, you need to prepare all the needed materials. You will need a piece of fleece and you can use the blanket for the nearest store or the one you have at home. Then, you'll need an absorbent layer to place it underneath the fleece. You can use an old towel, an old mattress protector which has cotton in it for absorption.
Also, you will need a sewing machine or do it by hand which will take longer though. You will need a scissors and meter to measure. Firstly, you'll need to measure the area you want to use liner for. Cut the fleece and absorption material and sew them tightly together.
To Sum Up
In the end, we will conclude with re-mentioning the model we find the best. It is the Trixie Wooden Ramp. We find it most eco-friendly and a plus is that it can be extended if your cage has a tall design. Tall cages with multiple levels esprecially need ramps. All the listed models are from the best of the best offer so you won't get wrong choosing any of them.