If you are looking for a ferret cage with tubes, check out this article and find out everything you need to know about these products.
In this article, we have reviewed the two best models that you can find online. Check out the best of best and best large models and see if one of them might be the right for you. Also, at the end of the article, you are going to find out a buying guide that will help you choose the best model.
The Summary
BEST OF BEST FERRET CAGE WITH TUBES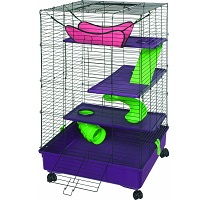 Kaytee My First Home Ferret Cage
Kaytee's cool cage for ferrets features platforms, spiral slides, and a tunnel. There is a hanging hammock for your ferret to rest in.
Jump To Review
BEST LARGE FERRET CAGE WITH TUNNELS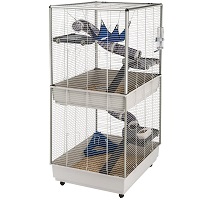 Ferplast Large Cage With Tunnels
You are going to want your ferret to live in a large and spacious cage. The Ferplast cage is a fully accessorized, fun, and safe ferret cage with tunnels.
Jump To Review
Best 2 Ferret Cages With Tunnels
BEST OF BEST FERRET CAGE WITH TUBES
Kaytee My First Home Ferret Cage
Fun And Colorful Cage
The Kaytee cage with tubes comes in multiple colors. It is a fun and safe ferret habitat. It features three platforms, two spiral slides and one tube. It also includes one hanging hammock. All of the accessories are adjustable. Customize your ferret's cage any way you want.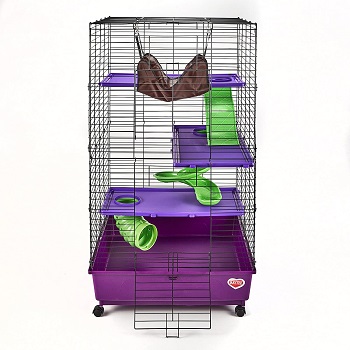 Easy To Move
There are 4 rolling casters that this cage stands on. They can be securely locked. It is easy to move this cage which will help you when you want to clean the area around the cage. Also, you may want to move the cage to another room.
Pet-Friendly Cage
This is a completely safe multi-level cage for ferrets. It comes with smooth edges and it is made of non-toxic metal. The bar spacing is 1" so there are no worries that your ferret is going to escape the cage. This cage is chew-proof and durable.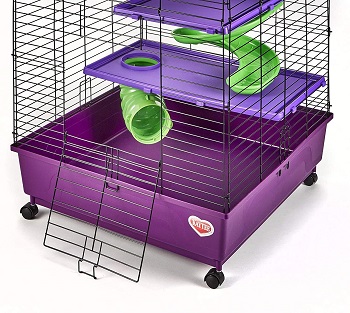 Why Buy Kaytee Cage With Tunnel?
This cage is ideal for one ferret. It will provide enough space for it to rest, and to stay active, climb, and run up and down the cage. It is easy to clean, and convenient to move. The set up is easy and no tools are required for the assembly.
In Short:
comes as a colorful ferret's cage
features platforms, slides, and a tunnel
comes with one hanging hammock
it is safe and pet-friendly
set up is easy
no additional tools are required for the assembly
BEST LARGE FERRET CAGE WITH TUNNELS
Ferplast Large Cage With Tunnels
Large And Spacious
This multi-level cage by Ferplast comes with multiple levels. Your little fur buddies will have a lot of space to play and run around their cage. Having a spacious cage is very important for ferrets to stay active. They are adventurous and need a lot of space to explore.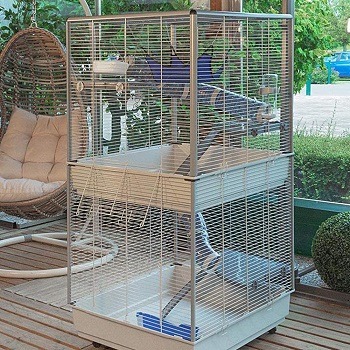 Durable And Sturdy Material
The tall ferret cage is made out of sturdy metal that is completely safe for ferrets. It is non-toxic, chew-proof, and hasn't got sharp edges. It is a safe and fun environment for ferreters. The cage stands on four rolling casters. Its dimensions are 29.5L x 31.5W x 63.4H inches.
Fully Accessorized
The Ferplast cage comes with all the necessary accessories. It includes a complimentary food dish and a water bottle. Moreover, there are two large and adjustable tubes, two ramps, three platforms, and one hanging hammock for your ferret to rest in.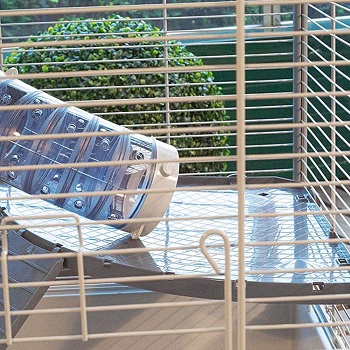 Easy To Access And Clean
Each level has its own large access door. Always look for large doors because it will help you maintain the cage more easily. Not only that, but you will get to reach for your ferret without hassle in case you need to take it out of the cage.
In Short:
large, spacious, and multi-level cage
made out of durable and sturdy material
safe for your ferrets
non-toxic and chew-free
comes fully accessorized
features tubes, platforms, and a hammock
includes a water bottle and food dish
How To Pick: Ferret Cage With Tubes And Tunnels
If you are buying a ferret cage with tubes, make sure that it comes with all of the features that will make your ferret's life safe and fun. Have in mind that your new cage must be pet-friendly, it should be sturdy and durable, the accessories should be safe. Keep on reading the following paragraphs to learn more.
Get A Pet-Friendly Cage – A good cage that is highly safe for your ferret is the one with no hard edges, smooth surfaces, and small bar spacing. The best ferret cage with tunnels should have enough space for your ferret to rest and to play and stay active.
Make Sure It is Of High-Quality – The material that the cage is made of must be of good quality and non-toxic material. The cage needs to be sturdy and what is most important, chew-proof. Depending on your needs, choose the outdoor or indoor ferret cage.
Get Fun And Safe Accessories – Apart from the tubes and tunnels, your little friend will love to play with other toys. Get your ferret rattling mice, bells, small sport balls, etc. Also, a great idea is to hang a hammock in its cage so it can have a cool resting area.
Adjust Your Cage – Almost all of the cages can be adjusted. You can add more accessories, toys, platforms, etc. It all depends on how large or tall your cage is. Make sure there is enough room for your ferret to run. Ferrets like to have a variety of options so change its toys.
Where To Buy Ferret Cage With Tubes – You can buy these models of cages in any pet shop or online. The two listed models in this article are available online. Check them out on Amazon.com and get great customer service. Read the customer reviews to help you decide which cage is the one for you.