If you are looking for a ferret cage with tubes, check out this article and find out everything you need to know about these products.
In this article, we have reviewed the two best models that you can find online. Check out the best of best and best large models and see if one of them might be the right for you. Also, at the end of the article, you are going to find out a buying guide that will help you choose the best model.
The Summary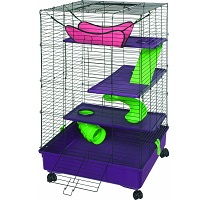 Kaytee My First Home Ferret Cage
OVERALL RATING: ★★★★★
Kaytee's cool cage for ferrets features platforms, spiral slides, and a tunnel. There is a hanging hammock for your ferret to rest in.
Jump To Review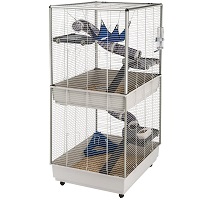 Ferplast Large Cage With Tunnels
OVERALL RATING: ★★★★☆
You are going to want your ferret to live in a large and spacious cage. The Ferplast cage is a fully accessorized, fun, and safe cage with tunnels.
Jump To Review
What Type Of Cage Is Ferret Cage With Tunnels?
What makes the cage with tubes different from other models is that it comes with additional accessories – tunnels or tubes. This model with tube is one of the most functional models on the market and many ferret owners decide to buy one of it. Check more information here.
Do Ferrets Like Tubes?
Yes, they love to play and hide inside of it and they will spend a lot of time running through them. They naturally love to dens and burrows and tubes are very similar to their normal behavior when they're in nature. Tubes will keep them active and entertained during the day and night.
Are There Different Types Of Tubes?
Yes, there are different types of tubes available to purchase for ferret cages. Depending on the type of the cage and arrangement in the enclosure you can pick hard plastic or flexible-slinky-like tube. Which type of tube you'll pick also depends on where you're planning to place it, on the bottom surface or on the outside part of the cage. Hard tubes are usually used to connect one level to the next and use on the bottom surface while flexible tubes can be used outside of the cage.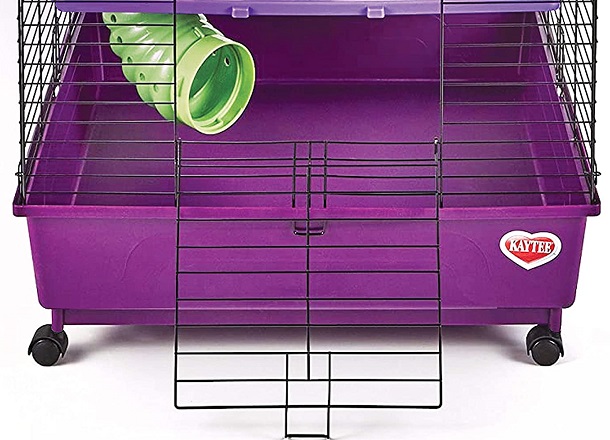 How Big Should a Cage With Tubes Need To Be?
The size of the cage depends on how many ferrets you have. The minimum size for one ferret is 20 x 20 x 10, and for pair of ferrets, it needs to be 20 x 20 x 40 inches. If the cage has multiple tubes which takes a lot of space, the cage needs to be even bigger, especially if it's a multilevel design.
Which Are The Benefits Of Owning Cage With Tunnels
You're not sure why models with tunnels are better than average ones? And how beneficial it can be to own one of the cages with tubes? We listed some of the most useful ideas down below.
Safe Climbing
You're having a multilevel cage or want to buy one but you're afraid your ferrets will fall off the ramp while climbing? Having a tube allows them safe and easy to climb to one of the shelves they're connected with. Also, if the cage has a hammock, they can have easy access to t by using a tunnel.
Daily Activities
Do you want to keep your ferret active during the day? Tubes can be really fun and ferrets will love using them, especially if they are curvy for more fun. If the ferret is active, he will stay healthy and happy during his lifetime.
Hideout Area
Ferrets love to hide everywhere and tubes are the perfect place for that. They can use bottom tubes for hiding while they're sleeping to have privacy.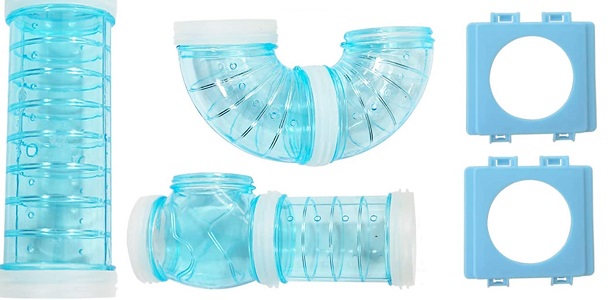 Customize Enclosure
Having tubes and tunnels inside the cage allows you to easily customize the ferret's enclosure. You can change the position of the tubes from time to time and keep your ferrets entertained. Also, tubes can be easily combined with other additional accessories such as hideouts, ladders, bridges, and toys.
Specifications To Consider When Buying Cage With Tubes
When you decided to buy a cage for ferrets with tubes it is important to check all the features and specifications to be sure the model that you pick is the best one for your ferret's needs. We listed the most important features down below.
Sturdy Construction – For safety and durability, it is important to pick a model with sturdy construction that has a metal frame. We recommend buying a cage only from reliable brands like Kaytee, Ferplast, etc.
Type Of Material Most of the cages that are used indoor are made of wires with metal frames or a combination with a plastic bottom base. Both models are durable and safe for use.
Tube Size – So the ferret can easily go run through the tunnel it is important to check the width of the tube. For adult ferrets, the tube needs to be at least 4 inches in diameter.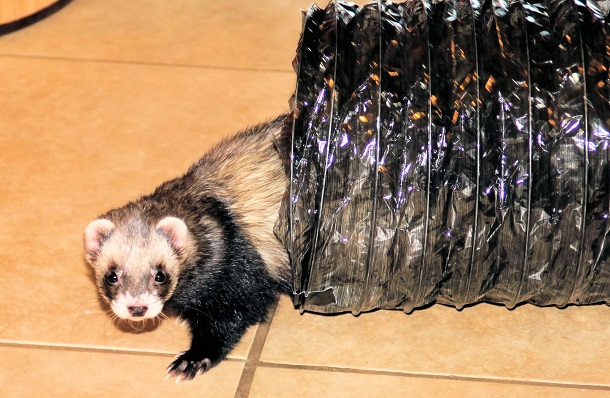 Wire Size – Not only the tube width is important for safety, also the wire space bar is an important feature. The cage needs to have at least 0.5 Inches space bar between wires so the ferret can't stuck between or even escape out of the cage.
Easy Access – So the owner can quickly clean the mess inside the cage, reach the ferret or feed him, it is important that the cage has easy access. Most of the cages have a front or side door as well top one. If you're looking for a multilevel model there need to be at least 2 large doors so you can reach every corner of it.
Easy Maintenance – One of the important features includes maintenance and cleaning. Pick a model with a stain-resistant surface like plastic or metal which can be easily clean. Also, choose the tubes that can easily clean with a fluffy brush to remove the dust from inside. Most of the cages have a leakproof bottom which you can easily clean if you detach it or pull it out.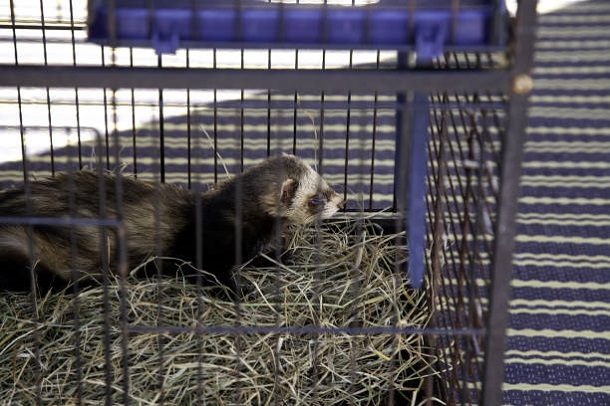 Air Ventilation – To keep the cage fresh and provide enough air to the ferret, it is important to choose a model with great air circulation. We recommend a cage with tunnels that has all sides with a wire mesh system. Also, air ventilation is important for the tubes. Choose only models with vent holes so the ferret has enough air while moving through it.
Best 2 Ferret Cages With Tunnels
Kaytee My First Home Ferret Cage
SPECIFICATION:
Material: Plastic
Dimensions: 24 x 24 x 41.5 inches
Weight: 10 Pounds

Levels: 4
Doors: 2
Use: Indoor
Fun And Colorful Cage
The Kaytee cage with tubes comes in multiple colors. It is a fun and safe ferret habitat. It features three platforms, two spiral slides and one tube. It also includes one hanging hammock. All of the accessories are adjustable. Customize your ferret's cage any way you want.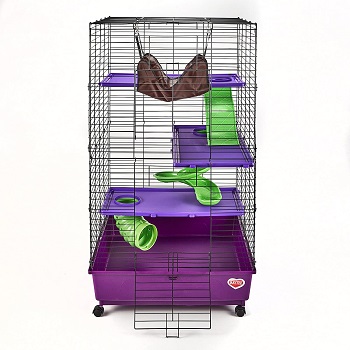 Easy To Move
There are 4 rolling casters that this cage stands on. They can be securely locked. It is easy to move this cage which will help you when you want to clean the area around the cage. Also, you may want to move the cage to another room.
Pet-Friendly Cage
This is a completely safe multi-level cage for ferrets. It comes with smooth edges and it is made of non-toxic metal. The bar spacing is 1" so there are no worries that your ferret is going to escape the cage. This cage is chew-proof and durable.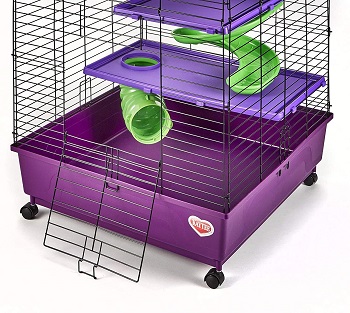 Why Buy Kaytee Cage With Tunnel?
This cage is ideal for one ferret. It will provide enough space for it to rest, and to stay active, climb, and run up and down the cage. It is easy to clean, and convenient to move. The set up is easy and no tools are required for the assembly.
Overall:
Safety:
Mobility:
Size:
Weight:
Funcionality:
AVERAGE PRICE
$119 – $173 varies from webshop to webshop: Amazon, Walmart, eBay
In Short:
comes as a colorful ferret's cage
features platforms, slides, and a tunnel
comes with one hanging hammock
it is safe and pet-friendly
set up is easy
no additional tools are required for the assembly
Ferplast Ferret Tower Two-Story Ferret Cage
Best 2 Ferret Cages With Tunnels
Kaytee My First Home Ferret Cage
SPECIFICATION:
Material: Plastic
Dimensions: 29.5 x 31.5 x 63.4 inches
Weight: 52 Pounds

Levels: 5
Doors: 3
Use: Indoor
Large And Spacious
This multi-level cage by Ferplast comes with multiple levels. Your little fur buddies will have a lot of space to play and run around their cage. Having a spacious cage is very important for ferrets to stay active. They are adventurous and need a lot of space to explore.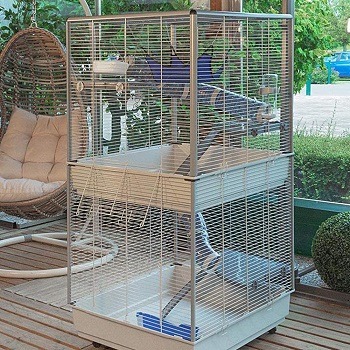 Durable And Sturdy Material
The tall ferret cage is made out of sturdy metal that is completely safe for ferrets. It is non-toxic, chew-proof, and hasn't got sharp edges. It is a safe and fun environment for ferreters. The cage stands on four rolling casters. Its dimensions are 29.5L x 31.5W x 63.4H inches.
Fully Accessorized
The Ferplast cage comes with all the necessary accessories. It includes a complimentary food dish and a water bottle. Moreover, there are two large and adjustable tubes, two ramps, three platforms, and one hanging hammock for your ferret to rest in.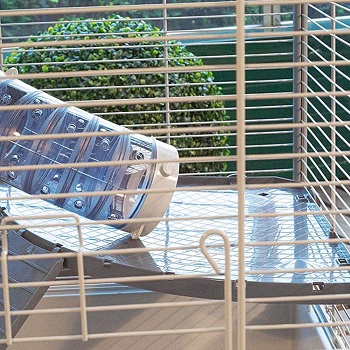 Easy To Access And Clean
Each level has its own large access door. Always look for large doors because it will help you maintain the cage more easily. Not only that, but you will get to reach for your ferret without hassle in case you need to take it out of the cage.
Overall:
Safety:
Mobility:
Size:
Weight:
Funcionality:
AVERAGE PRICE
$282 – $354 varies from webshop to webshop: Amazon, Walmart, eBay
In Short:
large, spacious, and multi-level cage
made out of durable and sturdy material
safe for your ferrets
non-toxic and chew-free
comes fully accessorized
features tubes, platforms, and a hammock
includes a water bottle and food dish
How To Set Cage With Tubes?
By following the instruction that came in the box you will need around 15-30 minutes to set the whole cage, depending on how big it is and how many parts it includes.
Set Construction
First thing, place the side of the cage to make a frame. Most of the cages have a wire mesh system with a detachable design. Place the sides and then ad the top and bottom part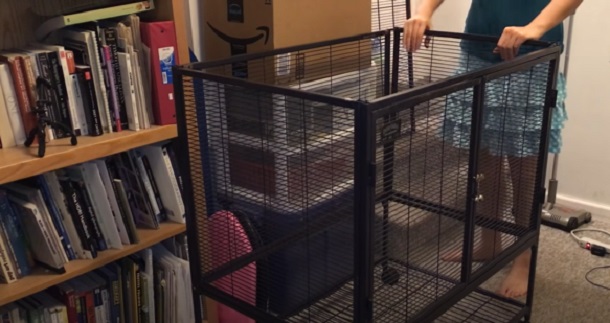 Secure All The Parts
Before placing the accessories inside the cage make sure all the parts are secured. Try to wobble the cage to see if he is moving. If the cage has rolling wheels, set security locks so it won't move.
Place Tubes
After you finish the base of the cage, you can now customize the enclosure. Place the tube where our ferret can easily access it for daily use. Make sure that the tube parts are secured for safety.
Needed Tools
Most of the cages with tubes don't require any tools except for the models with a metal frame that needs to be screwed. If the manufacturer labeled that the assembly is required, you will need a power drill or screwdriver for the setup.
Safety Features When Picking Cage With Tunnels
Do you know which safety features to consider when buying a cage with tunnels or tubes? Here is the list of the most important ones.
Safe Accessories
Accessories need to be made of non-toxic and chew-proof material so you can be sure the ferret won't swallow it and have health issues. Make sure that accessories are secure so the ferret can't hurt himself while using them.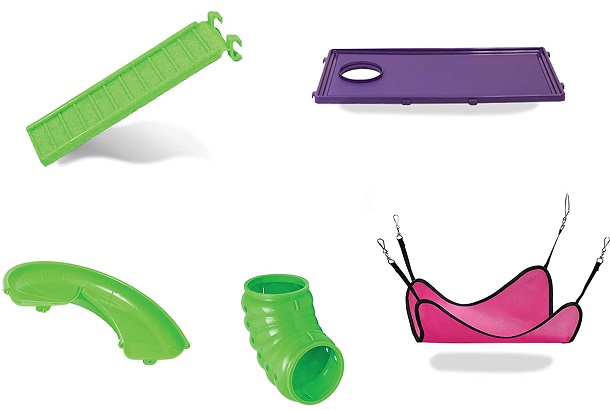 Cage Surface
The surface needs to be smooth without any sharp edges that can injure the ferret. Make sure that the surface especially the bottom tray, shelves, and ramps are not made of slippery material because ferrets can easily slip and fall down.
Door Locks
To prevent any escaping doors need to have a great lock system We recommend plastic or metal locks which ferret can't easily damage. Make sure that doors can only be open from the front so the ferret can't escape.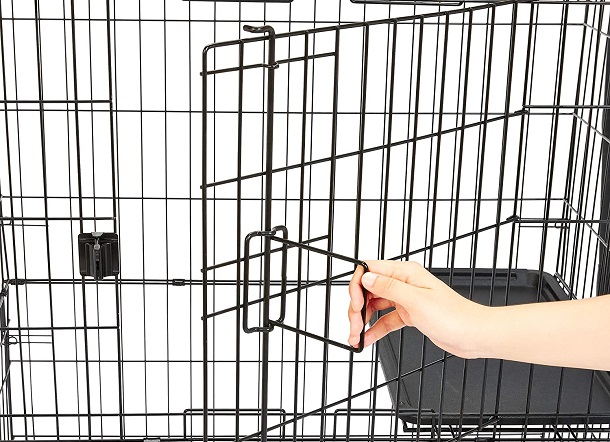 Can You Make Homemade Tubes For Ferrets?
Absolutely, ferrets love having as many tubes fit in their cage, so if you want to be creative, you can reuse many materials from the house.
Which Material To Use?
To make a tube you can use sturdy or flexible plastic which is sturdy enough so the ferret can't bite some part and swallow it. Also, you can use anything made of cartoons or paper. This includes flexible drain pipes, cardboard boxes, spare bottles, children's play tubes, pond tubing, and others that can be used as tubes and tunnels.
Size Of Tubes
The size of the tube is very important so you can be sure the ferret can easily move inside out. We recommend that the width of the tube can approximately fit your hand and there is still some space left. It is important so you can easily fit your hand inside if you need to ferret out of the tube. The length of the tube needs to be the same on both sides so you can reach the ferret. We recommend picking a tube approximately 78 inches, not shorter.
Where To Buy Tubes?
If you don't have a suitable tube at home, you can buy universal pipes in the household goods stores.
How To Set Tube?
It is important to secure the tube for safety. You can use sturdy strings and made 2 little holes and secure them to the wires. Place the tube across 2 platforms, so ferrets can easily move from one to another.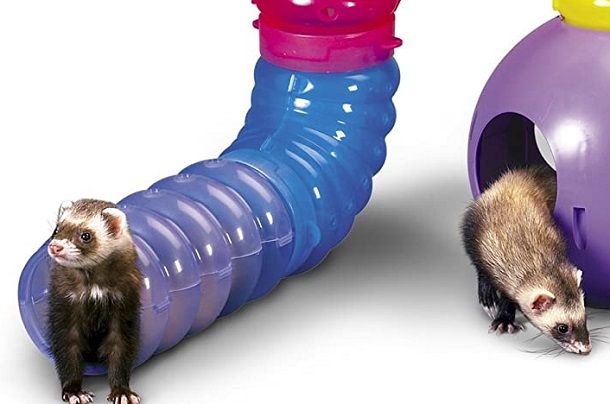 Tubes For Activities
Tubes are great for playing, ferrets love to run from one side to another, from one level to the next one. If you notice the ferret not using some tube anymore because he gets bored, you can easily change the position and place some treats inside or ball with a bell which will get his attention.
Cage For Ferret With Tube FAQ
You can find all the additional information on frequently asked questions that most ferret owners need to know before buying a cage with tunnels.
Can You Use Hamster Cage With Tubes?
Hamster cages are not recommended to use for ferrets. Hamsters are much smaller pets than ferrets, and they need less space in the cage. Also, the width of the tube is much smaller, usually, less than 0.5 and adult ferrets won't be able to use it and can stuck inside.
How Long Do Tubes Need To Be?
There are no rules on how long tubes or tunnels need to be, ferrets will love to use short as well long tubes. If you're planning to buy a cage for playing we recommend picking models with tubes that are not under 10 inches long.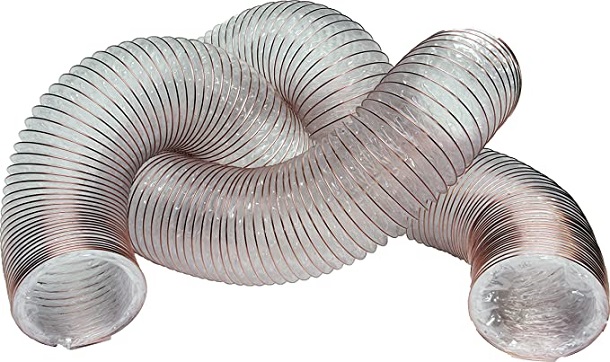 Which Tube Color To Pick?
There is a variety of colors on the market and you can pick from green pink to black or white tubes. Also, there are transparent tubes and tunnels which allows you to see where your ferret at the moment is.
Where To Place Cage With Tunnels?
Cage for ferrets with tubes can be placed anywhere you can easily monitor your ferret while you're at home. We recommend placing it next to the wall in the living room. It is important you can easily open to door and remove the tray when doing maintenance.
To Sum Up
We would like to conclude by saying that the ferret cage that includes the tubes is something that every owner should look for since their pets will never be bored. We would esprecially recommend the Ferplast Large Cage With Tunnels because it is spacious, multi-level, safe, and easy to customize. To make your ferret's cage even more fun, you can get your fur friend more toys and ramps.