Are you looking for ferret cage toys?
Our article talks about the best toys that your ferret is going to love. Read on to find out more about the best of best, small, cheap, interactive, and more toys for ferrets cage. At the end of our post, you will find the guide that will help you get to know which toys are safest for your ferret.
The Summary
Best 5 Ferret Cage Toys
BEST OF BEST FERRET CAGE TOYS
Niteangel Ferret Fun Tunnel
Product Overview
This Niteangel fun tunnel for ferrets comes in four colors (purple, blue, green, and pink). Ferrets will love this toy because they will get to satisfy their instinct. They love exploring and crawling through tight spaces, so this is one of the best toys you can get your ferret and put it in the multi-level ferret cage.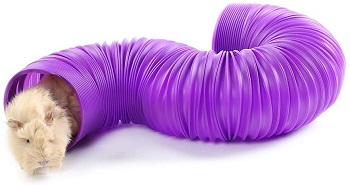 The Tunnel Design
The tunnel is made of durable plastics. It is safe for your ferret and it is made of non-toxic material. This tunnel can expand up to 39 inches. It will easily fit in any ferret cage and allow your ferret to have fun.
Let Your Ferret Stay Active
Get such a tunnel for your ferret to make it stay active. Let your little fur buddy crawl and run through the tunnel. Get it more toys and make its cage a fun and healthy environment.
The Dimensions
This expandable tunnel measures 9.6 x 3.9 x 3.8 inches. It weighs 5.61 ounces. Customize your ferret's cage and place the tunnel whenever you want. It fits both in small and large ferret cages.
In Short:
the tunnel is expandable
safe and made of non-toxic material
9.6 x 3.9 x 3.8 inches
fits in any ferret cage
fun way of making your ferret stay active
BEST SMALL FERRET CAGE TOYS
Yangbaga Fur Mice
The Rattling Toys
Your ferret will love toys that are made for cats and dogs. These toys usually come without paint or googly eyes and this is why they are safe for your ferret too. This pack of rattling mice are filled with sand. They are chew-proof and incredibly fun.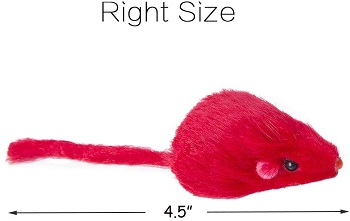 The Size And Color
These mice measure about 4 inches from the nose to the tail tip. They are of ideal size for your ferret. It can chew and scratch them. They come in 7 different colors (red, orange, yellow, gray, blue, green, and black). The package includes 14 mice and you can fill even a small ferret cage.
Product's Details
These mice are made of plastic and fur. They help your ferret satisfy its natural instinct and stay more active. The material that these mice are made of is eco-friendly. Check out more details about this product and read customer reviews.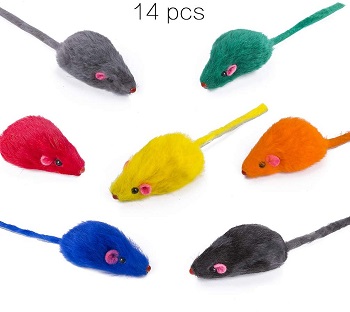 They Are Pet-Friendly
These ferret cage toys are safe for your pet. They don't include toxic materials or sharp edges. Your ferret won't hurt itself by playing with these toys.
In Short:
colorful and fun toys pack
the mice come in 7 different colors
they are made of non-toxic plastics
they are filled with sand and they rattle
the pack included 14 mice
BEST CHEAP FERRET CAGE TOYS
Marshall Ferret Sport Balls
Durable Balls
Ferrets love to stay active and play. Their mental health needs to stay occupied with different toys. These balls will provide hours of fun for your ferret. They will get to chew on them without fear of swallowing little pieces.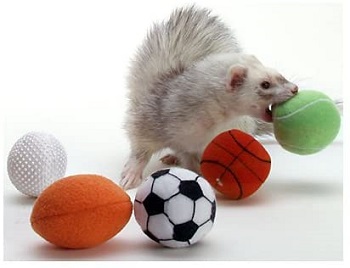 Easy To Play With
Your little ferret will know what to do with this ball instinctively. It will help it stay active and exercise. The balls are made of high-quality material and are chew-free. The balls are long-lasting so place it in tall ferret cage on every plaftorm.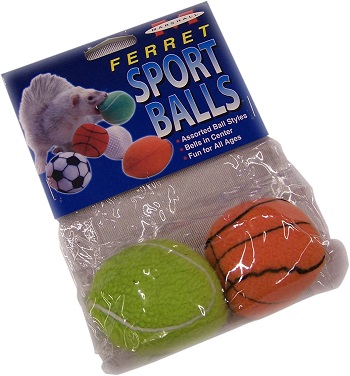 The Dimensions And Price
The size of each ball is 2". The package includes two balls. The package dimension is 7.09 x 5.04 x 1.77 inches. The price is very affordable for anyone. Check out more details about this product online.
In Short:
two-balls package
each ball measures 2"
made of durable product
chew-free material
they are non-toxic
affordable price
BEST COOL FERRET CAGE TOYS
Kong Tough Natural Rubber
Why Buy Your Ferret A Dog Toy?
Dog toys are usually safe and chew-proof. If you are to get your ferret a rubber toy, make sure it is tight and small. Don't get it just any rubber toy. This King toy is a good choice for your ferret, but ensure you get the smallest model.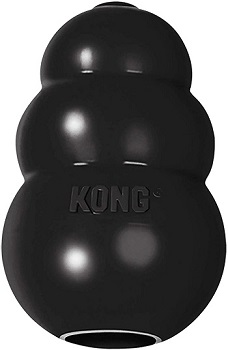 Satisfies The Natural Instinct
The Kong rubber toy provides mental stimulation of your ferret. It encourages it to play healthy games and to stay active. It completely satisfies the instinctual needs of your ferret. The toy unpredictably bounces and makes the game more fun.
Non-Chew Material
The toy is made of a non-toxic rubber. It is chew-proof and strong and make sure you choose the strongest in their offer. It is a durable toy that will provide hours of fun play for your ferret. You should get the S size of this ferret cage toy so that your ferret could stay safe.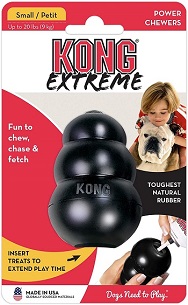 Vet Recommended
The vets have recommended this toy to be safe and important for your pet's mental health. Make sure your ferret has a lot of toys to play with even when you are not there. They will like to possibility of choosing different toys at a different time.
In Short:
dog toys are ideal for ferrets
chew-proof and strong material
durable and fun
recommended by vets
it makes your ferret's everyday life fun
BEST INTERACTIVE FERRET CAGE TOYS
Mibote 28 Pcs Toys Pack
Tested To Be Safe
The Mibote tests all of the toys before shipping. This package contains toys that are safe for your ferret. They are actually cat toys that are ideal for your little ferret because it includes the toys your little buddy will love and spend hours playing with.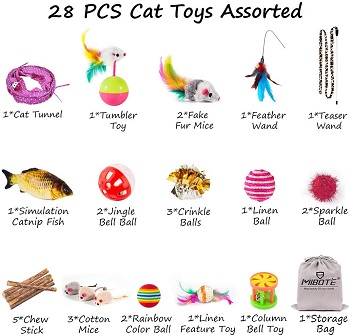 About The Pack
The package features 28 pieces of toys. This includes the tunnels, teaser wands, but also interactive toys and fluffy mice, the bells, balls, and others. It is a colorful package that is friendly to the environment as well.
Let Your Ferret Stay Active
Your ferret is going to want to play with more toys, so getting is a pack with different possibilities is a great idea. Let your ferret crawl through the tunnel and chew a fluffy mouse. Tip: avoid giving your ferret catnip toys. It is not safe for them.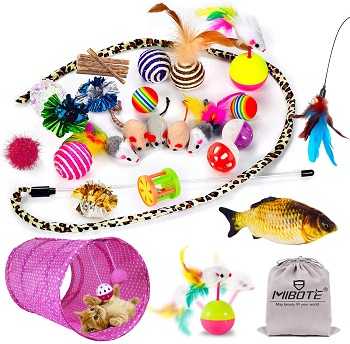 What Comes In The Package
The package includes a tunnel, a fish, a wand, a linen feature, a linen ball, bells, a tumbler toy, fake fur mice, a chew stick, and more. The toys can be stored inside a storage bag that comes included as well.
In Short:
28 pieces of different toys are included
safe for ferrets
includes tunnels as well
avoid your ferret to play with catnip
affordable price
How To Pick: Ferret Cage Toys
Before buying toys for your ferret's cage, make sure they are safe and fun. Read our guide that will help you decide which toys to buy. Some of the features you need to have in mind are the healthy material, the size, and others. Read on to learn which toys your ferret shouldn't use.
Safe And Non-Toxic – When buying toys for outfoor or indoor ferrets cage, you need to make sure they are made of eco-friendly, safe, healthy, and non-toxic material. You wouldn't want your ferret to have health problems after chewing on a toy.
Small Chewing Toys – Get your ferret a chew-proof toy that is not going to break soon. A durable and small toy should be fine. Toys that are too big in size are not going to be good for your ferrets. Also, avoid getting too small toys or any toy that allows swallowing.
Tunnels, Slides, And Ramps – Ferrets like to stay active. They like to run and play when they are awake. Their natural instinct tells them to crawl through tight places. So, getting them a tunnel will be perfect. Also, if your cage doesn't include ramps and slides, get some and make your ferret happy.
Warning Tips – To make sure your ferret is safe all the time, don't buy it toys that it is going to be able to swallow. Also, getting it a catnip toy is not healthy. If you think about getting a rubber toy, make sure it is small and very tight. It should be chew-proof.
Where To Buy – You will find toys for ferrets cage in any pet shop. Also, check out the online retailers such as Amazon.com. They offer a variety of ferret cage toys. The prices are very affordable and free shipping is often included as well.