Are you looking for ferret cage toys?
Our article talks about the best toys that your ferret is going to love. Read on to find out more about the best of best, small, cheap, interactive, and more toys for ferrets cage. At the end of our post, you will find the guide that will help you get to know which toys are safest for your ferret.
The Summary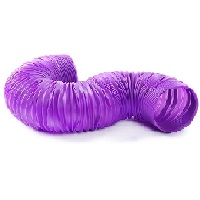 Niteangel Small Pet Fun Tunnel
OVERALL RATING: ★★★★★
This expandable tunnel will make your ferret stay active. It will fit in every ferret cage and will provide a lot of fun.
Jump To Review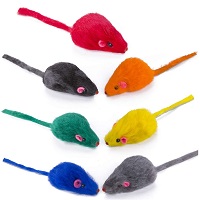 Yangbaga Fur Mice
OVERALL RATING: ★★★★☆
Get your ferret rattling mice to play with. This colorful 14-pieces mice pack will be an ideal toy for your little fur friend.
Jump To Review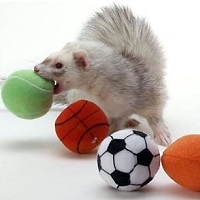 Marshall Ferret Sport Balls
OVERALL RATING: ★★★★☆
The price of this package is very affordable and includes two 2" balls. The balls are completely safe for your ferret and provide hours of fun.
Jump To Review
What Type Of Toys Are Used For Ferrets?
Ferret toys include all the entertaining, stimulative, and exercise accessories which include balls, fluffy mice, tunnels, bell toys, teaser and feather wands, rubbers, hammocks, and other accessories. Some of them comes in the starter kits.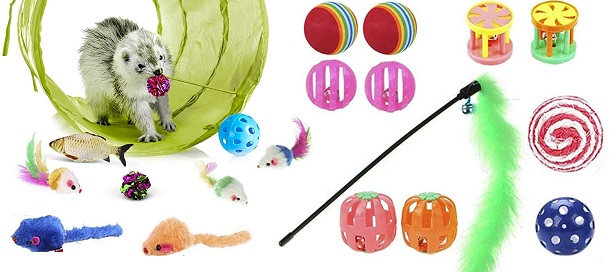 Should You Put Toys In Ferret Cage?
Absolutely, toys are one of the main accessories for the cage. Ferrets love to explore, play and stay active during the day, and customizing their enclosure with toys will make them happy and relaxed. We recommend not to place all the toys at once, rather rotate them weekly so the ferret doesn't easily get bored.
Pros & Cons Of Having Toys
We will list the most important pros and cons of having ferret toys that can help you to pick the best toys for your pet.
Pros Having Toys For Ferret
Toys will keep ferrets active on a daily basis which is very important for their mental and physical health. You can teach them different tricks with toys such as moving through the tunnels, rolling balls, etc. Toys will make the enclosure much more fun and easily get everyone's attention when entering the room. Also, toys will help you to interact more with your pet, you can take him out and use feather wands or other toys to play with.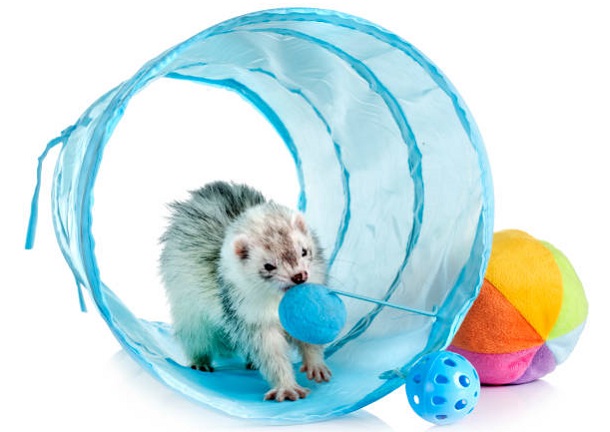 Cons Of Toys For Ferrets
The main con of having a ferret toy is safety. Ferrets can easily swallow small parts of toys which can be really dangerous and in some cases fatal. Some toy sets can be expensive which will cost you extra money. Toys with feathers and other thin materials can be easily destroyed as we know ferrets love to chew everything, so maybe you will need to buy another set of toys occasionally. Some ferrets don't like to play with all the toys so you will maybe buy a big set of toys and animals won't use all of the accessories. Also, if you have multiple ferrets it is possible they'll start fighting over toys. Some toys can be loud when ferrets play with them like bell balls which can easily disturb you if you're sleeping next to the cage.
Guide To Buy Best Ferret Cage Toys
This is your first time buying toys for your ferret cage? Make sure to read all the features and specifications and consider them when shopping.
Safe For Ferrets
When you're buying toys for ferrets, they need to be made of non-toxic and eco-friendly material so you can be sure they won't be harmful if the ferret starts chewing them. Read the manufacturers' labels on the product to find out if toys are safe.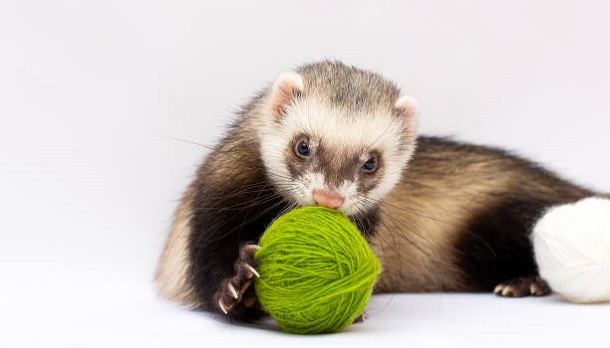 Size Of Toys
Playing toys need to be at least 2 inches big so the ferret can't swallow them. Don't buy too big toys otherwise ferret won't play with them and they will take up much space in the cage. If you're buying activity toys such as tubes and tunnels, the width needs to be approximately 5 inches so the ferret can easily run through it
Color And Shape
Most of the toys have a colorful design that easily catches attention. Colors will make the ferret cage more fancy and cool. The shape depends on the type of toy, and you can choose from rounded to rectangular models.
Easy Maintenance
If the toys are made of plastic and get stained, you can easily clean them with a cloth. Some models made of canvas material can be easily clean with soap and water.
Best 5 Ferret Cage Toys
Niteangel Small Pet Fun Tunnel
SPECIFICATION:
Material: Plastic
Dimensions: 9.6 x 3.9 x 3.8 inches

Weight: 5.61 ounces
Color: Purple/Orange/Blue
Product Overview
This Niteangel fun tunnel for ferrets comes in four colors (purple, blue, green, and pink). Ferrets will love this toy because they will get to satisfy their instinct. They love exploring and crawling through tight spaces, so this is one of the best toys you can get your ferret and put it in the model with multi-level design.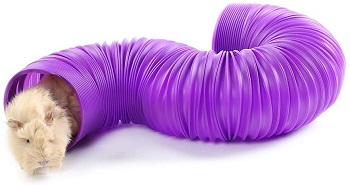 The Tunnel Design
The tunnel is made of durable plastics. It is safe for your ferret and it is made of non-toxic material. This tunnel can expand up to 39 inches. It will easily fit in any ferret cage and allow your ferret to have fun.
Let Your Ferret Stay Active
Get such a tunnel for your ferret to make it stay active. Let your little fur buddy crawl and run through the tunnel. Get it more toys and make its cage a fun and healthy environment.
The Dimensions
This expandable tunnel measures 9.6 x 3.9 x 3.8 inches. It weighs 5.61 ounces. Customize your multilevel ferret cage and place the tunnel whenever you want. It fits both in small and large ferret cages.
Overall:
Safety:
Sturdiness:
Size:
Functionality:
Maintenance:
AVERAGE PRICE
$10 – $23 varies from webshop to webshop: Amazon, Walmart, eBay
In Short:
the tunnel is expandable
safe and made of non-toxic material
9.6 x 3.9 x 3.8 inches
fits in any ferret cage
fun way of making your ferret stay active
Yangbaga Fur Mice
SPECIFICATION:
Material: Fur
Dimensions: 4.5 x 1.5 x 1.5 inches

Weight: 1.59 ounces
Color: Different colors
The Rattling Toys
Your ferret will love toys that are made for cats and dogs. These toys usually come without paint or googly eyes and this is why they are safe for your ferret too. This pack of rattling mice are filled with sand. They are chew-proof and incredibly fun.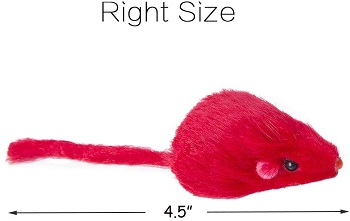 The Size And Color
These mice measure about 4 inches from the nose to the tail tip. They are of ideal size for your ferret. It can chew and scratch them. They come in 7 different colors (red, orange, yellow, gray, blue, green, and black). The package includes 14 mice and you can fill even a small-sized model.
Product's Details
These mice are made of plastic and fur. They help your ferret satisfy its natural instinct and stay more active. The material that these mice are made of is eco-friendly. Check out more details about this product and read customer reviews.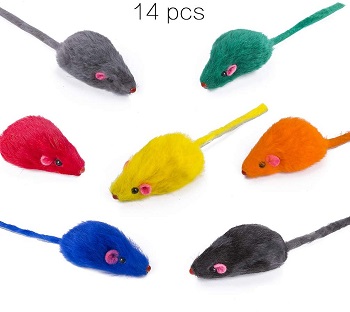 They Are Pet-Friendly
These cage toys for ferrets are safe for your pet. They don't include toxic materials or sharp edges. Your ferret won't hurt itself by playing with these toys.
Overall:
Safety:
Sturdiness:
Size:
Functionality:
Maintenance:
AVERAGE PRICE
$8 varies from webshop to webshop: Amazon
In Short:
colorful and fun toys pack
the mice come in 7 different colors
they are made of non-toxic plastics
they are filled with sand and they rattle
the pack included 14 mice
Marshall Ferret Sport Balls
SPECIFICATION:
Material: Polyester
Dimensions: 7.09 x 5.04 x 1.77 inches

Weight: 1.13 ounces
Color: Different colors
Durable Balls
Ferrets love to stay active and play. Their mental health needs to stay occupied with different toys. These balls will provide hours of fun for your ferret. They will get to chew on them without fear of swallowing little pieces.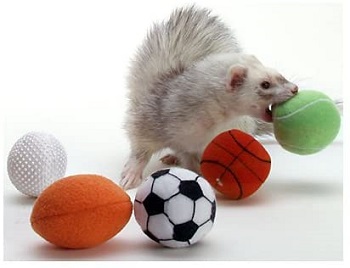 Easy To Play With
Your little ferret will know what to do with this ball instinctively. It will help it stay active and exercise. The balls are made of high-quality material and are chew-free. The balls are long-lasting so place it in tall cage on every plaftorm.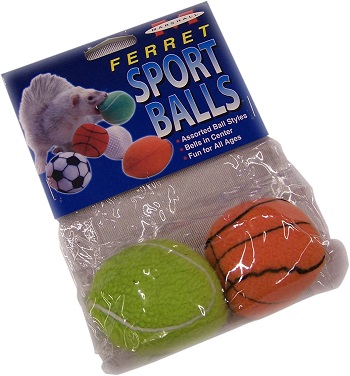 The Dimensions And Price
The size of each ball is 2". The package includes two balls. The package dimension is 7.09 x 5.04 x 1.77 inches. The price is very affordable for anyone. Check out more details about this product online.
Overall:
Safety:
Sturdiness:
Size:
Functionality:
Maintenance:
AVERAGE PRICE
$6 – $15 varies from webshop to webshop: Amazon, Walmart, eBay
In Short:
two-balls package
each ball measures 2"
made of durable product
chew-free material
they are non-toxic
affordable price
Kong Tough Natural Rubber
SPECIFICATION:
Material: Rubber
Dimensions: 3 x 1.75 x 1.75 inches

Weight: 1.16 ounces
Color: Black
Why Buy Your Ferret A Dog Toy?
Dog toys are usually safe and chew-proof. If you are to get your ferret a rubber toy, make sure it is tight and small. Don't get it just any rubber toy. This King toy is a good choice for your ferret, but ensure you get the smallest model.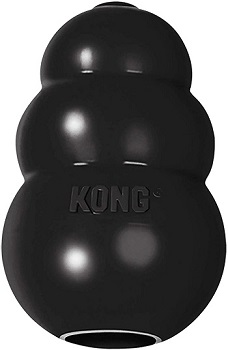 Satisfies The Natural Instinct
The Kong rubber toy provides mental stimulation of your ferret. It encourages it to play healthy games and to stay active. It completely satisfies the instinctual needs of your ferret. The toy unpredictably bounces and makes the game more fun.
Non-Chew Material
The toy is made of a non-toxic rubber. It is chew-proof and strong and make sure you choose the strongest in their offer. It is a durable toy that will provide hours of fun play for your ferret. You should get the S size of this ferret cage toy so that your ferret could stay safe.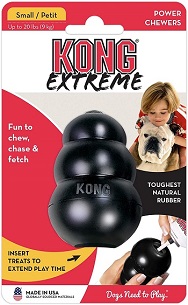 Vet Recommended
The vets have recommended this toy to be safe and important for your pet's mental health. Make sure your ferret has a lot of toys to play with even when you are not there. They will like to possibility of choosing different toys at a different time.
Overall:
Safety:
Sturdiness:
Size:
Functionality:
Maintenance:
AVERAGE PRICE
$6 – $20 varies from webshop to webshop: Amazon, Walmart, eBay
In Short:
dog toys are ideal for ferrets
chew-proof and strong material
durable and fun
recommended by vets
it makes your ferret's everyday life fun
Mibote 28 Pcs Toys Pack
SPECIFICATION:
Material: Plastic/Polyester/Fur
Dimensions: 13 x 11 x 3.5 inche

Weight: 10.86 ounces
Color: Black
Tested To Be Safe
The Mibote tests all of the toys before shipping. This package contains toys that are safe for your ferret. They are actually cat toys that are ideal for your little ferret because it includes the toys your little buddy will love and spend hours playing with.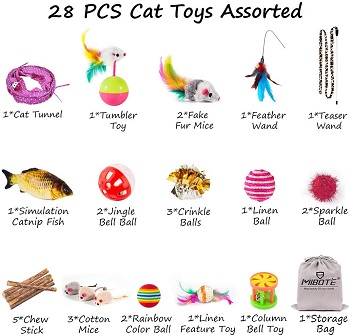 About The Pack
The package features 28 pieces of toys. This includes the tunnels, teaser wands, but also interactive toys and fluffy mice, the bells, balls, and others. It is a colorful package that is friendly to the environment as well.
Let Your Ferret Stay Active
Your ferret is going to want to play with more toys, so getting is a pack with different possibilities is a great idea. Let your ferret crawl through the tunnel and chew a fluffy mouse. Tip: avoid giving your ferret catnip toys. It is not safe for them.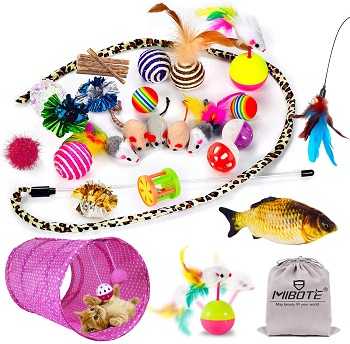 What Comes In The Package
The package includes a tunnel, a fish, a wand, a linen feature, a linen ball, bells, a tumbler toy, fake fur mice, a chew stick, and more. The ferret toys can be stored inside a storage bag that comes included as well.
Overall:
Safety:
Sturdiness:
Size:
Functionality:
Maintenance:
AVERAGE PRICE
$12 – $28 varies from webshop to webshop: Amazon, Walmart, eBay
In Short:
28 pieces of different toys are included
safe for ferrets
includes tunnels as well
avoid your ferret to play with catnip
affordable price
Which Toys For Ferret You Need Avoid?
Even if some toys look cute and you think they will be great for interactive play, you need to think about safety features. Ferrets are known to chew everything, so you can expect they will start chewing toys, as well.
Avoid any toys that have small, sharp parts which they can swallow. Toys without labels toxic-free are not recommended to use, cause they can be painted with toxic paint and contain other chemicals which can be harmful to ferrets. Also, avoid any toys with glass parts that can be easily broken.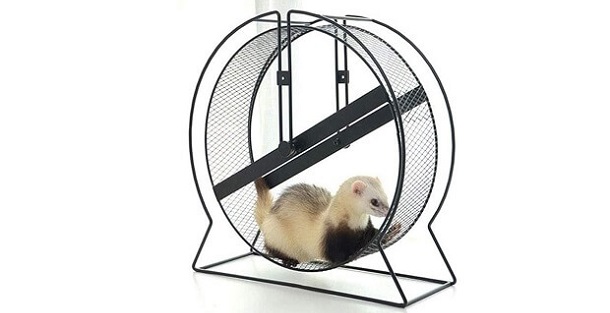 Are Wheels Good For Ferrets?
Even if most small pets like hamsters, guinea pigs, and rats love using the wheels, ferrets are not recommended. Why? Ferrets have a long body with short legs and their natural posture is not good for the shape of the wheel. Running on the wheel can easily hurt their back or even get injured.
Also, the ferret's paws can easily be stuck, as we know most of the wheels are made of metal. If the paw gets stuck, a ferret will be stressed out and can easily injure himself trying to release the paw from the wheel. Most of the ferrets will actually ignore the wheel and running on wheels is not something they like to do, they prefer exploring around.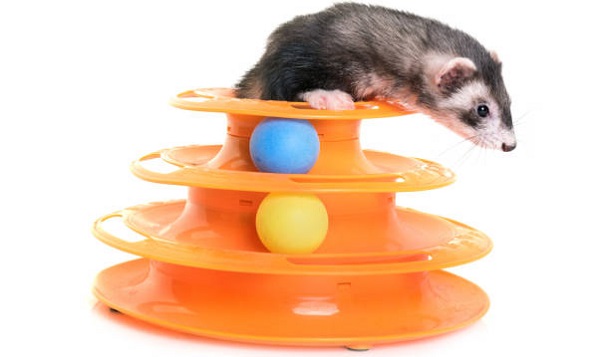 Do Ferrets Like Exercise Balls?
Exercise balls are not favorite ferret toys and neither it is safe for them. If you leave the ball open ferret will sniff around it and inside and probably lay down. If you close the ball with the ferret inside ferret will try to get out, which can cause him a lot of stress. We don't recommend getting exercise balls for ferrets.
Can Ferret Play With Catnip Toys?
Catnip is safe for ferrets, but not all toys with catnip are safe for them. If the catnip toy is safe for ferrets depends on the material design and the size of the toys. Before buying toys, we recommend mostly focusing on how the toy is designed rather than information about catnip.
How To Customize Enclosure With Toys
You're not sure where to place the toys so the cage can look functional and entertaining at the same time, follow our tips down below.
Add Activity Toys First
Firstly it is recommended to customize the with activity toys such as tunnels, tubes, hammocks, etc. Place the tunnels from one level to the next one, connect them to the hammock and all the parts that ferrets can't reach.
Attach Toys To Wires
If you think ferrets won't have enough space for moving in the small cage, you can attach some of the toys to wires like ferret wands, balls, etc. Hook them on the string and place them where the ferret can easily reach to play with it and try to catch it in the air.
DIY Toys For Ferret's Cage
Do you know you can make toys on your own? You can use some of the stuff you already have at home. If you want an additional tunnel for the ferret use a cardboard box or children's play tubes. If you have a small ball at home, you can place it in the ferret's cage. Also, make the hammock with an old shirt or scarf, rip it off and connect opposite sides to the wires. If you're out of ideas, check this video and see some of the ideas.
Why Be Extremely Careful With Toys For Ferrets?
Ferrets tend to chew and bite everything, so they will try to bite toys as well. Some toys can accidentally be swallowed, which can cause breathing problems. Toy swallowing is one of the most common causes of death in ferrets.
How To Know If The Ferret Swallowed Toy?
You need to be extremely careful if you notice the ferret is playing with one toy for a long time. If you notice the part of the toy is missing and you can't find it, the ferret probably swallows it. In a few hours ferret will start to act differently, won't move that much around the cage, won't eat or drink. Also, his poop will be a different color than usual. You can check here how to know if the ferret has health issues.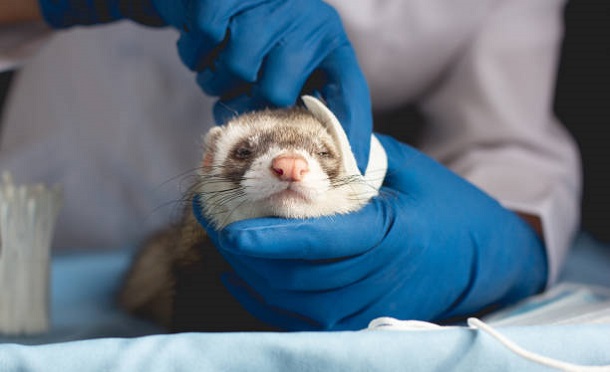 What To Do If Ferret Swallowed Toy?
If you think the ferret swallowed the part of the toy and you notice he is acting strange, immediately visit the vet clinic because every minute is important. The veterinarian will check his belly and referred him for ultrasound, x-ray, and other check-ups if he determined the ferret has a blockade. He will urgently need to have surgery so the toys can be removed. Ferrets usually have problems with blockade but in most cases, they will poop it, but in some cases, the object needs to remove only with surgery.
To Sum Up
Out of these five ferret cage toys models, we find the KONG Toughest Natural Rubber the best. It is a healthy toy that is easy to maintain. Toys are the same important parts of the accessories just like the tubes and ramps. It must be made of animal-safe materials to save your ferret health. The design is your choice.