If you are in search of the best wooden ferret cage, you need to check our article!
Why? Because we have reviewed the six best models you will find on the market. Also, we have divided them into best, cheap, indoor, outdoor, and other categories. See which models have found their place on our top list. Also, don't forget to read the buying guide that you will find at the bottom of the page.
The Summary
Best 6 Wooden Ferret Cages
BEST OF BEST WOODEN FERRET CAGE
Aivituvin Indoor Wooden Ferret Cage
The Aivituvin Design
This wooden ferret cage can home several ferrets at the same time. It has two levels. It is made of wood and metal. It stands on 4 wheels so it is easily rolled to the other side of the room. This ferret cage is made for indoor and outdoor use.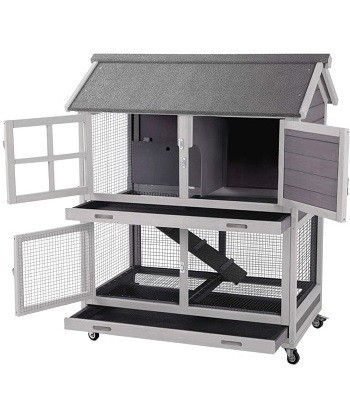 No Leak Trays
Forget about the cheap plywood trays. They often leak or even go moldy and you have to change them all the time. This outdoor ferret cage features no leak trays that are made of plastics. They are easily removable and come with extra metal wire netting.
Spacious And Two-Level
Ferrets love having a lot of space to play, run up and down, but also a special resting place. The Aivituvin wooden cage for ferrets will be their perfect home for all of that. It comes with two levels so your ferrets will have more space to have fun.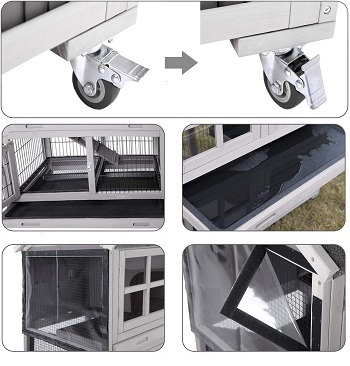 Last Details
The overall size of this wooden cage is 38.6"L x 25.6" W x 44.1"H. The weight of the cage is 52 lbs. The inner tray space is 9.6 ft². It features three access doors and ramps. The three doors will make it easy to maintain clean on a daily basis.
In Short:
two-levels
three access doors
the size is 38.6"L x 25.6" W x 44.1"H
the item weighs 52 lbs
can fit two ferrets
large playing and resting area
BEST COOL WOODEN FERRET CAGE
Wooden Indoor Ferret Cage
Made Of Eco-Friendly Material
Having a safe wooden cage and made of quality materials is very important both for you and your ferret. This ferret's wooden home is made of environmental materials (fir wood and plexiglass). The cage is resistant to rot. It is chew-free and harmless to ferrets.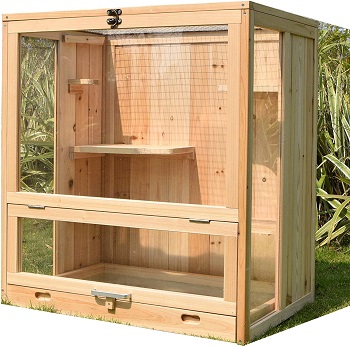 Easy To Access And Clean
There is one large front opening that provides a great panoramic view for your ferret. There is the wire mesh top that allows the fresh air to enter the cage. The door allows you to easily access the cage to pet and feed your ferret, but also to clean the cage.
Good Vent Openings
As already noted, there is a wire mesh top. It is extremely important to get a ferret cage that will make the air enter constantly. This wooden cage's top is safe and won't allow your little fur friend to escape through it and run away.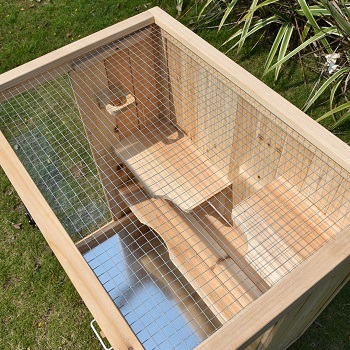 The Assembly
It is not complicated to assemble this unit. It is suggested to use the electronic drill for the assembly. Another person to help you is a plus. Use the user manual and read the assembly instructions or scan the QR code in the box and watch the assembly video.
In Short:
easy to assemble
scan the QR code and watch the assembly video
safe for ferrets
easy to clean
panoramic view
wire mesh top allows the air to enter
BEST CHEAP WOODEN FERRET CAGE
U-Max Wooden Ferret House
Small But Spacious
This wooden cage is perfect for one ferret to live inside of it. It is spacious enough and pet-friendly. It comes with a ramp and a hideout which is perfect to be your ferret's resting area. The cage measures 35.4″ x 20.9″ x 20.9″(L x W x H).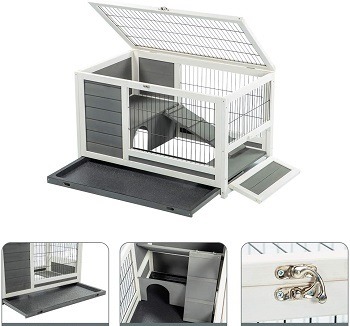 The Removable Tray
This small ferret cage comes with a deep removable pull-out tray. It is easy to clean and it won't go moldy. It does not leak and it can be washed by hand or in the dishwasher. Make sure the tray is always clean.
High-Quality And Waterproof
The cage is made of durable natural fir wood. It is painted with eco-friendly varnish which is waterproof and non-toxic. It is completely safe for your ferrets. It is chew-proof and can be used indoor and outdoor.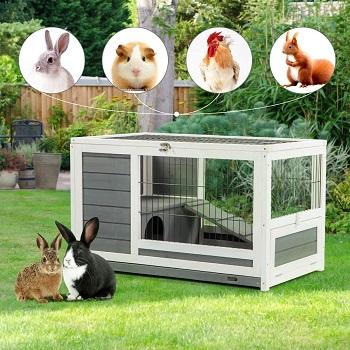 The Good Price
When comparing the price od this unit with other units from this list, this is the most affordable wooden ferret cage. Still, it is a good unit and its lower price doesn't mean it is made of bad quality. For more details, check this unit online and read the users reviews.
In Short:
spacious unit
ideal for one ferret
comes with a deep and removable tray
waterproof and durable
it is eco-friendly and non-toxic
affordable and budget-friendly
BEST INDOOR WOODEN FERRET CAGE
Esright Wooden House For Ferrets
The Design
Having a multi-level wooden home for your ferret will only make it happier and more active. This Esright wooden cage comes as a grey cage made of natural materials. It is completely non-toxic and it is painted with waterproof varnish.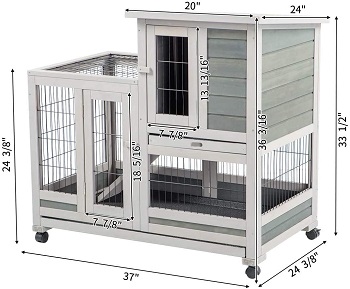 Indoor Use
It is designed to be used indoor, but it can also go outdoor. We suggest keeping it inside during the humid weather. It stands on four wheels, so it will be more than easy to just roll it to the other side of the room or outside your home for a day in the backyard with your ferrets.
The Open Roof
There is a high-quality wire grid on top of this wooden indoor ferret cage. The fences are chew-free and provide great ventilation. The open roof allows you to easily open it with a hinge and to take your pets out of the wooden cage.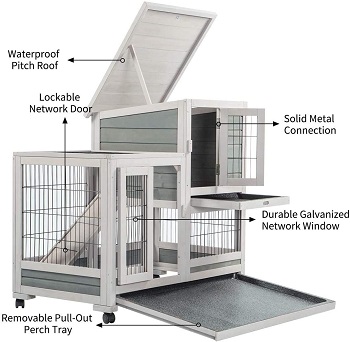 How To Assemble
We suggest you to check out the user manual that provides the assembly instructions. The assembly itself is not complicated and doesn't require much time. It is suggested that two adults do the assembly. It will be quicker and faster.
In Short:
multi-level wooden ferret's home
the roof can be opened
eco-friendly material
waterproof paint
easy and quick to assemble
BEST OUTDOOR WOODEN FERRET CAGE
BWM.Co Outdoor Wooden Cage
About The BWM.Co Cage
This is a large outdoor wooden cage that fits small animals. Several ferrets can live in this wooden cage. It is well-designed, waterproof, and sage. It will protect your ferrets from hazards. It provides them with a full panoramic view and a spacious living place.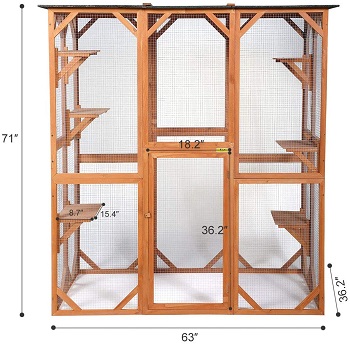 The Design And Construction
This wooden cage is made of pine, wire mesh, and green asphalt. The overall dimensions are 63" (L) X 36.2" (W) X 71" (H). The net weight is 74.6. It is completely weather-resistant and perfect for outdoor use.
Let Your Ferrets Play And Enjoy
Your ferrets will have a lot of space to run around and play. You can add the ramps, wheels, and hammocks to the cage. The cage is easy to access and to maintain clean. Your small buddies will be able to find the perfect resting area.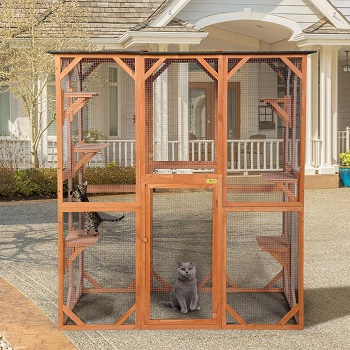 Safe And Ferret-Friendly
Apart from the non-toxic materials that the wooden tall ferret cage is made of, there are no sharp edges so your ferrets won't hurt themselves while running. The door is locked in a way that no pet can open them. The assembly is easy.
In Short:
large and spacious wooden home
several ferrets can live inside of this cage
waterproof and weather-resistant
made of eco-friendly materials
the dimensions are 63" (L) X 36.2" (W) X 71" (H)
BEST LARGE WOODEN FERRET CAGE
Tangkula Ferret Wooden Cage
Product Overview
The Tangkula wooden cage is made for small animals. It can home several of your ferrets. It is a perfect indoor or outdoor shelter for your small buddies. It comes with two floors and it allows you ferrets to play and run up and down as much as they want.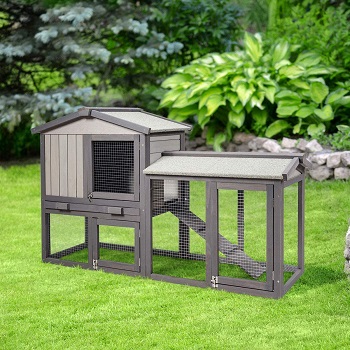 The Construction
This is another multi-level ferret cage made of non-toxic and eco-friendly material. It features 3 lockable doors and ventilated fences. Your ferrets will be safe to live in this wooden cage and won't be able to chew on the door. The cage is made of asphalt roof and solid fir wood.
The Size And Weight
The overall size of this ferret's wooden cage is 58'' x 20.5'' x 34'' (L x W x H). This is spacious enough for up to 3 ferrets living in the cage. Each of them will have enough space to run, play, or rest. The net weight of the item is 36 lbs.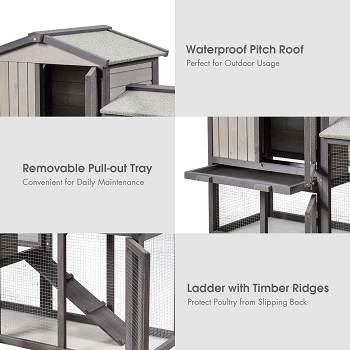 The Assembly And Package
The item comes in two packages. It requires to be assembled. The package includes the wooden hutch and the instructions. To assemble the unit it is best to read the user manual and to do the assembly with another adult.
In Short:
the overall dimensions are 58'' x 20.5'' x 34'' (L x W x H)
constructed of non-toxic and eco-friendly materials
features 3 access doors
ships in two packages
assembly required
it has two floors
How To Pick: Wooden Ferret Cage
If you are wondering what a wooden cage for ferrets must include, keep on reading. A good cage for ferrets must allow these adorable little animals to have space to sleep, run, and play. Moreover, the material should be non-toxic and pet-friendly. A multi-level ferret cage is a plus, and the cage needs to be easy to maintain. Check out more above these features.
The Quality Material – Not every wooden cage for ferrets is the same. When looking to buy such an item, ensure the cage is sturdy, made of quality wood, chew free, and that is non-toxic as well. The ferrets are very curious animals and you wouldn't want your little buddy to escape the cage.
Space To Play – These adventurous animals are big sleepers, but are also very active when awake. Your ferret will definitely need a lot of space to run around the cage and play with different ferret toys in the cage. Make sure the cage you are getting is not too small.
Safe And Pet-Friendly – When we say pet friendly, we mean your cage must not include sharp edges. If your cage has some, your little ferret might hurt itself while running around. Your wooden cage must have smooth edges and be chew-free.
Multi-Level Cages– Not every cage for ferrets has multiple levels. However, the consider getting one that has. Your ferret will be happier and more active. They simply love to play and run up and down. If you have two ferrets, they can both live in such a wooden cage and play together.
Easy To Clean – You must maintain the wooden ferret cage clean regularity. The ferrets will live, sleep, and play here. Not only that, but you are going to feed them in the cage and give them water. You will have to clean up their urine and feces on a daily basis. Ensure your new cage is easy to maintain.
To Sum Up
In the end, we would like to say that the U-Max Wooden Ferret House is the model we liked the most. It is affordable and has enough space for one ferret to rest and play as much as it wants. In case you are looking for more models, don't miss our article about the best small ferret cages. Also, get the right ferret travel cage and make the vet's visits less stressful.