Looking for ramps for ferret cages?
If your answer is yes, read our article. We have reviewed several ferret ramps and divided them into categories. Learn everything about the best of best, replacement, and large ramp. Check out our bonus review as well and read our buying guide at the end of this article.
The Summary
Best 4 Ramps For Ferret Cages
BEST OF BEST FERRET RAMP
Critter Nation Exit Ramp
What To Use This Ramp For
This ferret ramp is made to be an exit ramp. Your little ferret will get out of the multi-level ferret cage easier to hang out with you or play around the house. Use it to attach it to your ferret cage door. Make sure it is compatible with your cage.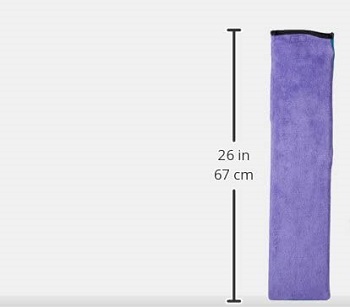 The Compatibility
This ramp measures 25L x 5.5W inches. It is compatible with all Ferret Nation and Critter Nation cages. Still, if its measures match your ferret cage that is not from the same manufacturer, you can get these ramps for ferret cage.
A Cover Included
This ramp includes an extra soft polyester cover. It is here to protect your ferret's feet and to make it feel cozy. The cover comes in purple. It is easy to attach and de-attach. Also, it is simple to wash it whenever it is necessary.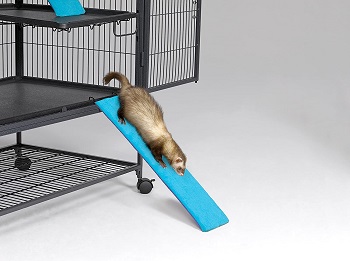 The Ramp Material
The ramp is made of steel. It is protected with a durable powder coat. The material is safe for your ferret. This ramp is durable and sturdy. It will last you a long time. The price of the ramp is affordable. Check out this ferret ramp online.
In Short:
sturdy and durable ramp
comes with a protective polyester cover
compatible with Ferret Nation and Critter Nation cages
the dimensions are 25L x 5.5W inches
easy to maintain
BEST REPLACEMENT FERRET RAMP
Prevue Replacement Ramps For Ferret Cage
Compatible With Prevue Cage
This product is a replacement ramp for the Prevue Feisty Ferret Home 485 cage. The package includes the ramps and platforms. The dimensions of the ramps are 15 3/8'' long and 5 1/8'' wide.

Ramps And Platforms
Use these ramps and platforms to provide your ferret more levels and more space of fun. Your ferret will love the idea of having more platforms and ramps to play on. The platforms measure 19 3/8'' long and 17 ¾'' wide so they might even fit in some small ferret cages.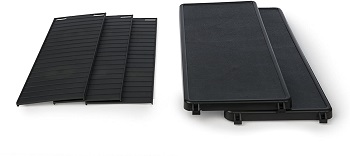 The Package
This Prevue package includes two platforms and three ramps. Use the ramps inside of the cage or install them to be the exit ramps for your little fur friend. They don't include safety covers. They can be purchased separately.
In Short:
match the Prevue Feisty Ferret Home 485
the ramps measure 15 3/8'' X 5 1/8''
the platform dimensions are 19 3/8'' X 17 ¾''
the package includes 2 platforms and 3 ramps
cover is not included
BEST LARGE RAMP FOR FERRET CAGES
Trixie Wooden Ferret Cage Ramp
Wooden Material
This Trixie ramp for the ferret cage is made to allow your ferret easy access to its cage, hutch or even an outdoor ferret enclosure. It is a large ramp that will fit large wooden ferret cages. It is an eco-friendly ramp, safe, and comes with a non-slip grip.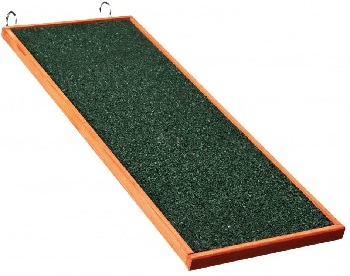 Easy To Install
It is easy to install this ramp to the wooden ferret cage. As long as the ramp matches your cage, you will install it in no time. This wooden ferret ramp measures 19.61 x 7.95 x 1.38 inches and weighs 2.34 pounds.
Can Be Extended
This is an exit and access ramp. It simplifies your ferret getting in and out. It hangs over the entrance of your ferret cage and if necessary, it can be extended with additional ramps for taller cages and hutches.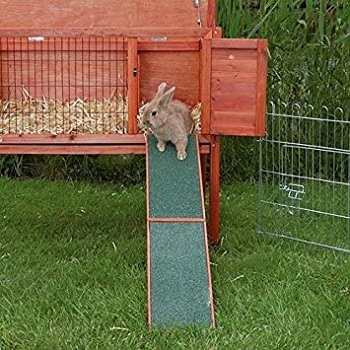 Why And When Buy Trixie Ramp
Getting in or out of the cage or hutch can be tricky for your ferret if there is no ramp that it can walk on. Especially if your ferret cage is tall and raised off the ground. This is when a Trixie ramp can help.
In Short:
made out of pine wood
19.61 x 7.95 x 1.38 inches
simplifies getting in and out
easy to install
can be extended
BONUS – BEST COVER FERRET RAMP
Midwest Ferret Ramp Cover
Extra Ramp Covers
This bonus review is all about the extra ramp covers. These covers are designed for the previously-mentioned Ferret Nation and Critter Nation ramps. They are cozy, soft, and safe for your pet. They protect your ferret's little feet.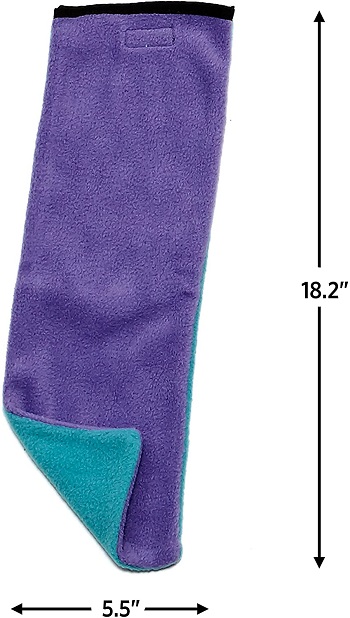 The Material And Maintenance
These ramp covers are made of teal polyester. They come in purple. They are safe for your ferret and very easy to maintain. The Midwest covers are machine washable and can be dried in the dyer.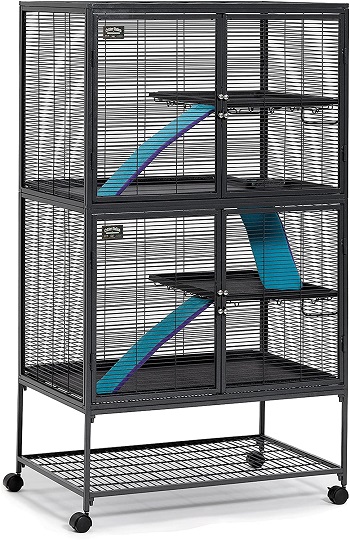 The Package And Price
This package includes 3 purple ferret ramp covers. They are very convenient to have and simple to clean. The price of the package is very affordable. What is important as well is that the customer's satisfaction is very high.
In Short:
affordable price
3 covers are included in the package
easy to wash and dry
easy to put on the ramp
soft and cozy
protect your ferret's small feet
How To Pick: Ferret Ramp
If you are not sure which ferret is the best for your outdoor or indoor ferret cage, our article will help. Here you will get to read a few key factors that will make the purchase easier. First, make sure the ramp matches your cage's dimensions. Get a ramp with a soft cover and make your little buddy feel cozier.
Why Get Your Ferret A Ramp – Ferrets are active and adventurous animals that like to explore. Get them ramps that they will use during climbing and running. It will be easier for them to go up un down the cage. Also, the exit ramps will help your ferret get out of the cage to hang out with you.
Compatibility With Your Cage – Not every ramp is compatible with your cage. Check out the dimensions and see if the ramp you are about to get fits your ferret cage. Make sure the ramp is not too small for your ferret.
The Ramp Covers – Some ramps already come with a soft cover included. If you want to get a ramp that comes without the cover, get it separately. Again, ensure the cover fits the ramp. The cover will help you secure the ramp.
Where To Get – Buy the ferret ramps from a reliable online retailer. The ramps that we have reviewed in this article are available online. Check them out and see if they match your ferret cage. These products are very affordable and easy to attach.
To Sum Up
In the end, we will conclude with re-mentioning the model we find the best. It is the Trixie Wooden Ramp. We find it most eco-friendly and a plus is that it can be extended if you own a tall ferret cage. We recommend using the ferret ramps to connect the tubes inside of ferret cages with tunnels.