Are you searching for a pet camera but would like to learn about the market and know all of your options available?
If you keep on reading this article, we promise you will since we made sure to review the best in each possible camera for pets categories. Some of the categories we included are dog cameras, cat cameras, treat dispensers, interactive cameras and that's only the beginning of the extensive list.
The Summary
Wansview Wireless Security Pet Camera
OVERALL RATING: ★★★★★
You can connect up to 4 cameras on one app and account and have multiple people online to cover all areas of your home.
Jump To Review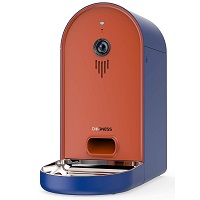 Dogness Pet Treat Dispenser
OVERALL RATING: ★★★★☆
You can dispense treats at any time and talk to your puppy all to calm them down and teach them proper behavior and reduce their separation anxiety.
Jump To Review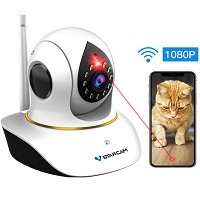 VstarCam Laser Cat Camera
OVERALL RATING: ★★★★☆
You can play with your cat and easily see what you're doing using the laser pointer and its lens that are both controlled via an app.
Jump To Review
Pet Camera: How To Define This Product?
Monitoring will never be easier when you buy a pet camera. Pet device is specially created to make your daily routine much easier if you are away from your pet. All the cameras work the same way – by using the internet connection from your home network. The camera needs to be paired on one of your remote devices and by using the app you are one click away from monitoring your pet.
Are You a Candidate For a Pet Camera?
Do you miss your pet while at work? Do you have a cat or dog? Your pet is allowed to freely roam around the house? Your pet is often alone and you feel sorry about that? If your answer on all or most of the questions is positive, then you are the perfect candidate to buy a pet camera.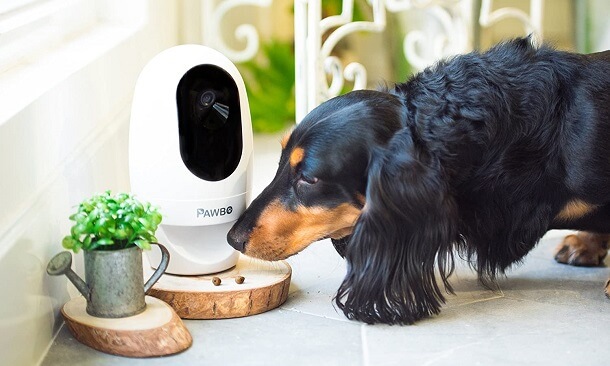 Is There a Difference Between Dog And Cat Cameras?
Not really, most of the pet cameras can be used for dog and cat owners. Some collar models are heavier and bigger than others which are not appropriate for both dogs and cats. Also, cat owners rather pick laser cameras which is one of their favorite interactive cat games. For dog owners is a better choice of camera with a treat dispenser and most of the dogs enjoy catching the ejected treat.
Do You Know Which Types Of Cameras Are Available On The Market?
You only think about the camera as a simple device that can record the video, well you're wrong. On the market, there are a variety of cameras with the best features and specifications for everyone's needs. We listed the most popular models down below.
Monitoring Camera – You're not technical savvy and only want to monitor your pet while away? Then a monitoring camera is the perfect choice for you. This smart device can easily be paired with your phone and provide live video.
Interactive Camera – You will find interactive cameras under the term two-way camera or talk pet camera – they are all the same device. This model uses special technology by providing interaction with your pet by using a speaker and microphone. Some of them have an LCD display so your pet can even see you. How cool is that?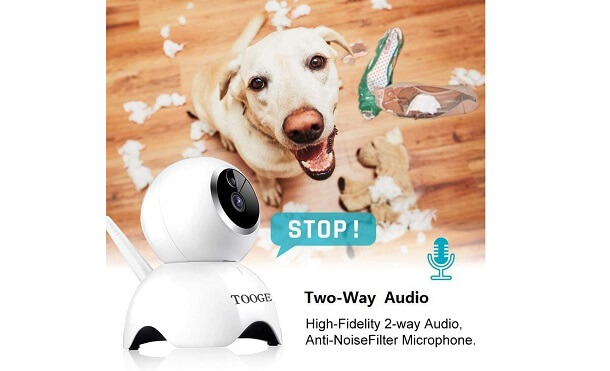 WiFi Camera – You're no fan of cords around the house? This WiFi model is the perfect option for your house. The cordless model will easily connect to the Internet by using the WiFi so you can place it anywhere in the house where there is a good signal.
Camera With Treat Dispenser – Did you know you can eject the treats by using your remote device? If your pet enjoys eating treats, buy a camera with a treat container so you can reward him for good behavior.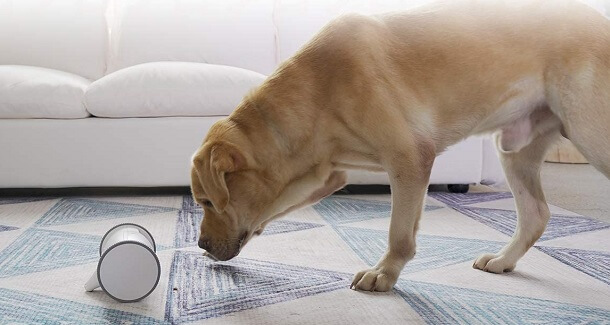 Collar Camera – This model is an ideal choice for dog and cat owners that want to snap pictures or have a live stream to see how the world looks from a pet's perspective as well as where your pet is moving where you're away. Collar cameras go around a pet's neck and it is very practical for occasional use.
Laser Camera – Do you know what is the favorite game for cats? It is the laser, for sure. Buy this interactive camera if you have a cat so they can have fun while you're away. The camera beams out rays and allows you to move them for playing.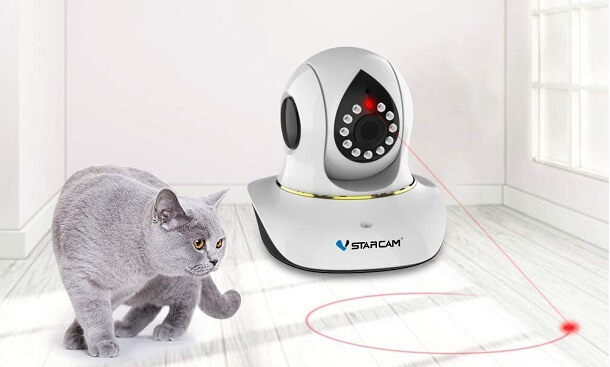 Outdoor Camera – Not that you can monitor inside your house, you can buy an outdoor camera as well. If your pet is allowed to be in the backyard, buy a camera to always be sure he is not in trouble because of other animals. Also, this camera can help you find out how your pet sneaks out and prevents it.
Indoor And Outdoor Cameras – How To Know The Difference?
If the camera has a label indoor, it is only recommended for indoor use, and outdoor models can be used both, inside and outside the house. The main reason is the type of material – indoor models are not made of weatherproof material which can withstand low and high temperature and different conditions like outdoor ones. Indoor models are lightweight while outdoor cameras are bulkier. Also, cameras with electric supplies, which are the most indoor cameras, do not recommend using outside for safety reasons.
What Makes a Pet Camera That Useful?
After reading how beneficial it is to have a pet camera, you won't have doubts anymore whether to buy a pet camera or not.
Live-stream Monitoring
The most important benefit includes daily monitoring by using a stream that will show real-time video on your remote device. You can find out what your pet is doing while he is bored, is he sleeping most of the day, or playing with his favorite toy.
Alert Your Pet To Stop Making Mess
Do you notice he is ripping newspapers or playing with your favorite t-shirt? Use the microphone and alert him to stop doing it. After some time you can teach him to not do it anymore.
Help Pet With Separation Anxiety
Does your pet have a strong bond with you or other family members and do you want to make sure he doesn't have separation anxiety? Talk with him by using the interactive feature and he will be much happier to hear your voice during the day.
Monitor Your Sick Pet
Cameras can be very useful for owners whose pet is sick at the moment and you're away for a short time or those who usually have health problems. This can be a life-saving device if you notice he is behaving differently so you can react as soon as possible.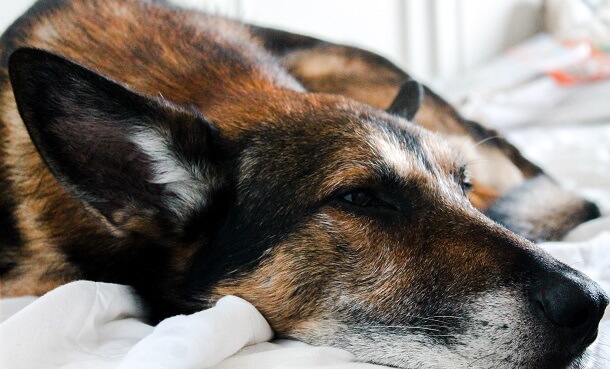 Entertain Your Pet With Interactive Games
If your pet is full of energy during the day, a camera with interactive features such as a laser or catch treat game will entertain him and shorten the waiting time till you come home. By using your remote device, move the laser in different ways and eject the treats so he can catch him in the air.
Use It For Safety From Intruders
Not only is a camera useful for monitoring your pet, many pet owners use it as an anti-theft device, as well. Motion and sensor detectors will send an alert notification that allows you to be sure your house and your pet are always safe.
Snap Pictures For The Memories
Not only can you watch your pet while you're away, you can snap pictures while he is in a funny sleeping position or looking cute while talking with you on camera. Download the pictures and share them on social media.
Are There Any Downsides Of Having A Pet Device?
The main downside can be a stable connection so you can have a real-time video, especially if there is network interruption. Also, if there is a power failure or the battery on your device runs out, depending on the power supply your model uses, you won't be able to monitor.
Buy The Pet Camera With Best Features: What To Consider?
Check all the features down below that need to be considered when you're buying a pet camera, especially if you're a new user.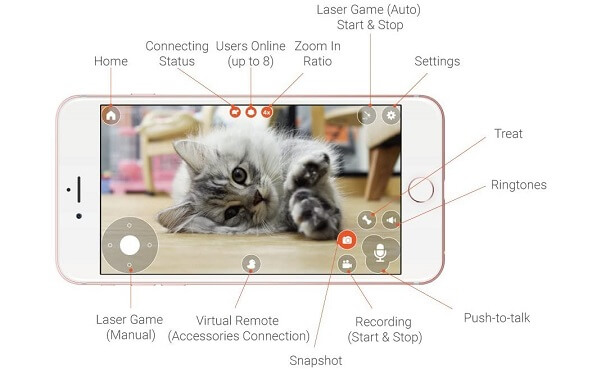 How Difficult Is It To Use It?
Does the camera have multifunctions that are complicated to use? Are the instructions well explained for setup? Make sure to choose a model that won't be difficult to use on a daily basis. Instructions need to have all the steps for easier setup.
Does It Have a High-Quality Construction?
Pet camera must be made of high-quality plastic material so you don't worry about easily breaking and spending extra money buying new ones in a short time. Check all the parts of the device and how well they're attached.
Which Network Frequency Is Supported For Device?
Before buying a camera check if your home network is compatible with supported device frequency. All the pet cameras work on 2.4gHz frequency, and some models also support 5G.
How Can a Camera Connect To the Internet?
The camera can have a wireless or cord connection. WiFi models can be placed in any spot with a stable network signal while models with Internet port requests are set up near the router.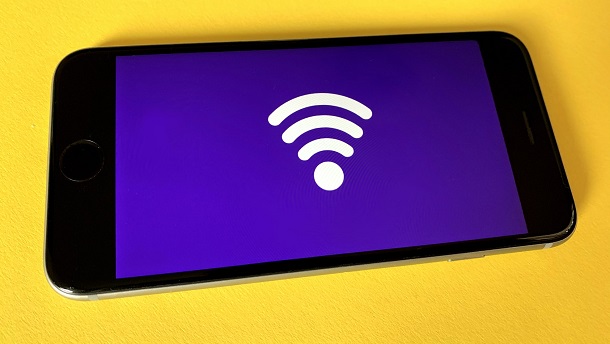 Which Power Supply Camera Use?
The camera can have an electric or battery supply. Battery models can have the option of recharging or replacing with new ones. Which model you'll pick depends on your preferences and where you're planning to place the camera.
How Big Is The Camera?
Cameras are usually small and won't take much space and most of the camera sizes are between 3-5 inches.
Which Monitoring Device Can Pair With a Camera?
It depends on the manufacturer and supported operating system on which you can download the app for monitoring. Most of the models are suitable with a variety of Android and iOs smartphones, as well as tablets or iPad.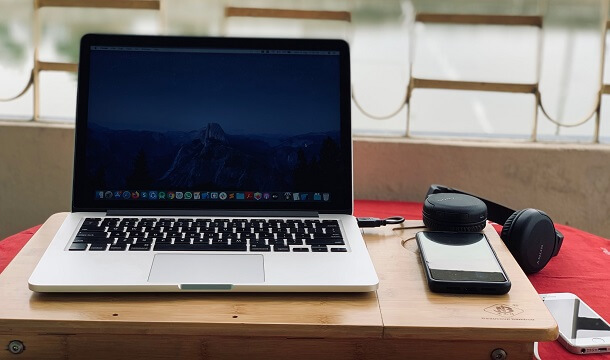 Which Is Recommended Image Resolution?
Models above 720mpx are not a good choice for monitoring and won't provide a clear picture. For daily use,choose either 720p or 1080p for a clear view.
How Large Is Storing Space?
All models have local storage and support microSD cards. We recommend buying a 128GB card so you can save multiple videos and pictures. Also, you can use cloud storage on the app but in most cases, it requires a subscription.
Which Additional Features Can Be Useful For Owners?
Having a model with a tilt and pan features allows you to check all the corners in the room. For 24/7 monitoring cameras must have night camera mode with IR lights. To be sure there are no intruders in the house, pick a model with motion and sensor detector. Also, check if the camera has an anti-noise filter which allows you to better hear pets if you're using two-way communication.
Best 13 Pet Cameras
Wansview Wireless Security Pet Camera
Although it works with its app, if you have Alexa, you can voice control it as well. It can record 1080p quality videos, has a night vision mode, features motion detection sensors, and even has a built-in speaker and microphone for 2-way communication.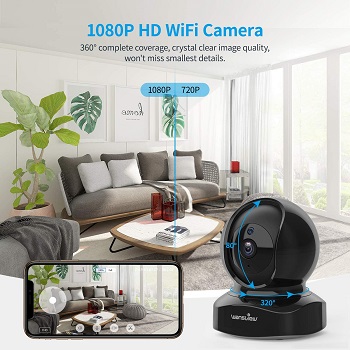 It has complete room coverage because of the 320-degree pan and 80-degree tilt, all controllable via an app. It offers SD card storage or cloud storage. It can be controlled by multiple people and you can connect up to 4 cameras on a single app account. If you want to make sure that it's the best by reading about others, you can find their reviews in the best indoor camera for pets article.
In Short:
Works with an app and can be voice-controlled by Alexa
It can connect multiple cameras and have multiple people online
HAs 2-way audio and motion detection sensors
Has a 320-degree pan and 80-degree tilt
Live streams 1080p HD quality videos
Has night vision mode
Dogness Pet Treat Dispenser
With unpredictable puppy behavior, it's important to be able to calm them down even when you're away. That's why this camera has both 2-way audio that lets you communicate with them and a treat dispenser when they exhibit good behavior. For more, you can read the puppy camera article.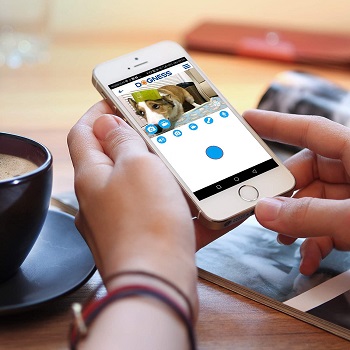 The top is a bamboo cover and when you take it off, you'll find 0.4 L treat compartments that work with a treat of up to 0.6-in in diameter. It does have a camera that records 1080p videos at a 165 wide view angle. It has suction cups on the bottom that make it stable and can be mounted to a wall.
In Short:
Features a built-in speaker and microphone
Has a 1080p quality recording camera lens
Can dispense treats with an up to 0.6-in diameter
Has a 0.4 L treat capacity
Has a 165-degree view angle
Can be mounted to a wall and has suction cups on the bottom
VstarCam Laser Cat Camera
The casing of this camera consists of a rounded head and a stand that allow you to place it on flat surfaces. The circular head rotates 355 degrees horizontally and 120 degrees vertically. It has a 110-degree wide recording angle and streams FHD 1080 quality videos.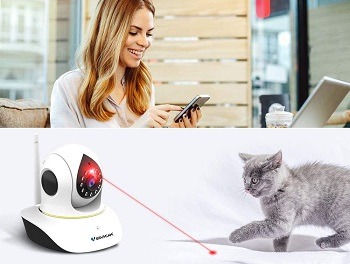 In the front, it features a lens, infrared lights for night vision mode which is important for cats, and even a laser that you can remote control via an app. While unique, there are definitely more unique cat cameras out there so be sure to check them all out in the linked article below.
In Short:
Has a rounded head
It can move 355 degrees horizontally and 120 degrees vertically
Features a 110-degree view angle
Records FHD 1080p videos
Features night vision mode and a manually controlled laser
It's controlled via an app
Rva Camworks Dog Monitor Camera
The camera connects to 2.4 GHz wifi and doesn't work with 5G wifi. It has a rotating camera head with a pan of 355 degrees and a tilt of 90 degrees. It streams 720p HD live videos, features night vision mode, and can connect to an app using your phone or you can connect it to a PC.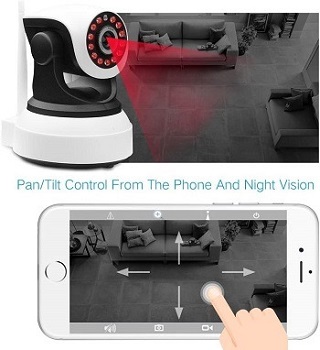 It has a built-in microphone and a speaker so you can communicate with your dog at all times. It also features motion detection and can send you notifications when it is detected. If you'd like to learn more about them and what you should focus on when searching for one, you can read the dog camera article next.
In Short:
Has a built-in mic and speaker
Live streams 720p HD quality videos
Features motion detectors and night vision mode
Works with smartphones and PCs
Works with 2.4 GHz wifi
Features a wide-angle pan and tilt
Feastoria Pet Feeder Camera
The top of the housing features a treat storage compartment that has a 4L capacity. It also comes with a bowl where your pet's treats will go when you want to feed them. You can either schedule a feeding time or do it remotely. It connects to wifi and if the connection breaks it will still fill the bowl with treats.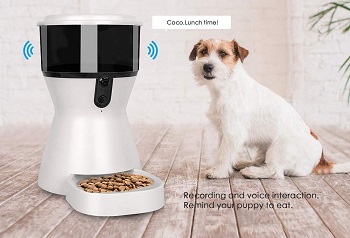 The camera in the front that records 1080p quality videos and has a wide view angle will always keep an eye on the bowl so you can see when it's empty and refill it accordingly. It has built-in HD speakers fo pet to owner interactions. If you'd prefer a manual pet camera treat dispenser, you can find them in the linked article below.
In Short:
Has a 4L treat capacity
Comes with a treat bowl
Can dispense treat with a schedule or manually
Has HD speakers and records 1080p quality videos
The wide-angle lens keeps an eye on the bowl
Tooge Pet Dog Cat Camera
The camera works with android and iOs phones, tablets, and even Windows PCs. The app connectable to this camera can have multiple people online at the same time as well. If you'd like a camera that can connect multiple cameras on one app, you'll find them in the pet monitoring camera article.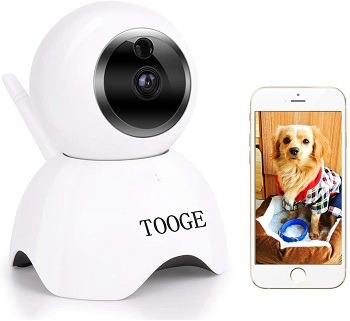 It connects to home 2.4 GHz wifi and doesn't support a 5G network. It detects motion and can send you alerts, has 2-way audio, night vision mode, and features a wide-angle pan and tilt, and can even zoom in. With night vision mode, you'll get up to 32 ft view range.
In Short:
Works with Android, iOs, tablets, and Windows PCs
Has a wide-angle pan and tilt and can zoom in
The night vision mode has a 32 ft view range
Connects to 2.4 GHz wifi
The app it connects to can have multiple people online
PawCall Pet Training Toy
The product comes with 2 pieces of equipment, a call button for your pet and a display screen that lets your pet see you. You'll have to teach your dog to press the button when they want to see you and interact with you and when they want to chat, you'll see a blinking notice so you can know when it's about to happen.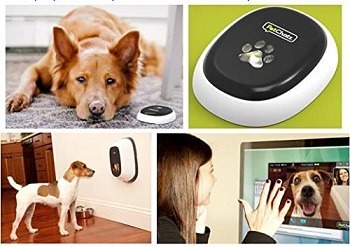 It operates with 2 AA batteries, connects with Bluetooth, and can throw treats as well. You can connect it to your smartphone, tablet, or even a computer. If you'd like a 2-way pet camera with just the microphone and speaker included in the communication line, you can find them in the linked article below.
In Short:
Comes with a button and display screen
Can dispense treat
Allows you to see your pet and for them to see you
It blinks when in call mode
It works with 2 AA batteries
It's connectable via Bluetooth
Pawbo Life Pet Camera
There are plenty of ways to play with your pet if you get this camera that works with 2.4 GHz wifi and doesn't support a 5G network. If you'd like it to, you can read about others and find the one that does in the wifi pet camera article we've linked below.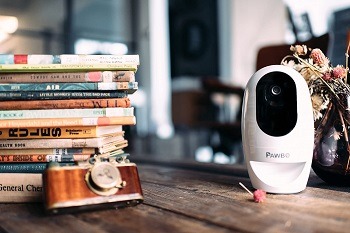 It records 720p quality videos at a 130-degree view angle and offers 4 digital zoom. It can be mounted to a wall, has 2-way audio, a treat dispenser for both cats and dogs, and a laser toy for cats specifically, but dogs can have fun with it too. Everything is controllable via an app.
In Short:
Has a treat dispenser and laser toy
Records 720p videos and features 2-way communication
Has a 130-degree view angle and has 4x digital zoom
Can be mounted to a wall
Connects to 2.4 GHz wifi
Skymee 12L Pet Feeder
The dispenser has a huge 12L treat capacity so you never run out of treats to give to your pet. You can dispense treats manually or by setting up a feeding schedule via an app. The treats will be dispensed into a bowl in the front and the front of the casing also features a camera, microphone, and infrared light for night vision.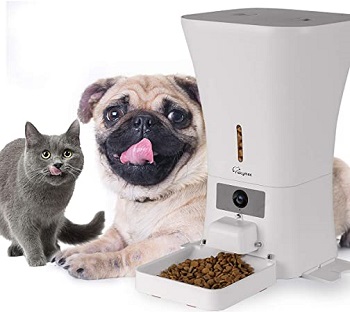 The left and right sides feature a pedestal to keep it balanced and the camera can live stream 1080p HD videos. One account on the app it's controlled with can have 8 people online. If you'd prefer to have the focus on the camera quality and flexibility, you can find them in the remote dog treat dispenser article.
In Short:
Has a 12L treat capacity
Can have 8 people online using one account
The camera live streams 1080p HD videos
Has side pedestals for stability
Dispenses treat into a bowl with a schedule or remotely
Has 2-way audio and night vision
Arlo Wired Security Camera
The way the camera attaches is either using the magnets or with screws that allow you to mount it to a wall. It works with Amazon Alexa that allows you to voice control it if you'd like. You can get one that doesn't if you'd prefer not to by reading the home camera for pets article next.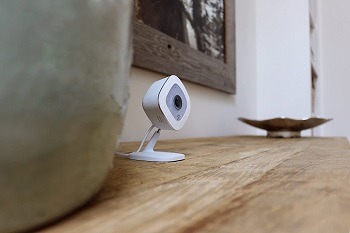 You can see clearly in the dark with night vision mode and you can get alerts when motion is detected by its 1080p HD quality camera that features 8x zoom and has a 130-degree view field. It works with smartphones and Windows PCs and works best with high-speed internet.
In Short:
Can be screwed into a wall or mounted using magnets
streams 1080p videos, has 8x zoom and a 130-degree view field
Works with Amazon Alexa
Features 2-way audio
Has motion detection sensors
Works at night
Can connect to a PC or smartphones
Skymee Owl Robot Camera With Treat Dispenser
How you can interact with your pet using this device is by letting it roll around your house using the left and right side wheels. You can move it manually through an app or by turning on the touch mode. It has 2 owl-shaped eyes and a beak for decoration in the front.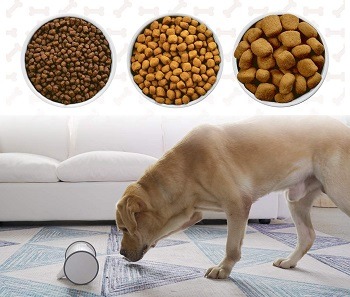 One of the eyes is a full had 1080p camera and below it, there is a microphone. The speaker is located on the side for 2-way communication features and it can even dispense treats. Its battery makes it work non-stop for 8 hours at least. If this is not what you had in mind you can always check the interactive pet camera article for more.
In Short:
Looks like an owl
Can stroll around the house manually or automatically
Has 2-way communication
The camera lens record 1080p FHD videos
It can dispense treats
The battery last for 8 hours of non-stop use
Amiccom Outdoor Security Camera
You'll have to plug this camera into a power outlet for it to work. It's IP66 water and dustproof and can withstand temperatures of -4 degrees Fahrenheit up to 122 degrees Fahrenheit. There's no doubt that it's a weatherproof outdoor pet camera so check them all out if you'd like to see other options.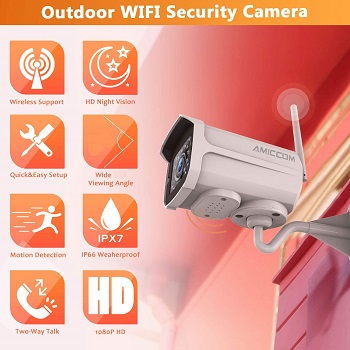 It features AI motion detection and can send you smart alerts on your PC or smartphone. It live streams 1080p HD quality videos even in pitch black dark with a view range of up to 78 ft. It connects to Alexa, features 2-way audio, and has a memory card slot as well.
In Short:
It's IP66 waterproof
Can work in temperatures of -4-122 degrees Fahrenheit
Has 2-way audio
Features AI motion detection
Has a memory card slot
Live streams 1080p quality videos
Has a 78 ft nigh vision range
FunPaw Camera Treat Dispenser
The casing of the device is small but big enough to hold da treat dispenser, a laser, and a camera. The camera can record 720p quality videos and the treats are dispensed one at a time. It can launch treats up to 3ft away and can hold up to 11 treats. The laser game is controlled manually.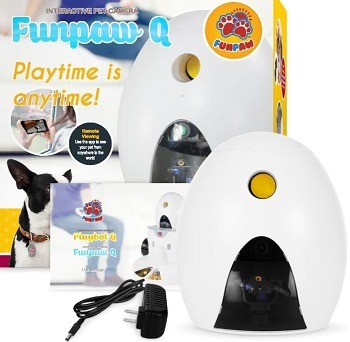 The camera also has a 120-degree view angle and there's a built-in microphone and speaker that allows you to communicate with your pet. It's more of a cat camera with laser and if you'd prefer a bigger treat storage capacity, you can find them in the linked article below.
In Short:
Has a 720p camera with a 120-degree view angle
Can dispense treats up to 3ft away
Can hold up to 11 treats at a time
The laser pointer is controlled manually
Features 2-way audio
Alternative Device To Use As Pet Camera
If you can't find an affordable model with good features, there are alternative models which you can use for monitoring your pet.
Security Camera As Pet Camera
Security models are one of the most used alternative devices for pet monitoring. Most of the security models include great features such as 720 or 1080p image resolution, tilt and zoom camera option as well as a wide lens for a panoramic view. Before buying a security model make sure to check if it's compatible with the operating system of your remote device, so you can easily pair them.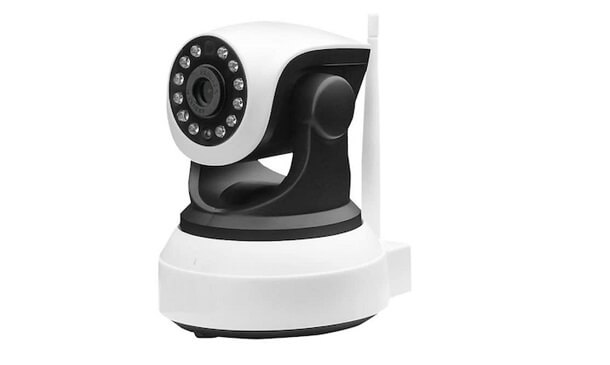 Can You Use Laptop Or Tablet As Monitoring Devices?
If you already have a laptop or tablet at home, this can also be a great alternative for monitoring. You will only need to download the compatible app for the pet station device which is a laptop or tablet and receiver device like your smartphone. After you made an account and paired the devices, you can start live monitoring when you're at work or on a trip.
Setting Up Camera: Guide For New Users
We'll explain how to quickly set up the camera and device. Most of the models require around 10 minutes for assembly.
Set Pet Device
Plug the camera in or place the charged battery inside so it can work. The indicator must have a green light to signalize it is turned on. If it has a cord plug it in a suitable port. Press the wireless button to connect with a home network.
Download The App On Monitoring Device
Find the app on Apple or Play store depending on which operating system your device has. Install the app and follow the steps to set the audio and video features.
Pair Both Device
After you download the app, the monitoring device will recognize the camera so you can pair it. If you have troubles with connection, read the FAQ from the instructions.
Test It
Before using it when you're away from home, test both devices so you can be sure the sound is good, the camera is placed on the right spot so you can monitor the whole room, and if the additional settings work well when you click the command button.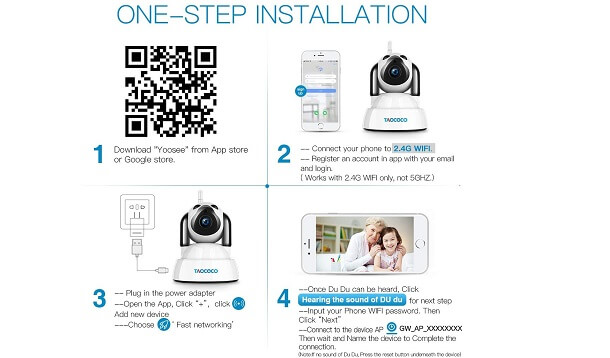 Teach Your Pet Use Camera – Tips & Tricks
By following our steps and tips you can easily teach your pet how the camera works so you can start using it as soon as possible.
Step 1. Introduce The Device To Your Pet
Some pets, including cats and dogs, can be afraid of the new device in the beginning, especially if they're easily afraid of different objects. Allow your pet to sniff the device and turn it on to check if it is not loud. Don't worry, most of the cameras do not make any noises when they turn on.
Step 2. Test The Settings From Other Room
If you're planning to use the camera for interaction, make sure to test it when you are still at home, so you can check how your pet reacts to your voice. Many of them will be suspicious or confused hearing your voice and not seeing you.
Step 3. Repeat The Action Till They Figure It Out
First few days it is recommended to use the monitoring device while you're still at home so the pet get used to it, especially if you're trying to interact with him or use different features like treat tossing or laser games.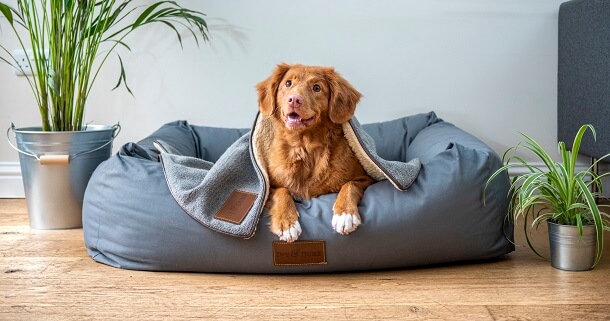 Decide If Model Is Best Choice For Your Pet
After a few days of training, you can easily decide whether this device is the best choice for your dog or a cat. But how will you know it? If you have an interactive model and your pet is constantly afraid of the sound and starts crying because they can hear you and can't find you, then it's better to buy a monitoring device. Also, if you're a pet afraid of moving models like robots, then the better choice is a static device.
Which Pet Cameras Are Not Recommended To Buy?
Not all cameras for pets are the best choice to buy. Check which models are not recommended for daily use and why.
Cameras From Unreliable Brend
It is not recommended to buy a camera from an unreliable brand because you won't be sure if it will work properly and be safe for use.
Cameras Without Warranty
All the pet cameras need to have at least 6 months of warranty as well as 30 days of return or replace policy. In this case, you'll be able to report any possible malfunction.
Pet Camera Which Requires Maintenance
Pick models that don't take much dust so you can always have a clear view without blurry pictures. Models with treat containers need to have a detachable option so you can quickly clean them from the crumbles.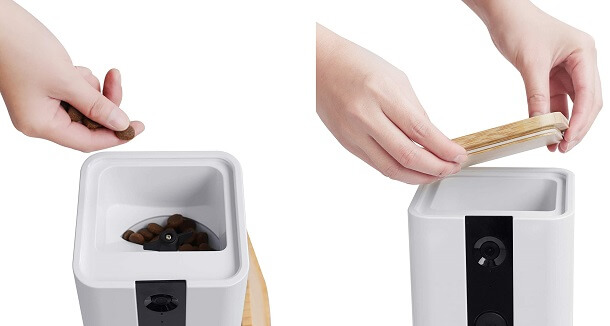 Models Made From Fragile Materials
It is not recommended to buy any model made of thin plastic or one that has glass parts. Thin plastic can easily break if the camera fell on the floor and glass parts such as lenses can injure your pet.
Cameras With Small Parts
If you're planning to use the camera on the floor, like a laser camera or device with a treat dispenser, make sure there are no small parts that pets can easily swallow.
Laser Which Ejects Out Rays Straight
If you're planning to buy a pet camera with a laser, it is not recommended to pick the one that ejects the rays straight. This can hurt a cat's sensitive eyes. The better choice is an angled laser.
Heavy Or Too Big Collar Camera
Not all collar camera models are suitable for dogs or a cat. Check the dimensions and weight of the camera so you can be sure it won't hurt your pet's neck when you attach it to the collar. Every model includes information for which pets it is recommended depending on the age and size.
Models That Eject Treats Too Fast
If your pet is afraid of sounds and moving objects, avoid buying a treat dispenser that ejects the treat fastly because it can hit your pet and scare them. Instead, pick a model with a treat bowl and downturned hole, or a camera with adjustable ejection.
Where To Place Camera? – Best Spot Recommendations
Not all areas in the house are the best choice to install the cameras whether about safety or functionality. Check our tips down below to pick the best spot for your type of model.
Find Good Monitoring Angle
Cameras for indoor use are recommended to place on the higher area to provide a better view. You can place it on a shelf, counter, or a desk if your camera has a wide lens.
Place On Stable And Flat Surface
Make sure to put a camera on a flat and anti-slip surface for maximum safety if the pet tries to knock it down.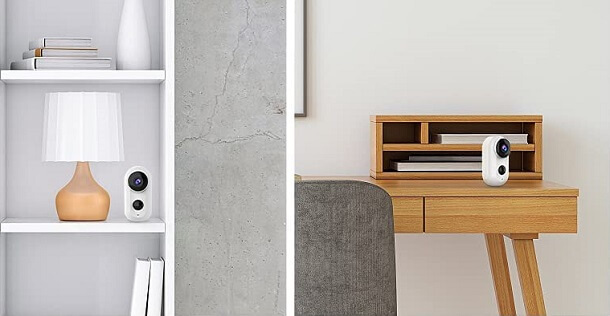 Avoid Easy Accessible Places For Pets
It is recommended to place the camera where your pet doesn't have access so it won't start biting it or playing with it. This doesn't apply to models like cameras with treat dispensers which need to be easily accessible for eating. Always make sure they're near a wall or in the corner.
Area Where You Can Hide Camera Wires
If you're using a model with a wired connection and electric supply, the camera needs to be placed somewhere you can easily hide cables. Place them behind furniture so your pet can't reach it because it can be very dangerous if they start biting it.
Wall-mounted Option
Installing the camera on the wall can be a very good choice if the model has a wall-mounted option that allows you maximum safety. Pets won't be able to reach the camera and knock it down.
Privacy And Safety – Are Monitoring Devices Safe?
You're not sure whether cameras are safe as they offer a private view of the indoor or outdoor area of your house? Find down below can the camera get hacked and tips on how to maximally secure the device.
Is a Pet Camera Safe From Hackers?
Unfortunately, no. Every hacker can broadcast and download sensitive information from the camera. That information can be used for breaking into your home as well as blackmailing because of identity theft. It is important to secure the device as much as you can to prevent these actions.
Tips To Secure Your Camera
By following our tips you can maximally secure the device without worries about hackers and your privacy.
2-step Verification – Most apps allow this verification option that can be very useful for protection. How to set it? Turn on the verification button and you will get a code on your email address that needs to be used every time the app prompts it.
Strong WiFi Password – Don't put your date or an easy combination of numbers that can easily be detected. We recommend the combination of upper and lower case letters, numbers, and symbols. If you're not sure which password is a good choice, contact the manufacturer or check the recommendations from the user's manual.
Cover The Lens When You're Not Using It – If you're not planning to use the camera because your pet went, for example, with you on a trip, it is recommended to cover the pet cameras' lens. You can use a sticker or some of the stick tape which can easily be removed when needed. Even if the camera got hacked, hackers won't be able to spy through the lens, and you will be safe.
Frequently Asked Questions For Pet Owners
If you didn't find all the needed answers in our article, here are some of the most asked questions and their answers which will help you pick the right model.
Do Pet Cameras Support Voice Assistant Option?
Many models support Alexa or Google voice assistant which can be very helpful when monitoring. Before buying a camera check the additional features so you'll be able to buy the supported device.
Are All Cameras Waterproof?
Most of the cameras are waterproof but there is a difference. Indoor cameras such as monitoring and model with treat dispenser can endure a little water if you accidentally spill something, but they can be used in humid environments like outdoor ones.
Can You Monitor Without Internet?
No, to be able to monitor from your phone or other supported device, you need to have the Internet on. Also, the house camera needs to be connected nonstop to the network to work properly.
Can Other Family Members Use The App?
Yes, they can. Most of the manufacturers allow using the app on multiple devices and up to 8 users.
Do All Pet Cameras Rotate?
No, not all of them. Some models have a wide lens which allows panoramic view. But there are models which can rotate about 150 degrees vertical and 90 horizontal which allows you to see every corner of the room.
Do Pets Bother With Collar Cameras?
Not at all, if you pick a lightweight and small model. But, they're not suitable for long use, only when the pet is active and exploring around. We recommended removing it when they're laying so they comfortably sleep or have a nap.
Can My Pet See Me Through The Camera?
Some of the models have an LCD monitor which allows your pet to see you, as well. This can really help him with separation anxiety.
How Large Is The Treat Container?
It depends on the model. Some of them have a 0.5L container which is suitable for occasional use. If you're planning to use it on a daily basis, you can buy some huge models up to 15L.
Which Food Is Recommended For Treat Dispensers?
Only dry food can be used in treat dispensers, and more than 100 brand food treats are compatible with pet cameras. Every model can dispense treats with approximately 0.6-in diameter.
Can You Set a Treat Schedule?
Yes, most models allow you to schedule the dispense of treats. You can customize it on the app so your pet never stays hungry.
What Is The Viewing Range Of Models With Night Vision Mode?
Indoor models with night vision mode have a viewing range of approximately 32 feet and outdoor cameras can have up to 80ft.
How Long A Laser Can Be Turned On?
You can entertain your pet and manually control the laser every day, but don't use it for too long. A few minutes a day will be enough to keep your pet active, and won't bother his sensitive eyes.
Are Pet Cameras Worth Buying?
In our opinion, they're definitely worth buying. Not only can you monitor your pet, different models allow you to interact with your pet while you're away, feed them with treats and keep them active with interactive games.
To Sum Up
We made the article to round up every possible pet camera type available on the market. That's your starting point and from there you can figure what camera you'd like and choose accordingly so for that reason we simply can't recommend one. If you missed out on a few reviews you can always go back and read some articles in better detail like the articles about dog cameras or if you have a kitty, here is the best cat camera post for you.