Is it hard to leave your pup home alone or are they making a mess while you're away so one of the solutions you've come up with is to get a puppy camera?
If you're new to the products or want to buy the best straight away it'll definitely be worth it to continue reading this article. We made sure to review only the best ones in various categories. That's why you'll find wifi cameras, treat dispenser cameras, two-way cameras, and a lot more. We even set out to teach you a few things along the way so you'd know what you're buying into.
The Summary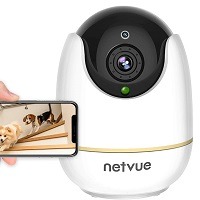 Netvue Indoor Camera
OVERALL RATING: ★★★★★
The motion on this camera has an AI human detection so the app it works with won't send you notifications when there's nothing to worry about.
Jump To Review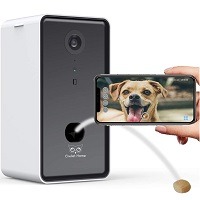 Dogness Treat Dispenser Camera
OVERALL RATING: ★★★★☆
You can throw treats at various distances to keep your puppy entertained and away from the thoughts that it's alone. You can also talk to them.
Jump To Review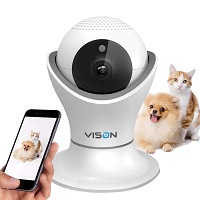 Vinsion HD Pet Camera
OVERALL RATING: ★★★★☆
If you're worried about the safety of your footage, the camera has a unique IP address and won't save videos and images on any outsourced server.
Jump To Review
Are Puppy Cameras a Good Idea For Pet Owners?
Puppy cameras are a great choice for everyone who wants to be able to check what their new family member is doing when they're away from home. This functional device is perfect for people with office jobs, so they can check everything is fine at home and puppies are safe.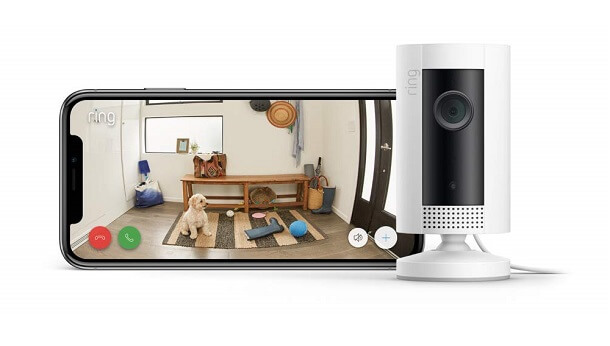 Ensure Your Puppy Is Safe
Puppies are most sensitive at a young age and request higher monitoring to make sure they behave normally and are not in danger. They're very playful and love to make a mess around the house like biting furniture so having a camera will help you detect all suspicious actions. An additional bonus is that you can use puppy cameras as a security device to make sure there are no intruders nearby.
Is It Possible To Teach Puppies To Communicate Through Camera?
Not all puppies will be interested in the camera on their own, but you can definitely teach your puppy how to act with the camera. Start training your puppy at a young age so he knows where the camera is and what it is. When he gets used to it, he won't try to bite it, knock it down, etc.
Can Puppies Get Scared From Camera Sound?
Puppies can hear very well and easily get scared. If you're planning to use the microphone for communication, lower the voice and check their reaction. In the first few days, we recommend using the camera while you're next to them so they get used to your voice. After some time they will automatically connect the voice from the camera with the owner.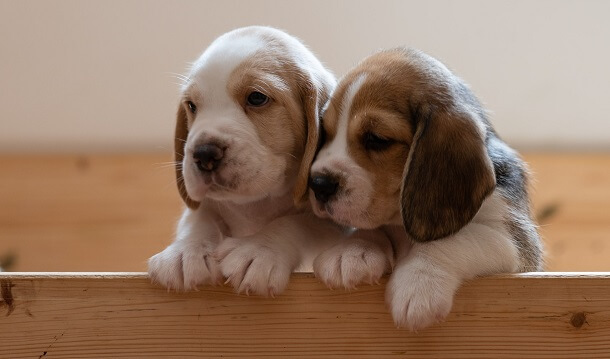 Can Cameras Help With Separation Anxiety?
Puppies are very attached to owners and family members, which can cause anxiety and stress if they're too often alone at home. Cameras can help with separation anxiety and calm puppies when they hear a familiar voice. It is recommended to communicate with your puppy several times a day if no one is home. After a while, you can gradually lower the number of times you call your puppy so he can get used to being alone.
6 Most Important Specifications When Buying Puppy Cam
When buying a new puppy camera, check the specifications for easier everyday use. We have selected the 6 most important features that a quality camera for puppies needs to have.
Easy to use
Cameras for puppies need to be small and practical for all users. Pick the model that has easy installation and simple functions so you can quickly customize settings even if you are not tech-savvy.
Power supply
Most pet cameras have an electric cable or battery. Electric supply models are suitable only for indoor use and they have to be near a socket. If you want a portable model without worries about the power supply, a battery camera is a much better choice.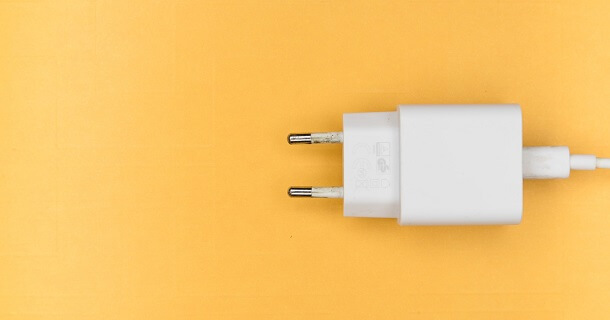 WiFi connection
Pet cameras connect with WiFi so you should always have the Internet so the cam can work properly. Most of the models work with 2.4G Hz frequency, which you can check in-camera information and see if it matches your home network.
Useful camera specifications
Pick the puppy camera with more than 720p image resolution. Also, it is a smart move to check if the camera has zoom and wide-angle options which are great, especially for open space houses. Also, night vision will provide a better view even if you are not home at night.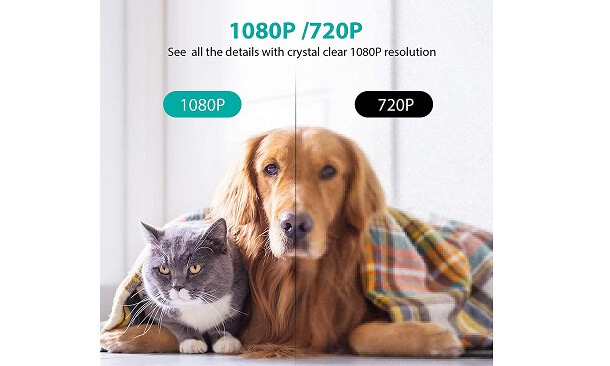 Interactive features
Some pet models include additional features such as a built-in treat dispenser so you can toss a reward anytime. Also, two-way communication allows you to communicate with your puppies using a microphone and speaker. Some models even support Alexa and Google assistant for easier use.
Motion detection
This is one of the best safety features that will provide maximum safety. A camera detects all the sounds and motions and you can customize to get and push up notifications every time a cam picks up something suspicious.
Best 10 Puppy Cameras
Netvue Indoor Camera
Pan And Tilt
The camera monitor has a built-in remote pan and tilt meaning you can rotate it to check up on the room 105 degrees up and down and 360 degrees left to right. Alexa monitor is required for the two-way audio to work so in case you don't have an Alexa, you can read about others in the camera to watch dog article.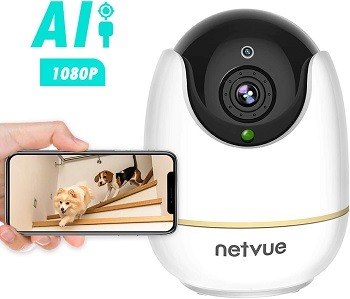 Zoom And Night Vision
This puppy monitor camera has an 8x digital zoom so you can see what your puppy is doing at all times. It features a night vision mode and a motion detector. You can arrange it to not go off when there's nothing to worry about because of the AI human detection. It has an SD card slot and it also has its cloud storage where you can store up to 10 days' worth of video material.
In Short:
Has a remote pan and tilt mode
The mic and speaker work with Amazon Alexa
Has its cloud that stores up to 10 days of video footage
Has an SD memory card slot
Features 8x digital zoom
Has AI human detection sensor
Dogness Treat Dispenser Camera
Housing Design
The treat dispenser comes in a lovely blue, black or white color. On top, it features a seal to cover up the treats and their smell. On the bottom, it has 4 non-slip rubber feet. It's rectangular so if you'd prefer a different design, you can read about others in the wifi dog treat dispenser article linked below.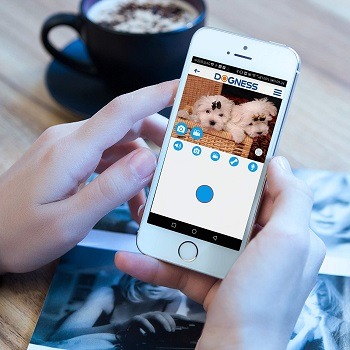 Two-Way Audio
You can hear and talk to your puppy using the mic and speaker, two-way audio. You can download video footage to your phone as well to share on social media. The puppy treat camera has a 0.4 L capacity and can dispense dry treat with a diameter up to 0.6 inches. You control how and at what distance it will dispense a treat, all through the mobile app.
In Short:
Has a 0.4 L treat capacity
Can dispense dry treats up to 0.6-in diameter
Has various treat-dispensing distances
Features a camera monitor
Has two-way audio
Works with a mobile app
Has non-slip rubber feet
Can be colored blue, white, or black
Vinsion HD Pet Camera
Head Movement
The camera sits on a stand and has an inlaid circular head that moves both horizontally and vertically at 360 degrees. It works through wifi and records HD 1080p videos. It will notify you when motion is detected and you can even talk to your puppy using the two-way audio.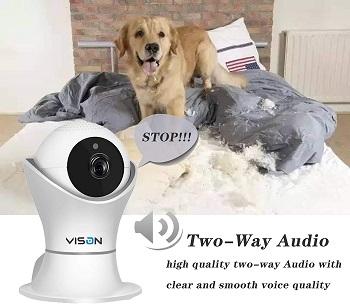 Back Details
It features an SD card slot in the back and an ethernet connector. It also has infrared lights to work during night time. You can always check up on other cameras for puppy and dogs to make sure you get the best for yourself and the puppy in the indoor dog camera article.
In Short:
Records HD 1080p videos
The footage is saved remotely and is safe with a unique IP
Works during nighttime
Has an ethernet slot and a microSD card slot
The head rotates horizontally and vertically 360 degrees
Has two-way audio
Ring Indoor Camera
Small Size
The camera plugs into a standard power outlet so you should base your placement on that. It's very small and its housing is only 1.81-in long and wide, and 2.95-in tall. You can buy multiple cameras to monitor all areas of the house. You can read about other models if you'd like a tilting model in the interactive dog camera article.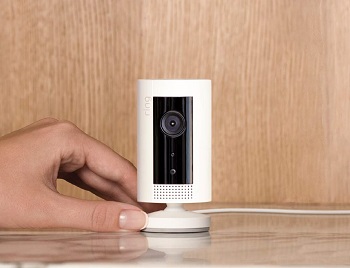 Vertical And Horizontal Camera Movement
The puppy watch camera has a 115-degree horizontal field o view and a 60 degrees vertical field of view. It features night vision, records real-time video footage, and all that in HD. You can also mount it to a wall and has 2-way audio with noise cancelation properties.
In Short:
It's 1.81-in long and wide, and 2.95-in tall
Connects to wifi and plugs into a standard power outlet
Has a 115 degree horizontal and 60-degree vertical field of vision
Record in real-time HD
Has 2 way audio with noise cancelation
Has night vision
Imillet Wifi Pet Camera
Mic And Speaker
It's important for puppies that you talk to them and soothe them with your voice when they're left alone. That's why this camera has a built-in speaker and microphone so you can listen to your dog and interact with him. It has a motion detector and through an app, you'll get notifications if motion is detected.
Placement, And Camera
You should avoid placing it next to glass that might affect the infrared lights that help with night vision. It rotates 350 degrees and the head rotates up and down 100 degrees. Checking up on the camera is available through the app and you'll even get to zoom in 4x. You can learn more about this and other similar models in the best pet monitoring camera article.
In Short:
The head rotates up and down 100 degrees
It can rotate left and right 350 degrees
Has a built-in mic and speaker
Features night vision mode
Can zoom up to 4x
Comes with an app
Features a motion detector
Rva Camworks Monitor Camera
Wifi Network
The only problem with this puppy home camera is that it doesn't work on 5G wifi. You can view your dog in real-time through the app that's free for smartphones. It has clear sound and clear picture quality. It sits on a stand and it can tilt 90 degrees and pan 355 degrees. This is all controllable through the app.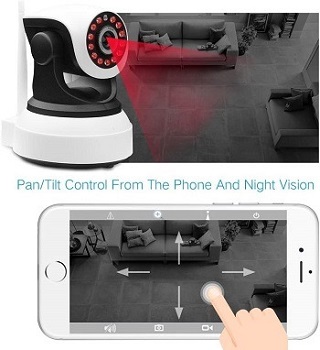 Memory Card
You'll get to calm your puppy down by talking to them because of the built-in speaker and mic that allows you to hear what's going on. It connects using Wi-Fi and has an SD card slot for storage. If you'd prefer not to have it connect to wifi, you can always read about others in the home camera for pets article.
In Short:
Doesn't work on 5G wi-fi
Has a 90-degree tilt and 355-degree pan
Has an SD card storage slot
Connects to wi-fi to show real-time footage
Has a mic and speaker
Ring Floodlight Camera
Camera Lights
The head of the camera is centered and on top of it, it has 2 bright lights that can light up the camera's blind spots. It detects motion up to 30 ft away and can even set off an alarm. Initially, it's an intruder camera but due to the two-way audio, it can serve as a camera for puppy as well.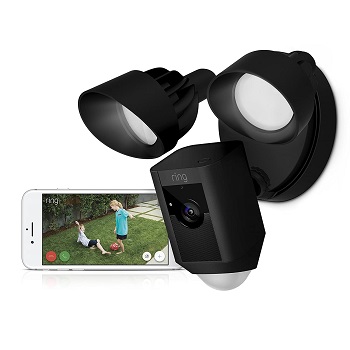 Camera Quality
It records 1080 HD video in real-time and you can download and review up to 60 days of video footage. It's fully compatible with its app but also with amazon Alexa. The siren doesn't have to be activated if you don't want it to. If outdoor is what you need but this isn't the right match for you, you can read about others in the outdoor pet camera article.
In Short:
Can be put on a wall
Records live 1080 HD video
You can review footage up to 60 days back
It's compatible with its app and Amazon Alexa
Has two bright light
Detects motion up to 30 ft away
Tooge Pet Dog Camera
Night Vision
Since 5G has taken the world by storm but a lot of households still don't have it, it's not a worry that the camera doesn't work with it. You can get more cameras and add them all to one app to monitor more areas in your home. Each camera has two-way audio and a night vision with a range of up to 10 meters or 32 ft.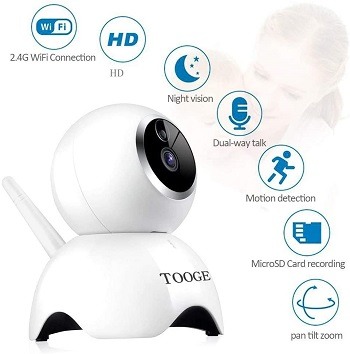 App Details
The app it connects to will notify you when a motion is detected. It has a slot for a memory card o up to 128GB but doesn't come with one. The puppy watch camera has a 100-degree tilt and 350-degree pan all controllable from your phone. If you'd prefer a camera that connects to 5G, you can read about others in the wifi dog camera article.
In Short:
Doesn't work with 5G wifi
Has a 100-degree tilt and 350-degree pan
Notifies you when motion is detected
Work in night vision mode up to 32t
You can connect more cameras on the same app
Has an up to 128 GB memory card slot
Has a built-in speaker and mic
TT-Createch Spy Camera
Camera Features
Your dog won't even notice that they're wearing this camera on their collar since it's small, wireless, and can be attached to your standard dog collar. It has a USB charging port, built-in magnet so it's easy to attach to a collar, an on and off button, a tf card slot, and a wifi indicator.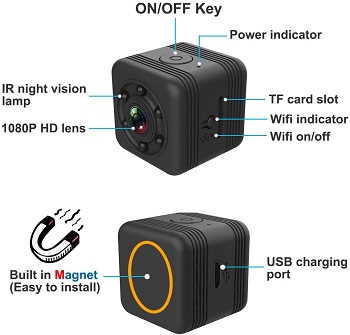 Size, Camera, And Placement
It's a cube puppy watch camera with 0.87-in sides. It has a 150-degree wide-angle and it records only when it detects movements so you will save on battery life this way. It has a clip included if you want to secure it to your dog's collar. If you'd like a camera with a wider field of vision, you can find them in the pet camera collar article
In Short:
Has a cube shape
the sides are all 0.87-in
Can be attached to a collar with a securing clip
Has a memory card slot, USB charging port, and wifi indicator
Record HD videos with a 150-degree wide-angle
Records only when motion is detected
Features a magnet
RaceTek Wireless Security Camera
Wall Mounting
The camera is easy to mount on a wall and with more cameras all controllable through one app on your smartphone, you can cover almost every area of your home. Up to 4 cameras can be connected at once and more people can check up on the situation and talk using the built-in microphone and speaker.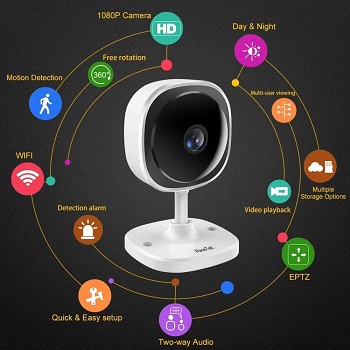 Night And Day Vision
This camera for puppies has a night vision distance of up to 30 ft and records live video footage in full HD. It can operate in a wide range of temperatures without getting damaged. Specifically, in below -10 degrees celsius and up to 45 degrees celsius. There's plenty of other features so read about this one and other models in the two-way pet camera article.
In Short:
Can be mounted on a wall
Records in full HD
Features unlimited cloud storage
Operates in temperatures between -10 and 45 degrees celsius
Has pt o 30 ft night vision mode
Smart detects motion
One app can control 4 cameras of the same model
More people can connect to the App to control it
Where To Place a Puppy Cam?
You need to place the puppy camera in the room where your pets usually move and sleep. We recommend placing it in the living room because it is the room we all use the most in our homes. When it comes to location in rooms, most pet owners place the camera in a corner and somewhere high where pets cannot reach it.
Install Multiple Camera For Maximum Safety
If you want to keep an eye on all the corners of your house, we recommend installing multiple cameras which will provide maximum monitoring. This is mostly recommended for owners that allow their puppies to move around every room in the house or apartment.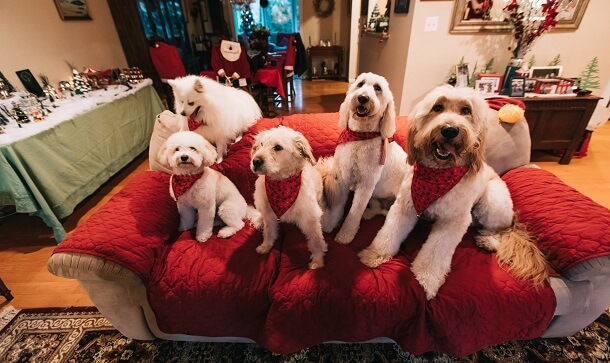 Indoor Pet Camera For Apartment
Indoor cameras for puppies are recommended for owners that live in apartments or houses without backyards. You can buy any camera from the market as an indoor one because they don't require additional specifications like a waterproof design for outdoor models. If you go with the cam with cable, check where power outlets are positioned in your home before you decide where to place the indoor camera.
Puppy Camera For Front And Backyard
Outdoor models are recommended for pet owners who want to monitor their puppies, especially when they're in front or backyard. Those cameras have weatherproof protection which allows the use outside the house. For outdoor use, we recommend only camera models with rechargeable or replaceable batteries.
How To Use The Camera For Puppies?
Actually, using a puppy camera isn't complicated at all. After you plug the device, check if the green light is on and set the WiFi by following instructions and making sure it is 2.4GHz. If it isn't, the camera won't be able to connect to your wifi.
Pair The Camera With Supported Devices
Most puppy camera models support multiple devices for monitoring such as smartphones, laptops, tablets, and iPad. Manufacturer's apps are suitable for Android and iOs users and most of them don't require additional fees and subscriptions.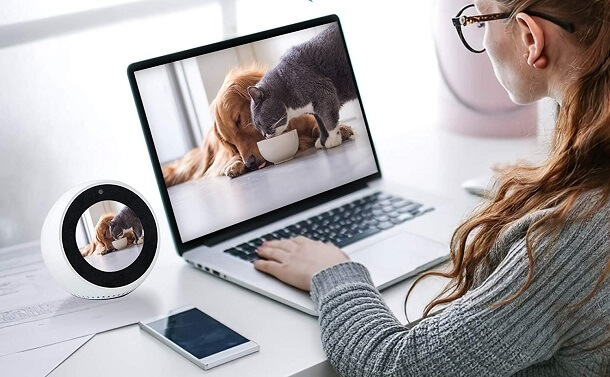 Can You Share The App With Family Members?
Yes, almost every model allows multiple users to use the app at the same time. You can share the username and password with other family members so everyone can monitor the puppies from their devices.
Are Pet Cameras Safe For Puppies?
All pet cameras have passed the tests and are safe to use. For maximum safety, we listed useful tips that all pet owners can apply.
Avoid The Camera From Falling On The Puppies
Even if most puppy cameras are not big and heavy, there is a possibility they will fall on the puppy and may injure him. This can mostly happen with models with wire plugs, so make sure the dog can't reach it. Also, pick the model with non-slip rubber feet and place it on a flat and stable surface. If needed, fix it to the surface with additional mounting.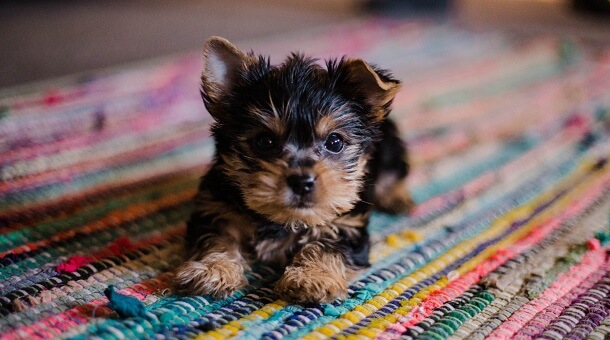 Hide The Wire Cables From Your Puppy
If you're looking for a model with electric cables, don't forget to hide the cable from the puppies. Make sure the cable is not on the floor because puppies love biting. If there is no other option and cable needs to be on the floor because of the power outlet position, we recommend placing the wires in a cable management box with a cover.
Choose Only Cameras Made Of Pet Safe Materials
Most pet cameras are made of high-quality and durable plastic. Before buying the camera make sure to check the material the device is made of, so you can be sure there
To Sum Up
It's easy to pick a puppy camera on your own when you know what you're searching for and what you are looking for can vary greatly from person to person so we won't end this article by recommending one. You've seen it for yourself if you made it to here, every camera is better than the other in at least one aspect. If you'd like to read the article about dog cameras in general, we have an article about them or if you'd prefer a cat camera, there's more to find out in the article linked. For a general overview o all the possible pet cameras, read the article about them next.