Are you looking to buy an outdoor pet camera to watch your pet and home at the same time?
If your answer is yes, then keep on reading.
In this article, you will find out which 6 models have found their place on our top list. Learn more about the best of best, best cheap, two-way, or other models of outdoor pet cameras. Also, have a look at our super-helpful buying guide at the end of the article.
The Summary
6 Best Outdoor Pet Cameras
BEST OF BEST OUTDOOR PET CAMERA
Blink XT2 Outdoor Camera For Pets
Battery-Operated
This Blink XT2 outdoor pet camera runs on two AA lithium batteries. The two batteries will last you about 2 years of constant use. This will save you money and time. No recharging the device all the time. The camera is waterproof and perfect to use outdoor.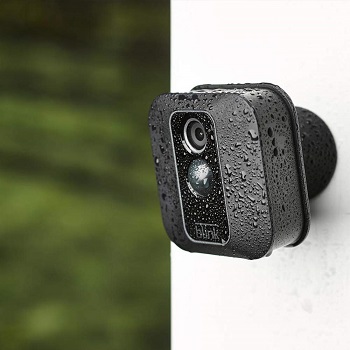 Pair It With The App
The free Blink app is supported by Android and iOS smartphones. You can also download it to your tablet. Connect the device to your wifi, download the app, pair it to your smartphone, and start using this pet cam in no time.
App's Features
There are different functions that you can use with this app. Use the free cloud storage and store a couple of hundreds of clips in it. There is the Alexa voice assistant feature that you can enable through the app. Check on your pet through the app and talk to it remotely.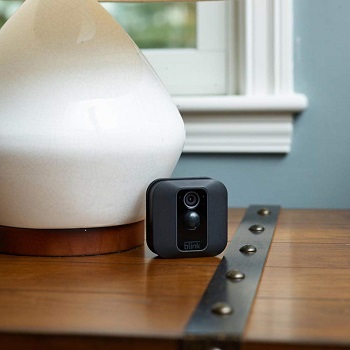 Day And Night Camera 
This is a 1080p FHD camera that works great both during the day and night. You will get to see your home clearly at any time of the day. The infrared night vision will make you feel safe about your pet even when you are away during the night.
In Short:
runs on two AA lithium batteries
download the free Blink app
use all the features through the app
free cloud storage
clear day and night vision
1080p FHD camera
BEST CHEAP OUTDOOR PET CAMERA
Amiccom Outdoor Security Cam
High Image Resolution
A high-resolution camera is very important when it comes to monitoring your pet and your home. The Amiccom outdoor pet monitor comes with a 1080p FHD camera and 3.6mm wide lens. The camera records in the dark up to 32 ft.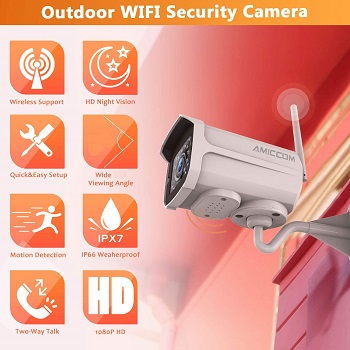 Two-Way Audio
This outdoor pet camera by Amiccom has a two-way audio feature. This means that you can communicate remotely to your pet who is outside, or welcome your guests. If you are away, and an unwanted person shows up, you will get to scare it off.
Smart Alert Sensor
The smart motion detect is here to protect your pet and your home at all times. When the detection sensor notices unusual movements, it will instantly alter you through the app. You will get a real-time notification to check if everything is alright at home.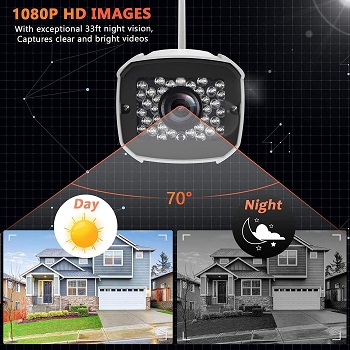 Most Important Features
This pet camera connects to your 2.4GHz Wifi. It pairs with an app that you are going to download to your smartphone. Use the app to enter the history of recordings or to interact remotely. The camera is waterproof and can withstand temperatures from -4°F to 122°F.
In Short:
1080p FHD camera
day and night vision
the device is waterproof
it features the smart alert sensor
remote interaction feature
two-way audio
pair with an app
BEST PUPPY OUTDOOR PET CAMERA
Zumimall Outdoor/Indoor Pet Cam
Rechargeable Battery
The Zumimall outdoor pet camera features a 6000Ah rechargeable battery. It has a long standby time. The battery may last from 2 to 5 months when fully charged. Don't worry about recharging it constantly. Make sure you fully charge it when using it for the first time to start taking care of your puppy as soon as possible.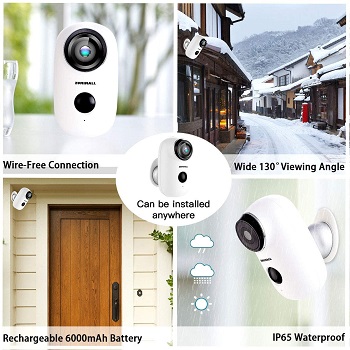 Easy To Set Up
It is incredibly easy to install and use this camera. This is a wire-free outdoor camera. The installation is hassle-free and it is done in less than 5 minutes. The package features a magnetic bracket screw with a double-sided adhesive tape.
Cordless And Connects To Your Wifi
As already noted, the Zumimall outdoor camera is cordless and runs on batteries. The device connects to your home wifi (it must be 2.4GHz). You can use it both indoor and outdoor and feel safe about your puppy while you are away.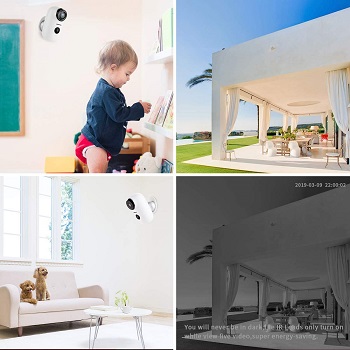 Camera's Characteristics And Storage
This is another 1080p FDH camera with high image resolution. It is 100% waterproof. It comes with a 130-degree wide-angle view. The camera includes a two-way talk feature. There is a two-way storage for your recordings – the micro SD card and the cloud storage. Store your puppy's fun and cute videos to rewatch them.
In Short:
6000Ah rechargeable battery
long-lasting device
waterproof and made for indoor and outdoor use
cordless use and hassle-free installation
connects to your home wifi
130-degree wide-angle view
two-way storage – SD card or cloud
BEST INTERACTIVE OUTDOOR PET CAMERA
Netvue Instant Alert Cam
Live Video And Night Vision Mode
This is a 1080p FDH camera with a clear day and night vision. It comes with a 36mm lens and 100° viewing angle. This infrared camera will record your home and your pet 24/7. It will record it in live video and you will get to see the recordings from complete dark.
Motion Detector
Thanks to the smart sensor, this camera will detect unusual motions around your house. You can customize the motion detection zones. Also, should something strange happen, the device will send you a real-time alert to your app.
Strong And Waterproof
This is a durable outdoor pet camera that can withstand temperatures from -4°F – 122°F. The device is strong enough to work under rough weather. It is 100% waterproof and is made of anti-damage material. The camera will make sure your pet is at all times.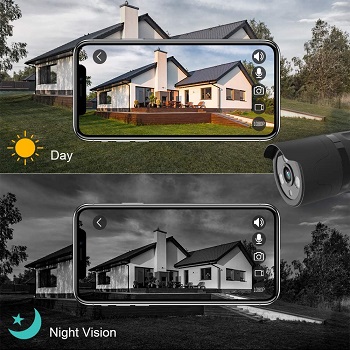 Remote Interaction
This Netvue two-way interaction camera should be connected to your wifi and paired to the app that you are going to download to your iPhone or Android. The camera features the intercom function which enables you to interact with your pet at any time.
In Short:
recording video in real-time
 customize the detection zones
durable and strong device
two-way interaction is possible remotely
connects to your wifi
pairs with the app
BEST TWO WAY TALK OUTDOOR PET CAMERA
Ring Floodlight Pet Camera
Works With Alexa
If you like to use the voice assistant, you are going to love this device. This Ring outdoor pet camera works with Alexa. You can enable the announcements to be alerted when the sensor detects an unusual motion. You can say "Alexa, talk to the front door" and let it interact with your guest too.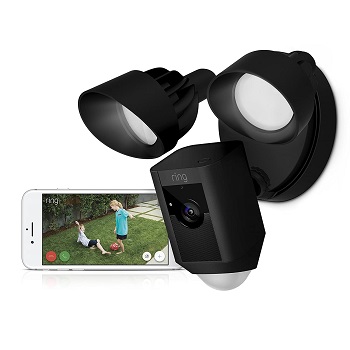 Connect And Pair With Your Phone
Connect this pet camera to your wifi and pair the app with your smartphone. Use the app to customize all the functions that this camera features. Use it to check on your pet in real-time and to see history recordings at any time of the day or night.
Store Recordings And Talk To Your Pet
The app will store all your video recordings for 60 days. This is included within the Ring Protect Plan that you can subscribe to. Record your videos, store them, save and share them, or delete them. Also,  you can hear and speak to your pet or people on your property remotely. Use your smartphone to enter this function.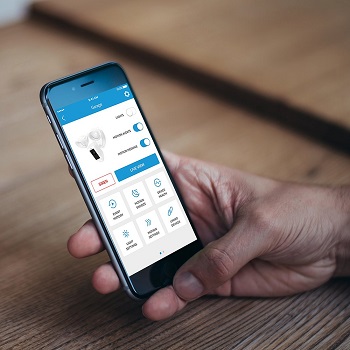 Advanced Motion Sensor
Just like almost any other pet camera, this Ring device comes with the smart motion detector sensor. The motion sensor will detect human-sized objects at up to 30 ft. Customize the detection zone with the app and feel safe even when you are not there.
In Short:
compatible with Alexa
pairs with the app
connects to your wifi
stores recordings up to 60 days
features a smart motion sensor
two-way interaction feature accessible via app
BEST WIFI OUTDOOR PET CAMERA
Goowls Outdoor Pet Camera
About Camera And Its Functions
This Goowls 1080p camera for monitoring pets can be used both indoors, in a humid environment, and outdoor. It has a clear night vision mode. It provides you with a 355° horizontal and 110° vertical rotation viewing range. Set it up in no time and start using it instantly.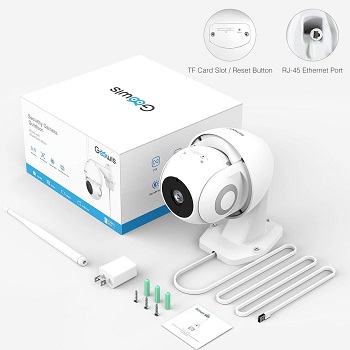 Stay Safe Even When Away
The feature that is very important to look for in an outdoor camera for pets – smart motion detection. Just like the previous models, this one will take care of your pet and your home 24/7 and alert you in real-time if it detects any suspicious motion.
Dustproof And Waterproof Device
You can install this camera anywhere. It is durable and long-lasting. It is made of high-quality dustproof and waterproof material. It withstands the temperature range of 14 ° F to 113 ° F. You can easily use it outdoor and be sure that it will stand bad weather.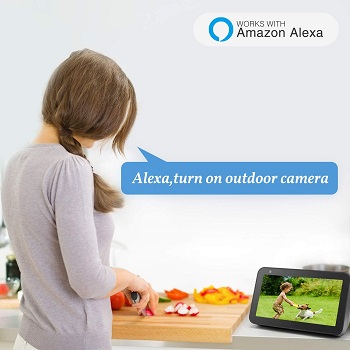 Share It With Your Family
Download the free app to your iOS or Android. Connect it to your wifi. You can use this camera to talk to your pet and other family members remotely, through the app. Moreover, the app supports multiple users to check the videos at the same time.
In Short:
connects to your home 2.4GHz wifi
use the free app
view the videos with multiple users at the same time
durable, waterproof, and dustproof
takes care of your pet 24/7
affordable price
How To Pick: Outdoor Pet Camera
Being a pet owner means responsibility. We all have to leave our pets alone at home often. If your pet is staying in your backyard while you are gone, a good outdoor camera will keep an eye on it. You will feel safe about your home and your pet at the same time. Before buying, read our guide. We suggest getting a device with good features such as a high-quality camera, night vision mode, and motion detection alert. Read on to find out more.
Good Camera Quality – Don't buy just any device. Get a decent camera quality to see every detail of your home and to check out if your pet is fine more easily. We suggest that you buy a camera with either 720p or 1080p image resolution.
Night Vision Camera – If you want to feel protected 24/7, then it is best to get a camera with clear night vision mode. This way you will be able to check if everything is well at home at any time of the day. If anything unusual happens, you will be able to see it.
The Detection Sensor – Many devices have this feature, which, in our opinion, is very important. A good motion detection sensor will notice when something unusual happens, start recording it, and send you an instant alert in real-time.
Outdoor/Indoor Use – Every outdoor camera can be used indoors too. But not every indoor camera can be used outside. This is why an outdoor pet camera is a good choice. Even if you change your mind, you can easily install it in another place.
Extra Features – There are a few interesting features that these devices come with. There is the Alexa voice assistant function, for example. Then, there is the app that allows you to pair the device with your smartphone. Lastly, there is the two-way talk and watch function too.
To Sum Up
In the end, we must say that there is one model that especially drew our attention. It is the NetVue Instant Alert Cam. Its price is affordable and the users' satisfaction is high. A good home camera for pets means a lot. If you are often away, get an indoor pet camera and feel completely safe about your best fur friend and your home too.