In need of a pet GPS so you can always keep an eye on your pet, whether you just can't find them around the house or they've gotten lost?
You might want to continue reading this article then since we explored various options to bring you reviews of the best out there. We made sure to keep it simple and easily comprehensible and we also made sure to include various types of products such as tags, chips, microchips, and plenty of others for both cats and dogs.
The Summary
Best 15 Pet GPS Trackers
BEST OF BEST PET GPS TRACKER
Altranet Loc8tor Pet Tracker
Track Range
Although it has a tracking range of 400ft which is considered to be fairly small, the device is also small and weighs only 0.175 ounces which allows you to use it with both cats and dogs. It works with radiofrequency meaning you won't have to pay any additional subscription fees.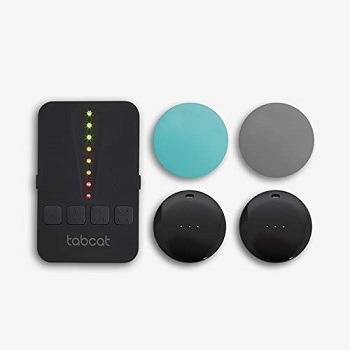 Device Components
It features tags and a handheld device that helps you locate your pet wherever they may be as long as they're within the working range. If you'd prefer a larger range, you can read the pet GPS locator tracker article to find multiple products.
In Short:
Works using radiofrequency
Has a 400ft working range
Weighs only 0.175 ounces
Can be attached to pet collars
Comes with a handheld locator device
You won't have to pay monthly subscription fees
BEST CAT PET GPS
Whistle GPS Pet Tracker
3G Network Use
This pet GPS tracker cat model needs to be attached to a cat's collar and works using the smartphone app. It uses 3G cellular service which means that you'll have to pay a subscription using its designated app. It can locate cats anywhere within US borders and its battery lasts up to 7 days.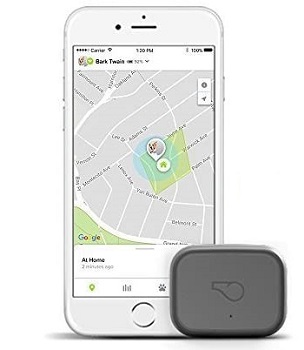 App Abilities
You can set activity goals for your cat, track them, check the history of their adventures and it uses google maps for GPS tracking. If you'd prefer an independent map tracker, you can find them in the small GPS tracker for cats article we've linked below.
In Short:
Has a 7-day working battery
Attached to cat collars
You can set activity goals and review cat activity
Connects to google maps
Has its app
Works with 3G network and requires a subscription fee
Works anywhere within US borders
BEST DOG PET TRACKER
Eureka Technology pet Monitor
Expandable Service
Everything that comes with the products works for tracking and monitoring one dog. You can, however, expand it up to 3 pets. If you'd like to connect it to even more dogs, you won't get to do it with this pet dog tracker but you might with a product reviewed in the dog location tracker article.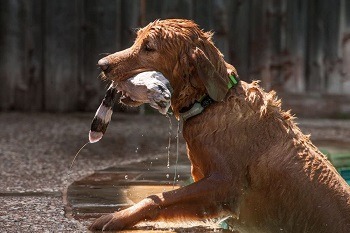 No Payment And Range
The device is self-contained and doesn't require you to pay a monthly fee. The battery is rechargeable and can last up to 6 weeks on a single charge. It has a 2-mile range and acts as a radar that shows you how to get to your pet using the handheld device it also comes with.
In Short:
Has a 2-mile range
Comes with everything needed for 1 dog
It's expandable up to 3 dogs
Works as a radar locator
Doesn't require you to pay a subscription fee
BEST BLUETOOTH PET GPS TRACKER
Cube Pro Pet Tracker
Device Design
The device looks and is small enough to be considered a chip. It features a hole that allows you to hook it to pet collars. The battery will need to be replaced once a year since that's its working life but it comes with an extra battery already.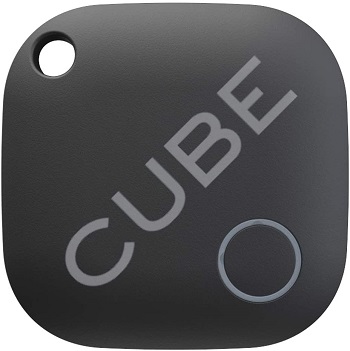 Range And Durability
It connects via Bluetooth using a mobile phone app. It's IP67 water and dustproof. It can show you your pet's last known location on the map when it goes out of its 200ft range. If you're not satisfied with the range of this Bluetooth pet tracker you can always check out others in the Bluetooth dog collar tracker article.
In Short:
Looks like a chip
Has a hole that allows for connection to pet collars
Has a 200ft range
Works with an app and Bluetooth
Has GPS tracking
It's IP67 waterproof
Shows last pet connected location on the map
BEST COLLAR PET GPS
Black Decker Pet Smart Collar
Collar And App Details
The collar features a Qled display that lets you show your pet's name. It features 2-way audio so you can talk and listen to your pet, works with an app, and within the app, you can place safe zones. When your pet breaches the safe zone, you'll get alerted via notifications.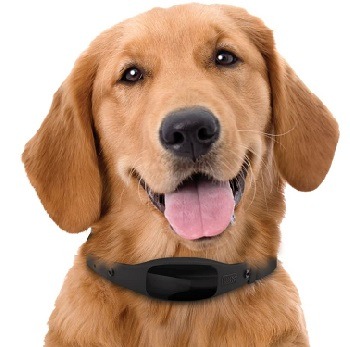 How It Works
It can track pet activity meaning it has a step counter, displays real-time GPS locations and works with a 2G network, and works within US borders. For worldwide GPS trackers or if you'd just like to check out others before purchase, you can check them out in the GPS pet collar tracker article.
In Short:
Has a Qled display for virtual pet name tag
Has 2-way audio
Can track pet activity
You can set up safe zones within the app
Works with 2G network within US borders
Alerts you when a safe zone is breached
Shows real-time pet location
BEST TAG PET TRACKER
Haoaiwo Gps Tracker Tag
App Info
The location of your pet will be displayed via an app that refreshes location data every 30 seconds. You can even track your pet's location up to 90 days back. You can set up a virtual fence within the app using GPS and you can even listen to your pet's surroundings.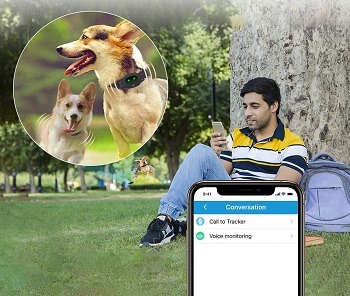 Location Accuracy
It has a 5m accuracy outdoors and will send you messages for pet positioning checks. It's waterproof and connects to 4G, 3G, and 2G networks so it's hard to have a place where this GPS pet tag won't work. Even though it's fairly small, it still might be too big for some pets so you can check out others in the GPS pet locator tag article.
In Short:
Has a 5m outdoor accuracy
Works with 4G, 3G, and 2G network
You can set up virtual fences
Refreshes location data every 30 seconds
You can view your pet's location up to 90 days back
You can listen to your pet's surroundings
BET CHIP PET GPS TRACKER
KumasonCo Smart Pet ID Tag
Material Used
The tag is round and made out of aluminum metal It features a small climbing buckle that allows you to discreetly attach it to your pet's collar. If you'd like to learn more about this pet GPS chip and others, you can read the article linked below to do it.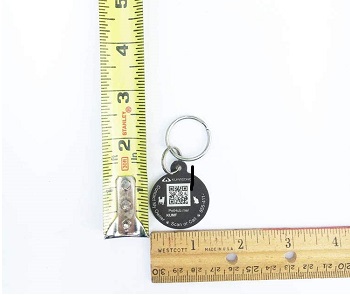 Fade Proof Info
This anodized aluminum tag features a scannable QR code and a number for the pet finding hotline. The information is embedded into the layers of aluminum meaning it won't fade. Since it's aluminum it's also rust and corrosion-proof. The scanned QR code takes people to your customizable pet profile.
In Short:
Made with anodized aluminum
Features a scannable QR code
The Qr code leads to a customizable pet profile
Features a number for pet finding hotline
The info is fade proof
Attaches to a pet collar with a small climbing buckle
BEST MICROCHIP PET TRACKER
HomeAgain Microchip
Bag Contents
The product comes in a sterile bag with a syringe and microchip included. This means that it'll be injected under the skin of your pet by a veterinarian. The chip is around 12mm big which can be compared to the size of a grain of rice. You can learn more about this pet tracker microchip and others in the article linked below.

Visiting The Vet
The syringe width is small and the process of injecting the microchip between the shoulder blades of your pet won't require the veterinarian to use any anesthetic meaning it's painless. It has a  unique ID code and can be registered with the American kennel club as well.
In Short:
Has to be injected under the skin of your pet
Comes in a sterile bag
Contains a syringe and microchip
The microchip chip is 12mm big
Has a unique ID code
The injection is painless
BEST CHEAP PET GPS TRACKER
Tracki Mini GPS Tracker
Size And Price
The device is a 1.8-in wide, 1.5-in long, and 0.55-in tall device that can get attached to your pet's collar. It's almost as small as a coin. It works worldwide but requires you to pay a monthly fee of up to 20 dollars. For free-of-fee cheap pet trackers, read our GPS tracker for hunting dogs article.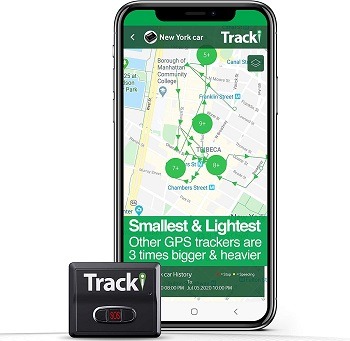 Battery Life
The internal battery has a magnetic waterproof box that extends its lifetime to 2 weeks without charge. It can show you where your pet has gone and their activity history. You can set a geofence zone that when breached, will alert you either via notifications, SMS, or e-mail.
In Short:
it's 1.8-in wide, 1.5-in long, and 0.55-in tall
Costs around 15 dollars
Requires an up to 20 dollars monthly fee
Works worldwide
Has a battery life of up to 2 weeks
You can set geofence zones
It can send notifications, SMS, or e-mail
BEST IPHONE GPS PET TRACKER
Tractive LTE GPS Dog Tracker
Devices It's Compatible With
You can handle and manage all of the features of this iPhone pet tracker using the app. Apart from being iOS compatible, it's also android and PC compatible. The SIM card it works with is already inside the device and you'll have to pay a monthly fee that can be as low as 5 dollars a month.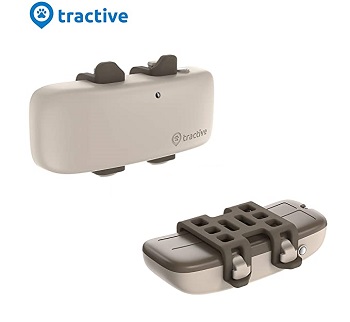 App Abilities
It can work in over 150 countries, show your pet's location, location history and you can even set up a safe zone that when breached, will let you know, you can check your pet's activity and the device works connects to AT&T. T-mobile, Verizon, and Viaero cell service providers. You can learn more about this device and others in the GPS pet collar article.
In Short:
Works in over 150 countries
Connects to multiple cell phone service providers
Works with iOS, iPhone, and PC devices
You can set up safe phones and check location history
Shows pet activity
Requires a monthly fee to work.
BEST LIVE PET TRACKER
Dogtra Pathfinder
Material Quality
This is a collar that's made with medical-grade stainless steel and anti-microbial plastic so it's safe for pet skin. The collar's size will ultimately determine whether it's for both cats and dogs so if you wanna make sure it is you can find smaller devices in the dog tracking and training collars article.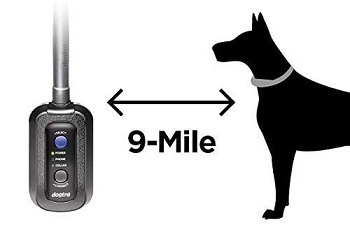 Working Range And Maps
The handheld device connects to your phone via Bluetooth with a 33 ft radius and the device connects to the collar with a 9-mile radius. It offers online and offline maps, you can set up geofences and refreshes location info every 2 seconds for accurate and precise live tracking.
In Short:
Comes with a collar and handheld device
The collar is made with safe for pets plastic and stainless steel
The handheld device connects to phones via Bluetooth
Has a 9-mile radius
Offers online and offline maps
You can set up geofence zones
Has a 2-second location refresh rate
BEST LONG DISTANCE PET GPS
SportDOG Brand Tack System
No Network Working
If you get this device, you won't need anything else for it to work since it features a collar and a handheld device that shows maps, tracks pet location, path history, and whether they're moving or are in place. You can track up to 21 pets and it has a 10-mile radius.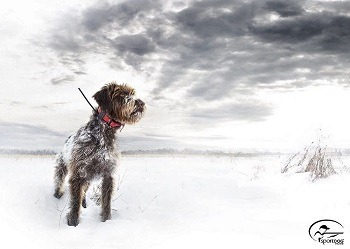 Device Abilities
The battery in the collar lasts 24 hours per single charge of 4 hours, it's waterproof and offers you to make geofence zones. It has a compass and a pet activity tracker. It's made for small pets meaning it can go on cats as well. If you need a long-distance pet tracker that's a little less advanced, you can read the article about GPS collars for small dogs to find them.
In Short:
Has a 10-mile working radius
Can set geofence zones
Works with a handheld device and collar
It's waterproof
The battery lasts 24 hours on a single charge
Made for smaller pets
Shows pet location, path history, and whether they're on the move
BEST LOST PET GPS TRACKER
Backagin 1 Pack Microchip
Microchip Info
This is a small microchip that has to be injected under your pet's skin. This can be done by a veterinarian in one of two injection zones. The chip measures 2,2mm x 2mm and can be scanned by shelters and veterinarians worldwide. You can learn more about this lost pet tracker and others in the pet tracker microchip article.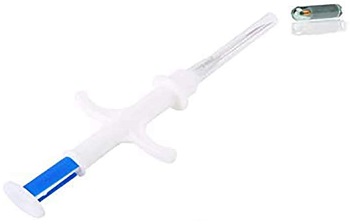 Free Registration
You'll have to register upon receiving the syringe and chip that come in a sterile bag. The registration is free of charge and lasts a lifetime. You can purchase a microchip reader as well to check up on whether the chip is working every once in a while. One syringe and microchip cost around 10 dollars
In Short:
Has to be injected by a veterinarian
Goes under your pet's skin
Costs around 10 dollars
It measures 2.2mm x 2mm
You can purchase a chip reader
You can register for free and it lasts a lifetime
BEST WATERPROOF PET GPS
Find My Pet GPS Tracker
Cheap Subscription
The device works best outdoors since it needs a connection to GPS satellites to work. It comes with a SIM card and offers 2G networks coverage. It's fairly cheap since you can buy a 1 or 3-year subscription that comes at below 5 dollars every month. You can find a free subscription waterproof pet tracker in the pet GPS tracker article.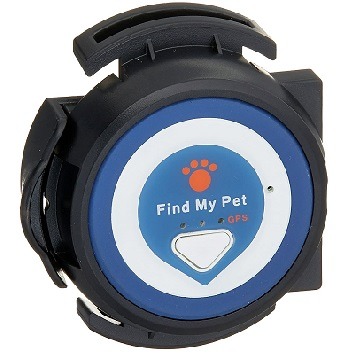 App to Phone Connection
The battery lasts 2-4 days, depending on how much you're using it. The whole thing is waterproof and works worldwide as well. The app you can download on your android phone and iOs phone is free and that's where you'll be able to track your pet with no range limit.
In Short:
Has no range limit
Attached to pet collars
Offers cheap monthly subscription
Works outdoors with GPS satellites
Comes with a SIM card that works on 2G networks
The battery lasts 2-4 days and it's rechargeable
BEST SIM CARD PET TRACKER
Bartun Gps Pet Tracker
Sim Card Activation
The sim card of this tracer is included in the package. You'll need to activate it via computer and install it into the device. It runs on a 2G network and seeing as most places have this network, your dog can be located anywhere meaning that it works even outside US borders.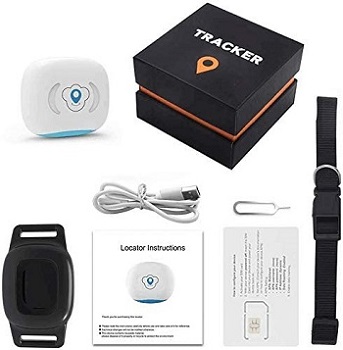 Device Durability And Placement
It can get attached to your pet's collars, it's waterproof and the app it runs with can show you your pet's track history. IT has a low battery alarm and charges around 3-5 hours, the charger is included. If you've decided that this pet tracker sim card model isn't the right fit for you, you can find others in the pet GPS locator article.
In Short:
Can be attached to pet collars
Comes with a SIM card
Works using an app
Has 2G network coverage
Charges around 3-5 hours
It has a low battery indicator
It's waterproof
How To Pick A GPS Pet Tracker
Picking out one pet GPS can be a tricky business if you don't know some of the general things that will help you understand better how each device works. We'll explain this and other things like types available, how they work, app details, and more all in this buying guide.
Pet Tracker App – Most of the devices reviewed here work with apps. The apps usually have a map that allows you to see your pet's location. For live location tracking and better accuracy, we suggest finding one's with fast locations refresh rates and up to 5m location accuracy.
Cat Trackers – Not every pet tracker can be a cat tracker. This is true mostly for devices that are collars with GPS technology built into them. IF you'd like one, you should measure your cat's neckline and check how big the collar is. You could find a GPS collar for small dogs as well that might work for cats.
Dog Trackers – Not every dog tracker can be a cat tracker but we're certain that most cat trackers can be dog trackers since they usually go on collars. You will have slight problems with collars but it's a worse problem for cats since they have a tiny neck circumference and aren't comparable to dog neck circumference.
GPS Network Tracking Pros And Cons – if you do get a GPS tracker that works with 2G, 3G, or 4G networks, you have to be aware that you'll have to pay a monthly subscription fee for them to work. The main benefit, in that case, is that they mostly work worldwide, have no range limit, and have coverage wherever there is a network mentioned above.
Bluetooth Trackers – Although Bluetooth trackers are efficient, their main problem is that they have a small range. Their benefit is that they're small and can be attached to any pet collar. The most range you'll get is measured in below 500ft so they're better as indoor trackers than outdoor trackers.
Big Range – Bigger range usually means that you'll have to pay more for the device. The biggest range is offered by GPS trackers for hunting dogs. With them, you'll even get offline maps, a handheld device they work with, and alls sorts of tracking information all free of extra charge.
Microchips Availability – If you found these devices to be complicated, you can always buy a microchip that goes under your pet's skin. They're usually inserted by veterinarians and the way they work is that if your pet gets lost ad ends up in a shelter, the workers there will be able to read the chip and access your information to return the pet to you. They're also very cheap and usually come free of registration fees for a lifetime of use.
To Sum Up
Which pet GPS tracker you'll get depends entirely on your preferences, needs, and pet you have so we can't recommend one since they're all so different starting with how they work and for what they're best for. If you'd like to read about trackers specifically for one type of pet, you can read the post on the best cat trackers or the best-rated dog trackers. If you'd like us to include all possible types for both cats and dogs in one article and plenty of reviews, read the dog and cat GPS tracker article next.