Are you looking for a dog location tracker or dog locator chip?
If your answer is yes, keep on reading this article. You will find the best six models there are on the online market. Check out which models we consider the best of best, best location, small, and others. Read our buying guide as well. You will find it at the end of the article.
The Summary
6 Best Dog Location Trackers
BEST OF BEST DOG LOCATION TRACKER
Eureka MarcoPolo Dog Tracker
How It Works
This locator for dogs is here to help you locate your dog in case it goes missing, which probably won't happen because it sends you an alert in case your dog has left the safe area. This device follows your dog and checks on it every 40 seconds.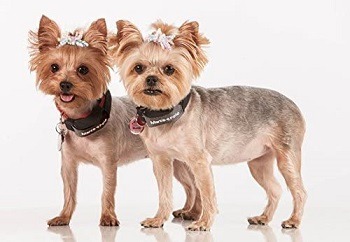 Works Worldwide
You can easily go traveling, hunting, hiking, running, or walking anywhere with your dog. Unlike many tracker devices, the Eureka's MarcoPolo tracker works worldwide. The device is suitable for both large and small dogs. You can track up to 3 dogs at the same time. It works anywhere, unlike many GPS locators for dogs.
Easy To Set Up And Use
Read the user manual before setting up this locator. It is very simple to use. Use the button to begin searching for your dog. The device will show you the accurate location of your dog and you will be able to find your dog in no time.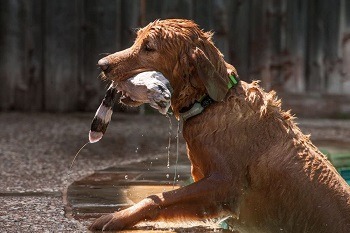 Size And Price
This is a small device. It measures 6 x 0.63 x 1 inches. The device weighs 10 ounces. The price of this locator is pretty high. This is a high-quality device that will make you and your dog feel safe all the time.
In Short:
check on your dog every 40 seconds
suitable for small and large dogs
accurate and reliable
high price
made of quality materials
measures 6 x 0.63 x 1 inches
BEST SMALL GPS LOCATOR FOR DOGS
Girafus RF Dog Tracker
Ideal For Small Dogs
This device by Girafus is perfect for medium-sized to small dogs. Small dogs can go anywhere and even hide. This device uses radiofrequency to locate your dog and works even in places there is no signal. It can be used for tracking cats too.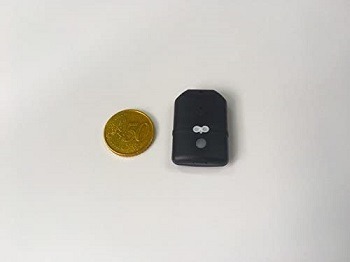 Outdoor And Indoor Use
The Girafus tracker locator for dogs can withstand all temperatures. It can be used outdoors even on a rainy day. You will be able to find your dog if it is hiding in garages or other similar places. Attach it to your dog's collar and stay safe all the time.
Small And No Monthly Fees
This small dog tracker uses a dog locator chip and a safe 2.4 GHz radio frequency to locate your dog. There are no monthly fees with dog collar at all. You don't need to use the app. The device is small and lightweight. It is splash-proof and ranges up to 1600 feet.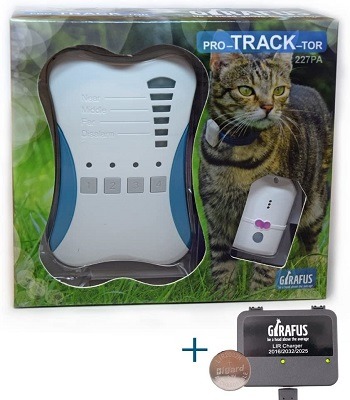 The Battery And More
This collar for tracking small dogs comes with one included rechargeable battery. It includes the charges too. The battery is long-lasting and can last up to 30 days. The package also includes a velcro strap, a hook, and a user manual. The price is medium.
In Short:
ideal for small dogs
can be used for cats too
uses radio frequency to locate your dog
there are no monthly fees
it comes with a durable rechargeable battery
package includes a charger
BEST COLLAR DOG LOCATION TRACKER
Gibi Dog Locator Collar
Download The App
The Gibi dog collar is a 3 x 8 x 6 inches tracker device. It weighs 8 ounces. It locates your dog and tell you where it is at any time. Download the app to your smartphone and pair the tracker device with the app. The app is ATM not supported by newer iOS models (7/7S Plus).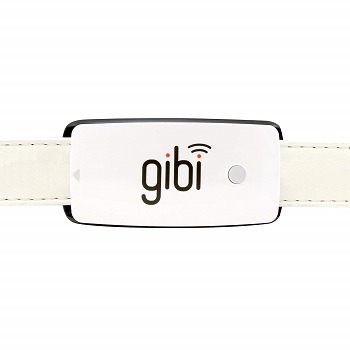 Get Alerted
The app will send you alerts if your dog has left the safe zone. Also, the device comes with a rechargeable battery and the app will send you a notification when the battery needs to be recharged. This is how you will get to have charged dog locator collar all the time.
Waterproof And Durable
Thanks to the fact that this dog collar locator is waterproof, your dog will be able to go running and walking even on the rainiest day. The collar and the tracking device are made of durable and long-lasting material. The device won't break easily.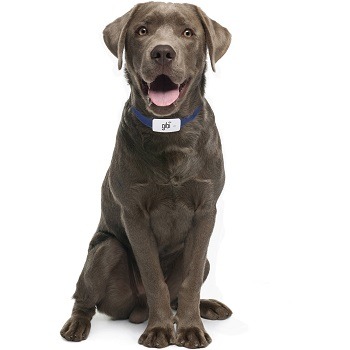 Accurate And Reliable
Access Gibi locator collar from anywhere where the internet connection is available. Use your smartphone or computer to locate your fur friend. Share its location via Google maps and link it to your friends or family.
In Short:
tough and waterproof dog collar tracker
app supported by iOS, Android (check supported models)
get low battery-level alerts
waterproof and sturdy
reliable device
BEST LOCATION GPS LOCATOR FOR DOGS
SportDog Locator Beacon
Product Overview
The SportDog location is an easy way of keeping track of your dog's location. It works at night and during the day. It is perfect for hunter dogs because it adds visibility. It is long-lasting and durable and it easily attaches to your dog's collar (with a carabiner clip).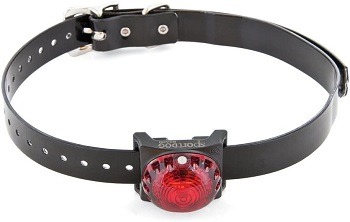 It Is Weather-Resistant
The SportDog locator beacon is a tough and waterproof tracker. It can be submerged in water and it is reliable even when your dog is swimming. It can be used during very warm and hot weather, cold weather, rain, snow, mud, and wind.
Replaceable Battery
The device can be set to ON or blinking mode. It makes your dog visible in low light. The battery will last longer when you set the light to flash. The battery provides up to 250h of use. It is a CR2032 easily-replaceable battery.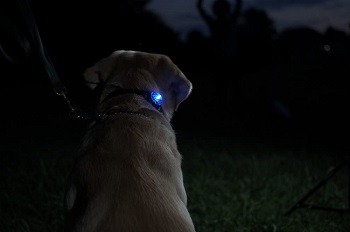 The Dimensions
The product dimensions are 1.42 x 5.16 x 7.68 inches. The tracking locator slips on to 3/4" or 1" collar strap. It can be attached to the collar's D-Ring. The weight of this locator is 1.6 ounces which makes it incredibly lightweight and easy for your dog to carry it.
In Short:
comes with ON and blinking mode
adds visibility in the dark
small and lightweight
attaches to your dog's collar
includes a CR2032 battery
BEST MICROCHIP DOG LOCATION TRACKER
Ecare Dog Chip For Tracking
Why Microchipping Your Dog?
Microchipping is required in almost all states and countries in the world. It is necessary to microchip your dog so that if it gets lost, it gets back to you. Moreover, you are going to need to implant a chip under your dog's skin if you need to go abroad, etc.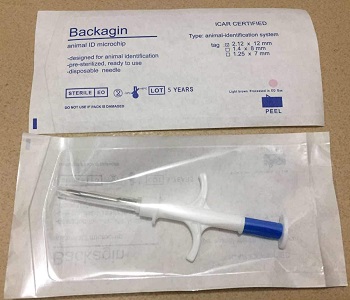 How To Use Ecare Dog Chip
This microchip for dogs gets implanted under your buddy's skin. It is a safe and fast process that is performed by a professional. The RFID technology that it comes with will make this chip function all the time and during your dog's life.
How To Read
This is an ISO11784/11785 FDX-B standard chip which means that it can be read by all veterinarian's scanners. Once the dog gets to the vet, the vet will scan the chip and find your dog's and your details. Have in mind that microchips are not GPS locators for dogs.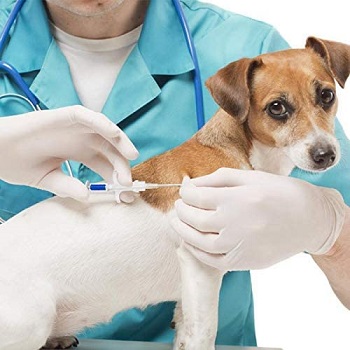 Register For Free
Go to the found.org website and registrate your dog. Activate the chip and start feeling safe about your dog. The chip will last for more than 20 years. After purchasing the chip, take the chip and your dog to the vet and let the vet inject this implant chip under your dog's skin.
In Short:
always microchip your dog
helps if you need to go abroad
easily read by vet's scanners
free registration
let the vet perform the process
BEST TAG GPS LOCATOR FOR DOGS
KumasonCo Dog Locator Tag
About KumasonCo Tag
This is a small tag locator that gets attached to your dog's collar. It helps you feel safe and allows you to find your dog if it gets lost. This is a water-resistant tag that may function as an external microchip. It is very easy to use. Read on to find out how it works.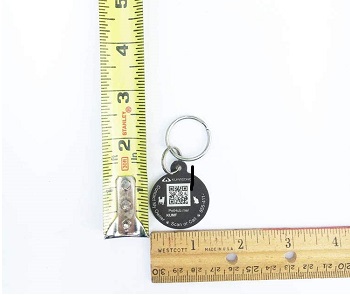 How To Use?
It is pretty simple to use this dog locator chip. This locator features a unique QR code that is engraved to the tag. If your dog gets lost, a person who finds it will be able to scan the QR code which links to a website that has all of your important details – contact number and dog's information.
What Do I Do To Activate It?
You will need to create your dog a digital profile and enter all the important details – your dog' name, age, breed, vaccination, etc. Also, add your phone number and if someone finds your dog, he or she will call your number. Also, you will get an alert when someone scans the code.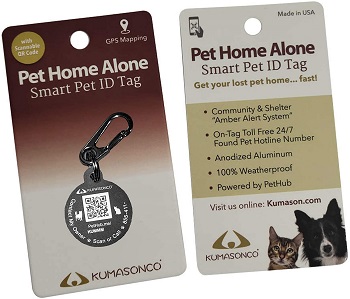 Small Size And Weight
This is another small dog tracking device that is lightweight at the same time. Your dog won't even notice it is wearing it. It gets attached easily. It is waterproof and weather-resistant. It can be worn all the time.
In Short:
attach it to your dog's collar
registrate for free to the website
create your dog a profile
enter your dog's details
add your phone number
How To Pick: Dog Location Tracker
As good dog owners, we always want the best for our fur buddies. When buying dog locator chips or trackers, know which model is the best for you and your dog. Our guide will help you with that. Always buy an accurate model and the one that has a long-lasting battery. The dog trackers are convenient devices and are here to help you in your everyday life.
Why Buy A Dog Location Tracker? – There are many reasons for which you'd want to buy a dog locator device. You may have an active and curious dog or you often go hiking or hunting. Moreover, you may own a large piece of land and you cannot follow your dog's every move.
Get An Accurate Dog Locator Device – Make sure to always buy a device that tells you your dog's location in real-time. Getting a pet locator that is made by a reliable manufacturer is very important. Not all devices are the same, so we suggest to read reviews about the one you like most.
Choose One From Many Models – There are so many options on the market. In this article, we have mentioned the perks of the dog locator collars, microchips, dog tags, and others. Read more about each of these models to figure out which device suits you best.
The Battery Characteristics – The ideal device must include a long-lasting battery. Forget having to recharge or replace the battery all the time. Make sure your device lasts long enough for you to find your dog in case it goes missing.
Where To Get? – Most of these devices you can easily get online. We suggest buying them from a reliable online retailer that provides good customer service. The above-listed dog locators are all available online. Check them out and read more about them.
To Sum Up
Out of these six models, we particularly liked the SportDog Locator Beacon model because it adds visibility to your dog even when in the pitch dark. It is great if you often go hunting with your dog. In case you liked this model too, read more about similar GPS locators for dogs in our article about the GPS hunting dog collars. Don't forget to keep track of your dog's activity with a dog activity tracker.