Are you looking for a GPS collar for small dogs?
Then look no more. We have explored the market and we bring you the six best GPS trackers that can fit small dogs. We have divided these models into six different categories. In the following paragraphs, you will read all you need to know about the best of best, cheap, activity, location, and more models. The article includes the buying guide as well.
The Summary
6 Best GPS Tracker For Small Dogs
BEST OF BEST GPS COLLAR FOR SMALL DOGS
Whistle Go Dog Tracking Collar
Real-Time Tracking
The Whistle Go is one of the best dog tracking collars. It uses a GPS network and Google maps to locate your dog if it goes missing. Use the Whistle app on your smartphone to make sure you find your dog quickly. The on the collar and small GPS dog tracker are sold separately.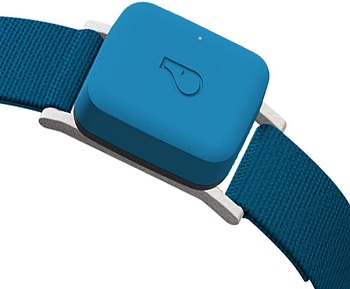 Get Alerted
The app allows you to set your dog's safe area. In case your dog crosses that area, the app will send you instant alerts. Moreover, the tracking device comes with a rechargeable battery. When the battery status is running low, your app will let you know.
The Tele-Vet
What is a Tele-vet exactly? It is a feature that is used via the app. It allows you to contact a professional veterinarian via app, phone, or e-mail, and discuss your dog's health. The Tele-vet is powered by the VETINSIGHT team. You must subscribe to use this feature.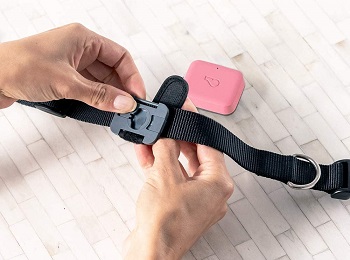 Activity And Health Monitoring
The Whistle Go is not only a dog tracker for small dogs, but it is also an activity tracker. Set your dog's goal, enter the breed, weight, and age details in your app, and check its daily activity status, the distance traveled, a many more. You can also celebrate milestones and get the app's badges.
In Short:
uses GPS for accurate trackings
download the app to your smartphone
use the app to track your dog
tracks location and activity level
comes with the Tele-vet feature
BEST LOCATION SMALL DOG GPS TRACKER
Moglor GPS Dog Tracker
How It Tracks
This small dog tracker device tracks the location via GPS + LBS + AGPS. You can get more Moglor devices and locate all your pets that are wearing it. It is lightweight and small and won't bother your dog. It is ideal for dogs of all sizes so it is a good choice even as a puppy tracker.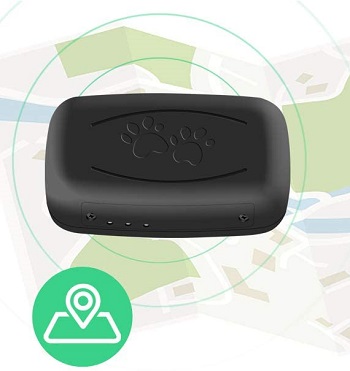 Feel Safe
You probably have an area that you consider completely safe for your dog to move around. Download the app on your smartphone and set the safe area. In case your dog leaves is for some reason, you will get the instant alert and check out where your dog is.
Durable And Water-Resistant
This dog tracker for small dogs is completely waterproof. You don't need to worry it will stop working when you go for a walk with your dog during a rainy day. We all know how dogs like to swim or roll in the mud. Thankfully, the Moglor tracker is durable and will resist all dog's activities.
Easy To Use
Once you unpack the collar tracker, leave it to charge for about 8h. After it has been fully charged, insert the SIM card and download the free app. The app is supported by iOS and Android. Pair the app with the device and you are ready to start using it.
In Short:
waterproof and lasts long
put it to charge for 8h before using
pair the app with your smartphone
insert the SIM card
locates your dog via GPS + LBS + AGPS
BEST CHEAP GPS COLLAR FOR SMALL DOGS
Muxan Tristar Small Dog Tracker
Uses A SIM Card
You will need to install a SIM card into the Muxan tracking device. The device requires a 2G SIM (it is not included in the package). The reason why this tracker needs a SIM card is because the 2G is available everywhere and it will easily locate your dog via GPS.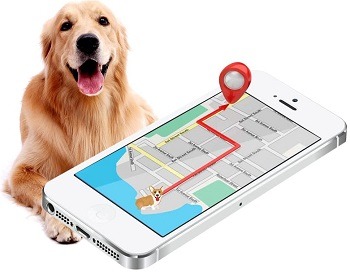 The Standby Time
There is a durable 1000 mAh battery included. This dog location tracker is ideal for medium-sized dogs. The standby time is about 10 days after it is fully charged. The app that you will have on your phone will let you know when it is time to recharge the battery.
Set A Geo-Fence Area
You will get to easily set up a safe range for this dog collar tracker. The collar will send you a notification immediately when your little fur buddy goes out of the safety range. Don't worry about losing your dog. Even if it leaves the area, you will locate it easily.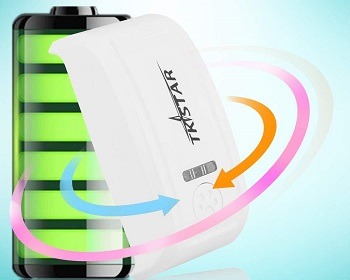 What Is In The Package
The Muxan package includes one small dog GPS tracker (without the SIM card included), one pet collar, a USB cable charger, and a user manual. Make sure to read the user manual before start using the device. Especially if you are a first-time user of such devices.
In Short:
most budget-friendly of the list
works with a 2G SIM card
comes with a 1000 mAh battery
allows you to set a safe area
pairs with the app
BEST NO MONTHLY FEE SMALL DOG GPS TRACKER
PetFon GPS Collar
Geofencing Feature
The PetFon GPS tracking device for small dogs attaches to any dog collar. It comes with a great feature. It is the geofencing feature. This means that you can set the safe area and get alerted if your dog leaves it. Stay safe and don't worry about your dog leaving you.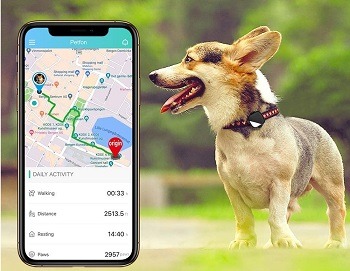 Long-Lasting Battery Performance
This device comes with a durable battery that will allow you to track your dog for 8-16 hours. It has a long standby time, as well. It comes with a compact charging station. You will get notified about the low battery status so you can easily recharge it.
Tracks Location And Activity
Your dog will easily be located via GPS network and through the app on your smartphone. Moreover, the app will track your dog's activity and lets you know how much it has played or ran. Also, the app will tell you your dog's favorite routes and it is a GPS dg collar without monthy fees.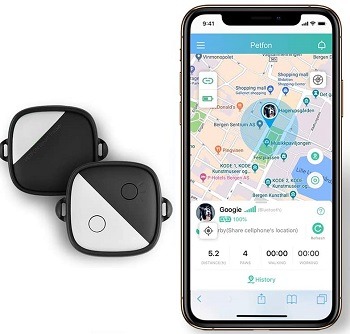 Why Buy PetFon?
This tracking device is here to locate your dog, to track its activities, and to help you feel safe. It includes a geofence feature so the app allows you to customize your dog's safe zone. The collar is of high-quality and fits most dog sizes.
In Short:
comes with a geofence feature
tracks dog' activity as well
locates your dog via GPS
made of good quality
high customer satisfaction
BEST SMALL GPS COLLAR FOR SMALL DOGS
Garmin T5 GPS Dog Collar
Features LED Light
The Garmin dog tracker for small dogs is here to help you see your dog even in the pitch dark. You can turn on the LED light on the collar and go hiking or hunting without worrying that you are going to lose your dog. The GPS network is here to help too.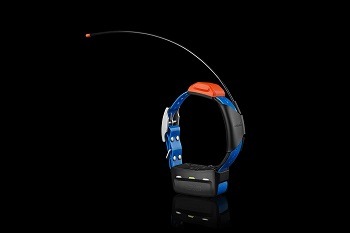 Accurate Tracking
This is a very reliable GPS hunting dog collar. It uses the GPS network and if your dog goes missing, you will find it in no time. The collar tracks your dog in real-time. No worries that you will lose your dog forever.
Long-Lasting Battery
The durable battery that is included within this collar tracker is here to last for 20-40 hours. Always make sure the battery is full before you go walking with your dog, especially if you go to the woods or a new territory.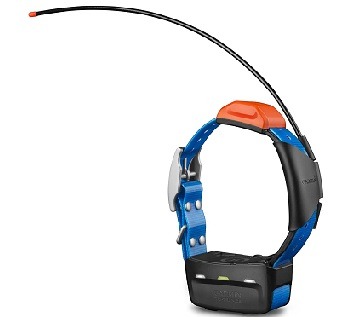 Waterproof And Sturdy
Your dog will probably want to go for a swim from time to time. If not, it may want to roll in the mud or run on a rainy day. No matter the weather, this collar won't stop working. It is a waterproof, weather-resistant, and sturdy collar for dogs of all sizes.
In Short:
comes with a LED light
waterproof and sturdy
long-lasting battery
accurate and reliable
weather-resistant
BEST PUPPY GPS COLLAR FOR SMALL DOGS
Gibi Small Dog Collar
Pair The Collar With The App
Download this small Gibi collar's app to your smartphone and use the app to locate your dog whenever and wherever. The app is supported by iOS and Android (check which models). The app will accurately track your dog via GPS and show the exact location.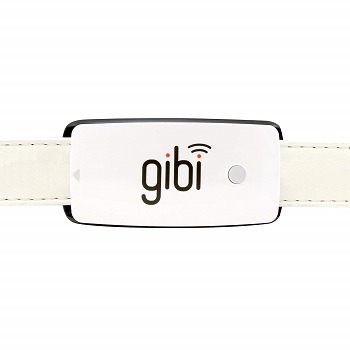 Stay Safe
You can feel safe about your dog all the time. Once you download and activate the app, you will get to set the safe area. If your dog crosses that zone, the app will instantly send you an alert. Have your collar fully charged to feel safe all the time.
Ideal For Everyday Use
Your dog will get to use this collar all the time. It is waterproof and weather-resistant. This means that no matter what weather it is, you can take your dog to walk. This collar withstands high and low temperatures. It is made of good quality.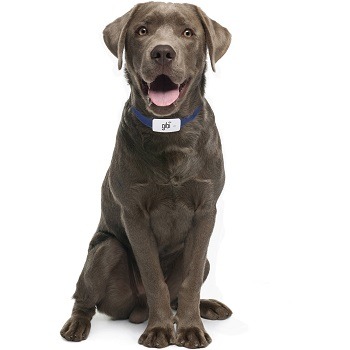 For Puppies And Small Dogs Too
This collar can be used on almost all dog sizes. It comes in small dimensions, but it is extendable. The collar is lightweight and it won't bother your dog. It is ideal for small dogs. The price of the collar is medium.
In Short:
pairs with the app
app supported by iOS and Android
can be used every day
waterproof and durable
lightweight and small
How To Pick: Small Dog GPS Tracker
What makes us good dog owners is how well we take care of our fur companions. More and more people have become interested in getting their dog GPS tracking gadgets. If you are one of these people, make sure you look for the right features that a small dog tracker should come with. Check out which features we are talking about.
The Size And Material – If you have a smaller-sized dog, look for a GPS dog collar that will fit it. Most of the models that are listed in this article are suitable for almost all dog sizes. Have in mind that the collar should be water-resistant, small, and lightweight.
Accuracy And Quality – An real-time GPS dog tracker is the ideal one. How to know if the model you are looking for is accurate and of good quality? Simply look for trackers that come from reliable manufacturers. Moreover, look for the online customer reviews and don't buy just any model. The quality comes with price.
The Battery Life – Imagine your dog gets lost and you cannot track it down because the collar has ran out of battery. This is the exact reason why your new small dog tracker should have a durable battery. Also, the app you are going to use should alert you about the battery status.
The Tracking App – Almost all GPS collars for dog tracking can be paired with the app. You will simply download the app to your smartphone and use it whenever you need to locate your dog. Some apps will warn you if your dog leaves the safe zone or the battery level is getting low.
Where To Buy – The devices that we have listed in this post are all available online. We always suggest our readers to check them out on the online retailer's websites. They often offer special discounts, free shipping, or more. Also, you will get to read other customer reviews to make sure the device you want to buy is the right one for you.