Are you in search of the dog tracking and training collars?
If you are interested in finding out more about this subject, read our post.
We have gathered the six best models available online. In the following paragraphs, you will learn all about the best of best, best for puppy, with GPS, and more training and tracking collars. In the end, have a look at our guide to help you make the right decision.
The Summary
6 Best Dog Tracking And Training Collars
BEST OF BEST DOG TRACKING AND TRAINING COLLAR
PetSpy P620 Training Collar
For Expert Or New Dog Owners
Whether you are a new dog owner or an expert, the p620 training collar by PetSpy is great for you. It helps you improve your dog's behavior within days. The collar is made of premium-quality materials. It here to help other people understand your dog's desires as well.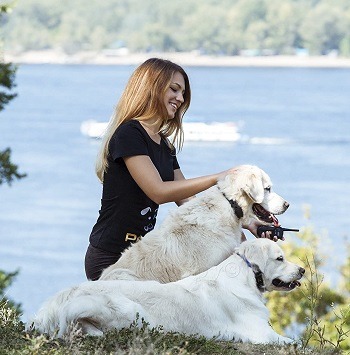 The Traning Systems
There are three training modes. It includes the electric shocks, vibrations, and beeps. There are 16 adjustable levels. Choose the level according to your dog's breed and weight. Please, read the user manual and follow the guide and use the collar properly.
The Training Guide
There is an e-book and a video guide included in the package. It will help you learn how to use the collar before starting with the trainings. Watch the videos carefully and read the book. Don't use the collar before knowing how to use it.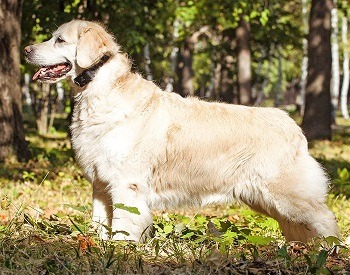 The Price And What Is Included
The package includes a dog collar, e-book, video guide, a remote, a receiver, a charger, two sets of contact points with caps, a test light, and a lanyard with a release button. The device is fully waterproof. The price of this dog training collar is affordable.
In Short:
for expert's or new owner's use
includes a free e-book
comes with an audio guide
the collar is 100% waterproof
the price is affordable
BEST LOCATION DOG TRACKING AND TRAINING COLLAR
Dogtra Pathfinder GPS Collar
The Range
The Dogtra dog training collar with GPS tracker has a range of 9 miles. Its GPS can be used with Google Maps in all three view modes (normal, terrain, and satellite). The tracking and training modes make this collar ideal for making you feel safe about your dog.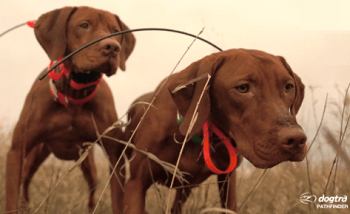 The GPS Dog Tracking 
Thanks to the GPS tracking included in this collar, you will be able to find your dog if it goes missing. The device will let you know where your dog is in real-time. It is incredibly accurate and reliable. Download the Pathfinder app to your smartphone to locate your dog.
Simple Design
This is an easy-to-use dog collar. It comes with a simple and sleek design. It has two operating buttons (power-select button and the connect button). The collar sends the correction through the included receiver. It is great for keeping your dog on track.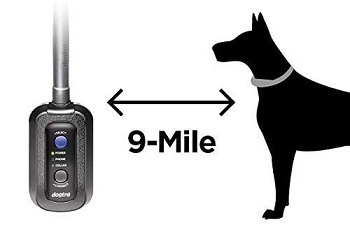 The Dog Sizing
This GPS and training collar by Dogtra is not suitable for small dogs. It is ideal for dogs that are 35 lbs. or up. You can purchase more Dogtra collars and track and train up to 21 dogs at the same time. It is perfect if you are on the hunt.
In Short:
the collar range is 9 miles
two in one device
keeps track of your dog via GPS
three training systems
two-button operation
for dogs that are 35 lbs. or more
BEST PUPPY DOG TRACKING AND TRAINING COLLAR
Garmin Delta XC Collar
Ideal For Smaller-Sized Dogs
The Garmin collar is pretty small and lightweight. It measures 1.5 x 1.5 x 2.3 inches and weighs 2.4 ounces. It is perfect for puppies or smaller-sized dogs. It is safe to use. It comes with a durable and rechargeable battery and helps with everyday life.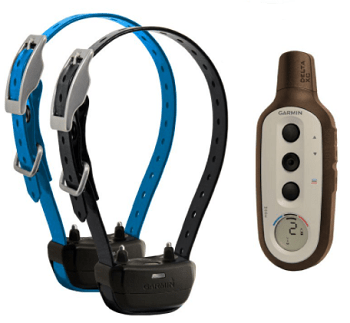 Teach Your Dog Good Manners
If you want to teach your dog to behave well from when it is still a puppy, use the Garmin Delta dog training collar. Teach it not to jump on you, your family, or your guests. Let it know it is not appropriate to bark in certain moments, etc.
Stimulation Levels
This collar comes with 3 training configurations. Use each configuration for different issue. It includes the tone, vibration, and stimulation training systems. Read the manual and the guide to know which config use and when.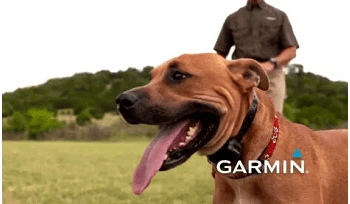 Train More Dogs
You can get more Garmin collars and train up to three dogs at the same time on one handheld device. It includes two interchangeable contact points (long and short). It is suitable for all dog breeds. It lasts long and it water-resistant.
In Short:
perfect for puppies
suitable for small dogs
can be used on all dog breeds
water-resistant
includes 3 training configurations
BEST GPS DOG TRACKING AND TRAINING COLLAR
Sportdog 2.0 Tracking Training Collar
Available In The US
The Sportdog 2.0 is another 2 in 1 collar – a great dog training collar with GPS tracker. The tracking is available within the US borders. This device will help you locate your best fur friend in case it gets lost. This is a great collar and very accurate.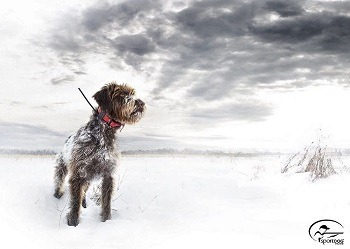 The Preloaded Maps
The SportDog collar comes with a handheld device that features 1:100,000 preloaded topo maps. Another great thing is that the maps will update automatically and with no fees or subscriptions. You can track and train up to 21 dogs at the same time.
Durable Design
This is a 100% waterproof and submersible dog GPS and training collar. It withstands high and low temperatures. You can use it outdoors as much as you need. The range is 10 miles. Use this collar in your backyard or anywhere in nature.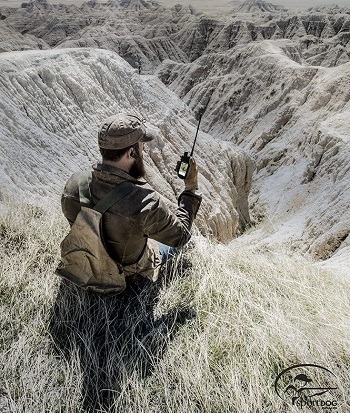 The Rechargeable Battery
The lithium-ion batteries are included within this training and tracking device. There is a charger that comes in the package. The collar receiver charges in 4h and lasts for about 24 or more hours per charge. The handheld device charges in 8h and lasts about 12h.
In Short:
comes with rechargeable batteries
the charger is included
it can be used outdoors
is is waterproof
works in the US
BEST SMALL DOG TRACKING AND TRAINING COLLAR
PetSafe Smart Traning Collar
Connects Via Bluetooth
The PetSafe collar for training your dog works with Bluetooth. Download the app to your phone. Pair the collar with your smartphone that will function as a remote control. All the iOS 8 or above and Android 5 or up smartphones are supported.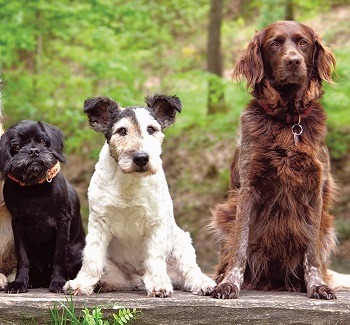 How To use
This collar will work outside and indoor. You don't have to use the leash to train your dog. The collar has three training systems. It beeps, stimulates, or vibrate. This is not a shock collar. The PetSafe training dog collar is here to help you teach your dog how to behave well.
The Small Design
This collar is great for smaller and medium-sized dogs. It is pretty lightweight and it doesn't bother your dog. It is water-resistant and includes a built-in battery. You can easily recharge the battery when it is needed. The package contains a USB charger.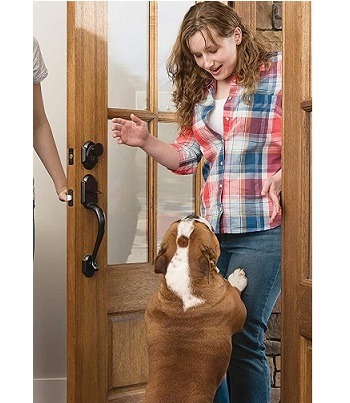 How It Works
The PetSafe Bluetooth training collar for dogs will transmit the signal from your smartphone to the training collar. The range is 75 yards. The PetSafe is submersible up to five ft. The collar will send beeps, vibrations, or stimulations when you want to let your dog know it behaves unwell.
In Short:
pair the collar with your smartphone
download the app
connect the device and phone via Bluetooth
the range is 75 yards
uses 3 training systems
submersible up to 5 feet
BEST SHOCK DOG TRACKING AND TRAINING COLLAR
PatPet IPX7 Dog Training Collar
Three Modes
The ParPet dog shock collar comes with the static shock, beep, and vibration modes to teach your dog to behave well. Your dog's behavior will significantly improve in days. The stimulations can be tailored to your dog's character and temperament.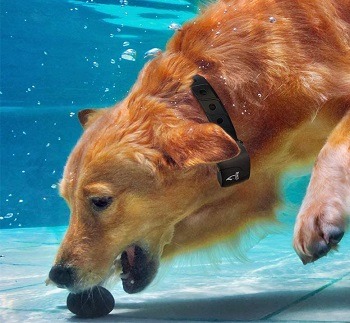 Remote Operation
Use the wireless remote control when training your dog. The remote is designed with RF 434Mhz technology. It allows you to train your dog even from distance. The collar is waterproof, so even if your dog is swimming or running, you can work with it.
The Durable Battery
Both the collar and the remote control device include one lithium-ion battery. The receiver will last up to 10 days or more, and the remote up to 20 days. There is standby time that lasts one year when it comes to remote and three months for the receiver.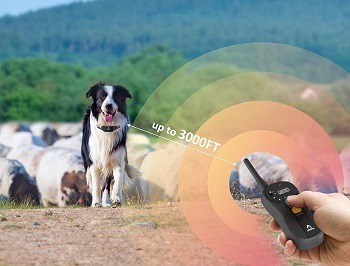 Blind Operation Button
There are three touch-distinguishing buttons on the remote control device. You can operate the collar without looking at it. So, you will be able to focus completely on the training without having to check your remote all the time.
In Short:
there are 3 training modes
the receiver and remote include batteries
long-lasting device
it is waterproof
remote includes blind operation buttons
How To Pick: Dog Tracking And Training Collars
As dog owners, we know how important it is for our dog to behave well. Teaching your dog good manners is not an easy job. Some of the training collars that are on this list are 2 in 1. They come with GPS. If your dog goes missing, you will easily find it. Read on to learn which features one must look for in an ideal dog GPS and training collar.
Training System – The most common ways of training your dog with a collar are vibration, shock, tone, and stimulation. All of these ways are here to stop unwanted dog's behaviors. Get to know more about each model's training systems and know which one of them is the best for your dog's breed before buying a collar.
The Design – Choose the collar's size depending on your dog's size. It is preferable if the collar you are getting is not large. It should be as lightweight as possible, especially if it comes to smaller dogs. Your tracking and training collar should be durable as well.
Weather-Resistant –  Your dog will probably wear its collar every day. Especially in the beginning or when you are going for a walk or run. This means that you will have to go out during the warm and cold days. It might be rainy, snowy, or sunny. The collar you are getting should withstand all temperatures and be waterproof.
Battery Life– Search for a collar that has a long-lasting battery. Some models include a built-in rechargeable battery. On the other hand, some models' battery needs to be replaced. Remember, your collar will work only so long as its battery is full.
To Sum Up
In our opinion, one of the best dog tracking and training collars is the Sportdog 2.0 Tracking Training Collar. We liked it because it is a 2 in 1 collar that will help you with your dog's everyday life. If you have a mischievous dog, a GPS shock collar might be a better solution for you. Also, if your dog is very active and you often go hiking or running together, consider getting it a dog activity tracker.