Have you been searching for a dog step tracker?
Then check out our article. We have reviewed six best pedometers that you can use for tracking your dog's steps. Read more about the best of best, for puppy, small, and more step trackers. Don't miss our buying guide. You will find it at the end of the article.
The Summary
Top 6 Dog Step Trackers
BEST OF BEST DOG STEP TRACKER
3DFitBud Dog Pedometer
How To Use
The 3DFitBud pedometer is very simple to use. You can basically use it right out of the package. If you want to have a simple dog step tracker and you are new with these products, this is the ideal tracking device for you. Help your dog achieve the best goals.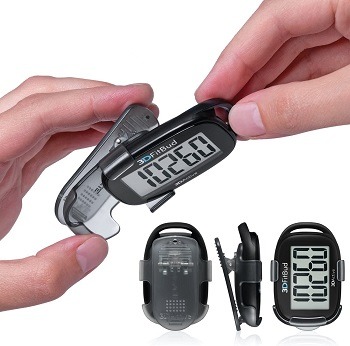 Track Your Dog's Steps Every Day
Use this tracker every day. It is a simple and effective tracker that motivates you and your dog to do more steps. If you have an active dog, we are sure it will want to go for long walks and runs with you. In case your dog needs to get more active, use this device to help you out.
The Small Design
This FitBud pedometer is small and lightweight. It comes in black, blue, pink, and white color. It has a large full-screen digit display and it shows you the number of steps your dog has taken. It easily attaches to your dog's collar.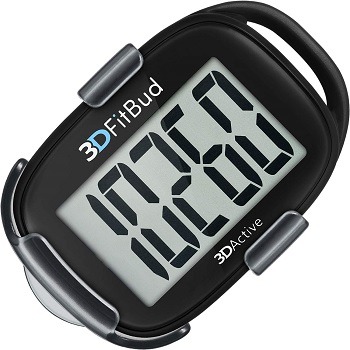 Durable With Two Modes
This is a long-lasting device that features an included durable battery. It comes with two automatic modes – the wake and sleep modes. This will save your dog's step tracker's battery and prolong its life. The device is of high-quality and affordable.
In Short:
easy to use
ideal for beginners
ideal for everyday use
small and lightweight
attaches to your dog's collar
affordable price
BEST PUPPY DOG STEP TRACKER
OZO Small Dog Step Tracker
Smart With Advanced Technology
The Ozo tracker comes with the new and upgraded technology which makes it more accurate. It is easy to use and helps with achieving goals. Its new 3D Tri-Axis Sensor will measure not only steps, but also distance, calories, and the overall exercise time.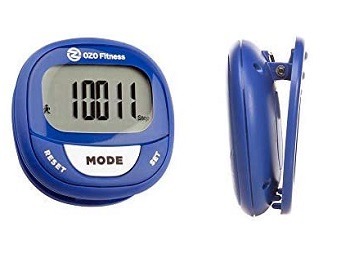 Simple Use
With this device for tracking your dog's step, you can get started in minutes. It doesn't require being connected to any other device and has no Bluetooth. It has a built-in clock and it resets at midnight so you can starts fresh the other morning.
The LCD Design
This puppy step tracker comes in navy blue. It is practical and easy to attach to your puppy's collar. It comes with an easy-to-read LCD screen. The buttons are big and convenient for programming the tracker.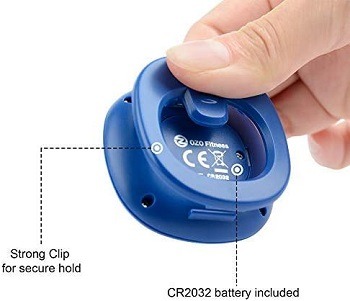 The Dimension And Size
This OZO dog's fitness and step counter measures 1.5 x 0.85 x 1.5 inches. It is also very lightweight. It is perfect for puppies or small dogs because of its size and weight. It won't bother your dog at any moment. It is ideal for everyday use.
In Short:
comes with advanced technology
features a clock
automatically resets at midnight
small and lightweight
ideal for small dogs or puppies
BEST EXERCISE DOG STEP TRACKER
Realalt Step Tracker For Dogs
Accurate And Keeps Record
Having a good exercise and step tracker that helps you and your dog to easily achieve goals is very important. The Realalt pedometer uses the 3D Tri-Axis Sensor technology and tracks the walking and running distance and number of steps accurately.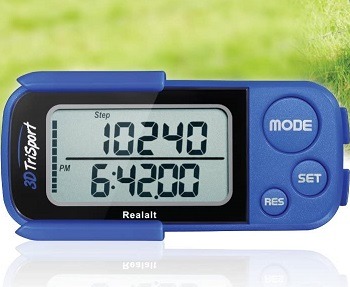 Smart Technology
Use this smart dog tracker is great not only for keeping track of the number of steps, but it will help you a lot during your dog's exercise time. It will count burned calories and exercise time. Moreover, this device stores your data for up to 30 days.
More Features
This is not a regular step tracker only. Apart from the already-mentioned exercise feature, this pedometer includes a large and clear display screen, a built-in clock, and a step goal. It is an easy-to-use small device that is simple to set up.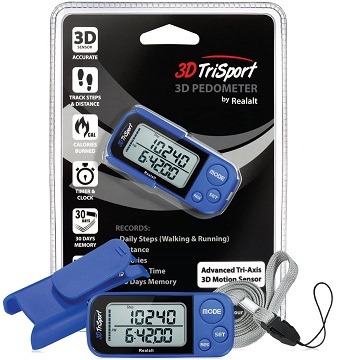 Why Buy?
If you feel like your dog needs to stay more active, exercise more, or lose some weight, this device will help you. You can set your dog's and your own goals, get two devices and have fun together. The device's price is very affordable.
In Short:
tracks your dog's step
keeps track of distance and exercise time
counts burnt calories
affordable price
stores your data for 30 days
BEST SMALL DOG STEP TRACKER
iGANK Pedometer For Dogs
Professional 3D Sensor
The iGANK step tracker is another device that includes a specially-designed sensor to keep track of your dog's daily activities. It tracks your dog's steps, the distance in kilometers and miles, and the burned calories. It is small and hassle-free to wear.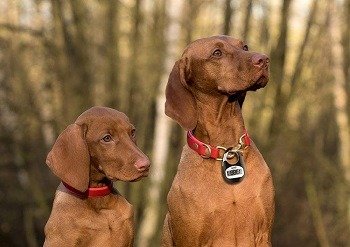 Simple To Use
This device doesn't require being connected via Bluetooth. It can be used right out of the box. You will simply hook the step tracker to your best buddy's collar and start using it. This is a small device that will serve you a long time.
Lasts Long Time
iGANK dog tracker for steps includes one CR2032 battery. The battery is replaceable and will last you up to 12 months. The device is small and durable and can withstand high and low temperatures. The size is 2.6in x 1.6in x 0.4in.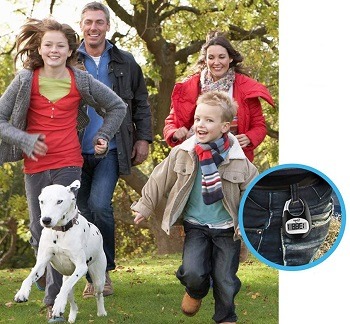 How To Use
This step tracking device is designed with one button on the back. To use this tracker, press the button. You will simply need to hold and press the button for 3 seconds if you want to reset it.
In Short:
features a new, advanced technology
easy to use (with the button)
tracks steps accurately
easy to reset the counter
it is small
easily hooks to the collar
BEST CHEAP DOG STEP TRACKER
FormVan Dog And Puppy Pedometer
Reliable Pedometer
Set your dog's daily number of steps and use the FormVan pedometer to track them. The device will help you track the distance that your dog has traveled. This pedometer is accurate and shows you the distance in miles and kilometers.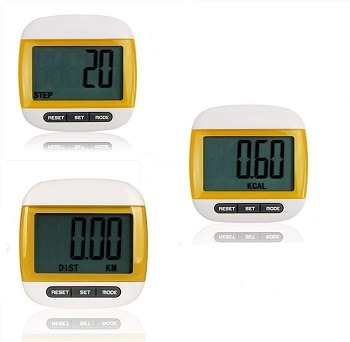 Helps With Achieving Goals
In case your need needs to get more active, you will need to set clear goals. Walk, run, and exercise with your dog every day. Use the device whenever you go hunting, hiking, or running together. This device will help both you and your fur buddy.
Budget-Friendly Device
Many devices come at a really affordable price. The FormVan is one of them. This is a cheap device that is affordable for anyone. It is small, reliable, and durable. It easily attaches to any dog collar.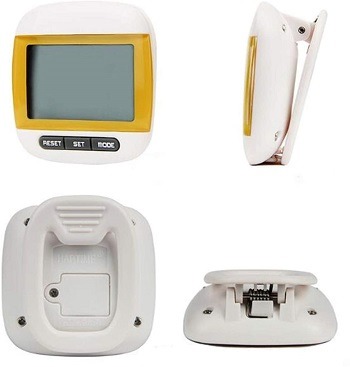 More About FormVan
This is a device that is easy to carry. Your dog won't even notice it has got a tracker attached to its collar. It has a large LCD display and it clearly shows you the number of steps. It doesn't have to be connected to a computer or smartphone.
In Short:
accurate and of high-quality
budget-friendly device
use it for runs, hikes, and walks
small and durable
shows you distance in miles and kilometers
BEST COLLAR DOG STEP TRACKER
Next-Station Pet Pedometer
Attaches To Your Dog's Collar
Hook the Next-Station dog tracker to any collar. It is another reliable and accurate device that keeps track and helps you set the goals that you and your dog want to achieve. Use it every day and keep track with this device.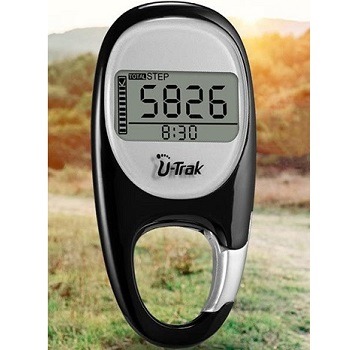 Tracks Progress
It is advisable to use this device daily and to write down the distance and steps your dog has taken. The device has a 7 days memory and helps you make progress. It is simple to use fitness and step tracker that has a reliable sensor.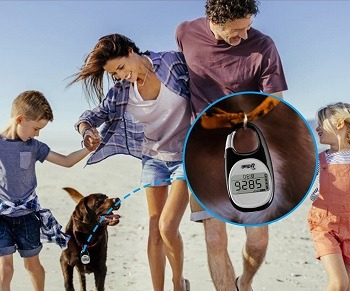 Ideal For Dogs
This device is perfect for dogs because it is small and lightweight. It easily hooks to any dog's collar. It helps your dog stay more active. It has an auto wake and auto-sleep mode included. When your dog is asleep, the counter will turn off.
In Short:
small and perfect for dogs
easily hooks to any collar
tracks progress
keeps track for 7 days
simple to use
How To Pick: Dog Step Trackers
There are so many step tracker options available online. How to know which pedometer is the best for your dog? You still don't know if you really need such a unit? Read our small buying guide and learn why you should get a dog pedometer and what are the features that it should come with.
Why Get A Dog Pedometer? – Getting a step tracker will help you keep track of your's and your dog's activity. We all know how important is to stay active both for humans and pets. Have this little device help you achieve the weekly goals.
Must Be Small And Lightweight – Get a step tracker that is small enough so that it doesn't bother your dog. Also, the device shouldn't weigh too much because your dog will have to wear it on its collar. Luckily, these devices are generally made of small size.
Should Be Long-Lasting – Don't get any pedometer. Avoid getting the cheapest models. These devices are not expensive in general, so try to buy a device that is durable, accurate, and made of good quality. Also, make sure its battery lasts long.
Weather-Resistant And Splash-Proof – It is important that you get a tracker for your dog that will count steps even during the warm or cold weather. Also, your dog will want to swim or roll in the mud from time to time. An ideal step tracker should be water-resistant and withstand high and low temperatures.